In this article, we are doing Filmora9 review and will also discuss the advanced features.
With cheap mobile data and high-speed internet connectivity, video consumption has gone up. Be it social media platform Facebook, Instagram or professional network LinkedIn, Video contents are being used and shared across platforms.
With cheap mobile data and high-speed internet connectivity, video consumption has gone up. Be it social media platform Facebook, Instagram or professional network LinkedIn, Video contents are being used and shared across platforms.
As some of the social media platforms have also provided an opportunity to monetize video content and earn through the advertising, this has encouraged people to become video creators. If you are the budding video creator, then it is important for you to have the right video editing software. It will help you in creating engaging video content.
There are many popular video editing software available today, but everyone can't just use it without having the proper training and required skills. Only a few of them have the simple user interface that can be used by beginners. One such video editing software is offered by Wondershare. Known as Filmora9, it's an amazing video editing tool stand out from the rest is its sleek, straightforward design and simplicity of use, so even the first-time users won't have any issues using Filmora9.
In this article, we are going to review Filmora9 and share the advanced features.
UI Design:
Filmora9 is a brilliant video editor that comes with user-friendly, clean and intuitive user interface design. You can easily understand and use it even when you don't have prior experience.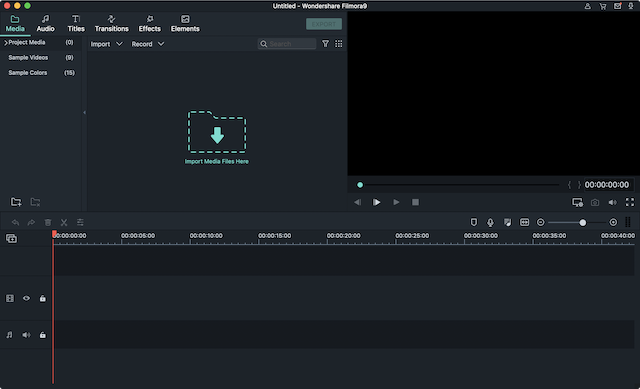 You will notice that most of the interface is occupied by a timeline on the bottom. Here you can add and combine all your video clips together. You can edit them by adding required effects by simply drag and drop.
On the right side of editing interface, there's a real-time preview pane. It allows you to preview clips and the used visual effects. While the left side, you can see the library where you can find the transitions and effects.
Editing Work flow in Filmora9
Whether you are editing videos on Windows PC or Mac computer, you can follow the workflow below to edit videos with Filmora9.
Create Project and Select Aspect Ratio
Filmora9 allows you to set up the project aspect ratio quickly in the splash screen. You can choose 1:1 for Instagram videos, 16:9 for widescreen (default setting), 9:16 for portrait video (choose this aspect ratio if your footage is shoot vertically and your users are watching mobile mostly), 4:3 standard or 21:9 for Cinema.
Import Videos/Audio/Photos/Music to Filmora9
To edit a video, first you need to import all the video clips and photos. Of course, you can import your own background music as well. In case that you want to add some voiceover, don't worry, Filmora9 allows you to record your own voice.
Bonus: Filmora9 features a built-in Audio library which provides both different genres music and sound effects, which is totally free to use. Besides, you will find more in the built-in Filmstocks stock media library.
Drag-n-Drag Media to Timeline Tracks
After importing media to Filmora9, you need to load it to the timeline track to edit. Just drag and drop it to the track in timeline.
Bonus: Filmora9 allows you to add up to video and audio tracks separately.
Basic Editing (Trimming, Cutting, Rotating, etc)
Preview the media in the track and you may need to cut out some part of it, or replace the order sequence. Filmora9 features the split, cut, and trim tools which can help you cut the video into smaller piece and adjust its orders.
Add Titles/Filters/Transitions/Video Effects
Once done that, you can place and add music tracks to the audio track in the timeline. You can enter an opening and closing title, add some filters or transitions effects to the video based on your needs.
Bonus: Filmora9 features various titles and texts templates, transition/elements/filters/overlays and visual effects presets. You can apply and adjust all of these templates and presets based on your needs.
File export and supported formats
After that, use the preview pane to see if the videos and effects appear properly. If all ok, then click the Export button to simply export the videos. Depending on your required format, you can export videos content in various file format. At the moment, Filmora9 supports 12 different output formats including MP4, WMV, AVI, MOV, F4V, MKV, TS, 3GP, MPEG-2, WEBM, GIF, and MP3.
Each output format can be customized accordingly. You can adjust settings such as encoder, resolution, frame rate, sample rate, and bit rate as per your requirement. However, if you are not sure about the output settings, then simply choose between the available quality presets. You can also optimize your video for various devices including iPad, Apple TV, Samsung Galaxy, Xbox One, PlayStation 4 and several others. Filmora9 also allows you to share the video to YouTube and Vimeo directly, which can save you much time for quick sharing.
Key Features of Filmora9:
Undoubtedly, Filmora 9 is a sleek and powerful video editing software. It comes with many new features, compared to the previous version. It has real-time rendering features and the preview mode now allows you to adjust, flip, rotate, scale and move clips. While using this video editing software, we noticed some of the new features:
The new Filmora now comes with 4K support. You can edit the 4K videos in a lower resolution for smoother preview and editing by creating Proxy File in case that the computer struggles in handling 4k video editing, and later you can export in 4K without changing original quality.
The tools support the green screen effect (Chroma key), which is very useful to make creative video.
You can add up to 100 audio/video tracks, which is very convenient when you need to place many media。
The software has advanced video stabilization feature that has been improved a lot: this feature is very useful when you shoot a shaky video and want to remove the shakiness in editing.
You can notice the Import and Export features have been enhanced, ensures you spend less time waiting to start the video.
The software offers more visible audio waveforms with the option to edit in enhanced mode.
This is very useful when you want to remove audio issues which are very close to the actual audio piece you want to keep. You also have access to 3 track sizes: small, normal, and big. This comes in handy when you want to edit the audio or when you have a lot of items in hand.
The software has cross-compatibility features between Mac and PC both, so you can now edit Windows projects on Mac, or vice versa.
Verdict
I have been using Final Cut Pro as well as Premiere Pro video editing software for many video projects since my college days. These software are powerful and allowed me to create amazing videos contents. And, honestly, there is no substitute of it however, these two video editing software are far complicated for beginners. It requires a lot more time to learn and use it properly. This is where the Wondershare Filmora9 proves to be a simple but very powerful video editor for the beginners.
It would hardly take an hour or so. You can easily understand the basics by following some videos tutorial online. At last, if you are looking for a good video processing program, then this software will not be disappointing you at all. You can download it from here. Also, you can try the new video editing software for professionals named FilmoraPro, which provides more professional and advanced features.
See More: 10+ Best Video Editing Software for Beginners in 2019 (Free & Paid)