PDF documents are great for sharing, but they often contain information meant for certain people only. In some cases, you may not want the content copied and used elsewhere. You can use an Open Password to restrict access by unauthorized users, but what if you want to prevent authorized users from copying the content? In such cases, you'd use something called a Permissions Password. This article shows you how to protect a PDF this way so others can't copy the text, make edits, or even print the document.
Permissions Password Overview
Now we are explaining the feature using PDFelement for Mac. You can have a free trial here first.
This type of PDF password is also called the Owner Password or Restrictions Password. It is intended to specifically prevent various actions on a PDF, and these include restrictions on printing, editing, and copying as the main categories. There are also several other restrictions possible, such as preventing page extraction, commenting, form-filling, signing, creating template pages, and so on.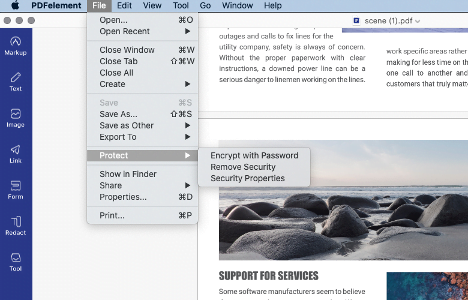 Full-fledged PDF editors like PDFelement and Adobe Acrobat DC are among those that offer the most minute level of control over such restrictions. Let's take a look at how these restrictions can be applied to a PDF document using PDFelement.
Using a Permissions Password to Prevent PDF Copying
To get to the Password Security page, click the Protect tab at the top of PDFelement and click on the padlock icon in the toolbar just below it. In PDFelement Mac, go to Protect → Encrypt with Password, as shown in the screenshot above.
In the Password Security pane that opens up, click the box under the Permissions section next to where it says "Require a password to change security settings and get access to specific functions." In Mac, you will see the Encrypt with Password pop-up window, as shown below: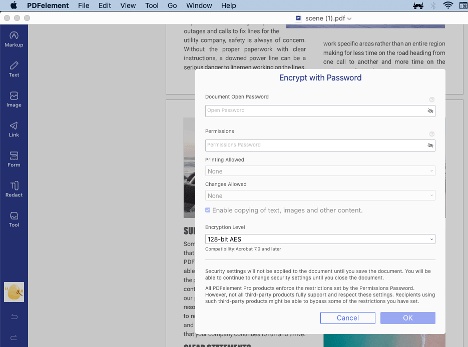 The fields below that will now be active. In the next two fields, enter the password and confirm it.
The next three fields will set the required permissions, and they're organized as follows:

Printing Allowed

None – Printing is blocked
Low Resolution – Printing is allowed but the output will be in low resolution
High Resolution – Printing in Hi-res is allowed

Changes Allowed (editing)

None – No editing is allowed
Insert, delete, rotate pages – These actions are allowed on the document
Filling in form fields and signing existing signature fields – Forms can be filled and signed by users where signature fields are present
Commenting, filling in form fields, and signing existing signature fields – In addition to filling and signing forms, users can add comments
Any except extracting pages – Page extraction is blocked, everything else is allowed

Enable copying of text, images, and other content – When this checkbox is ticked, these actions are allowed; the box is checked by default when adding a Permissions Password.
Based on the version of the PDF document, you can choose from three types of encryption: 128-bit RC4, 128-bit AES, and 256-bit AES.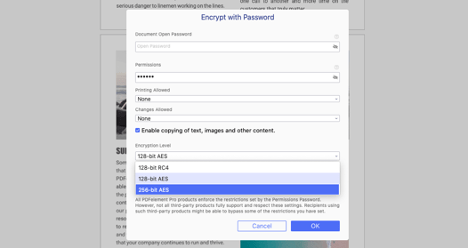 Click OK to save the security settings. However, until the document itself is saved again, the settings will not be applied.
Other Security Features to Prevent Copying of PDF Content
You can also convert a PDF into an image to prevent copying:
Open the document in PDFelement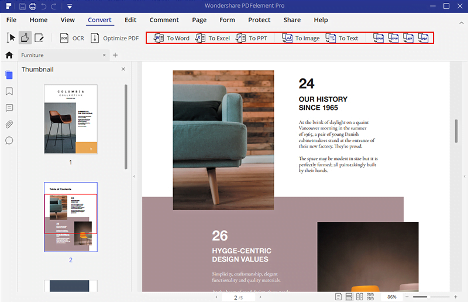 Click the Convert tab and use the 'To Image' tool option to select an appropriate image format.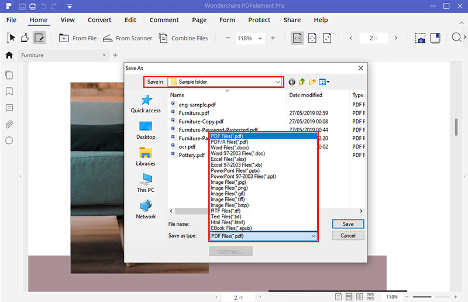 Finally, click the Save button in Explorer. Your PDF is now an image file and the text information cannot be copied.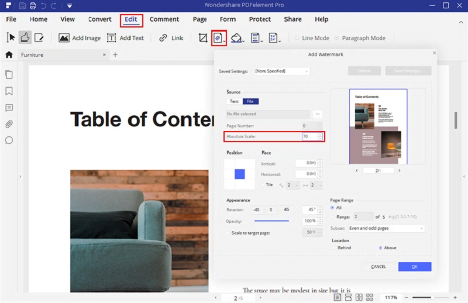 To protect your files in an even stronger manner and warn others of potential copyright violations and such, PDFelement lets you apply watermarks to all or selected pages. Although it is not completely preventive, it makes the user aware that the content is protected.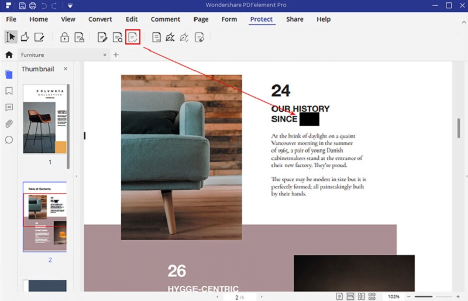 You can also redact content if you don't want anyone to see it. Redaction is a permanent process where existing content is blacked-out or masked so the underlying content is not visible. This is common practice when classified documents are eventually released to the public. Certain names and other types of sensitive information will be redacted before being released. PDFelement offers a strong redaction feature that serves the same purpose.