The Radio Alarm Clock is an essential investment for many modern bed lovers to help them start the day. If you have trouble getting out of bed in the morning, a clock radio may be the solution. The best Radio Alarm Clocks are more than just a means of keeping your life on track. These fantastic bedside companions are ideal for getting you out of bed in the morning.
If you are also looking for Best Radio Alam Clock that eases you into the waking world by playing your favorite station or a popular song, then check out our below-recommended list.
Best Radio Alarm Clocks to start your day
Sangean RCR-22 FM-RDS
Sony ICFC1PJ clock radio
Magnasonic digital clock radio
Emerson SmartSet projection clock radio
Homedics radio alarm clock
Te-Rich digital alarm clock radio
HeimVision Sunrise
DreamSky DS206 Clock Radio Alarm
JALL Wake-Up Light Sunrise Alarm Clock
REACHER Small Digital Alarm Clock Radio
1. Sangean RCR-22 FM-RDS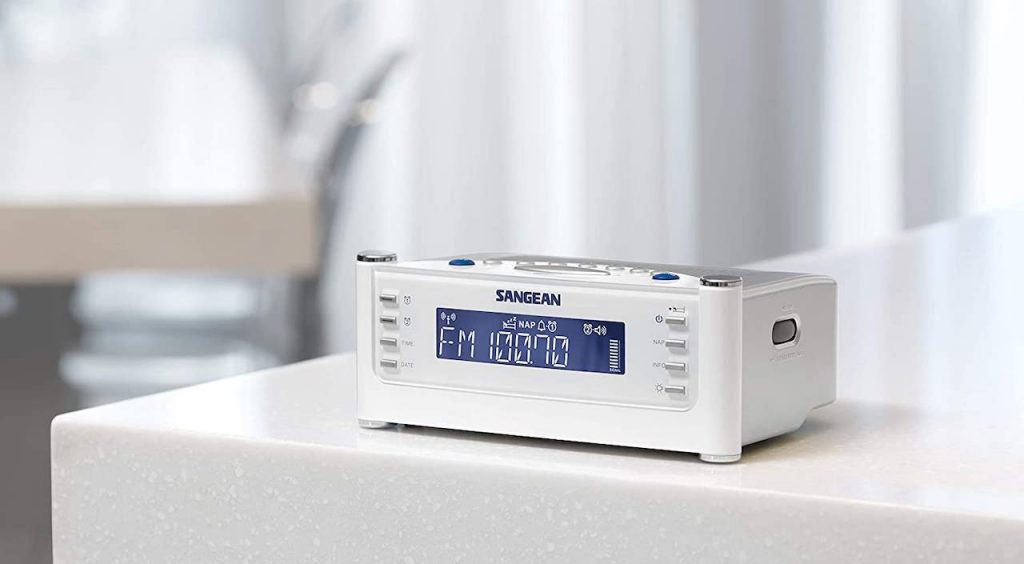 Sangean is a brand that appears frequently in clock radio reviews. The company offers a wide range of audio devices, including some of the best clock radio options available.
The Sangean RCR-22 is a dependable bedside device that features 14 memory preset stations and an adjustable backlit display.
This alarm clock radio has an adjustable snooze function as well as a sleep and nap timer with two alarm options. This radio also includes a supercapacitor, which allows it to continue delivering alarm functionality for up to an hour during a disruption.
2. Sony ICFC1PJ clock radio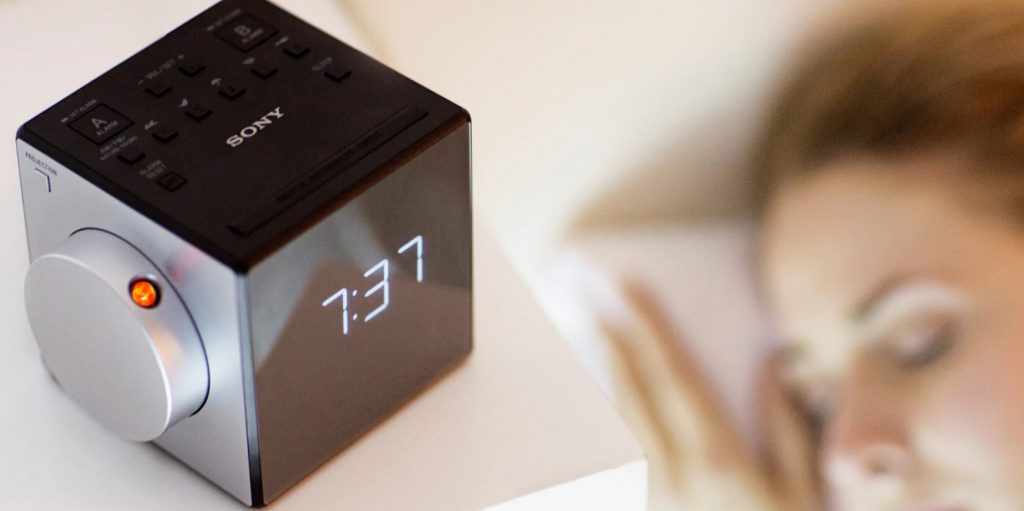 At first glance, the Sony ICFC1PJ alarm clock radio may not appear to be the most futuristic system, but it's a useful device from a well-known market leader.
This clock radio has a time projection option, so you can display the time on your bedroom wall while sleeping. Another feature that distinguishes this device as one of the best alarm clock radios is its relaxation features.
Aside from assisting you in waking up in the morning, this radio alarm clock also assists you in falling asleep, with 5 soothing nature sounds to choose from. There's a USB port for charging your smartphone, as well as a backup battery to ensure you wake up on time even if the power goes out.
3. Magnasonic digital clock radio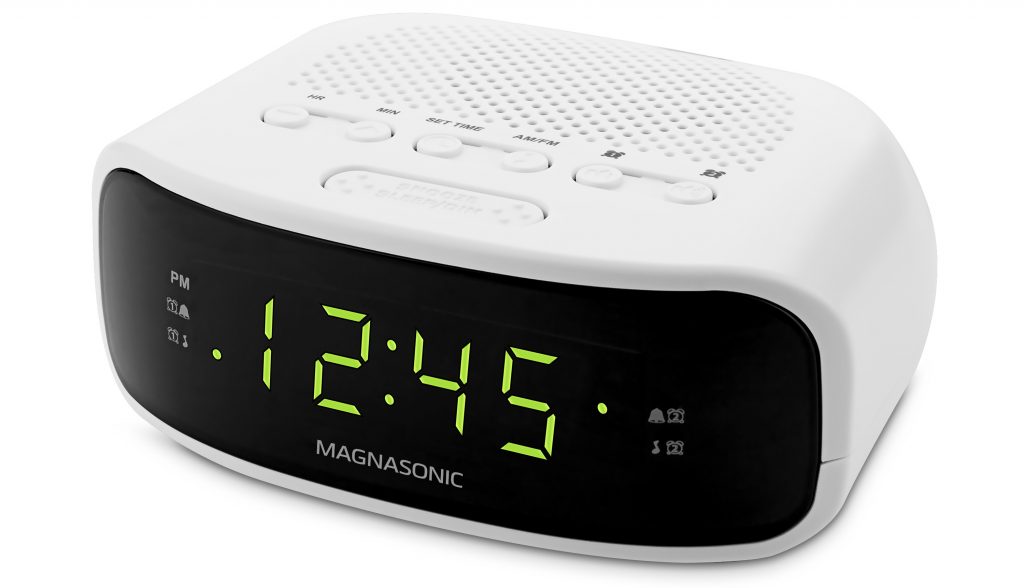 The Magnasonic digital clock radio appears to be a basic and traditional clock radio. It's small, light, and discreet enough to fit neatly on your nightstand.
Although this isn't the most advanced radio system we've ever seen, it does have some useful features that will be useful to a wide range of consumers. For example, the dual alarm allows you to set one alarm for your partner and one for yourself.
The AM/FM radio system includes up to 20 programmable preset stations, so you won't have to spend hours tuning your device to your preferences. There's even a dependable battery backup built into the device to ensure that you wake up on time even if the power goes out.
4. Emerson SmartSet projection clock radio
When you wake up in the morning with bleary eyes, an alarm clock with projection functionality can make it much easier to see the time.
If you've reduced the brightness of your alarm screen, you may find yourself squinting to see the time. The Emerson SmartSet projection clock radio is not one of them. This simple-to-use product includes 20 station memories and an FM radio connection.
There's also a USB port for charging your devices, as well as a 180-degree adjustable ultra-clear projection system.
The easy-to-read display also has a dimmer function, so you can make sure it doesn't wake you up at night.
5. Homedics radio alarm clock
The best radio alarm clocks nowadays can do a lot more than just wake you up
These intuitive devices can also assist you in falling asleep. That is the case with one of Homedics' top-rated clock radio products.
The dual alarm digital clock radio has a plethora of features that will help you sleep better. Instead of a bright LED display, you can project your clock onto the ceiling. A sound-spa system with up to eight relaxing nature sounds is also available.
The Homedics alarm clock also has a white noise sound machine built in. If you're having trouble sleeping because of the extra noise outside your window, Homedics can help.
This alarm clock radio will help to drown out distractions so you can sleep soundly. There's even automatic time adjustment and DST adjustment.
6. Te-Rich digital alarm clock radio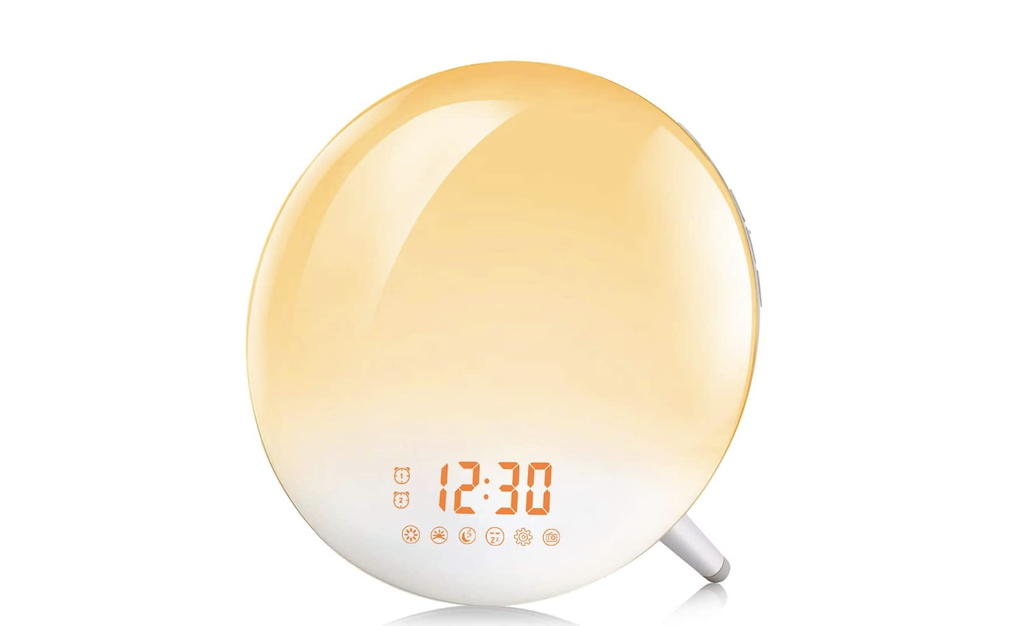 The best radio alarm clocks aren't always the ones that fit perfectly in your bedroom; they're also the ones you can rely on wherever you go. This Te-Rich compact digital alarm clock is designed to accompany you on your adventures, providing a dependable way to manage your schedule no matter what.
The device includes 7 alarm sound options, including a good collection of nature sounds to help you wake up in the right mood. You can also personalize your alarm tones to ensure that you have the best clock radio wake-up experience possible.
The display is easy to read and includes additional information such as the indoor room temperature.
7. HeimVision Sunrise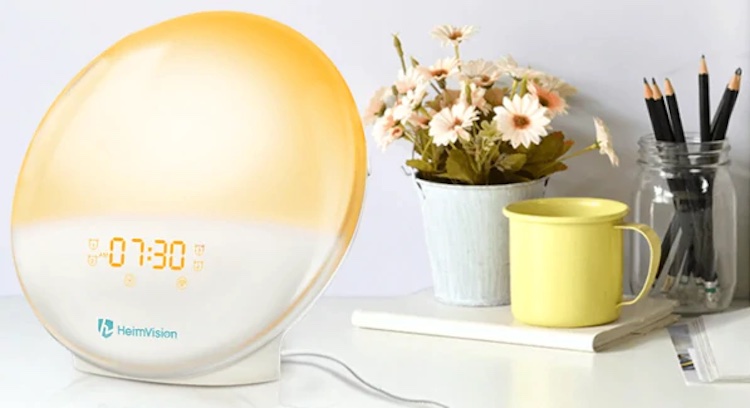 There are Bluetooth-enabled options available, as well as products with built-in relaxation features to help you fall asleep each night.
The HeimVision sunrise clock is one of the more unique top-rated clock radio options we've seen. The HeimVision clock radio improves your sleep hygiene and quality by simulating sunrise and sunset.
The sunrise function gradually increases the light in your bedroom before your alarm goes off, allowing you to awaken more naturally. That means less time spent in the morning fumbling for the snooze button. Soft lights and sounds are used in the sunset stimulation to lull you to sleep.
8. DreamSky DS206 Clock Radio Alarm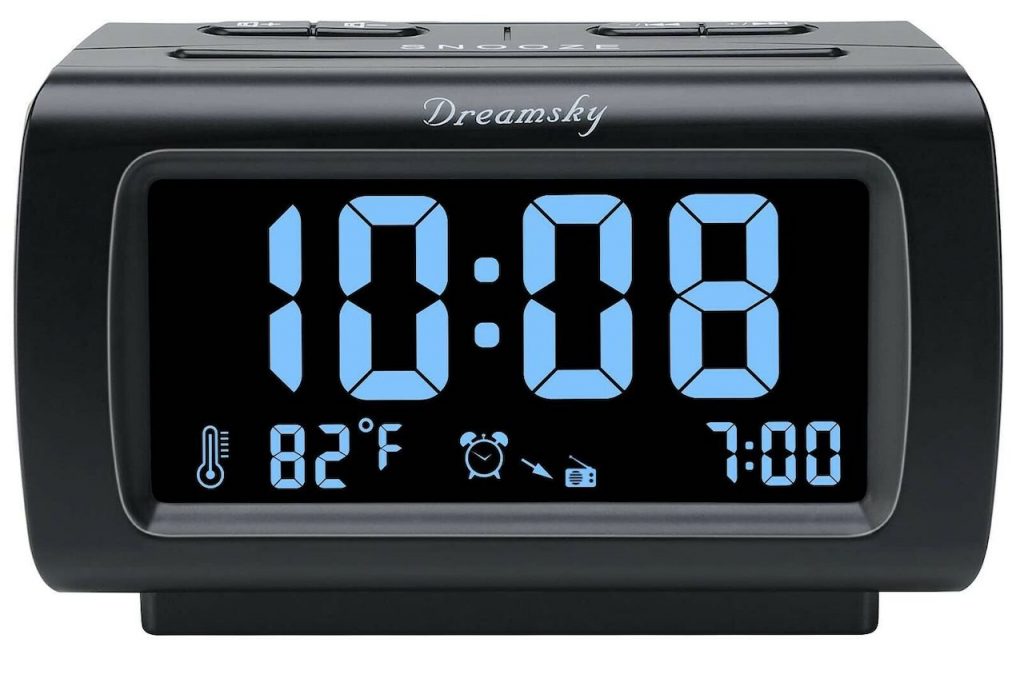 For music lovers like myself, the DreamSky DS206 Bedroom Clock Radio Alarm is a godsend. Its easy tuning and adjustable volume make it simple to use the FM radio feature. For added convenience, it has a radio as waking up method. If a user doesn't like the idea, it comes with a standard buzzer alert. The gradual build-up is an important aspect of its alarming process. In other words, I'm never jolted awake by a jarring 130dB alarm, but rather it gradually increases in volume. It's a much more relaxing experience for everyone. This bedside radio alarm clock also has a USB port. It ensures that my phone and tablet are easily charged. I also can't rave enough about its snooze function. I'm always looking for ways to improve my sleep, and the 8-minute intervals have been extremely beneficial.
9. JALL Wake-Up Light Sunrise Alarm Clock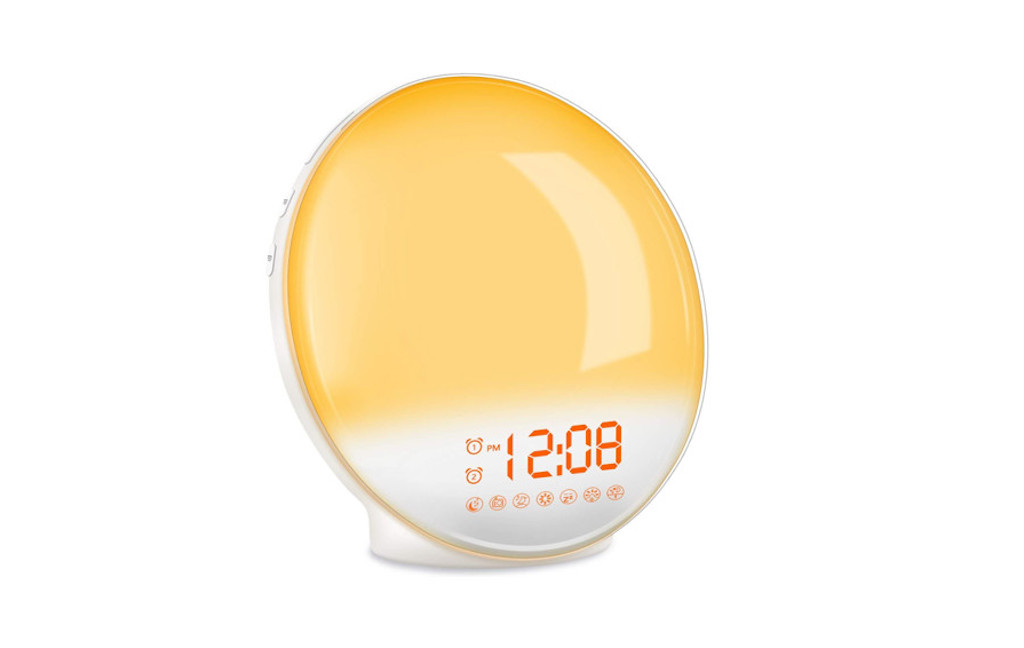 JALL's Wake Up Light Sunrise Alarm Clock is one of the most advanced alarm clocks with radio capabilities. It has a plethora of appealing features and aspects that most high-end alarm clock radios do not have. To begin, it has a sunrise simulation light feature with seven natural sounds. Instead of an alarm, this feature will allow me to wake up with a gradually brightening light. If it is not turned off, it is accompanied by an alarm to ensure that the person awakens on time. Another impressive feature is the alarm sound selection. There are seven-alarm sounds to choose from, ranging from ocean waves to birdsong. In addition, the FM radio can be used to set alarms.
10. REACHER Small Digital Alarm Clock Radio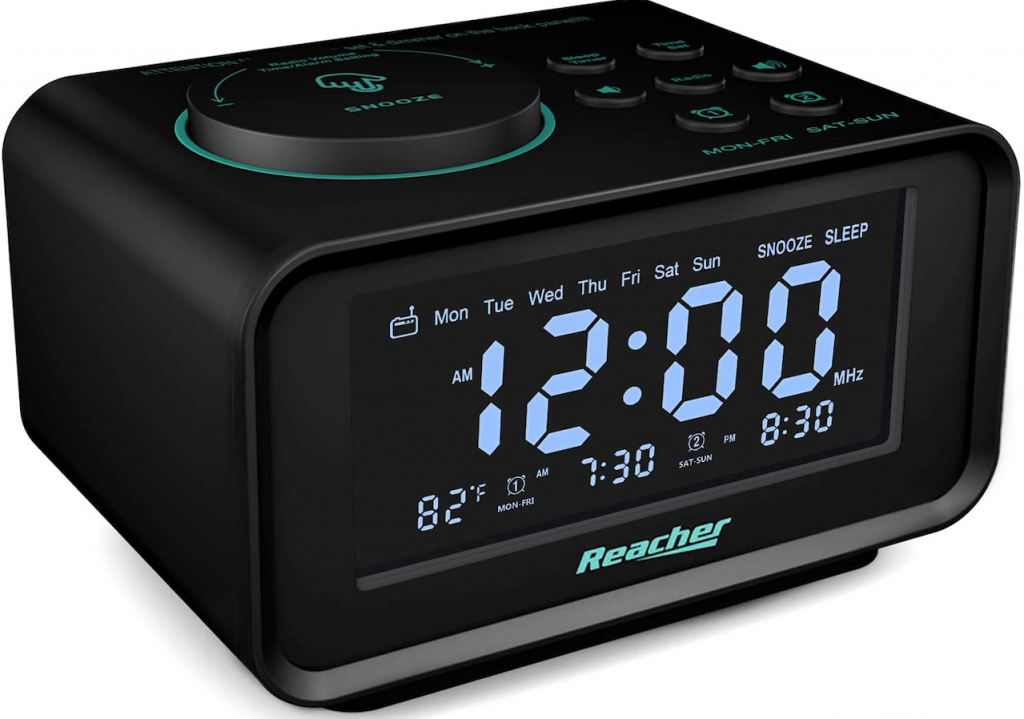 Using clock radios to save bedside tablespace has never been easy. REACHER's Small Digital Alarm Clock Radio, on the other hand, flips the script with its compact, small design. It combines alarm and radio capabilities into a device that is easily adaptable. Furthermore, it's critical not to mistake its small stature for its lack of exciting features. The clock still has five natural wake-up sounds and 30 volume levels that can be adjusted. Both of these characteristics will result in much more comfortable sleeping sessions.
Another noteworthy feature is the product's LCD. It has full-range dimming to give the user even more control over how the device is used. Meanwhile, it's always important to emphasize when these products include a sleep timer and snooze function. The nine-minute snooze function deserves a little more credit in this case. After all, users can use it up to seven times if necessary. Everyone has days when they don't want to get out of bed on time, and this feature caters to those needs. Furthermore, when I fall asleep, the timer turns off the radio, preserving the battery. Another appealing feature to mention is the device's 59-inch cord and adapter. This feature makes plugging in the device much easier than with similar devices. It's long enough that I can easily place it wherever I want.
That's all folks. These were some of the best Radio Alam Clocks that you can try out in 2022. We will further add amazing products to our list as and when we across any. Meanwhile, do share your thoughts on the above-listed products. Which do you use? Share them via the below comment box!
See More: Best Free Music Apps For Android