Instagram is undoubtedly one of the largest social network sites with over 1 billion users worldwide. It is good to connect with friends and family and know what is happening in their lives on this platform. However, we gradually get accustomed to this platform and unknowingly we spend a lot of time scrolling and watching reels, videos and photographs.
In short, we lose our valuable time which can be productive if we invest in other things. And, there comes a time when we can think of disconnecting from this social media platform.
More often people are choosing to remove the Instagram app from their smartphones in order to live a life less focused on online culture. This may seem like a daunting step but if you are really ready to be free of your account and to get some free time back in your life, it's easy to carry out. Let's have a look at how to delete your Instagram account for good.
Save your Instagram data
Before you take this step, we recommend that you save all your data with the Instagram app. Because when you delete your account permanently, Instagram will delete all your data related to the account. You cannot retrieve it and there is no rollback option. To save your account data, you need to follow the below-mentioned steps: –
Launch Instagram app and go to profile icon in the lower right corner.

Now tap on the profile icon and then click on the three vertical line. Go slightly lower where you will find the setting option. Click on that setting option.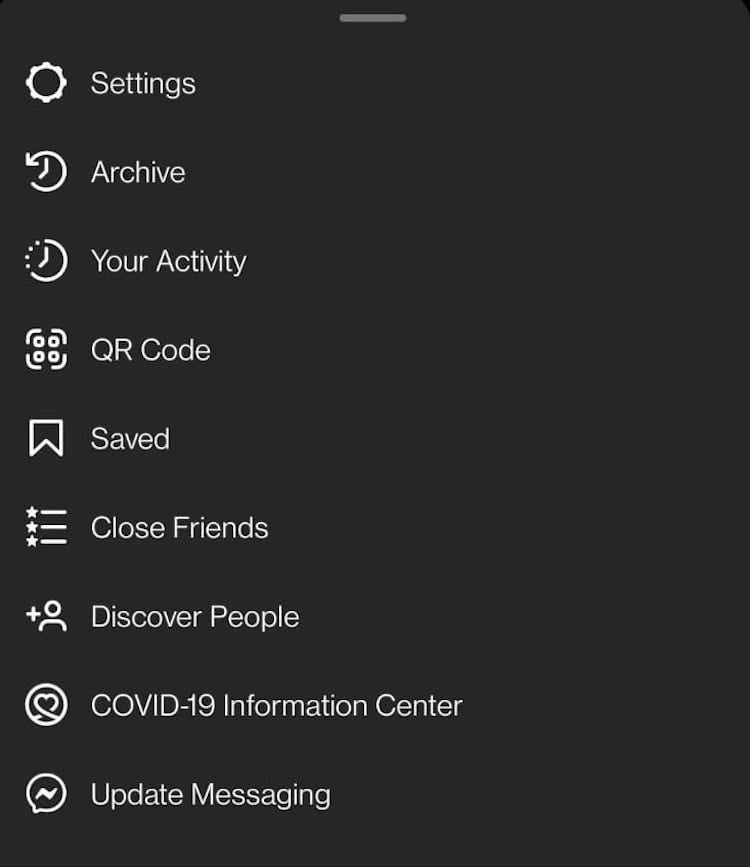 Now head towards the security option and click on that.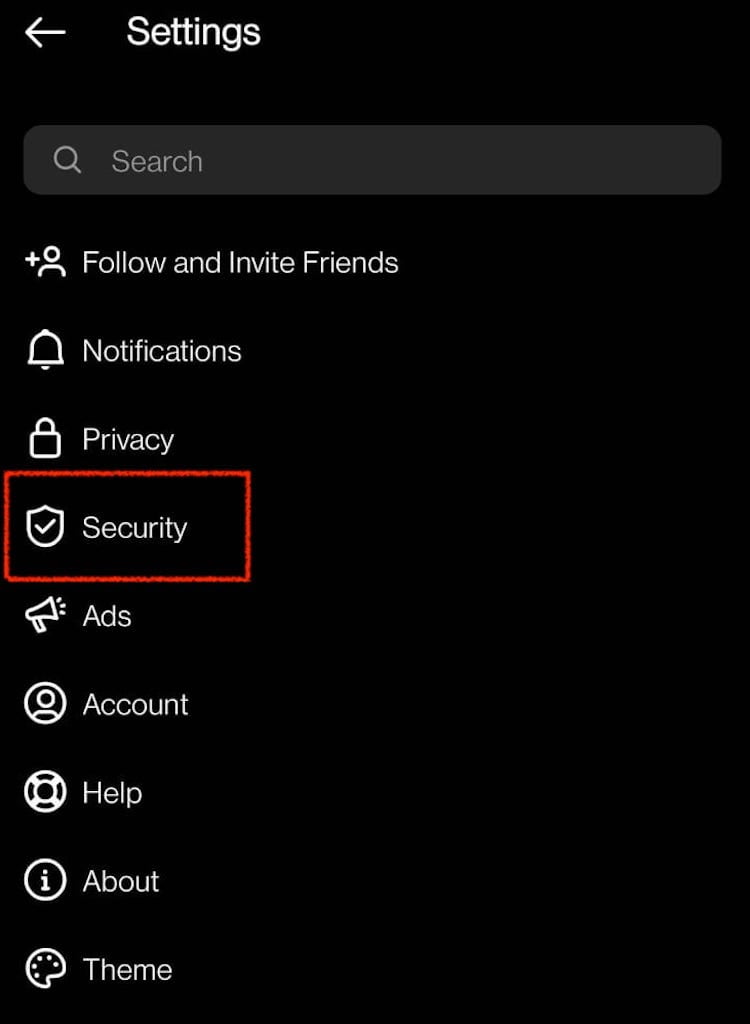 A new menu options will appear where you can see the "Download Data" option.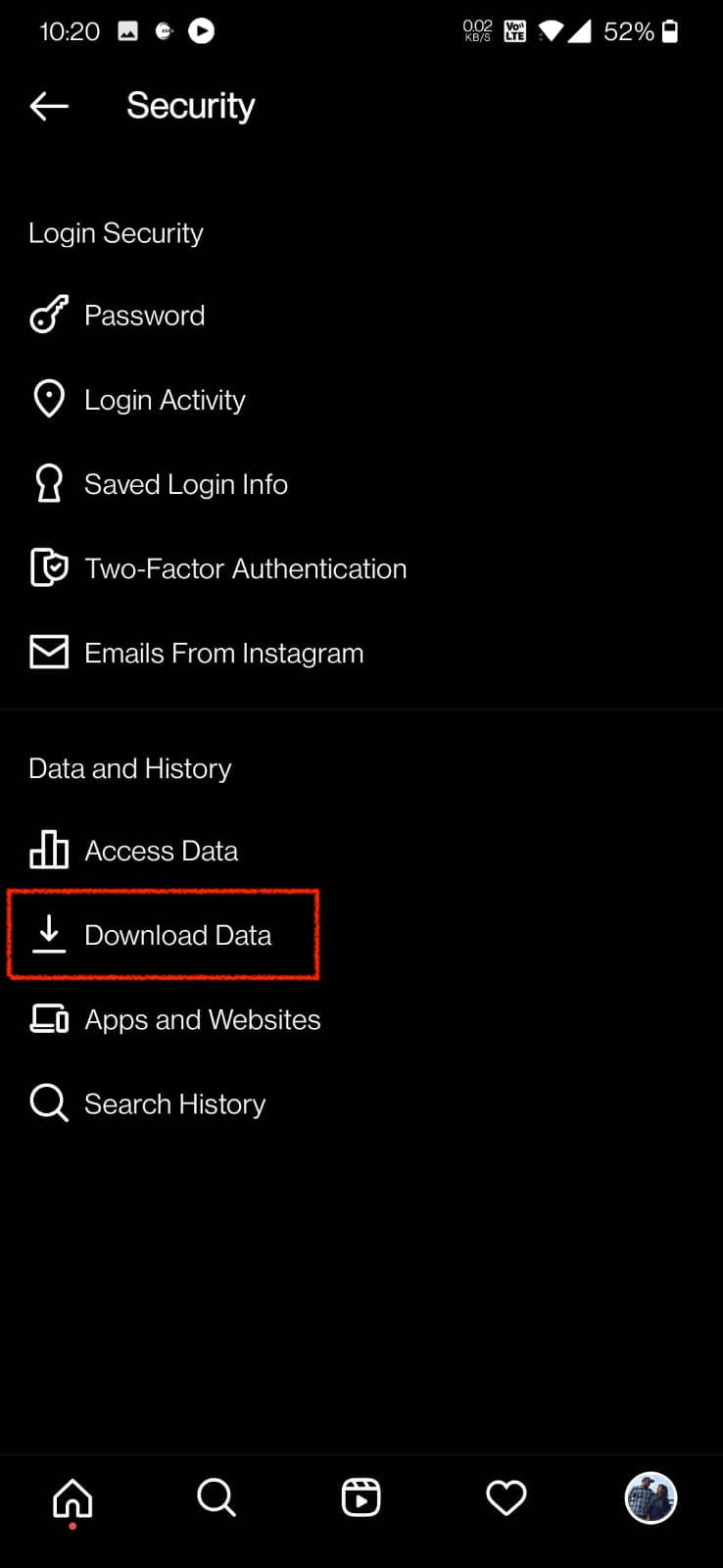 It will ask you to submit your email id where you will receive a link to download data associated with your account.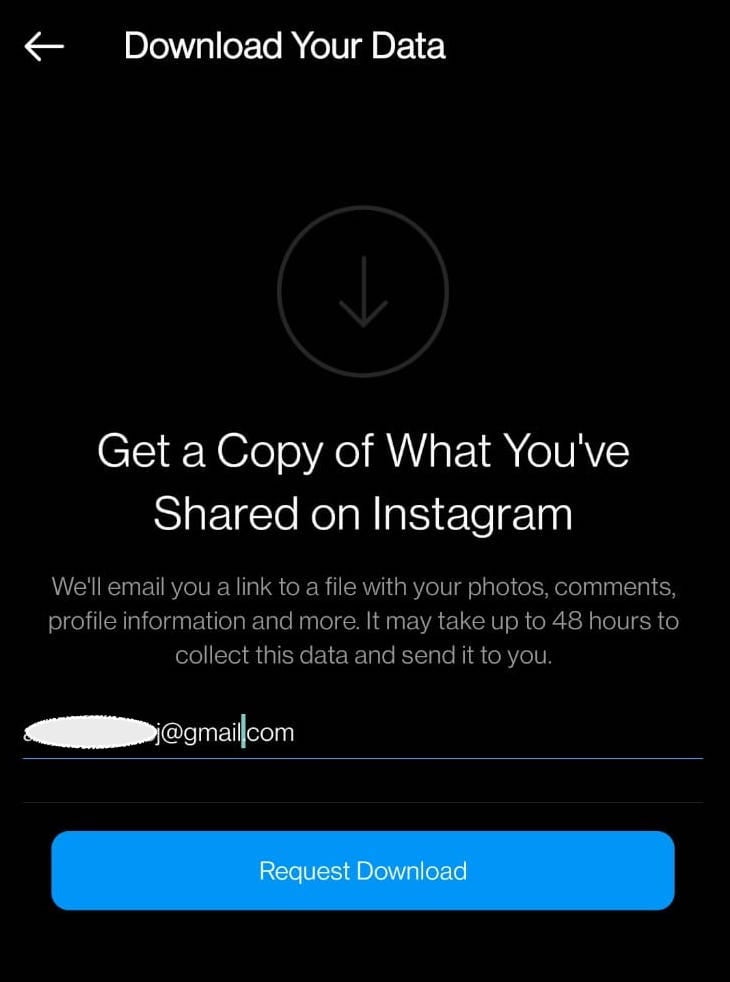 Within 48 hours Instagram will send an email containing a complete file of your profile, including your photos, comments, profile information and everything else you may need to access in the future, to the email address you provided.
Even if you think you'll never need this data again, it's an important step to make sure your data is safe in case you want to see it again. If you don't, you'll lose your data completely—and you'll never get it back, no matter how hard you try.
How to Delete Instagram Account Permanently?
Well, you have saved your valuable data. Now, you can move on to the next steps of the process. Here you have two options – you can delete your account permanently and the other is a temporary option.
Note: You can permanently delete your Instagram account but it is only possible to do it through a browser, it can be your mobile browser or even on desktop.
In order to delete your Instagram account, you need to follow these steps: –
You need to visit this special "Delete Your Account" page on your browser (make sure that you're logged in.)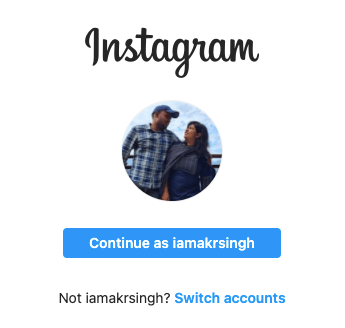 Now, you need to select the reason for deletion. You can opt from the drop down options.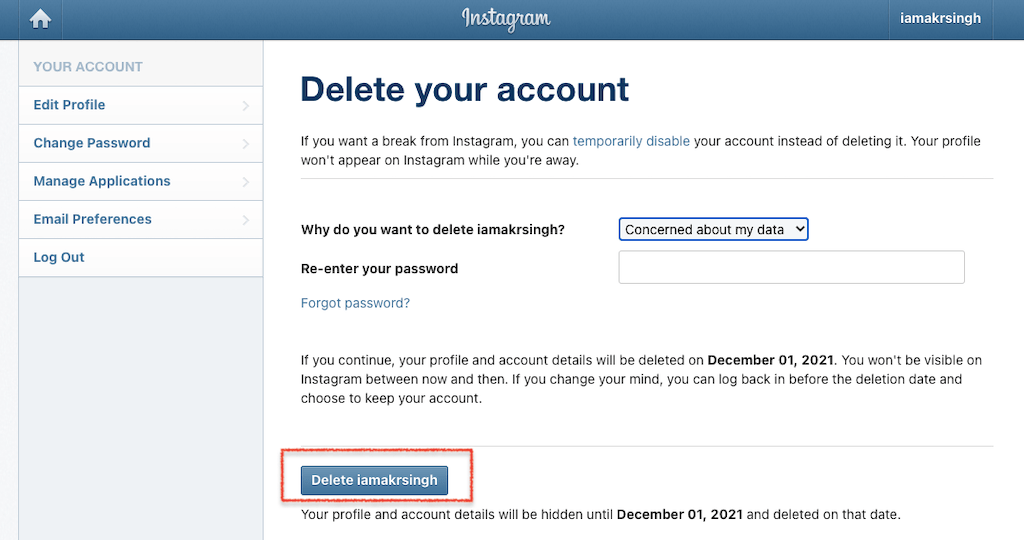 You have to click on the delete button.
That's all, now your account has been deleted along with all your information associated with that account.
How to Temporarily Disable Instagram Account?
As we said earlier, you have the option to disable your Instagram account. This can be useful if you are taking a break from this social media platform for a while and will come back in the future.
In order to temporarily disable Instagram, you need to follow the steps: –
Go to Instagram.com from your browser (you cannot do this from the app.)
Log in, if prompted to do so.
Click or tap on the profile icon in the upper right-hand corner.
Click or tap Profile then Edit Profile.
Scroll down and tap Temporarily disable my account to the right of the Submit button.

You will be asked why you are doing this. Select an option from the drop-down menu.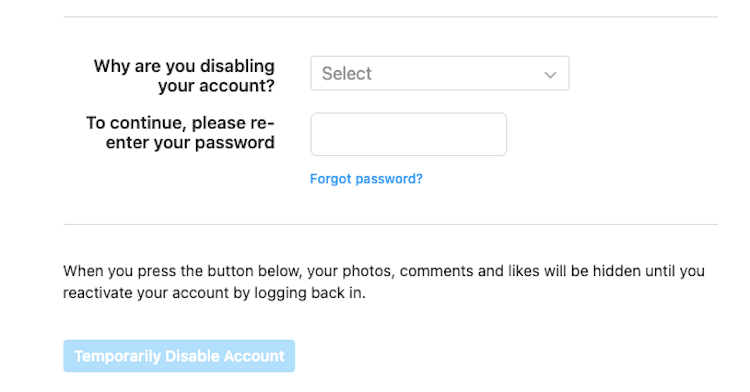 Re-enter your account password.
Click or tap "Temporarily Disable Account."
Note: As per the Instagram policies, you can use this option once each week
How long does Instagram take to delete your account?
If you choose to delete your Instagram account, your account will be deleted immediately. Unlike Facebook, where they queue your account to be deleted, this is not the case with Instagram.
If you're wondering how long it takes Instagram to delete inactive accounts or accounts that have been reported for spam/botting, the answer is a little less certain. Instagram periodically removes completely inactive accounts and accounts that are found to be botched through their system, however, no one except Instagram is quite sure how often this happens or what are the parameters to delete.
Trouble Logging In
In some cases, many Instagram users are unable to log into their accounts. It will be difficult for them to delete their account. Unfortunately, there is no way to delete or disable an account without first logging in. Nor can you ask Instagram to do it for you. If you can't remember or find your password, or if someone else changed it, follow these steps to recover it.
Launch the Instagram app.
Tap Get help logging in under the Login button.
If you have Android, choose one of the following: 'Use username, email or phone', or 'Log in with Facebook.'
If you have iOS, choose one of the following: Username or Phone.
Follow the prompts after your selection.
If you think you have been hacked, you may not be able to use one or all of these methods, depending on how deeply the hacker is tampering with your recovery information.
Open the app.
Tap Get help logging in under the login fields.
Select the option that allows you to enter your username.
Tap Need more help?
From here, you can follow the prompts to contact Instagram. They will ask you for information about the account, such as previous passwords, recovery information, and more.
Can I Get My Account Back After Deletion?
No, officially there is no option to get your account back once you have permanently deleted it but many users swear by a solution that we will cover here just in case you are in that situation.
Basically, you need to report your account as hacked to Instagram just as we've done above:
First, type in your username or email address and click on Instagram's 'Get help signing in' option.
From here, you need to select 'Trouble loggin in' option.
Follow the prompts such as selecting the type of account you'd like to recover and click on the 'My Account Was Hacked' option to proceed further.
Now, select the 'Hear More About Your Experience' option.
Fill out the form and Instagram will send you an email in a few hours. You will eventually need to provide some verification such as the images you uploaded to that account, your username, email address, and/or verification code for this to work.
Conclusion
By deleting or temporarily deactivating your Instagram account, you can finally give yourself some personal time back. You can also use your free time to invest in something productive. And, if you are taking a break for a while, it would be a good option for you to deactivate your account temporarily, but otherwise, delete it to protect your account and your discretion.
That's all folks for now. If you have any experience or questions regarding deleting an Instagram account, do share them in the comment box below.