Films and TV shows are more fun when you watch them together with your mates. With the growth of online streaming, it's now possible to share the viewing experience with other people, regardless of whether they're anywhere in the world.
There are plenty of applications available today which allow us to make it happen. One such great application is Watch2gether which is pretty much easier to operate.
In this article, we will explore some of the best ways to watch movies and TV shows in sync with friends and family. This is more important now than ever before given the current lockdown situation due to the corona pandemic.
What is Watch2Gether?
Watch2Gether is an amazing platform that allows groups of users to watch the same content in-sync together. At the same time, they can communicate with each other through chat-room using webcam and audio equipment. It allows users to create a room and invite their friends and family. They can send the link to their with whom they want to watch the videos. Once the users join the chat room they will be able to watch the content in sync either through a smartphone or computer.
The services are available on web browsers as well as on Android and iOS-based smartphones. It's a free service with limited usability. However, the application can be used for multiple purposes like socializing with friends, watching music, playing games as well as it can be helpful for educational purposes.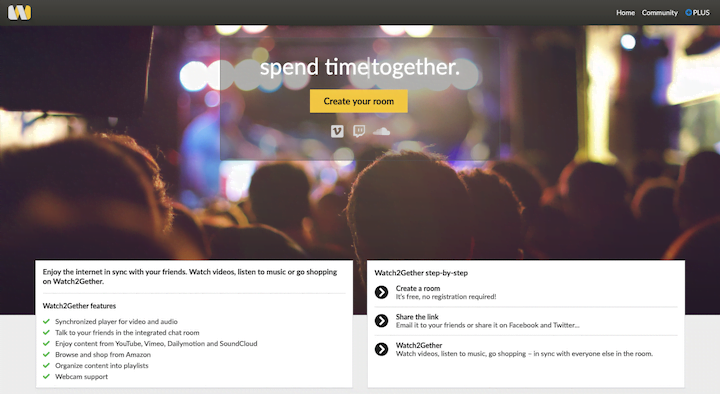 Features of Watch2Gether
Watch2Gether offers several features which include synchronized video options, browsing, gaming, audio and content display for all the participants. It enables users to share content among and between the users in the room. The moderation features further allow to have control of the content being displayed.
Watch2Gether extension
Watch2Gether has an aim to make hassle-free video streaming and watching in sync together. No matter where you are in the world, you can simply create a room and invite your companions to join. You can select any Videos from YouTube, Vimeo and Dailymotion as well as tune in music from Soundcloud. However, if you are selecting streaming content from unsupported sources like Netflix, Hotstar and etc then you need to install the Watch2Gether extension which allows you to do the same task. For downloading Watch2Gether you can go to the Chrome Extension store.
What can you watch on Watch2Gether?
Unlike Netflix and YouTube, Watch2Gether doesn't offer any streaming service. Watch2Gether supports media streaming from Youtube, Vimeo, Dailymotion and Soundcloud, as well as users, can also play their own content from their device. For the sites which are not supported, you can use the W2gSync 946 app.
How to Use Watch2Gether?
Watch2Gether is much easier to operate and watch videos and other content in sync with others. All you need to do is create a Room using the application and invite your friends to the room. Once they are in you can select the videos from the sources which you would like to play. The videos can be also shared through a direct link or using the chatbox.
As for the control, by default, all the users will have the right to search and play videos in the room. However, if you would like to have more control over the content being played you can do it by enabling Room Moderation Options.
How to Watch Netflix on Watch2Gether?
Many people have often this query as "how to stream Netflix videos using Watch2Gether". But unfortunately, Netflix is not compatible with the Watch2Gether player. However, the company has come up with a product solution called the W2gSync app.
The app lets you stream Netflix videos and everyone else will be able to see it. However, the users who created the room will have control over it. Plus, you need to download the official Watch2Gether Chrome browser extension.
And…that's a wrap! Did you find our article helpful? We believe that all your questions have been answered in this article. If you have any burning questions then let us know through the comment box. Besides, if you want to find out other amazing torrent websites, mirrors or VPNs for accessing Kickass Torrents, navigate through the links below.
See Also: Best Free Movie Download Sites
See Also: Coke and Popcorn Alternatives
See Also: Best Torrent Search Engines