BlackBerry has set in motion a new innovation to integrate its BBM users with ride-on-demand services. The tech giant answers the new-world need of instant mobility by collaborating with Uber, and has installed a specified icon in the BBM discover menu to arrange for Uber rides on a single click.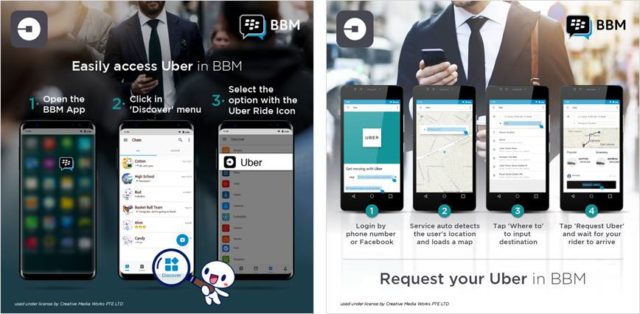 Clients working on both Android and iOS platforms will be exposed to this facility, without having to install any specific mobile applications. Developers also adds to it that users can place calls to their Uber without leaving the BBM application.
However, the app requires the user to sign in with their mobile number, or with an existing social media account, when navigated through the Discover menu. Destination can be set on the service after it locates the user and generates a map instantly. 'Request Uber' and 'payment' options will be available to book the ride and pay for it then and there. BBM service will access the user's profiles and settings to carry on with the action.
This move will help expand ride-hailing opportunities for Uber and may assist BBM in regaining its popularity as a messaging app which decreased after the introduction of Whatsapp and Facebook messenger.
In February 2017, BlackBerry had launched BBM Enterprise SDK, allowing developers to integrate encrypted messaging, voice, and video capabilities into apps and other services. Uber's latest integration is probably a result of Blackberry opening its APIs.
BBM is planning to launch the service in Africa, Asia, Europe, North America and the Middle East. With the rollout of this partnership, BBM users will no longer have to rely on a third-party application to book a cab. The yester-year prodigy of messenger services had taken a back seat since the triumph of Facebook Messenger and WhatsApp. The step of integration is expected to steer BBM towards market victories.