PDF, or Portable Document Format, has been considered as the most pristine format while giving away a file. Impeccably made, these file formats allow little room for modification once they have been made. Generally, they are made as docs or word files before being converted into the uneditable format.
Even though given the restriction over editing, PDFs are still a beloved of several because of the less space they occupy, the compactness emitting from the file and also the easily shareable plus printable style makes them all the more alluring.
However, there could be times when after making a PDF, you realise some necessary changes have to be done.
Oops, but they are uneditable? Or will they be after you have the list of such amazing PDF to Word Converters that will allow you to convert your PDF file into a suitable word format for authorising changes? Let's find out!
Online PDF to Word Converters
PDF to Doc
Nitro
PDF Converter
Adobe Acrobat
Wondershare
Small PDF
iLovePDF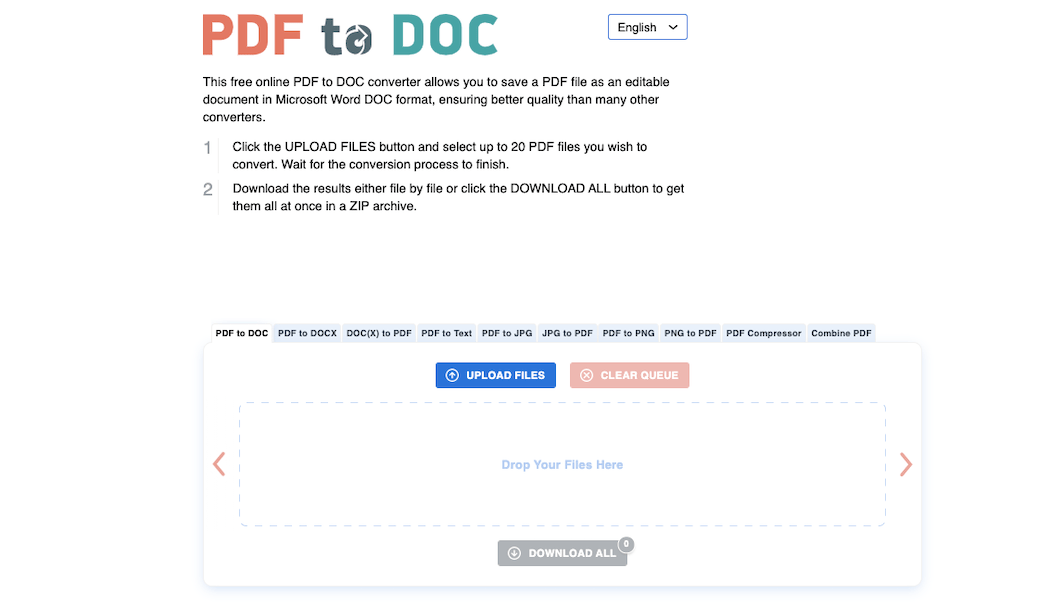 Known as the easiest PDF conversion and compression software, PDF to Doc allows conversion of around 20 PDF files at one go upon a simple click of uploading. After a while, it will be processed into editable docs files that you can access in a Zip archive by selecting the download button.
Besides conversion, the user can merge, compress, and extract PDFs over the simple to use and user-friendly one-pager interface of PDF to Doc. The free to avail converter allows the usage of all its features without the casting of nuisance ads for registration and subscription.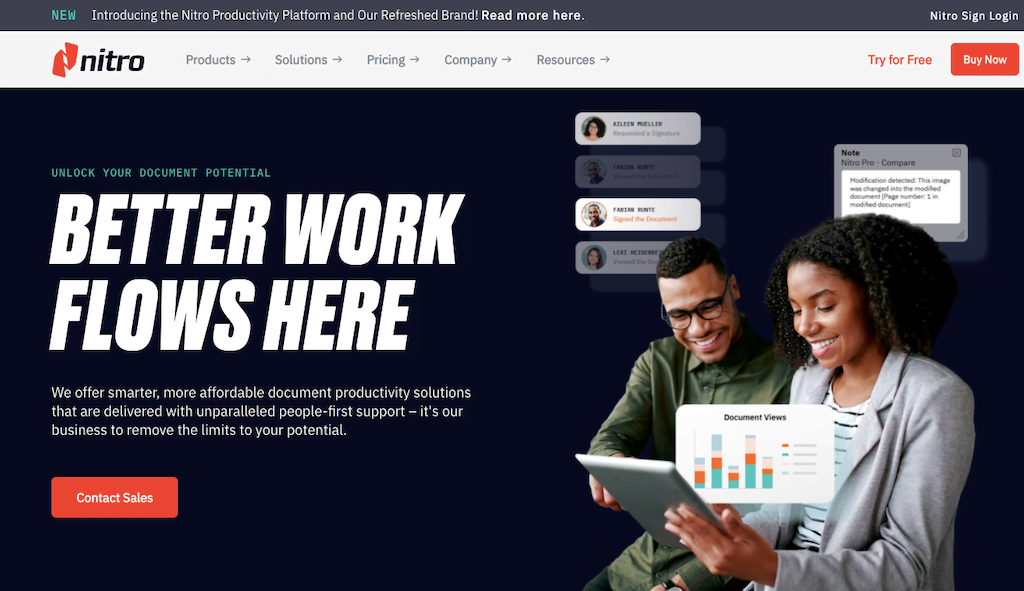 Contending at a top-notch level, the user-friendly and simple interface setup of Nitro is quite adaptable for performing multiple conversions in less time, especially if your hands are full with pdfs on diurnal basis.
It is also an easy start for beginners to learn and use. Tightly compatible solely over Windows and limits the advanced features to a 14-day trial at about $127.20. Plus, only 5 conversions are allowed per month on the freewheel. If the restriction over usage can be kept aside, the outstanding editing and annotating feature of Nitro is commendable.
It even performs its duty for safety; Nitro does not save the file after it has been converted. Instead, it sends the files to your email address so that your safety is maintained on the online platform.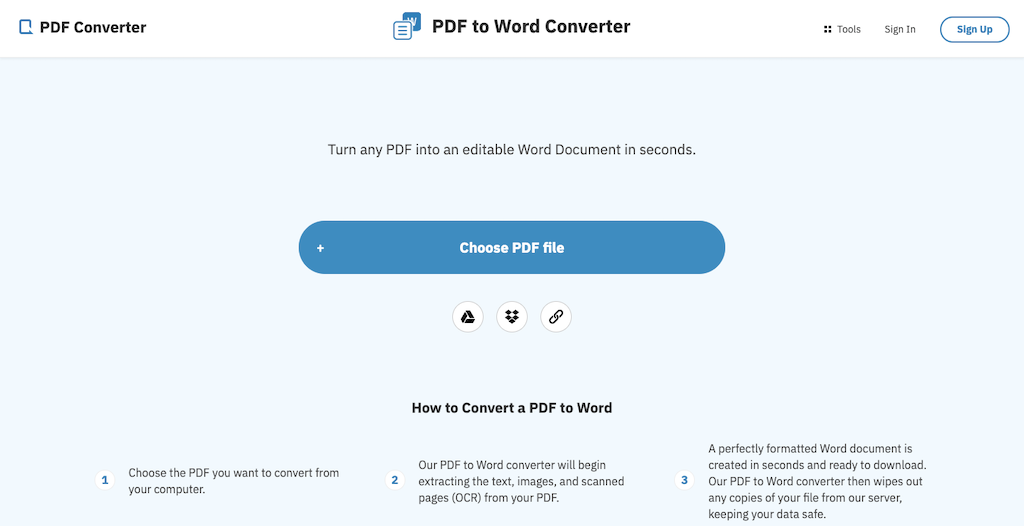 A free to avail, along with various limitations, online pdf to doc/word file converter, PDF Converter is easy to use and converts the file within a matter of few minutes. It is accessible over all kinds of devices because of the online web browser feature it possesses.
The file is not saved on the website, instead, it is directly saved on your device. Therefore, your data and file are completely safe. However, PDF converter has a paid version of Rs. 500 per month where you will get unlimited access to all 21 tools, advanced features, zero file limit and no restriction over conversions which the free version does not allow.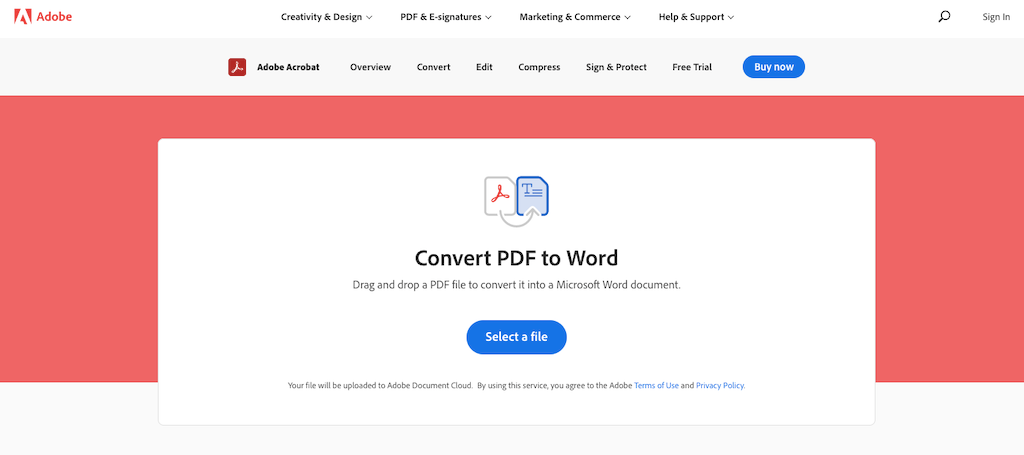 Adobe seems to follow the strategy of the sooner, the better with its swift and efficient system of pdf to word conversion over a robust platform.
The platform that has been known to create pdfs effectively has also allowed the reverse proficiently. Easy to use and user-friendly, Adobe runs on mobile phones and PCs, regardless of the OS because of the simple collation with the cloud of Adobe.
Its premium version supports conversion of various files like Microsoft 365, rotation and even splitting of PDF along with the free version functions like drag and drop. There are a total of three versions available: free, $9 per month basic version and $12 per month pro version.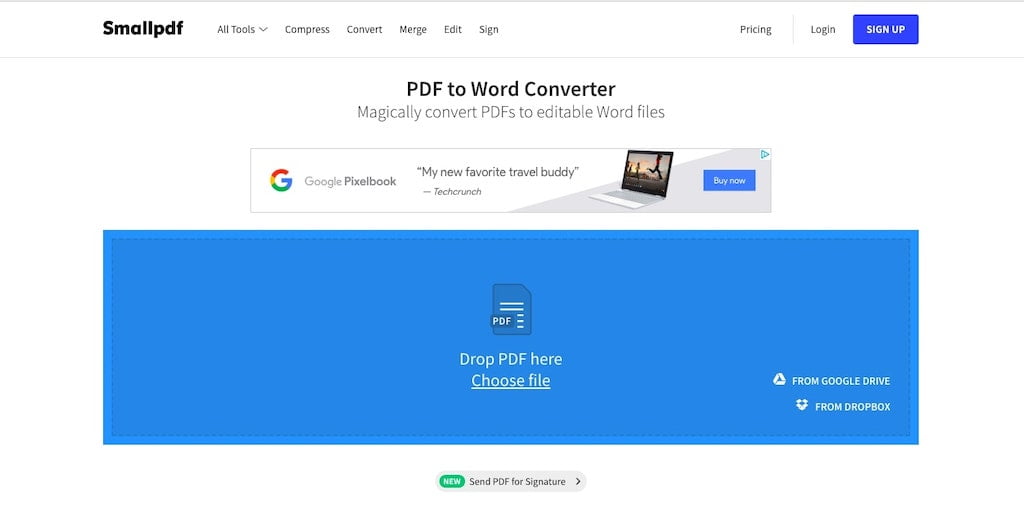 The best cloud conversion converter ever, Small PDF easily allows users to drag and drop the files for conversion. The simplicity of usage power-packed with advanced features 16 various pdf tools and different functionalities is a benefit you get in Small PDF. The final outcome that you receive poses zero tolerance towards compromise in the quality of the file.
Its seething cloud and compatibility allows it to work seamlessly smoothly over any platform provided. If you are worried about privacy and do not be because the secured cloud protects your document with its SSL encryption and automatically deleting the files from the web.
It has a paid version at about $12 per month and a 7-day free trial.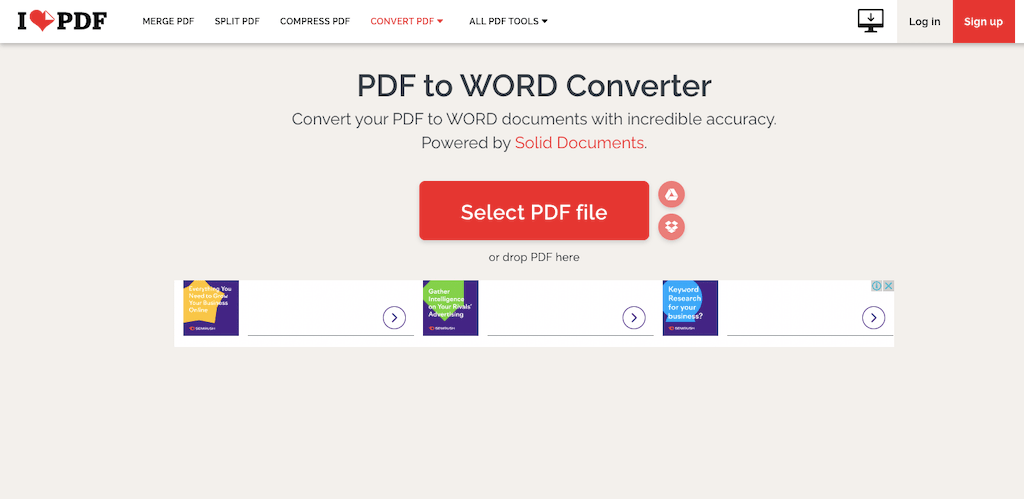 iLovePDF has a fast, convenient and easiest pdf to word processing system that majorly involves only two simple steps. Select a file (pdf file) that you want to change into editable word format. Then, upload it on the user-friendly converter. You will receive the file in no time.
Apart from converting pdf files into word format, you have a variety of conversion options where you can convert your PDF files into JPEG, Excel and even PPT format. It also allows you PDF compression, merging and splitting.
The software is free to use with the creation of a mere account.
7. Wondershare
While there are various pdf to word converting software available online, they mostly work appropriately over non-rich and text files. For converting pdf files enriched with images and several graphical media, a robust pdf converter like Wondershare is the requirement. It is so because of the great deal of control given to the user and the strong supportive system of the software.
It supports various file types as well as the document protection command has been stitched well into its system. It works on PCs of Windows and Mac as well as on the OS of iOS and Android users. If you want, you can even protect certain sections of the document where only authorised people can get access.
The user can annotate the PDF documents and even make pdfs.
Keep Editing!
Alas, an end of the remarkable list indeed. All of the PDF converters mentioned lack and excel at certain stratas differently. Therefore, depending upon your need and requirement of the outcome, decide which one would be best for you. Keep converting, keep editing.
Do you think we missed your favourite converter? Let us know in the comments!
See More: Open Source PDF Editors for Windows and Mac
See More: Best Free OCR Readers
See More: Document Scanner Apps for Android