PDF, or Portable Document Format, is widely regarded as the most reliable format for sharing files. These files are carefully created and are generally resistant to modification once they have been finalized. Typically, PDFs are created from DOC or Word files, which are then converted into the uneditable PDF format.
Despite the inability to edit them, PDFs are still popular for their compact size, ease of sharing and printing, and overall convenience. However, there may be times when you need to make changes to a PDF after it has been created.
In these cases, you can use one of the many PDF to Word converters that are available online. These tools allow you to convert your PDF file into a Word document, giving you the ability to make the necessary changes and then save the file as a PDF again. With the help of these converters, you can easily edit your PDFs and ensure that they are exactly as you need them to be.
Online PDF to Word Converters
PDF to Doc
Nitro
PDF Converter
Adobe Acrobat
Wondershare
Small PDF
iLovePDF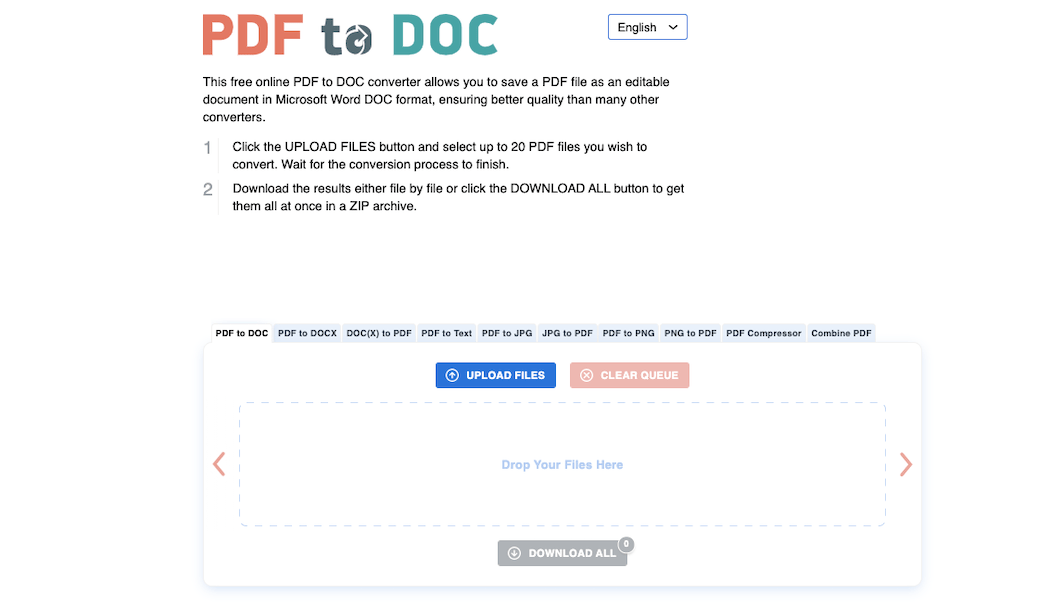 PDF to Doc is widely known as the easiest PDF conversion and compression software available. It allows users to convert up to 20 PDF files at once with just a single click of the upload button. After a short processing time, the converted files will be available for download in a Zip archive.
In addition to conversion, PDF to Doc also offers features such as merging, compressing and extracting PDFs. Its user-friendly one-page interface makes it easy to use, even for beginners. Best of all, PDF to Doc is completely free to use and does not require registration or subscription. It is ad-free, so you can use all of its features without any interruptions.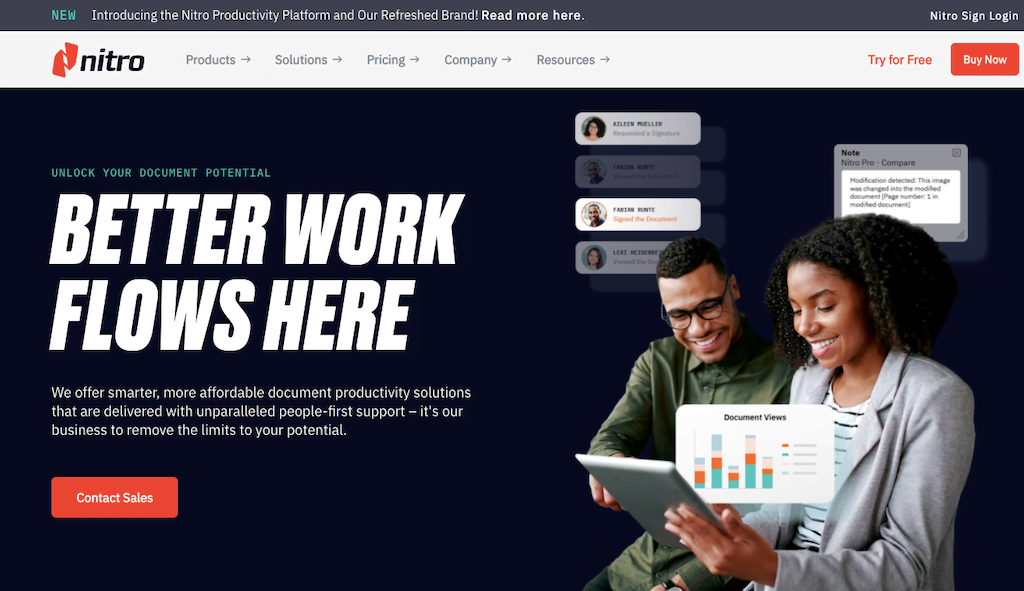 Nitro is a top-notch PDF-to-Word converter with a user-friendly and simple interface that is perfect for performing multiple conversions quickly, especially if you need to handle a lot of PDFs on a daily basis. It is also easy for beginners to learn and use.
However, Nitro is only compatible with Windows and offers a 14-day trial of its advanced features for $127.20. The free version is limited to just 5 conversions per month. Despite these limitations, Nitro stands out for its excellent editing and annotating features.
In addition to its conversion capabilities, Nitro also prioritizes the safety of its users. It does not save the converted file after the conversion process is complete. Instead, it sends the file to your email address to ensure that your data remains safe on the online platform. Overall, Nitro is a reliable and feature-rich choice for converting PDFs to Word documents.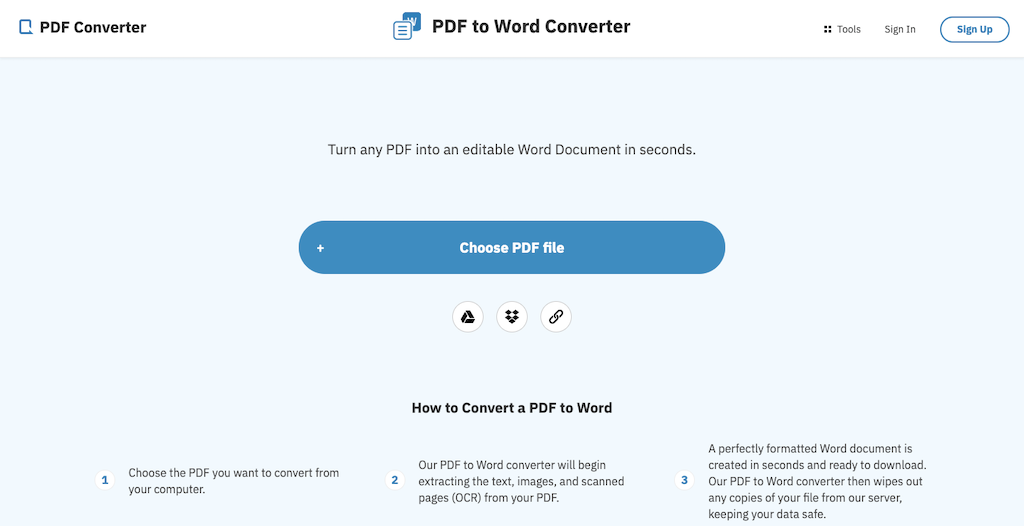 PDF Converter is a free, online tool for converting PDF files to DOC or Word format. It is easy to use and can quickly convert files within a few minutes. Thanks to its online web browser feature, it is accessible from a variety of devices.
One of the key benefits of PDF Converter is that it does not save your files on the website, instead, it directly saves them to your device. This means that your data and files are completely safe. While the free version does come with some limitations, there is also a paid version available for Rs. 500 per month. This version offers unlimited access to all 21 tools, advanced features, and no restrictions on conversions. It also allows for an unlimited number of file conversions. Overall, PDF Converter is a reliable and convenient choice for converting PDF files.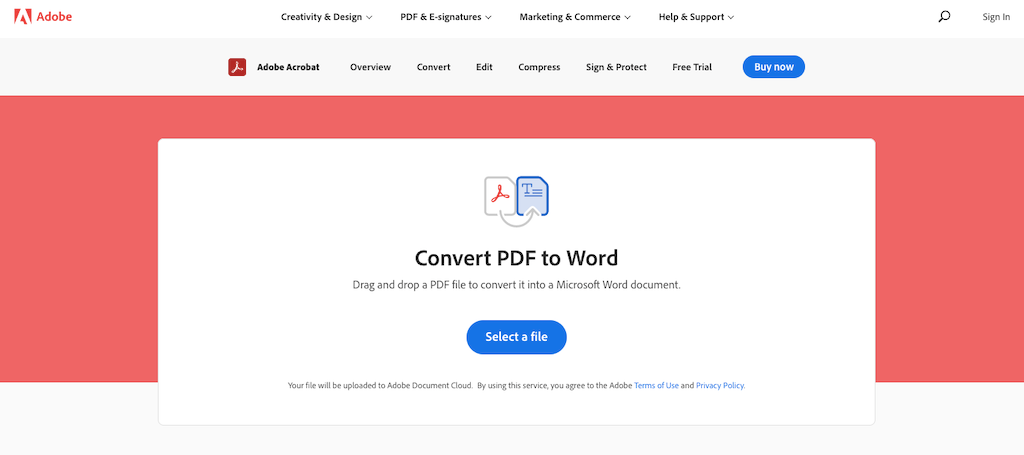 Adobe is known for its swift and efficient system for converting PDFs to Word documents, thanks to its robust platform. As a company that is well-respected for its ability to create high-quality PDFs, it's no surprise that Adobe's PDF to Word converter is just as effective.
This tool is easy to use and user-friendly, making it a great choice for both mobile users and those working on a desktop or laptop computer. It is compatible with a wide range of operating systems, thanks to its seamless integration with the Adobe cloud.
Adobe offers three versions of its PDF to Word converter: a free version, a basic version for $9 per month, and a pro version for $12 per month. The premium versions offer additional features such as the ability to convert various file types, rotate PDFs, and split them, in addition to the drag and drop functionality offered in the free version. Overall, Adobe is a reliable choice for converting PDFs to Word documents.Regenerate response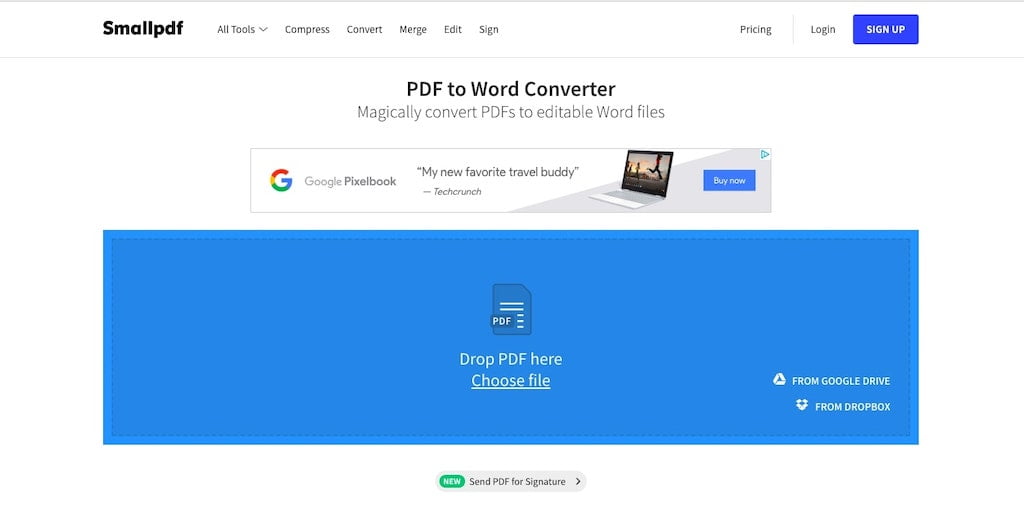 Small PDF is a cloud-based conversion converter that stands out thanks to its advanced features and ease of use. With just a few simple steps, users can drag and drop their files for conversion. This tool offers 16 different PDF tools and functions, making it a powerful choice for anyone looking to work with PDF files.
One of the key benefits of Small PDF is that it produces high-quality output with zero tolerance for compromise. It is compatible with a wide range of platforms and works seamlessly across all of them. Additionally, Small PDF takes privacy seriously, with secure cloud storage that protects your documents with SSL encryption and automatically deletes them from the web.
While Small PDF does offer a paid version at around $12 per month, it also provides a 7-day free trial for users to try out its features. With its advanced capabilities and user-friendly interface, it's no surprise that Small PDF is considered one of the best cloud conversion converters available.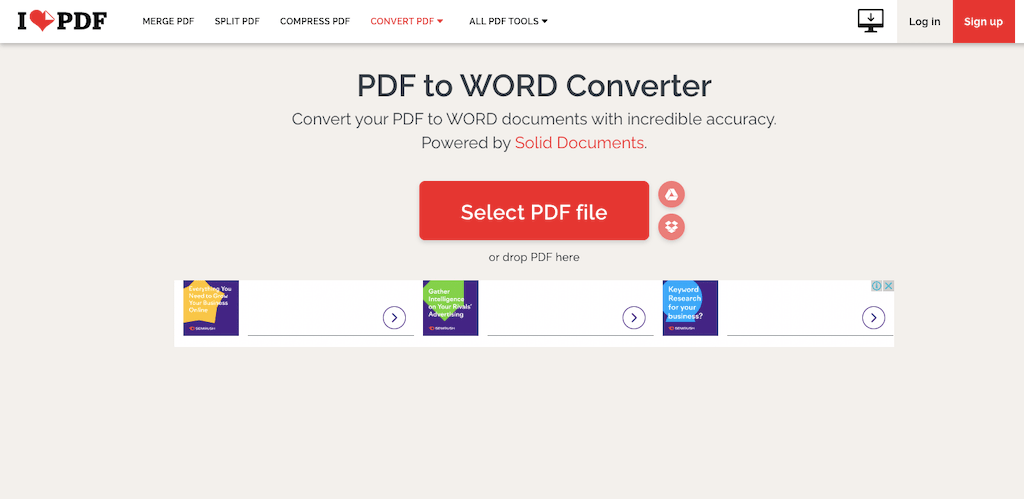 iLovePDF boasts a fast, convenient, and user-friendly system for converting PDFs to Word documents. The process involves just two simple steps: select the PDF file you want to convert and upload it to the converter. In no time, you'll receive the converted file.
In addition to converting PDFs to Word, iLovePDF offers a range of conversion options including the ability to convert PDFs to JPEG, Excel, and PPT format. It also allows users to compress, merge, and split PDF files.
One of the best things about iLovePDF is that it is completely free to use, with the only requirement being the creation of an account. With its wide range of features and ease of use, it's no wonder that iLovePDF is a popular choice for converting and manipulating PDF files.
7. Wondershare
There are many PDF to Word converting tools available online, but they often struggle to accurately convert PDF files that contain a lot of images and other graphical elements. This is where Wondershare, a powerful PDF converter, comes in handy. Not only does it offer a wide range of features that give users a great deal of control, but it also has a reliable support system to help with any issues that may arise.
In addition to supporting various file types, Wondershare allows users to protect their documents with password protection. This feature can even be used to protect specific sections of a document, ensuring that only authorized individuals have access.
Wondershare is compatible with both Windows and Mac computers, as well as iOS and Android devices. It allows users to annotate PDF documents and even create PDFs from scratch. Overall, it is a versatile and reliable tool for converting and working with PDF files.
Common FAQs – Online PDF To Word Converters
What is the best online PDF-to-Word converter for 2023?
It is difficult to determine the "best" online PDF to Word converter, as different tools may be better suited to different needs and requirements. Some popular options include Adobe, Small PDF, and Nitro.
Are there any free online PDF to Word converters?
Yes, there are several free online PDF-to-Word converters available, such as PDF to Doc and iLovePDF. However, these tools may have limitations on the number of conversions allowed or may offer a limited set of features compared to paid versions.
Can online PDF to Word converters handle large files?
It depends on the specific tool you are using. Some online PDF to Word converters may have limits on the size of the files they can handle, while others may be able to handle larger files without any issues. It is always a good idea to check the limits and capabilities of a particular tool before using it to convert large files.
Is it safe to use online PDF to Word converters?
In general, online PDF to Word converters are safe to use as long as you choose a reputable and secure tool. Make sure to do your research and read reviews before using an online converter to ensure that your data will be protected and your files will be handled securely.
Keep Editing!
The PDF to Word converters mentioned in this list all have their own unique features and capabilities. While some may excel at certain tasks, others may have certain limitations. It is important to consider your specific needs and requirements when choosing a PDF converter.
Take the time to evaluate each tool and consider its pros and cons to determine which one is the best fit for your needs. Whether you need a tool that is easy to use, has advanced features, or is compatible with a particular operating system, there is a PDF converter out there that can meet your needs.
So go ahead and keep converting and editing your PDFs with the help of these powerful tools. With the right tool in hand, you can easily manipulate and work with your PDF files to achieve the desired results.
Do you think we missed your favourite converter? Let us know in the comments!
See More: Open Source PDF Editors for Windows and Mac
See More: Best Free OCR Readers
See More: Document Scanner Apps for Android