PDF, which stands for Portable Document Format, is widely regarded as the most dependable format for file sharing. These meticulously crafted files are generally resistant to modifications once they're finalized. Typically, PDFs originate from DOC or Word files, which are then converted into non-editable PDF format.
Despite their uneditable nature, PDFs remain popular due to their compact size, ease of sharing and printing, and overall convenience. Nonetheless, situations may arise where you find yourself needing to make changes to a PDF after its creation.
In such scenarios, you can turn to the plethora of online PDF to Word converters at your disposal. These tools enable you to transform your PDF file into a Word document, granting you the ability to implement the necessary changes and subsequently save the file once again in PDF format. By utilizing these converters, you can effortlessly edit your PDFs and ensure their alignment with your precise requirements.
Online PDF to Word Converters
PDF to Doc
Nitro
PDF Converter
Adobe Acrobat
Wondershare
Small PDF
iLovePDF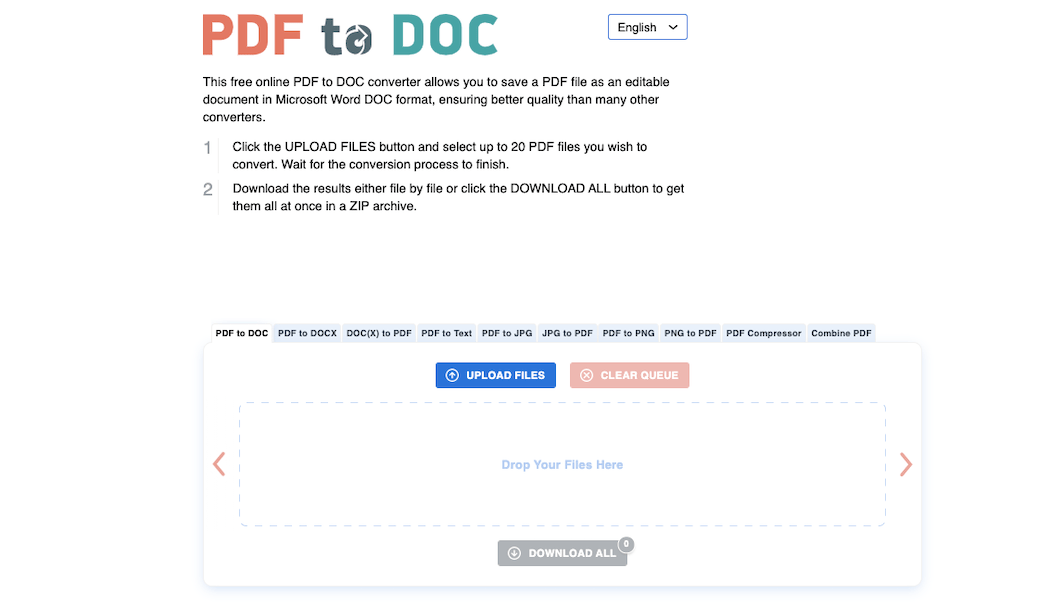 PDF to Doc is widely recognized as the most user-friendly PDF conversion and compression software on the market. This tool empowers users to effortlessly convert up to 20 PDF files simultaneously with a single click of the upload button. Within a brief processing period, the converted files become readily available for download in a convenient Zip archive.
Beyond its conversion capabilities, PDF to Doc boasts additional features including merging, compressing, and extracting PDFs. Its intuitively designed, one-page interface ensures user-friendliness, even for those new to such software. The best part is that PDF to Doc is entirely free to utilize and necessitates no registration or subscription. Moreover, it remains ad-free, enabling uninterrupted utilization of all its features.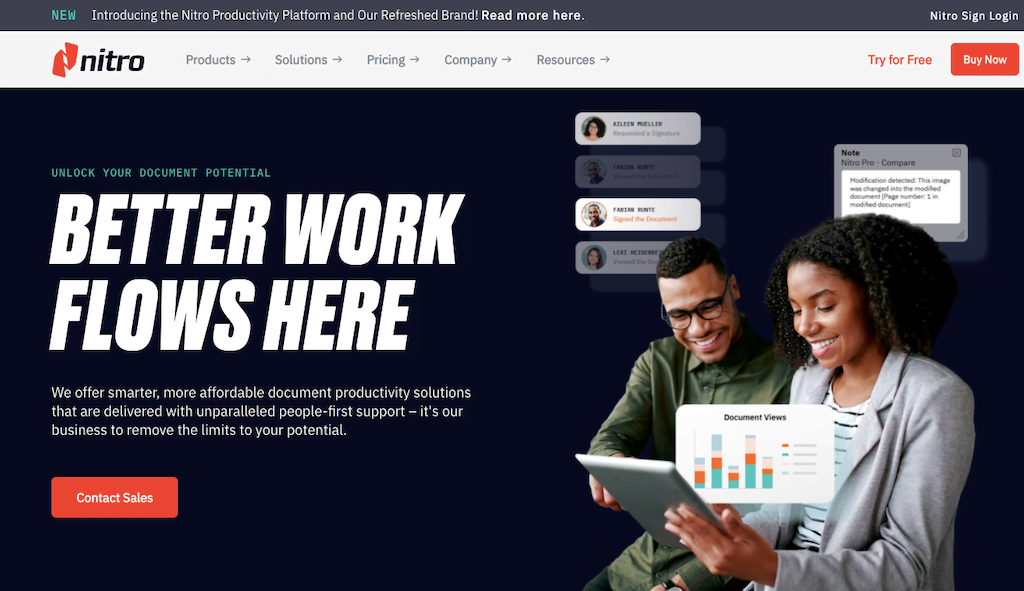 Nitro presents itself as a premium PDF-to-Word converter, boasting a user-friendly interface that is tailor-made for swift, efficient multi-conversions—making it especially ideal for managing a substantial load of PDFs on a day-to-day basis. Its beginner-friendly design also ensures ease of learning and utilization.
However, it's important to note that Nitro is exclusively compatible with Windows operating systems. It extends a 14-day trial of its advanced features at a cost of $127.20. The free version, on the other hand, comes with a limitation of just 5 conversions per month. Despite these constraints, Nitro distinguishes itself with its remarkable editing and annotating functionalities.
Beyond its conversion prowess, Nitro places a premium on user security. It refrains from retaining the converted files post-conversion. Instead, it dispatches the file to your designated email address, safeguarding your data on the online platform. On the whole, Nitro emerges as a dependable, feature-rich solution for the seamless conversion of PDFs into Word documents.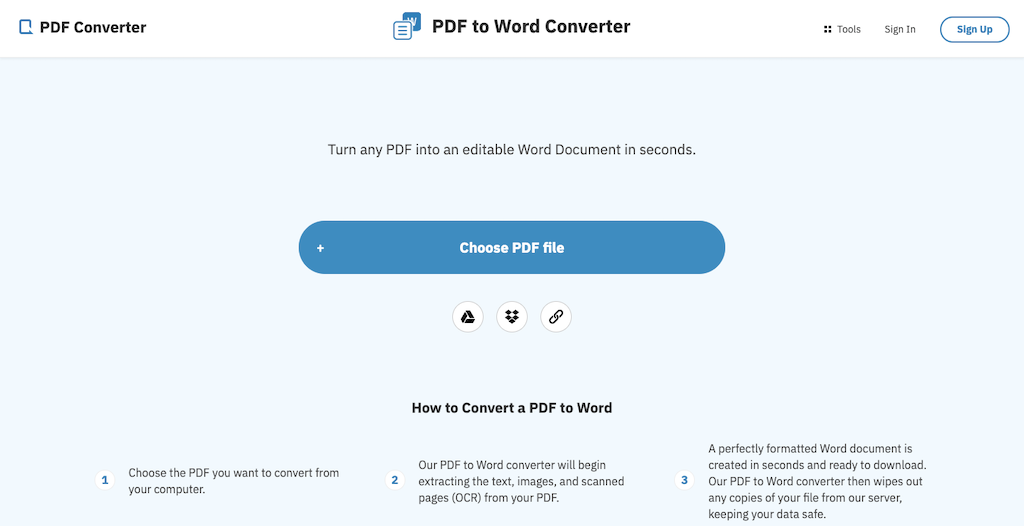 PDF Converter stands as a complimentary, web-based utility tailored for transforming PDF files into DOC or Word format. Its simplicity makes it a breeze to utilize, swiftly converting files in a matter of minutes. What's more, its web-based functionality ensures accessibility across an array of devices.
An outstanding feature of PDF Converter lies in its approach to data security. Instead of retaining your files on the website, it directly saves them to your device. This translates to complete safety for your data and files. While the no-cost version does have its limitations, an upgraded, paid version is also available at a rate of Rs. 500 per month. This premium variant unlocks boundless access to all 21 tools, enriched features, and the removal of conversion restrictions. Furthermore, it facilitates an infinite number of file conversions.
All in all, PDF Converter emerges as a dependable and expedient solution for the conversion of PDF files, offering a mix of reliability and convenience.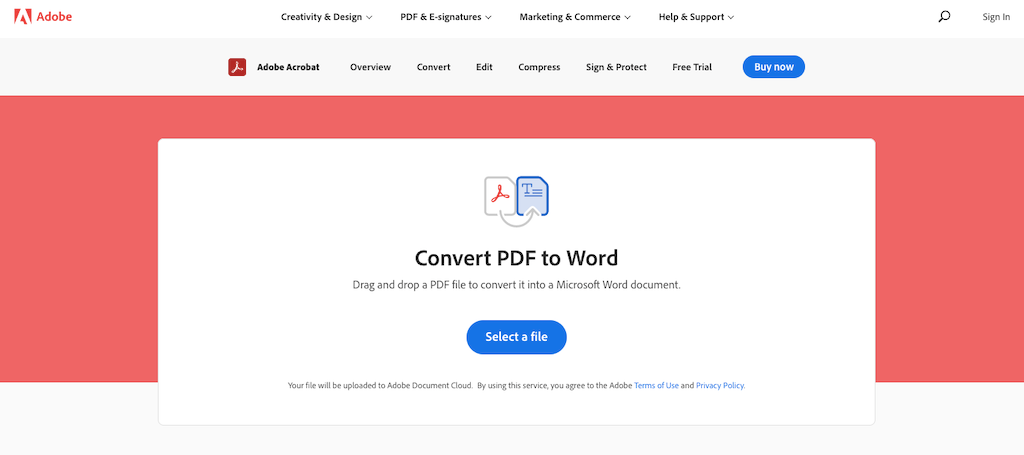 Renowned for its expeditious and effective PDF-to-Word conversion system, Adobe capitalizes on its robust platform. Widely acclaimed for crafting top-tier PDFs, Adobe seamlessly extends its prowess to its PDF to Word-converter, a tool that stands equally adept.
User-friendliness is a hallmark of this tool, rendering it an excellent option for mobile users and those operating desktops or laptops. Its compatibility spans a wide spectrum of operating systems, facilitated by its seamless integration with the Adobe cloud.
Adobe delivers its PDF to Word converter in three variants: a complimentary version, a fundamental version for $9 per month, and a professional version priced at $12 per month. The premium iterations bestow supplementary functionalities such as the capacity to convert diverse file formats, manipulate PDF orientation, and segment files. These additions are alongside the drag-and-drop feature found in the free version. All told, Adobe stands as a steadfast choice for the conversion of PDFs into Word documents.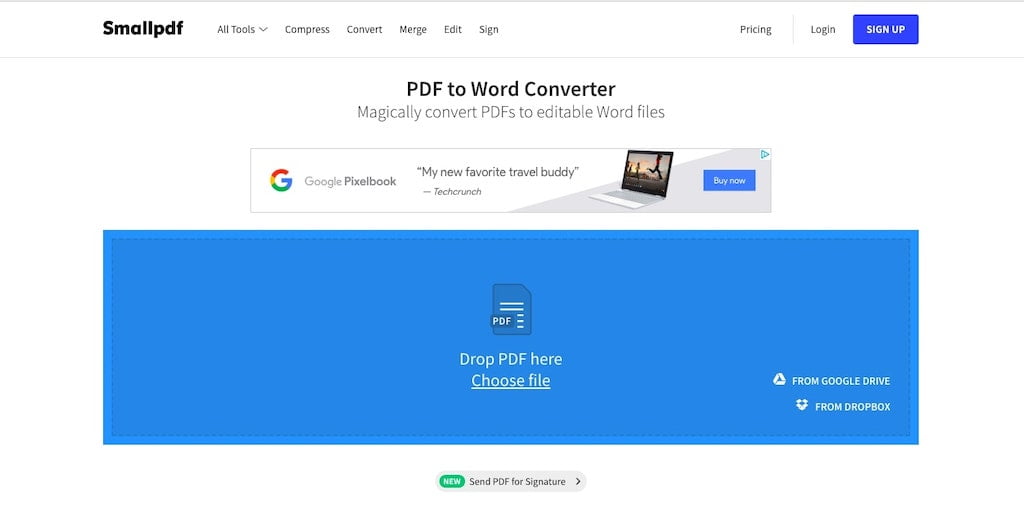 Small PDF emerges as a cloud-based conversion converter distinguished by its advanced functionalities and user-friendly design. Operating it involves just a few straightforward steps—users can effortlessly drag and drop their files for conversion. This tool boasts an impressive array of 16 distinct PDF tools and functions, positioning it as a robust choice for anyone engaging with PDF files.
A notable strength of Small PDF lies in its commitment to unwavering output quality. It stands resolute against any compromise. Compatibility extends across a broad spectrum of platforms, ensuring seamless operation across each one. Small PDF places a paramount emphasis on privacy, offering secure cloud storage equipped with SSL encryption that shields your documents and even orchestrates automatic removal from the online domain.
While a subscription-based version of Small PDF is available at a cost of approximately $12 per month, the tool also extends a 7-day free trial period for users to explore its capabilities. Given its advanced prowess and a user interface designed for simplicity, it comes as no surprise that Small PDF is widely regarded as one of the premier cloud-based conversion converters accessible today.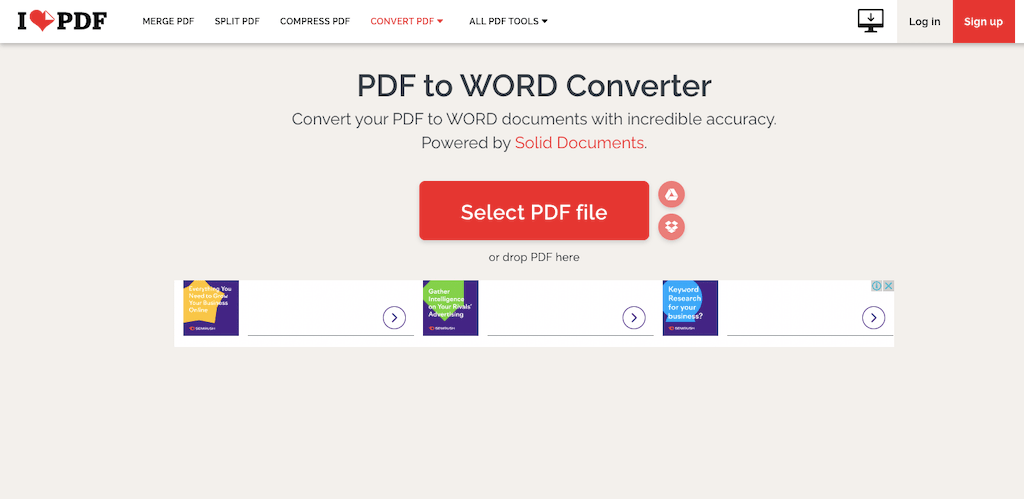 iLovePDF presents a swift, efficient, and user-centric system designed to transform PDFs into Word documents. This process is streamlined into two straightforward steps: simply choose the desired PDF file and upload it to the converter. In a matter of moments, the converted file is at your disposal.
Beyond its PDF-to-Word conversion prowess, iLovePDF extends an array of transformation options. This includes converting PDFs to formats like JPEG, Excel, and PPT, broadening its versatility. The tool further facilitates tasks like compression, merging, and splitting of PDF files.
One of iLovePDF's most appealing features is its complete free-of-charge access, requiring only the establishment of an account. This generous offering is coupled with a diverse range of capabilities, making iLovePDF an evident favorite for PDF conversion and manipulation, thanks to its comprehensive feature set and user-friendly nature.
7. Wondershare
While numerous online PDF to Word-conversion tools exist, many stumble when handling PDF files laden with images and intricate graphical elements. In such scenarios, Wondershare, a potent PDF converter, emerges as a valuable asset. This tool not only offers an extensive array of features that bestow users with substantial control but also stands equipped with a dependable support system to address any potential challenges.
Beyond its diverse file format support, Wondershare empowers users to shield their documents through password protection. This functionality can be employed to safeguard specific sections of a document, ensuring exclusive access for authorized individuals.
Wondershare extends compatibility to both Windows and Mac computers, along with iOS and Android devices. It not only facilitates annotation of PDF documents but also enables the creation of PDFs from scratch. Altogether, Wondershare shines as a versatile and dependable solution for PDF conversion and manipulation.
Common FAQs – Online PDF To Word Converters
What is the best online PDF-to-Word converter for 2023?
It is difficult to determine the "best" online PDF to Word converter, as different tools may be better suited to different needs and requirements. Some popular options include Adobe, Small PDF, and Nitro.
Are there any free online PDF to Word converters?
Yes, there are several free online PDF-to-Word converters available, such as PDF to Doc and iLovePDF. However, these tools may have limitations on the number of conversions allowed or may offer a limited set of features compared to paid versions.
Can online PDF to Word converters handle large files?
It depends on the specific tool you are using. Some online PDF to Word converters may have limits on the size of the files they can handle, while others may be able to handle larger files without any issues. It is always a good idea to check the limits and capabilities of a particular tool before using it to convert large files.
Is it safe to use online PDF to Word converters?
In general, online PDF to Word converters are safe to use as long as you choose a reputable and secure tool. Make sure to do your research and read reviews before using an online converter to ensure that your data will be protected and your files will be handled securely.
Keep Editing!
The PDF to Word converters mentioned in this list all have their own unique features and capabilities. While some may excel at certain tasks, others may have certain limitations. It is important to consider your specific needs and requirements when choosing a PDF converter.
Take the time to evaluate each tool and consider its pros and cons to determine which one is the best fit for your needs. Whether you need a tool that is easy to use, has advanced features, or is compatible with a particular operating system, there is a PDF converter out there that can meet your needs.
So go ahead and keep converting and editing your PDFs with the help of these powerful tools. With the right tool in hand, you can easily manipulate and work with your PDF files to achieve the desired results.
Do you think we missed your favourite converter? Let us know in the comments!
See More: Open Source PDF Editors for Windows and Mac
See More: Best Free OCR Readers
See More: Document Scanner Apps for Android
See More: Best Online PDF To Word Converters