Playing racing games on your Microsoft Xbox One with an overused controller is not a bad thing. But, is it as thrilling and as immersive as it is with a dedicated steering wheel? No, right? Getting the best experience of driving around in visually appealing games like GTA V and Forza 6 requires a trustworthy steering wheel that can withstand the wear and tear of intense driving action and make simulated driving entertaining. But, how would you know which steering wheels will be compatible with your Xbox One in terms of both affordability and value? By reading through our review of 7 Best steering wheels for Xbox One, obviously!
We scoured the web to find the best steering wheels for Xbox One that were put through several yardsticks to figure out their true worth. We reckon these steering wheels will cater to gamers of all hues. So, are you ready to find out the best steering wheels for Xbox One? So, without further ado, let the games begin.
7 Best Steering Wheels for Xbox One of 2019 For Gamers – Review
1) Logitech G920 (Best Xbox One steering wheel with Clutch and shifter)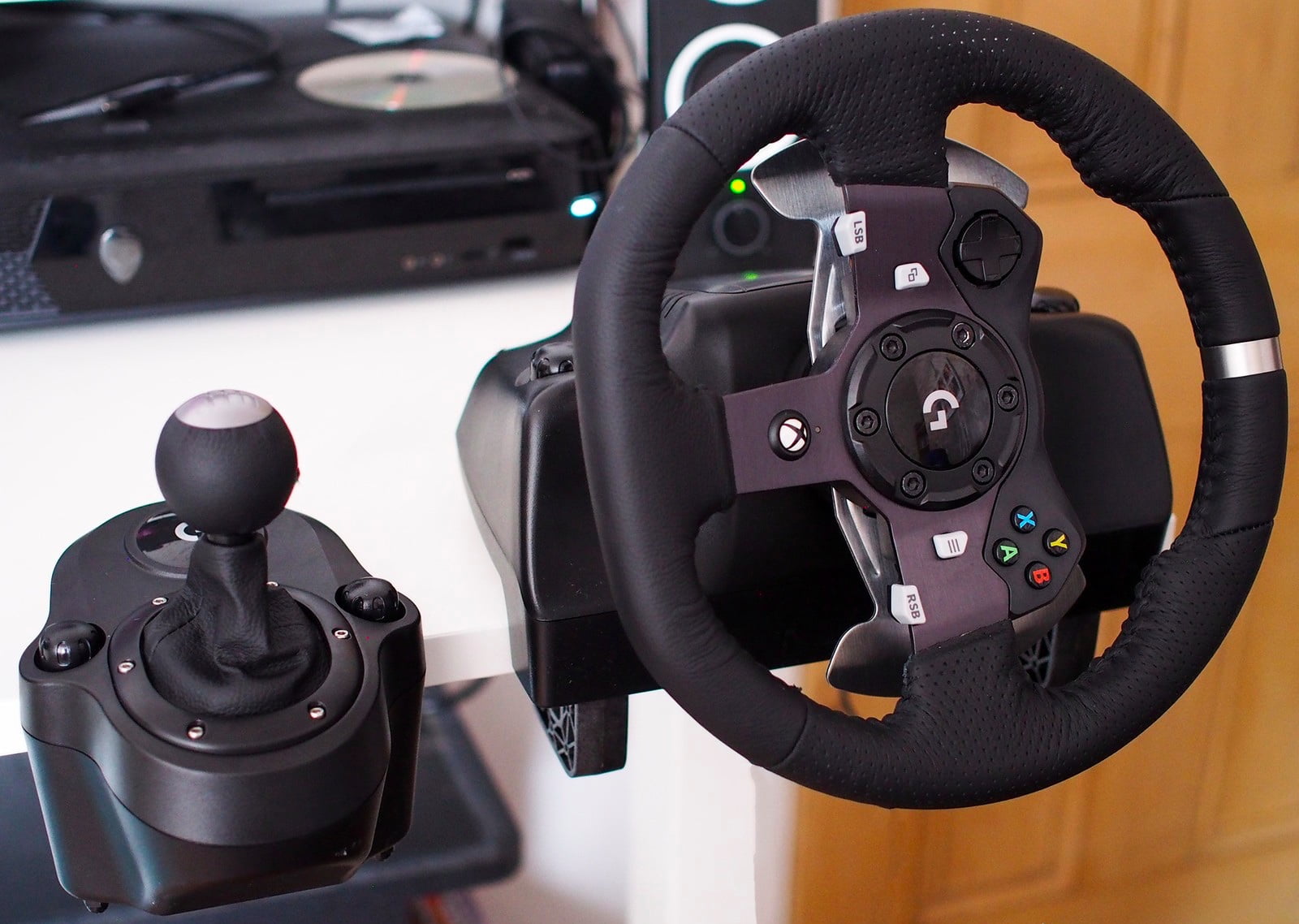 One of the gaming industry's leading peripheral providers, Logitech has introduced the G920 as one of the best steering wheels for Microsoft Xbox One aficionados who are seeking quality gaming time. It is also compatible for PS4, PS3 and PC gaming.
At first glance, the medium-sized bespoken wheel looks quite small, but you shouldn't worry about the size – it is good enough to fit wherever you want it. The Logitech G920 is a very comfortable leather clad wheel that feels luxurious and ensures that you can play games such as DIRT 4, Dirt Rally and Forza Horizon 3 for long hours on end.
We were quite satisfied with the hub which provides a good number of wheel mounting options. Yes, this does sound like a good multiplayer deal even if you are a fan of old-school arcade gaming.
We were equally amazed with the triple pedals, stick shift and brakes that were all in sync. They have a very strong floor grip and it surely feels great to slam on the anchors every now and then. Not to mention, the super responsive force feedback which is perhaps one of the best we witnessed whilst playing Forza Motorsport 6.
It felt ultra realistic to cruise around the Los Santos hood in GTA 5 in different cars, though the brake can at times be a bit stiff, but it's almost negligible. Also, the rotation that this steering wheel offers at 900 degrees gives you total control of whichever car you are driving. That being said, the only downside to this otherwise great steering wheel has to be the slightly limited number of buttons. Or, maybe we are being too picky?
Bottom Line Best steering wheel for high-end games.
Pros
Great Control

Amazing force feedback

Quite Affordable

900 degrees rotation

Hydraulic brakes, 3 mechanical clutches and a stick shift

Compatible for PC Gaming
Comes with Clutch and Shifter
Cons
Limited number of buttons

2) Fanatec ClubSport Racing Wheel BMW (Best Splurge)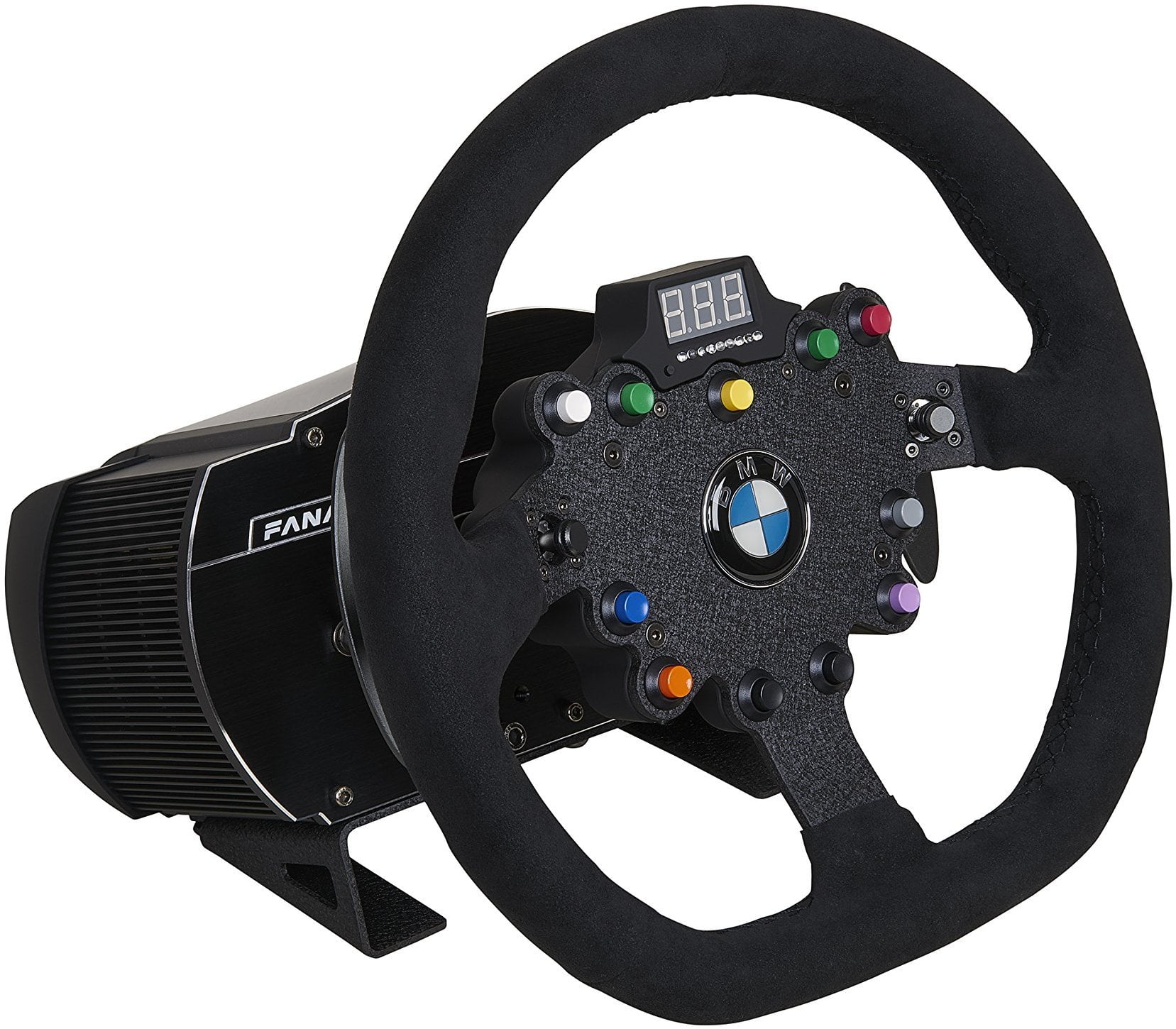 Meant purely for gaming fanatics, the aptly named Fanatec ClubSport is by all means built keeping in mind the wear and tear that involves countless hours of playing. Now then, there are only a few steering wheels that can deliver on the performance front, and the Fanatec ClubSport aims to be in that category.
At first look, the sturdy built of this steering wheel is going to catch your attention. It is made up of a full-metal casing that makes it durable and damage resistant. Although the cables are coated with plastic, that doesn't have any impact on its compactness.
Moreover, the Fanatec ClubSport offers 900 degrees rotation and three very adjustable pedals which will be beneficial for playing games like Grand Theft Auto 5 and Forza Motorsport 6. Thanks to its hub, you can mount as many wheels as you want, so playing multiplayer games won't be a hassle.
But, what we really liked about this steering wheel is the force feedback(ffb) which is perhaps the finest amongst the best steering wheels for Xbox One on our list. It is just so intuitive with a quick response rate that it almost feels like you are driving a car in real life with a swift power steering. Yeah, the simulation is quite realistic and can offer an immersive experience.
The only concern we have with the Fanatec ClubSport is that it is quite expensive. Well, with the number of features packed in it, that is understandable. Another thing we would like to point out is that the overly robust build of Fanatec ClubSport can snap your fingers when used extensively, but if only you are aged between 5-12 years.
Bottom Line One of the most responsive steering wheels on the market right now. A must have for hardcore gamers.
Pros
Hydraulic Brakes and mechanical Clutch

Complete metal casing

Wheelbase has active cooling

Best Force Feedback

900 Degrees rotation
Cons
Somewhat expensive

Not meant for children

3) Thrustmaster VG 458 Ferrari (Most Affordable)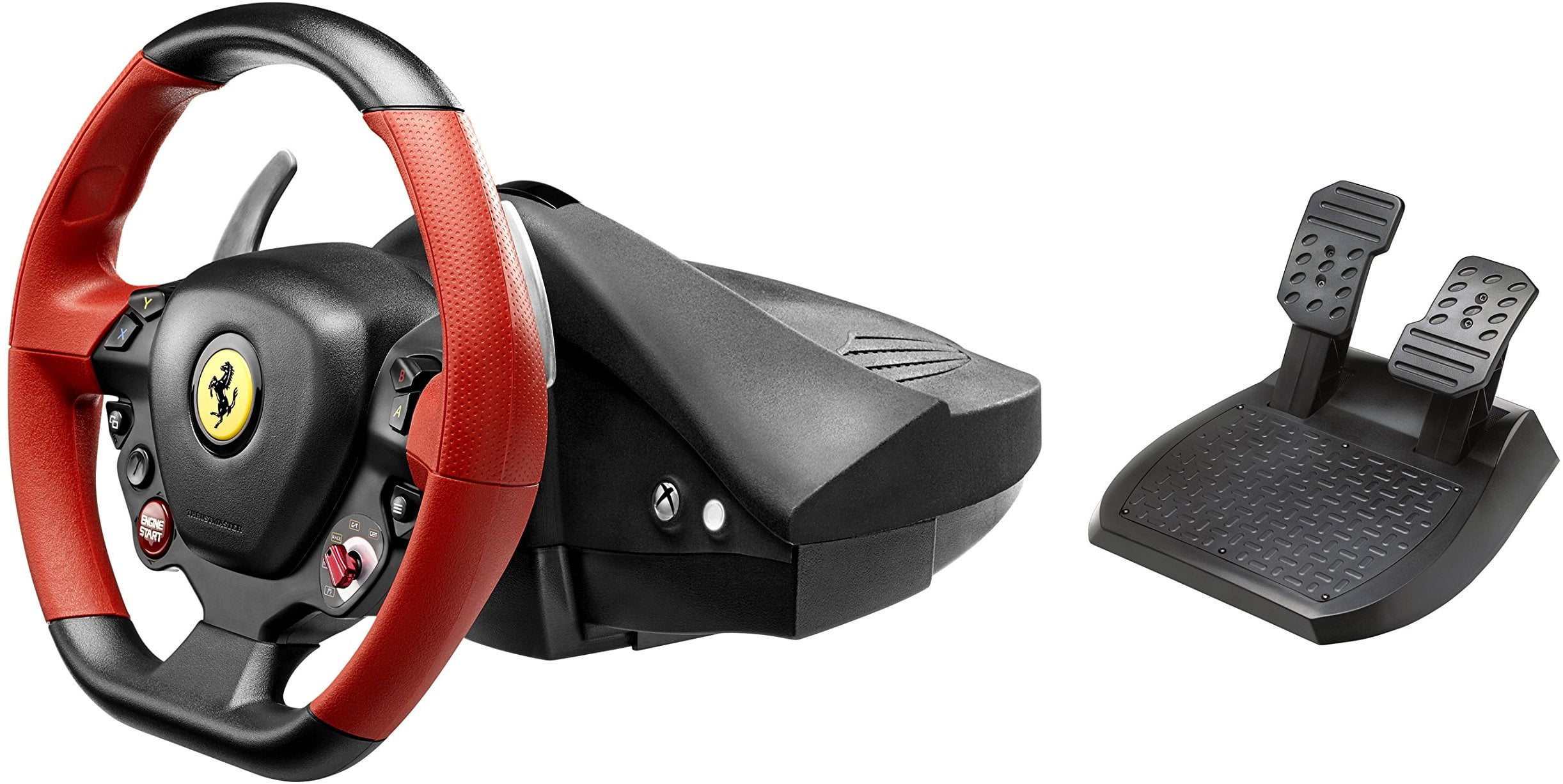 Next up is another reputed name in the gaming industry called Thrustmaster whose formidable steering wheel, the VG 458 Ferrari might not look like the most aesthetically pleasing steering wheel compared with others on our list, but believe me, do not underestimate it.
If you look at the relatively low price tag, it is understandable to have a few doubts about this steering wheel on the performance front. But, a few minutes into a game like Forza Motorsport 6 and you would realize how absolutely wrong you were.
We were very impressed with the drifts that feel very real and the simulation is top-notch, to say the least. The pedals are adjustable and will give you greater control with a good wheels/2 pedals combo. So, yeah for a budget pricing it is surely a good deal.
Though, we must admit, on the VG 458 Ferrari, Thrustmaster has copied Ferrari's design basics, but it keeps the buttons limited in number. Sometimes, too many buttons on the wheel can often get confusing for some people when you are being chased down by the cops in games such as Need For Speed.
However, the plastic built of this steering wheel could have been improved. Also, the level of rotation that it offers is pretty ordinary. Gamers will have a hard time backing their racing cars up even after minor crashes on the side of the road in NFS 2016. At only 240 degrees, Thrustmaster surely gave away a great opportunity to provide perhaps the best steering wheel for the money.
Bottom Line A great option for gamers on a tight budget.
Pros
Decent pedal/wheel sync

Very Affordable

Less number of buttons (handy for newbies)

Good control
Cons
Only 240 degrees rotation

Weak built

4) Mad Catz Pro Racing (Best Cheap Steering wheel under $300)
Next up is a relatively lesser known steering wheel but, that doesn't mean it lacks a punch or two. The Mad Catz Pro is a powerful steering wheel that can be an ideal companion for your Xbox One console. To start with, we took this steering wheel for a spin while playing Dirt Rally and enjoyed every second of it.
While trying some serious drifts when the cops were chasing us down on NFS 2016, the force feedback felt very responsive and we could definitely run for our lives in high stakes chases.
But, what perhaps is the icing on the cake has to be the relatively cheap price tag of under $300, which makes it a strong contender to be chosen over others on our lineup of the best steering wheels for Xbox One. Considering the Mad Catz Pro is a neatly built steering wheel coated with a comfortable rubber grip, it will be worth every turn on Forza Motorsport 6.
However, the most clever thing Mad Catz came up with has to be its detachable gear stick which can be positioned on either side of the wheel, making it an ideal proposition for gamers around the world.
But, like all good things have a bad side, Mad Catz Pro also has a few shortcomings. For instance, whilst thumping down on the pedals and pressing them hard in high octane rallies on PROJECT Cars 2, you have to be extra careful not to wear them out. The reason being, they are made of some sub-par metal which can wear them down relatively sooner.
Bottom Line Best steering wheel under $300.
Pros
Compact and comfortable steering wheel

Comes with detachable gear stick

Relatively Cheap
Cons
Weak pedals

Pedals may ruin your fun sometimes

5) Thrustmaster TMX (Best Force Feedback on budget)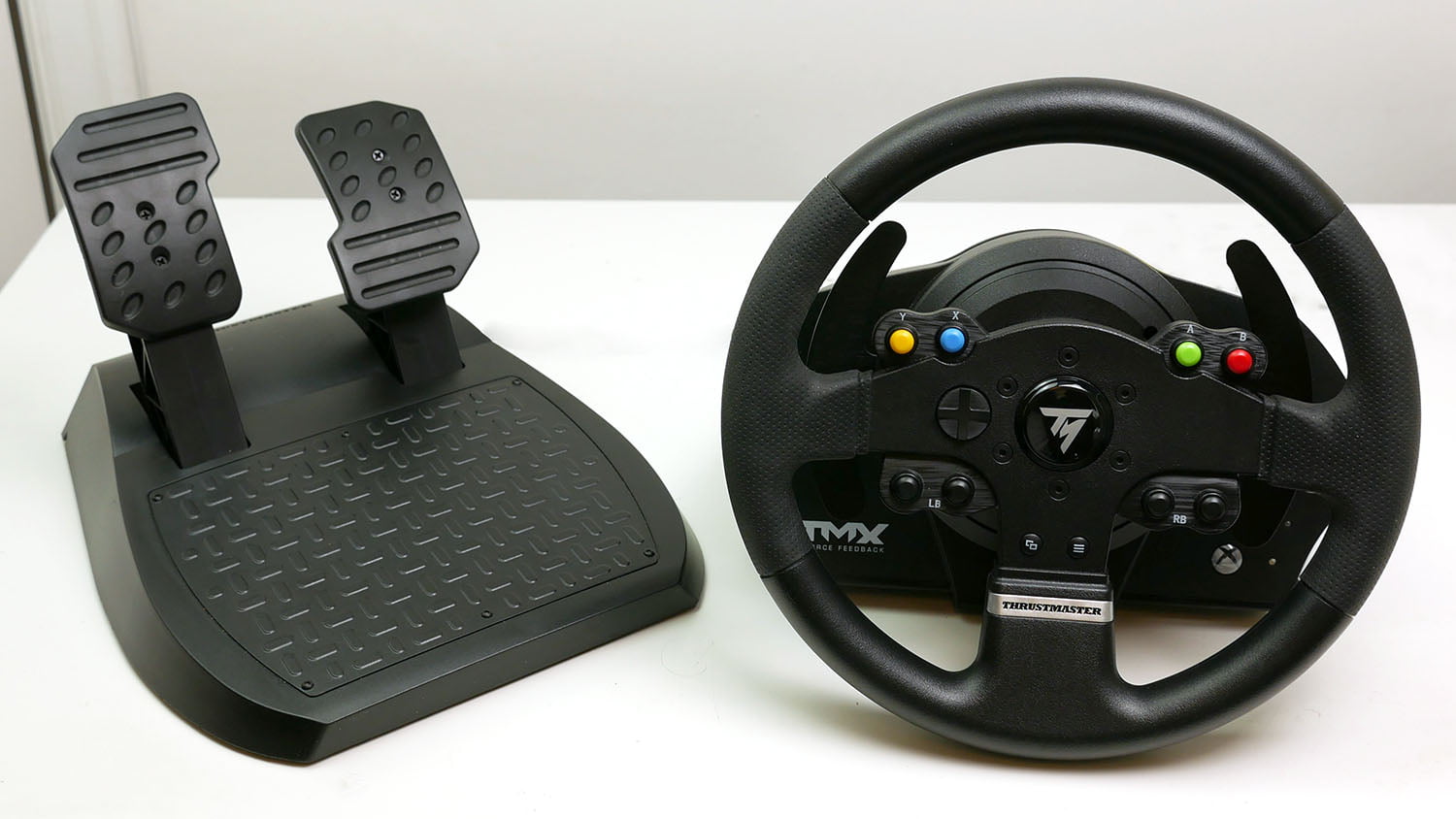 Another decent steering wheel from Thrustmaster on our list of the best steering wheels for Xbox One, the TMX is relatively cheaper and claims to deliver the goods. But, does it stand out against its much more expensive rivals? We find out.
A few minutes into a game like Test Drive Unlimited 2 and we could tell that this is surely a very valuable deal that costs less than several of Thrustmaster's flagship wheels. Why? To start with, the 900 degrees of rotation makes it ideal for even some high-end games and an overall immersive gaming experience is guaranteed if only the steering wheel is taken into account.
Another good trait is the fewer number of buttons that will be a plus for cruising along the highway and shooting mobsters on the side in GTA 5. It does help when you have buttons with clear and defined actions.
Alas, the quality of the wheel is something that Thrustmaster could have taken care of. We don't think it will be durable enough to sustain the wear and tear that involves certain racing games. But, its D-Pad more than makes up for this deficiency by being styled similarly to an Xbox controller, hence old school gamers will definitely like it.
However, it's hard to tell if the pedals are composed of metal or assembled with some sort of a cheap plastic. At times, we felt that Thrustmaster TMX's lightweight pedals might be taking too much pressure. Compare this scenario with the likes of Logitech G920 and you would know why they are expensive.
Bottom Line Best entry-level Xbox steering wheel with formidable force feedback.
Pros
900 Degrees Rotation

Very Affordable

Good Force Feedback
Cons
Slightly fragile pedals

Ordinary wheel built

6) Thrustmaster TX Racing Wheel Ferrari 458 (Best Grip)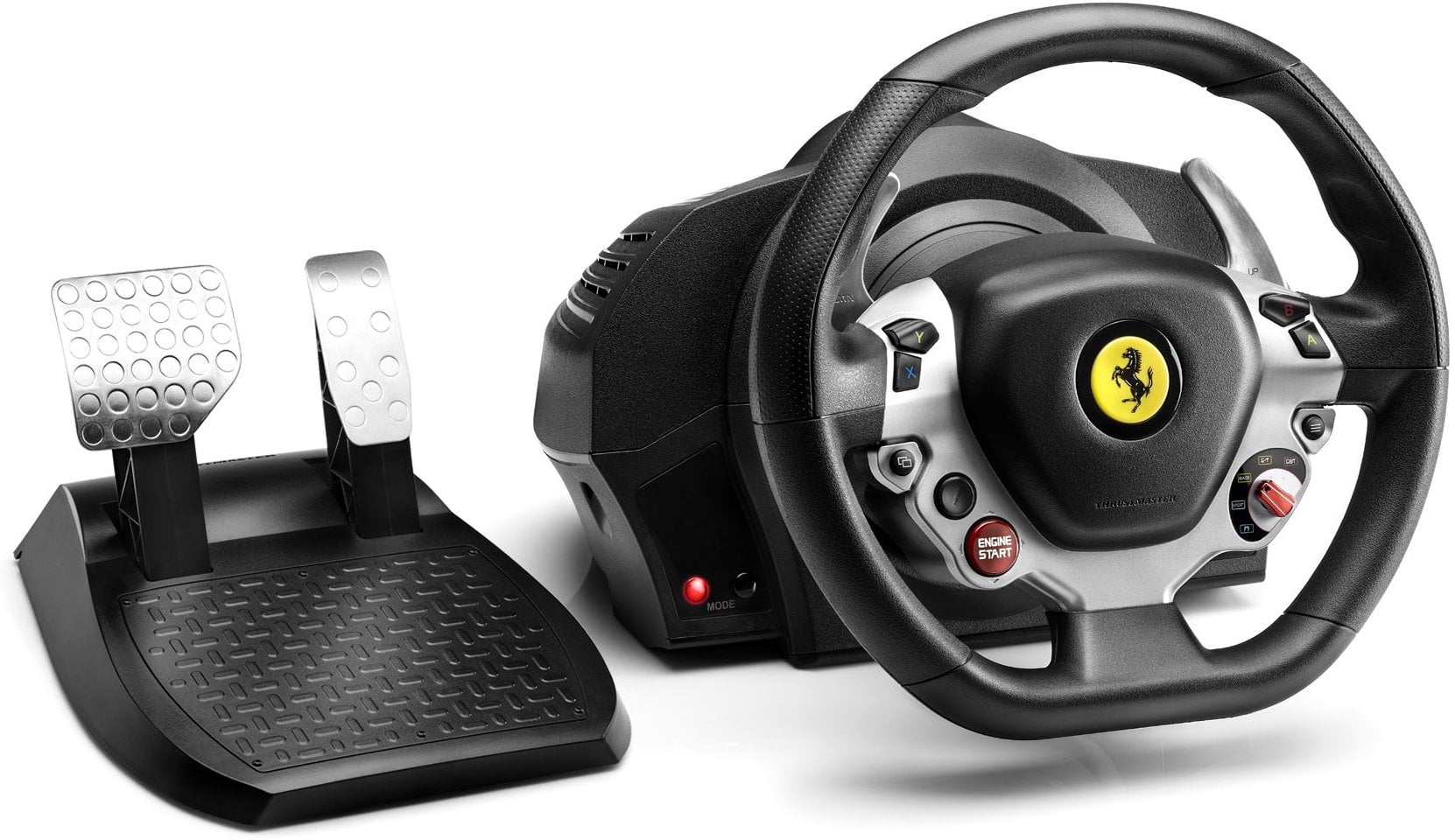 The TX Racing Wheel Ferrari 458 Italia Edition by Thrustmaster comes with the iconic Ferrari logo in the middle. Albeit, Thrustmaster has designed this steering wheel keeping in mind the bare essentials only: nothing over the top, no excess buttons nor unwanted frills. But, does it provide any value to gamers? Let's figure out.
The Thrustmaster TX Racing Wheel comes with a very comfortable rubberized wheel that feels handy when you spin it around for drifting in Dirt 3 or Forza Motorsport 5. But, the standout feature has to be this wheel's 900 degrees of super smooth and quiet force feedback that lend an advantage for playing high-end games. All in all, you can revel in some zero latency gaming action!
The Ferrari-style pedals and wheel-mounted sequential paddle shifters that accompany this wheel don't disappoint either. We were able to zoom across mud-laden roads in Dirt 3 quite easily even at blistering speeds.
Coming on to the downsides, the acceleration pedal feels a bit stiff and could play spoilsport on some games. Also, the Thrustmaster TX Racing Wheel lacks some controls that could have made your gaming experience more immersive.
So yeah, you could be gasping for more buttons whilst tackling gangstas in GTA 5 with this steering wheel. Also, it remains to be seen for how long the rubberized built of this steering wheel can sustain prolonged usage.
Bottom Line A very feasible Xbox One steering wheel with decent force feedback.
Pros
900 degrees force feedback

Quite versatile

Very pocket-friendly
Cons
Limited number of buttons

Relatively weak built

7) HORI Racing Wheel Overdrive (Best cheap wheel for beginners)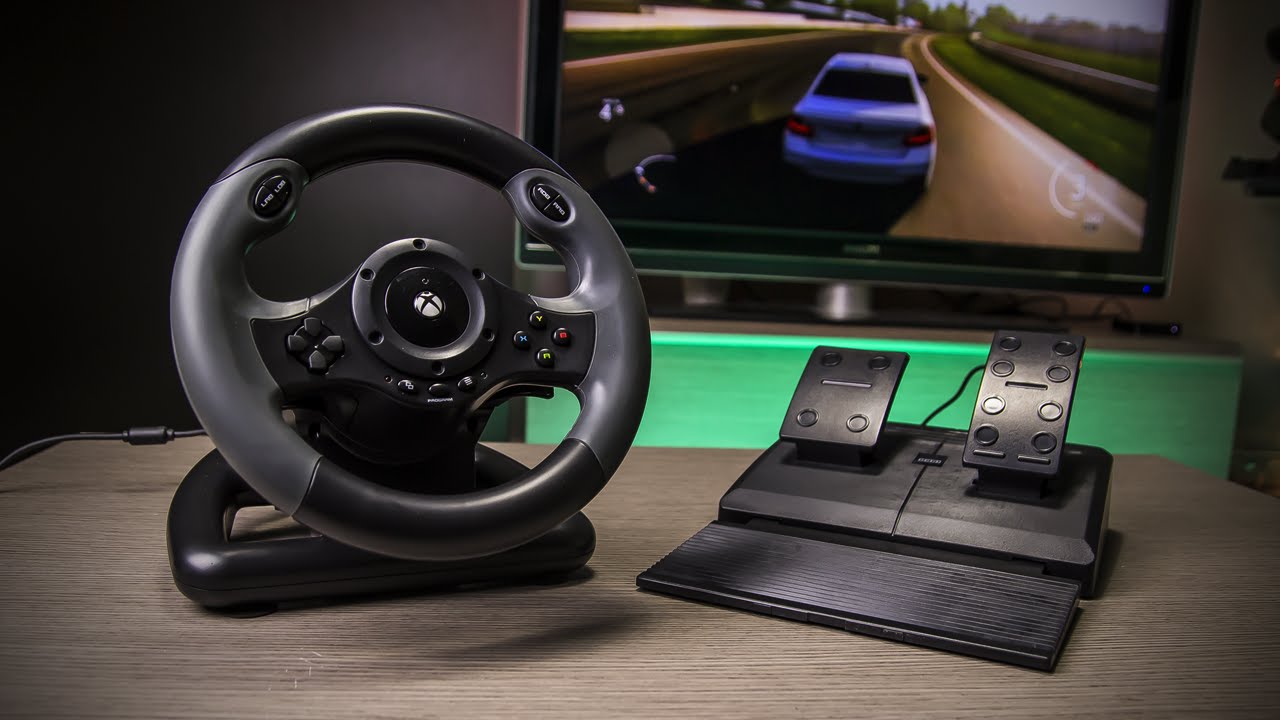 Rounding off our list of the best steering wheels for Xbox One is Hori's Racing wheel Overdrive which, thanks to its very simple build, will be enticing for a lot of new gamers especially kids.
The first factor that makes this steering wheel a decent contender for beginners is a very pocket-friendly price which suits low-end games. HORI hasn't added any bling to the Racing Wheel Overdrive and kept its controls easy and defined for first timers to understand the nuances easily. Which is why, the number of buttons packed on this steering wheel are limited.
Moreover, this steering wheel won't disappoint even if you are seeking some fine swerving action. For instance, its grip felt very handy and we could surely spin it around without facing any hassles on NFS 2016. To be honest, that's a pleasant surprise given the very affordable price.
However, there are a couple of downsides too such as its completely plastic built, which will be a bummer for most gamers. A plastic built is the first signal that the wheel won't last long.
Secondly, we were put off by the "no force feedback" policy adopted by HORI whilst building this otherwise decent steering wheel. So, if you plan on playing high-end games such as Forza 6 or even Test Drive 2: Unlimited, forget about a rich, immersive experience.
Bottom Line Best steering wheel for new gamers.
Pros
Very Affordable

Easy to Use

Good for Beginners
Cons
Plastic built

No force feedback

The Best Steering Wheels for Xbox One: Which one to Choose?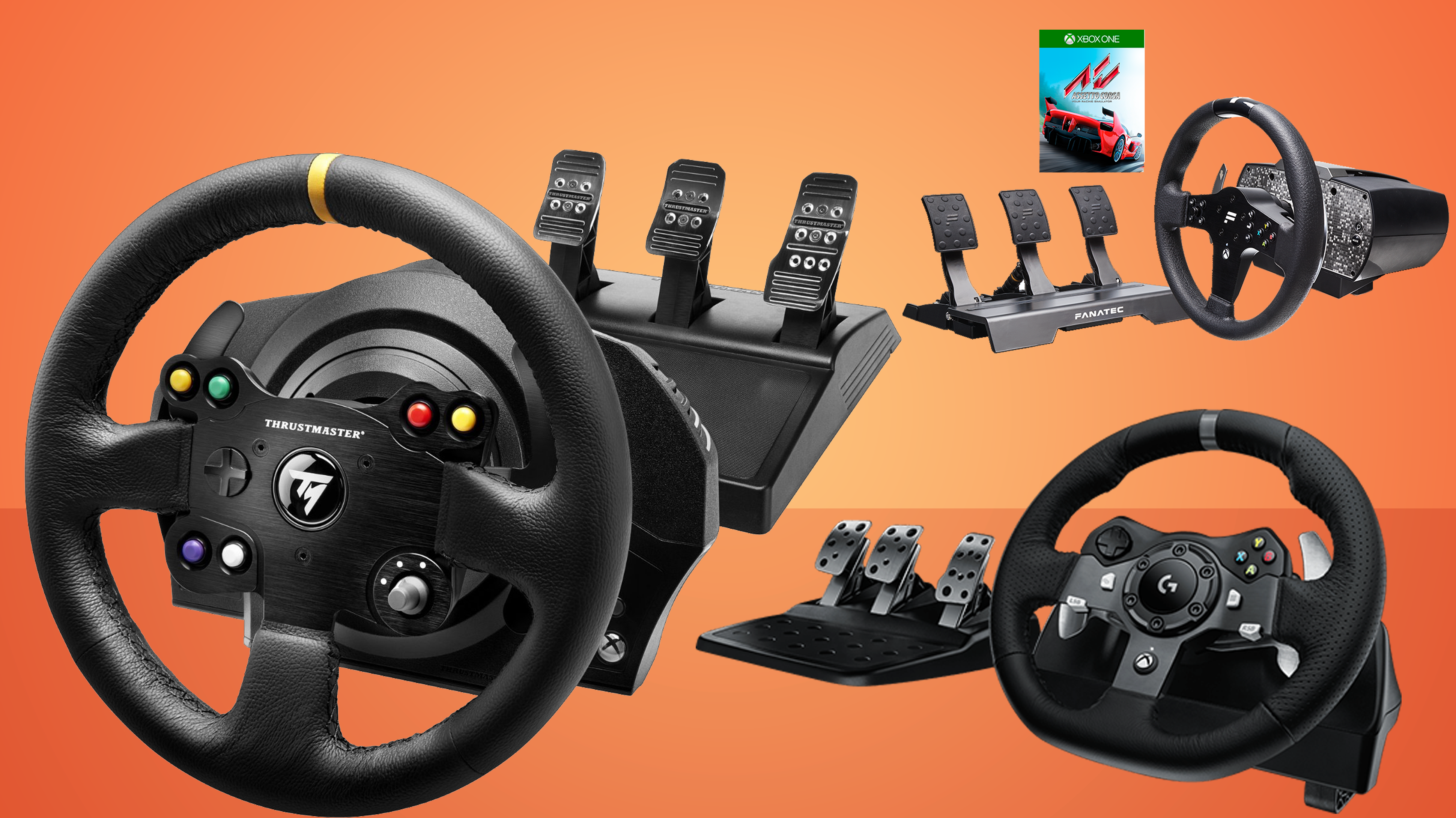 Just to sum things up, in our opinion, all the aforementioned steering wheels are some of the best steering wheels for Microsoft Xbox One and can be used for competitive gaming. While some of them may be more compatible than the other, they fit into every type of gamer's needs. But, the golden rule here is the more money you pay, the better quality you get.
But, if you want to go into the ins and outs, then here are our final thoughts:
If you are only looking at a steering wheel from the point of view of affordability, look no further than the Thrustmaster VG 458 Ferrari, which is one of the best steering wheels for Xbox One especially for those on a budget. Not only will it be light on your pockets, you won't be left disappointed with the control that it offers.
If money is not a constraint and you are in pursuit of a super-quality steering wheel, then the Logitech G920 surely cannot be overlooked. It is one of the best steering wheels for Xbox One in the mid-range segment and comprises all the goodness that comes with a Logitech purchase.
If you are very serious gaming freak who wants a strong force feedback from your steering wheel and want to get the ultimate virtual driving experience, look no further than the Fanatec ClubSport BMW, which is one of the best steering wheels for Xbox One for playing immersive, high-octane racing games.
For gamers who are on the lookout for a reliable steering wheel in the mid-price range, you can surely pick the Thrustmaster TX Racing Wheel. Without a doubt, one of the best steering wheels for Xbox One espousing the cause of hardcore gamers who play games day in, day out.
And…that's a wrap! Did you like our review of the best steering wheels for Xbox One? We really hope going through our review will enable you to make a better choice for your purchase. Let us know what you think in the comments.
SEE ALSO: Best Center Channel Speakers
SEE ALSO: Best Hybrid Smartwatch