Ever since GoPro Studio came to an abrupt closure in 2017, GoPro action camera enthusiasts have been left in the lurch looking for a viable studio quality video processing/editing software. Yeah right, a decent video editor that lets them edit videos of their high-octane action adventures on the fly with pristine quality. Now then, there are many software on the market vying for the best GoPro editing software of 2018 tag, but the one that caught our eye is the newly released VideoProc.
Launched by Digiarty Software, the makers of WinX DVD, VideoProc offers everything a GoPro enthusiast, or a drone handyman would want to edit their beautifully shot action videos on both Windows and Mac OS. We took this software for a spin to see if it is really good enough to handle some impromptu and jerky GoPro, Drone or any other video footage. Let's find out.
Best GoPro Editing Software of 2018: VideoProc (Review)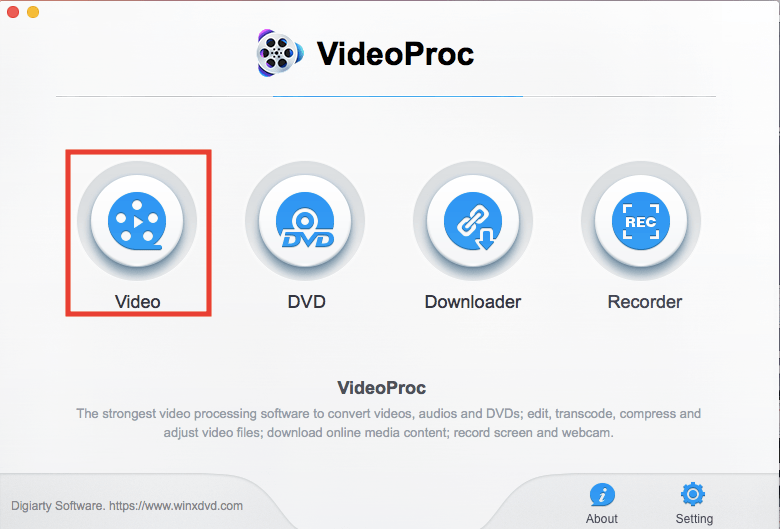 First things first, as soon as you open VideoProc Editor, you will be greeted with a very clean and minimalistic interface that lists four options: Video, DVD, Downloader and Recorder. We will talk about the last three options later, but the first one (Video) is what makes this software pretty worthwhile especially if you are someone who wants to quickly edit heaps of their iPhone/drone or GoPro action in 4K on a Mac or Windows PC.
VideoProc: Process & Resize GoPro and iPhone (4K) Videos with Intact Quality

In fact, this software can not just edit slick GoPro action videos, but also handle 4K iPhone videos and DJI drone footage as well. So, if you want to quickly touch up large HD/4K footage in professional studio quality, then VideoProc editor will definitely come in handy.
What really piqued our interest is that VideoProc is actually quite good at editing slow mo videos and keeps the bit-rate as high as can be. It does help that VideoProc's forte lies in editing high speed action videos shot with 120fps/240fps. But, there are many more reasons why VideoProc is indeed the best GoPro editing software for Mac and Windows users. Read on…
How to Edit GoPro, iPhone, and Drone Camera Footage quickly with VideoProc?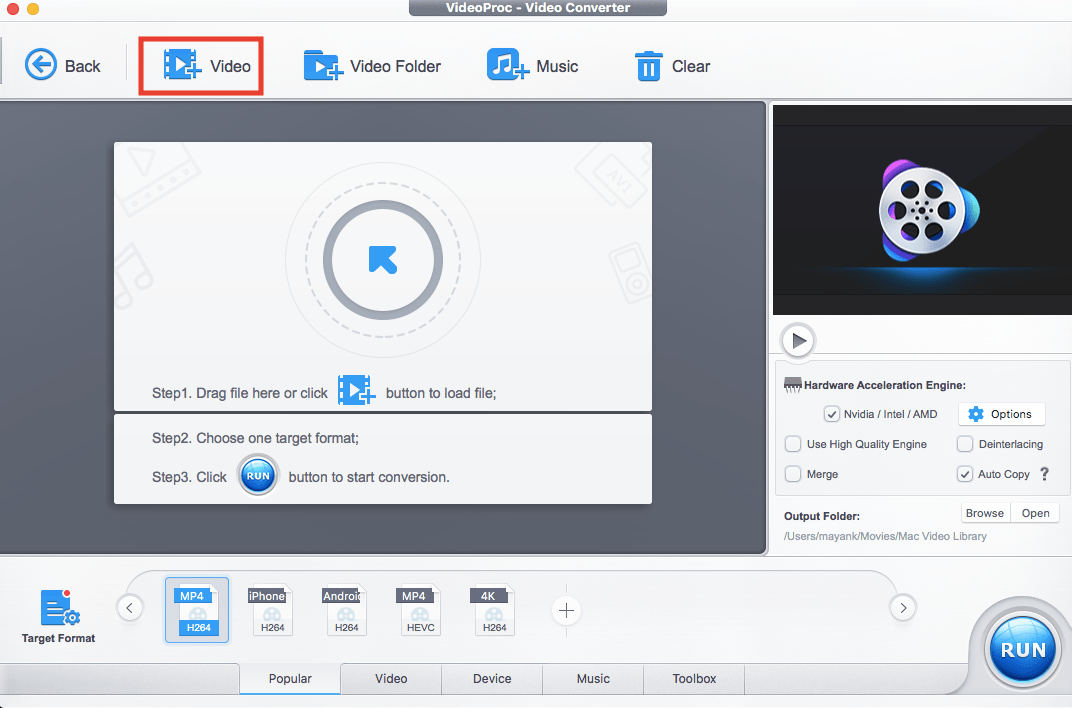 Editing a video on the go with VideoProc editor is quite easy. Simply click on either of these two tabs: video or video folder, and then import your footage. You will come across abundant options ranging from 4K, 5K, to 8K video editing. Plus, you can also import a background music track via the Music tab.
Once you have imported your camera footage you can add subtitles, varied filters/effects, watermarks, adjust audio parameters, and do all the basic chores of video editing, i.e. cut, resize, crop, colour adjustments, paste, merge, trim, etc.
Before starting conversion, advanced users can also fiddle around with a gamut of audio/video parameters and make adjustments by changing frame rate, resolution, aspect ratio, bitrate correction, and so forth. Also, there are many audio output formats for audiophiles to revel in ranging from MP3, AAC, FLAC, to AC3, PCM, OGG, etc.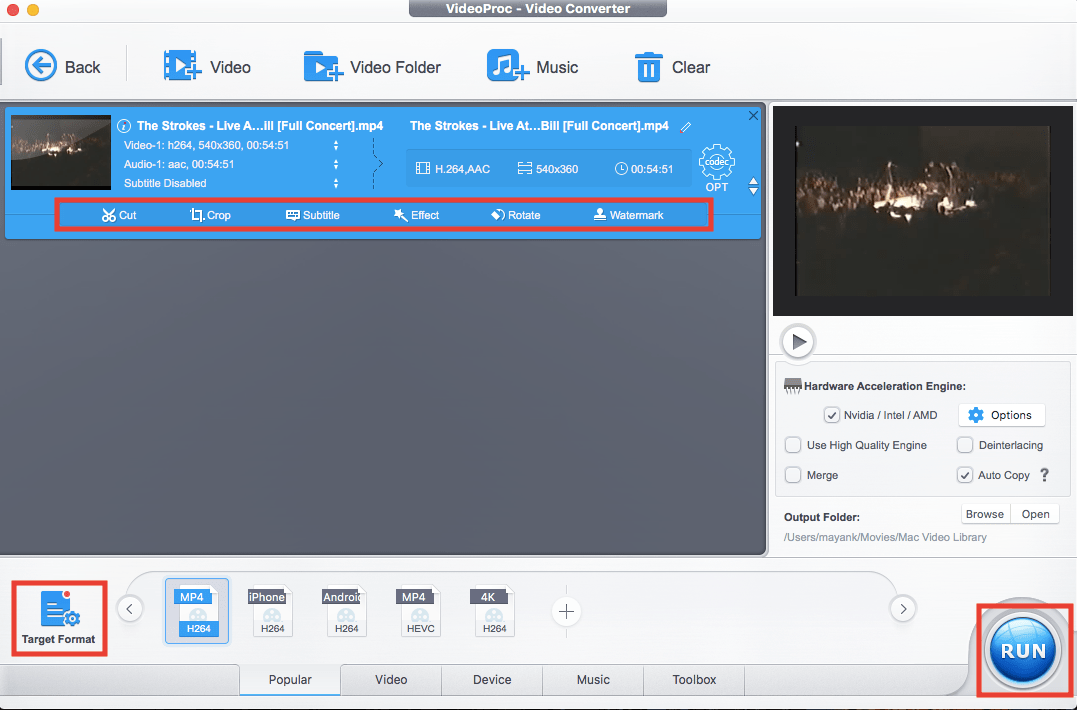 One thing that really impressed us was the abundance of options VideoProc provides with easy-to-access presets and advanced video/audio parameter adjustments. The trick here for a first timer is to not get overwhelmed with the sheer number of options at their command.
And, if you want to add a more quirky twist to your footage or enhance GoPro video quality for viral social media consumption, you can select the "Toolbox" option which can spit out some amazing add-ons such as GIFs, 3D to 2D conversion, fisheye lens, etc. Lastly, VideoProc editor also lets you place multiple videos in the queue, which can all be converted to the same output format.
Continue reading about 6 Methods to resize GoPro 4K footage with zero quality loss.
Note You also stand a chance win a GoPro Hero 7 camera with accessories, as well as a free license key upon clicking the "Free Download" button by clicking through the link above.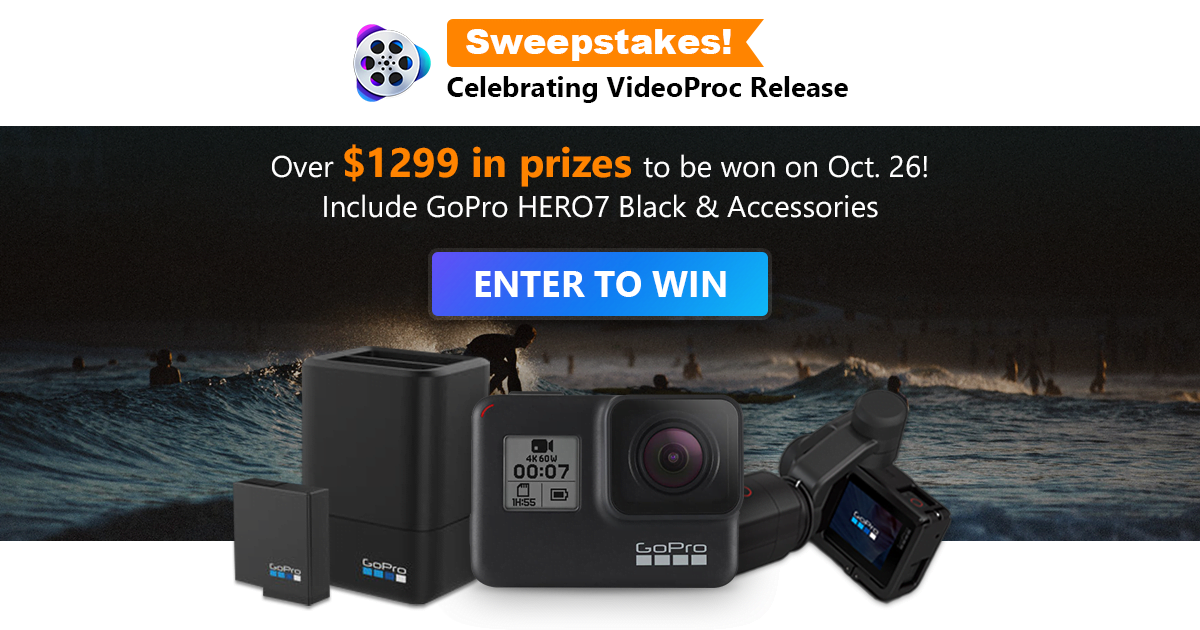 How to Choose a Target Output Format on VideoProc?
When done with your edits, you will have to choose a target output format. Mind you there are tons of output formats for both mobile and desktop. I'd reckon sticking to the General Tab profile which itself houses plenty of video formats such as MP4, MOV, AVI, WMV, MKV, FLV, etc. You can even choose an optimized mobile format compatible with devices from Apple, Android, Huawei, Sony, Samsung, Microsoft to name a few.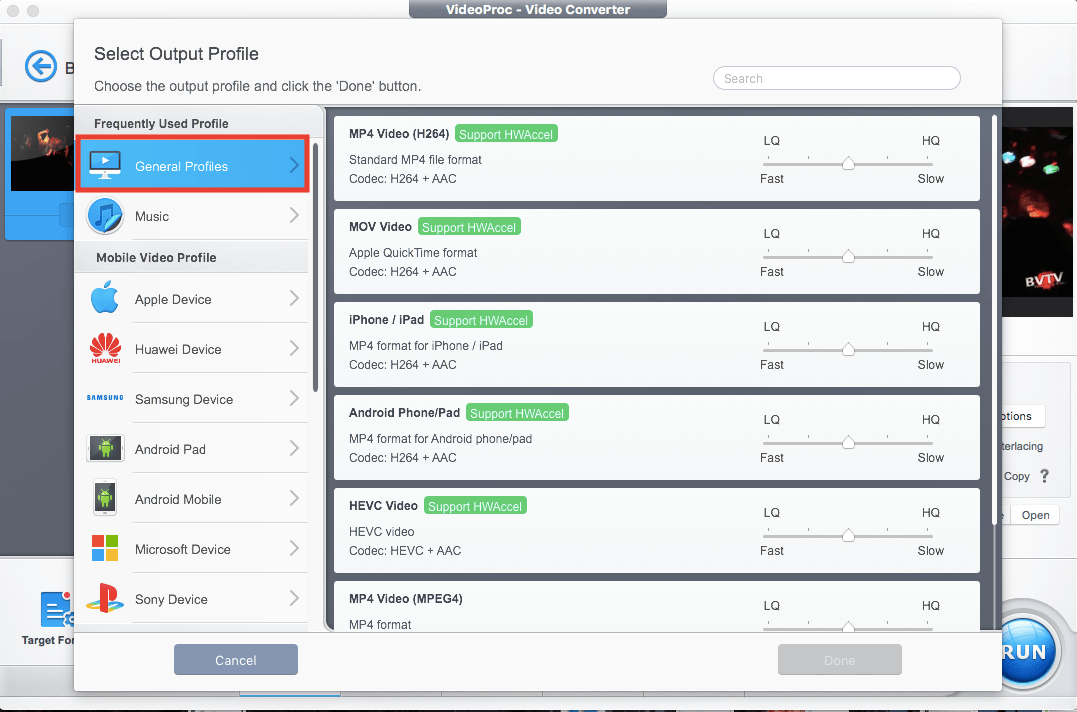 Heck, VideoProc also offers crisp video processing options for YouTube, Facebook, Vimeo in compatible formats. And oh, there is an Xbox profile too if you want to render videos for your gaming console. Once you have chosen the correct output profile, click on "Run" to render your video and in a couple of minutes the processing finishes (depending upon the camera footage's file size).
Processing Capability: What it really takes to be the Best GoPro Editing Software?
Converting, processing or compressing Blu-Ray videos, standard MP4, MOV, AVI, MPEG, 1080p multi-track HD videos, HDTV/HD-camcorders videos, 4K UHD HEVC/H.264 videos, and other video formats in real-time becomes a breeze with VideoProc editor.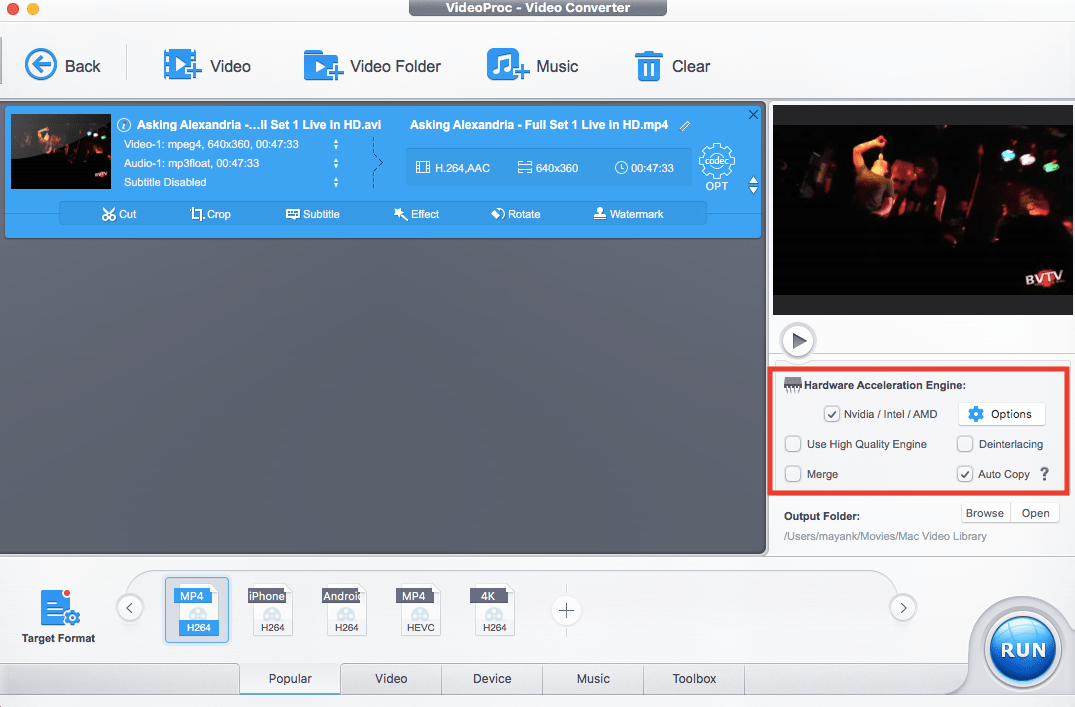 It has adopted NVIDIA CUDA/NVENC, Intel QSV, and AMD powered level-3 full GPU acceleration technology to edit/process/compress your GoPro, DJI drone footage at blazing fast speeds. VideoProc also consumes less CPU power, and prevents overheating so that you can multitask with ease and grace. And, the best part is that is equally compatible with Mac, and Windows 10 OS. (backwards compatible till Windows 7)
VideoProc Bonus Features: Convert DVD discs, Record webcam/screen and more
VideoProc is a multifaceted tool that can also be used to rip DVDs into a plethora of formats via its free DVD converter tool. Quite similar to WinX DVD Ripper in many aspects, VideoProc can pretty much carry out all its functions such as burning DVDs into tons of formats and even sports the same interface.
Interestingly, if you frequently download YouTube videos for offline use, then VideoProc has its very own free YouTube downloader for ripping YouTube videos into a plethora of formats for both video and audio files. You can choose "add video" or "add music" to select your preferred URLs and download away all that YouTube gold.
For those who love recording live streams of sporting events or Twitch gameplays, there is something in store for you as well. VideoProc's nifty free Screen Recorder proffers screen capture for desktop, iPhone and webcam recording with microphone input/output options. It is also compatible with both Mac and Windows 10 OS. (backwards compatible till Windows 7)
Verdict: Best GoPro Editing Software of 2018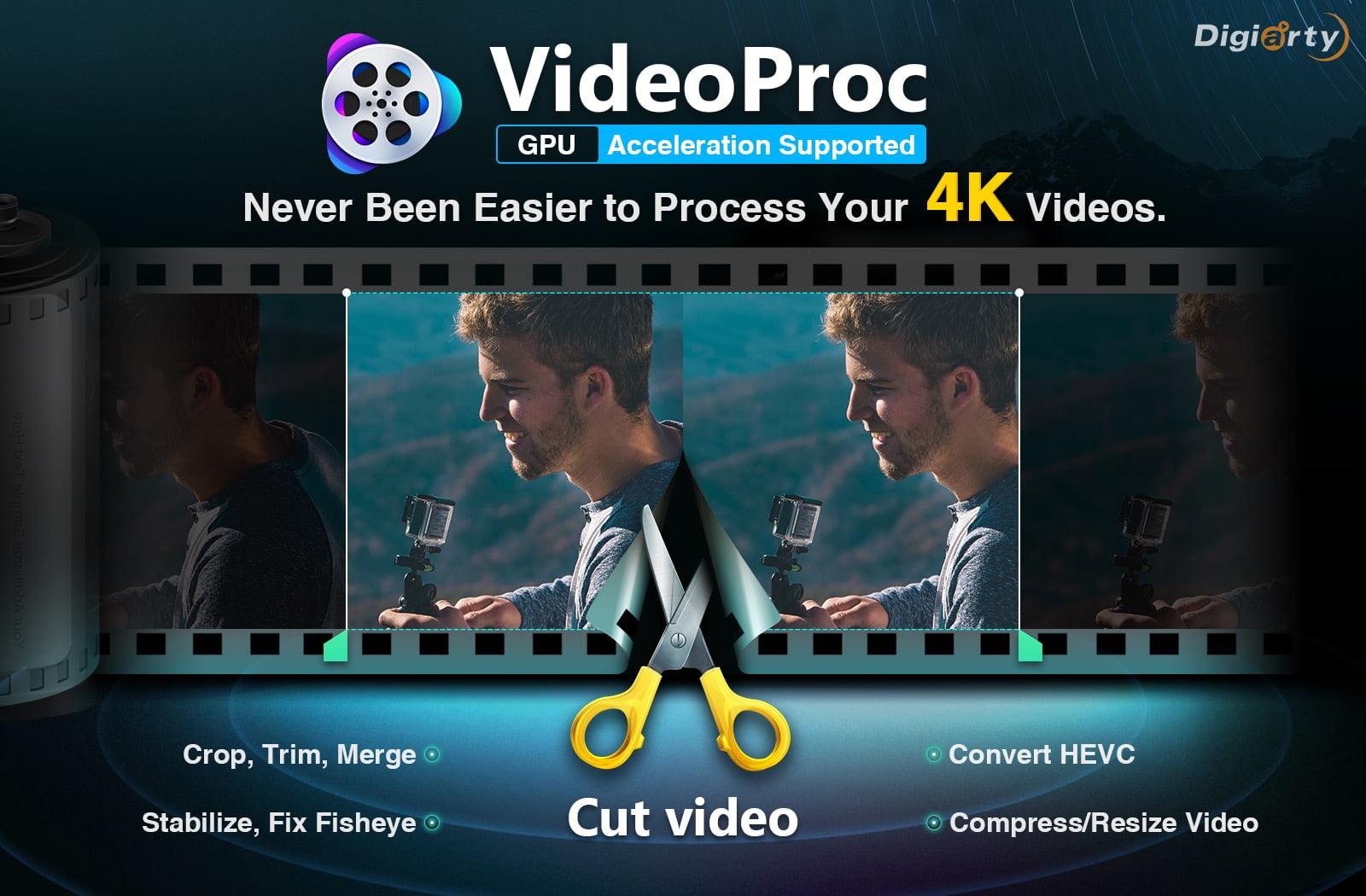 All in all, VideoProc is a full-fledged software suite of sorts and definitely the best GoPro editing software on the market right now for Mac and Windows users. Well, to be honest, it's more than a studio quality video editor cum converter. It can not only process/edit videos but also has plenty of free tools such as screen recorder, camera recorder and YouTube downloader that will alleviate the need to download any other single-task oriented software.
Also, VideoProc's rendering speed is one of the fastest and it was quite impressive on the performance front with no lags whatsoever. It does help that this video processing software sports an umpteen number of available codecs that make incredibly fast studio quality 4K video rendering a reality.
Furthermore, VideoProc is more easy to use than a professional studio quality video editor and definitely packs in a punch or two with a fast and quality finish of your precious camera footage. So, if you are looking for the best GoPro editing software of 2018, then this one is certainly up for grabs.