Who doesn't like watching the countless number of their favorite videos online on YouTube? Hands down the most popular video-sharing website on the internet, YouTube is home to millions of videos spanning across hordes of genres. While there are a lot of entertainment-related videos on YouTube, you can also watch tutorials, product unboxing and loads of educational videos. However, if you want to save these videos for future reference, you will need a good YouTube video downloader. Now, there are many free YouTube downloaders lingering on the internet – while some are genuine, some come with a heap of adware. So, how would you know which one's suitable for you? By going through our list of the best free YouTube downloaders, of course!
What is a YouTube downloader?
YouTube Downloader is an app performing the digital transfer of video and audio files from the YouTube website to a device for further decoding and playback, such as a computer or a tablet. YouTube doesn't offer a native option to download videos from it, but there are online services and applications offering such a possibility.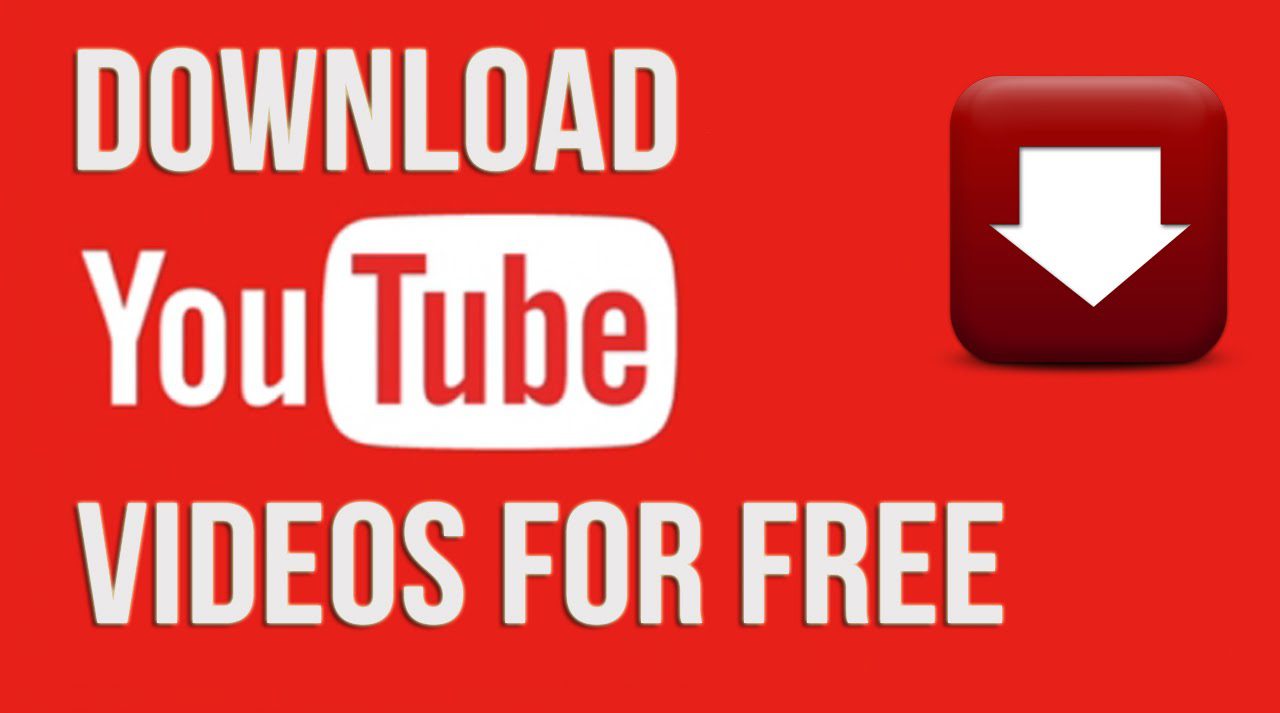 How to choose the best free YouTube downloaders for Windows 7 & upwards or Mac?
There are many factors to consider before you choose the right YouTube downloader such as – its ability to convert videos into MP3 or other audio formats with higher bitrate. You might also want to convert YouTube videos into different extensions compatible with your device. Or, you may prefer HD YouTube videos in 4K resolution. Remember, there are plenty of instances when you will be forced to go offline – such as when traveling. Luckily, with the right software, you can download as many videos as you like and watch them offline!
Best Free YouTube downloaders for Windows and Mac
WinX YouTube Downloader
Free Youtube Downloader
4K Video Downloader
aTube Catcher
Freemake Video Downloader
YouTube Music Downloader
YTD Video Downloader
ClipGrab (Mac & Windows)
AnyVideoConverter
ISkysoft Free Video Downloader (Mac and Windows)
Free YouTube Download (Windows and Mac)
1. WinX YouTube Downloader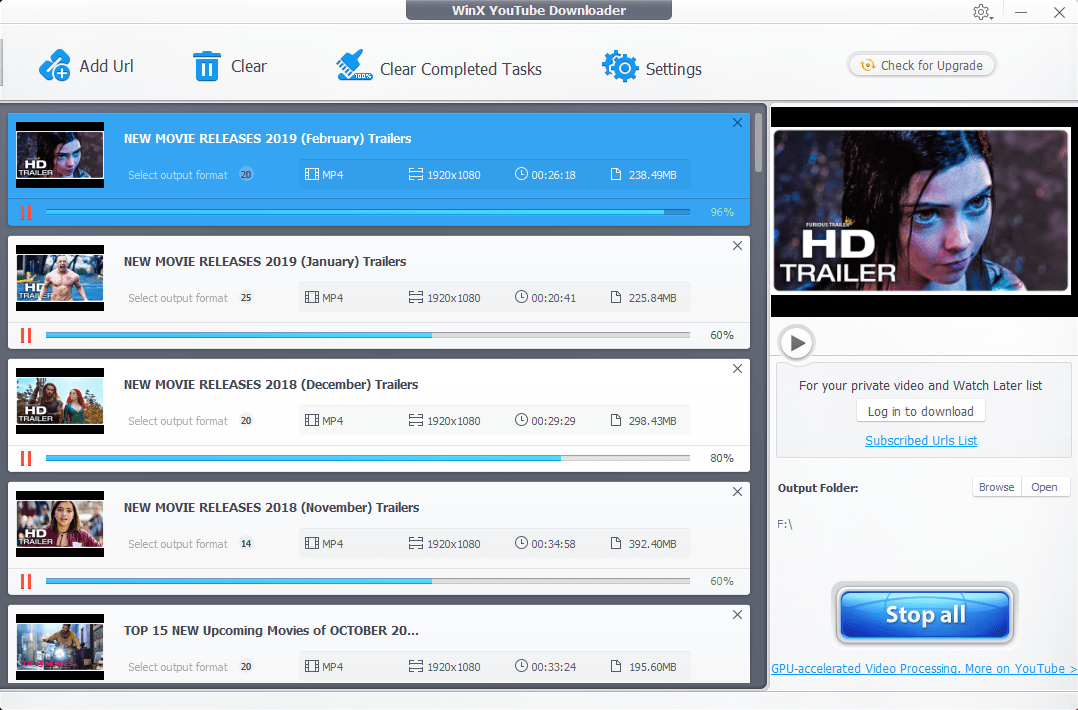 WinX YouTube Downloader top in our list. It doesn't simply enable you to download videos from YouTube, it also works flawlessly with more than 600+ sites such as SoundCloud, Facebook, Dailymotion, Metacafe, Vimeo, Instagram, and many others. The new WinX YouTube Downloader comes with Multi-thread and Multicast technology that provides batch downloading playlist support. The new version of WinX has a totally new interface which allows users to capture YouTube Live Videos with ease. Regardless of whether you are endeavoring to download the live stream recordings, 4K movies, music or any other videos. You can save them in various video format including MP4, MP3, FLV or WebM, in a resolution of your choice for free. All you need to do is just log in to your account and start downloading all of your favorite videos and watch them offline. Download the latest version of WinX YouTube Downloader, it is 100% free, clean and safe.
2. Free Youtube Downloader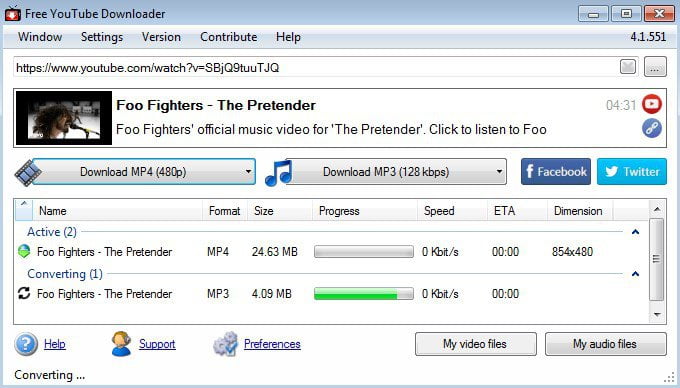 This compact application is renowned for downloading YouTube videos quickly bereft of any glitches. Don't be fooled by its simple layout and lack of certain advanced features, Free YouTube downloader enables you to download YouTube content in a gamut of audio and video formats such as MP3, MP4, AVI, and AAC. In fact, the uncluttered UI design and limited options act as a boon to make downloading videos simple and easy for everyone.
Not to mention, Free YouTube downloader also comes with a troubleshooting wizard that navigates users with detailed information, photos and a well-informed discussion forum wherein you can put your queries. Moreover, this amazing downloader maintains the original quality of the video and ensures the downloads are fast.
3. 4K Video Downloader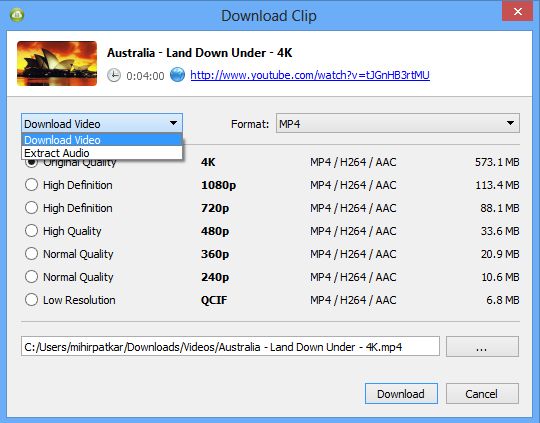 Perhaps one of the best free YouTube downloaders for people seeking a 4K Video, this awesome application is a surefire no-brainer if you want quick, no-frills attached YouTube downloads. 4K Video Downloader is completely ad-free, highly customizable, very simple and doesn't come bundled with any unwanted add-ons.
All you need to do is to select a video, or even a whole playlist(not more than 24 videos), copy the URL on your web browser, then right click and paste the URL on 4K Video Downloader's dashboard. Finally you can select a suitable output format, location, or quality. Speaking of formats, you could either choose between video, or audio such as MP4 and MP3. Further, you would be enthralled to know that one can even download 360-degree VR videos, 3D videos and captions for individual videos!
Wait, there's even more madness going on here – a quick look into the properties reveals options to tweak multi-stream downloads by increasing the number of streams. However, be forewarned that may speed up the downloads, but it also increases the risk of YouTube blocking your IP address!
4. aTube Catcher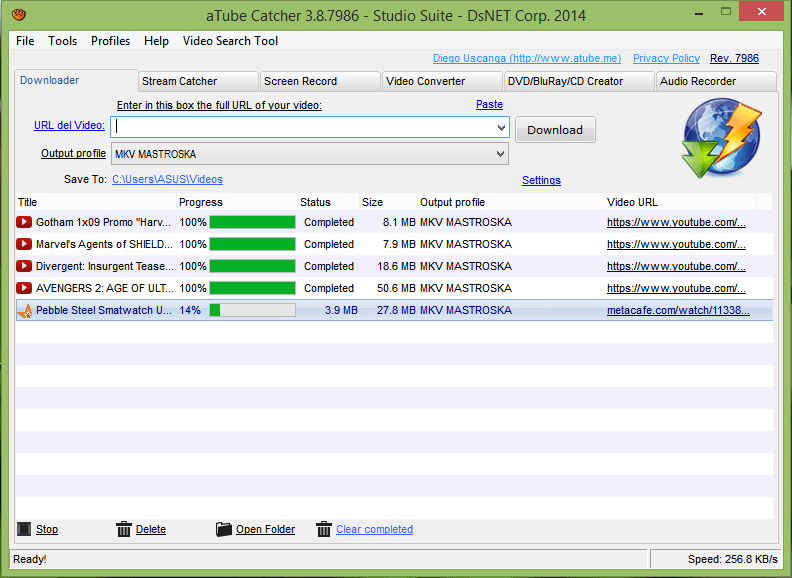 Even though aTube Catcher is bestowed with great YouTube downloading credentials, it can also actually save videos from most of the big tube and video hosting sites on the internet. And, yes it automatically converts the downloaded videos to a number of popular formats, which can all be tailored before the download starts.
Moreover, if you want to download a ton of videos all at once by maxing out your bandwidth, aTube Catcher is your go-to tool. This feature is what separates it from the rest on our list of best free YouTube downloaders for Windows 7 upwards and Mac.
There's a barrage of extras offered by this free YouTube downloader such as disc burning, video merging and the ability to record any on-screen videos. In spite of being a solid YouTube downloader, aTube Catcher is marred by some shortcomings such as sneaky adware that pops up during the installation. Pro Tip: make sure to hit cancel as soon as you are offered the first app, and then click Decline for the second one.
5. Freemake Video Downloader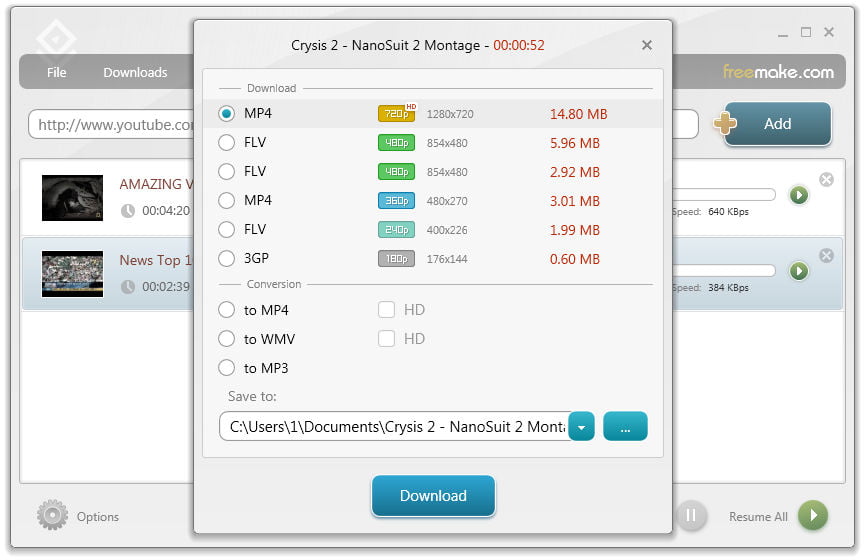 Another popular software that made the cut, Freemake Video downloader cum converter has been around for a while. It not only lets you rip videos off YouTube, but also comes in handy for websites such as Facebook, Dailymotion, Vimeo, and Hulu apart from thousands of similar websites! With its special one click mode, users can download videos with just a single click, and thus save their precious time!
Freemake Video downloader is a stark contrast to other video downloaders that require a lot of input settings such as choosing video/audio quality, extracting or converting action, choosing destination folder, etc. But the real novelty factor that injects Freemake onto our list of the best free youtube downloaders is its very simple and easy interface backed by fast download speeds.
With a compelling set of tools, you can convert videos in a wide variety of formats such as WMV, MP4, AVI, DVD, MP3 and 3GP keeping the original quality of the video/audio intact. Oh wait, you can also create slideshows with music, and upload the finished slideshows directly to YouTube.
6. YouTube Music Downloader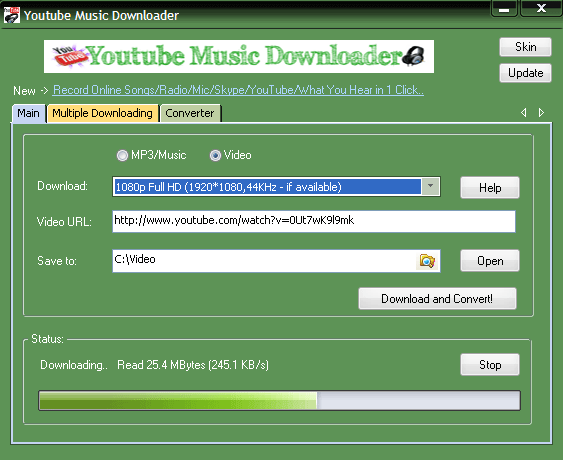 True to its name, YouTube Music downloader does what it does the best i.e. it allows you to capture the soundtrack or music from a YouTube Video seamlessly. You can download and save videos as well. In fact, YouTube Music downloader lets you share content with your pals, schedule files for playing later and more!
How do you download music videos quickly? Just click on the drop down menu, select your preferred audio output quality and viola! If you only want to download videos unrelated to music, the process is simple. Paste the video URL, click on the dropdown menu and save to destination folder.
YouTube Music downloader is accompanied by an uncluttered and well-arranged interface that's easy to use. Moreover, you can even use the saturation and hue slide bars to change the colour tone of the user interface.
7. YTD Video Downloader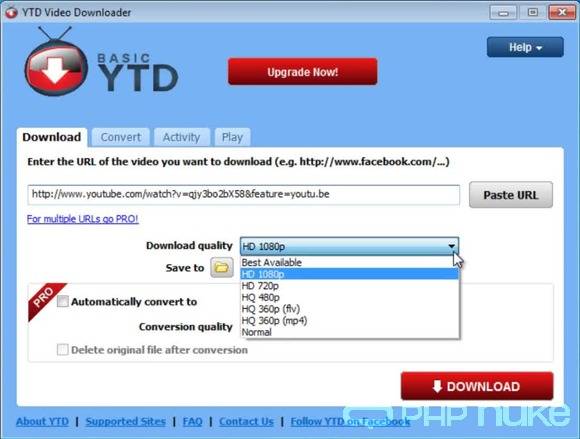 Perhaps one of the most popular entities on our list of the best free Youtube downloaders, YTD Video Downloader is a decent gamble if you want to save videos from YouTube on your hard drive in a variety of formats. The downloaded videos can be viewed on diverse devices in their particular formats viz. Aspect ratio ranging from PSP, iPad, iPod, XVid, Windows Media, etc. YTD is also pretty fast when it comes to downloading and converting videos on your Windows PC or Mac.
Moreover, you can even pause/resume your video downloads any time in its smooth and intuitive interface. However, YTD tends to falter a bit whilst downloading longer videos with big file size(s). But, that is understandable since you are getting great download speeds for FREE!
8. ClipGrab (Mac & Windows)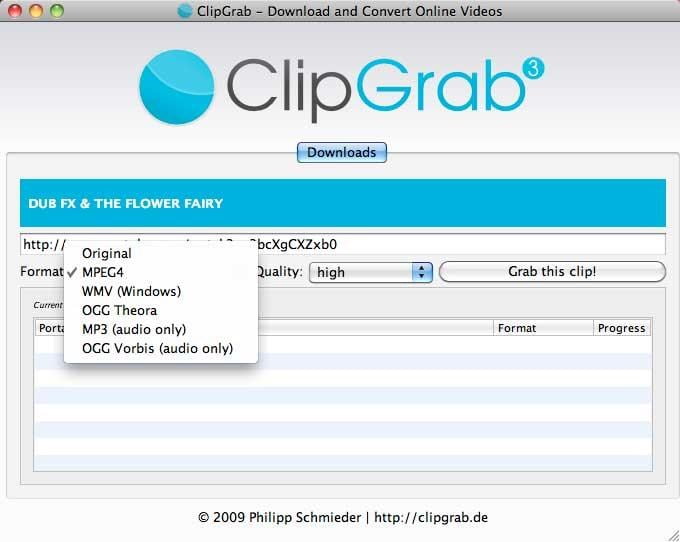 ClipGrab differs from other aforementioned YouTube downloaders in the sense that it not just allows you to paste in video URLs for downloading stuff, but it also boasts a nifty clipboard monitor. This feature helps auto-detect the URL as soon as you copy it from the address bar of your browser and pastes the URL automatically on ClipGrab's interface. Cool, isn't it? Moreover, there is a YouTube search tool that scouts for videos you wish to download from within ClipGrab's interface instead of a web browser.
Also, you can convert the downloaded video in multiple output formats with your preferred quality rate. However, ClipGrab's installer tries to foist unnecessary adware on you. So, you might have to dodge Yahoo adware and ByteFence installer for a hassle-free installation.
9. AnyVideoConverter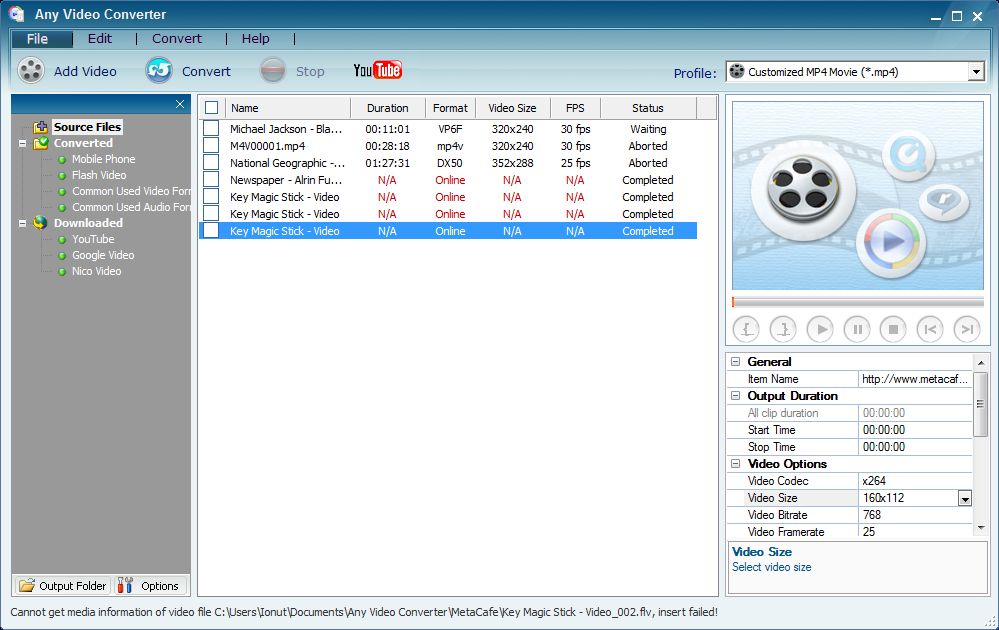 Just as the name suggests, AnyVideoConverter is a beast of Youtube downloader that can rip videos in any format on your hard drive. The real novelty factor that slides it onto our list of the best free YouTube downloaders is that it comprises of an in-built basic video editor that can crop videos, fine tune colours, add effects, add overlay text, etc.
With a simple and sleek UI, and lots of video output formats, everyone will be good to go with this free video converter. However, there is one limitation that hampers its glowing pros. That is, AnyVideoConverter cannot download multiple videos at the same time. It is only restricted to one single video at a time.
10. ISkysoft Free Video Downloader (Mac and Windows)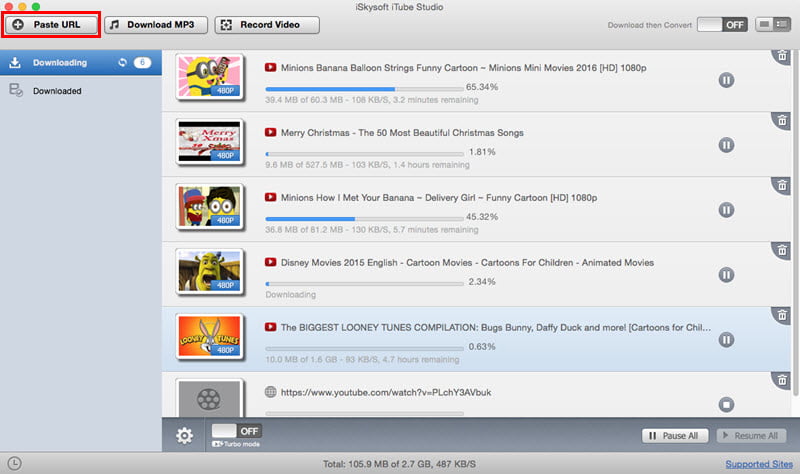 Available on Windows and Mac, iSkysoft Free Video Downloader is capable of downloading audio and video from not only YouTube, but over 1000 websites! iSkysoft is loaded with a number of features with the most prominent one being its ability to download multiple YouTube playlists one by one or in batches. Moreover, you can download videos and extract audio in the original format or convert them to over 153 formats!
11. Free YouTube Download (Windows and Mac)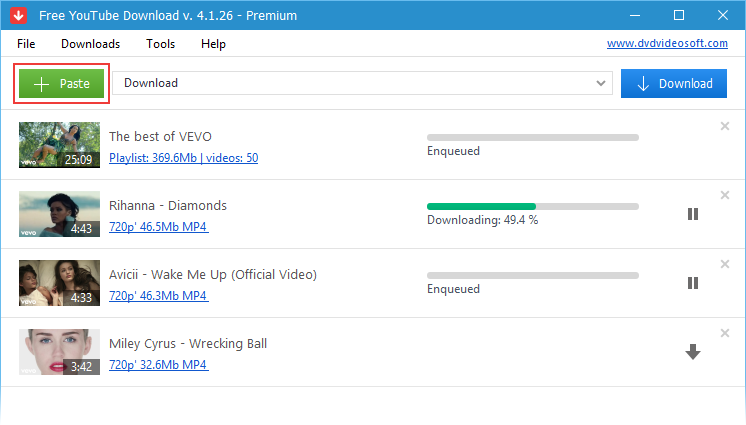 And rounding off our list of the best free YouTube downloader for PC and Mac is, Free YouTube Download. No prizes for guessing what it does. With a simple yet elegant interface, Free YouTube download does away with distractions and sticks to the job. Just paste in a YouTube URL, download the video in a couple clicks, and you are done – no frills attached, no needless fiddling around. You can even enable the auto download option if you prefer zero clicks.
Moreover, you can download many videos at once and convert them to various formats such as MP4, AVI, MP3, MKV, iPhone/iPad on the go maintaining the original quality. There's big drawback though – you will only be able to use Free YouTube Download for videos less than three minutes long. That's a real shame because it rules out most music videos off your radar.
And…that's a wrap! Did you like our list of the best free youtube downloaders? Did we miss out on some entries? Let us know in the comments.
SEE ALSO: Best free QR Code Generators
SEE ALSO: How To Download Youtube Videos In 4K