Ever since it blossomed to life in the 1970s, Karaoke has become the buzzword at parties, bars and pubs for most people since it serves as one of their main sources of entertainment. In the olden days, karaoke machines were the norm accompanied by a microphone and rolling lyrics, but they were very weighty and expensive. Now, you can recreate the same experience in your home with a Windows or Mac system. But, the trouble is you need to download a good professional karaoke software or app, and there are countless programs on the internet that are costly and those that are free seem dicey as hell. Some programs market themselves as the best free karaoke software for Windows and make it even more confusing for you!
So, how will you choose a decent karaoke software package with professional credentials to liven up your party? By going through our list of the best free karaoke software for Mac and Windows, of course!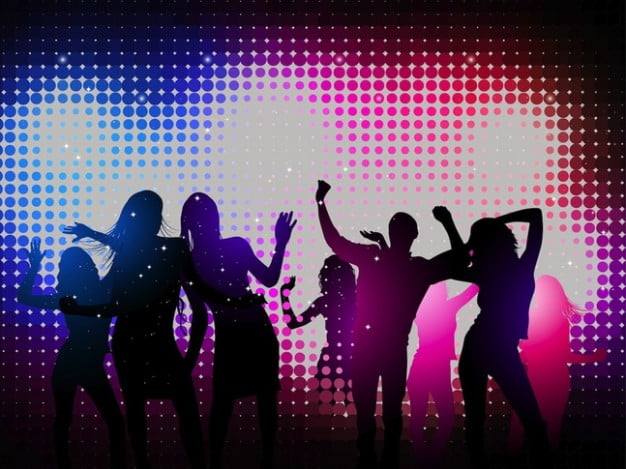 Note: This compilation is not based on the importance or number of features each software has. You can pick or download the full version of anyone out of these best free karaoke software for Mac and Windows.
Best Free Karaoke Software for Windows PC and Mac Users in 2020
1) Kanto Karaoke (Windows PC & Mac)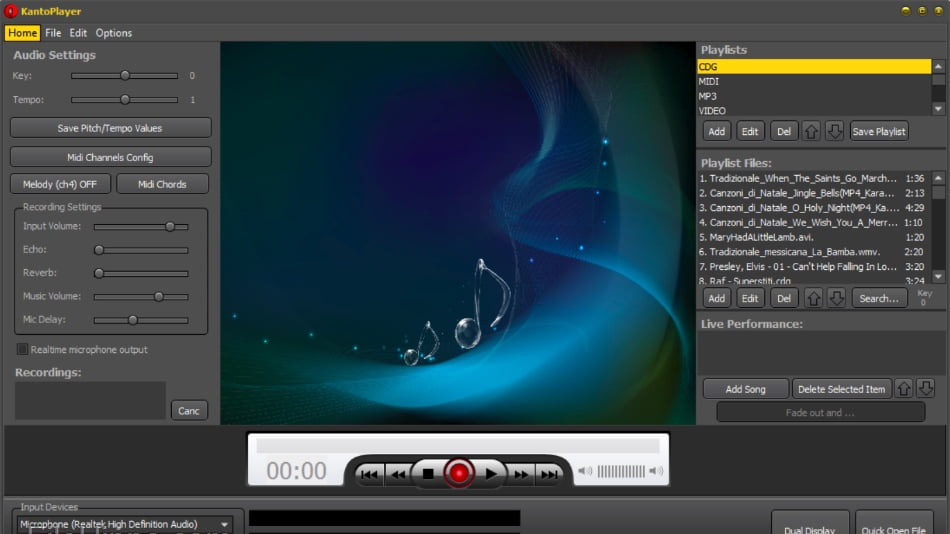 Perhaps one of the most popular karaoke players out there, Kanto is without a doubt the best free karaoke software for Windows and Mac. The reason being it supports multimedia and video formats of all hues. Besides, it also allows users to record their voice and listen to it later just like a DAW, apart from providing you with super karaoke fare to sing your heart out. Also, there's a CD+G player that comes bundled in Kanto Karaoke which converts your Mac into a professional karaoke device.
What else makes Kanto the best free karaoke software for Mac and Windows? You can create unlimited playlists, do playlists and live performance management, as well as edit audio settings, all of which are done in a nifty full-screen mode.
2) Siglos Karaoke Professional (Windows)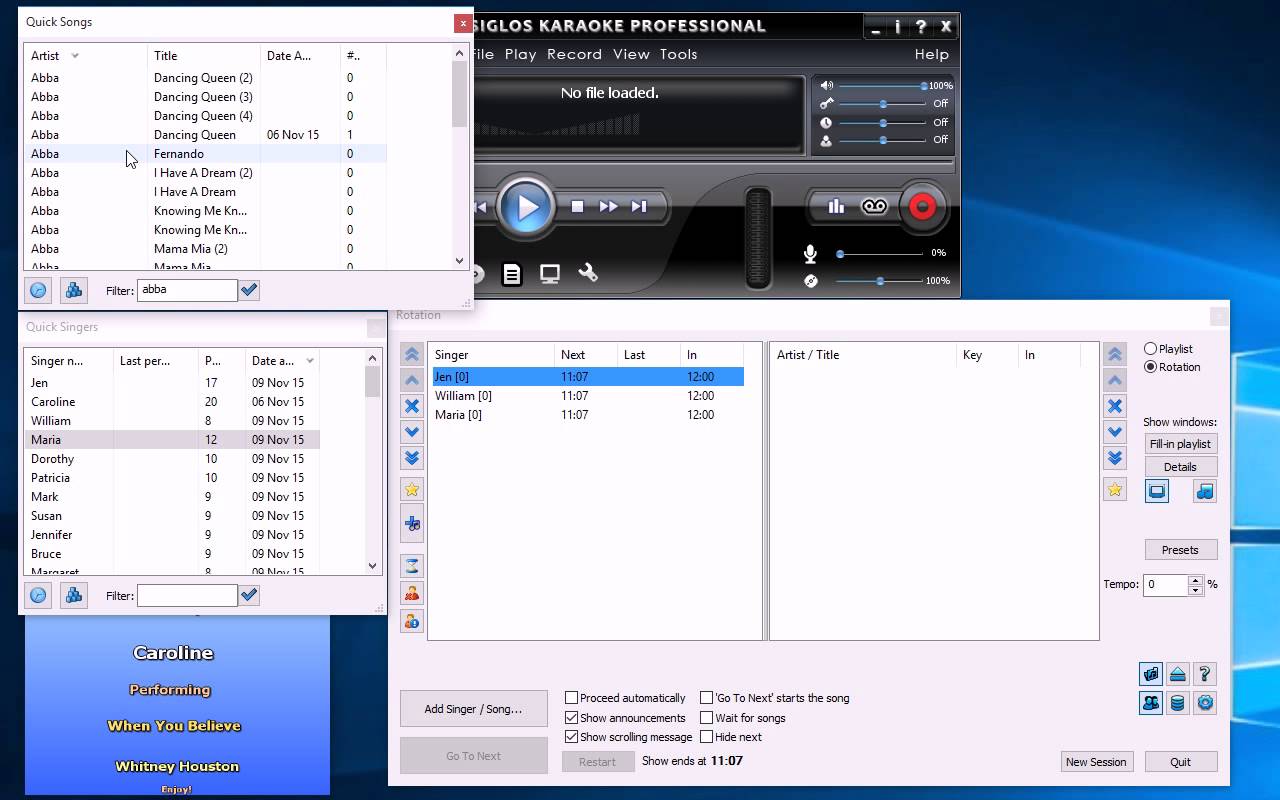 True to its name, Siglos Karaoke Professional is a feature-ridden karaoke software package available online that provides you with the ultimate karaoke experience. Plus, you can also have unlimited fun whilst working with it. How? Siglos Karaoke Professional relieves you of the burden of carrying heaps of CDs for karaoke because it is available with a two-screen display.
All you have to do is simply load all your favorite songs on it and you are in for a sweet karaoke session. The best part is that Siglos helps you provide a great karaoke experience that can be achieved with an expensive karaoke machine. If you are devoid of money, look no further than Siglos, which is one of the best free karaoke software for windows. Not to mention, it consists of advanced functionality which makes the lyrics look better, and is also super easy to use.
3) iStar (Mac)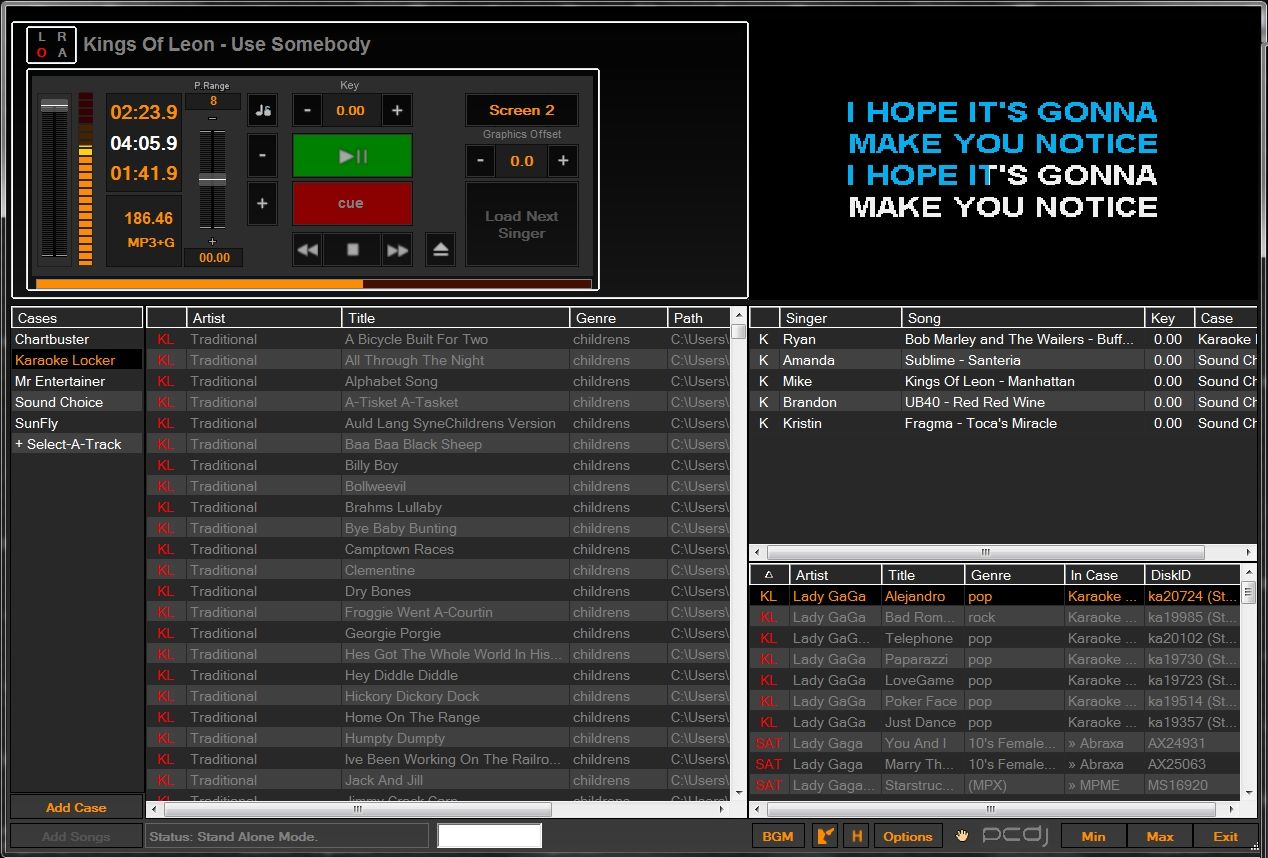 If some friends are coming over for a fun-filled karaoke night at your place and you need a decent and professional karaoke software package, then iStar is definitely one of the best free karaoke software for Mac you can have a peep at. For starters, iStar can convert almost all types of files and play them for you instantly.
The process is simple: once you have imported the karaoke file of your choice, all you have to do is to compile all the songs into a list (which can be classified) and play them whenever the need be. Moreover, iStar doesn't put restrictions on the kind of files you are importing since it supports various kinds of multimedia files from a wide range of sources.
4) Karafun Player (Windows)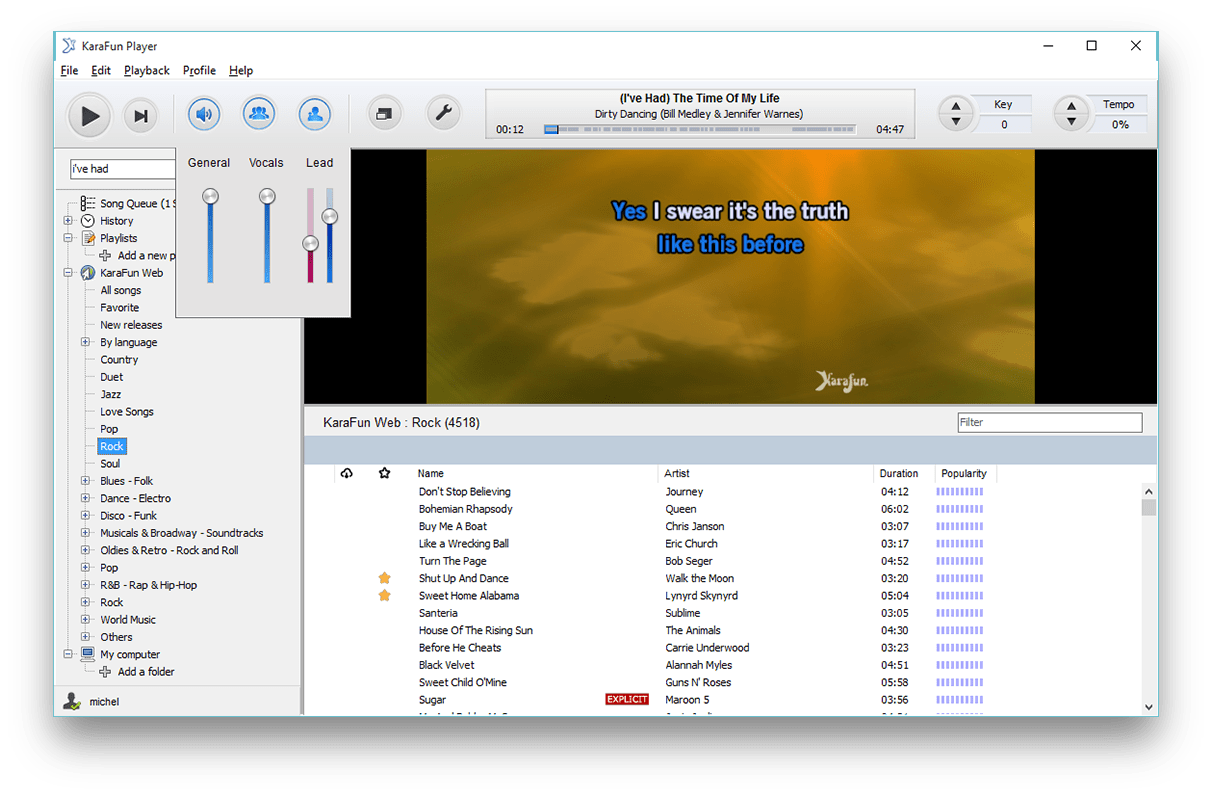 KaraFun Player is another hugely popular and perhaps the best free karaoke software for Windows PC which boasts over 21000 songs and provides the option of offline syncing so that users can reap its benefits when even when there is limited connectivity. Karafun Player comes loaded with a dual-screen display with a plethora of customizable keys.
What's more, it allows you to save all your favorite songs instantly. You can always rely on KaraFun Player for any kind of karaoke file that you wanna play, be it MID, KAR, CD+G, or MPEG.
5) Aria (Windows & Mac)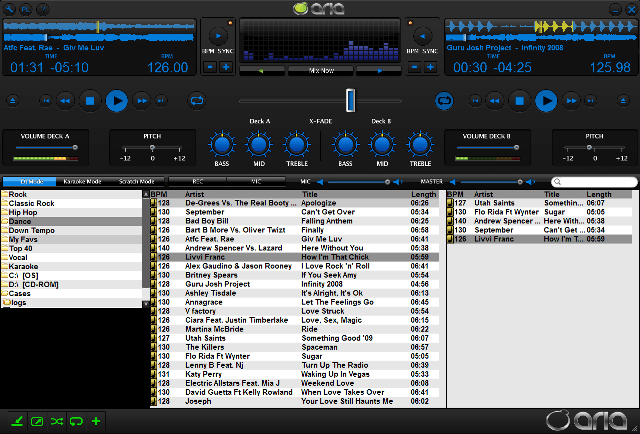 Are you seeking a surreal professional-like karaoke experience and not some childish games? Look no further than Aria which is widely regarded as one of the best free karaoke software for Mac and Windows both. Aria is a great source of producing mesmerizing entertainment when your friends and family come over for a night of fun and a good time.
Aria boasts a very simple and hands-on interface that can help you compile all your favorite songs in such a way that selecting and playing them any time becomes a cinch. Plus, you can also choose from a wide array of Aria play modes for an enhanced karaoke experience. Give it a spin if you want an authentic and professional karaoke experience with your Mac or PC.
6) OneKaraoke (Windows)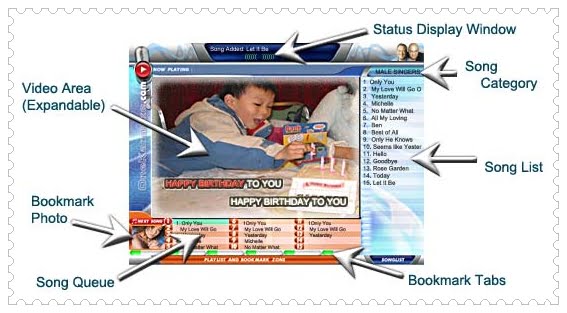 If you are well-versed in basic Windows management skills, then Onekaraoke is the surefire best free karaoke software for Windows PC that will take care of all your needs. OneKaraoke is very simple to manage since it allows you to organize your songs as you wish and supports a multitude of audio and video file formats such as mp3, Mpg, Avi, WMV, DAT, WMA, MOV, Kar, mid, et al.
Wait, there are more goodies. OneKaraoke also offers up multiple options insofar as the operation is concerned. No matter if it is keyboards, numeric keyboards, or the operational handheld remotes when you want to go mouse-free, OneKaraoke can be operated with all of them.
7) QMIDI V.2.0 (Mac)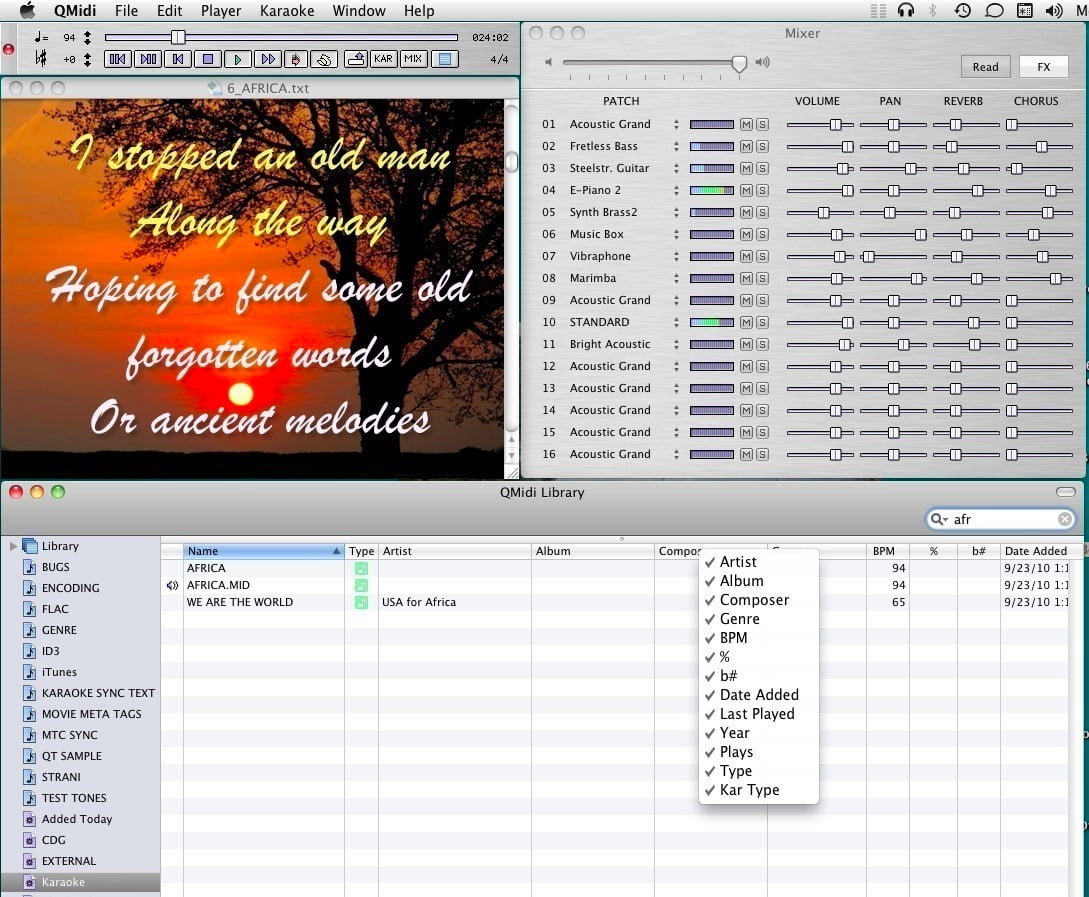 Another great entrant on our roundup, QMIDI V2.0 is a lucrative option if you are searching for a karaoke player that plays multiple file formats on your Mac device. With the tools of QMIDI V2.0 at your command, you can not only edit various chords and lyrics of songs that you have loaded onto it but also have some awesome karaoke fun on the go.
What else propels QMIDI to be a solid contender on our list of the best free karaoke software for Windows PC? It helps you play your favorite songs in a sequential manner and synchronize your playlist.
8) Advanced Karaoke Player (Windows)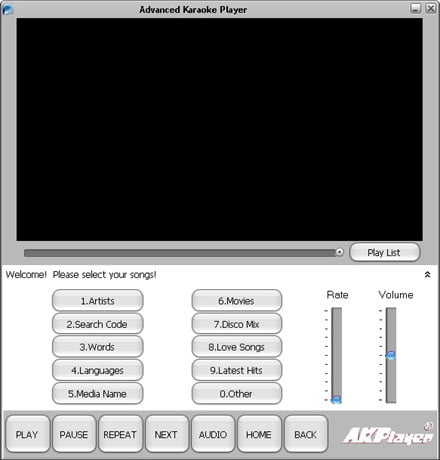 It often becomes a painful and hectic chore to assemble all your favorite songs that are scattered all around the house in multiple formats. You need to look into various places for it and the struggle is real. But thanks to Advanced Karaoke Player, you can store all your favorite songs under one solid and single roof for a supreme karaoke experience.
Advanced Karaoke Player is a solid Windows karaoke software package that will make you sing your heart out to your favorite tune whenever you feel like giving it a spin. What else can it do? You can manage all kinds of media files through Advanced Karaoke Player and just sit back and enjoy the musical experience.
9) Just Karaoke 2 (Windows)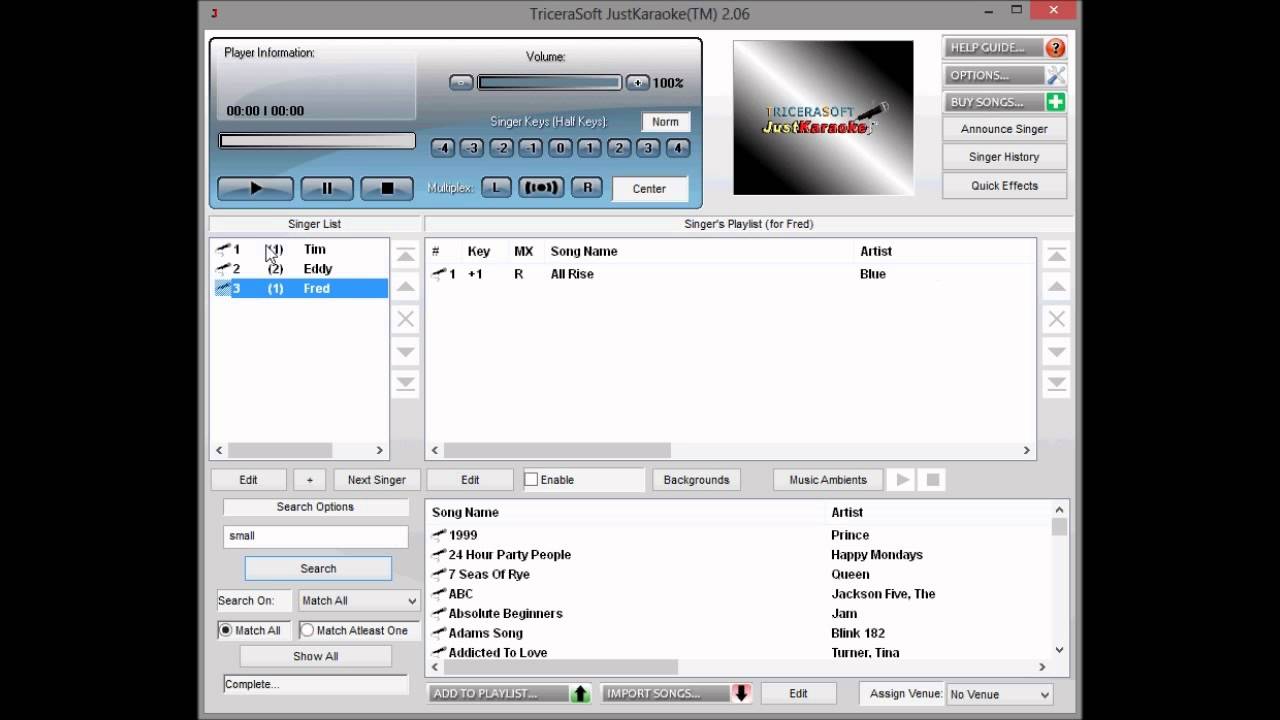 Just Karaoke is all about karaoke, karaoke and more karaoke. Symbolic of its name, it's simply one of the best free karaoke software for Windows PC out there. If you are throwing a party and need a karaoke software package that delivers a fully digital performance with rich features, Just Karaoke 2 is your best mate.
It is loaded with features such as singer announcement, sound effects, song manager, dual output screen, easy song searches, rotation, a huge list of over 70000 songs, and much more.
10) Kjams (Mac)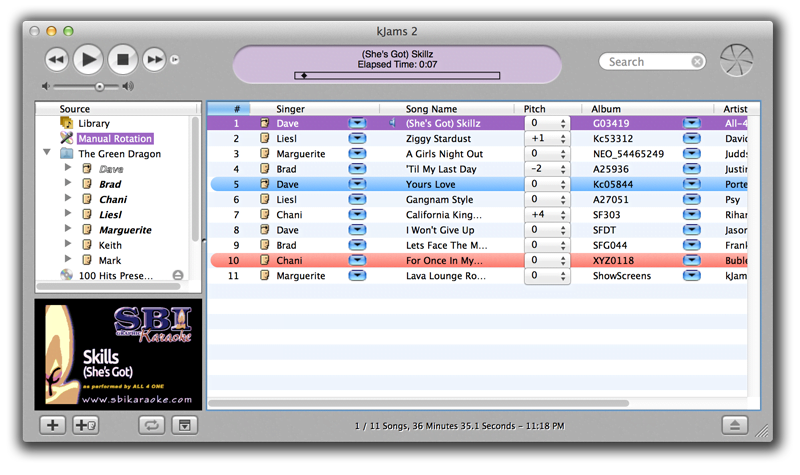 The last entrant on our list of the best free Karaoke Software for Mac and Windows, Kjams proffers effortless syncing with iTunes and is perfectly suited for a Mac device. The UI of Kjams resembles iTunes in many ways so you will feel at home.
To enjoy a great karaoke night, just add your favorite songs to the system and hit play. Kjams will provide you with an ethereal karaoke experience when set up right. Not to mention, it comes packed with a robust management tool for controlling and tweaking the singing/voice. There is also a duplicate window that provides the lyrics of the songs. If you are ever throwing a big party, Kjams can definitely provide a professional experience.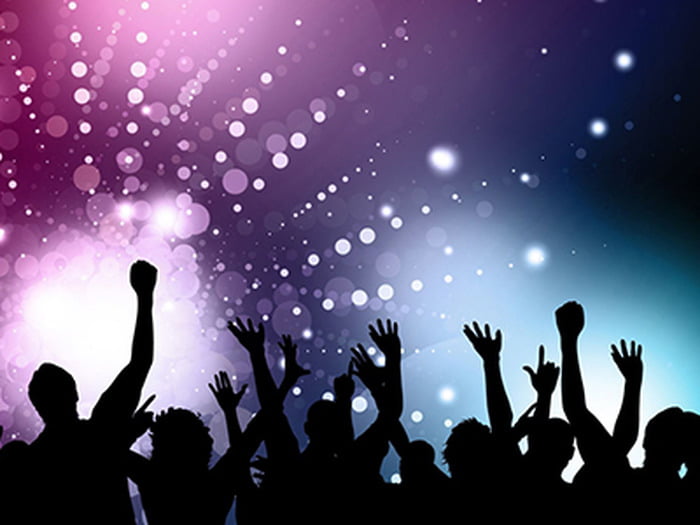 And…that's about it! Did you like our carefully handpicked list of the best free karaoke software for Mac and Windows? Let us know in the comments and don't forget to download the full version of your favorite software.
SEE ALSO: 10 Best Free Android Music Player apps