If you have a passion for creating music and are just starting out in your music composition journey, you will need a good audio editing software or a Digital audio workstation(DAW) to showcase your talent to the world. To accomplish that, you might have to buy some very expensive professional studio DAWs available on the market. Fret not, even if you are short on money you can still create some awesome tunes by grabbing the best free audio editing software or audio editor for recording and mixing music similar to costly professional studio DAWs without spending a dime.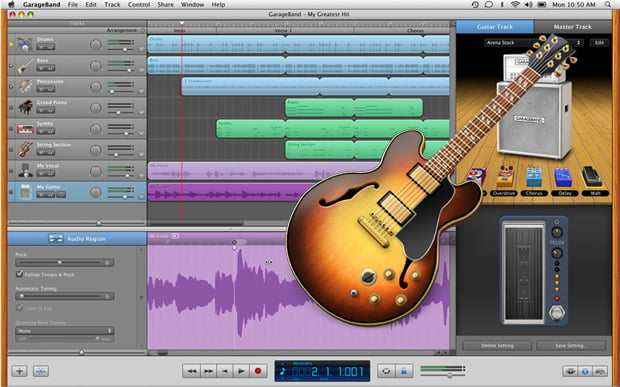 So, what's the best audio editing software for beginners, you ask? Well, there's a wide array of DAWs available out there that market themselves as the best free DAW software, or lay claim to being the best affordable audio editing software for beginners. How do you know which ones are good and which ones should be given a miss?
Knowing your predicament, we have compiled a list of the best audio editing software for beginners like you across platforms(Windows/Mac/Linux). So, are you ready to find out the best free audio editing software for beginners to create some wondrous tunes that will be cherished by music lovers? Here's our roundup:
Note You can download them all because they are free!
The Best Free Audio Editing Software for Beginners in 2019
1) Tracktion 6 (Windows/Mac/Linux) [Overall Best DAW for beginners]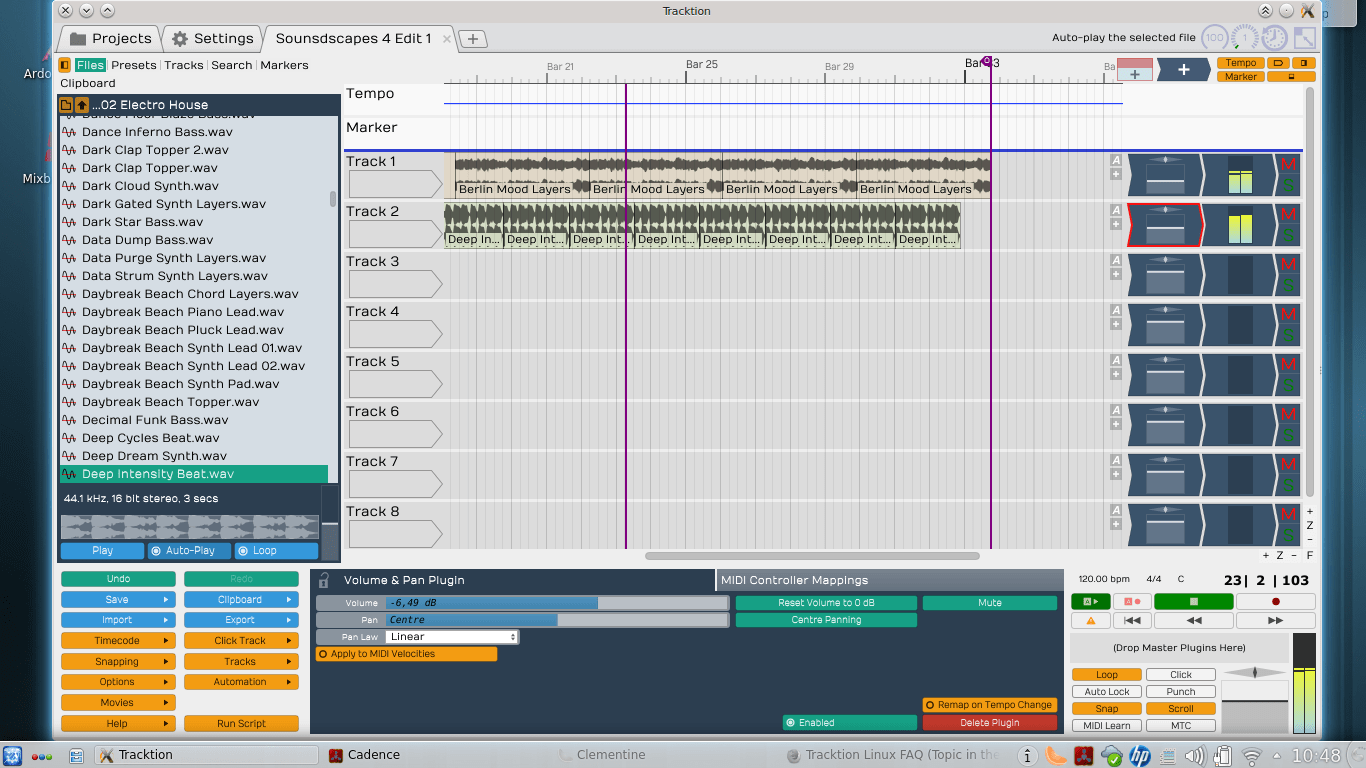 This DAW was released as a free audio editing software in 2016 exclusively for Behringer Customers, but is now absolutely free for everyone. With a swift audio editing and mix workflow, Tracktion 6 should keep the ears of most audiophiles satisfied.
Moreover, Tracktion 6 is compatible with most VST plugins (Virtual Instruments) and boasts a very fine and streamlined user interface. What makes it one of the best free audio editing software? Tracktion 6 is available for Mac, Windows and Linux for free and users can take advantage of features such as: Warp Time audio editing, Z-Plane's Elastique Pro time stretch algorithm, and its nifty time correction tool kit.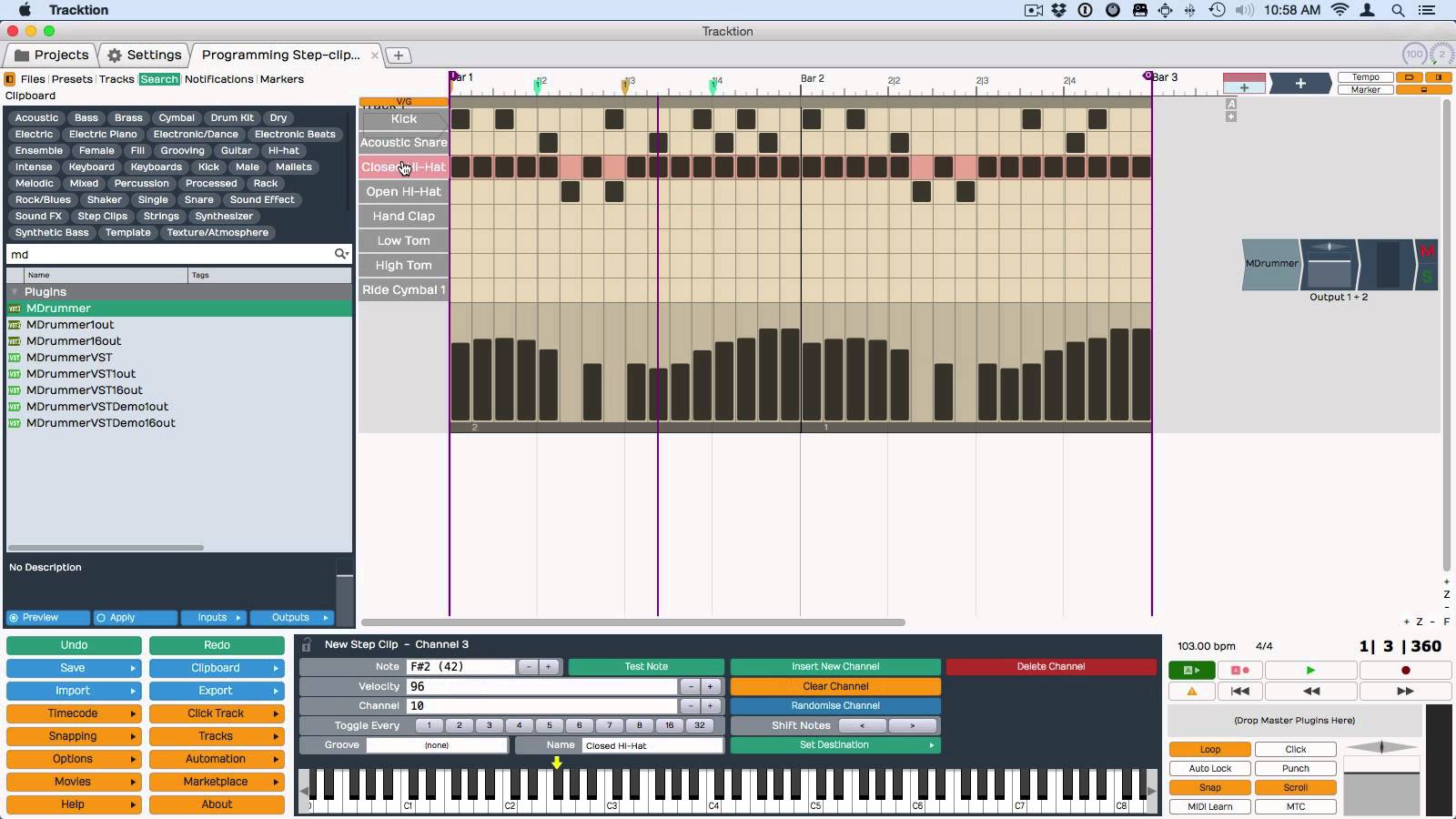 Tracktion 6 has more highlight features under its belt that make it one of the best audio editing software for beginners, namely: an enhanced plugin management system, tape-style start/stop effects, dedicated sub-mix and automation tracks, and a robust audio compiling tool.
2) GarageBand (Mac) [Best affordable audio editing software for Mac]
GarageBand is a fully equipped audio editing software for beginners that comes pre-installed in Mac with a sound library replete of a dazzling array of VST and AU(Audio Unit) plugins, presets for guitar and voice, as well as a full-fledged selection of session drummer loops and percussion samples.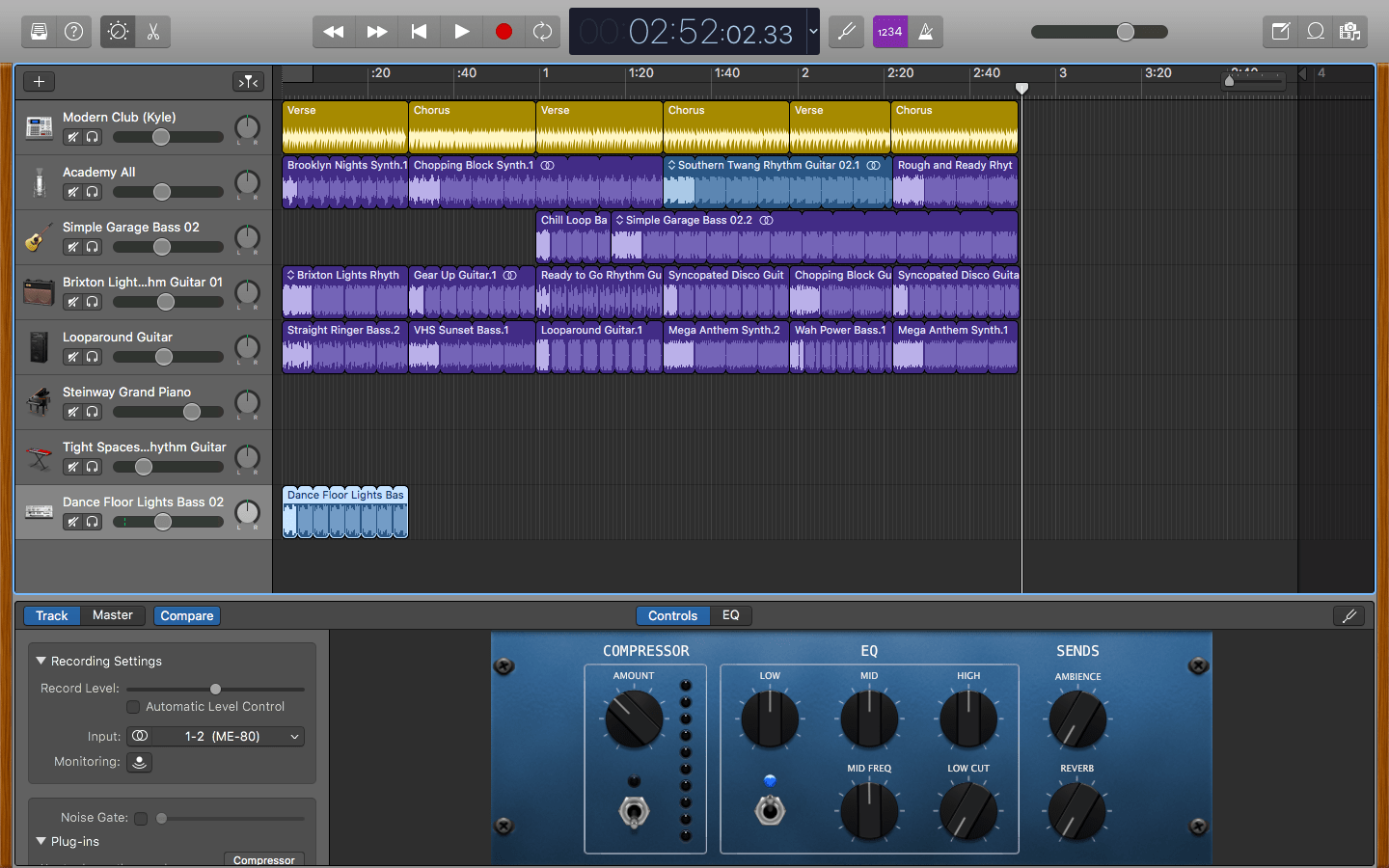 GarageBand has a gamut of guitar amp cabs from the 60's to modern metal if you are into guitar-based music production. Also, it provides multi-track recording so layering your guitars would be a walk in the park. Plus, GarageBand comes with plenty of preset loops for various instruments ranging from keyboards to guitars as well.
It consistently ranks high in various best audio editing software for beginners lists thanks to a sleek and intuitive user interface and great touch bar features for Mac. Total novices in audio recording and editing needn't fret about music production with GarageBand because it provides a very easy way to learn, create, record, and share your musical masterpieces worldwide.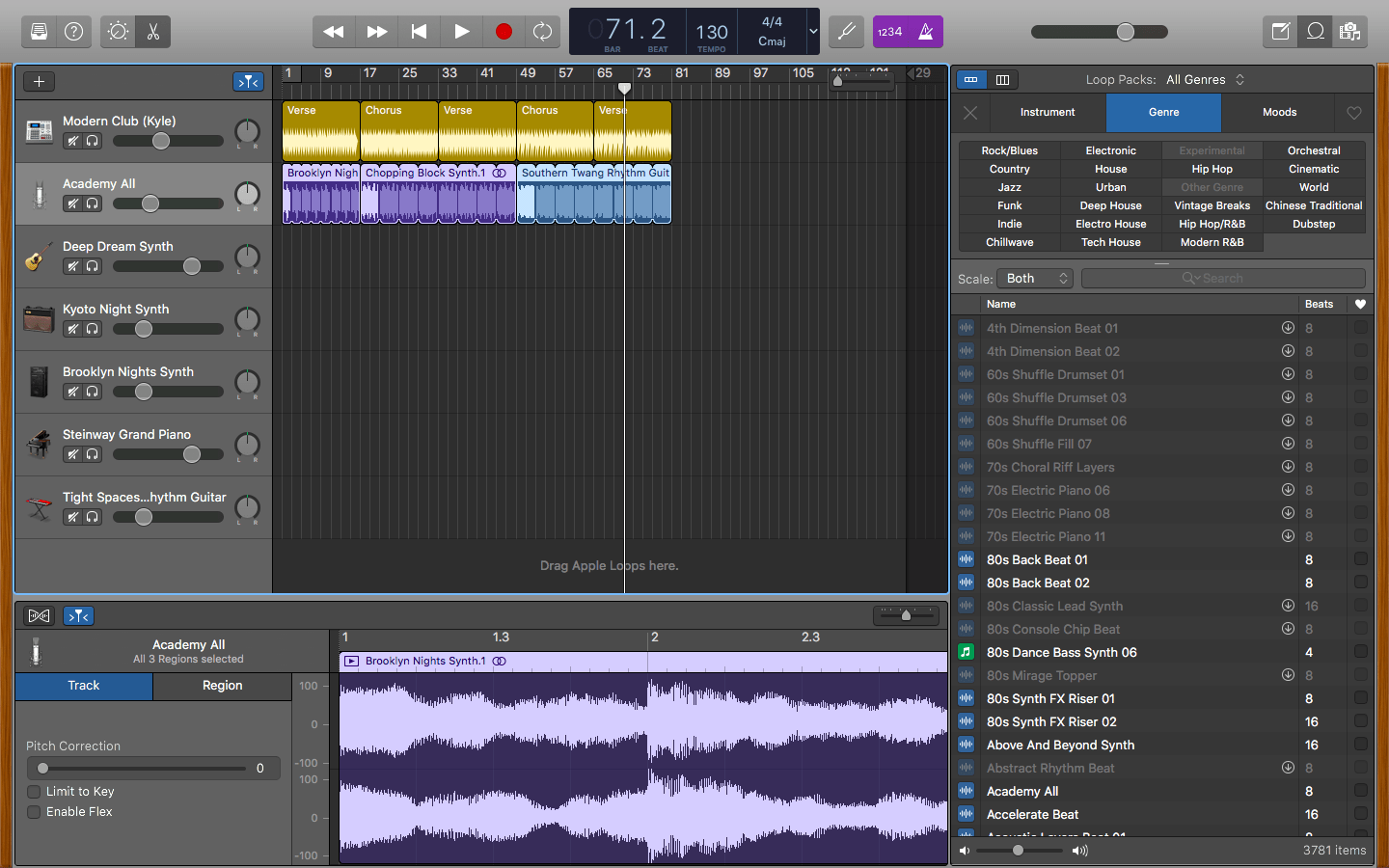 However, GarageBand lacks the incredible depth of Apple Logic Pro X which typically suits professionals. But the good news for beginners is that GarageBand is still a brilliant DAW to play around and craft melodies with, plus it is absolutely FREE!
3) Audacity (Windows, Mac and Linux) [Best DAW for Voiceover Recording]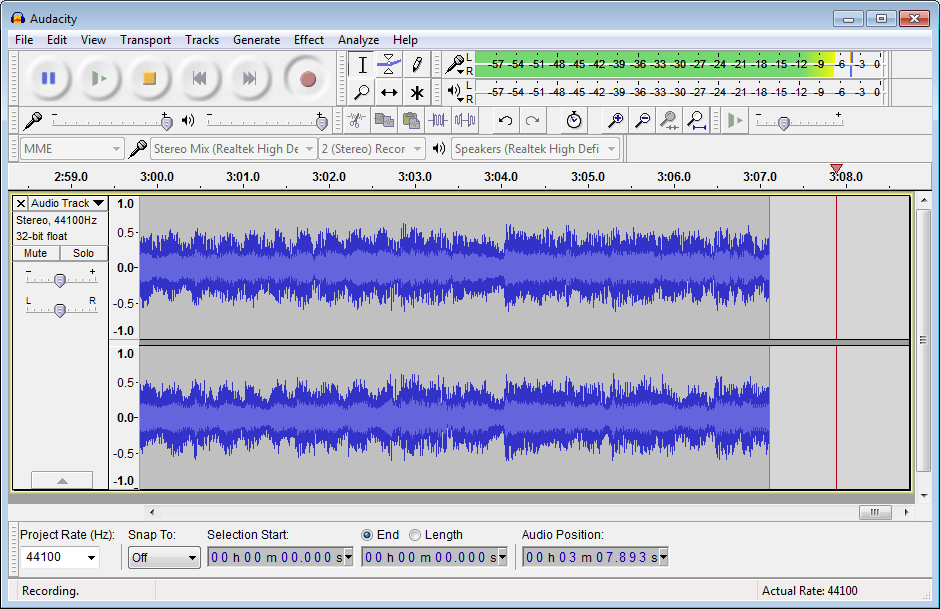 What would a list of best free audio editing software be without Audacity? For those of you still not in the loop, Audacity is an open-source free program that is all about basic audio editing/recording. If someone ever asked you what is the best audio editing software for beginners available on the market for voiceover/speech recording, tell them about Audacity.
Despite its lack of features and a basic design, Audacity is massively popular. You can create multi-track recordings, and add effects ranging from removing noise, stretching time, correcting pitch, changing key, or even create some basic dubstep loops with a bit of tweaking around.
However Audacity suffers from drawbacks aplenty such as: lack of in-built VSTs, compatibility issues with most third-party VSTs and its destructive editing style wherein effects once applied are permanent, all of which make it a pretty basic DAW.
4) OcenAudio (Windows, Mac and Linux) [Best DAW with the cleanest UI]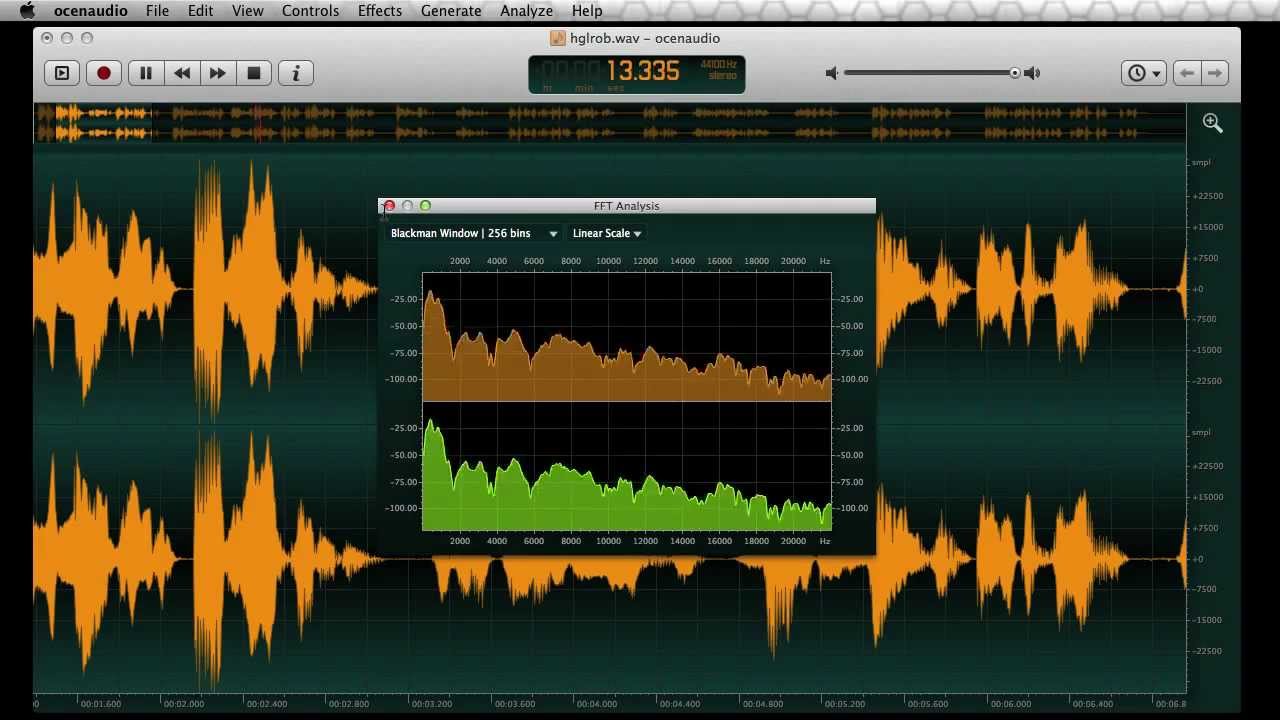 OcenAudio is a very new and simple audio editor with a colourful and clean user interface. The interesting bit about it is that it's more fast and lightweight compared to Audacity. OcenAudio also comes bundled with a barrage of effects including reverb, compression and EQ all of which can be applied and tweaked in real-time.
This is very impressive since most free editors such as Audacity are destructive i.e. they record effects straight to the audio forcing users to constantly rely on a 'preview' button. But, OcenAudio is a great audio editor for beginners that allows them to fiddle with the parameters of an effect and instantly hear the changes.
It also provides VST support for third-party plugins and comprises loads of useful tools such as a spectogram for more nuanced users. It is also blessed with the cleanest UI in the game which is an attractant for first-time users.
However, one major downside of this audio editing software is that it doesn't allow multi-track sessions and supports single stereo/mono files. So, you cannot record multiple instruments in your home studio and mix them. Ah, bummer. But if you are looking at editing stereo music files, or mono audio files for recording voice, OcenAudio is your best free audio editing software mate.
5) PreSonus Studio One 3 Prime (Windows and Mac) [Best DAW for PC]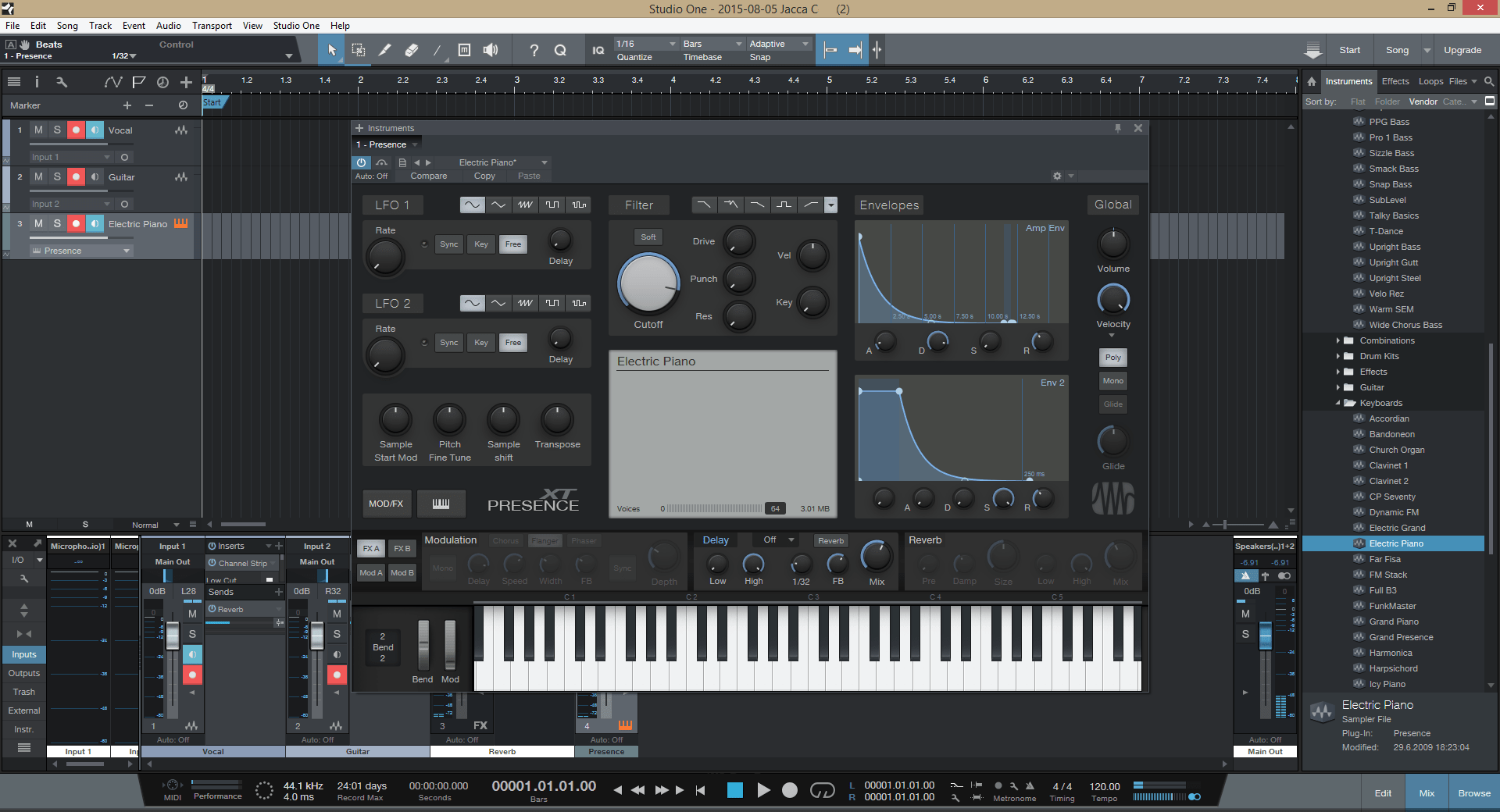 Launched by PreSonus, Studio One 3 Prime is another brilliant music making software that has all the tools a beginner would need to start crafting great music. For a free version, it surprisingly boasts unlimited audio and midi tracks, as well as unlimited sound FX.
Moreover, Studio One 3 Prime is loaded with a drag-and-drop functionality that gives it a super smooth experience with a bunch of nifty features thrown in for a good measure to enhance your mix/track.
6) MixPad (Windows and Mac) [Best Free DAW for PC]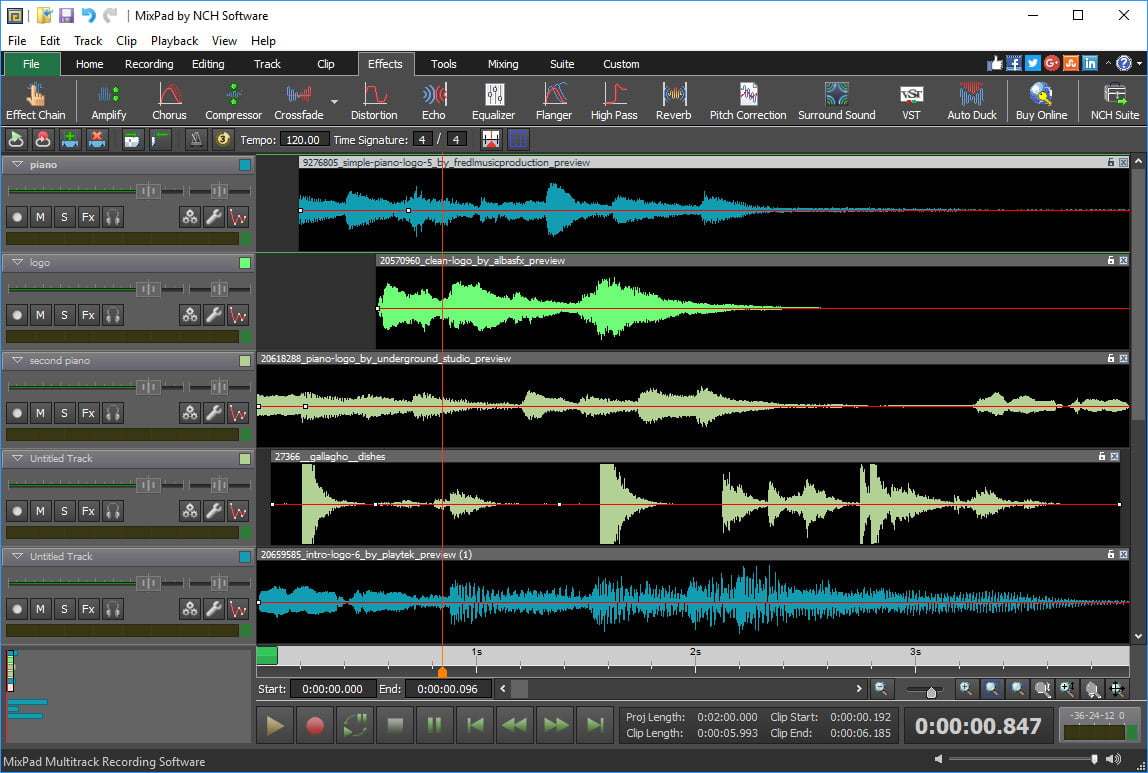 MixPad is a cohesive multi-track recording and mixing software that mashes the power of professional recording and mixing through a single platform by streamlining the audio recording process. It makes mixing a breeze for the less-experienced budding music enthusiasts and is considered a stepping stone in the list of best audio editing software for beginners.
Due to its minimal download file size, users can start mixing and making music within minutes. What's more? MixPad features multi-track recording, hordes of free effects and a complete sound library all of which make it a compact DAW for beginners well worth a try for great aural experience.
Further, you can also save your audio tracks in any audio format from MP3, WAV to FLACC, which comes in very handy always.
7) Zynewave Podium (Windows) [Best free DAW for MIDI recording]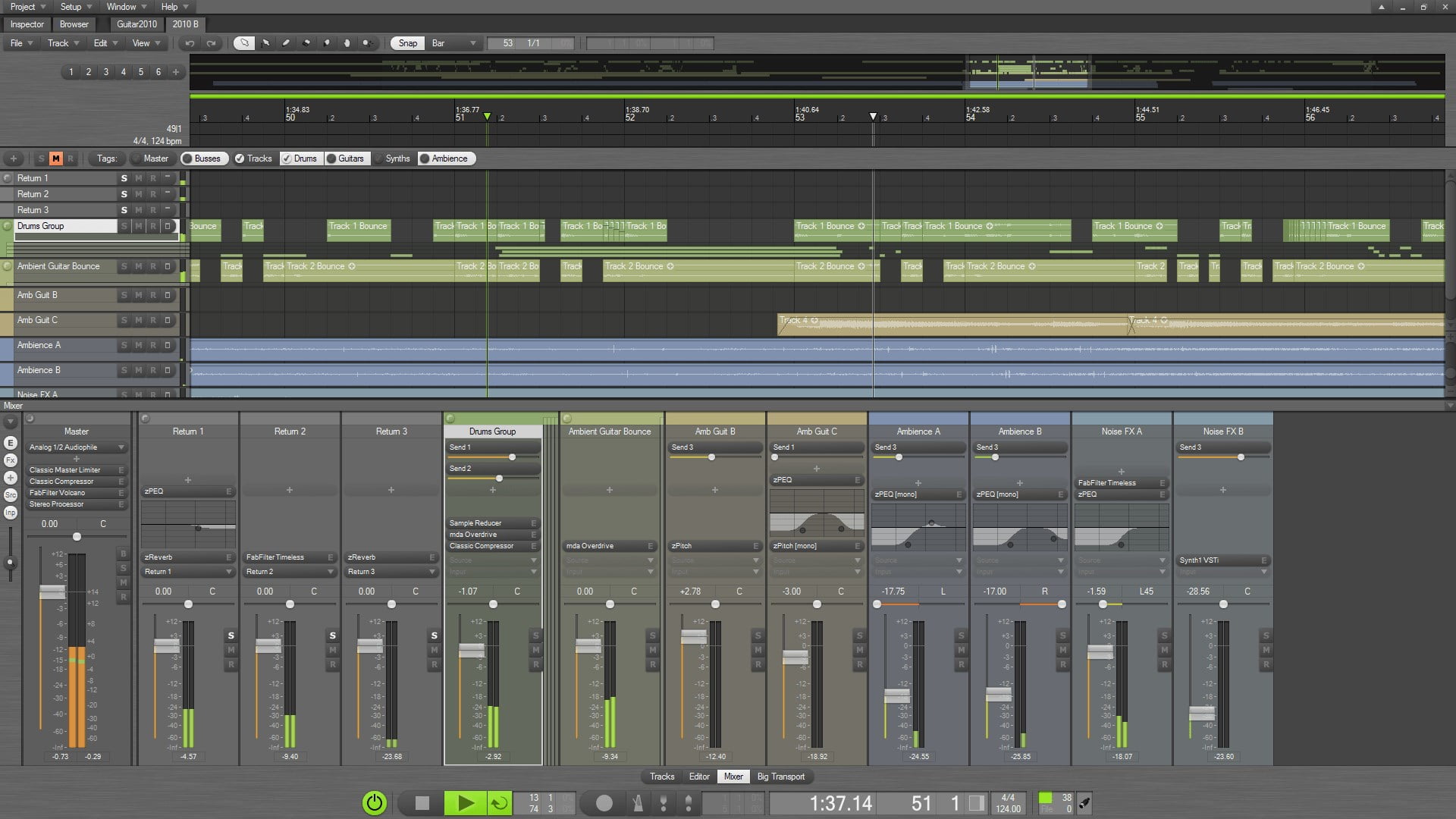 Podium Free is brilliant freeware from Zynewave that is a complete audio and MIDI recording program with multi-tracks support (albeit one input/output can be used at a time), bundled plugins, and VST support.
However, the freeware version of Podium has certain restrictions such as no 64-bit mixer engine option, no multiprocessing, etc. But, it's still a strong contender amongst the best DAWs on the market thanks to its intuitive interface design full of editing options.
8) Ohm Studio (Windows and Mac) [Best DAW for collaborations with friends]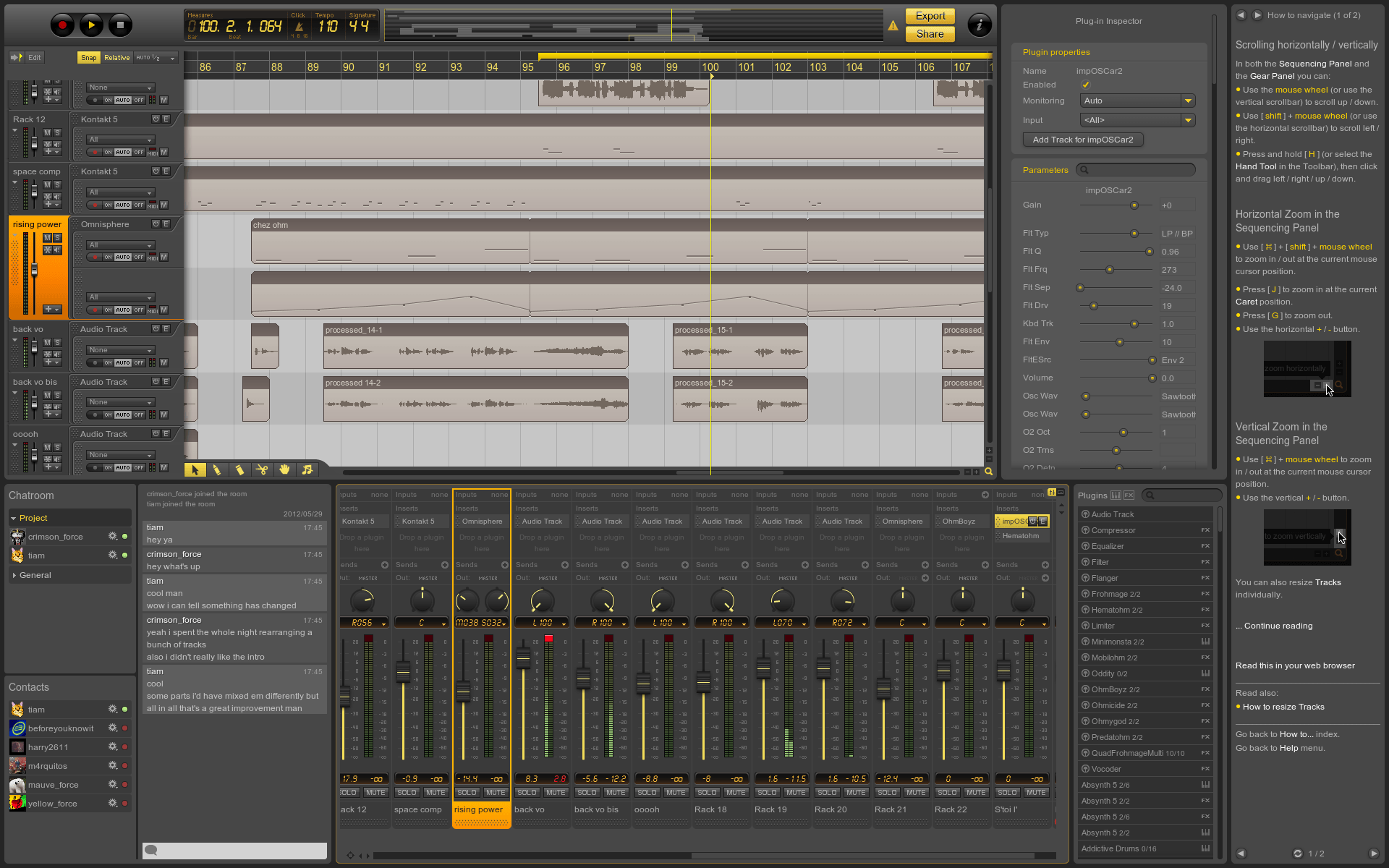 A majestic DAW having a unique feature that truly makes it stand out on our list of the best free audio editing software for novices – Ohm Studio is a collaborative audio editing program wherein you can invite others to your project or join other projects to create music in real-time.
It is extremely beneficial if your band members are in far off lands and provides a great platform to let other members give in their inputs any time. Beyond collaborations though, Ohm still offers a brilliant package of a beautiful DAW with plenty of instruments and effects in a smooth workflow.
9) Soundtrap (Windows, Mac and Linux) [Best online DAW for in-browser editing]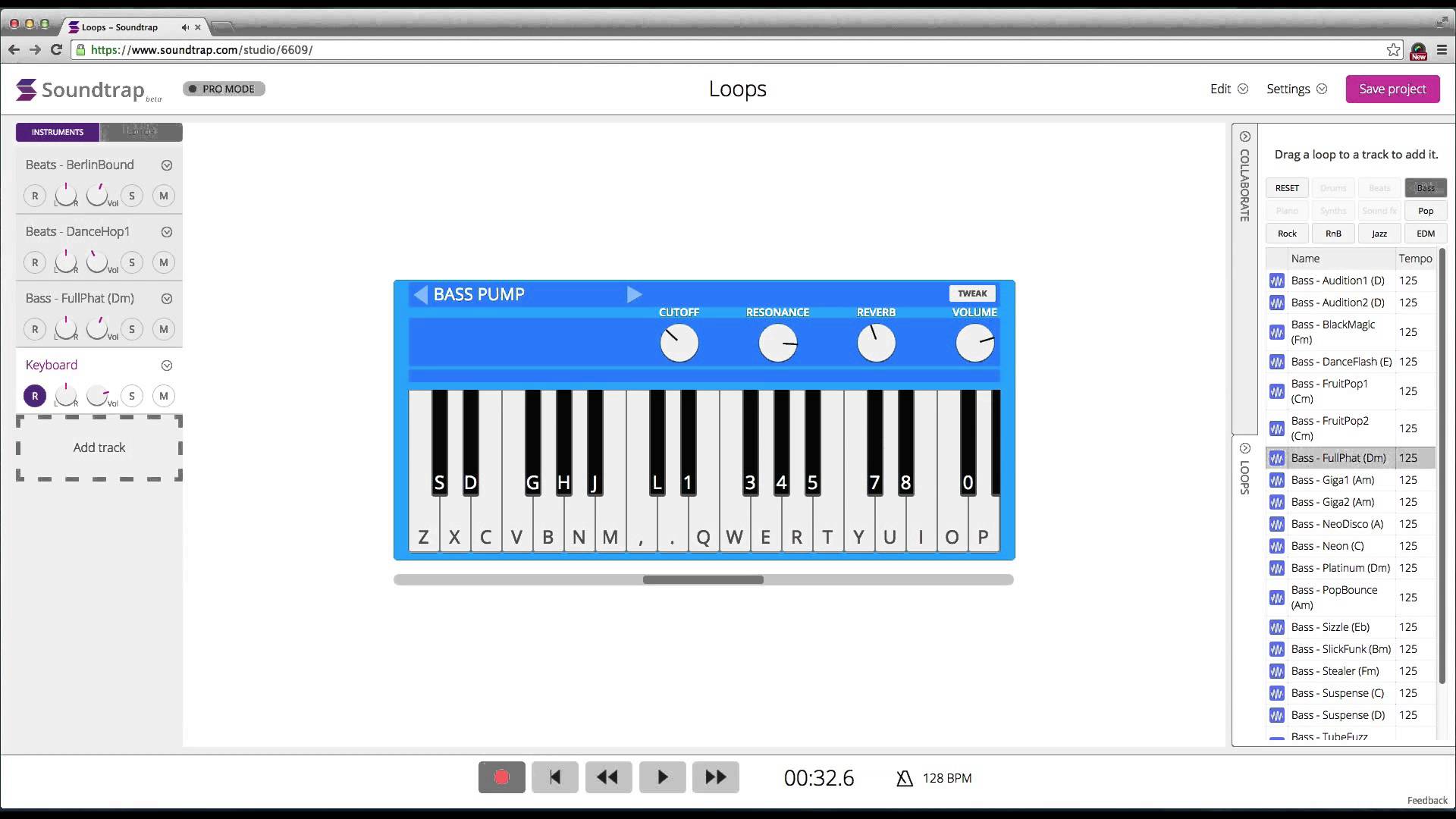 Perhaps one of the only few unique entrants on our list, Soundtrap is an in-browser online DAW that is propelled by a powerful software which is quite easy to use. Soundtrap is a cinch because it's accessible for everyone ranging from beginners to professionals.
Soundtrap can be instantly started from the browser and users can start creating music from their website. What else has has Soundtrap going that injects it into the best audio editing software for beginners list? Soundtrap also boasts collaborative capabilities for working on and sharing projects for you and your band mates so that producing music from far off places becomes a reality. However, being an in-browser DAW, Soundtrap does lack certain features and processing power.
SEE ALSO: Best Free Music Production Software
SEE ALSO: Best Free Karaoke Software
10) AudioTool (Windows, Mac and Linux) [Best DAW for beginners using Linux]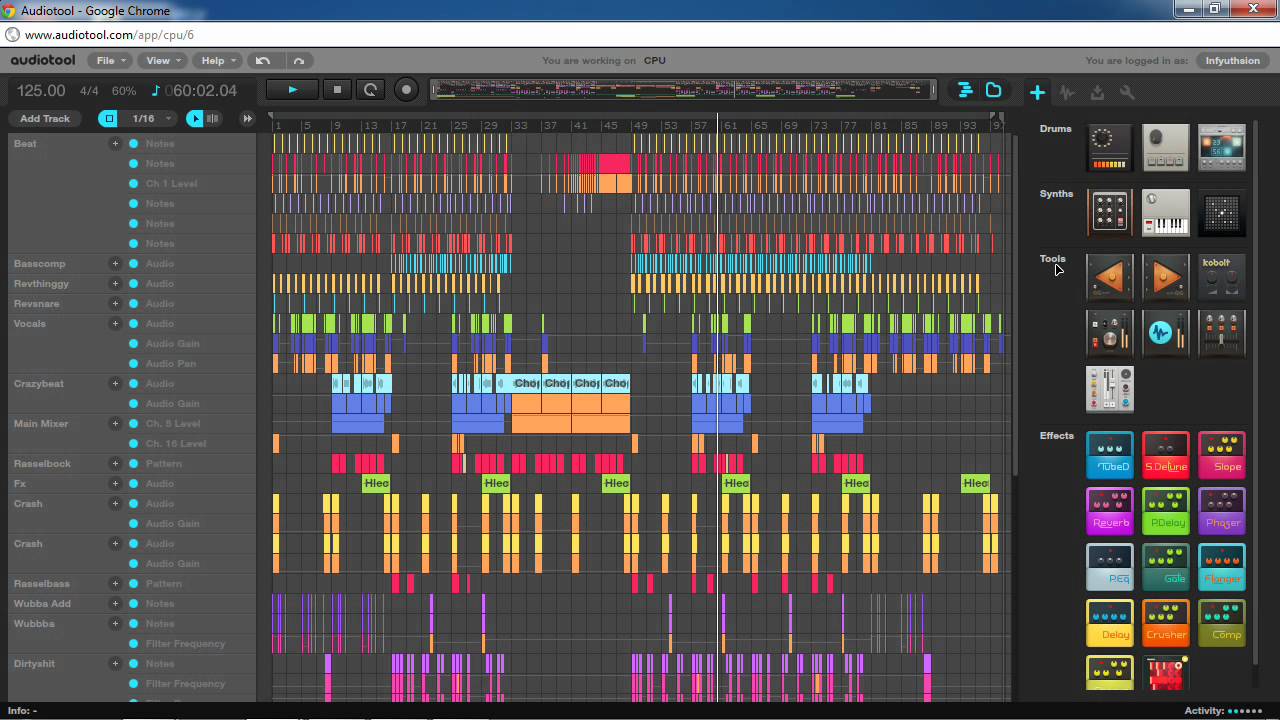 Here's another in-browser online DAW that made it to our list of best audio editing software for beginners. For starters, Audiotool too doesn't require a download, since it works straight from your browser. You must be wondering does it also lack in power and features? No, that's not an issue with Audiotool.
Audiotool features thousands of samples to work with and loads of virtual instruments(VSTs) and effects that can all be manually tweaked to craft your sounds like early 80's disco music producers. Plus, since it is an in-browser online DAW, AudioTool allows you to store all your projects on the cloud for easy access any time, anywhere.
Bonus additions on our list of the Best Free Audio Editing Software
11) Wavosaur (Windows)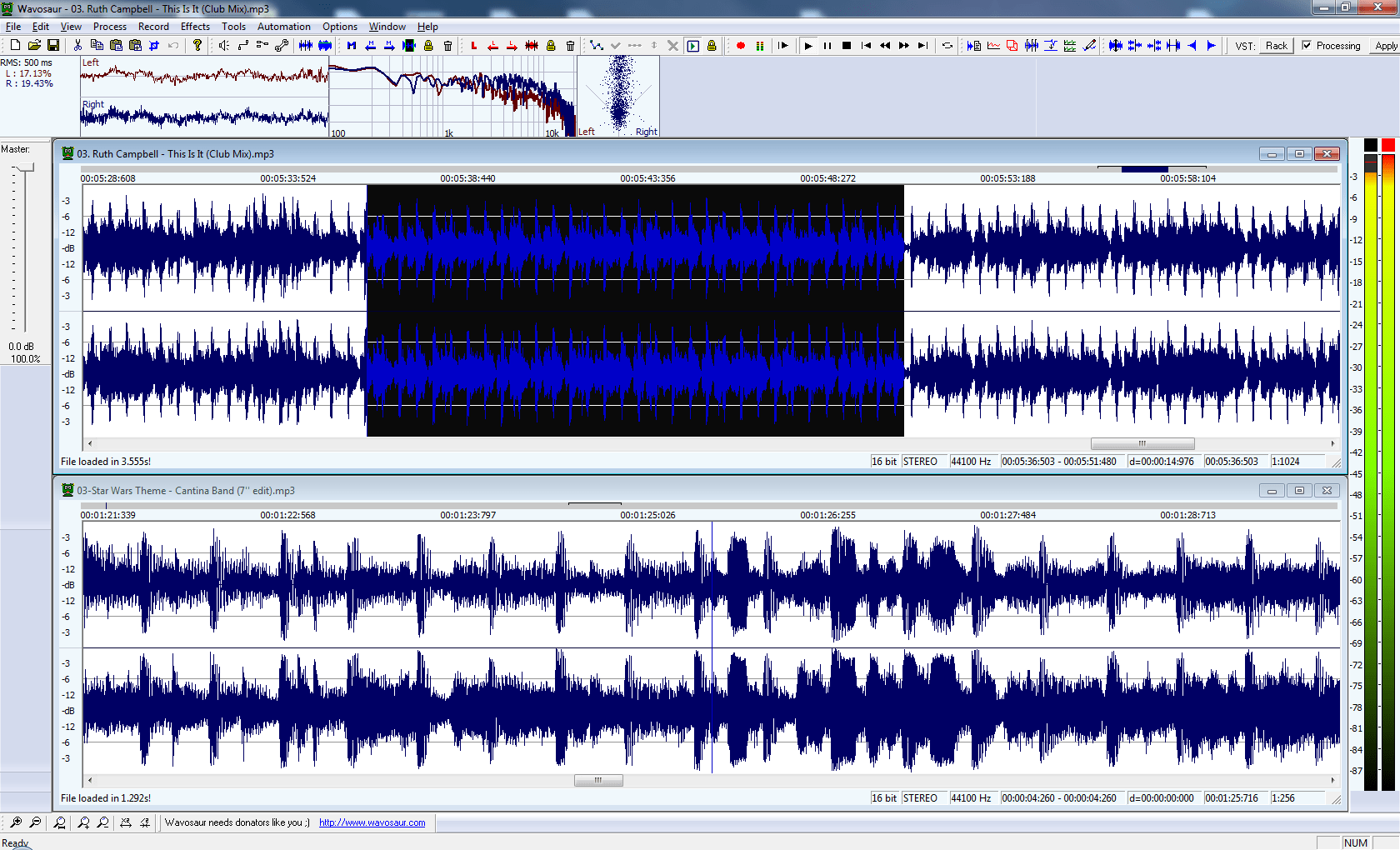 A term perhaps derived as a spinoff from "Dinosaur", Wavosaur is indeed ancient, but it still gets the work done if you are someone searching for the best audio editing software for beginners. Funny enough, Wavosaur resembles a DAW that could be the missing link in the evolution between tape cutting and modern DAWs. With a download file size of only 1.3MB it is more like a on-the-go audio editing tool.
The latest version of Wavosaur was launched back in 2013 and it still retains its charm of having a no frills layout. It also supports VSTs but doesn't come preinstalled with any. The USP of Wavosaur lies in providing a very basic user interface, loads of great analysis tools and ease of volume automation.
12) Pyramix (Windows and Mac) [Best DAW for creating music videos' scores]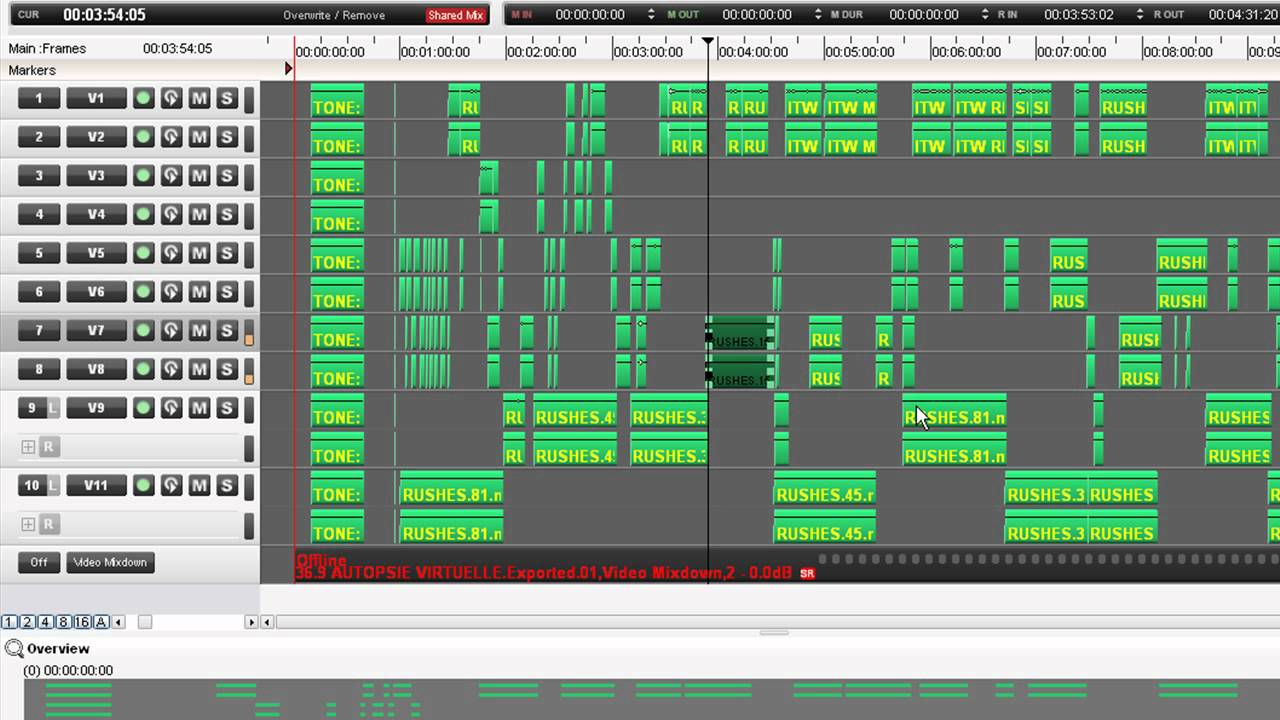 In a stark contrast to its reputation as one of the best audio editing software for beginners in the game, Pyramix is actually a digital audio workstation frequently used by professional audio engineers in recording studios and audio-related industries around the world for music production, post-production in TV and film, and CD mastering.
The USP of Pyramix lies in providing flexible advanced tools as well as astounding sonic precision. For those people seeking a DAW wherein they can work with video and audio simultaneously for creating music videos, Pyramix is easily your go-to editor.
Further, Pyramix comprises a lot of smaller features that make it shine compared to other best free audio editing software on our list such as audio importing for adjusting the tempo to sound perfectly, sleek dual-screen optimisation, and a backlog list to undo specific actions. On the downside, beginners could find Pyramix a little confusing because there is a steep learning curve for getting used to it.
13) Acoustica Basic (Windows) [Best Beginner DAW for PC]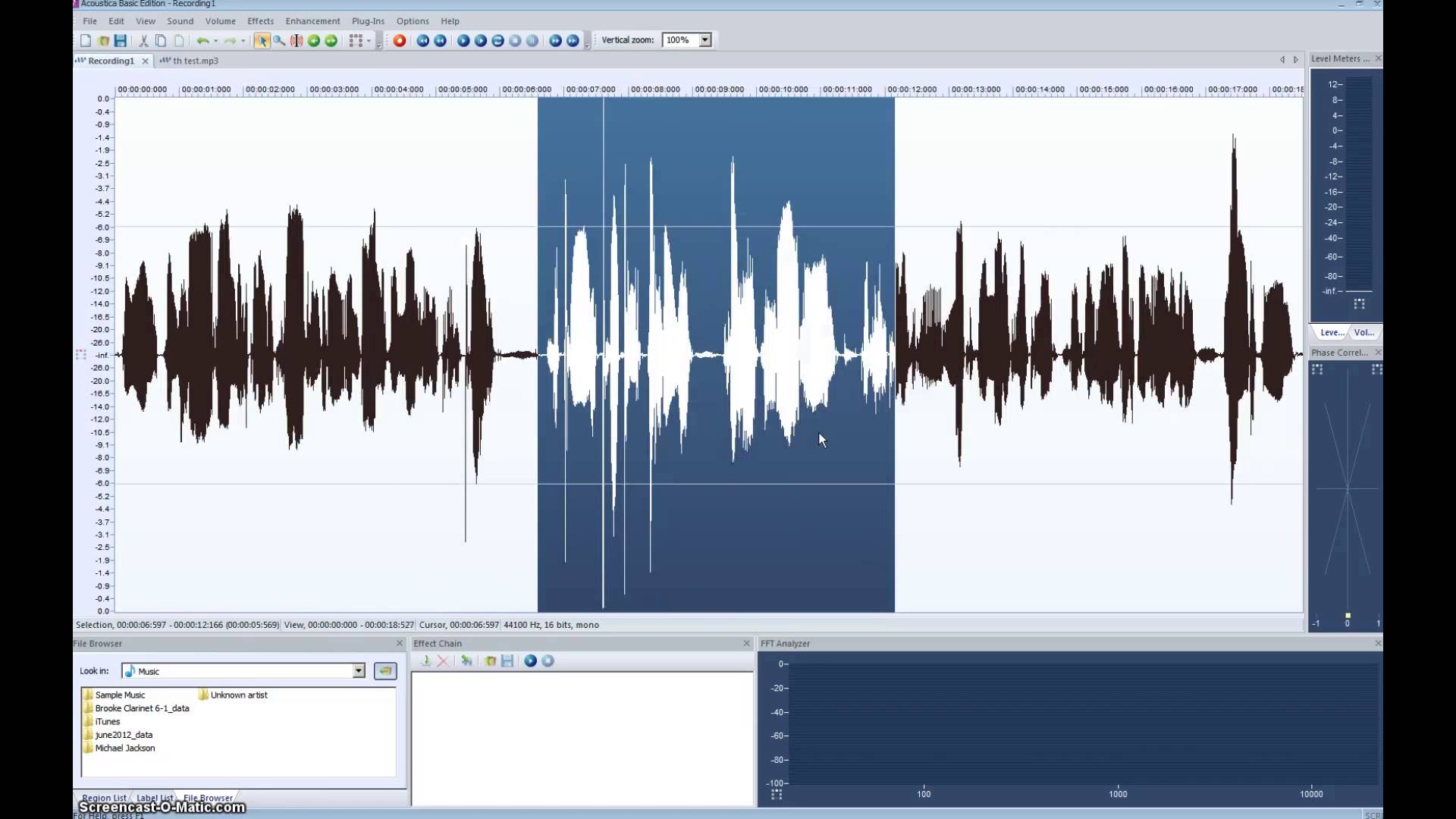 The last one on our list of the best audio editing software for beginners, Acoustica Basic as the name implies, is easy to set up a project and start recording. It boasts a scrub tool for removing bad retakes! However, it doesn't support multi-tracking, but there is some good news in the offing.
It is perhaps one of the rarest DAWs worth zilch that comes with a convolution reverb which is a special digital reverb used to accurately model your instruments' sound to any room.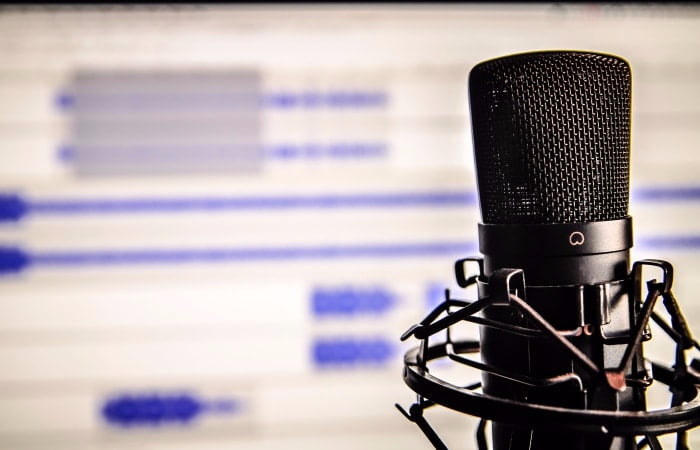 And…that's a wrap! Did you like our list of the

best free audio editing software

for beginners circa 2019? Did we miss out on any free DAWs that you know of? Let us know in the comments.
SEE ALSO: Best Free Beat Making Software
SEE ALSO: Best Free Music Players for iPhone
SEE ALSO: Best Audio Recording Software