With a sudden spurt in the success of "bedroom producers", creating some sick tunes within the confines of your home has become a bright reality. Take for instance, the success stories of rappers such as Post Malone or Lil Pump among hip hop artists who started out as independent producers. They made it big because they had some of the best beat making software at their disposal. If you too are a passionate music enthusiast who wants to fulfill your dream but doesn't have enough resources to expend, then you can always make use of some of the best free beat making software for Mac and Windows PC listed in our roundup.
These free beat makers are intrinsically built to provide you the right melody creation tools that can compose some kickass groovy beats in a jiffy. Most of the entries on our list proffer sample music which can help navigate users learning the nitty-gritty of beat production and create solid hip hop beats.
How to choose the best free beat makers?
We handpicked all the amazing beat making software on our roundup based on several yardsticks. Numero uno criteria were definitely ease-of-use for beginners, followed closely by the abundant features these software possess. Not to mention, some of them cater to more experienced users and boast advanced features.
Lastly, the user interface was also considered for homing in on the best free beat makers that could inspire users to create some tasty, jaw-dropping bass-driven beats and drop sick bars. So, are you ready to find out the best free beat making software and download 'em all? Let's get started.
Note: If you want to expand your pool of options, you might also want to check our list of the best free audio editing software.
Beat Making Software for Mac and Windows PC
1) Fruity Loops Studio (FL Studio Fruity Edition) [For PC & Mac]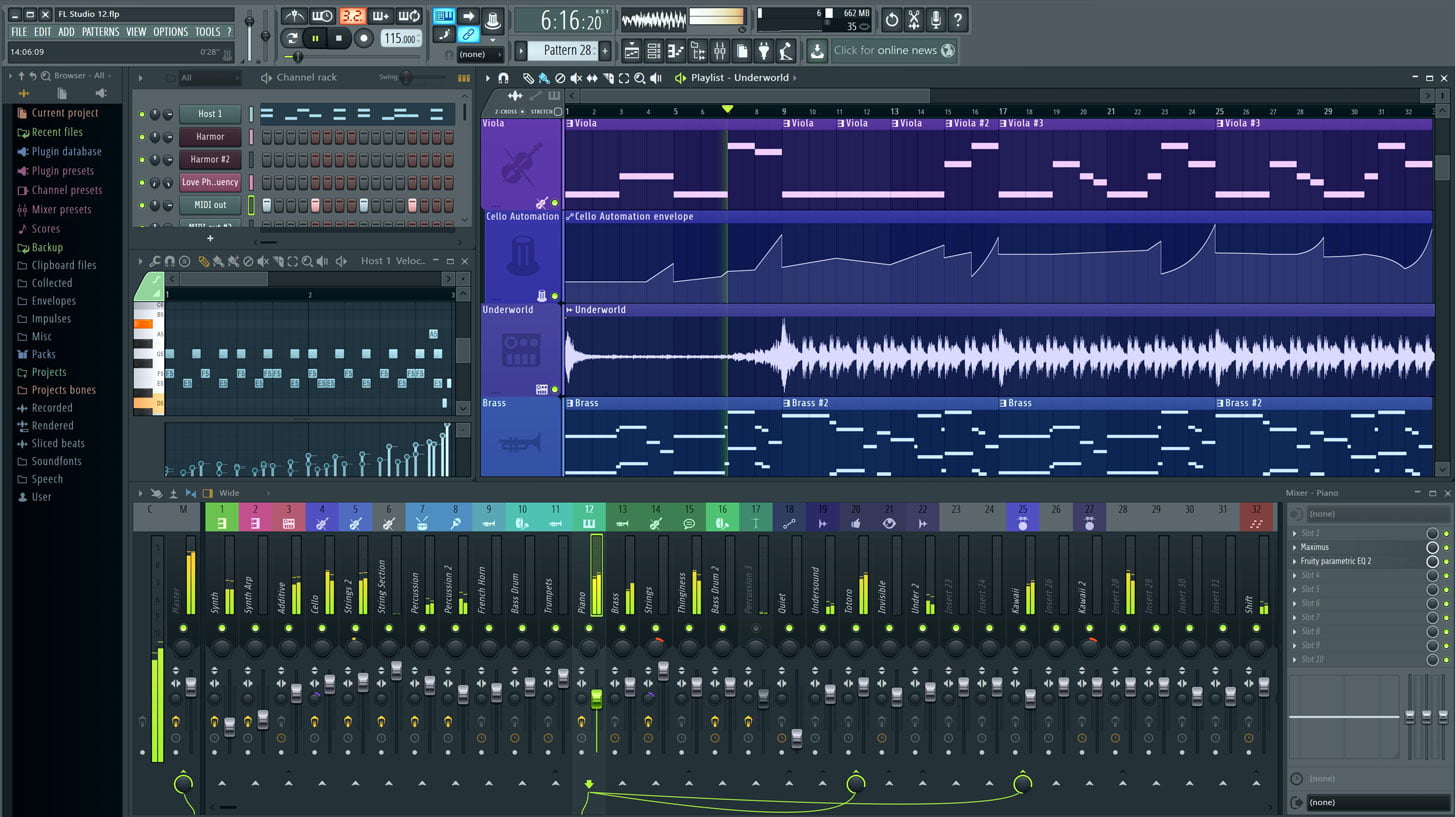 If you are a complete novice who wants to learn the art of creating funky beats and create some professional sounding polyrhythms, look no further than FL Studio, which is considered as one of the best free beatmakers for beginners. It is available for both Windows and Mac OS X.
Coming on to the features, FL Studio is a powerhouse replete with everything that one would need to compose, arrange, edit, mix and master their professional-sounding beats. You can download various third-party plugins, drum loops, VSTs and even add some symphonic synths if you are an EDM producer.
It comes loaded with: keyboard controller, MIDI out, formula controller, and many more cool features. We were really impressed with the reworked and scalable interface which has a piano roll, and multi-touch functionality. Also, it allows real-time stretching to tweak the tempo and pitch variations.
Not to mention, the latest version of FL Studio, i.e. FL Studio 12 allows you to detach all the windows within the program for a seamless audio editing experience. Overall, even experienced beat aficionados will enjoy editing in FL Studio.
Note If you want to step up your game, you can buy the FL Studio Producer Edition.
2) GarageBand [Mac]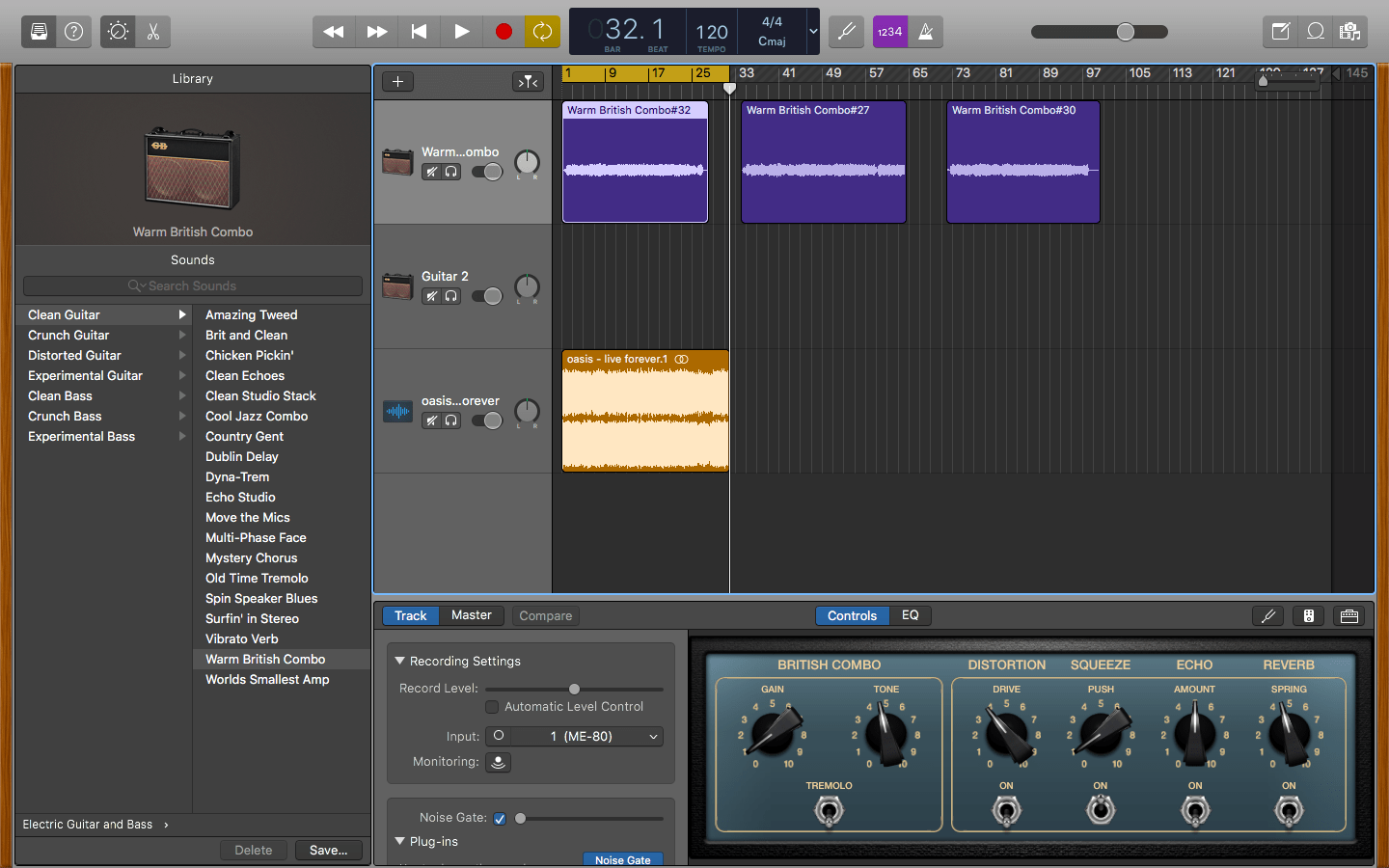 GarageBand is a solid DAW intrinsically designed for Mac and iOS devices. Some of the highlights of GarageBand have always been its resplendent collection of sample beats, AU plugins, drum loops, virtual session drummer, guitar loops and synth passages – all of which – make it one of the best free beat making software for Mac and Windows users.
In other words, it is a cohesive music creation studio that is fully equipped to compose some kickass beats on the fly. The interface is very soothing to the eyes and any beginner would be hooked right from the get-go. Moreover, you can also compose a sick layer-heavy song with up to 255 tracks thrown into the mix. That's a lot of tracks!
GarageBand also boasts some nifty features including Flex Time for quickly changing the timing of an audio recording. In fact, you can also wirelessly play any GarageBand virtual instrument on your Mac by using an iPad via multi-Touch gestures. No need to download it since the full version comes packed inside your Mac.
3) MuseScore [Mac]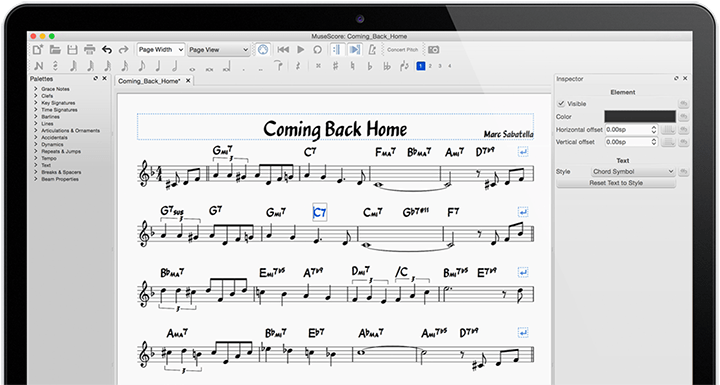 Ably assisted by an intuitive beat making technique, MuseScore is a music composition and notation software that packs some serious features that are a novelty in the free beat making software realm. For instance, it supports standardized plugin formats such as DSSI, LADSPA and VST.
MuseScore also boasts a stunning interface that is very easily navigable for beginners who want to craft some fire-worthy beats. You can drag and drop or import arranging of MIDI files, Plugins and plugin presets, Aux outputs and audio files.
Moreover, you can export your tunes in multiple formats such as .wav, .flac, .ogg, etc. MuseScore doubles up as a formidable MIDI/Audio sequencer that has some of the finest real-time record/playback credentials to edit unwanted mono/stereo parts instantly. If you can read/write music, MuseScore also proffers tablature creation for various virtual instruments.
4) Hotstepper [For PC and Mac]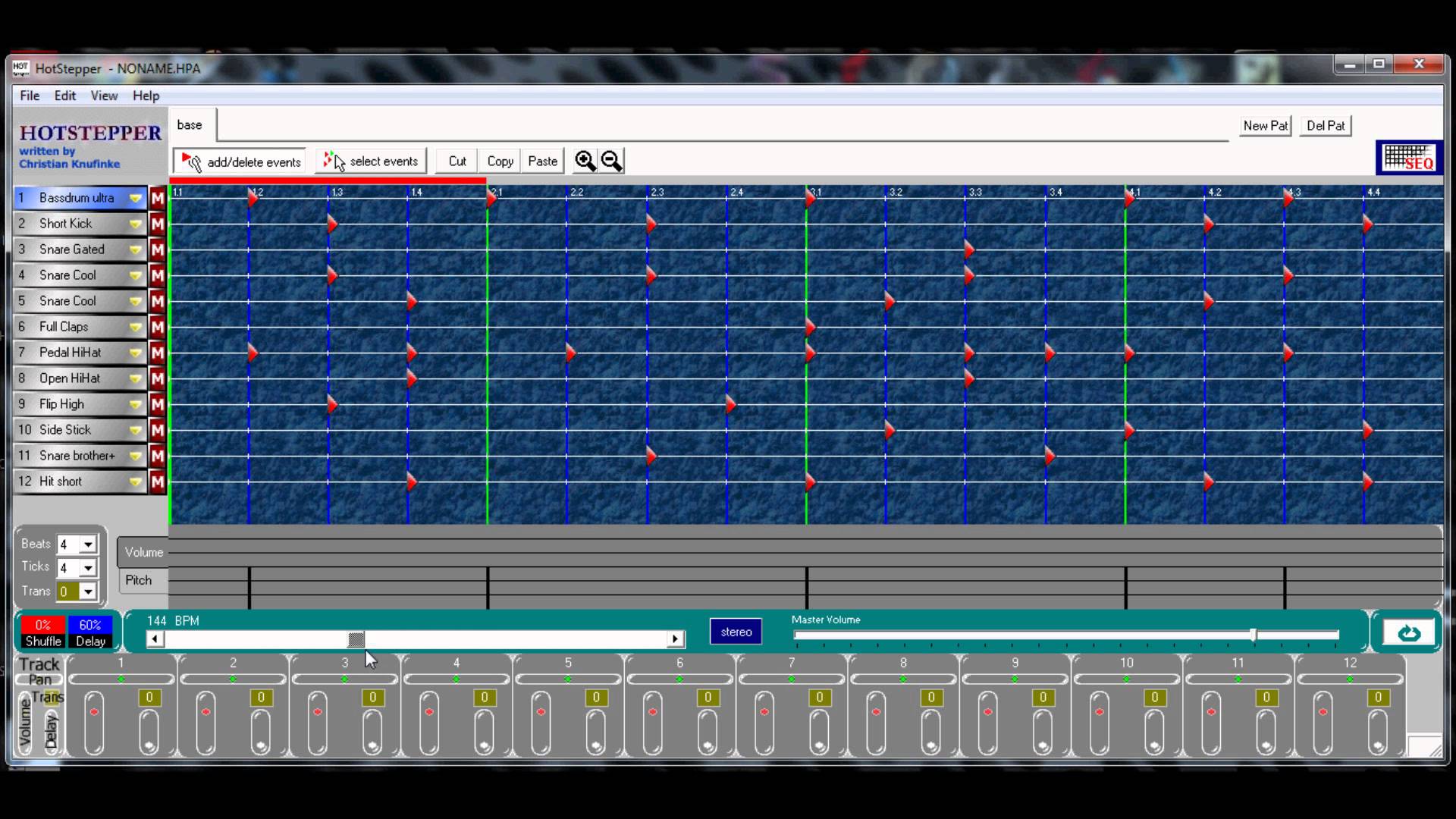 Fans of drum sequencers who want to create some sublime bass-driven Hip hop drum patches can safely rely on Hotstepper which is a 12-channel beast of a drum sequencer. It boasts multiple sound samples, some of which are available in .hpa extension. Hotstepper also has a nifty BMP slider to fix the number of beats you wanna play per minute or adjust the tempo of the track. Not to mention, Wave stretching for automatically stretching a sound to the exact length of a beat.
Further, Hotstepper supports various third-party plugins for adjusting tempo, panorama position and pitch for every sound. You can also control the amount of delay or feedback you want in your mix. However, you can export the drum patterns exclusively in .wav format which could be a disappointment for most users.
5) DrumFlow [For PC and Mac]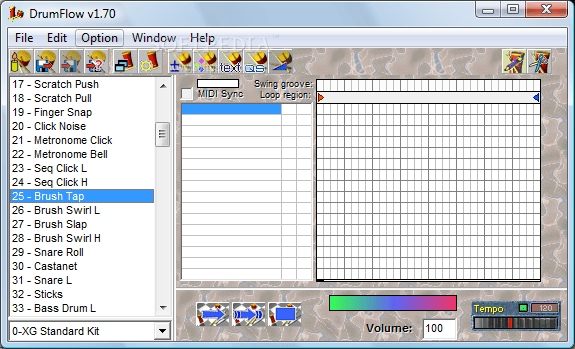 Another powerful drum sequencer for Mac and Windows, Drumflow can create customized percussion parts and drum loops that can be exported to your MIDI editor. DrumFlow includes an array of sample files (around 127 drum banks) and 6 MIDI settings such as: reverberation, pitch coarse, chorus and filter values.
However, the novelty factor that makes DrumFlow one of the best free beat making software is that it can be used to create some original sounding drum loops which are a good respite from the same-old digitized drum loops that most DAWs can create.
You can also swing grooves to add more 'groove' and depth to your patterns. Plus, you can fiddle with drum setup parameters to adjust pitch and tone, add reverb, EG attack and delay, and stereo pan.
6) Hydrogen [For PC and Mac]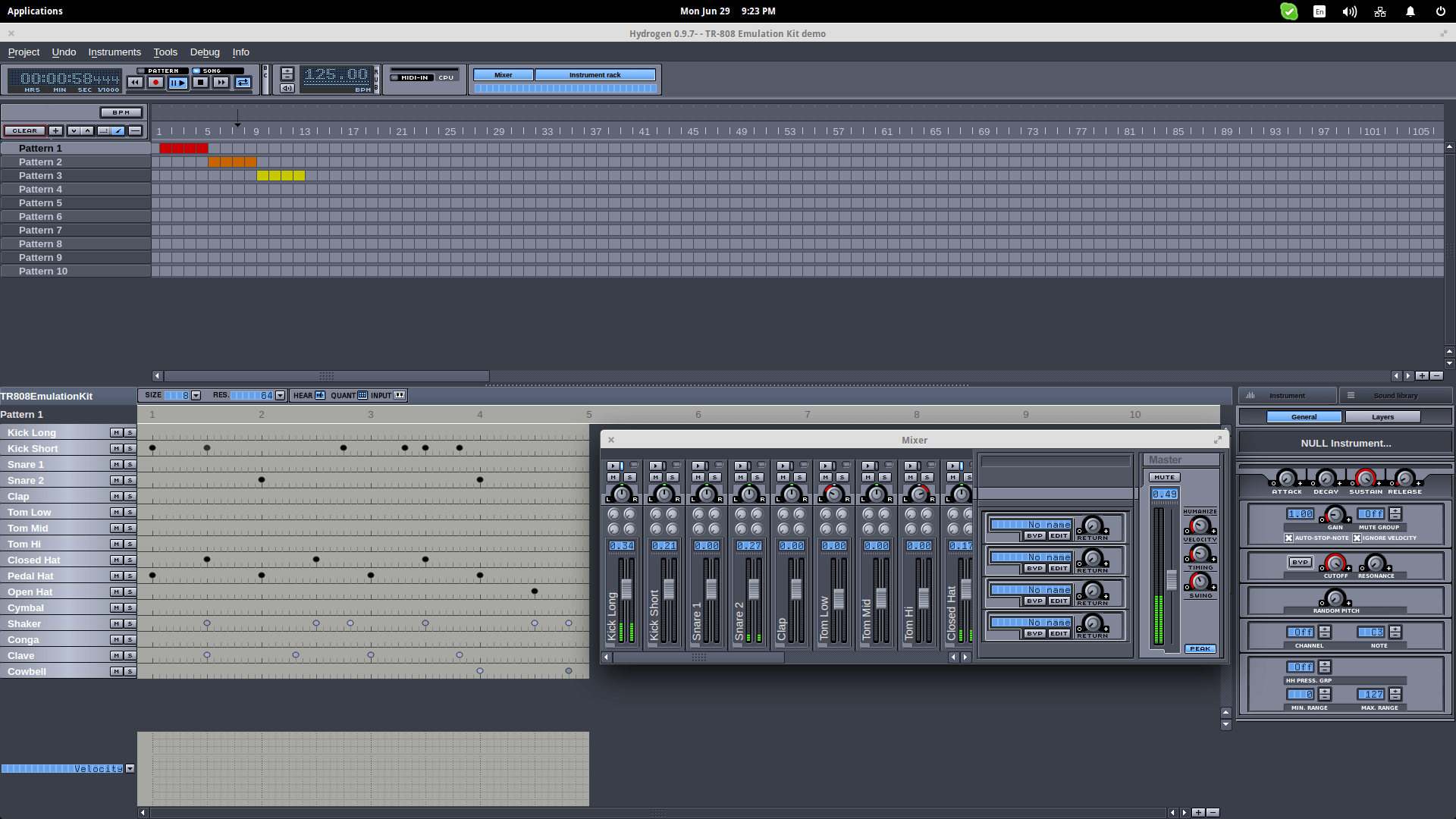 Hydrogen is an open-source drum machine that is compatible with both Mac and Windows. The first thing you will notice about Hydrogen's intuitive interface is its modular layout as well as multi layer support for instruments (up to 16 samples for every instrument).
Therein, you can easily compose, edit, mix, and master your beats using robust features such as time stretch, pitch corrector, sample Editor for basic cut and loop functions and a Pattern-based sequencer which comes loaded with unlimited patterns that can be chained into a song.
Also, you can edit up to 192 ticks per pattern with variable pattern length and individual level per event. Moreover, since Hydrogen is a sample-based stereo audio engine, you can import sound samples in multiple formats such as .au, .aiff, .Wav, et al.
7) LMMS [For PC and Mac]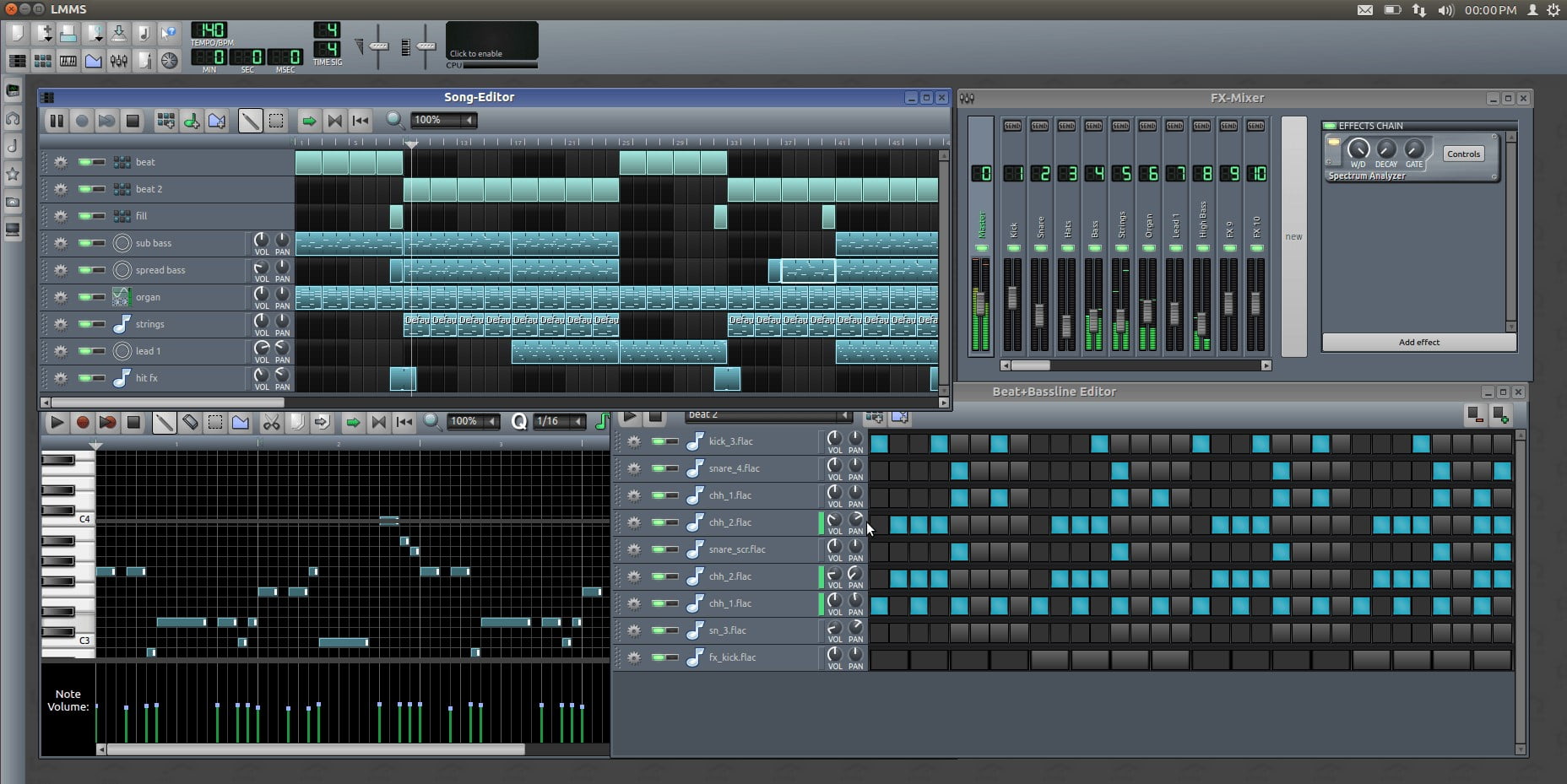 Another open-source entrant on our list, LMMS offers easy to use functionality thanks to its simple and intuitive interface for composing sick bars and beats. You can make use of its inbuilt song editor for composing some kickass tunes and it also comes loaded with a beat+bassline editor for amalgamating some great basslines and beats.
Plus, LMMS offers computer-controlled automation as well as complete user-defined track-based automation.
No to mention, a Piano Roll for crafting melodies as well as an FX mixer with 64 channels that can add hundreds of effects, thus expanding the mixing possibilities. In fact, LMMS allows you to expend a gamut of powerful VSTs and effect plugins that are compatible with MIDI, LADSPA, VST, SoundFont2, and GUS Patches. Moreover, you can even import FL Studio ® project files, and MIDI files. Lastly, users can output files in export formats ranging from WAV or OGG. Don't forget to download the full version of this beast!
8) orDrumbox [For PC and Mac]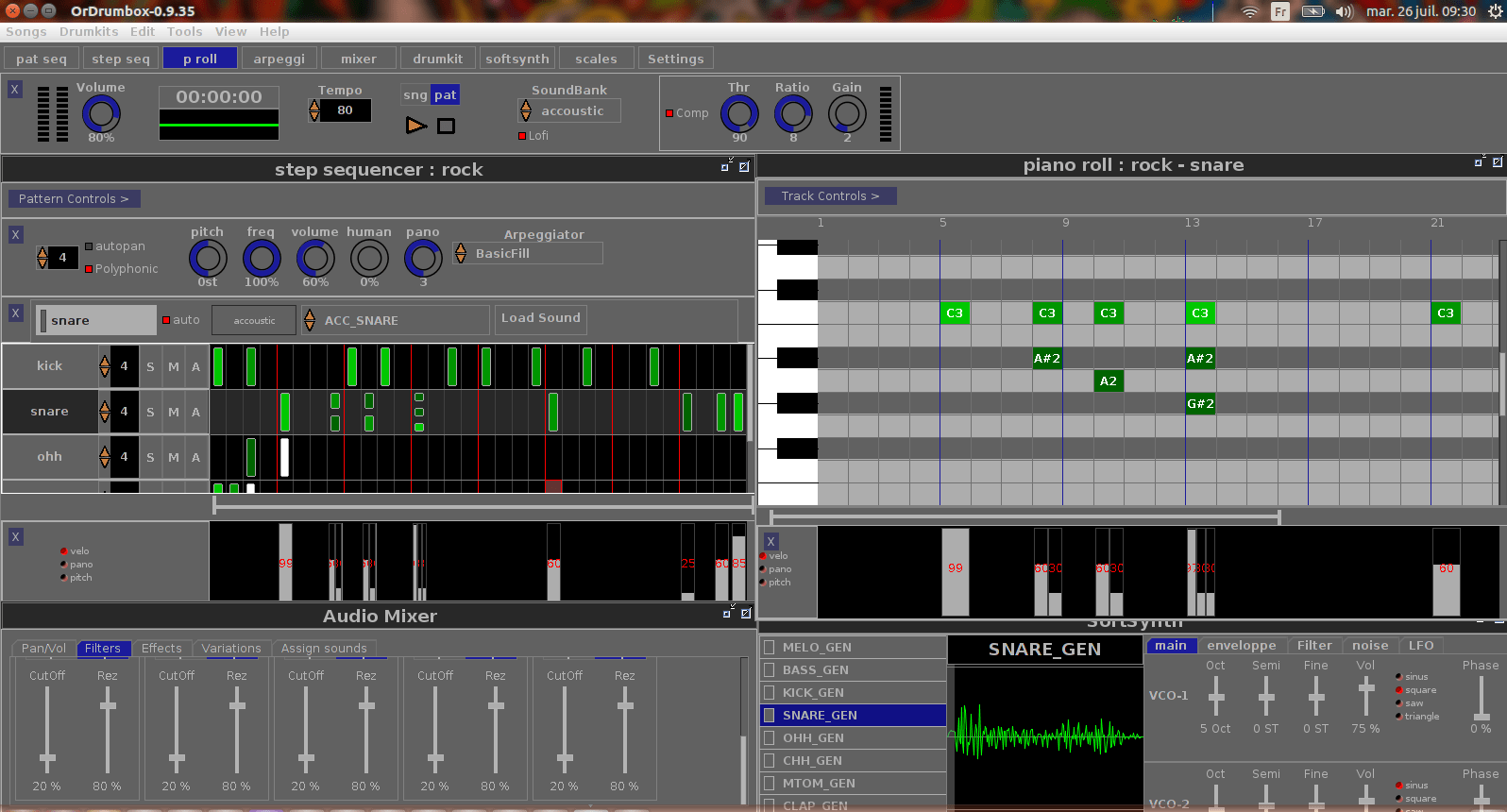 If you are a fan of layering polyrhythms in your drum beats, orDrumbox can come in quite handy in your composing endeavours. In fact, it is one of the best free beat making software for creating pattern-oriented songs as it assembles various patterns and determines the number of beats in each pattern (16 or 32, so forth).
orDrumbox comes loaded with some other fine features such as automatic sound assignations, arpeggiator, and expansive drum kits that can all be edited and deleted as per your whim. Further, you can make use of its Soft Synth for generating sounds via an analog synth emulation with hi pass/low pass filters and FM modulation.
9) HammerHead Rhythm Station [For PC only]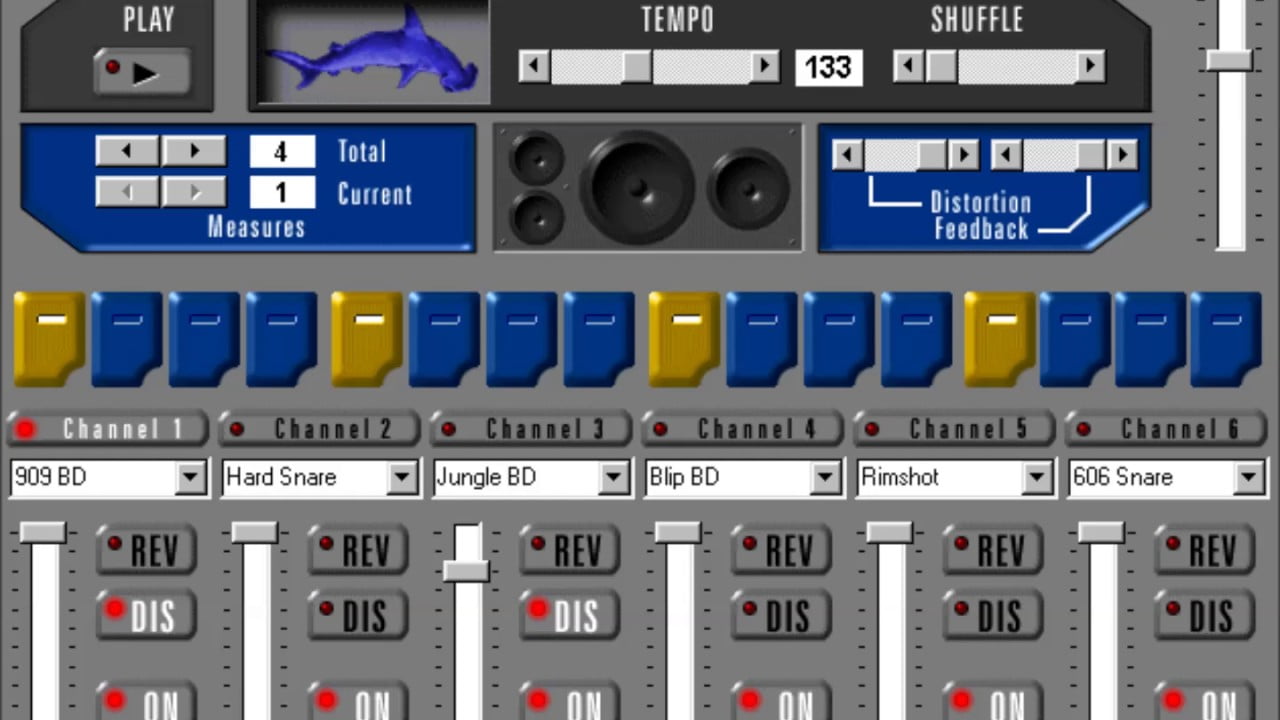 If you are instantly put off by complex interfaces, you might as well want to check out HammerHead rhythm station which boasts a simplistic interface that is just the right tool for beginners. Although available for only Windows users, HammerHead makes beat composition an effortless task. Since it is extremely simple and decluttered, it doesn't offer much on the features front. In fact, it doesn't need to!
All it boasts are 16 beat tracks, basic tempo control, and six channels to create unique beats. However, experienced beat creators might get dismayed by its minuscule effects and sample library. Nevertheless, HammerHead still is a lucrative option for beginners learning the ropes of a drum machine.
SEE ALSO: Best Free Karaoke Software for Windows and Mac
10) Ardour [For PC & Mac]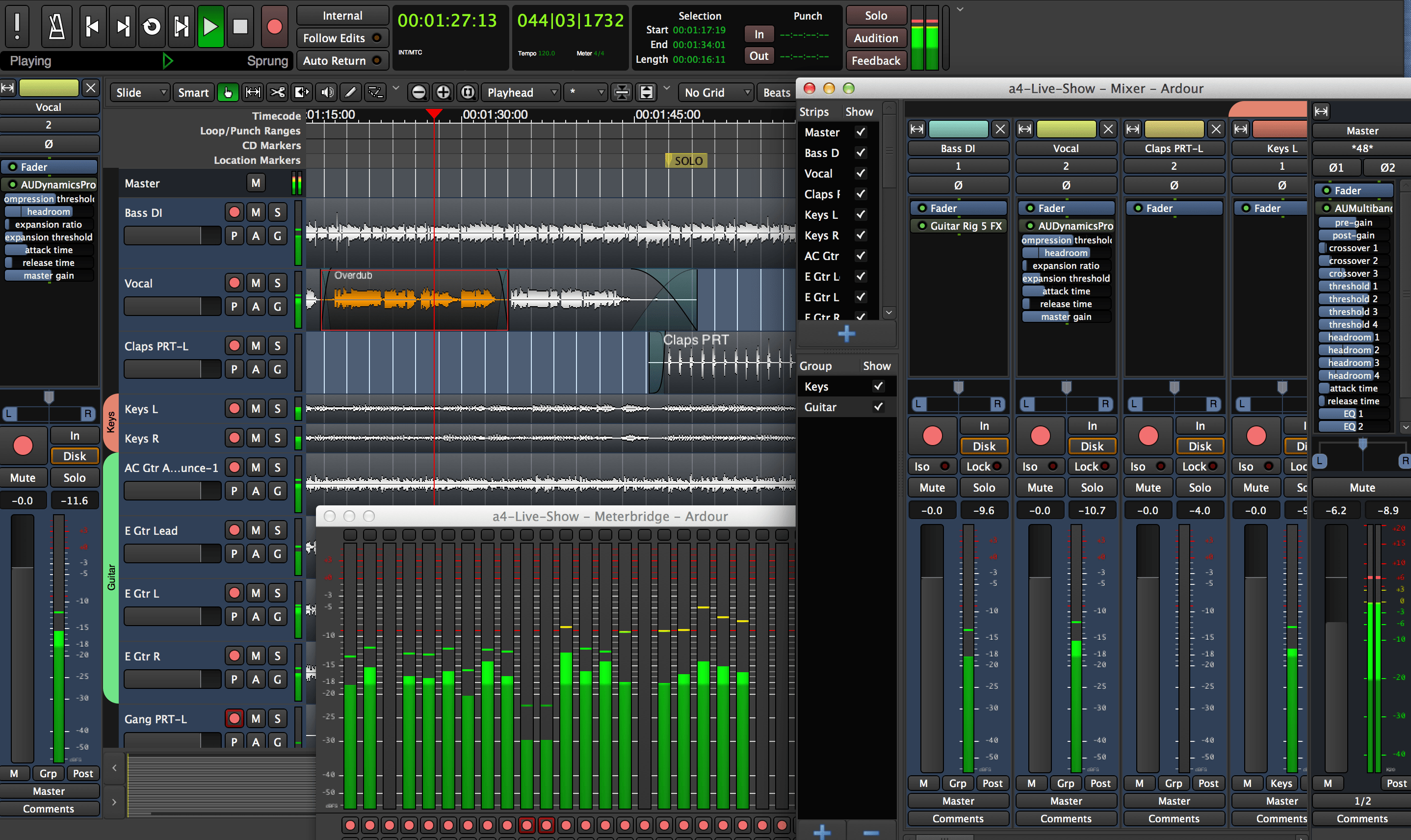 Rounding off our list of the best free beat making software for Mac and Windows is Ardour, a fully-featured digital audio workstation built on the lines of ProTools, and LogicPro. Ardour is deft at replacing analog or digital tape systems and proffers audio and MIDI multi-track recording/editing. Further, it boasts a vast library of AU plugins and third-party VST support with full sample-accurate automation and inline plugin control. Not to mention, it offers timeline-based non-linear editing for carrying out slick multi-track edits by allowing users to go back and forth their changes.
Rest assured, you wouldn't regret a full version download of this monster. Moreover, Ardour can support any audio interface provided your OS supports it. In fact, it can also be used for editing soundtracks of videos on its interface. Also, users can export to numerous file formats including WAV, FLAC, CAF, BWF, AIFF, etc.
And…that's a wrap! Did you like our roundup of the free beatmakers for Mac and Windows? Did we miss out on any great software that you know of? Sound off in the comments and don't forget to download the full version of these beauties.
SEE ALSO: Best Free Screen Recorders for Mac