Are you tired of the bright glare from your screens while scrolling through Facebook? Well, it's time to rejoice! Facebook has unveiled a sleek solution – Dark Mode.
While many might not be aware, Facebook actually introduced Dark Mode in beta back in 2020, exclusively for a limited number of users. However, it wasn't until 2021 that this feature saw its official launch, initially being confined to PCs. After witnessing its remarkable success, Facebook extended this feature to everyone, including Android and iPhone users.
See More: How to Activate Dark Mode in macOS
If you're seeking a way to reduce battery consumption on your device and alleviate eye strain during nighttime browsing, enabling the platform's Dark Mode is the way to go.
In this guide, we'll walk you through the simple steps to activate Dark Mode on the Facebook website as well as within the Facebook mobile app for both iPhone and Android.
How to enable Facebook Dark Mode on a Desktop?
Launch your preferred web browser and head to facebook.com.
Click on the profile icon situated in the upper right corner.

From the dropdown menu, select "Display and Accessibility."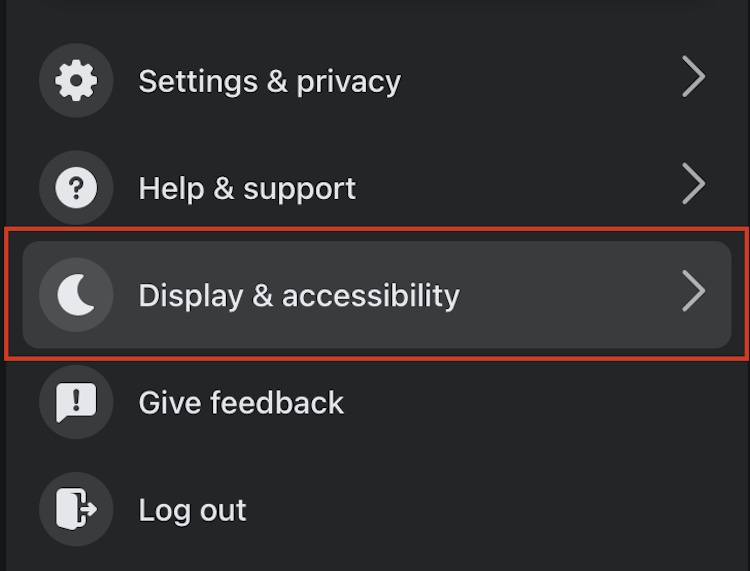 In the "Dark Mode" section, toggle the switch to "On."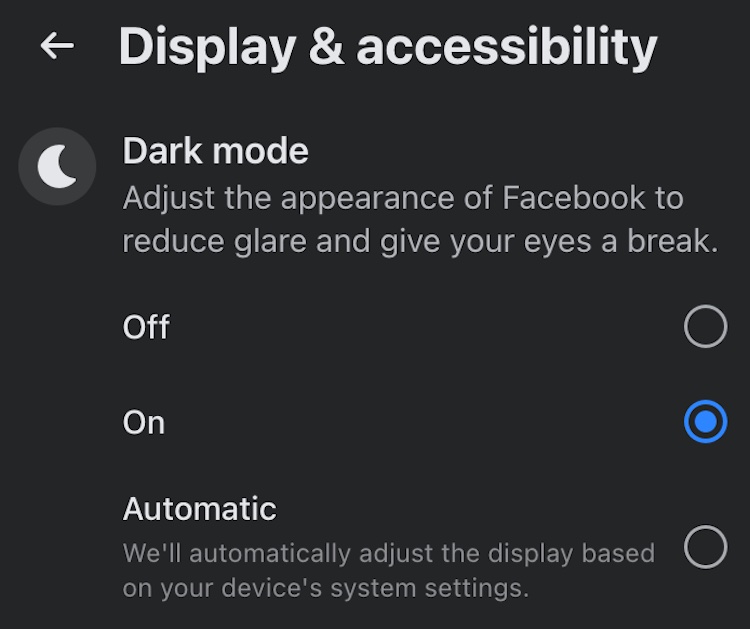 If you decide you want to go back to the regular mode, just follow the same steps and toggle "Off."
How to enable Facebook's Dark Mode on iPhone and Android?
Launch the Facebook app and spot the hamburger menu icon (three horizontal lines) at the bottom-right corner.

Scroll down and tap "Settings & Privacy," then proceed to tap "Settings" from the dropdown menu.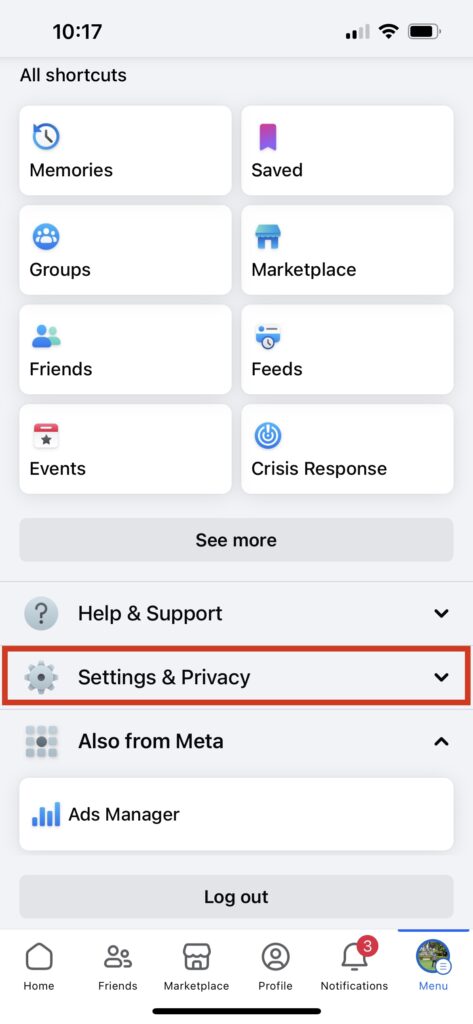 On the Settings page, navigate to the and tap "Dark Mode."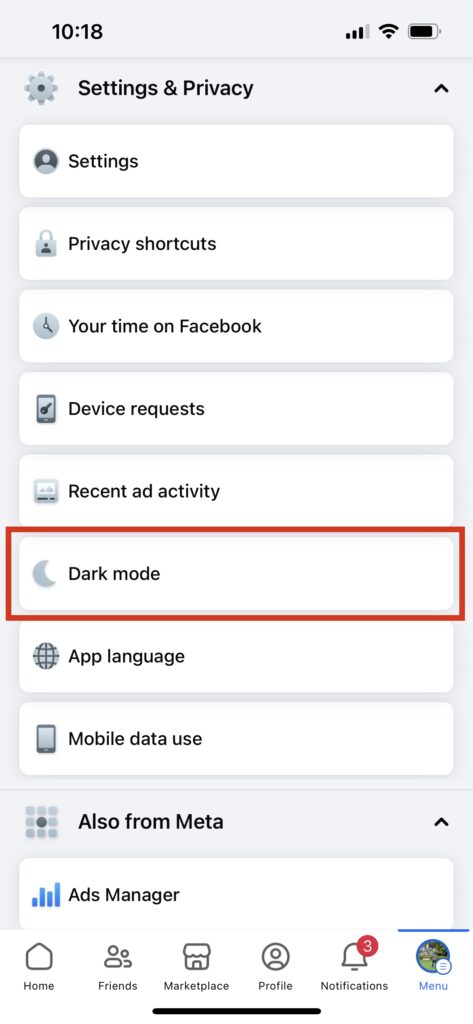 Within the Dark Mode section, toggle the circle next to "On." Alternatively, you can opt for the "System" option, which synchronizes the app's appearance with your device's existing dark or light system settings.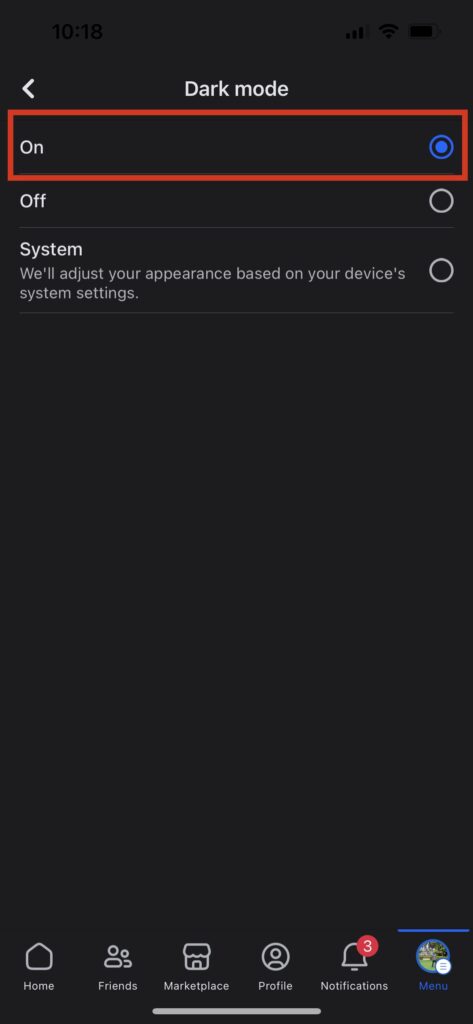 And just like that, Facebook's interface adopts the sleek Dark Mode appearance. Should you wish to revert to the regular mode, simply follow the same steps and select "Off." It's truly as straightforward as it sounds.
That's it!
Facebook's enchanting Dark Mode is at your fingertips on desktop, Android, and iPhone devices. Beyond its aesthetic appeal, this transformation contributes to a more comfortable browsing experience and reduced battery drain. Do you find joy in exploring Facebook in Dark Mode? Are there queries swirling in your mind about this feature? Feel free to share your thoughts and inquiries in the comments below – we're here to guide you!
Answering Frequently Asked Questions
Is Dark Mode available for all devices?
Yes, Dark Mode is now available for desktop, Android, and iPhone devices, offering a consistent experience across platforms.
Can I set Dark Mode to automatically follow my system settings?
Yes, both the Android and iPhone apps offer the option to sync Dark Mode with your device's system settings, ensuring a seamless transition between light and dark modes.
Does Dark Mode affect my battery life?
Yes, Dark Mode can help save battery life on devices with OLED screens since fewer pixels need to be illuminated in dark mode, which reduces energy consumption.
Can I switch back to the regular mode easily?
Absolutely, enabling or disabling Dark Mode is straightforward. Just follow the same steps mentioned in the guide, and you can switch between modes effortlessly.
Will Dark Mode affect my ability to view images and videos?
No, Dark Mode is designed to maintain image and video quality. In fact, some users find that multimedia content pops more against the darker background.
Can I use Dark Mode on Facebook Messenger too?
Yes, Facebook Messenger also supports Dark Mode. The process to enable it is similar to enabling it for the main Facebook app.
See More: How to Enable Dark Mode in Snapchat on iOS & Android