Apple has designed and optimized all its OS to perform better on its devices. And, it's rare, if an app on your Apple Watch suddenly crashes, stops responding, freezes or won't open, there's a simple solution. Below we will show you how to implement the close application on Apple Watch with the latest versions of watchOS, watchOS 8.
How to force close Apple Watch apps?
1. Make sure that the application that you need to force close is now open on the smartwatch screen.
2. Hold down the side button until the shutdown interface appears.
3. Now hold down the Digital Crown until the shutdown screen disappears. You just forcefully closed an app on your Apple Watch.
The application can remain in the Dock (opened by pressing the side button), but it is closed and erased from RAM. If you run the application, it will be downloaded again.
Force close apps on watchOS 3 and later
In watchOS 3 or older, hold down the side button until the shutdown screen appears, then release it and hold it down again until the app disappears.
Starting with watchOS 4, the old method doesn't work. If you hold down the side button in the shutdown menu, the emergency service will be called.
Should you force close apps on Apple Watch?
As with iPhones and iPads, don't force quitting apps on your Apple Watch to keep them running longer or speed up performance. Forcing applications to close is the exact opposite.
WatchOS knows how to intelligently allocate resources between applications. You do not need to force close applications you are not using.
There are a few exceptions to the rule. If an application is having problems, it may actually start to consume more resources than usual.
If you are sure that the application is draining battery power or slowing down your smartwatch, you can force close it. This will also help resolve problems with the application.
If you do not force applications to close too often, then there should be no problems.
How to remove an app from the Apple Watch dock
You can remove unwanted apps from the Dock (or App Switcher) on Apple Watch to make it easier to switch between the apps you need while multitasking. In other words, you can remove apps from the recently used list.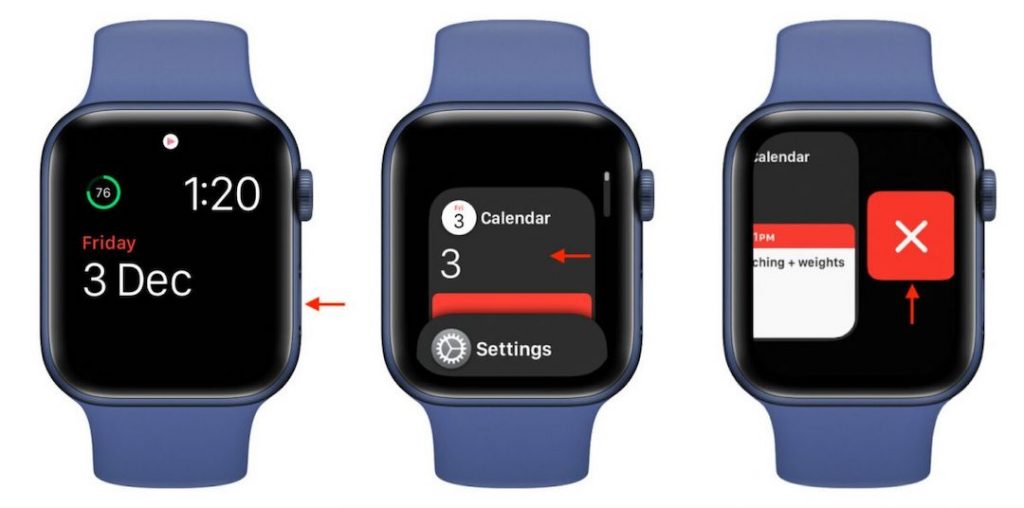 1. Press the side button.
2. Scroll or roll the Digital Crown to the app you want to remove from the Dock.
3. Swipe left on the app card and tap the X icon.
4. Press the Digital Crown or the side button to close the Dock.
That's all folks. This is how you can force to close Apps on Apple Watch. Do let us know if you know of any other methods via the comment box.
See More: Best Solar Powered Watches to Adorn Your Wrists!