Apple is known for its incredible products and Mac computers are no exception. To perform any action, you do not need to go inside the settings, look for various instructions and so on. Usually, everything happens on a smooth level.
However, flaws happen and sometimes we think of a quick Mac reset to factory settings. In any case, if you are stuck and need to do a factory reset, below are the methods you can follow.
Two ways to quickly reset your Mac
Basically, there is only one scenario when you definitely need to erase all the data on Mac – preparation before the sale. Of course, pure macOS works much faster, but the experience of use shows that in order to increase the speed of the MacBook, you just need to restart it.
How to clean a Mac before selling?
If you're the proud owner of a Mac running macOS Monterey, you're doubly lucky. Firstly, your computer supports the current version of the operating system, and secondly, factory reset will take you less time.
To completely clean up your Mac, you need to follow below the instructions:
Click on the apple icon in the menu bar (top left).
Next, select System Preferences.
Then the corresponding window will open.
After that, click on System Preferences in the upper left corner again.
Next, click on Erase Content and Settings.
Enter the password from the system, click OK.
Then, click on the Erase All Content and Settings option.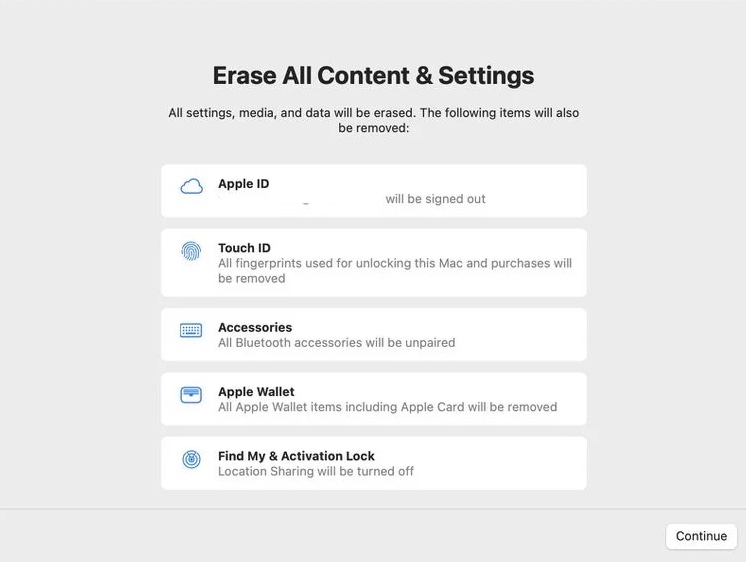 Yes, it is that simple. I don't even know why Steve Jobs and his team didn't think of this earlier. Maybe there's some objective reason for this that I'm not aware of? Do write about it in the comment below.
How to create a backup on Mac?
Before doing a factory reset, make sure to back up all your data. This way you can save all the valuable files that may be stored on your device. It is better to use an external SSD for this purpose. Most likely, in the process of following the instructions described above, the Mac itself will offer you to carry out this procedure, but we still remember the algorithm:
First, you need to connect your external hard drive to your Mac device. Make sure that the storage capacity is at least as large as the built-in SSD.
Open System Preferences, then Time Machine.
Click Select system drive.
Then select your hard drive.
You will be prompted to format it. Agree and click the Erase button.
Now, macOS will start creating backup of up your data.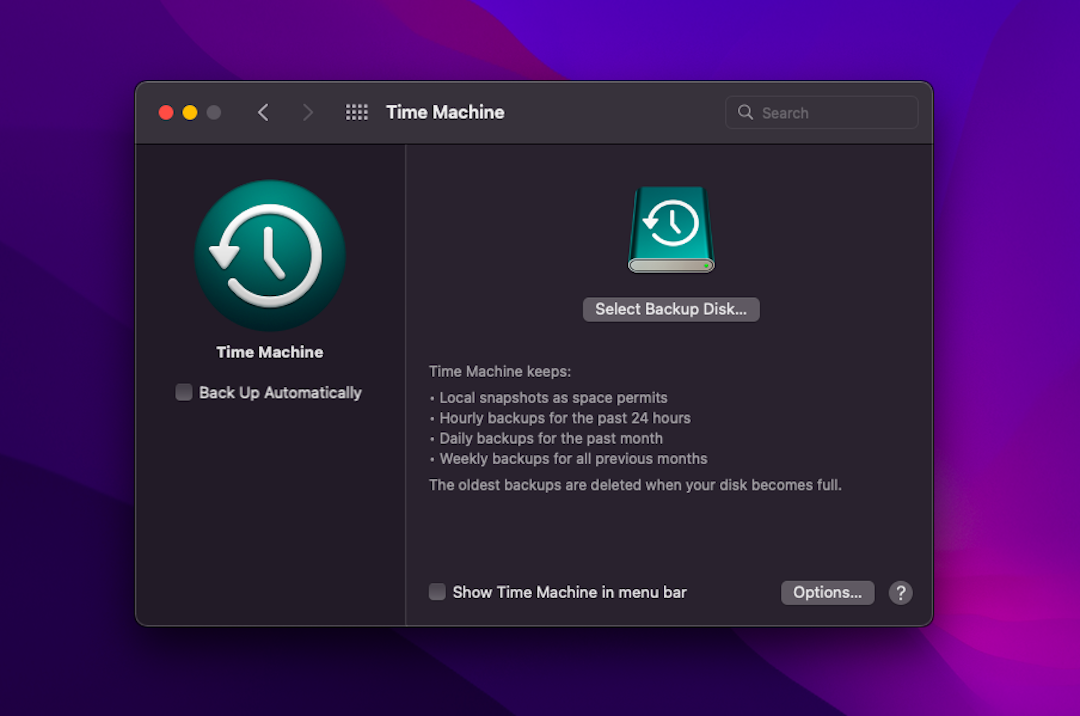 How to Erase All Data on Mac?
But Apple computer owners who haven't updated to macOS Monterey are less fortunate. But you shouldn't be upset anyway. With this instruction, you can delete all files from your Mac hassle-free.
To reset a Mac running macOS Catalina and earlier, you need to:
Back up your Mac according to the instructions above.
Next, go to System Preferences, then select the Apple ID option.
Then turn off Find My Mac.
Then click on Browse on the right, Exit.
Sign out of your Apple ID account.
After that, restart the Mac and hold down the Command + R keys.
Next, the recovery mode menu will open.
Here you need to select Disk Utility, click Continue.
Disk Utility macOS.
Click on Macintosh HD in the side menu.
Click Erase and specify Mac OS Extended (for Mac with macOS High Sierra and below) or APFS (for later versions of macOS).
Disk Utility macOS.
Enter your login details – Apple ID and password.
Exit the Disk Utility application.
Click Reinstall macOS in the utilities window, then click Continue.
Follow the instructions on the screen.
That's all folks. This is how you can reset your Mac to the factory default setting. Do let us know if you are facing any trouble in the reset process.
See More: Best Disk Cloning Software For Windows, Linux and macOS