Windows 7, developed by Microsoft in 2009, has been a member of almost every household for quite a long time. Especially since the disaster of Windows Vista (Windows 8), Windows 7 was favoured more until the advent of Windows 10 and now Windows 11 is the newest comrade as per the fleeting news coming from the Microsoft house.
Microsoft has coherently planned for setting the path straight to start the installation by deploying its process of letting the Windows 11 OS be completed by mid-2022. In fact, Windows 7 has been considered as the outdated version and Microsoft has discontinued support. But the efficiency of Windows 7 is undoubted and there is still quite a long way to go for those who have an affinity for Windows 7.
You may have other reasons to download Windows 7 ISO files. For example, you may need to reinstall or recover Windows 7, but can't find the original Windows 7 setup DVD, or your netbook doesn't come with a DVD drive. In such cases, downloading Windows 7 ISO files should help you. However, you must have a legal and valid license key.
Below are the methods of getting the Windows 7 OS downloaded in ISO format on your PC or laptop legally:-
Direct Links to Download all Windows 7 ISO (Ultimate and Professional editions)
You can see below the download link obtained from the official Microsoft server. These are all Service Pack 1 (SP1) ISO files and are about 5.5GB in size. You need to download the correct ISO file as per your existing Windows 7 license and system type (64-bit or 32-bit).
Note: These direct download links are of English US ISO files.
Download Windows 7 SP1 ISO – Directly from Microsoft
Microsoft will not allow you to download Windows 7 OS in any format unless you have purchased the retail version license online. Previously, the company facilitated downloads through Digital River, the official distribution partner of Windows 7. But, Microsoft removed those links in 2014.
As of now, you can download Windows 7 ISO images directly from Microsoft's servers through the software recovery page. To download disc images through the official website you need to follow the below-mentioned steps:-
Note: You need to have a genuine and valid retail Windows 7 product key before proceeding
1. Go to the official Microsoft Windows 7 ISO download page: https://www.microsoft.com/software-download/windows7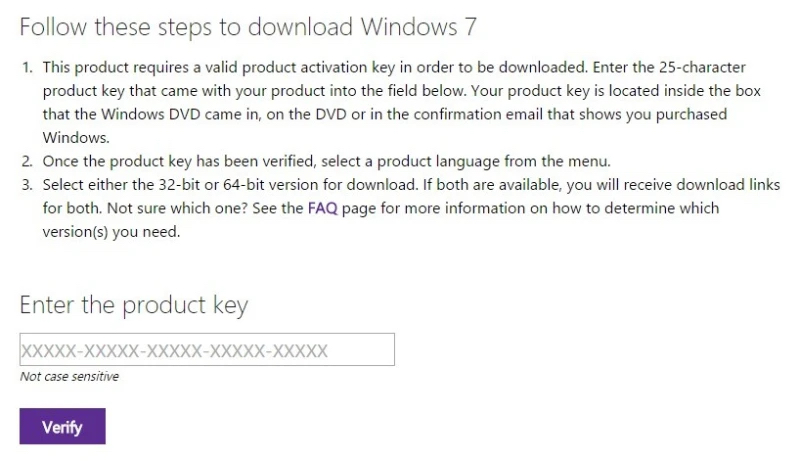 2. You need to Enter the product key, and hit the Verify button.
3. Select the product language that you want to download.
4. Now you need to select the 32-bit or 64-bit version of Windows 7 for download.
5. Once the download is completed, you can burn the ISO image to DVD or create bootable USB drives.
Download Any Windows or Office ISO Using a Free Third-Party Tool
If you have difficulty downloading ISO files for older Windows versions, you can also use a third-party tool. You can visit the Microsoft Windows and Office ISO Download Tool web page. This free-to-use third-party tool has a simple interface that allows you to select the version of Windows you want. You can download ISO files for the required version directly from Microsoft's download servers. It is completely legal although you must have a valid Windows 7 license key to activate and use it.
Download Free Windows 7 ISO SP1 from Softpedia
You have another option to download Windows 7 ISO SP1 using a third-party website called Softpedia. Below are the direct download links however you need to buy Windows 7 key from Microsoft to activate it. If you don't want to pay money for it then you can follow our guide to activate Windows 7 for free.
Windows 7 ISO Google Drive download links
One should avoid downloading ISO files from unknown sources. And, you should only opt for this option if the above links didn't work for you. The below-given download links are sourced from Reddit. You can cautiously proceed with downloading Windows 7 ISO from the given Google Drive link. This file is private and you need to ask to grant access from the owner.
Windows 7 ISO File download on Google Drive
The Not Advocated Paths
While we do have the means of legal installation, there are always some other routes available. We do not advocate for those paths as they are mostly illegal as listed below:-
The illegal file-sharing site called The Pirate Bay
Using the same unique key that has been already allotted to one computer on another
Using some of the apk files that are not recommended from the official website of microsoft.
Although opting for the illegal means is risky, if you do happen to opt for this method, use a good VPN connection. The VPN shall protect your device from being susceptible to the danger of an illegal website and prevent tampering with malicious eyes.
Conclusion
These were some of the legal methods to get your hands on the Windows 7 OS. While illegal methods are available, their free availability might cost you more.
However, even though Windows 7 OS might be working smooth as butter for more than a decade now, there are high possibilities that the version shall be discontinued. Especially, after the advent of Windows 11 OS, the Windows 7, if not entirely discontinued, shall have no further updates and might run slower than ever.
Therefore, it is advisable to change to Windows 10 at least for better functioning of the system. It is so because Windows 11 free upgrade is only available for the platforms that have Windows 10 downloaded and installed on their systems.
Frequently Asked Questions:-
Can I use the same license key?
Yes, you can use the same licence key (or unique key). However, they should not be used simultaneously or manipulated to be used consecutively. For legally operating over it, on your new PC, you can happily transfer the unique key and use it without any hassle.
Why is Windows 7 not free?
Many opt for the illegal means because it grants them free download as Microsoft has, like all of its other operating system releases, kept charges on the installation of Windows 7. With the exception of Windows 11 that is allowed for a free upgrade for those possessing Windows 10, all the rest require charges to be paid in order to receive a licence for operation.