Amazon has finally announced the launch of Alexa powered smart speakers Echo, Echo Plus and Echo Dot along with cloud-based voice service "Alexa" in India. The three devices are priced at Rs 9,999, Rs 14,999 and Rs 4,499 respectively.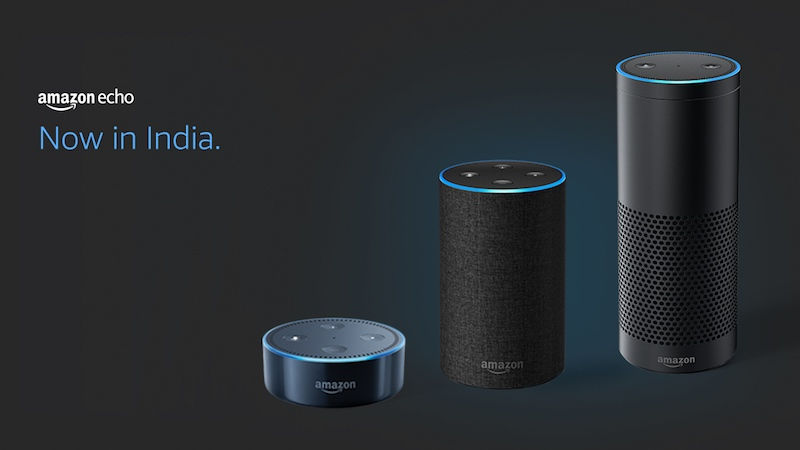 To purchase, customers need to request an invitation on Amazon's official listing for the three devices. Eligible customers will receive an introductory discount of 30 percent off the purchase price of Echo devices and one year of Prime membership. The company will start shipping in the country later this month.
Besides, Echo, Echo Plus and Echo Dot will also be available at Croma, Reliance Digital stores and other offline retailers following the invite-only period.
Echo, Echo Plus and Echo Dot are voice-controlled speakers designed entirely around user's voice. Alexa is the brain behind Echo—since Alexa runs in the cloud. Alexa is capable of answering questions, playing music, read the news, set timers and alarms, check the calendar, provide sports scores, control lights at home, and much more.
The company claims to Alexa voice assistant has been customised for the Indian audience, which now supports local pronunciations and intonation. It also supports local music titles, names and places. Amazon brought in Indian developers to optimise Alexa for the local audience.
Talking about the all new Echo, the speaker features a cylindrical shape and comes equipped with a 2.5-inch downward-firing woofer. The Bluetooth speaker comes with Dolby Digital and there is a new microphone technology that allows voice commands to be picked from a distance quite accurately. The speaker comes loaded with Alexa and it can be used to trigger multiple actions.
Echo Plus, the smart speaker also doubles as a smart hub, which makes it easier to connect to compatible smart home devices. The speaker comes with a 360-degree omni-directional audio with Dolby processing that the company claims can provide deep bass and crisp high notes.
The last smart speaker, Echo Dot is a hands-free, voice controlled device that is powered by Alexa and uses the same far-field voice recognition as Echo. Echo Dot has a compact design and comes in either black or white colour options. With the built-in speaker, users can talk with Alexa and listen to music, or Echo Dot can directly connect to speakers through Bluetooth or by using a 3.5mm stereo cable, enabling you to add Alexa to any home entertainment system.
India is the fourth market after the United States, the United Kingdom, and Germany where Amazon has officially made Alexa and its smart speakers available. Soon the company plans to launch Amazon Prime Music, its music streaming service in the country.