Call Blocking is an exceptional blessing when it comes to scam calls, customer care nuisance, unknown callers dwelling to only cause trouble as well as the probably unwanted calls from those people whom you would rather choose to avoid than speak with. While we want to block the calls, we still choose not to.
The main problem with not blocking the calls is that we do not know which unknown number could be an important business call while the others are absolute asinine tries of annoying you.
Are you tired of receiving the calls every day that create nothing but jeopardy for you? Fret not, because here is a list of useful call blocking apps for your android smartphone that you can freely use to save yourself the extra burden of being loaded with undesirable calls:-
Call Blocking Apps for Android
Avast Mobile Security and Antivirus
Truecaller
Showcaller
Call Control
Hiya
Whoscall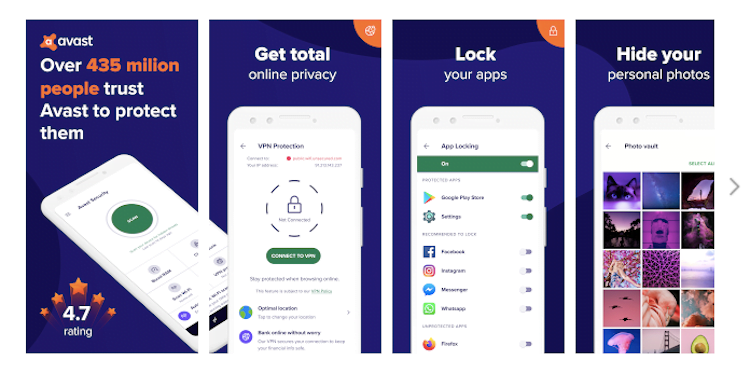 Avast has been mainly known for its strong security build-up and other features like app locker and malware protection. However, the attention it now directs to itself is because of the call blocking feature it allows to its users.
Along with blocking all the potential threats that might arise to your system with the help of a firewall and antivirus, it now even protects you from the undesirable calls you choose to avoid. It can easily identify spam calls, telemarketing and computer-generated calls that are similar to the working of other call blocking apps.
However, the additional advantage you get is that if you already have Avast installed, for antivirus purposes, you do not need an additional app that might increase your storage to block calls.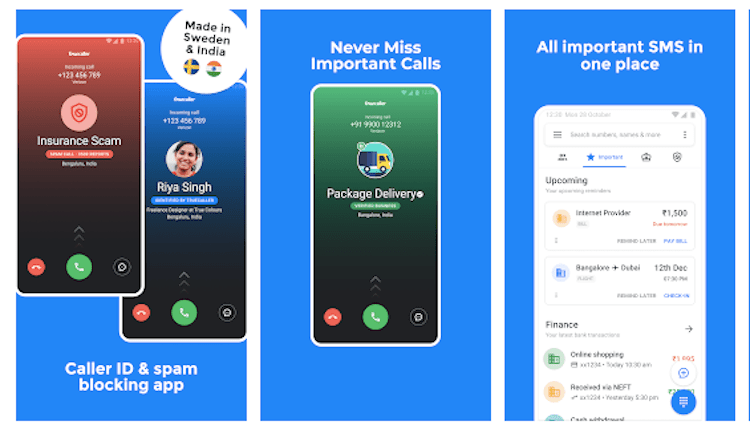 Truecaller has trust thrust upon itself by billions of users who have faith over the impeccable function of its extraordinary recognition system. It actively detects the blocked calls (you can add numbers to the blacklist in truecaller app and the app will let you know in silence if the blocked numbers have been called or not), scam calls and telemarketing calls.
Then, when the calls come, the screen would flash with the caller id. Red means fraud, spam, or inappropriate numbers while blue means safe flag.
While truecaller does easily let you know about the unwanted species that you abhor trying to call you, its downside includes the lock over its features of who views your profile.
It might be a minor yet curious case that truecaller knows when someone views your number or truecaller profile to call but it will only let you know about that person in the paid version. Other than that, sometimes the in-app purchases and ads can get annoying.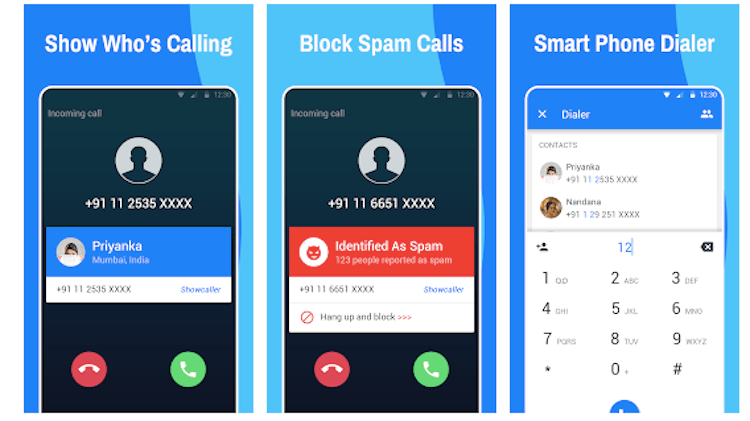 The easiest of all calling apps to use, Showcaller is a user-friendly app that does not require rocket science to understand its functions of easy identification of the numbers calling you and the associated caller ID flashing over the screen.
The plus point of Showcaller is that it can even identify the caller ID of those numbers which are not in your contact list, besides the spam callers and robocallers plaguing you. Therefore, now you can detect if an important business call awaits you or not.
Also, along with the caller id, you can see the name and the photos of the person calling you.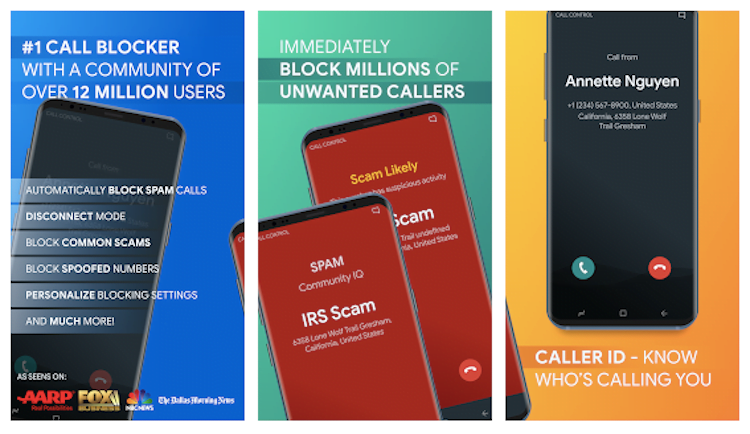 The call control app works more or less like a normal in-built blocking feature of an android device. However, it surpasses the capabilities of the mundane android feature by being best suitable for android smartphones because it has an in-built feature of 'Do Not Disturb' that you can regularly schedule to avoid calls in totality and have a 'me' time of yourself.
It can detect computer-generated calls, spam callers, and also telemarketing callers and then readily block them.
Plus, the best part of the app is that it can even manage your text messages inbox so that your generally loaded inbox might get your phone slow and cause storage occupying. Its advanced feature also lets you know who has called you by showing the caller id.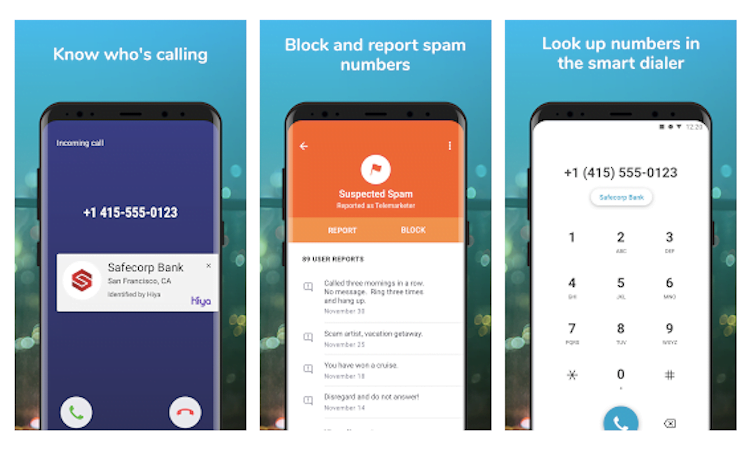 While some Android phones would block the calls of unwanted numbers and spam callers, it does not necessarily mean the text messages would be blocked as well. Your inbox, especially the telemarketers looking for insurance, calling for college admissions and other investments, would use the SMS bulk messaging software to send you API-generated texts to an exploitative extent.
If you are worn out from the bulk of useless unread messages in your inbox and want to get rid of them to avoid filling up your storage, use the Hiya app that would block your text messages along with the various types of troubling calls.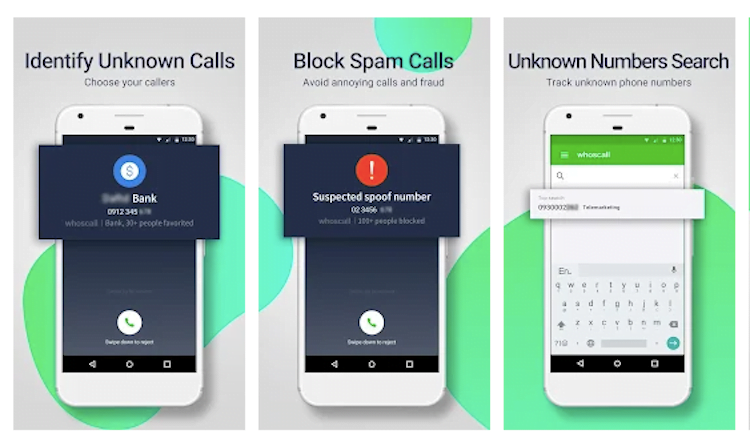 Considered as one of the best call identifying and blocking apps, Whoscall is quite famous enough for its features of detecting the type of callers. It identifies the scam callers, computer-generated calls, customer care and other telemarketing calls who would annoy you with their continuous calls. Therefore, now the vast pools of those calls will be easily identified by the system of Whoscall and then block them as per your desire.
The best part about the app is that you can also personalise your own caller ID using Whoscall. However, the app is free to use and can contain various ads while using it. But that can be neglected seeing the other advanced features of Whoscall.
Conclusion
Besides these apps, many android smartphones have the in-built system of blocking calls that is readily available on most phones. In Android smartphones, a decent call blocker in average or highly advanced phones is accessible.
It is quite simple to use; there would be options of adding those numbers which you would want in the blacklist (your phone might not even ring if the blocked numbers call and not show in the call logs as well until you unblock them), adjust if you want to block unknown calls, spam calls and other robocalls.
You can even manage if you want to be notified each time the in-built feature blocks a call.
See More: Best WiFi Hacking Apps For Android
See More: How to Write on a PDF