The clipboard aka pasteboard is a special location on a Mac computer that temporarily stores cut or copied text or other data that can be pasted into a new location. Not only Mac, but all major desktop operating systems have a limited set of clipboard management functions available.
The typical Mac clipboard has a limit to allow you to copy and paste only one element at a time. Every time you copy something, be it text, photo, URL or anything else, it overwrites the last thing you copied. Your clipboard is cleared every time you restart your Mac.
While most Mac users are unconcerned about the restricted clipboard capacity, if your workflow requires you to copy-paste a lot of text between apps, it will quickly become cumbersome.
Third-party clipboard managers can help with this because they support multiple buffers, allowing you to copy multiple text snippets (in different forms) and retrieve them as needed.
Wondering which are the best clipboard managers for Mac? Here are our top picks for the best Mac clipboard managers to help you manage your clipboard and speed up your workflow.
Clipboard Managers for Mac
CopyClip
Flycut
PasteBox
Maccy
Paste
Copy 'Em
CopyLess 2
Anybuffer
1. CopyClip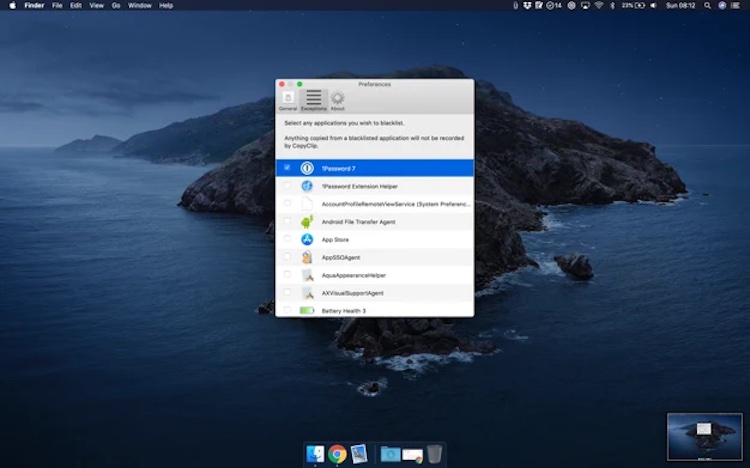 CopyClip is the most straightforward clipboard tool for Mac. It runs from the menu bar on Mac OS X and has a very simple interface, making it the ideal clipboard manager for individuals who only need the most basic clipboard management functionality. Because CopyClip is a menu bar program, it displays all of your copied/cut content on the menu bar, allowing you to access it from wherever on your Mac.
When it comes to extra capabilities, CopyClip allows you to specify how many clippings you want it to keep track of. It also allows you to exclude apps whose content you don't want to be recorded, preventing the app from capturing important information like as your passwords.
2. Flycut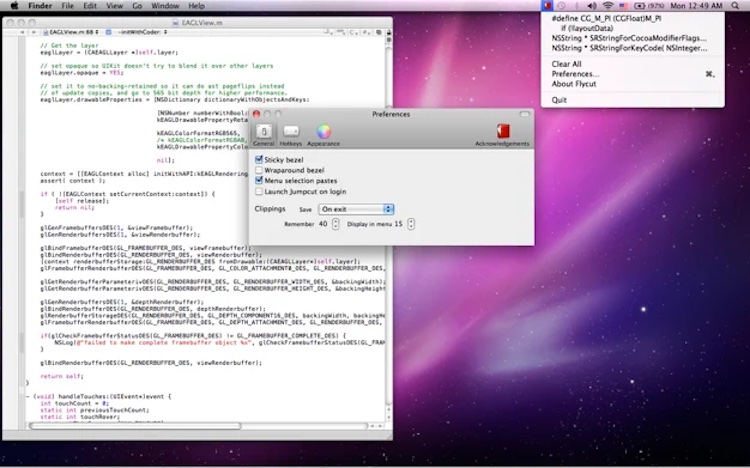 Flycut is a developer-focused free clipboard manager for Mac. It's built on Jumpcut, an open-source clipboard manager with a few more bells and whistles.
Flycut, like CopyClip, is located in the menu bar and allows you to access all of your stored clippings. Additionally, you will have the ability to customize specific options such as the maximum amount of clippings it can save, what happens to saved clippings on exit, hotkey, and so on.
3. PasteBox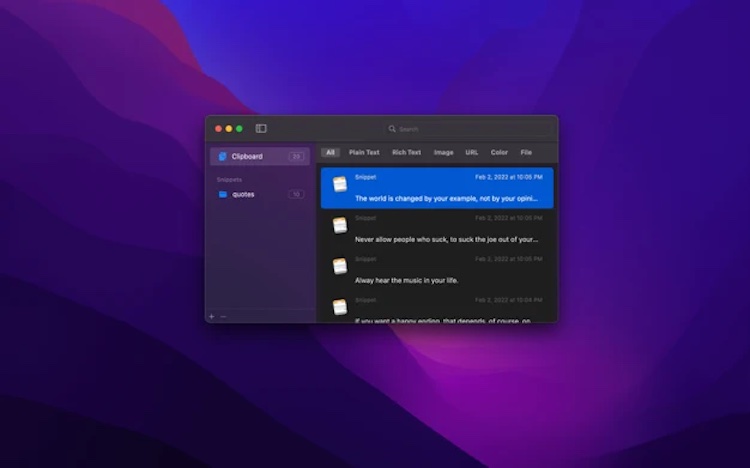 PasteBox is a lightweight (but feature-rich) clipboard management and snipper for Mac. It helps you streamline your copy-paste process by making it simple to copy and handle a variety of data kinds, including text, images, and web pages.
Accessing copied items on PasteBox is also simple: all you have to do is invoke the clipboard manager using a keyboard shortcut, then pick the clipboard item(s) to paste them automatically. Similarly, you can utilize the built-in snippet manager to organize and manage all of your snippets in one convenient location. PasteBox also has a persistent history, the ability to exclude apps from copying their data, the ability to import/export snippets, and the ability to paste clipboard items using keyboard shortcuts, among other things.
4. Maccy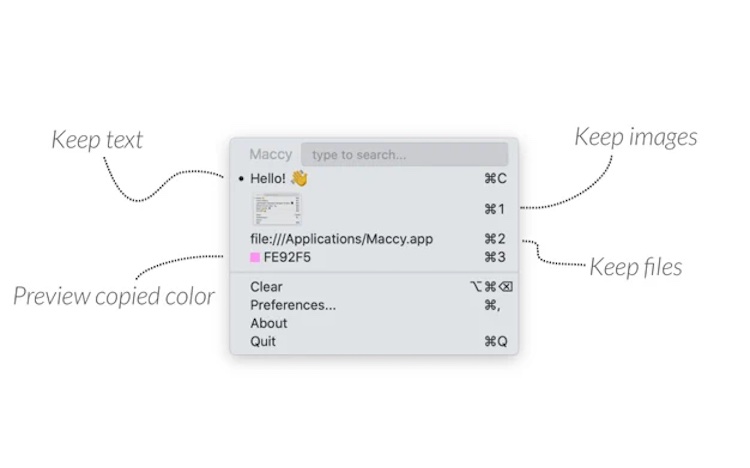 Maccy is a clipboard organizer for Macs that is free and open-source. It keeps track of your copy history so you can choose which one you wish to use and paste it into other apps and services.
Maccy uses keyboard shortcuts for the majority of its actions, allowing you to quickly and easily select the clippings you want to use. Not only that, but you can also use keyboard shortcuts to paste clippings (with or without formatting), pin stuff you'll need regularly, and clean your history all at once. Maccy, like a few other clipboard managers, lets you restrict particular programs from being captured, so you can rest certain that your passwords and other important information will not be stored.
5. Paste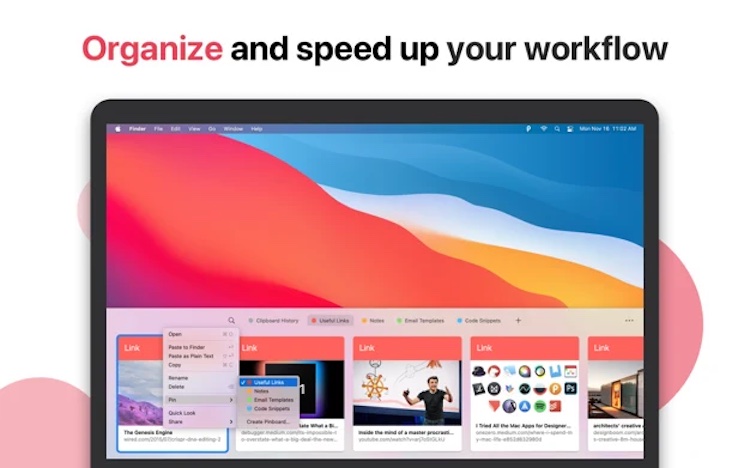 One of the most popular clipboard managers for the Mac is Paste. It allows you to save whatever you copy to your Mac, iPhone, or iPad and access it at any time. Text, links, photos, and files are just a few of the items you may copy using the Paste clipboard manager.
All of your copied material is saved in Paste, and you can readily find it with a simple search. Paste also allows you to arrange your copied text by using pins to categorize it. You can also paste material without formatting, pick and paste several copied things at the same time, and create rules to make pasting content easier.
Paste's iCloud sync tool is one of its best features, as it syncs all of your data to your iCloud account. All of your clipboard clippings will be synced across all of your devices, allowing you to use it as a universal clipboard to copy-paste objects between them.
6. Copy 'Em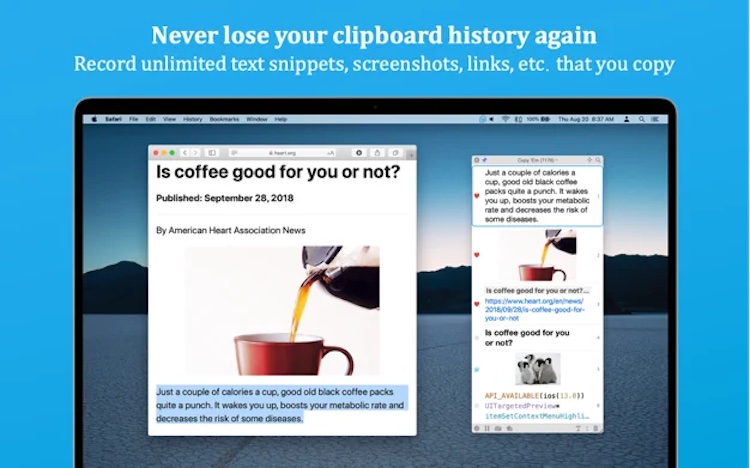 Copy 'Em is a robust clipboard manager for Mac that comes with a slew of advanced capabilities. You may copy/cut text, photos, and files to HTML, code snippets, PDFs, and a few more proprietary file types with it.
In addition to basic operations, Copy 'Em allows you to copy and paste objects in batches to save time switching between apps, snap screenshots and collect data, save favorite clipboard entries permanently, and paste often snippets using the keyboard shortcuts.
You may also group your copied objects into lists, filter and name them, and search for them easily. Similarly, you can sync your material between your iPhones, iPads, and Mac, which can make it easier to paste content between devices. Finally, just like with a few other clipboard managers, you may add apps to the ignore list if you don't want their content copied.
7. CopyLess 2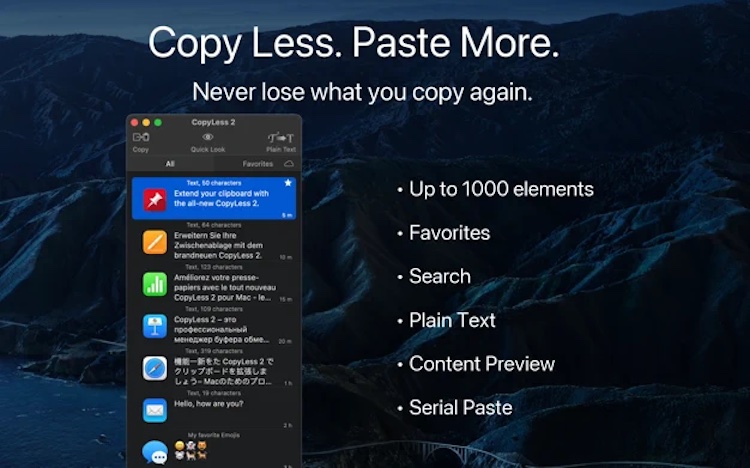 The CopyLess clipboard management has been redesigned and overhauled in CopyLess 2. It can save up to 1000 clippings that you copy/cut from several programs, allowing you to access and paste them into other apps as needed.
Because all of your data is preserved on disc, you can access it even after a reboot. CopyLess 2 allows you to identify and designate cuttings as favorites to make it easier to find and store them. It also allows you to search for clippings by app name, content, or custom title, which is really useful. In addition, CopyLess 2 allows you to sync your clippings to iCloud for fast access across all your devices, create predefined shortcuts to paste numerous items at once, and automatically remove formatting from text clippings before pasting.
8. Anybuffer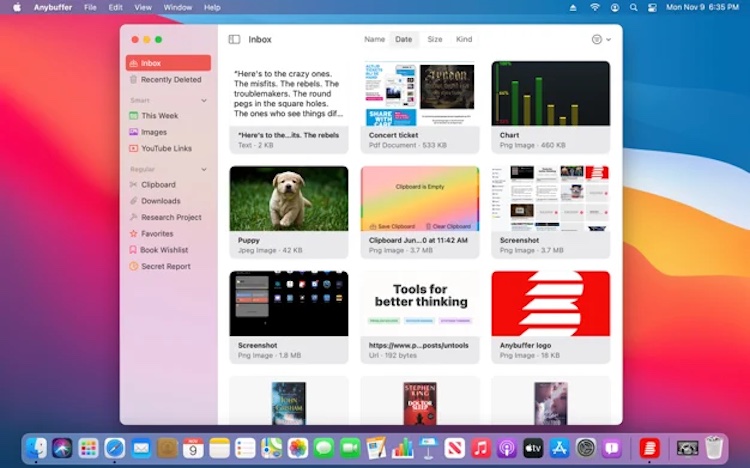 Anybuffer is more than just a clipboard manager: it's a stuff organizer that helps you save and organize everything from plain text, documents, and links to images and videos, ensuring that you never lose access to any of it.
Everything you copy is automatically synced to your iCloud account and then to all of your other Apple devices. This allows you to simply copy and paste text between devices. Furthermore, Anybuffer includes a robust search option that allows you to quickly locate your saved clips, as well as smart shelves that allow you to keep everything organized and accessible from anywhere.
Elevate your productivity with clipboard managers
As stated earlier, the limitation of the default Mac clipboard can leave you with frustration. However, this feature should not be overlooked anymore. You can download any of the above clipboards from the list to boost your productivity as well as enhance your workflow the way you want. I've found my favourite clipboard manager and I hope you find your favourite clipboard manager too!