In today's world of deadlines, traffic jams, and endless emails, it's essential to find ways to de-stress and have some fun. And what better way to do that than by diving into the world of online gaming? Whether you're looking to escape into a virtual paradise or knock down some virtual pins, the internet has got you covered. No need to worry about the time and energy required for real-life bowling, with virtual games, you can bowl to your heart's content, anytime, anywhere, and for free! In this blog, we're taking a look at the top free bowling games for Android on the Google Play store. So grab your phone, put on your bowling shoes (or don't, no one will know), and let the good times roll! With so many options to choose from, you're sure to find a game that strikes your fancy and helps you relax in style.
The Significance of Online Gaming in the Digital Age
The need for online gaming apps arises from the fact that many people find it difficult to balance their work and social lives. These apps provide an affordable way to relax and engage in leisure activities without compromising other important responsibilities. While they cannot fully replicate the experience of playing real-world games, they can serve as an alternative form of entertainment. In addition, online gaming apps can provide a fun and stress-relieving escape for individuals who want to take a break from their everyday lives and be free from judgment.
Rolling into Fun: 10 Best Free Android Bowling Games
Now, let's explore the free android bowling games that are currently dominating the internet. From realistic graphics to challenging gameplay, these apps have got it all. So grab your android device, sit back, and let's dive into the world of virtual bowling. Whether you're a casual player or a pro bowler, these top 10 android bowling games are sure to keep you entertained. Download them now and strike up some fun!
1. Bowling King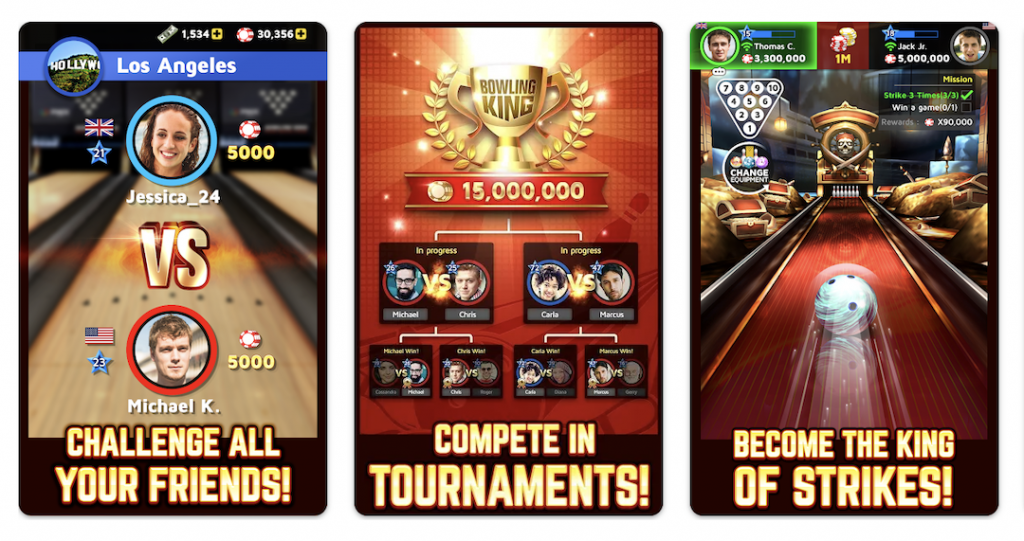 Bowling King is a multiplayer bowling simulator app that offers a realistic and engaging gaming experience. With strict adherence to physics laws, a variety of equipment, and visually appealing graphics, players can roll balls to knock down skittles and participate in challenges to beat other players. Despite being a free app, Bowling King provides an enjoyable and immersive bowling experience that will keep players coming back for more.
The features of this game include:-
Stunning and unique playground designs
Custom-designed tracks for an exciting experience
Valuable rewards for victorious players
A variety of modes and levels to choose from
Battle venues located around the globe
2. PBA Bowling Challenge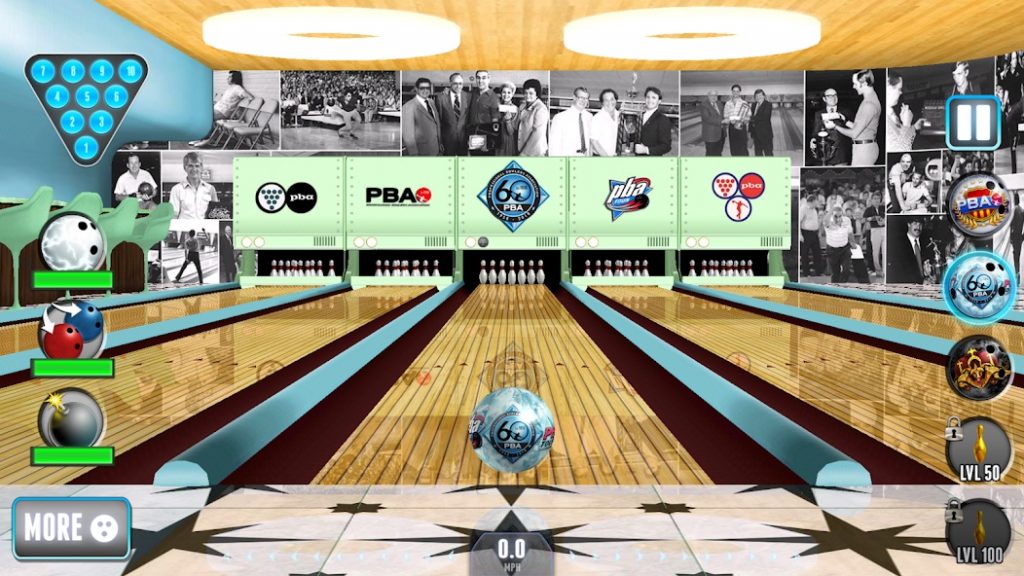 PBA Bowling Challenge is another multiplayer online bowling game for players who want to test their skills against other top-ranking bowlers. Compete in real-time to achieve the top spot on the leaderboards, and take advantage of features like the ability to switch and upgrade your equipment collection and collect various kinds of balls such as bomb and lightning balls.
The features of this game include:-
Online multiplayer mode
A competition to rise to the top of the leaderboard
Real-time action
The ability to enhance and upgrade your equipment collection
3. 3D Bowling
3D Bowling is a realistic, three-dimensional bowling game that accurately simulates the sport using real-world physics. The game features stunning 3D graphics, and an intuitive touchscreen sensor that makes throwing the ball feel truly authentic.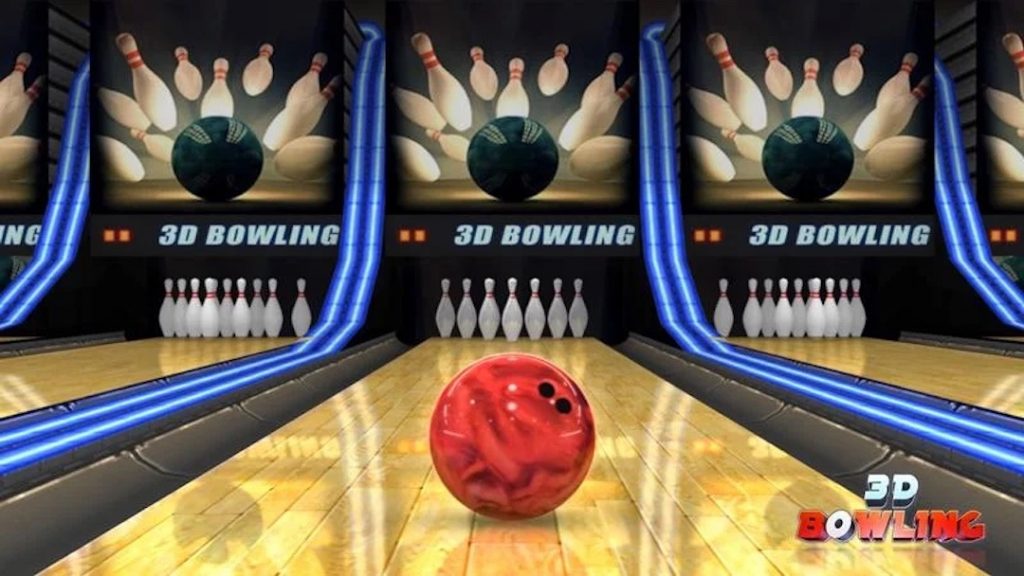 With eight different tracks, each with its own unique theme, this game offers a variety of challenges for players of all skill levels. And with the ability to track and compare your results online, you can see how you stack up against other players from around the world.
The features of this game include:-
High-quality 3D graphics
Realistic physics-based gameplay
Intuitive touch screen sensor
8 unique tracks with different themes
Online leaderboard for tracking and comparing results
Download now and start playing!
4. World Bowling Championship
World Bowling Championship is a multiplayer game that allows players to compete in various modes and levels to win the championship.
This game is perfect for beginners who want to learn the basic rules and tips of bowling, as well as for more experienced players who want to test their skills against others. Each level has various stages and as you progress, you can earn three stars.
The goal of the game is to knock down as many skittles as possible, and you can even invite your friends to compete against you.
The features of this game include:-
Multiplayer mode that includes challenging other real players
Virtual currency and betting system
Stunning graphics, high-quality picture and smooth animation
User-friendly interface
Limited multiplayer options!
5. Let's Bowl 2: Bowling Free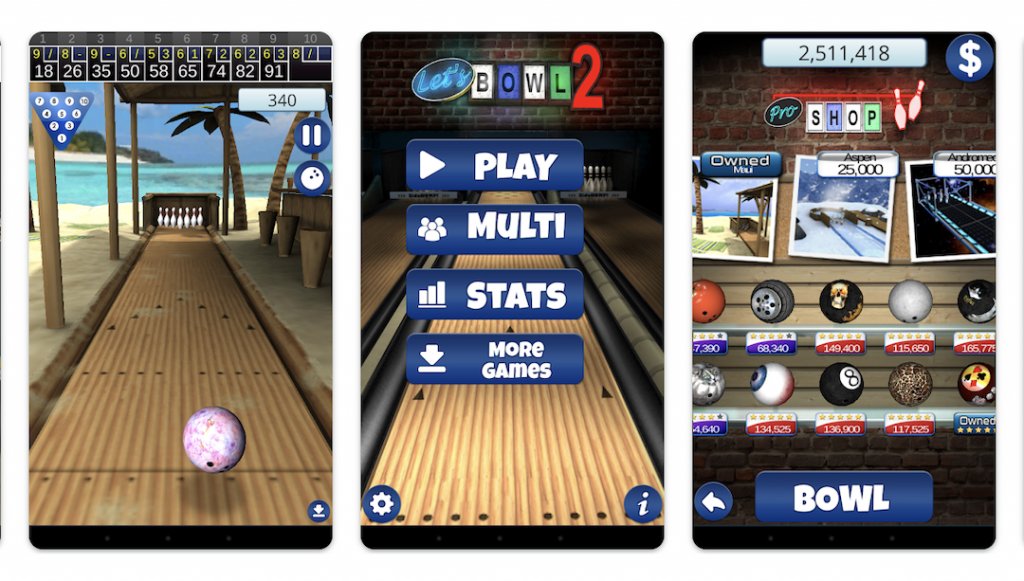 Let's Bowl 2: Bowling Free is a thrilling bowling game that offers players an immersive and fun experience. The game is loaded with incredible graphics and wonderful effects that will keep you entertained for hours. The game is easy to play and understand, with a user-friendly interface and simple rules that make it accessible to players of all ages.
As you play, you will have the opportunity to gain experience, win, and move on to the next level. You will also earn coins that can be spent on new balls and tracks, allowing you to customize your game and make it even more exciting.
The features of this game include:-
Suitable for players of all ages
Different modes and levels
Win, earn and progress through the levels
Easy to operate and understand
Earn coins to spend on new balls and tracks
Download now and start your bowling journey
6. Cave Bowling
Cave Bowling is an exciting and challenging bowling game that offers players an experience like no other. The game is set in a prehistoric cave environment and features paths full of obstacles that players must navigate as they try to knock down the skittles and collect bones.
Despite its challenging gameplay, the game is easy to understand, with basic rules and mechanics that are similar to other bowling games. Players are assisted by a cave person, who helps guide them through the different levels.
The features of this game include:-
Obstacle-filled paths
Prehistoric cave theme
Cave person guide to help players
Cool graphics and sound effects
Up to 60 levels of increasing difficulty
7. Strike! Ten Pin Bowling
This bowling game is easy to play, but packs in realistic designs and stunning graphics. The game allows you to play at your own pace, without any obstacles getting in the way. Its addictive nature makes it a perfect source of entertainment for those who love bowling. The game's user-friendly interface makes all controls easy to understand and use, and it is touch-sensitive, making it even more convenient to play.
The features of this game include:-
Basic application with fundamental rules
Easy control
Touch sensitive
Different tasks to complete
Earn prizes
8. Galaxy Bowling 3D Free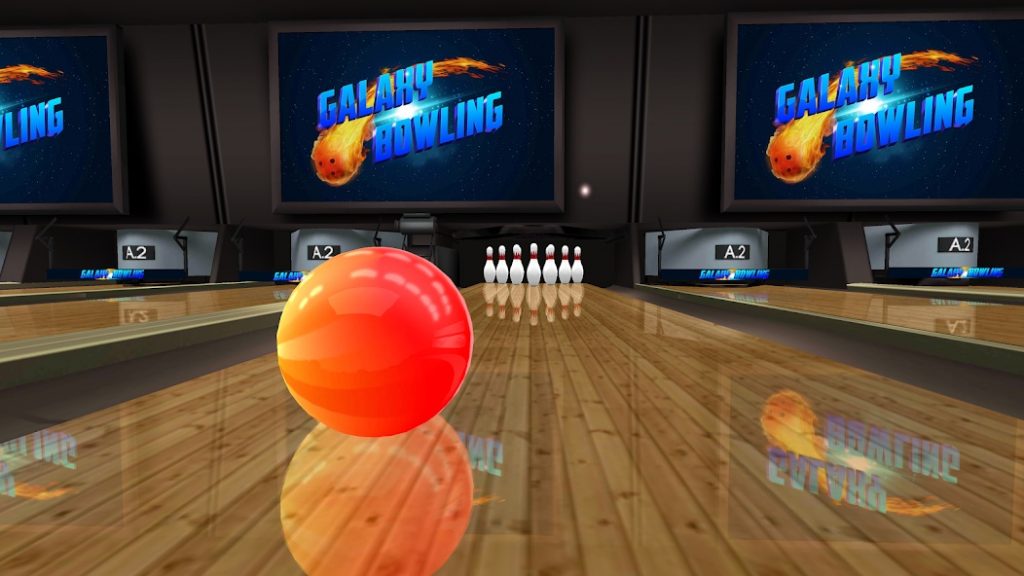 In this sports bowling simulator, you take on the role of a catalyst, helping the main character to victory. The game offers two different modes: single-player and multiplayer. In single-player mode, you can play against the computer or invite a friend to join in. In multiplayer mode, you'll be competing against real players. The goal is to knock down all the pins with a single hit. You'll have the chance to adjust the direction of the ball while it's in motion, making the game challenging but also rewarding with practice.
The features of this game include:-
Excellent three-dimensional graphics
Simple management
Two game modes
Customization of balls and playing fields
9. Rocka Bowling 3D
Rocka Bowling 3D is an online multiplayer bowling game that allows you to play with your friends from the comfort of your own home or office.
With a fully 3D setup, this game offers a realistic and immersive bowling experience. It also features a coin and bowling ball earning system, allowing you to unlock new equipment and features as you play.
The game also boasts impressive graphics and soothing sound effects, making it a great way to relax and unwind after a busy day.
The features of this game include:-
Online multiplayer mode
Complete 3D setup
Earn coins and unlock new bowling balls as you play
High-quality graphics and sound effects
Play at your own convenience and enjoy a fun, immersive bowling experience with friends.
10. Rally Bowling Free
Rally Bowling Free is a free bowling game app that offers a fun and engaging way to pass time when you're stuck in traffic or in a boring meeting. With 12 tracks, 24 types of bowling balls, and 42 great 3D prizes, the game offers a wide variety of options for players. Additionally, the game is based on real-time physics laws, giving it a level of realism and excitement that sets it apart from other bowling games.
The features of this game include:-
Daily bonuses
Play, win, and earn coins
Variety in balls and tracks
A variety of different modes and levels to cross
Conclusion
Social media platforms are governing the social life of the current generation fueled by the internet and all of them are locked into a small portable device. This lethal combination of the internet, smartphones and social applications has affected real-time interaction. But sometimes the Internet is the only savior in times of crisis and here, these free Android bowling games act as a source of rejuvenation.
So, this was all about the best bowling game for Android currently available in the market. If you have anything to share or have any other game in your mind, which is not mentioned in the list then feel free to comment in the section below.
Frequently asked questions:-
What are the best free bowling games for Android?
Some popular free bowling games for Android include Bowling King, 3D Bowling, and PBA Bowling Challenge.
How can I download these games on my phone?
These games can be downloaded from the Google Play store on your Android device.
Is there a difference in quality between free and paid bowling games?
There may be some differences in graphics and features between free and paid games, but many free games offer a high-quality gaming experience.
Can I play these games offline?
Some games may require an internet connection, while others can be played offline.
Are there any additional in-app purchases required?
Some games may offer in-app purchases, but they are not necessary to enjoy the game.
Are these games suitable for all ages?
Many of these games are suitable for all ages, but it is always recommended to check the game's rating and reviews before downloading.
Can I connect with friends and play together online?
Some games offer the option to connect with friends and play together online.
Are there any virtual reality options available?
Virtual reality options may not be available for all games, but some do offer VR compatibility.
What are some recommended settings for the best gaming experience?
It is recommended to play on a device with a fast processor and a large screen for the best gaming experience.
Are there any tips for improving my gameplay?
Practice, practice, practice! Also, take advantage of tutorials and tips offered in the game, and consider adjusting the game's settings for a personalized experience.