Have you ever wondered why Apple hasn't released a MacBook with a touchscreen? It's a question that many of us ponder, especially when we can't help but notice the smudges and fingerprints that cover the lid of our existing MacBook.
It's a never-ending dilemma. You're certain you haven't touched or accidentally smudged the glass, yet the prints magically appear, accompanied by annoying dust specks, streaks, and unwanted lint. Not only does a dirty screen look unappealing, but it's also detrimental to your eyes. Imagine straining to look through a slightly distorted and cloudy glass at the pixels beneath.
But fear not! In this comprehensive guide, we'll explore the top screen cleaners available on the market and help you find the perfect solution to banish those unwanted smudges and keep your MacBook looking its best.
Quick Summary
If you're in a hurry and need a quick summary of our recommended screen cleaners, look no further! We've got you covered with these top picks:-
Screen Mom Natural Screen Cleaner: This odorless cleaner uses a plant-based solution to gently clean the glass of your MacBook, eliminating specks, dust, and fingerprints. With a generous 16 oz bottle, you won't run out anytime soon.
EVEO Screen Cleaner Spray: It is an effective and convenient option for safely removing smudges and dust from your MacBook screen. The 16 oz spray bottle and included microfiber cloth make it easy to use.
Bryson Screen Cleaner Kit: This 16 oz cleaner is a fingerprint-eliminating genius. It comes with a large cloth for easy application to your screen and can be used on other devices besides your MacBook.
EcoMoist Natural Organic Screen Cleaner: If you're looking for something safe and portable, this 100 ML powerhouse is the way to go. It's safe for kids and pets, leaves no streaks or residue, and includes a microfiber cloth for convenient cleaning.
Who should buy a screen cleaner?
Well, unless you possess some kind of extraordinary ability to keep your electronics spotless, we all know the struggle of watching dust and dirt gradually accumulate on our MacBook screens (and let's not forget about iPhones, TVs, and iPads — basically anything with a glass panel and pixels). While using Windex on a Mac screen is an option, there are dedicated cleaners that work even better.
Having a screen cleaner at your disposal is beneficial for everyone, whether you're in the office, at home, or on the go. It's the perfect solution to eliminate those pesky smudges that inevitably find their way onto your otherwise pristine screen.
With a screen cleaner, you no longer need to worry about your excitable two-year-old poking the glass or your sneezing coworker leaving behind a trail of residue. Not only will you keep your MacBook looking its best, but you'll also give your eyes a much-needed break from straining through the nasty and distorting residue.
Investing in a screen cleaner is a surefire way to help your laptop live its best life. It's an all-around champion when it comes to keeping your screen clean, clear, and free from the distractions of smudges and grime. Don't let your MacBook suffer any longer — give it the care it deserves with a reliable screen cleaner.
Best Screen Cleaner for MacBook
Looking for the best screen cleaner for your MacBook in 2022? We've got you covered with our top picks. Please note that the products listed below are not ranked in any particular order but are chosen based on our criteria and personal preferences.
1. Screen Mom Natural Screen Cleaner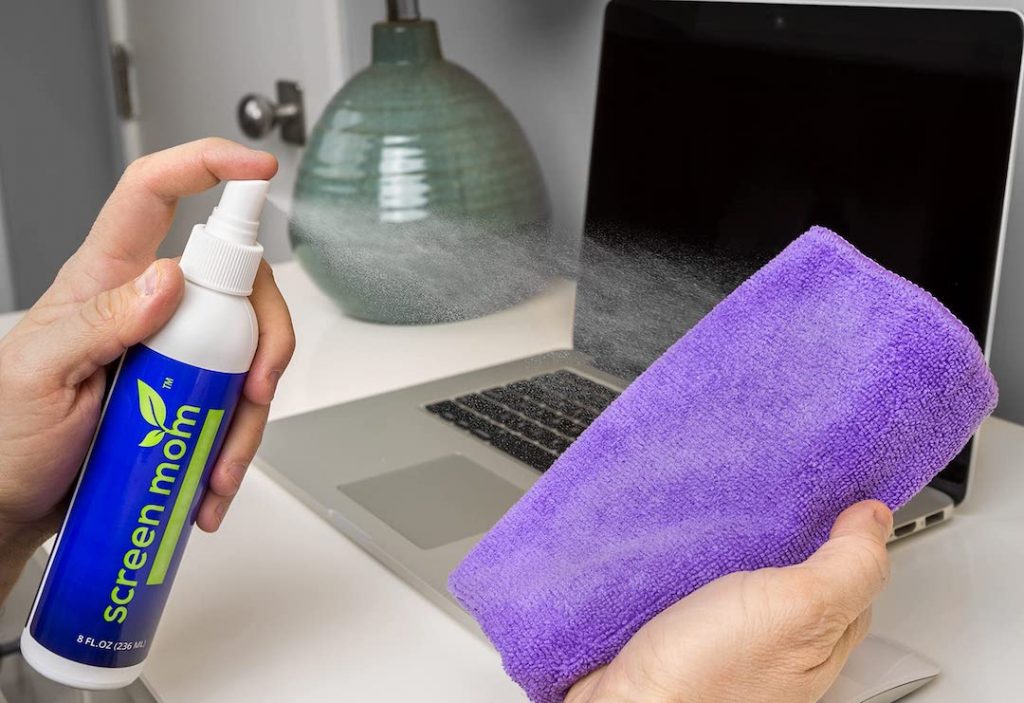 If you treat your laptop like your baby, then this screen cleaner kit is the perfect choice. It includes a large bottle of spray and a microfiber cloth for easy application on your screen. This versatile cleaner is not only suitable for your MacBook but also works well on TVs and iPhones. With a generous 16 oz bottle, you'll have more than enough for all your cleaning needs.
Pros: The streak-free solution leaves your screen looking brand new. The included microfiber cloth is large and easy to use. The 16 oz bottle provides excellent value for money. The odorless solution is plant-based and natural.
Cons: None. This cleaner offers versatility and great value.
2. EVEO Screen Cleaner Spray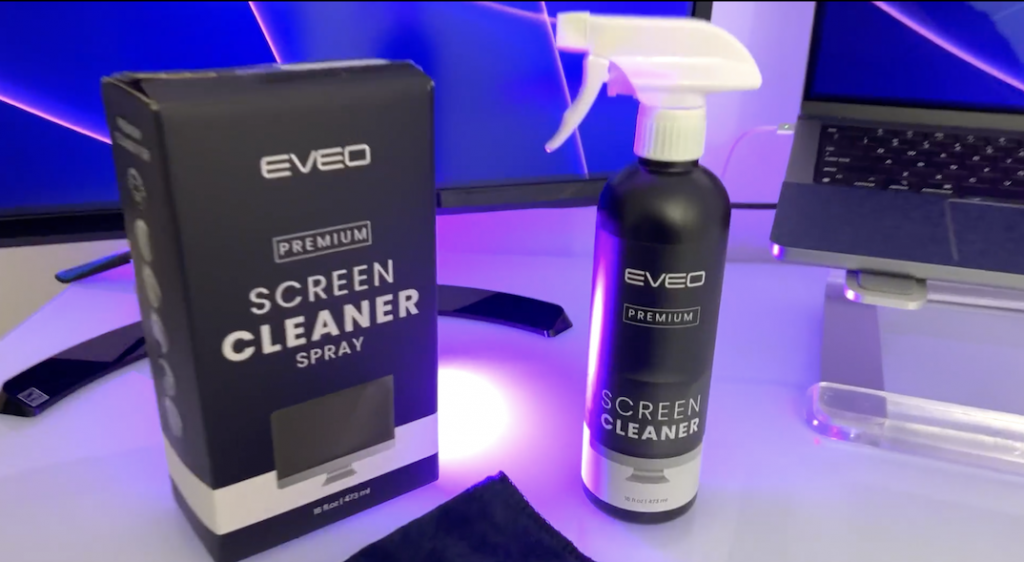 EVEO Screen Cleaner Spray is a reliable and effective option for safely removing smudges, fingerprints, and dust from your MacBook Pro screen. The 16 oz spray bottle and included microfiber cloth make it convenient to use.
The spray is odorless and gentle on electronic screens, leaving no streaks. It also helps eliminate static electricity, preventing dust from sticking to the screen. Simply spray onto the cloth and wipe the screen for a clean and shiny result.
While it may require more sprays for dirtier screens, overall, it's an easy-to-use and affordable screen cleaner option for your MacBook Pro.
Pros: It is easy to use, delivers impressive results, and is safe for use on various devices. Furthermore, it offers great value for money, as one bottle can last a long time.
Cons: May require more sprays for dirtier screens
3. Bryson Screen Cleaner Kit
If fingerprints drive you crazy, this is the cleaner for you. Whether you dislike microfiber or prefer the smooth material of an eyeglass cloth, Bryson's Screen Cleaner Kit has you covered. The 16 oz bottle will last a long time, and the special formula is designed to remove fingerprints effectively.
Pros: The large 16 oz bottle ensures you won't run out anytime soon. The cloth included is generously sized (around 15″ x 15″), and it's not made of microfiber. This streak-free cleaner tackles fingerprints and prevents their return.
Cons: Some users have reported an unpleasant smell that may linger for a while after use.
4. EcoMoist Natural Organic Screen Cleaner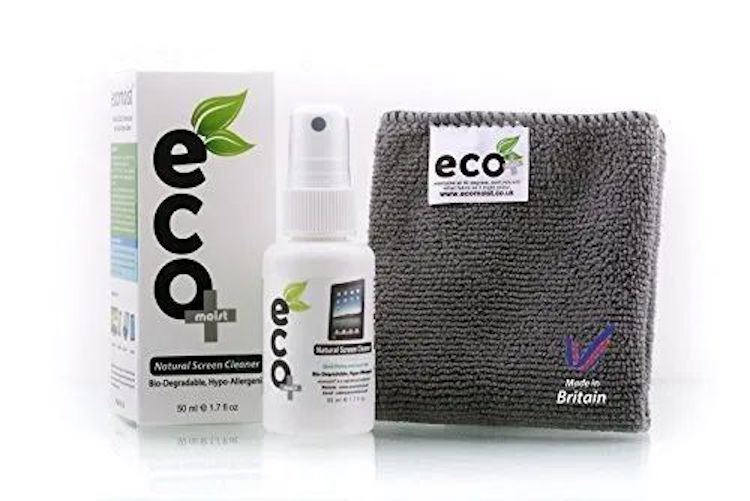 If you're looking for a screen cleaner that kills germs and removes grease efficiently, EcoMoist is a great choice. With a 100 ML bottle, it's a powerful cleaner suitable for all your devices, whether they are Mac or non-Mac. The spray bottle design allows for easy vertical depression.
Pros: Environmentally friendly and safe for your screen, EcoMoist's ingredients won't cause harm or trigger allergic reactions. It's ideal if you have children or pets around regularly. The cleaner comes with a microfiber cloth.
Cons: The smaller 50 ML bottles are no longer available.
These top screen cleaners are sure to keep your MacBook's display spotless and clear. Choose the one that best suits your preferences and needs, and enjoy a pristine screen experience.
What should you consider before buying a Screen Cleaner?
When it comes to buying a screen cleaner in 2022, there are a few important factors to consider. Let's take a look at what you should keep in mind:
Volume & Value: Consider the volume of the cleaner you plan to purchase. If you only need to clean a single screen once a week, a larger bottle may not be the best choice as the solution may expire before you finish it. On the other hand, if you need to clean multiple laptops or screens or if you plan to keep the cleaner in one place, a larger bottle could be suitable. Take into account your cleaning frequency and storage requirements to find the right volume for your needs.
Effectiveness: Identify the specific issues you want to address with the screen cleaner. If your main concern is removing your toddler's fingerprints, look for a cleaner that specializes in fingerprint removal. If dust accumulation is your primary problem, a generalized product should work well. Some cleaners are formulated to target specific issues, so choosing one that aligns with your needs can enhance effectiveness. Additionally, ensure that the spray doesn't have complicated instructions that you may struggle to follow.
Kit Components: Many screen cleaner kits come with a cloth for applying the spray. However, if you're purchasing a refill bottle or just the cleaner itself, it may not include a cloth. In such cases, ensure you have a suitable cloth at home to achieve a streak-free finish. Additionally, check if the kit offers any extra components, such as an additional cloth or other accessories, that may enhance your cleaning experience.
By considering these factors, you can make an informed decision and choose a screen cleaner that meets your specific requirements in terms of volume, effectiveness, and kit components. Enjoy a clean and crystal-clear screen with the right screen cleaner for your MacBook!
Additional Tips & Resources
Taking care of your MacBook involves more than just cleaning the screen. Here are some additional tips and resources to help you maintain your laptop:
Protect the Keyboard and Exterior: The keyboard and exterior of your MacBook are prone to collecting dirt, dust, and oils. Consider investing in a keyboard skin or a hardshell case to keep your keyboard and laptop protected when you're on the go. Additionally, using a MacBook sleeve can help keep your laptop in good shape when you're not using it.
Deep Cleaning Your MacBook: Even with preventive measures, dust can still find its way inside your MacBook. To deep clean your computer and restore its pristine condition, refer to an informative article from CNET that provides step-by-step instructions on how to effectively clean your MacBook.
Cleaning Methods for the Screen: Most of the screen cleaners mentioned earlier come with their own usage instructions. However, if you need guidance on using different types of cleaning methods for your screen, refer to a comprehensive guide. This resource will help you choose the right cleaning technique for your specific needs.
Apple's Tips and Tricks: Apple, the manufacturer of the MacBook, offers valuable tips and tricks on how to take care of its products. Checking out their official guidelines can provide additional insights into maintaining your MacBook's cleanliness and overall well-being. Keeping your MacBook clean is not only essential for optimal performance but also contributes to its resale value if you ever decide to sell it.
Final words
A screen cleaner is a must-have tool for anyone looking to reduce eye strain and maintain the overall condition of their laptop. A clean display not only improves the visual experience but also revitalizes your computer.
We would love to hear from you! Do you have a preferred brand of screen cleaner that you swear by? Share your thoughts and recommendations with us by leaving a message. Your feedback can be valuable in helping others find the perfect cleaner for their MacBook screens.