Millions of people used to go to the grocery store weekly to buy all our daily needs including food items and household products, till Covid changed everything. The government decided to impose a lockdown to contain the spread of the deadly virus and these restrictions have been beneficial in the fight against the deadly virus. But, it cannot be denied that many people have faced grocery anxiety. From opening stores with limited hours in a day to odd-even and no slots in online delivery apps, they have seen everything during the COVID-19 lockdown.
That said, a lot of apps and portals have emerged since then that allow you to find out how late is the closest grocery store open near me and order groceries online, among other things. You will find everything in this article.
What is a grocery store?
A grocery store is also known as 'Kirana' shops in India, is a place where you can buy all your daily needs, including food items and other household products. And, these Kirana shops have become an indispensable part of the weekly routine of millions of people across the country.
How to find nearby grocery stores and know their timing?
The easiest way to find the nearest grocery store is by using Google Maps. Most millennials today have a smartphone that comes with an inbuilt Google Maps app. If you don't have Google Maps on your mobile then you can simply go to Google Maps on your browser. To find nearby stores and their timings, you need to follow the steps given below:-
Via App: –
Open Google Maps on your smartphone
Type the address or locality near which you wish to find the grocery store in the search box and then press Enter.
Scroll down to different category tabs and select Groceries (If you can't see it, click on More and select Groceries under the Shopping section)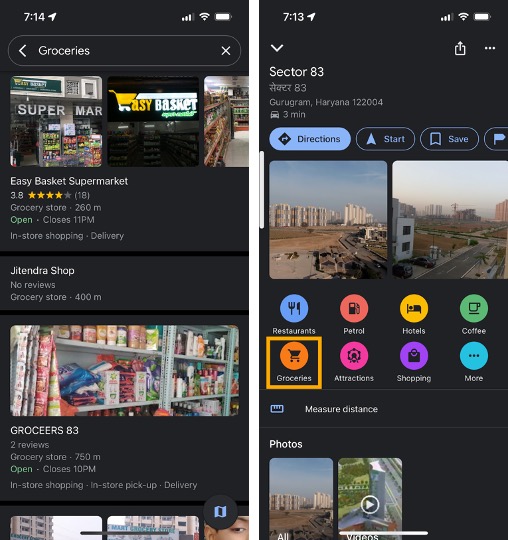 That's all. You'll have a comprehensive list of grocery stores near you with their location. You can see them on the map as red mini-pins (top results) or red dots. You can also filter your search results by rating, distance, etc. using the drop-down menu at the bottom of the search box.
Via website: –
Open Google Maps on your computer or mobile phone using a browser of your choice.
Type the address or the name of your locality near which you wish to find a grocery store in the Search box and press Enter
Click on the Nearby tab, type "grocery stores" in the Search box, and press Enter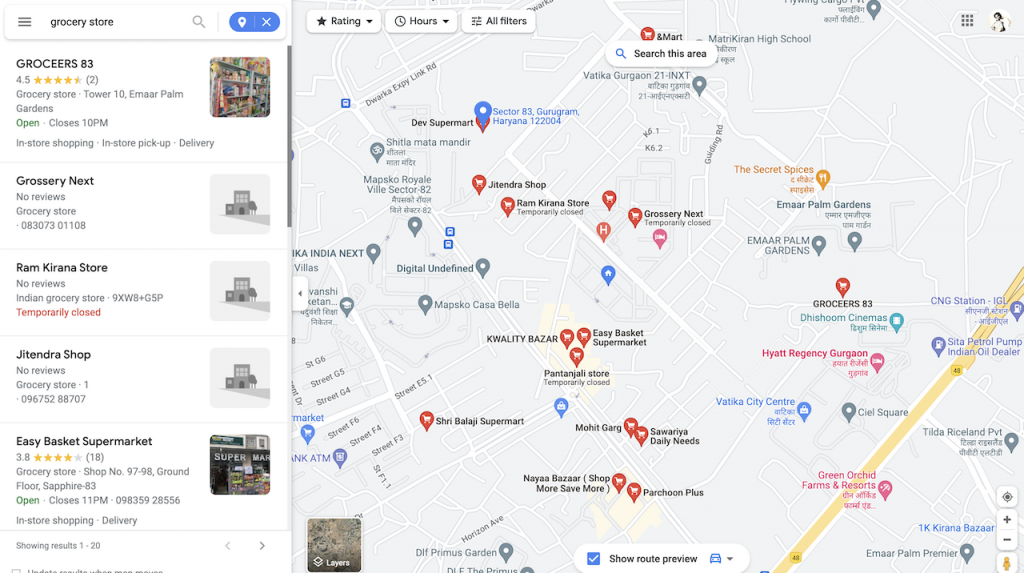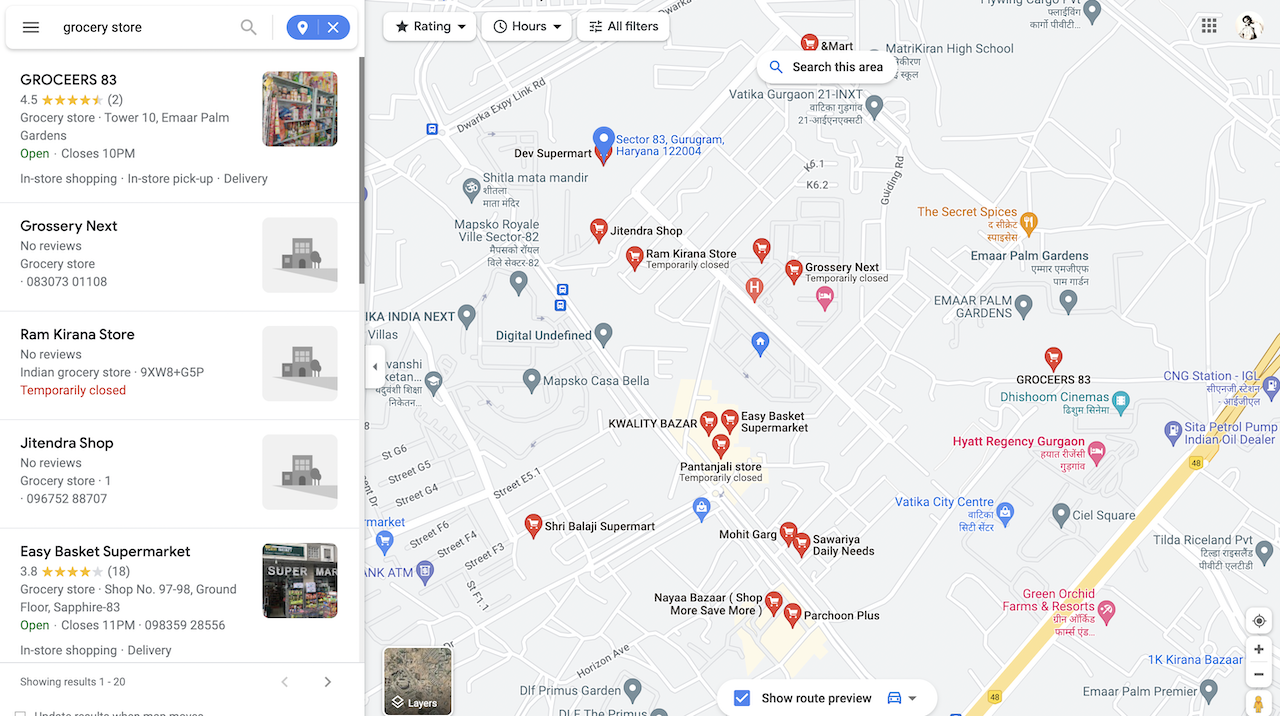 Like the app, you can see the detailed list of Kirana stores near the location that you entered earlier.
How to know if the closest grocery store is open or closed?
Via Google Maps: –
It's a fairly easy way to find out if a grocery store is open or closed near you. And, Google Maps will help you in this regard. You already know how to find grocery stores near you or you can repeat the above steps. You'll see it mentioned under most stores if it's open now, open 24 hours, or closed. In the case of the latter, it also shows when the store is scheduled to open the next day. You can find weekly times for a store by clicking the Timing drop-down menu followed by its name.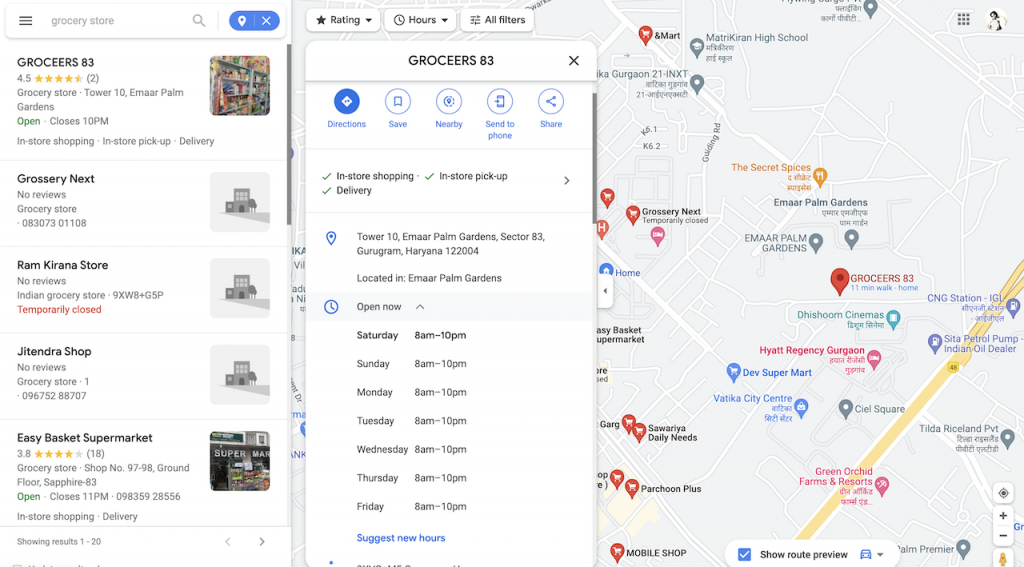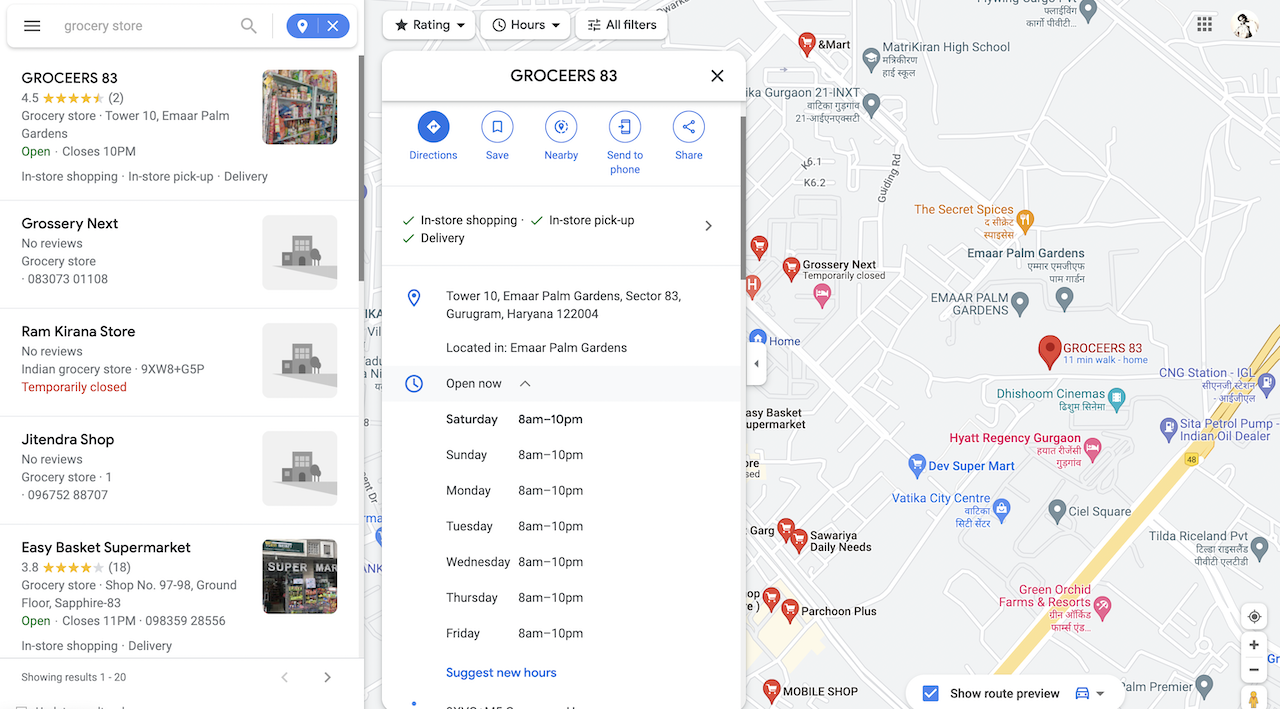 Furthermore, you can filter your search results by the Open Now option under the Hours drop-down menu on the website or by clicking the Open Now tab on the app. Interestingly, Google Maps can also tell you how busy a particular store is for shopping at that time and day for added convenience.
How to get groceries delivered via apps?
As mentioned earlier, now there are many websites and apps like BigBasket, Blinkit (Grofers), Swiggy, and BigBazaar Online that you can use to order groceries online. You can download any of them and get groceries home delivered. However, their delivery time varies from each other. While Blinkit delivers products in 15 minutes the others like Bigbasket and others may take an hour to one day.
There are several other apps that you can download to get groceries and other daily essentials delivered to your doorstep:
Amazon Pantry
Flipkart Grocery
JioMart
Apps like DMart Ready, Spencer's, Nature's Basket, and EasyDay are also very popular, but they do not yet offer their services across India.
That said, many grocery store owners have also transitioned online during the pandemic and many others have embraced the hybrid model. You can easily get their contact number online from Google Maps, share your grocery list with them over the phone, and ask them to deliver everything at home.
That's all folks. This is how you can know "How late is the closest grocery store open near me"