Minecraft, the iconic game that has captivated the hearts of 150 million players and counting, has come a long way from its humble indie beginnings. Owned by Microsoft now, it's a far cry from its modest beginnings. While you can get the full Minecraft experience for a reasonable price, there's a lesser-known treasure trove that echoes its early days. This treasure is Minecraft Classic, a throwback to the game's origins, released on its 10th anniversary back in 2019. The best part? You can dive into this vintage version absolutely free, directly on the Minecraft Classic website from your web browser—no need to mess with downloads or setups.
Note: It's important to remember that this classic version of Minecraft features just 32 blocks, a few well-documented bugs, and you might notice slightly slower controls if you're accustomed to the modern Minecraft experience. Additionally, please be aware that the game mode is limited to Creative mode; Survival mode is not available in this version.
How to Play Minecraft Classic?
So, you're all set to explore the vintage charm of Minecraft Classic? Great news – it won't cost you a dime, and you don't need to worry about the device you're using. Whether you're on a computer, tablet, or even a smartphone, the game's ready for you to dive into straight from your web browser. No complications, just pure retro gaming fun! Let's not keep you waiting any longer – let's jump right in!
Here's how to get started: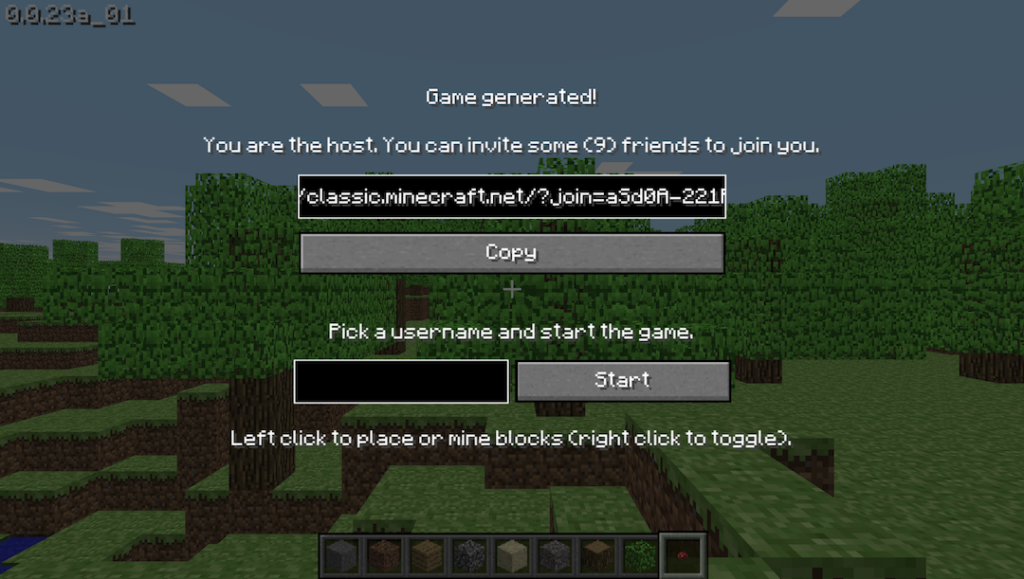 If you're in the mood to team up with friends, copy the link and share it with up to 9 friends. You might want to save the link in a text file for easy sharing.
Pick a username that resonates with you.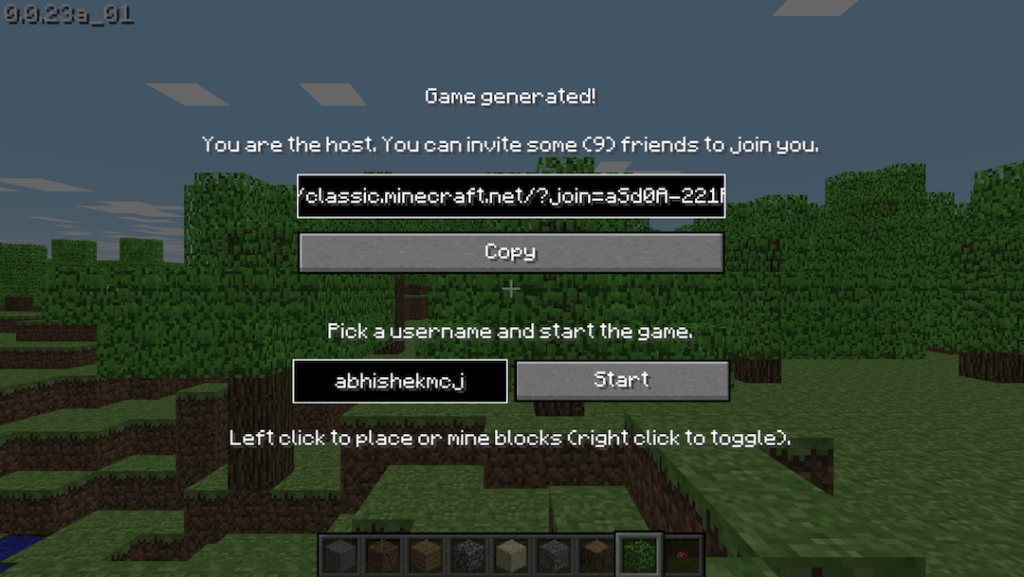 Now click on the Start button.
Congratulations, you're in!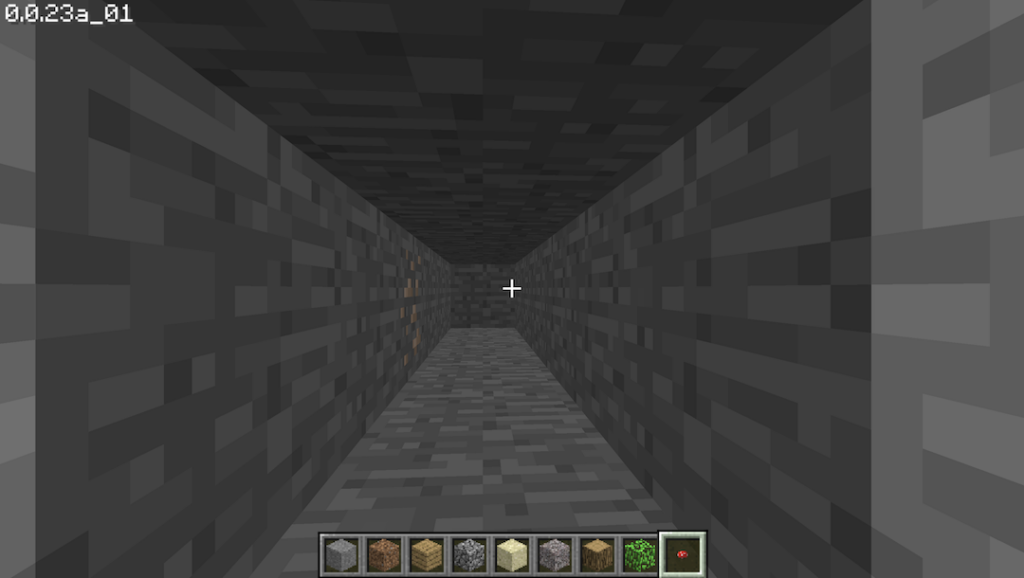 If you're new to this, experiment with using your mouse's left, right, and scroll wheel to break or place blocks. On the keyboard, WASD is your default set of keys for moving around – left, right, forward, and backward.
Bonus tip: Press the Escape key on your keyboard to explore options like music, sounds, mouse settings, FPS details, rendering options, and controls.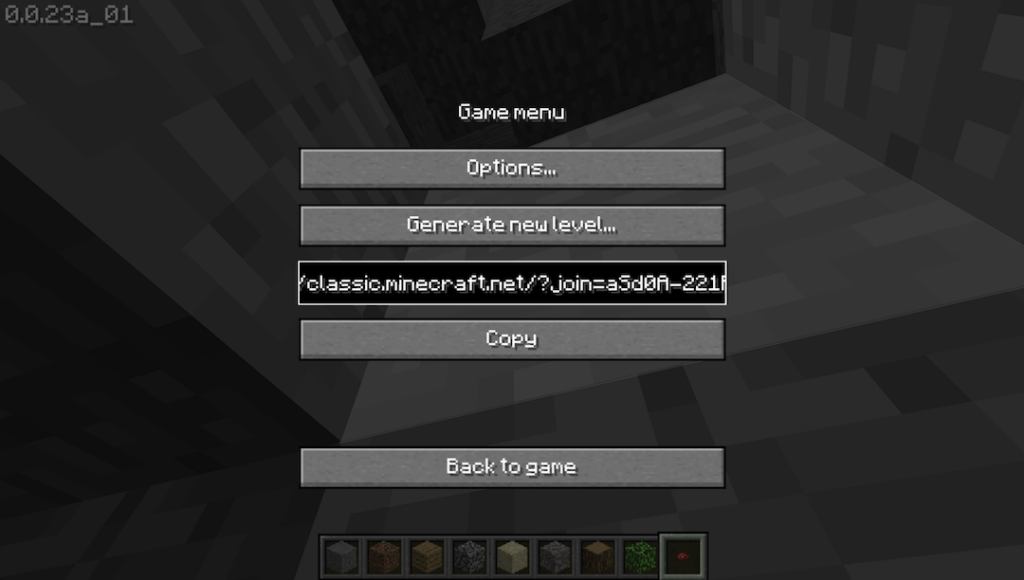 What's Possible and What's Not
As the name suggests, Minecraft Classic isn't the same version of the game that most players are diving into today. Instead, it's a glimpse into the past, specifically how the game looked and played back in 2009. This means you'll have to deal with a less smooth user interface, work with a mere 32 blocks for building, and contend with more bugs than you'd find in an average rainforest.
When it comes to gameplay, Minecraft Classic sticks to Creative mode only. That means there's no Survival mode with those menacing mobs to face off against. Plus, there's a catch: you can't save your progress. However, just as we mentioned earlier, you can gather up to nine pals to join in on the fun. After all, everything's better with friends, even in Minecraft.
Embrace Nostalgia by Diving into Minecraft Classic
While it's undeniable that Minecraft Classic pales in comparison to its modern counterpart, there's an undeniable allure to this vintage version. Completely free and effortlessly accessible through your web browser, it's a unique chance to immerse yourself in gaming history. Journey back to where it all began, witness the evolution of the game and relish the unmistakable nostalgia it brings. So, why wait? Embrace nostalgia by taking the plunge into Minecraft Classic and reliving the magic of its early days.
See More: How to make Nether Portal in Minecraft
See More: Best Minecraft 1.19 Seeds for Bedrock & Java Edition
See More: Best Minecraft Hosting Services