The most common problem that we face while building a website is to get it list in search engines like Google and others. People who are unknown to the fact, may think about it differently. But, the process is quite easy and you can do it by yourself. In this tutorial, we are going to tell you how to submit your website to Google Search Console.
We assume that you are familiar with the term Google Search Console. For those who are not aware, Search Console (formerly known as Google Webmaster tools) is an advanced utility that allows you to track your site's performance in Google search results. It provides you with an extra layer of information and control which is useful for website's search engine optimization.
Before you jump to the process, we would like to inform you about the importance of submitting a website to Google Search Console.
Why submit your website to Google Search Console?
Besides getting listed into Google's search engine result pages, below are some of the key reasons to consider why to add a website in Google Search Console (Google Webmaster): –
Set a geo-target country for a global TLD (.COM etc.)

Re-Index your website after major content and SEO changes have been made.

Set preferred domain to display, either with www. or without at the start.

View search analytics. What keywords are people searching that results in them seeing your listing and click reports?

See who links to you, external link reports.

Crawl errors. 404 error reports & alerts.
Now, you have a clear of why to submit a website to Google Search Console, let's go ahead.
How to submit your website to Google Search Console?
As we said, it is quite easy to submit a website to the Google Search Console. Before heading down, make sure that you have a Google account and a website's sitemap URL which would be required. Follow these steps to submit your website to Google Search Console:-
Step 1: Add Your Website
Click on the link to go to Google Search Console

You need to login to your webmaster account using your id and password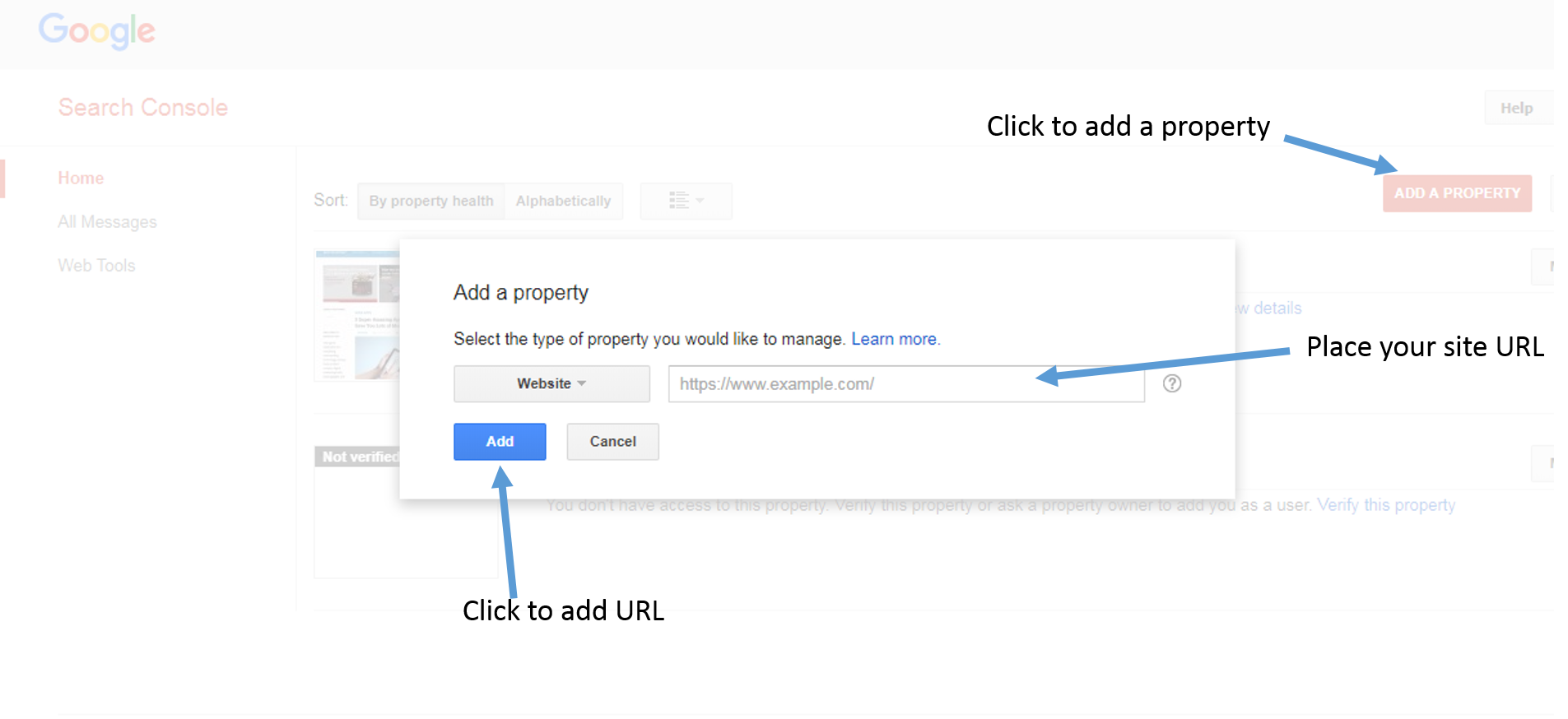 Once you have successfully logged in, click on "add a property button" and place your blog URL
Step 2: Verify Your Website
Once you have added your website, now you need to verify the property by using any of these convenient methods including HTML Meta Tag, HTML file upload, Domain Name provider, Google Analytics or Tag Manager. We recommend you to select the HTML file upload, which would be quite easy to verify your web property.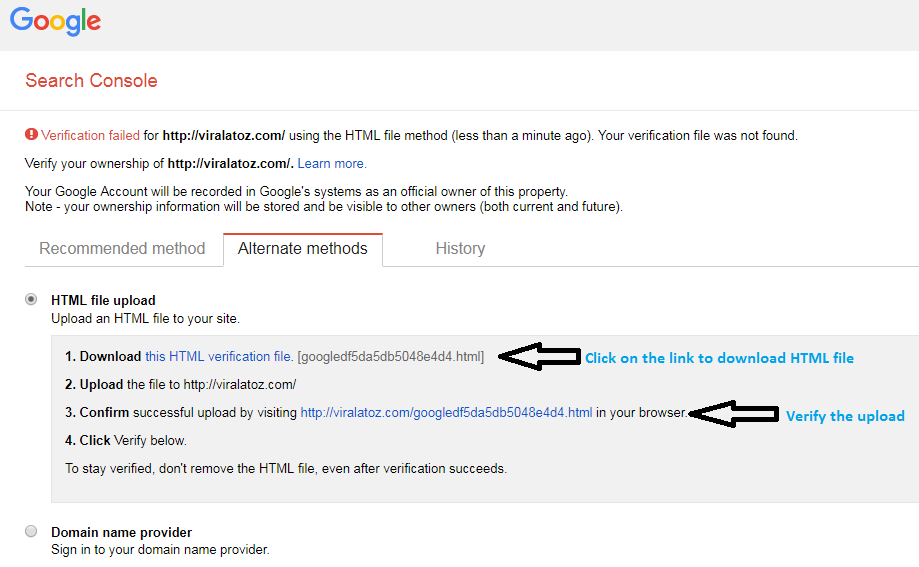 Go through an alternative method and download the HTML file.
Next, you need to upload the downloaded HTML file to your WordPress root directory. To access the root directory, you must have a control panel provided by your hosting partner or you should be able to connect your hosting server using FTP login.
Once you are done with the file upload, come back to Google Webmaster Dashboard and click on the verify button. Now you are done with the verification process.
Alternatively, you can do it by placing the Meta Tag into your blog header.php file after the <head> tag and before the </head> closing tag. If you are done with the change then save that header.php file and click on the verify button.
Step 3. Submit a Sitemap
You need to go to the crawl section then select the sitemaps option.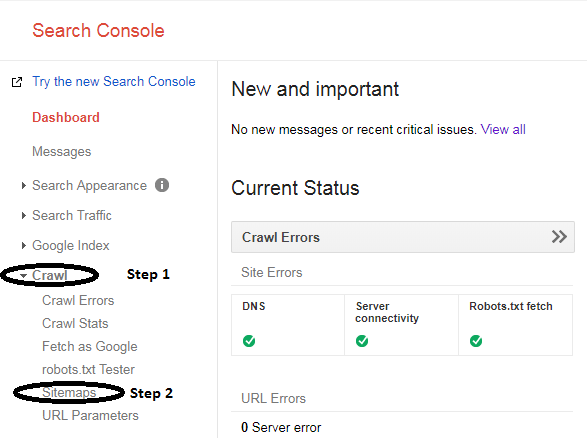 Now you can see the sitemap empty as you have not yet submitted anyone.

You should look click on the "Add/Test Sitemap" button right above corner, a small pop up window will appear on the screen.

Now you need to put the sitemap name next to the URL address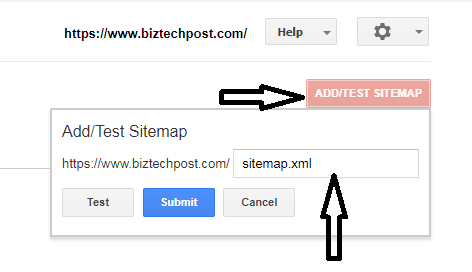 Click on the test button to check if your sitemap is error-free (it will show the error if anyone consists)

Now go back to the Add/Test Sitemap button and submit your URL.
You have now successfully submitted your sitemap URL to the Google Search Console. It would take some time to get indexed. Once the sitemap is indexed by Google Search Console, it would show the number of URLs that the Sitemap consists.
There is no doubt about Google Search Console, but you should also consider the other search engines such as Bing and Yandex. You can consider reading these two articles.
If you are facing any problem while submitting your website to Google Search Console, do comment below and we would love to answer.