Screen Recorder Apps for Android come in handy when you want to save live streaming, film a tutorial, or share what you're looking at with your friends using a smartphone.
You don't need a third-party app to record the screen on Android Device. It comes with a native screen recorder app that lets you capture everything that is there on the screen of your smartphone.
Apart from the native screen recorder, you always have the option to download the third-party app that lets you do much more than just record screens.
Below we've outlined the 10 best screen recorders for Android smartphones that you can use efficiently.
10 Best Android Smartphones Screen Recorder Apps
Native Screen Recorder
Screen Recorder by Kimcy929
Apowersoft Screen Recorder
Vidma Screen Recorder
AZ Screen Recorder
Mobizen Screen Recorder
Screen Recorder by InShot (XRecorder)
Google Play Games
ADV Screen Recorder
DU recorder
1. Native Screen Recorder
An inbuilt screen recorder was introduced with the launch of Android 11. However, this may vary depending on the device manufacturer. The recording process is the same for almost every device, with a few variations here and there.
To start the screen recording process, drag the notification down from the top of the screen to see the quick setting options. Tap on the option and grant permission to record your device screen. That's all.
You can use the toolbar to minimize the bar, draw a picture on the screen, turn on your front-facing camera, pause recording, or stop it altogether.
For the older device, or if you want a feature-reached tool you can use third-party apps.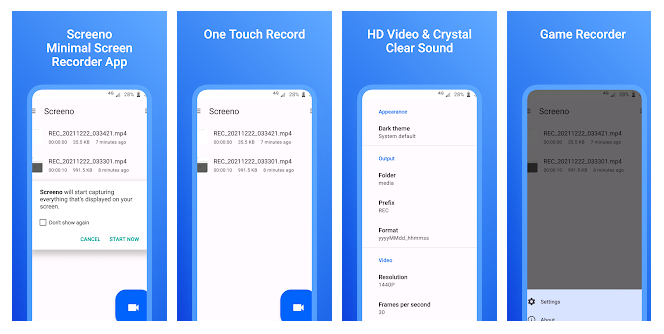 This screen recorder is very powerful and it allows you to capture smooth and clear screen videos, screenshots in the easiest way possible. With this tool, You can record HD video tutorials, video calls and live streaming videos that can't even be downloaded. It also allows you to record gameplay so that you never miss live game shows and important moments.
It comes with an inbuilt video editor that comes with trim, removes the middle part, adds music and motion control functionality. You can export recorded video from 240p to 1080p at up to 60FPS, and up to 12Mbps.
This tool is also a convenient game recorder and screen capture tool. It helps you to capture screen, record screen and record gameplay video without recording time limit. And, the best part is that it does not leave any watermark when you export videos using this tool.

Another free tool to use that enables you to record screen activities without any hassle. It also supports audio recording and syncs with the recorded video. Using this tool, you can create video tutorials, record gameplay, conduct live shows, video calls, and more. Also, you can use your front camera to record videos which can sometimes be helpful during game recording. You can also use the overlay icon to start, stop and stop recording easily.
This screen recorder supports displaying phone screens on PC and Mac for a better viewing experience. You can also choose the right quality for your video at your convenience. It supports resolutions: 360P, 720P, 1080P; Bitrate: 1 Mbps to 12 Mbps; and the frame rate: 24 fps ~ 60 fps. After recording, it gives you quick access to trim videos or share them via email, YouTube, Google Drive, etc.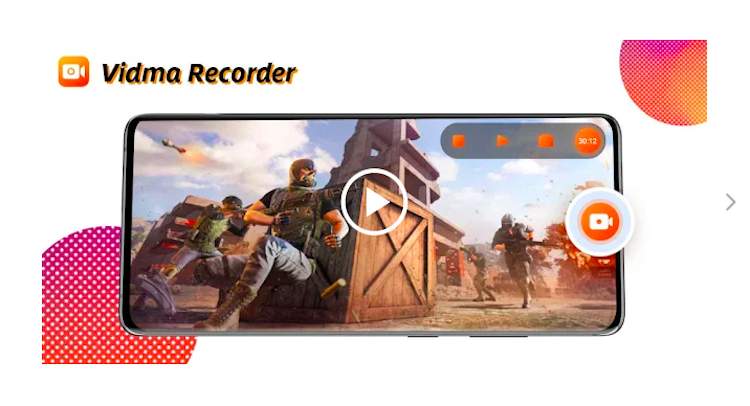 It is a great tool that comes with a great and easy-to-use interface. This all-in-one free screen recorder and video editor allows you to record videos without any time limit. Video quality is similar to other devices and it supports up to 1080p at 60fps. You can screen video recordings with or without sound.
Vidma Screen Recorder has some features like enabling the floating window to start screen recording quickly, hiding the record window during screen recording, stop video recording by shaking the phone. These features can be really helpful if you own them.
This tool comes with edit accessibility features and is free to use. Still, you can unblock more powerful video editing tools with Vidma Premium.
AZ Screen Recorder is a stable, high-quality screen recorder for Android that helps you record smooth and clear screen videos. With features like screen capture, screen video recorder, video editor, live stream screen, this screen recording app provides an easy way to record screen videos like video tutorials, video calls, game videos, live shows.
You can use this recorder to record game screens in high quality: 1080p, 60FPS, 12Mbps. There are several resolutions, frame rates and bit rates that you can choose from. You can also use Facecam, your face and emotions can be recorded in a small overlay window. You can freely adjust the size of the facecam and drag it to any position on the screen. With AZ Screen Recorder's screen broadcast function, you can stream your screen to Youtube, Facebook, Twitch, and more.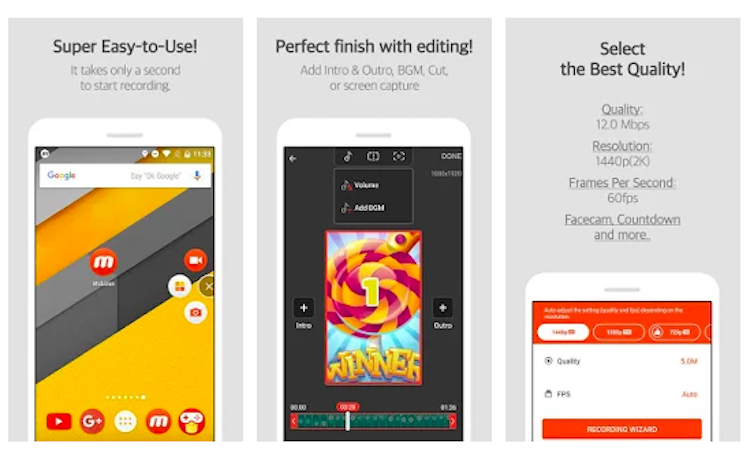 Similar to the other apps on this list, Mobizen Screen Recorder has several options that make it a must-have app on your Android device. Mobizen allows users to record in multiple resolutions from 240p to a maximum of 1080p, offers bit rates from 0.5 Mbps to a maximum of 12 Mbps, and also allows users to choose frame rates from 5 fps to 60 fps. The app also has a simple video editor, face cam options and more in-built applications.
The Mobizen Screen Recorder app also has a new "Clean Recording" mode, which records video without watermarks, without max timer and more. With this mod, users will be able to change the custom logo from Mobizen. This is a great add-on if you want to record videos with your brand watermark. Although there are some ads, these can be removed with additional in-app purchases.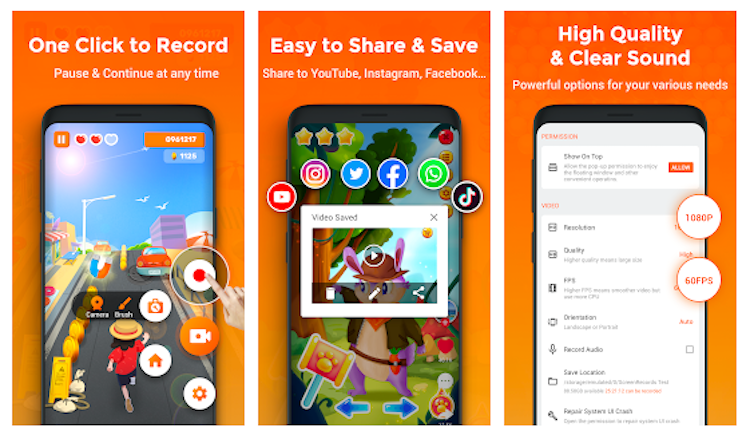 Developed by Inshot is one of the most downloaded screen recording apps on the play store. The apps have over 100 million active installs thanks to the key features offered to the users. It helps you to capture smooth and clear screen videos and screenshots. With a single tap on the floating window, you can record HD video tutorials, video calls and videos.
This is because of the video editing features like app transitions, adding background music, add stickers etc. and volume adjustments for various audio sources.
Almost every Android smartphone comes with Google Play Games. It acts as a mobile gaming hub, but very few of us know that Google Play Games includes an inbuilt screen recording feature. It works really well for newer Android versions and you can record games and other apps.
Google Play Games is free and you can record a screen up to 720p, however, the recording feature is not available in every country and to use this feature of Google Play Games on older Android versions, a rooted device is required.
The basic features of screen recorder apps are almost similar to each other and ADV Screen Recorder is no different. The tool enables you to record your phone screen in different resolutions (240p to 720p), offers various bit rates from 1Mbps to 15Mbps, and frame rate options from 24FPS to 60FPS. Screen Recording doesn't have the watermark that most other free apps include. The app also allows the inclusion of a choice of logo or text from the device itself.
You can add a delay of up to 3 seconds before the recording starts, as well as you can record internal and external audio. While recording, you can use the phone's cameras and position it in a window on the side of choice and also control the size and opacity of the window.
10. DU recorder
DU Recorder has over 10 million downloads and is one of the best screen recorders available. It enables you to record every activity on your Android's screen. With no time limit and no root access, it allows you to edit the recorded video using the inbuilt-editor and works in twenty different languages ​​without ads. The free version includes frame rates, front-facing cameras, different resolutions for videos, bit rates, GIF maker, shake gestures, and more.
That's all folks! These were some of the best Screen Recorder Apps for Android smartphones. Do let us know which is your favourite one.