Launcher apps for Android have long been a part of the Android experience. If you don't like how your home screens appear or behave, you may simply download an app to modify everything. Android launcher apps, without a doubt, have a far more broad collection of capabilities than any other type of app, and you can do some very incredible things with them. Keeping it close to stock, such as Google's Android, or going completely off the rails, such as Niagara Launcher, are both viable options. The top Android launchers are listed below.
Best Android Launchers
Lawnchair 2
Niagara Launcher
Microsoft Launcher
Action Launcher
Smart Launcher 6
Pixel Launcher
Nova Launcher
1. Lawnchair 2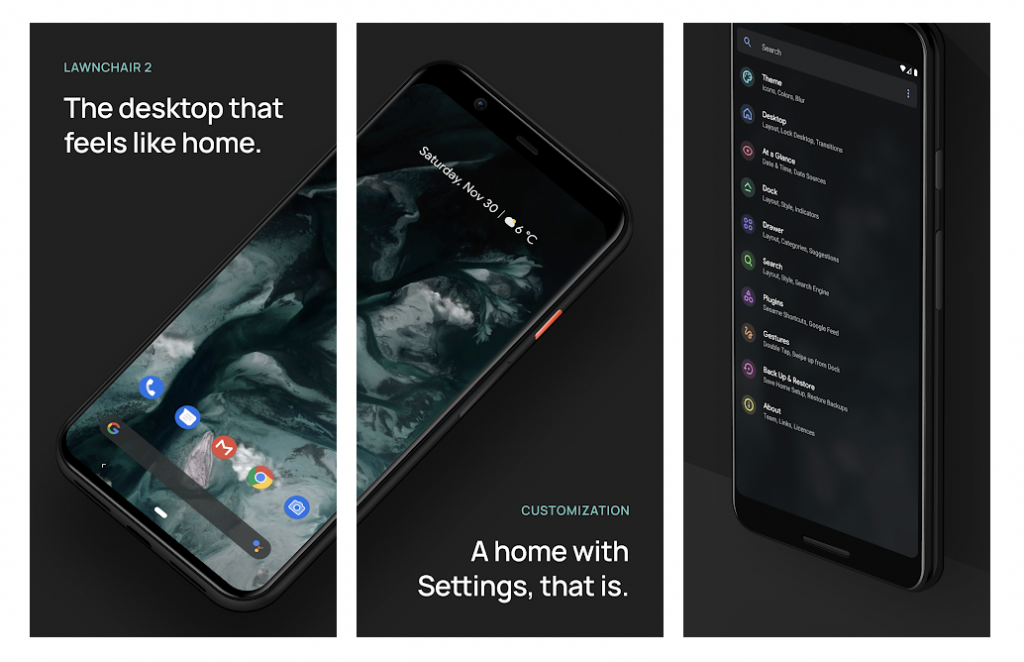 A popular Android launcher with a lot of customization options is Lawnchair 2. It's built on AOSP's Launcher3 and has a lot of the same features as Pixel Launcher, but with more customization options to enable you to customize things like app icons, widgets, themes, and search.
Lawnchair 2 is the ideal Android launcher if you want the vanilla/stock Android experience but also want some customization possibilities. Overall, it's a rather small launcher app that performs admirably even on low-powered devices. The At a Glance widget is one of the Lawnchair launcher's most notable features. This widget, as its name implies, displays information (and contextual data) from numerous sources on your home screen. You can also link Google Feed and Homefeeder to bring all of your feeds together in one spot if you desire.
2. Niagara Launcher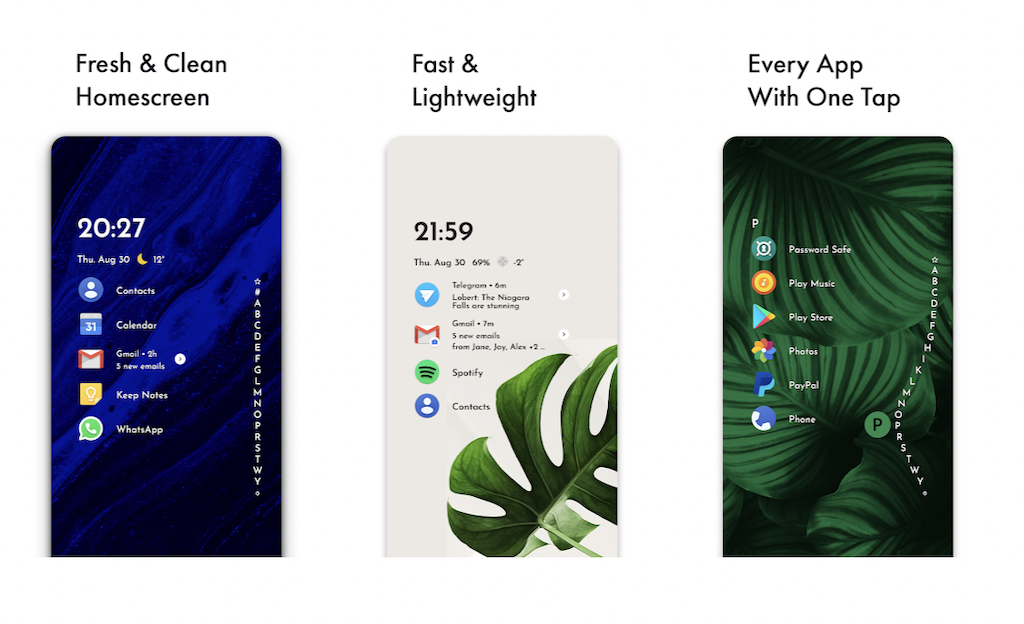 Another lightweight and minimalist launcher for Android is Niagara Launcher. The launcher's most notable feature is its minimalist design, which makes different aspects on the home screen easily accessible with only one hand. Niagara can increase the usability of an Android device with a huge screen by making it simpler to access apps and other objects on the screen.
In addition to convenient app accessibility, Niagara Launcher includes wave alphabet scrolling, which allows you to navigate through the list of apps by dragging your finger across the alphabet list. Similarly, when you receive an incoming message or alert, a notification appears automatically, allowing you to quickly access it. As a result of this method, you get a smooth experience on your device, with no lags or jitters in animations or transitions.
3. Microsoft Launcher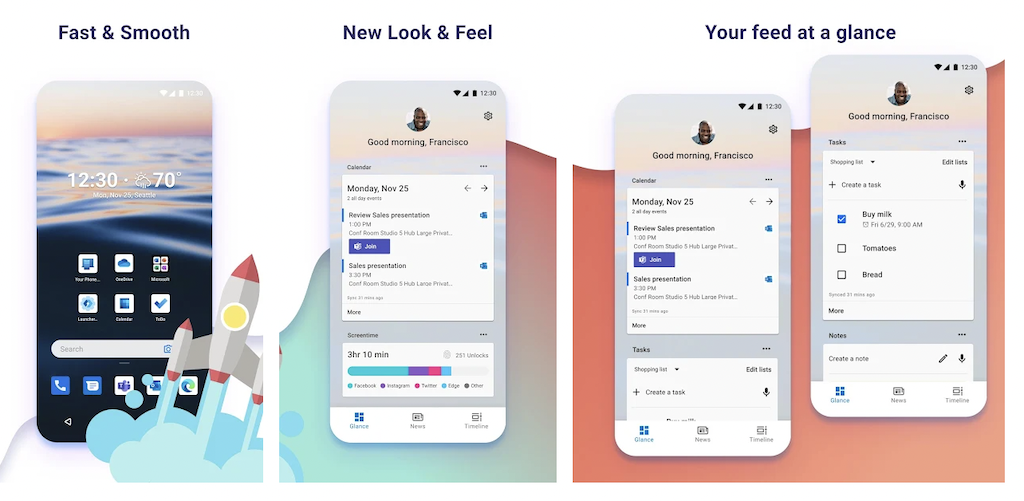 Microsoft Launcher is a productivity-focused Android launcher that displays all of your calendar appointments, to-dos, and notes on the home screen, ensuring that you are constantly aware of what's on your agenda. This is the greatest launcher you can use to maximize the usefulness of your smartphone if you're heavily reliant on Microsoft accounts (or services) for professional or personal use.
Similarly, if you use Windows and have your news feed configured with specific resources, you can utilize Microsoft Launcher to access the same news feed on your Android device. The option to utilize your device in landscape mode is another fascinating feature of the launcher.
4. Action Launcher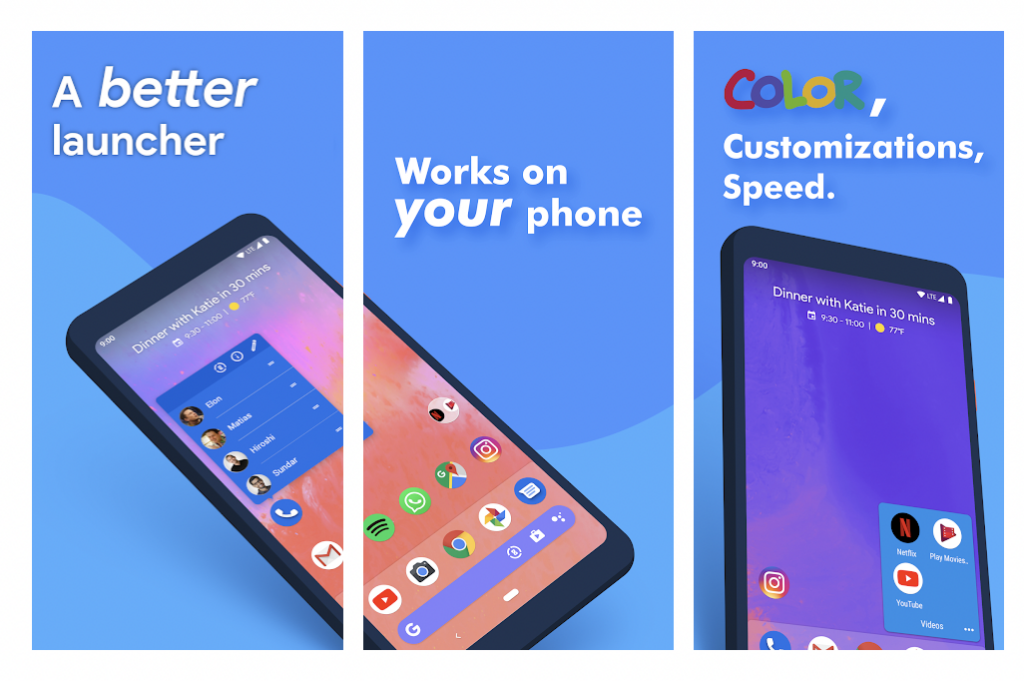 On this list, Action Launcher is one of the most configurable Android launchers. It has all of the standard Android launcher features, such as gestures, a drawer, and the ability to customize the home screen and dock. It also provides a slew of other options to enable you to customize your Android device down to the last detail.
App shortcuts, Google Discover integration, smart size icons, adaptive icons, shutters, covers, and quick themes are just a few of Action Launcher's popular features. While the shutters feature helps you preview your mail by revealing an app's widget when you swipe on its shortcut, the covers feature allows you to load apps, explore secret folders, and do more with a simple tap and swipe gesture controls.
Although Action Launcher's theming choices aren't as broad as Nova's, you can modify the look of the dock search bar, app icons, and folders.
5. Smart Launcher 6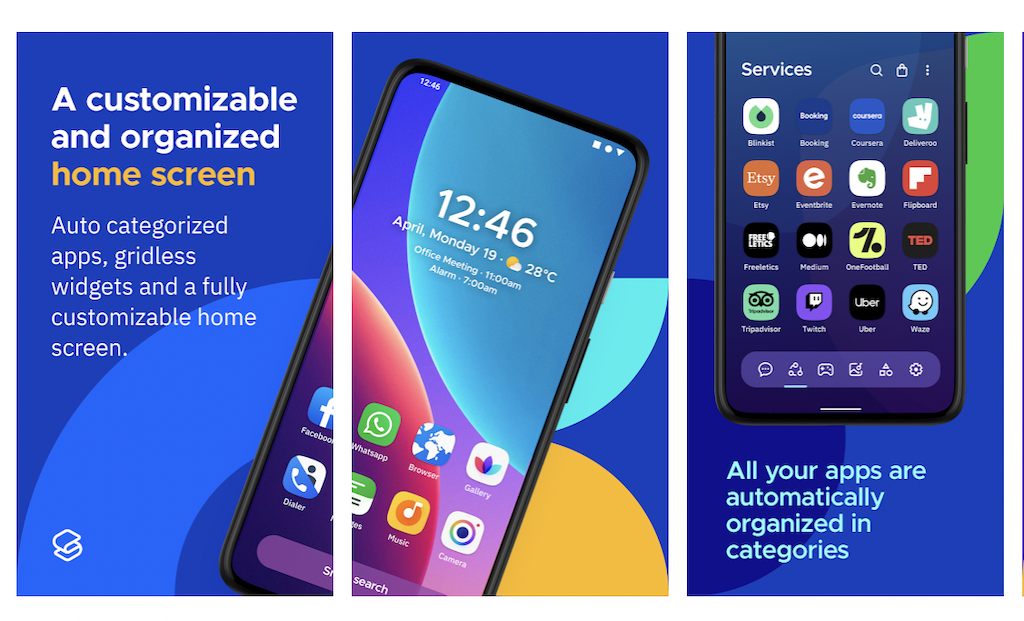 Smart Launcher 6 is one of the most popular Android launchers right now. It has a simple and clean layout that places all of the objects you need to interact with frequently at the bottom so you can quickly access them and complete day-to-day tasks.
That isn't to suggest that Smart Launcher 6 isn't packed with features. On the contrary, it comes with a number of customization options to allow you to customize various aspects of your device's UI, including fonts and themes, as well as the app drawer, app icons, and widgets. Not only that, but you may also use gestures and hotkeys to make various tasks easier.
When it comes to advanced features, Smart Launcher 6 boasts an automatic app sorting tool that organizes your apps into categories without you having to do it manually. It also offers an ultra-immersive mode that hides the navigation bar to optimize screen space.
6. Pixel Launcher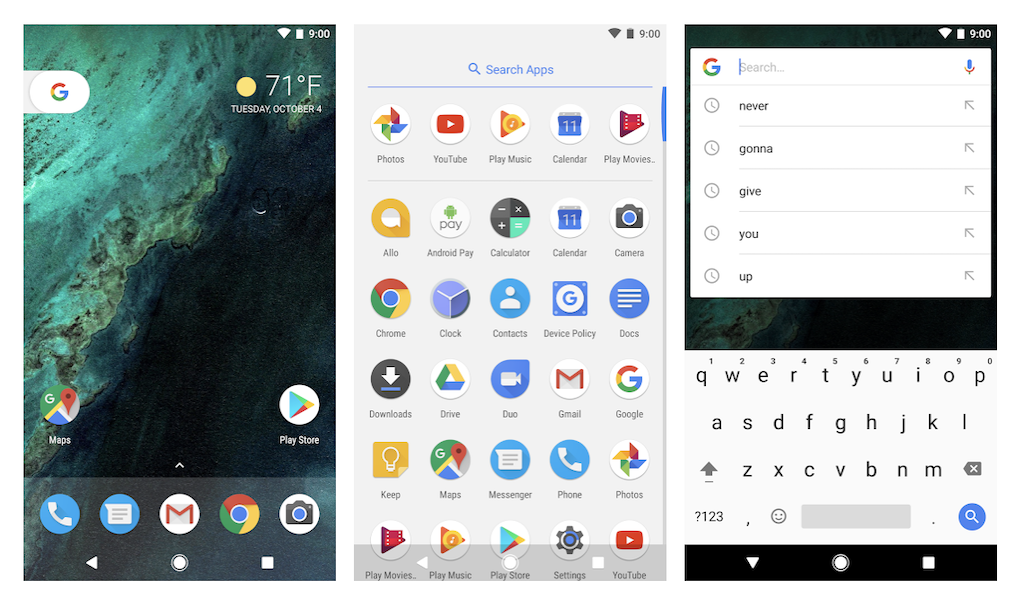 Pixel Launcher is the most basic Android launcher available on Google Play. It has the same look and feels like Google's default launcher for Pixel smartphones.
If you have an Android phone with heavy skin on top and don't like how it looks or behaves, you can install the Pixel Launcher to achieve a basic and seamless user experience. In fact, because it's lightweight and features smooth animations and transitions, it's perhaps the best launcher for low-powered phones.
When it comes to functionality, Pixel Launcher provides simple swipe motions, long-press shortcuts, and direct access to Google search from the home screen. It also has app suggestions and a Favorites row at the top to help you find your most-used apps quickly. Similarly, the launcher provides customized Google cards that feature news and information tailored to your preferences, similar to the experience on Pixel devices.
7. Nova Launcher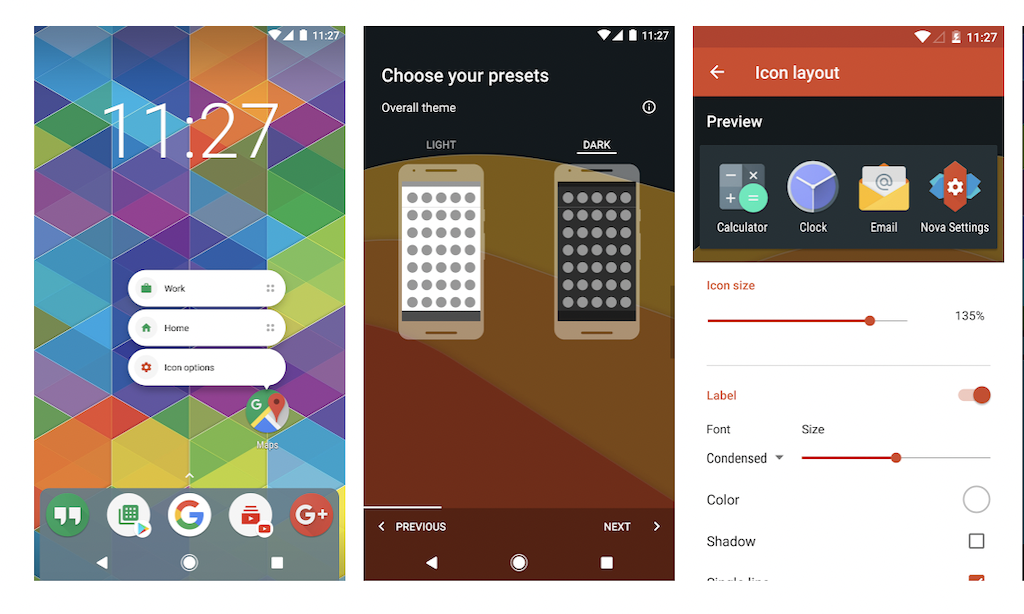 Nova Launcher is a well-known name in the world of Android customization. It's one of those launchers that gives you full control over the design and behavior of numerous UI elements, allowing you to tailor them to your preferences. Nova Launcher is the finest launcher for Android if you want to use custom icon packs because of its great compatibility.
Despite its extensive feature set, Nova Launcher remains user-friendly and smooth. Even on older Android smartphones, animations feel fluid and quick, and settings for various customization choices are easy to discover. You also have backup and restore functionality if you ever need to swap phones, which makes migrating your home screen layout and launcher settings much easier.
Nova stands apart from other launchers because of its subgrid positioning mechanism, which allows you to fine-tune the placement of icons and home screen widgets. After all, let's say you want to maximise Nova's potential. Upgrade to Nova Launcher Prime in that case to gain advanced gesture choices, app drawer groups, custom icon swipe gestures, and the ability to hide apps.
Personalize your smartphone
You can personalize your Google mobile phones by installing launchers and widgets. When you use the launcher, you can change the backgrounds of your home screen, change the font style according to your options, change the app drawer background, and much more. All these customization options can be made via Android launchers easily.
See More: Best Karaoke Apps for Android
See More: Best Smartwatches for Android and iOS