Antivirus software and a virtual private network (VPN) are like the Batman and Robin of online security. Many popular antivirus programs now come equipped with a VPN, because let's face it, a VPN is like a mask for your IP address, protecting your data from prying eyes like your ISP, government, hackers, and other third parties. Plus, it allows you to bypass geo-restrictions on streaming services like Netflix, Hulu, and Disney+.
But here's the catch, many VPNs that come with antivirus software are not as secure and fast as standalone VPNs, leaving you vulnerable to being spied on and tracked. Finding an antivirus suite that provides both a stealthy antivirus and a robust VPN is like finding a needle in a haystack. But after testing dozens of antivirus packages, we've found the five needles (antiviruses) that not only offer dependable protection against malware but also boast a high-class VPN.
This article will reveal the top antivirus programs, why you need both an antivirus and VPN together, and more. So, buckle up and prepare to step up your online security game.
Here's a quick rundown of the top antivirus programs with VPN included in 2023:
Norton 360 – Our number one recommendation for the best antivirus that includes a VPN. Norton's Secure VPN allows you to connect to many servers around the world and has a no-logs policy.
Bitdefender Antivirus – An excellent antivirus software with a high-quality VPN. It offers malware protection, fast VPN speed, and optimized CPU performance.
Surfshark Antivirus – Our top pick for the best overall antivirus with a VPN. It's affordable, offers great web protection, and has a user-friendly VPN.
Avira Antivirus – A dependable antivirus software with secure VPN that covers unlimited devices.
Vipre Antivirus – Comes with an impressive list of features and an excellent malware detection rate. The VPN feature allows you to switch tunneling protocols.
TotalAV – Performed exceptionally well during our tests, with both the antivirus and VPN being highly effective. The user interface is friendly and the optimization tools are top-level. However, the VPN lacks adequate privacy protection.
Why use an Antivirus with a VPN?
To safeguard your privacy and devices, it's recommended to utilize both an antivirus software and a VPN. Antivirus programs provide protection from malicious software like viruses, while a VPN encrypts your data and hides your online activities.
The strength of a VPN lies in its ability to hide your online identity by routing your traffic through a server and changing your IP address. It also ensures the privacy of your data by encrypting it and making it inaccessible to ISPs, hackers, and governments.
However, a VPN is not a substitute for an antivirus. Antivirus software offers an extra layer of protection by detecting, analyzing, and blocking potential malware threats from reaching your device. So while a VPN is necessary to protect your online activities, your device still needs an antivirus to provide comprehensive protection.
How we tested and selected these antivirus with VPN programs?
With so many antivirus options available, finding the right one that includes a VPN that can match up to reputable providers such as ExpressVPN and NordVPN can be challenging. To select the best antivirus and VPN combination, we evaluated several factors:
Malware protection: The antivirus software had to provide up-to-date defense against potential threats such as ransomware, spyware, phishing attacks, and other forms of malware. To ensure they were effective, we used sample malware to test each program.
VPN security: We checked that the VPNs on the list used strong security measures, such as 128 or 256-bit encryption, and followed a no-logs policy to ensure no data was retained by the provider. Other security features, such as kill switches and DNS leak protection, were also considered.
VPN accessibility: One common issue with antivirus providers is limited bandwidth for the VPN. As an online professional, streamer, and gamer, I need sufficient data. So, we tested the VPNs on this list to ensure they performed well, and we checked if they could bypass geo-restrictions to access streaming services like Netflix.
Usability: The antivirus software had to be easy to install and use, even for those who are not tech-savvy. A user-friendly interface and reliable customer support were important factors in our selection.
Value: All the antivirus packages we chose offer an impressive range of features at an affordable price.
Top 6 Antivirus Programs with Built-In VPNs
We've put numerous antivirus software to the test to bring you the top programs that offer not only top-notch antivirus protection, but also a secure VPN experience. In our analysis, we considered factors such as malware protection, VPN security, accessibility, usability, and value to ensure that you get the best protection for your devices and privacy. With our detailed analysis, you can make an informed decision about which antivirus software with a VPN is right for you.
1. Norton 360 – Comprehensive Protection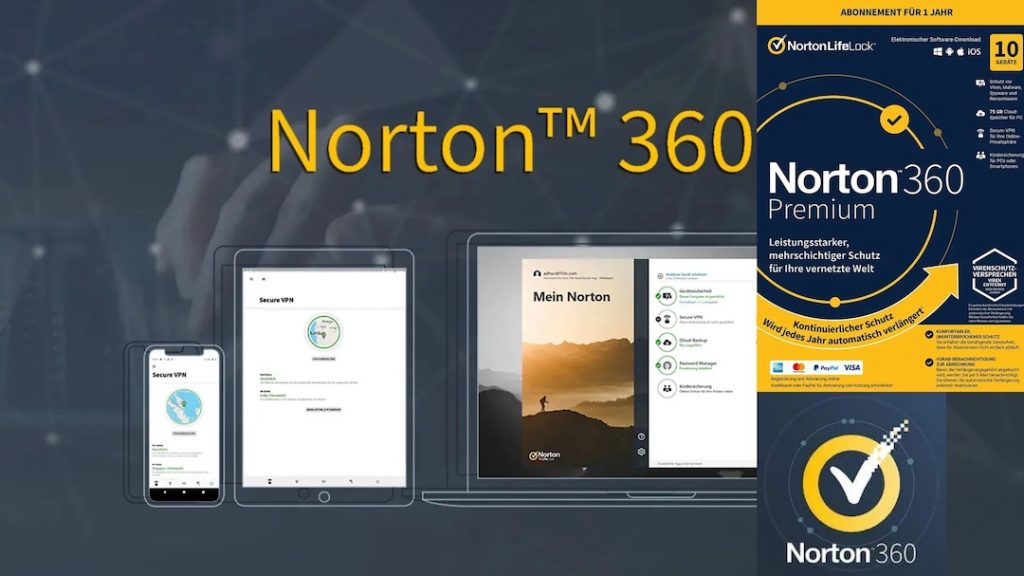 Norton 360 has been at the forefront of protecting devices against cyber threats for over 30 years. Its comprehensive 360 package offers a complete antivirus solution that includes a VPN with unlimited data.
The Secure VPN is user-friendly and offers access to over 73 servers in 29 countries. This number is relatively small compared to standalone VPN services like ExpressVPN. However, it successfully unblocks Netflix and follows a no-logs policy, ensuring that Norton does not collect your information. Unfortunately, the VPN lacks a kill switch and blocks P2P traffic, making it unsuitable for torrenting.
In terms of malware protection, Norton 360 effectively blocked all the malware samples in our tests. The software also offers additional security features such as a password manager and parental control.
The VPN feature is included in the standard Norton 360 package, which covers only one device. Upgrading to the Deluxe plan provides access to more features, such as 40GB of cloud storage and protection for up to 5 devices.
Pros:
Built-in reliable VPN
Ability to bypass geo-restrictions
Unlimited VPN data
Cons:
Features:
Available on: Android, Windows, iOS, and macOS VPN
Data Limit: Unlimited
Netflix Unblocking: Yes
2. Bitdefender Antivirus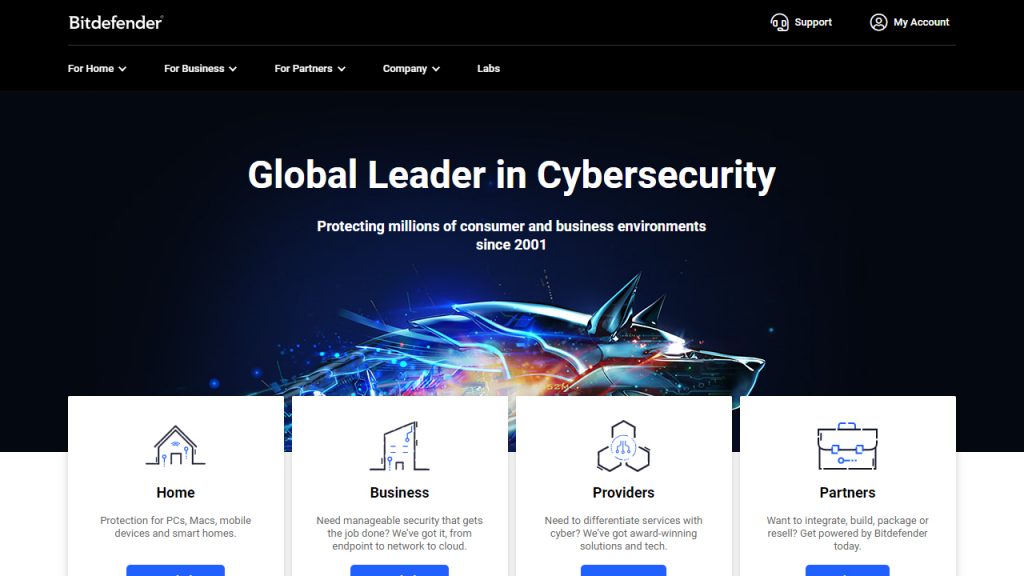 Bitdefender is an excellent choice if you're looking for a top-notch antivirus that also includes a VPN. It offers exceptional performance and is highly rated in malware protection.
This antivirus boasts advanced features like real-time protection, anti-fraud and phishing protection, web attack prevention, and advanced threat detection. There's even a free version, but it doesn't include the VPN feature. To access the VPN, you'll need to upgrade to the Bitdefender Antivirus Plus package, which is the cheapest offering. However, the VPN comes with a daily data limit of 200 MB.
One of the standout features of the VPN is the kill switch, which ensures that your traffic remains protected in case of any interruption. Bitdefender uses Hotspot Shield's technology to provide a secure and reliable VPN service. There's also a separate Bitdefender app with more features, but it comes at a higher cost.
Pros:
Outstanding malware detection
VPN has a kill switch
Affordable packages
Cons:
Limited daily data for the VPN
Features:
Compatible Devices: iOS, Android, Windows, and macOS
Netflix Unblocking: No
VPN Data Limit: 200 MB per day
3. Surfshark Antivirus – An All-In-One Solution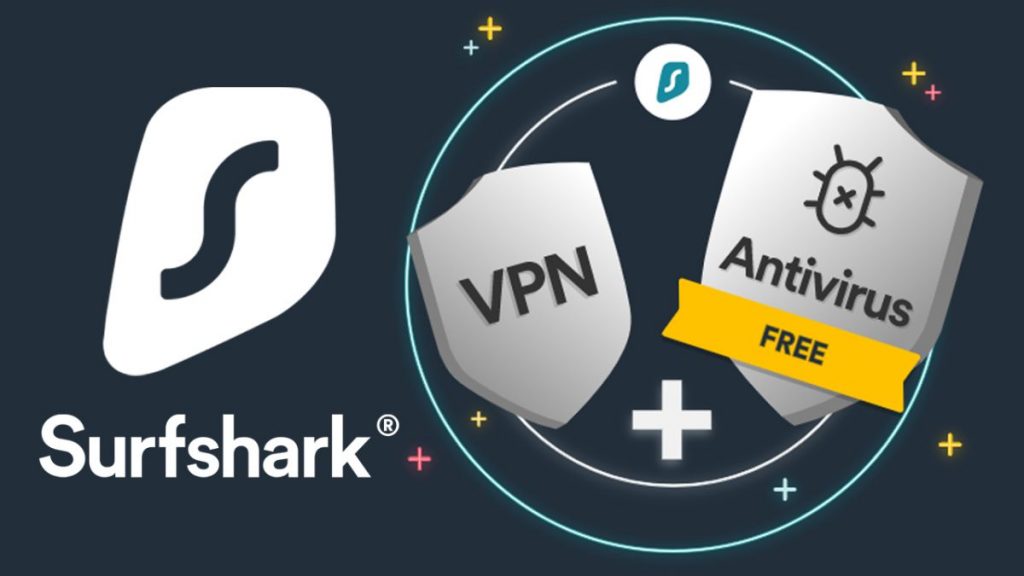 After conducting a comprehensive evaluation, we found Surfshark to be the best antivirus that integrates with a top-notch VPN service and provides powerful malware detection capabilities. This antivirus package delivers a comprehensive plan that comprises essential VPN features.
Surfshark VPN offers online protection through its security measures, a strict no-logs policy, and access to more than 3200 servers in 95 countries. Additionally, it includes obfuscation, high-speed connectivity with Wireguard, data leak alerts, a kill switch, and a private search tool.
Surfshark antivirus provides strong security and continuously monitors your device for potential threats. You can also schedule automatic scans for your preferred folder or the entire device. The antivirus is user-friendly and keeps its database updated to ensure maximum protection.
With Surfshark VPN, you can unblock your favorite streaming platforms and channels, such as iPlayer, BBC, Amazon, Netflix, and DAZN.
Lastly, Surfshark's pricing is affordable and offers great value for money. The provider allows you to use the antivirus on up to five devices for only $29.88 per year, and offers a 30-day money-back guarantee if the service does not meet your expectations.
Pros:
Unblocks popular streaming sites
Boasts robust security features
3200+ servers in 95 countries
30-day money-back guarantee
Cons:
Does not include a firewall.
4. Avira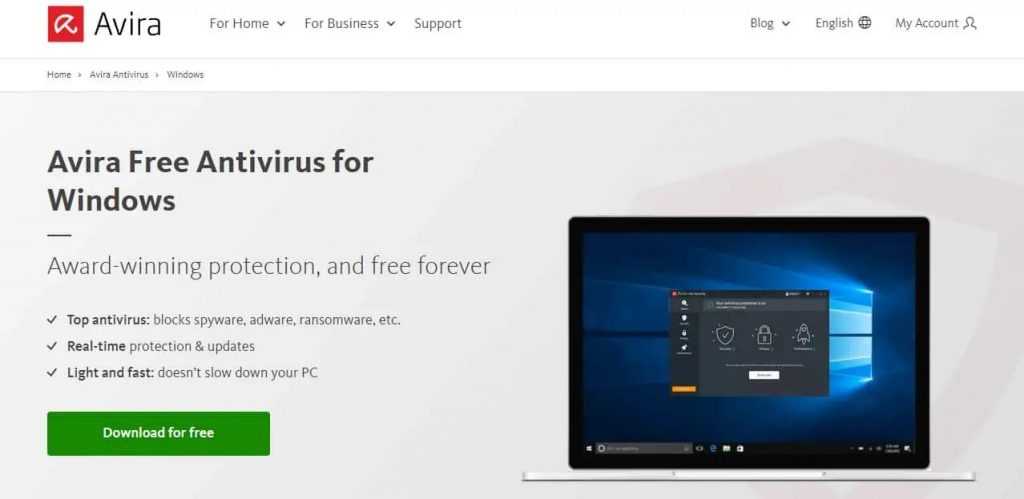 Avira Antivirus is a reliable choice for those who are looking for an antivirus program that comes with a VPN feature. The best part is that you can access the VPN for free with a 500 MB monthly data limit, which is ideal for light browsing. However, the free version does not allow you to select a server location, making it impossible to bypass geo-restrictions.
If you need more advanced features, you can upgrade to Avira Phantom VPN Pro. This version offers unlimited device support, military-grade 256-bit encryption, DNS leak protection, no-logs policy, and access to 50 servers in 36 countries.
In terms of antivirus protection, Avira is also reliable and user-friendly, with a high rate of malware detection. The software is lightweight and comes with additional features such as real-time protection, virus scans, password manager, file shredder, and file quarantine.
In terms of pricing, the paid plans of Avira Antivirus offer even more benefits, including email protection, internet protection, and customer support. The most affordable plan, Avira Antivirus Pro, is still an excellent choice for those who are looking for robust antivirus protection.
Pros:
Free VPN option
Uses proprietary technology
Excellent malware detection rate
Cons:
Limited data on the VPN in the free version
Key Features:
Platforms Supported: Windows, Android, macOS, and iOS
Netflix Unblocking: No VPN
Data Limit: 500 MB per month
5. Vipre Antivirus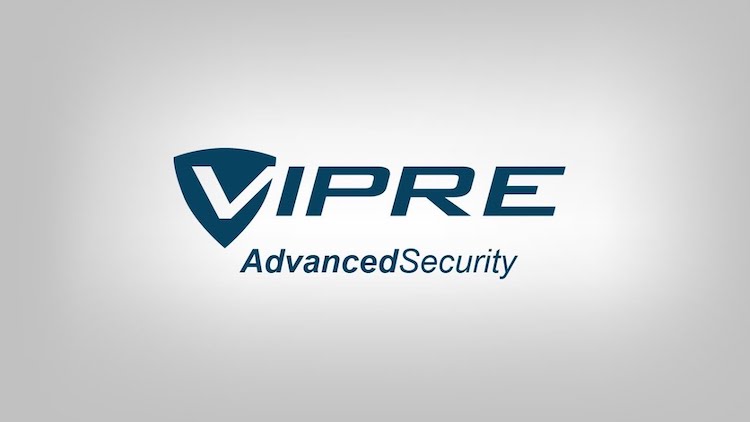 Vipre Antivirus may not be as well-known as other antivirus brands, but it still offers a comprehensive suite of features. These include a browsing track cleaner, anti-spam, webcam and microphone blocker, dark web scanner, and a firewall. It also features device scanning, real-time protection, and solid malware detection rates.
One of the standout features of Vipre antivirus is its Internet Shield VPN. Built on the IPVanish VPN technology, the VPN allows you to choose between OpenVPN TCP, OpenVPN UDP, and IKEv2 protocols. The VPN can be used as a standalone app, in addition to the built-in antivirus app.
The VPN is very effective at bypassing geo-restrictions on Netflix and other popular streaming services. And with unlimited data and bandwidth, you'll be able to stream content without any restrictions.
Vipre Antivirus also includes an obfuscation feature that hides your VPN traffic, which can be useful if you live in a country where VPN usage is prohibited, like China.
Pros:
Unrestricted bandwidth and data
Traffic obfuscation
Device scans and real-time protection
Cons:
Key Features:
Compatibility: Windows, macOS, Android
Netflix Unblocking: Yes
VPN Data Limit: Unlimited
6. TotalAV Antivirus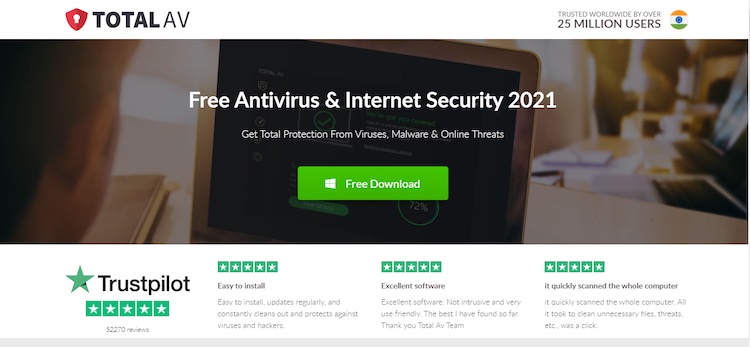 TotalAV is a newcomer in the antivirus industry, but it has quickly established itself as a strong player by offering both excellent antivirus protection and a powerful VPN at an affordable price. If you are looking for a complete antivirus and VPN package, TotalAV is a great choice.
One of the standout features of TotalAV's VPN is its ability to unblock international content. With its OpenVPN protocol, which is frequently updated to bypass restrictions on popular streaming sites, you can enjoy unrestricted access to your favorite shows and movies. For instance, during testing, it was easy to watch movies on BBC iPlayer.
TotalAV's antivirus suite is based on Avira's technology and provides robust security features like anti-phishing, real-time and on-demand detection, and other optimization tools. Additionally, its protection against ransomware and other online threats is top-notch. It is compatible with devices running iOS, Windows, Android, and macOS.
The user interface of TotalAV is also a standout feature, with all the features and settings displayed on an easy-to-use dashboard. This makes TotalAV a great solution for those who want a simple, user-friendly antivirus and VPN package.
Pros:
Real-time and on-demand protection
Unlimited VPN data limits
Intuitive user interface
Cons:
No kill switch for the VPN
Key Features:
Supported Devices: iOS, Android, macOS, Windows
Netflix Unblocking: Yes
VPN Data Limits: Unlimited
Brands that fell short: –
1. McAfee
McAfee is a well-known brand in the market, but its VPN is unfortunately slow, doesn't unblock streaming sites, and has a strict no-logs policy. As a result, it's not as good as any of the options listed above.
2. Kaspersky
Kaspersky is a well-respected antivirus brand, but it offers its VPN as a separate product. Despite both the antivirus and VPN providing top-notch protection, it didn't make the list due to its high cost.
3. Avast
Avast is a well-established VPN service that has been a leader in the industry for a long time. However, it recently became involved in a major scandal for selling user data to third parties, which is why we no longer recommend it.
What's the difference between an antivirus and a VPN?
Antivirus and VPN programs serve different purposes in protecting your online security. An antivirus software focuses on identifying and blocking malicious activity by performing real-time scans on your device. On the other hand, a VPN encrypts and redirects your online traffic, masking your online identity and keeping you anonymous.
A VPN offers an extra layer of privacy by preventing prying eyes from monitoring your online activities, especially useful in countries with strict censorship laws or for sensitive professions such as political activism or investigative journalism. Additionally, a VPN allows you to access geo-restricted content and secure your connections on public WiFi.
Both antivirus and VPN programs are crucial for maximizing your online safety. Therefore, using both of them together is highly recommended.
Here's how to use an antivirus with a VPN:-
Choose an antivirus that includes a VPN. Our top recommendation is Norton 360.
Download and install the software on your device.
If necessary, register and sign in.
Find the VPN feature within the antivirus program or locate the standalone VPN app (if provided).
Select the desired VPN server to connect to.
To verify if the antivirus VPN is functioning, search for "what's my IP address" before connecting to the VPN server. Compare the IP address after connecting to see if it has changed. If it remains the same, the VPN may not be working or there may be a malfunction.
The shortfall of using an antivirus with a VPN
Using an antivirus with a VPN comes with some limitations compared to a standalone VPN service. Antivirus software is primarily designed to protect against malware, and the VPN feature is just an added bonus. So, it may have limited capabilities compared to premium VPNs like ExpressVPN.
For instance, premium VPNs offer a vast network of servers that allow you to bypass geo-restrictions to access content on streaming platforms like Netflix, while antivirus VPNs often have fewer servers and may not support this feature. They also have more advanced security features like a kill switch, tunneling protocols, and ad blockers. Moreover, many premium VPNs support torrenting, while antivirus VPNs often restrict P2P traffic.
Additionally, antivirus VPNs usually come with data limits, which may not be enough for data-intensive activities like streaming or gaming. As a result, you may only be able to use it for light browsing. Also, connections tend to be slower with combined apps compared to standalone VPNs.
Can a free antivirus have a VPN included?
While the majority of antivirus programs with VPNs require payment, there are some that offer a free option. For example, Avira's free antivirus version comes with a VPN, though it has restrictions, such as only providing 500 MB of data per month, making it only suitable for light browsing. Additionally, there aren't any server options to choose from, so accessing geo-restricted content may not be possible.
It's important to remember that with cybersecurity tools, you often get what you pay for. Most free VPNs have limited features, and it's advisable to invest in a dependable, secure service instead. Fortunately, there are many premium VPN providers that offer affordable packages.
Wrapping it up: –
In conclusion, our list showcases the various options available if you want to combine antivirus and VPN services. It's important to keep in mind that the VPNs included in antivirus software can vary in terms of features and pricing. While some may have limited capabilities, others are on par with standalone VPN services. With the growing threat of malware and data breaches, having both antivirus and VPN protection is becoming a crucial aspect of cybersecurity.
FAQs:- Best antivirus with VPN
Can a VPN replace an antivirus?
In short, no, a VPN cannot replace an antivirus. These two tools serve different functions and have different purposes in ensuring online safety. An antivirus focuses on detecting and eliminating malware, while a VPN encrypts your data and masks your IP address to protect your privacy. Using both an antivirus and a VPN together provides a comprehensive layer of protection, so it's recommended to have both.
Is there an antivirus/VPN package that supports multiple devices?
Yes, there are antivirus and VPN packages that support multiple devices. However, this feature is typically available with more expensive subscription plans, so be sure to check beforehand before committing.
Will an antivirus block a VPN installation?
Antivirus does not necessarily block the installation of a VPN. Antivirus software may block or restrict some apps, but this typically does not impact the performance of a VPN, regardless of whether it is part of the antivirus package or installed separately.
Are VPNs trustworthy?
When it comes to the trustworthiness of VPNs, it is crucial to consider the provider's privacy policy. Some VPNs retain users' browsing data, which could potentially be sold, lost, or misused, defeating the purpose of using a VPN. Therefore, it is essential to choose a VPN with a no-log policy to ensure your privacy and security online.
What antivirus is compatible with ExpressVPN?
ExpressVPN is compatible with most antivirus software, making it a good alternative to an antivirus's built-in VPN if it falls short of your expectations. ExpressVPN is known for its high performance and reliability, which is why it's considered one of the best VPNs available.