By the virtue of its sheer nature, an iPhone is always at the risk of getting damaged, stolen or lost. Losing your beloved iPhone can have massive ramifications. You certainly cannot evaluate the cost of losing an iPhone monetarily though. Through common consensus, it can be agreed that the photos, contacts, messages, music and other personal information stored on an iPhone are much more valuable than the device itself. So, how would you retrieve or restore all the lost data/information? By going through our list of the best free iPhone data recovery software, of course! After all, we scoured the web for you to find these sneaky gems that can restore all your crucial data.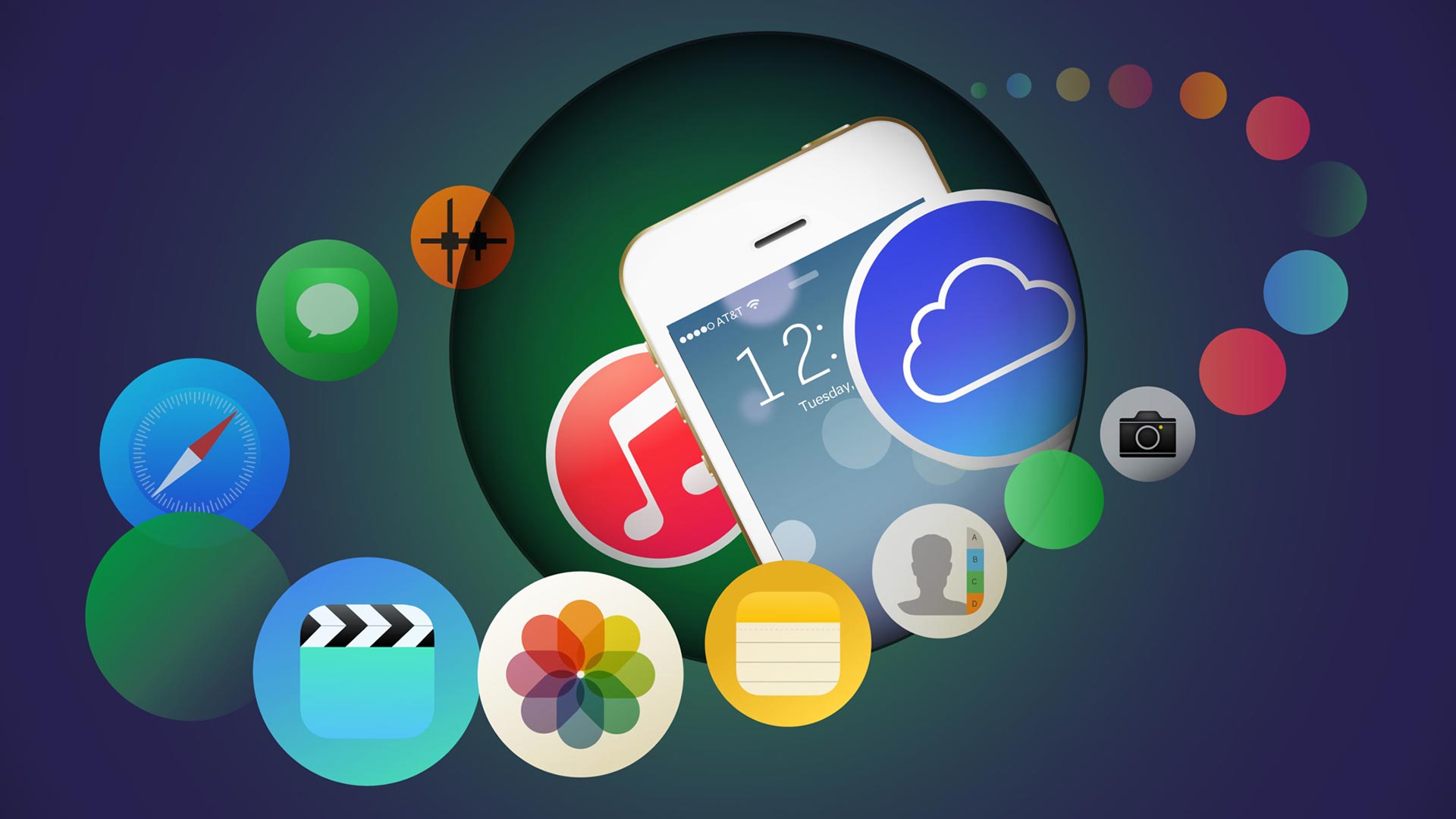 How to choose the Best Free iPhone Data Recovery software without backup in 2019?
Ideally, you can still somehow recover lost data from a hard drive, but it is a big feat to survive from an iOS data gaffe. Unless, you have a formidable iPhone data retriever by your side. So, firstly you need to identify what files you need to recover, the size of the files, the time/speed at which you would want to reclaim your essential data back, and most importantly — the method you would prefer.
Your method could range from accessing data from iTunes backup, iCloud backup or salvaging inaccessible data from the damaged or corrupted iPhone/iOS device itself. Remember, even if the iPhone is lost you can still recover lost data especially music as long as the iTunes/iCloud is synced and periodically updated.
So, are you ready for our roundup of the best free iPhone data recovery software? Let's get started-:
The 10 Best Free iPhone Data Recovery Software of 2019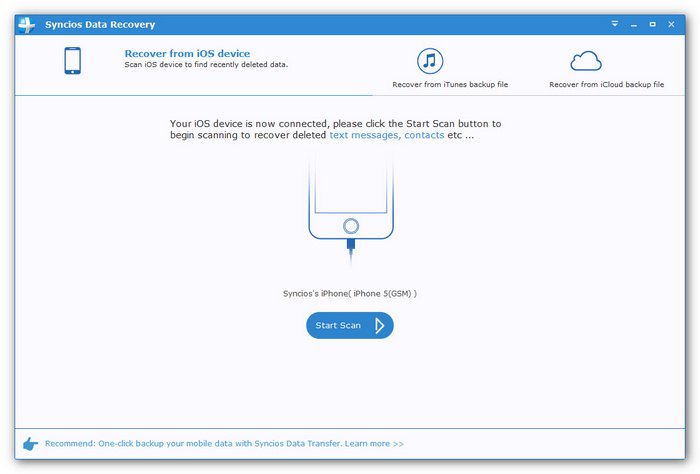 Through Syncios Data Recovery software, you can deftly restore all lost or deleted data from your iPhone, or other iOS devices even if you are a first-timer anxiously looking to retrieve lost data on your iPhone. Syncios can retrieve a gamut of crucial data types such as documents, audio files, videos, contacts, messages and more. You would be glad to know that Syncios not only recovers data from iPhones and iPads, but also works like a charm for resuscitating old iPods.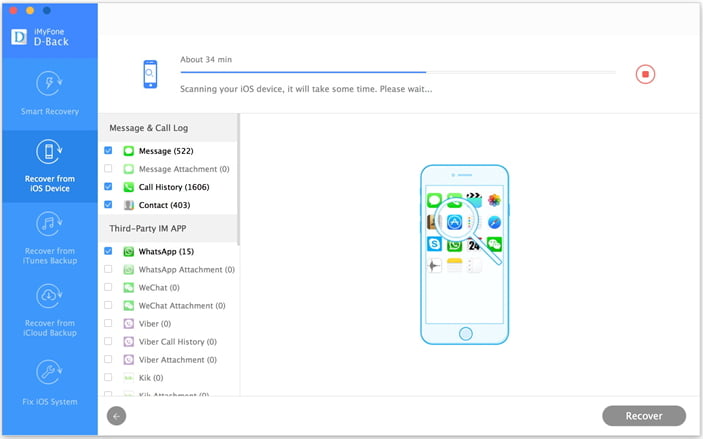 Considered by many as one of the best free iPhone data recovery software, iMyfone D-Back helps facilitate the recovery of data in both Mac and iPhone as well as any iOS-based device whose data has been accidentally deleted or damaged. You can recover a plethora of data types such as iMessages, WhatsApp texts, notes, contacts, Photos, call history, et al.
In fact, iMyFone can swiftly and easily restore data from iCloud Backup, iTunes, and even directly from the iOS device with a slick preview function to examine and recover what you seek.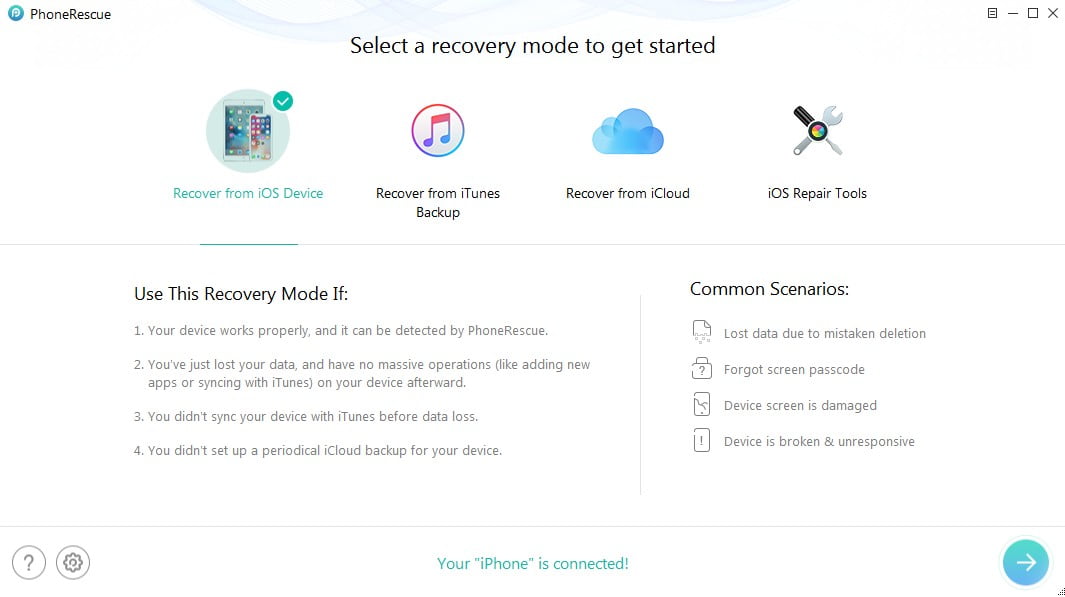 This nifty data recovery software offers recovery in three compact modes from iTunes, iOS device and iCloud. Like many others on our list of the best free iPhone data recovery software, you can also preview a thumbnail of the deleted files before the retrieval takes place.
iMobie PhoneRescue is compatible with all the latest models of iPad, iPhone, and even iPod touch. However, one downside is that you won't be able to recover any overwritten data.
4) Tenorshare iPhone data recovery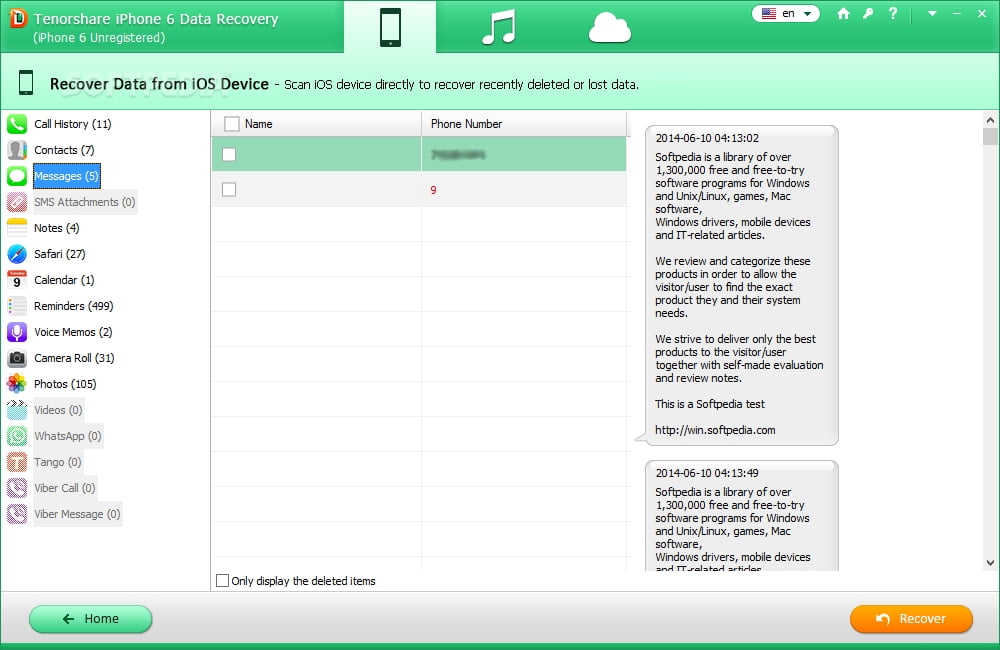 With a robust mechanism to recover up to 15 types of files on your iPhone, Tenorshare iPhone data recovery is a very handy tool. And, oh, it does provide you the ability to preview restorable data using 3 different retrieval modes. However, Tenorshare is not as fast as any of the aforementioned software, and could take a considerable amount of time to reclaim all your data.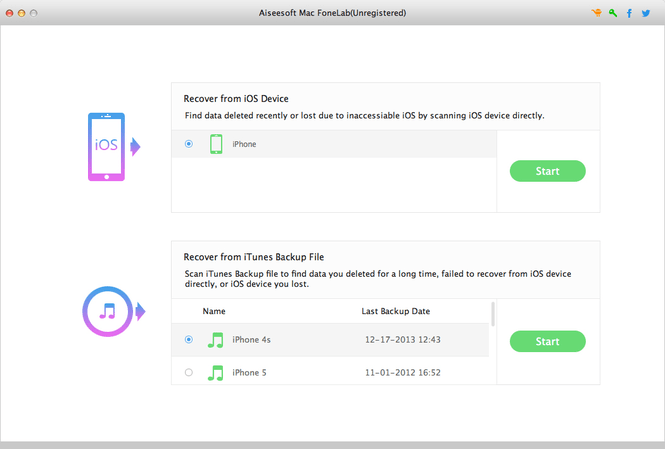 Aiseesoft Mac FoneLab is a formidable iPhone data recovery tool that boasts a very easy-to-use and intuitive interface. It does help that Aiseesoft Mac FoneLab is fully compatible with the newest iOS versions including iOS 11.
With a capacity to recover up to 19 data types with ease and grace, Mac FoneLab is a solid contender on our list of the best free iPhone data recovery software. Moreover, this free data recovery tool is pretty fast when it comes to digging up lost data such as call history.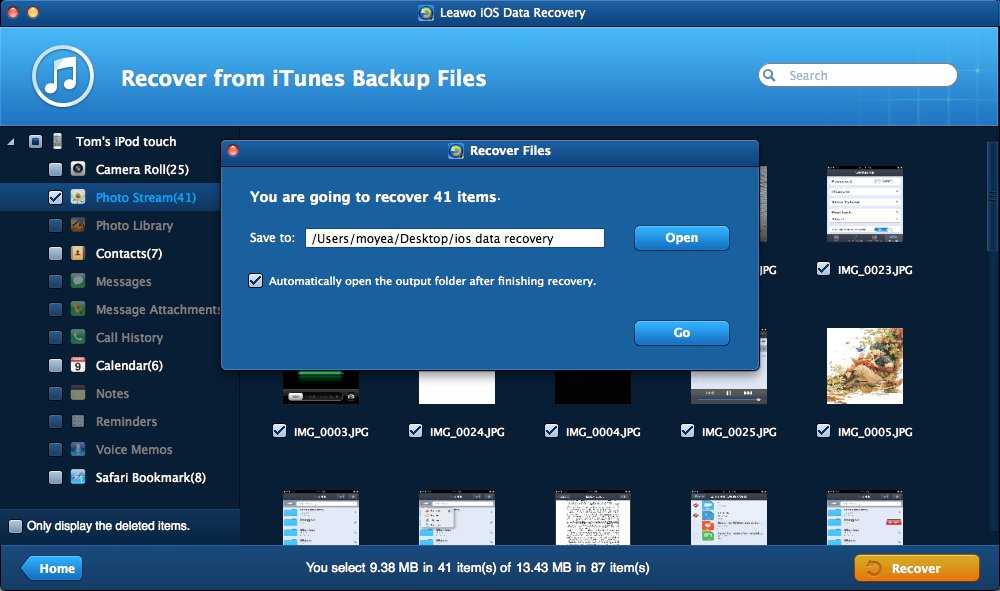 Another remarkable iOS data recovery software, Leawo iOS data recovery is compatible with all iOS devices and offers a multitude of features such as file search, file preview, and filtering options.
It is your best bet if you want to reclaim lost or accidentally deleted information/data such as songs, videos, calendars, contacts, messages, notes, et al. from your iPhone, iPad and iPod touch. Further, Leawo also supports iOS 9.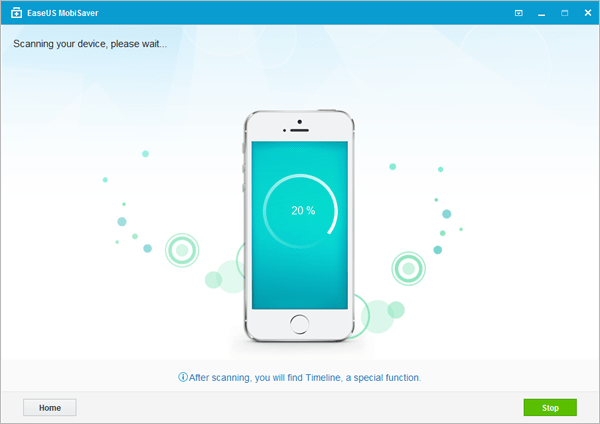 EaseUs Mobisaver is a very simple and easy-to-use iPhone data recovery software that is also compatible with old iPhones such as iPhone 6 and 6S as well as iOS 9-based devices. Of course, EaseUS Mobisaver does allow you to preview lost files before the retrieval starts.
Albeit, one of its biggest limitations is that it takes a sufficient amount of time to connect to an iPhone sometimes, but works smoothly once connected.
8) FonePaw – iPhone Data Recovery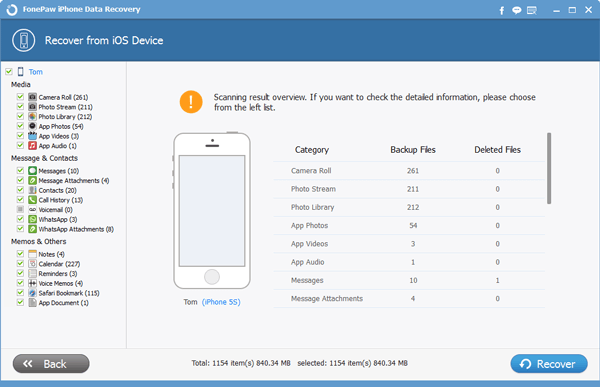 One of the best free iPhone data recovery software for retrieving lost data such as call history, FonePaw – iPhone Data Recovery can come in handy for first-time users who are completely unaware of the nuances of iPhone data recovery and want a quick fix to their woes. You can recover lost data such as iMessages, WhatsApp, Safari Bookmark, Camera Roll, Calendar and SMS from iPhone, iPod touch and even iPad.
You would be delighted to know it supports old iOS devices such as iPhone 6 Plus, iPhone 6s Plus, iPad Pro/Air, and iPhone 6 too! Moreover, FonePaw- iPhone data recovery is fully compatible with Mac OS and comes with a nice iTunes pairing backup feature.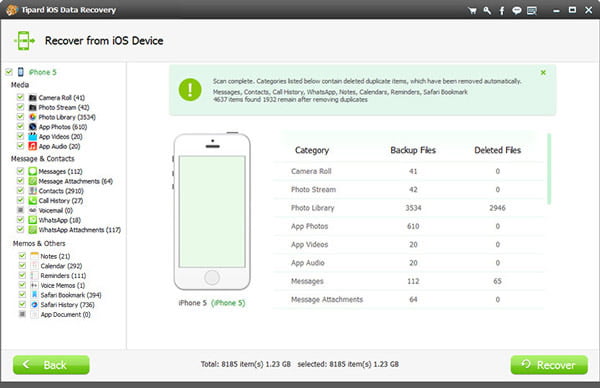 An incredibly fast iPhone data recovery software tool, Tipard iOS data recovery can get back lost data of your iPhone in a jiffy. It can easily retrieve important information such as messages, notes, photos and contacts not only from your iPhone, but even from your iPad and iPod touch.
10) iSkysoft iPhone Data Recovery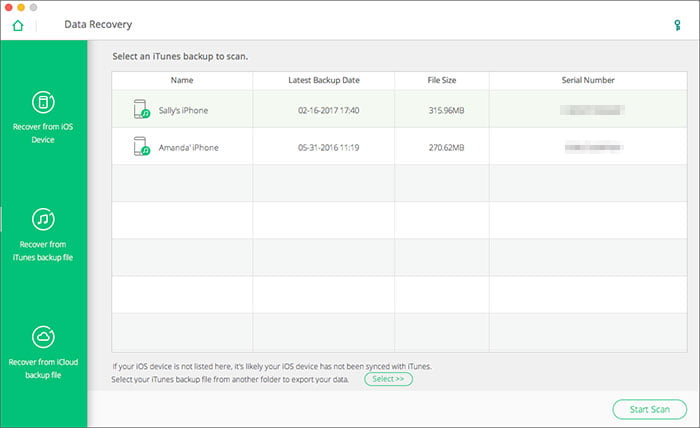 Thanks to a very hands-on and intuitive interface that is a cakewalk for users who are recovering data for the first time on their iPhone, iSkysoft iPhone Data Recovery is a no-brainer to try out.
Moreover, this free software allows you to select multiple types of data and restores them back to your device in a secure manner. However, one major limitation of this tool is that it is very slow and demands a lot of time to scan the device.
And…that's a wrap! Did you like our roundup of the best free iPhone data recovery software? Did we miss out on any free data recovery software that you know of? Sound off in the comments.
SEE ALSO: Best Free VPN for iPhone