Desktop customization has become the "in thing" over the past couple of years. Now almost everyone wants to personalize their desktop and stylize it the way they want since Windows OS doesn't proffer much in terms of customization. Remember, the way your desktop screen looks tells a lot about you too! It is akin to a reflection of who you are and subtly alludes to how you like to organize things based upon your likes and dislikes. And, what better tool can accomplish that feat than some of the best Rainmeter skins? Especially, if you are using a Windows 10, 8.1, 8 or Windows 7 computer, you might as well want to revisit how your desktop looks like.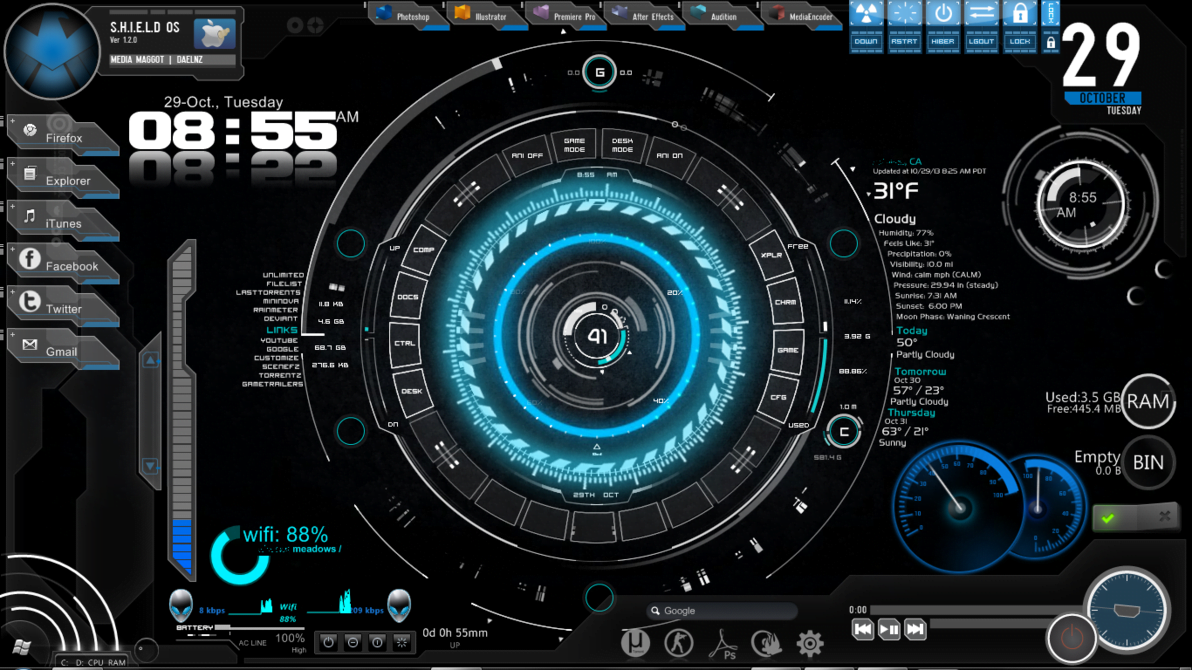 Now then, there are abundant ways through which one can customize their desktop with a smorgasbord of default gadgets, widgets, screensavers, wallpapers and what not!
However, no matter what you do, nothing can make your desktop look more snazzy and distinctive than a nifty third-party tool, read Rainmeter, that is absolutely free.
So, if you are scouting for some of the best rainmeter skins to customize your desktop as per your whims and fancy, this is the right place for you! We have assembled these Rainmeter skins from sites such as DeviantArt (which is literally a Rainmeter hub), and Reddit to suit all kinds of users.
Why should you install some of the best Rainmeter skins on your Windows system?
For those of you not in the loop, Rainmeter is a great open-source Windows customization tool that proffers easy customization options for your desktop and embellishes its overall look/layout substantially. The next question that arises is "how to use these skins, man?" Well, with RainMeter at the helm, you can do away with the need to download hundreds of wallpapers, widgets or bogus apps since there are hordes of RainMeter themes that a user can sift through without changing their wallpaper every now and then.
Of course, you can customize these Rainmeter themes to the brim and craft a distinctive look for your desktop! So, are you ready to find out the best Rainmeter skins for Windows 10/8.1/8 and Windows 7? Without further ado, let's get started.
Note

 To have these skins running on your Windows 7 or Windows 10 PC, it is pertinent to first install Rainmeter, which is open-source, and hence FREE!
50 Best Rainmeter Skins of 2021
Best Rainmeter Skins for Gamers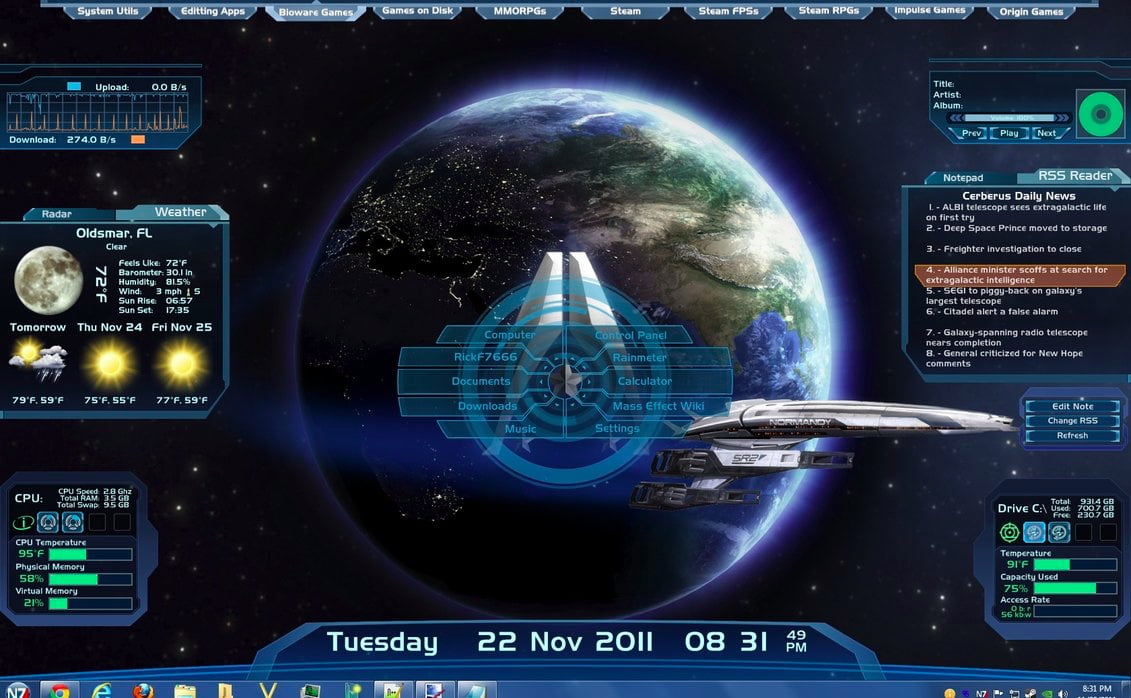 BioWare's critically acclaimed game franchise makes a foray into the Rainmeter realm with its snazzy Mass Effect skin that caters to hardcore fans of the game. Users can revel in plentiful of modules such as a Media playback and Control panel, a Time and date bar, Network statistics graph, and a Hard disk information pane, that can all be easily rearranged and pulled as per convenience.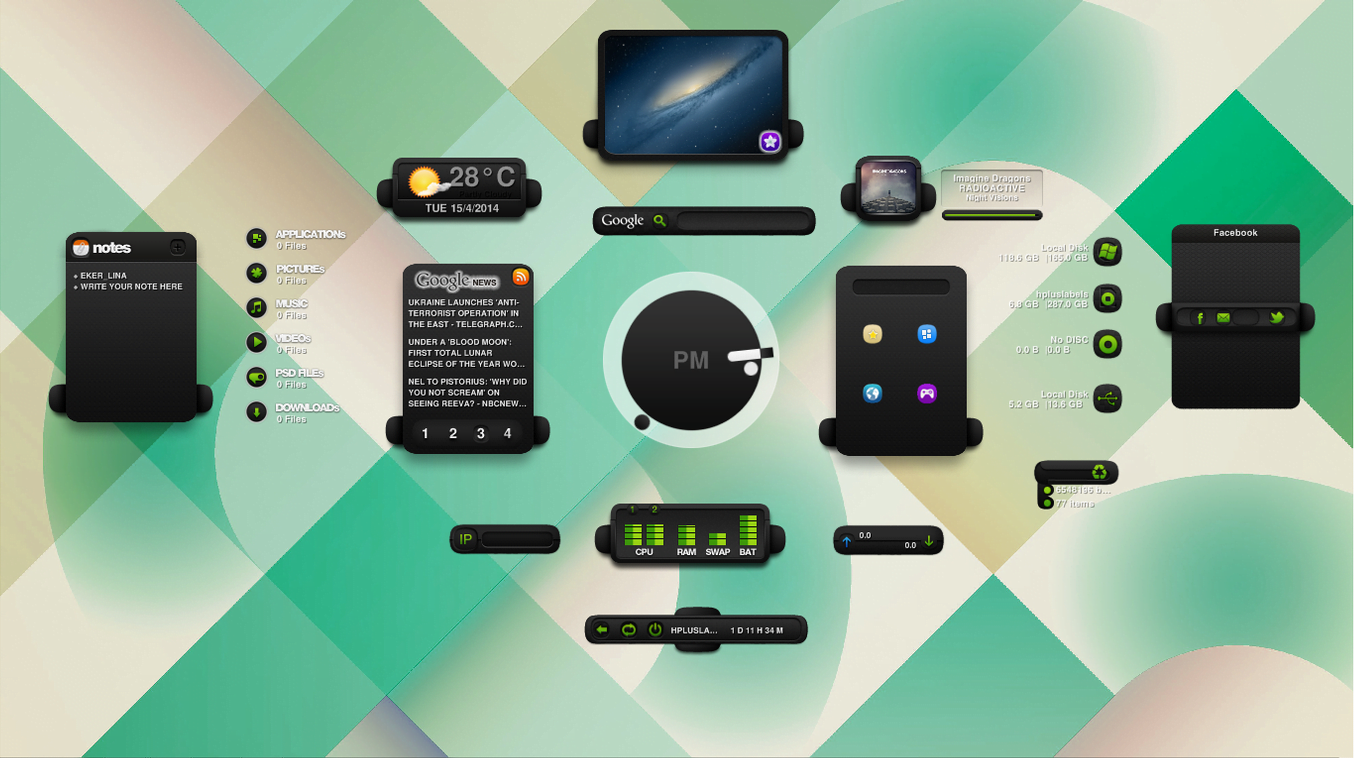 If minimalism is your niche, chances are you might be hooked to EkerLina from the get go. Eker Lina is an amazing RainMeter skin that proffers a clean look and a minimal outlook when applied to your desktop. In fact, the customizability options are aplenty and you surely can tweak around the theme all you want if you are an avid gamer.
Boasting numerous sub-modules that resemble small widgets, EkerLina follows a consistent design that can result in beautiful layouts since the skin's sub elements can be arranged as per whim. What else makes Eker Lina one of the best Rainmeter skins for gamers? It thrives on systematically displaying data such as: RSS feeds, Media controls, System folder and drive shortcuts, Current weather, Time & Date, etc.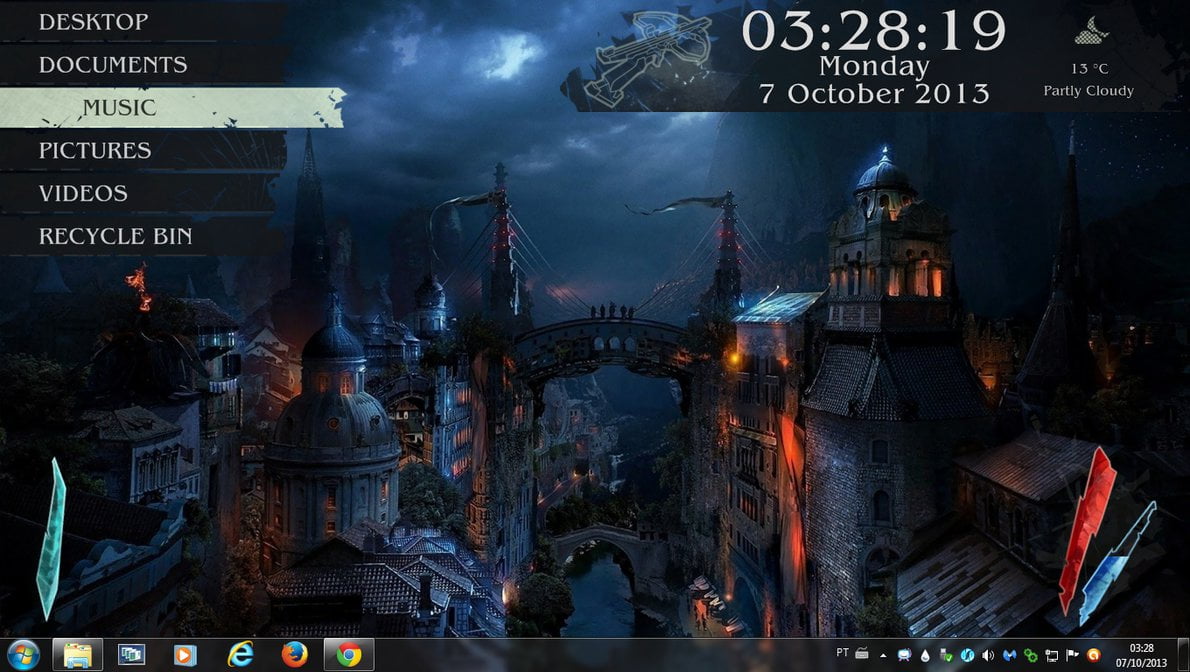 Gamers who want a distinctive and customized skin that harkens back to the medieval era can find respite in Medieval City, which is perhaps one of the most dramatic, visually enchanting and coolest looking skins up for grabs. Of course, you can do all the usual fare: get access to documents, pictures, videos, desktop, music, and much more.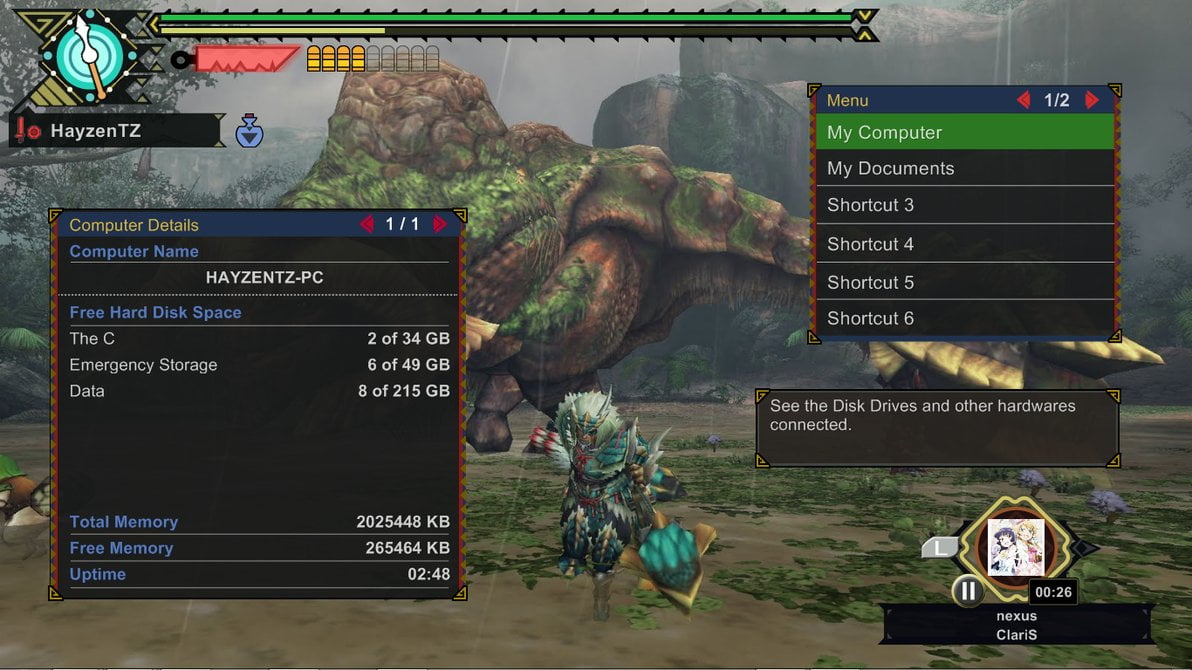 Another fantasy-themed action game Rainmeter skin, Monster Hunter is a must for beast slayas who will be drawn to the graphics-laden rainmeter theme. Monster Hunter gives off a quintessential gamer desktop feel with unlimited customizability options so you wouldn't want to miss out on this one.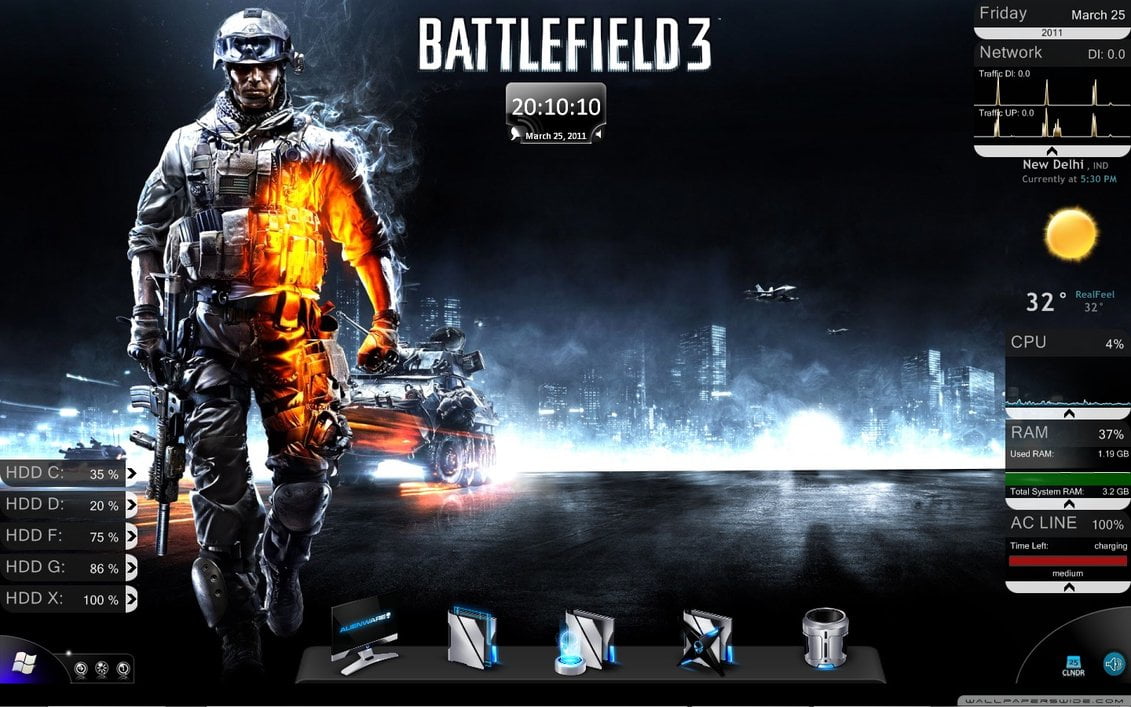 What would a list of the best rainmeter skins for avid gamers be bereft of a mere mention of Battlefield 3? The hugely popular game comes to the fore in a Rainmeter theme avatar with a slick custom sidebar on the right side of the screen where users can insert their favorite apps or shortcuts.
Moreover, you can get a custom date widget and clock on the screen with live streaming weather updates. But, here's the best bit: gamers who want to customize their PC into a full-fledged gaming console can definitely give this Rainmeter theme a try to attain some really cool visual effects that thoroughly resemble Battlefield graphics.
Best Rainmeter Skins (General-purpose)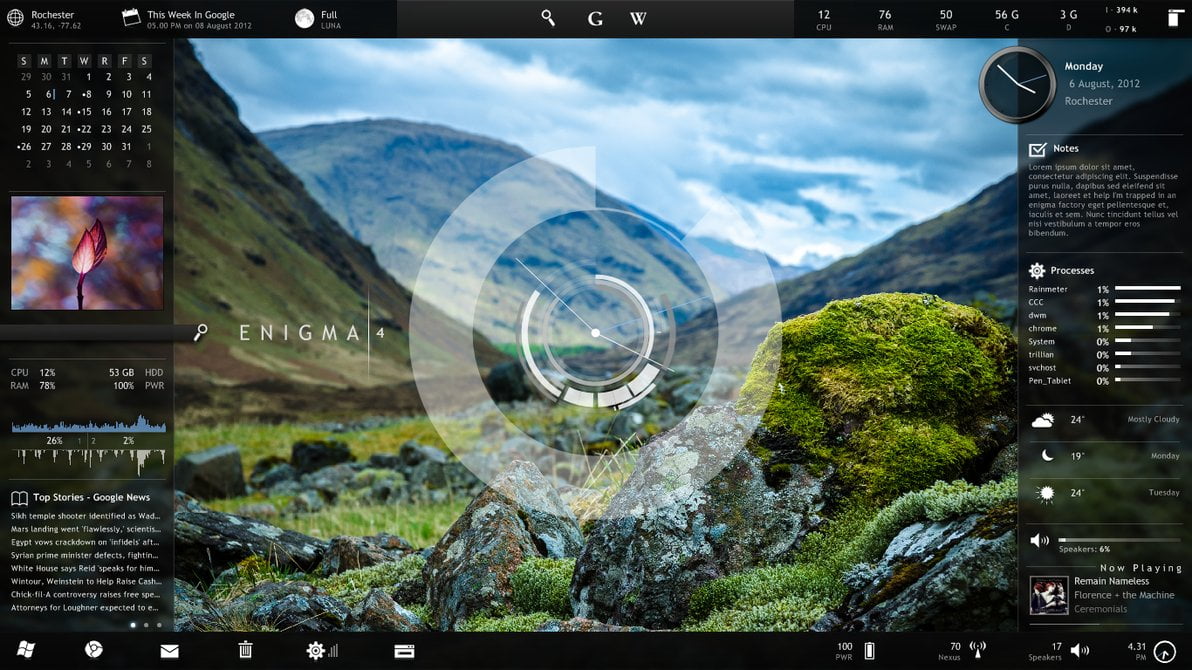 Enigma's popularity can be gauged by the fact that it is one of the mostly downloaded skins of all time. Ever since its launch, Enigma underwent many customizations based on user preferences. Now, one can spend hours on end configuring Enigma and still not get enough of its sheer resourcefulness.
In fact, Enigma is one of the best rainmeter skins on many counts. Nearly all its sub-modules are extremely configurable, that is, they can be individually re-arranged. Also, Enigma is well-equipped to show widgets such as World time and Weather, Picture slideshow, multiple RSS feeds, Media playback status/control, Quick notes, CPU and RAM usage, Real-time active processes, et al.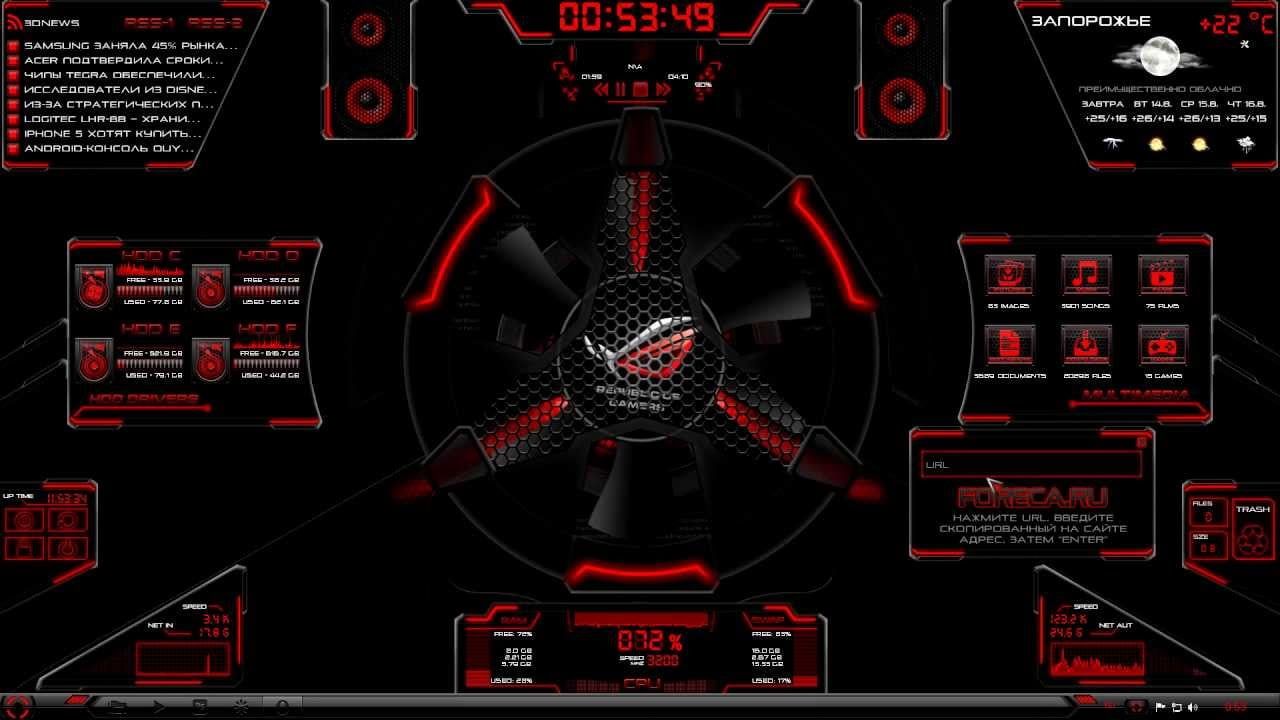 True to its name, the Hardware rainmeter skin is exactly about hardware so you can expect the layout to seem rough around the edges. However, it also gives off a futuristic look that can be customized to the brim since users get a plethora of options to change the placement of different widgets.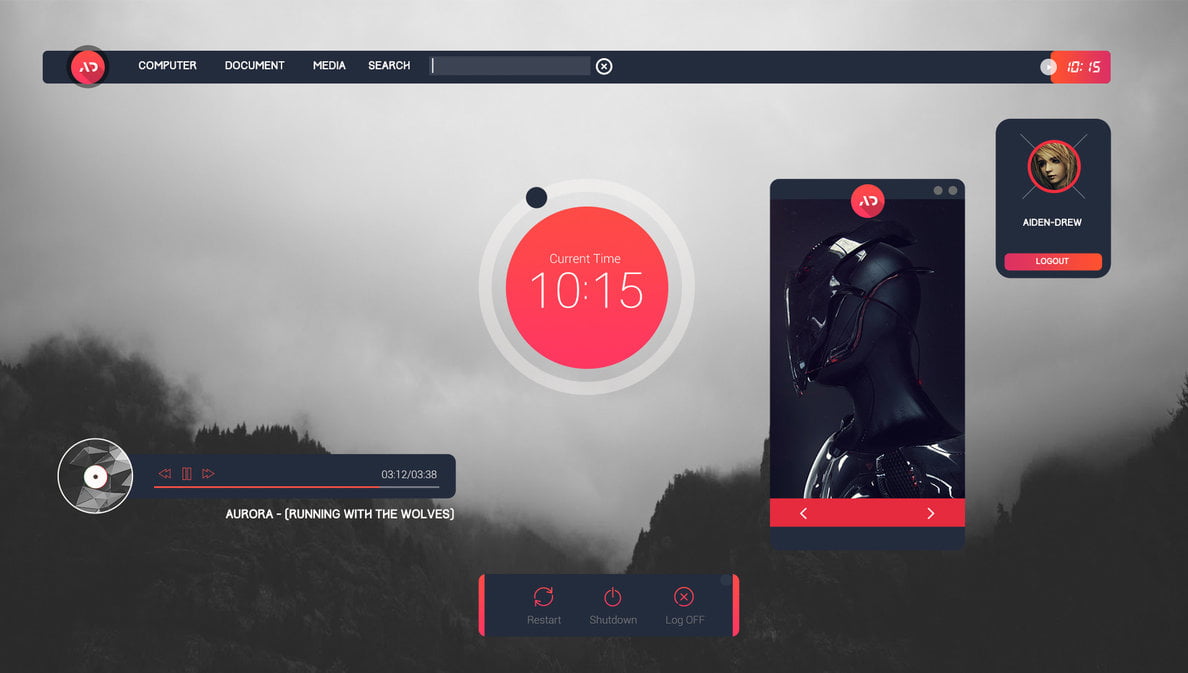 If you're a minimalism aficionado, chances are you're going to like Senja Suite, which takes care of all the basics thanks to its lightweight and clean layout. You won't ever feel overwhelmed with too many widgets strewn about on your desktop screen.
As a rule of thumb, Senja Suite displays the following widgets: Time, Slideshow of favourite pictures,  user profile button ( with an expandable toggle bar for access to System folder shortcuts), Media information with control switches, and of course, the critical Shutdown/Restart/Log off buttons.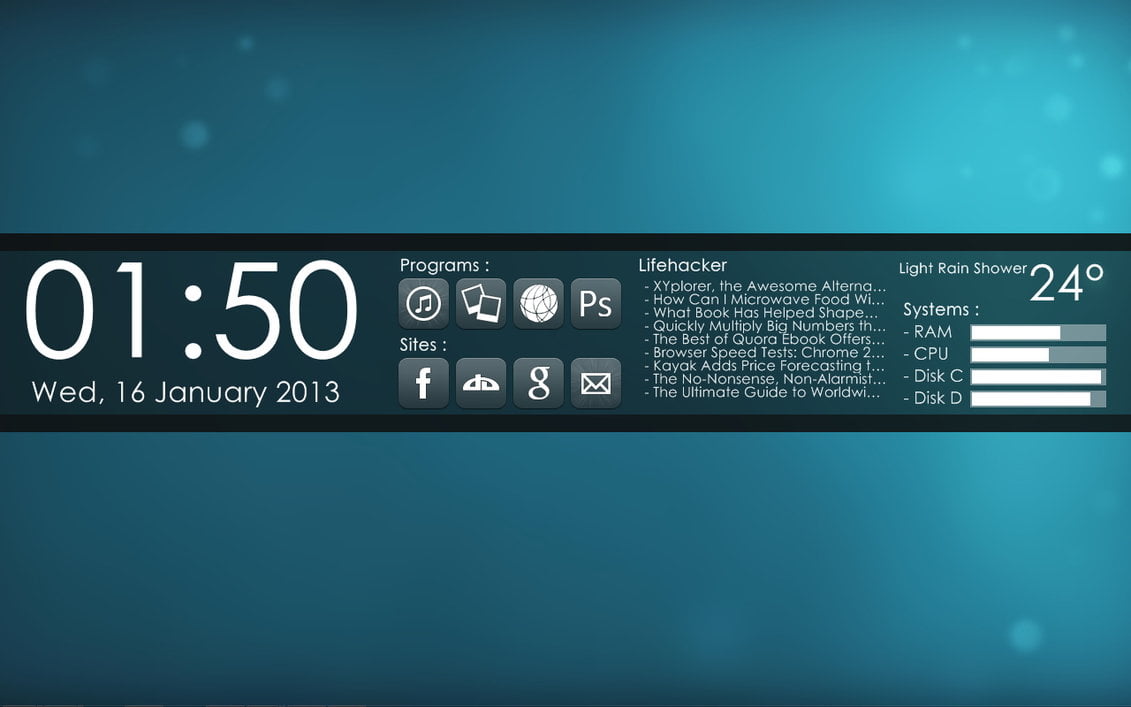 Perhaps one of the easiest Rainmeter skins to set up in no time, Before Dawn requires absolutely no tweaking. Simply run it and prepare to drown in a dazzling array of stunning information laced bars that span across the entire length and breadth of your desktop.
Further, Before Dawn presents information concisely, and displays widgets such as Time & Date, Current location, temperature, Subscribed RSS feeds and Shortcuts to frequently accessed programs and websites.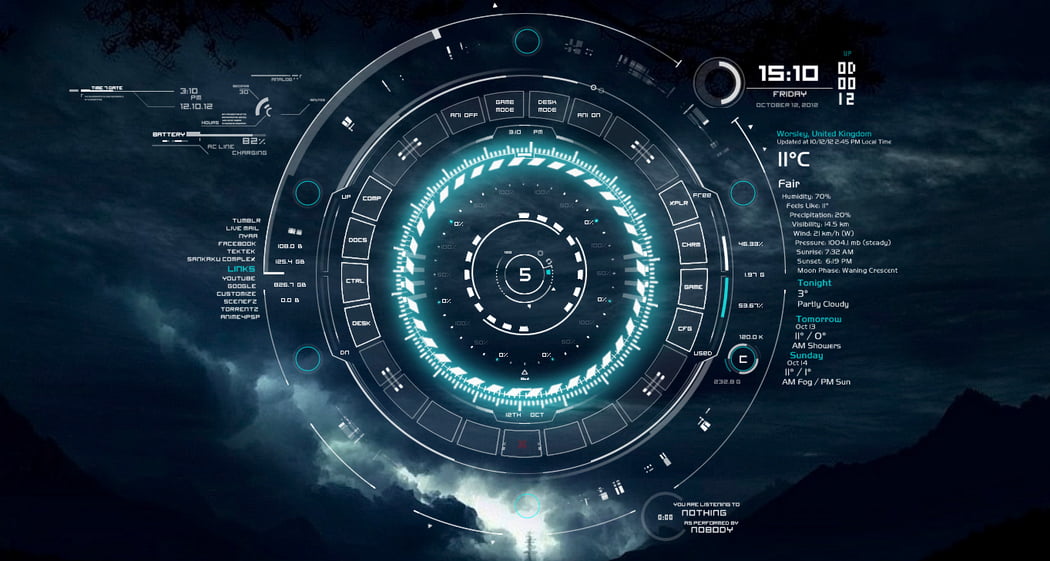 Another minimal-esque haven for fans of minimal rainmeter themes, TECH-A also flaunts a futuristic appeal that is both versatile and amazing. It can display some essential information in the form of widgets, such as: RAM utilization, per core CPU usage, Time & date, shortcuts to system folders (e.g. My Documents) and all the Disk partitions that are all systematically arranged.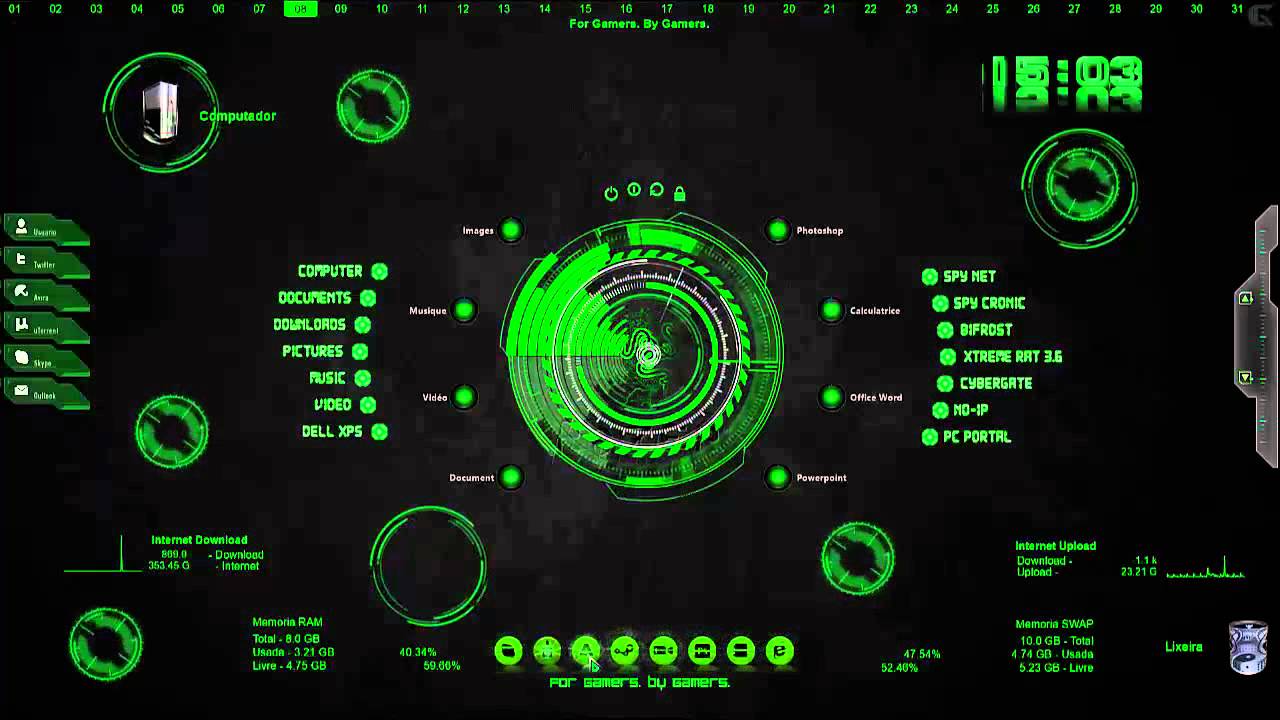 Considered by many as one of the best rainmeter skins that is full of translucent and frosted glass effects, Razor can dramatically affect how your desktop looks. The safest bet would be to use a minimal-esque wallpaper that gels well with the theme. Some of the information wielding sub-modules that Razor comes with include the likes of a Customizable dock, Power and Network strength status, System libraries' shortcuts, and combo Weather, and a Time & Date header.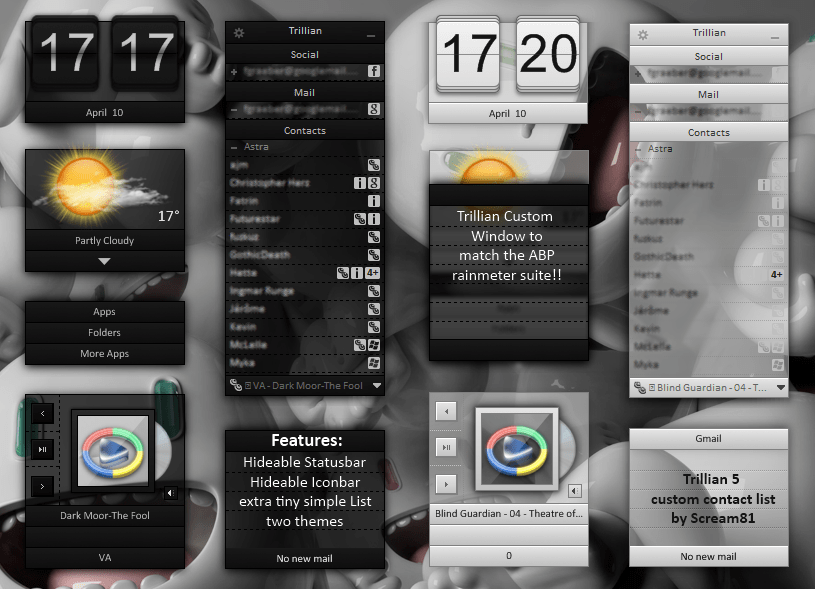 Boasting elegant looking sub-modules replete with minute drop shadows, ABP is quite a sight to behold. All the components of ABP have a predominantly rectangular appearance which lend a consistent appeal to this skin and to your desktop as well. On the widgets front ABP has got it all, from Slideshow of your favorite pictures to a System clock, and from current media playback information to your current CPU/RAM usage stats, ABP can seamlessly display everything.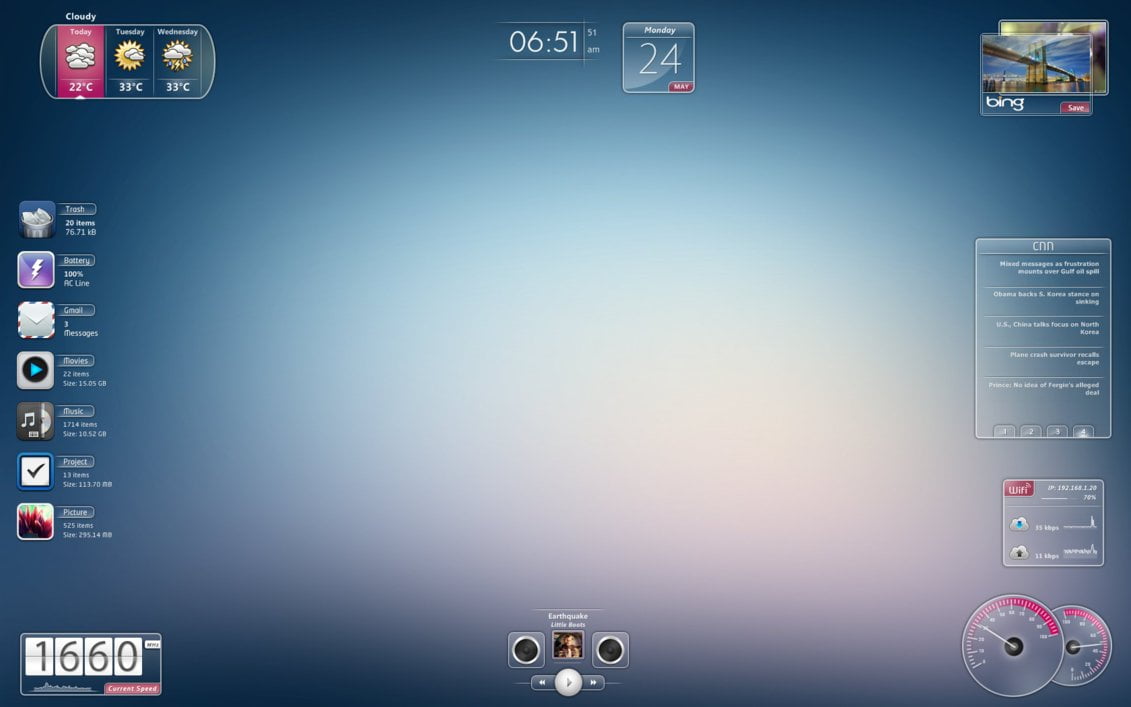 Another snazzy entrant on our lineup of the best rainmeter skins with frosted glass and transparent effects, Speed also looks awesome when paired with minimal-esque wallpapers that aren't too flashy. Nearly all of Speed's sub-modules sport a consistent look, and can be customized to match desktops having different resolutions.
Speed can invariably display widgets such as: unread email count, system Time/Date, Network status, RSS feeds, CPU/RAM usage stats through neat looking gauges), and lastly, a three-day forecast of your location's temperature.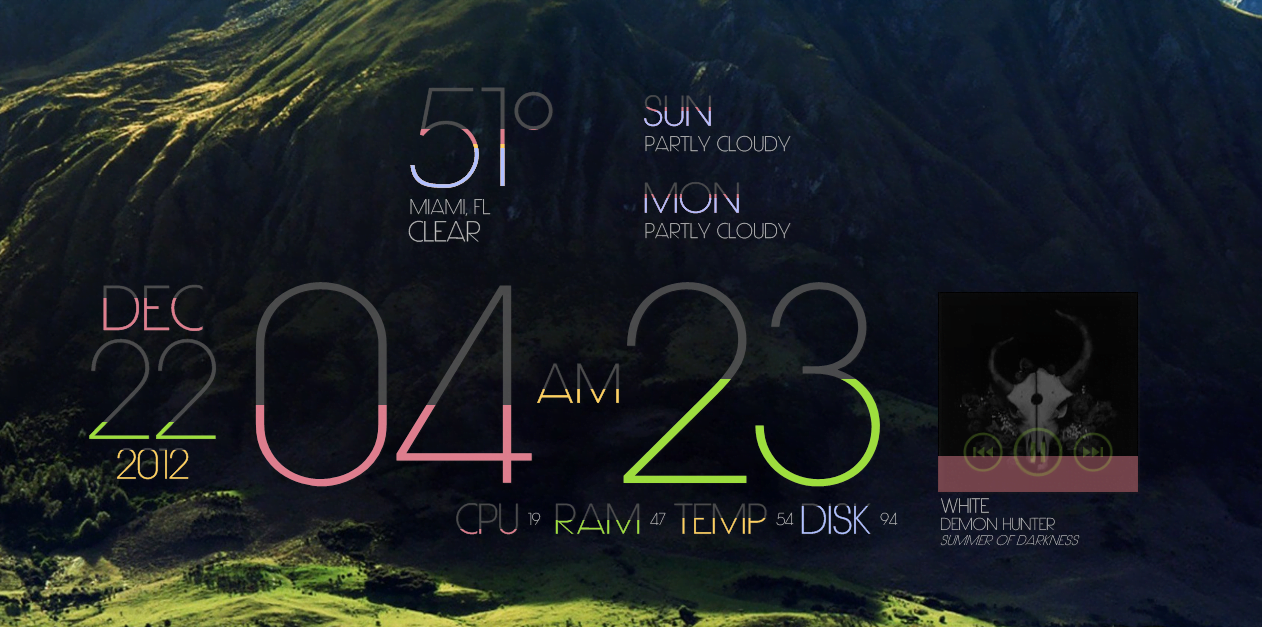 If you are not put off by complex and technical rainmeter themes, give LIM!T a good long gander. LIM!T conveys more meaning through mere text, and comprises massive, clean fonts which provide lots of information through widgets such as Current media playback status, CPU and RAM usage stats, Date/Time, and Weather statistics.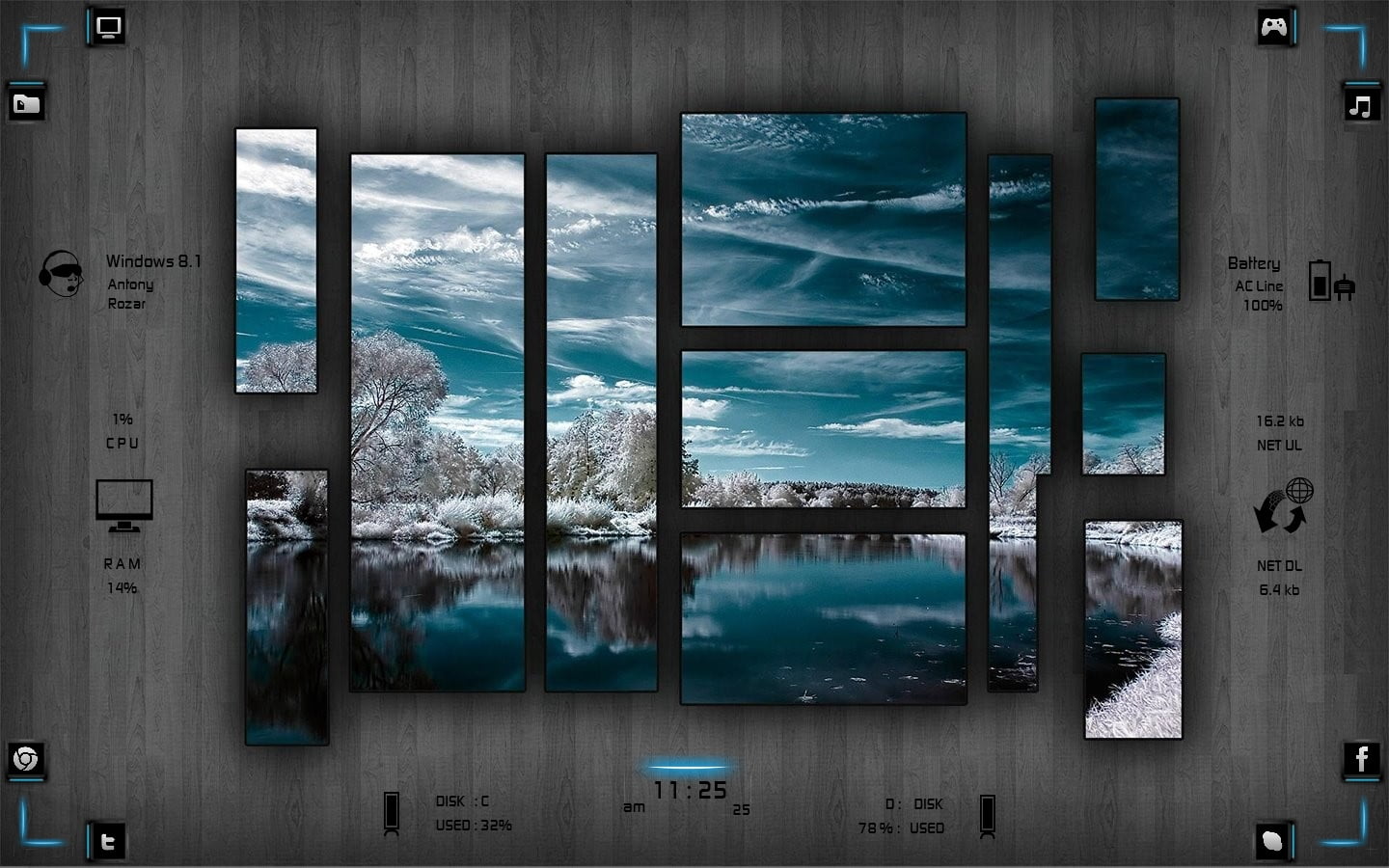 Wisp is a rare beast of a Rainmeter skin. What makes it stand out is the fact that its sub-elements don't comprise any boundaries, hence appearing as if they were drawn directly or handwritten on the desktop background. When paired with the right wallpaper, Wisp can eke out some really amazing looking desktops since the widgets don't appear to be discrete.
Further, Wisp is quite a neat looking skin that features information-displaying modules such as CPU/RAM usage stats, Temperature, System date and time, disk partitions' space usage, and current Network bandwidth consumption.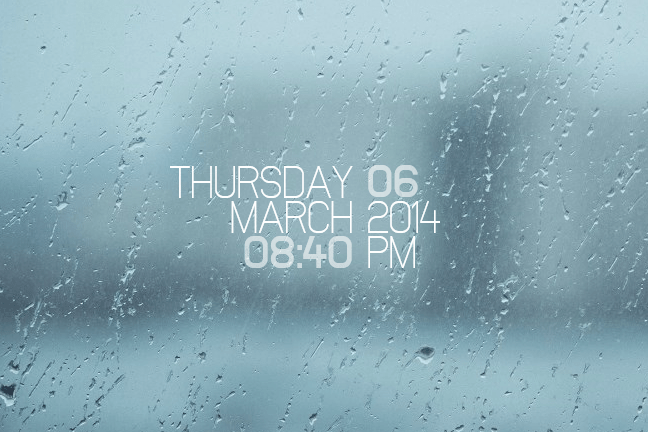 Simple Media does what its name alludes to, that is, it is a simpler looking "basic rainmeter skin" that boasts only some essential information displaying sub-modules. But Simple Media's font and design are mesmerizing which gives it the charm to work well on almost all kinds of desktops irrespective of resolution. Of course, the modules can display Recycle Bin status, current Date and Time, current Temperature, et al.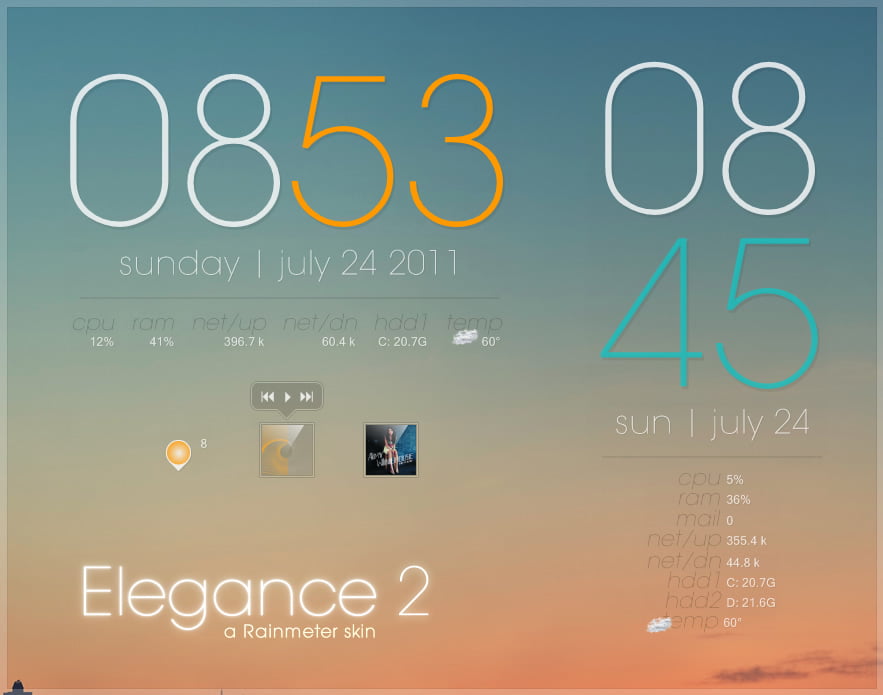 Another skin purposely built for minimalism lovers, Elegance 2 showcases essential system information in the form of widgets, elegantly. It does help that it's remarkably lightweight, and can blend in seamlessly with any desktop wallpaper. The information is displayed via lucidly designed fonts, and includes details such as: CPU & RAM usage stats, time & date, Media playback and control, as well as information about Recycle Bin items.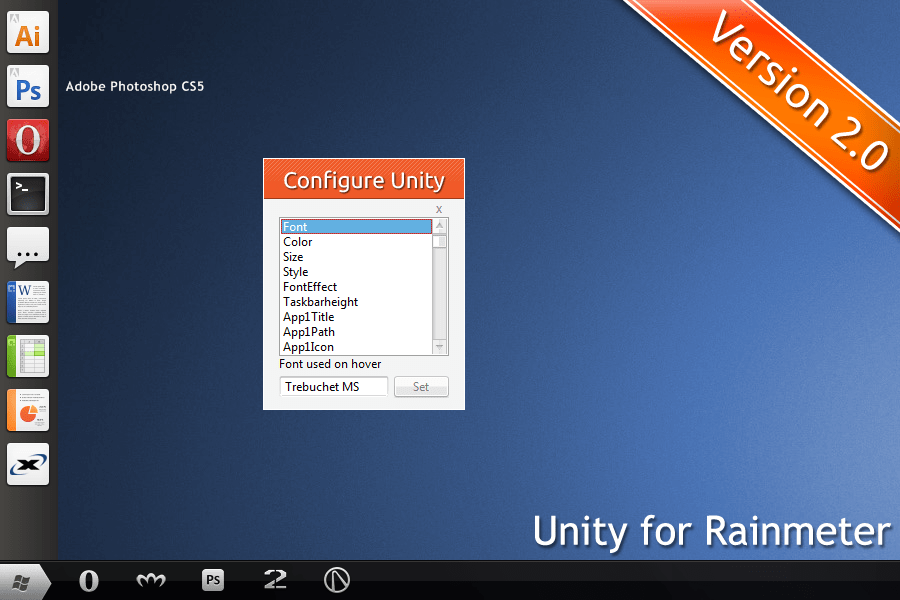 Another great skin with a simplistic outlook, Unity has a distinctive elegance that just cannot be missed at first glance. It can display fully-functional sub-modules, including the likes of Media playback control/status bar, shortcuts to System folders (e.g. My documents), Time & Date, and Weather status.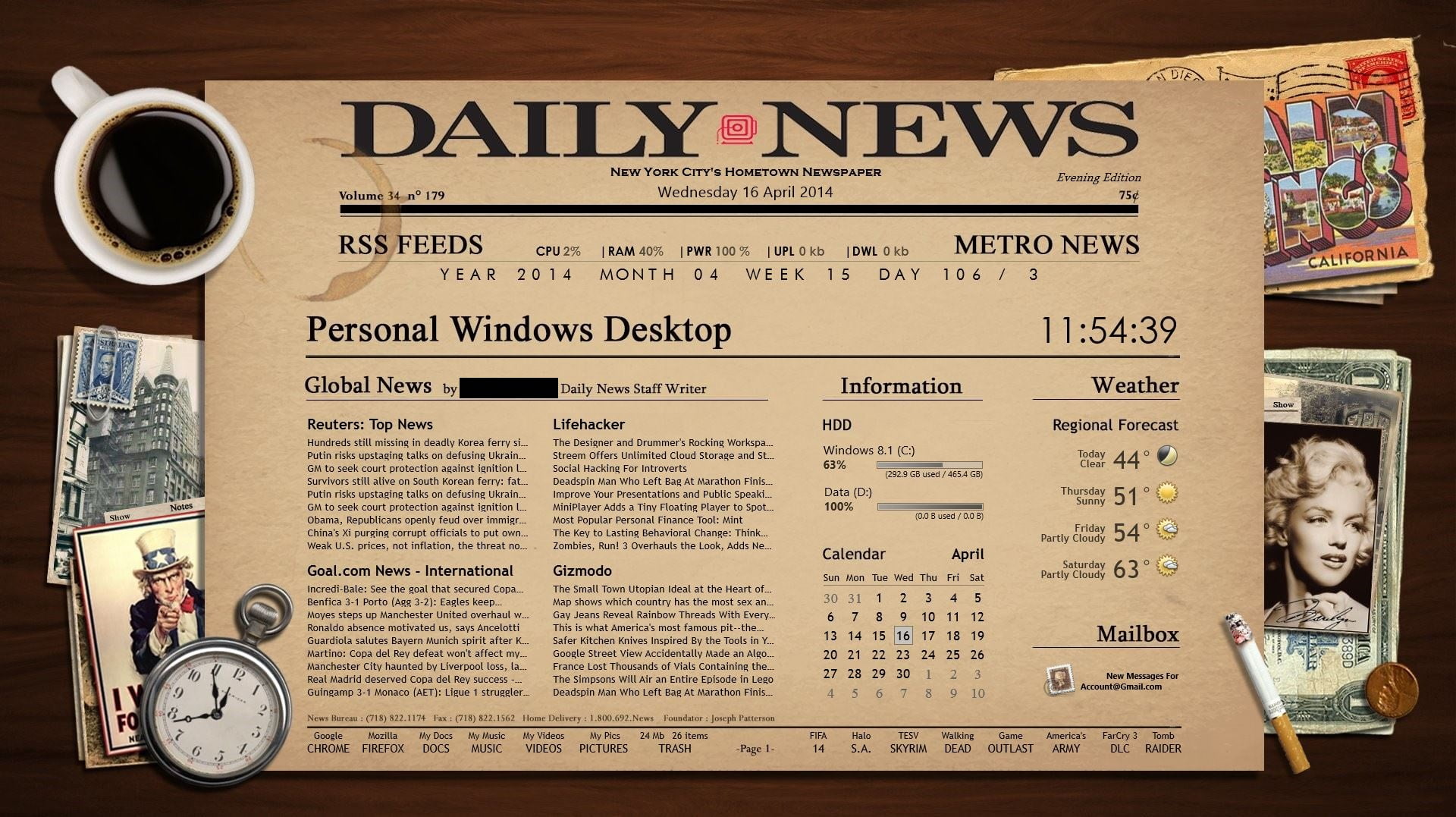 If you like reading books a lot and are particularly a detail enthusiast, you might as well wanna try the Newspaper Desktop rainmeter skin that can give your desktop a unique look. When matched with the right wallpaper, this rainmeter skin can make your Desktop seem as if it's a Newspaper laid out on a table, replete with add ons such as pocket clocks. Basically, all the add-ons mimic the primary components of a Newspaper, that is, News story columns, Name/Date header, et al.
Be forewarned, the information displayed is a tad too much to handle sometimes. But on the bright side, your desktop screen would be filled with widgets such as CPU/RAM usage stats, Time & Date, Network statistics, Disk space counter and Weather forecast.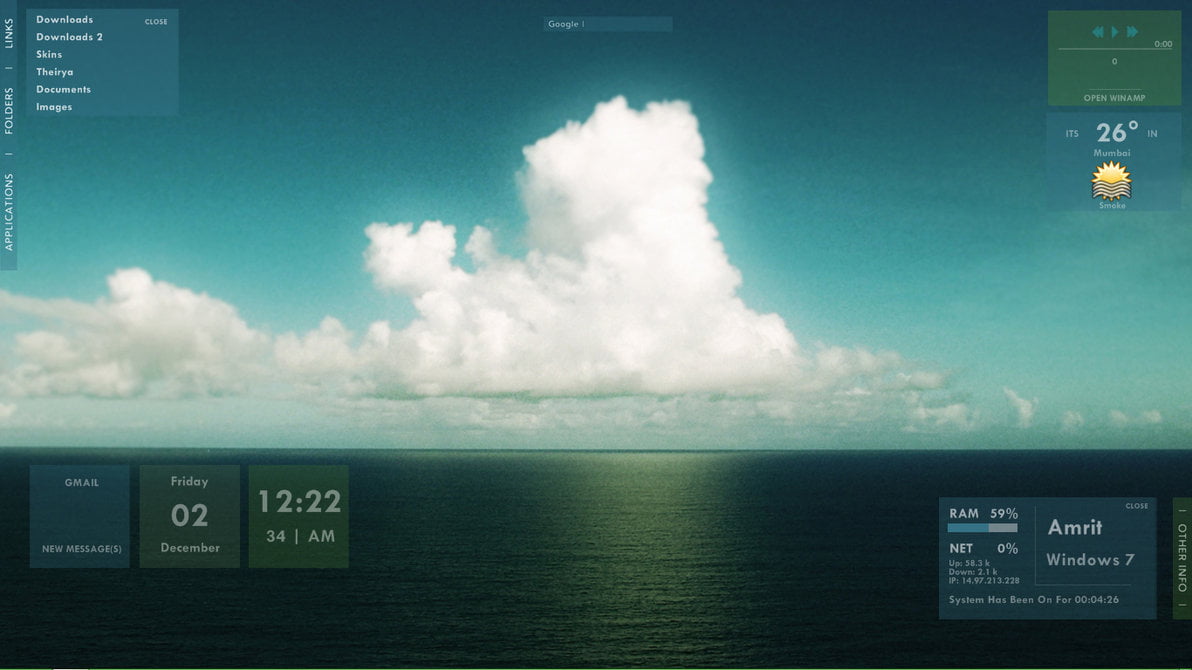 True to its name, Sea is one of the best rainmeter skins that can simulate soothing seashore graphics on your screen. It does look quite simple and follows a minimalist layout but it is open for more customization. You can also bump into simple widgets like Gmail, weather info, folder, etc.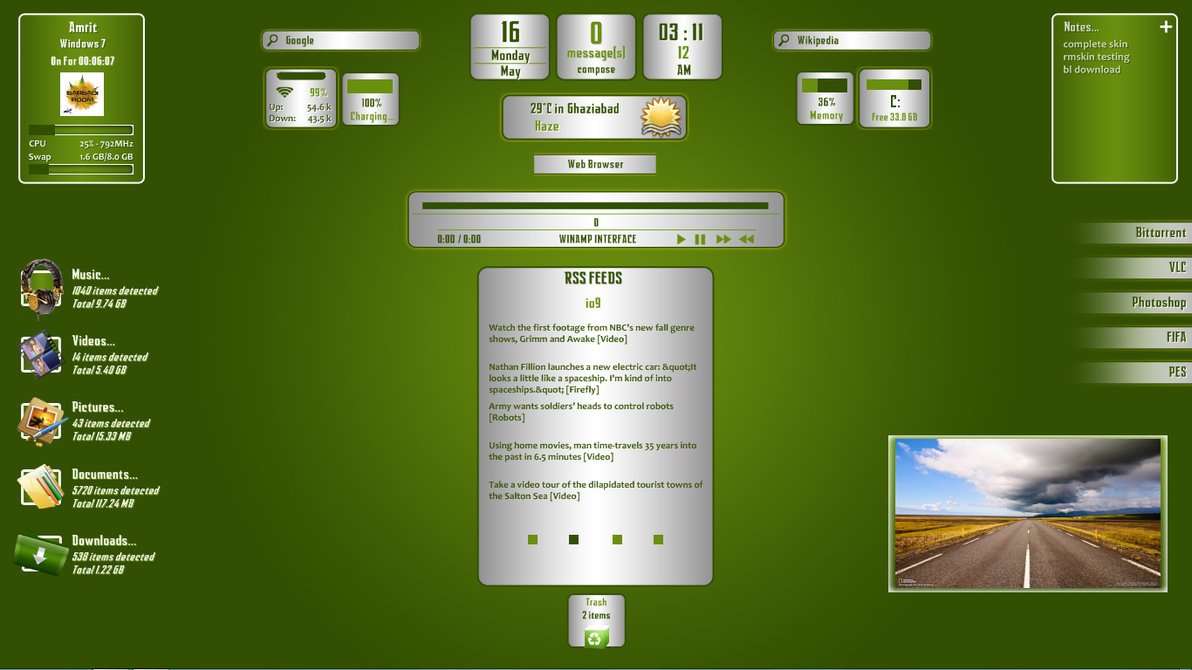 Green screen devotees can relentlessly marvel at Greenzo's simple yet all-green background as it takes centerstage on your desktop and systematically arranges widgets such as news feed, clock, RSS, power and much more. Further, it can be totally be customized to launch numerous apps from the desktop itself.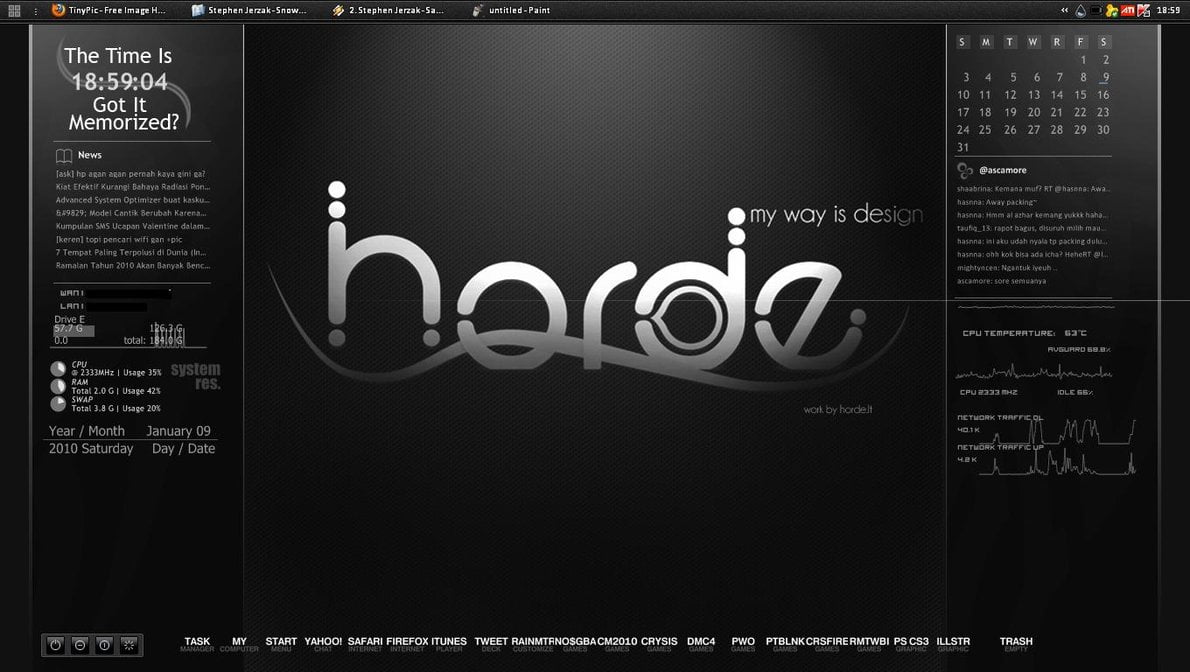 Horde comes with sub-modules aplenty and can spread out across the length and breadth of your desktop screen with sub-modules such as power stats, clock, weather info, etc. Horde also proffers a great deal of customization options.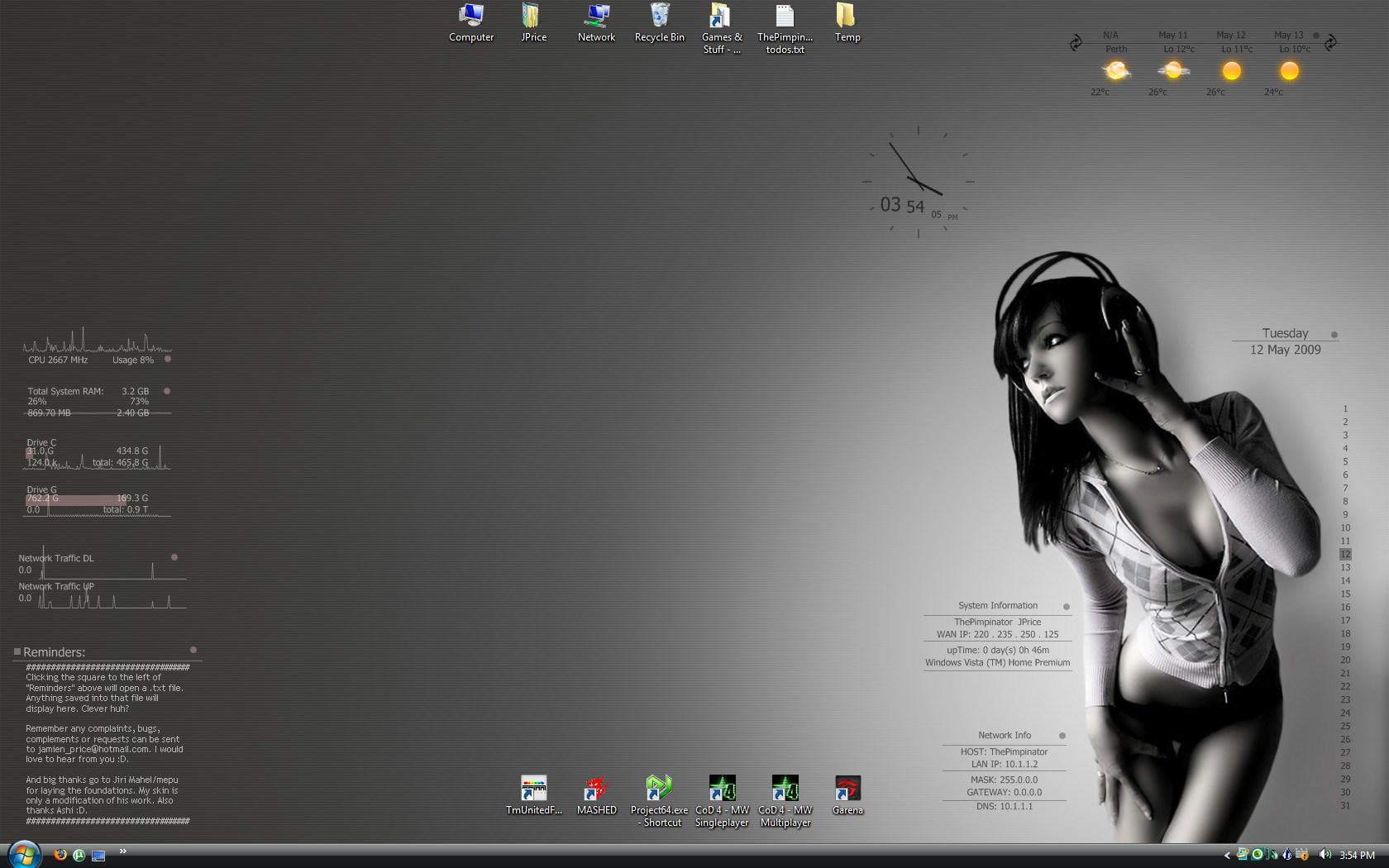 Fans of classic black and white rainmeter themes won't be one bit disappointed with Taboo that comes loaded with all the default icons of your normal PC or Laptop. Plus, you can access the system info on the desktop itself via this skin.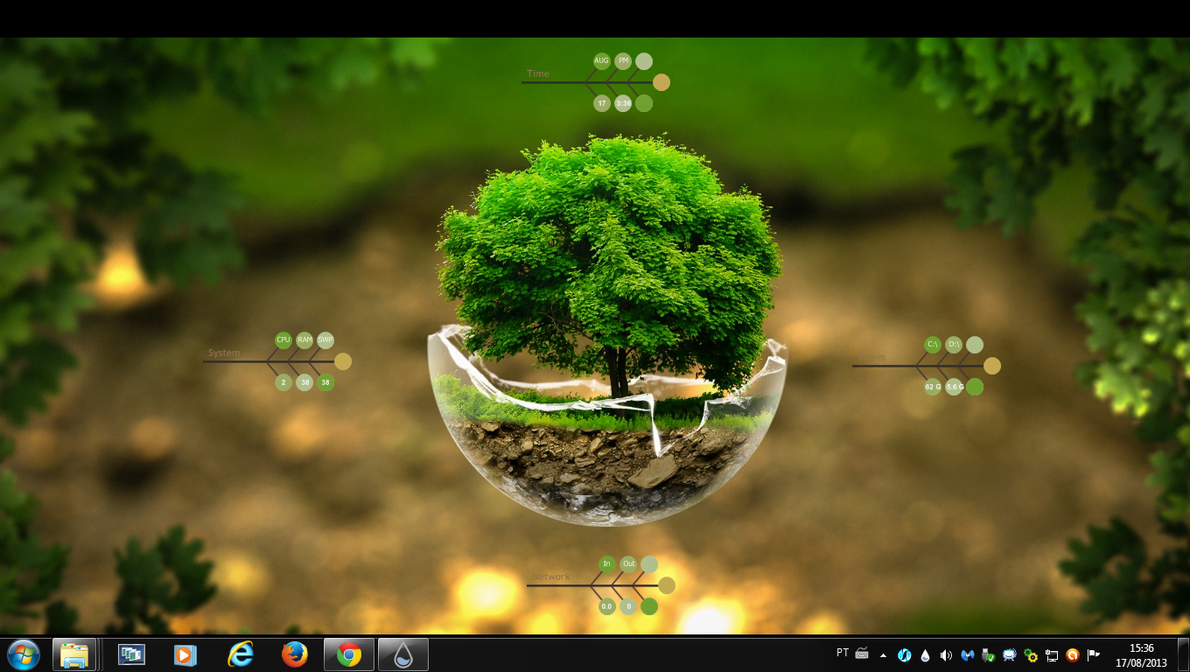 Don't be put off by its seemingly weird name, Small Tree is a minimalist's dream come true. However, on the customizability front it doesn't proffer too much except a cool wallpaper and a key to access the My Computer folder.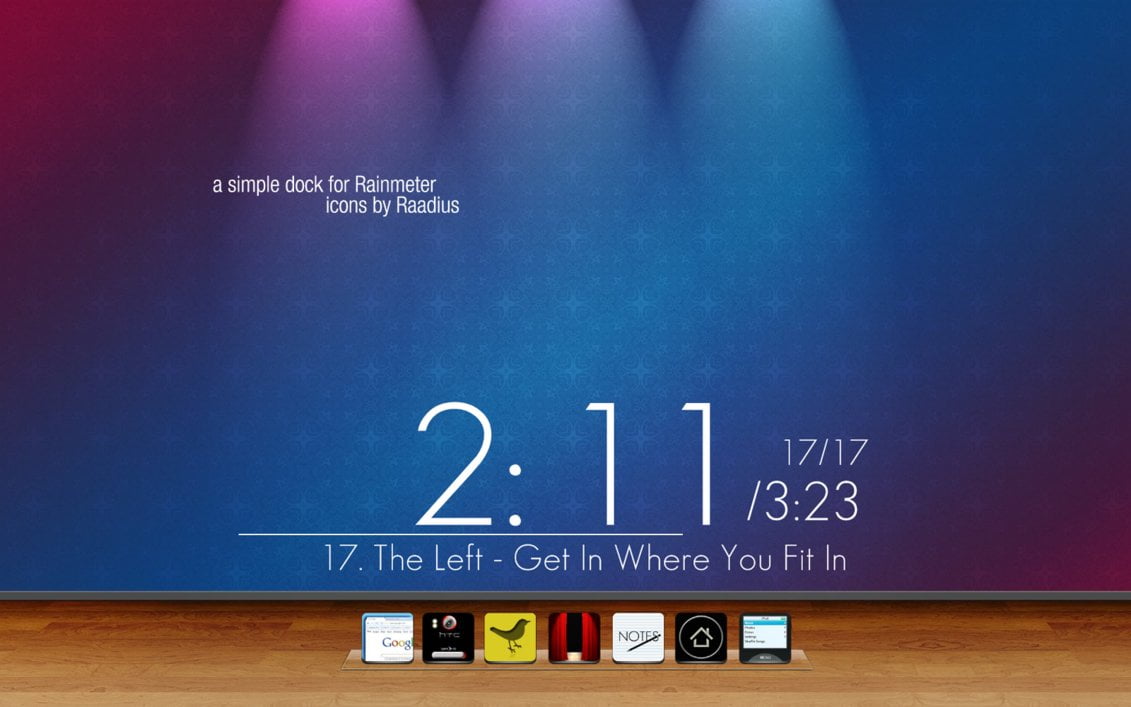 I'd hazard a guess that this skin was named after what it is all about, i.e. all the simple things a.k.a simple sub-modules. Simple Dock is very lightweight and easy on your system. Plus, you can avail a gamut of personalization options. What more can one ask for?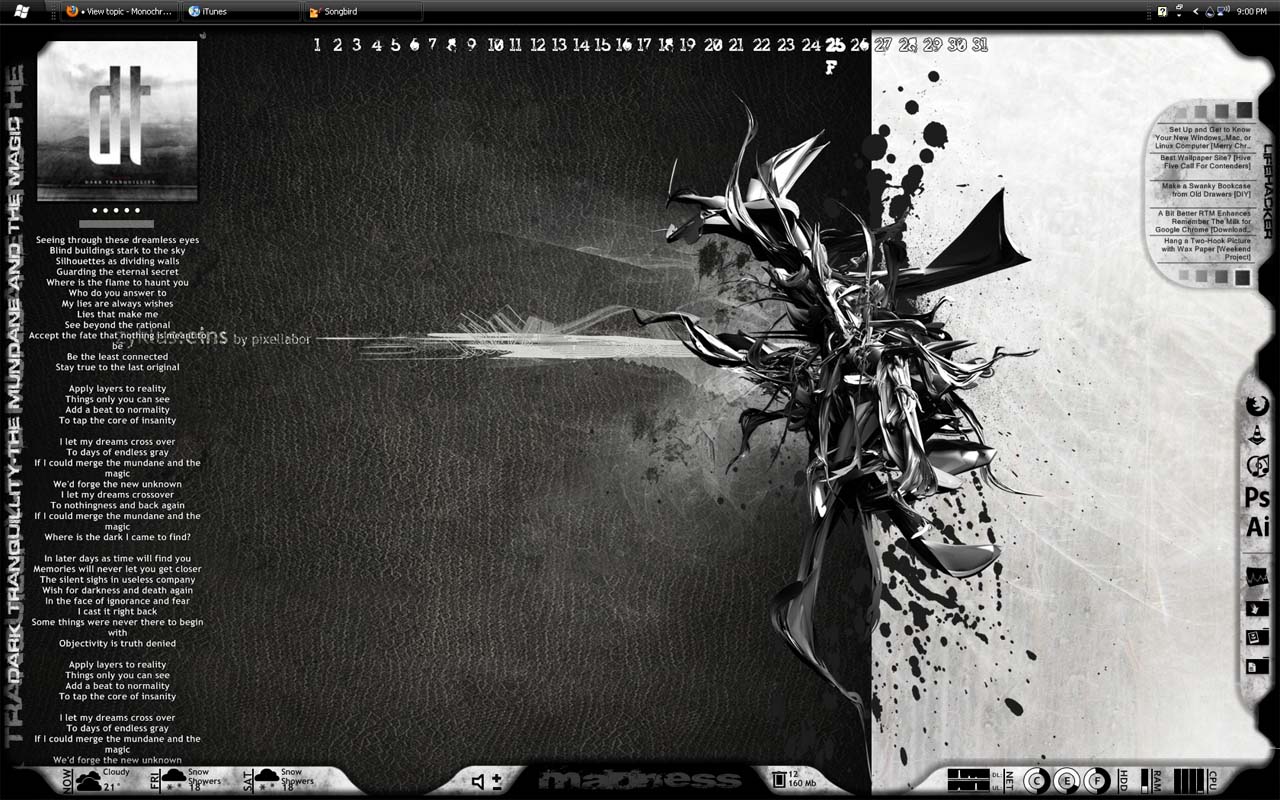 One of the best rainmeter skins that perhaps envisages the look of the latest Windows OS in the offing, Windows 2019 provides a customizable quick notification bar where you can garner all the info related to weather updates, Music control, news, and feeds on a single screen!
But, the real highlight of Windows 2019 is that it provides access to all your apps at your fingertips and neatly arranges all the sub-modules on your desktop. Also, users can choose the customized icons to change how their default icons look! Moreover, there is a provision to get live notifications of weather, events, mail, etc. if you always stay connected to the internet.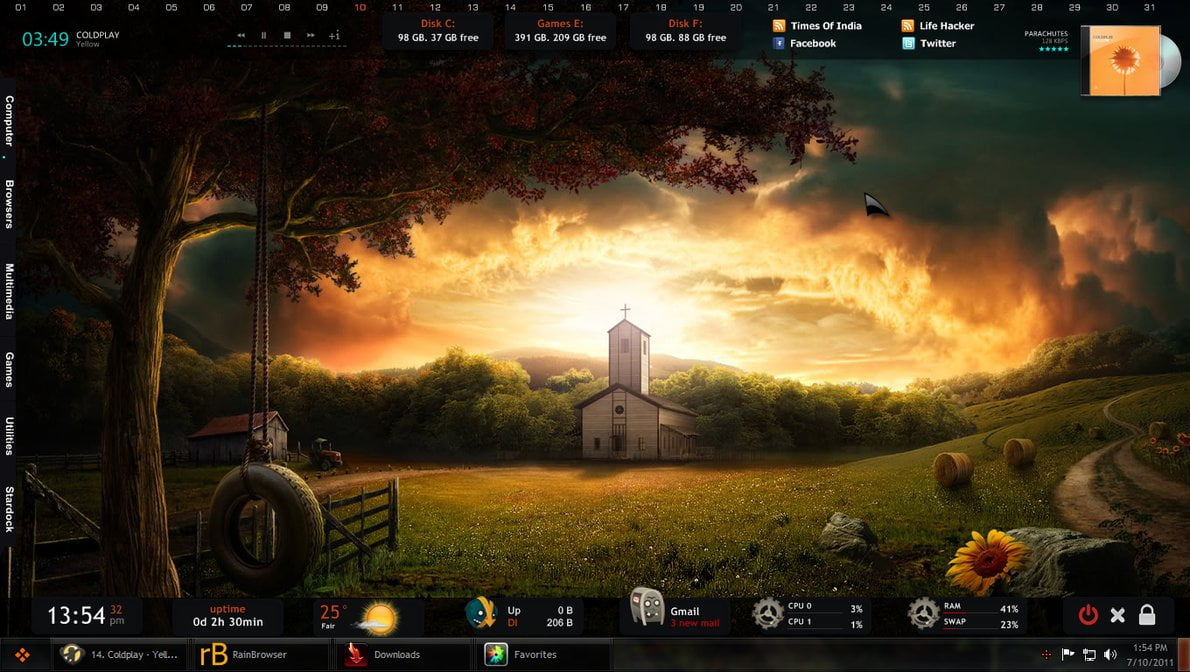 As the name symbolises, Darkness Falls is a night view skin adorned with a dark scenery laid on the interface for a gothic visual experience. Gothic fashion lovers would surely be enticed at the prospect of having this skin on their desktop all the time. Everything can be customised into dark mode ranging from the wallpaper to widgets and icons. Plus, there is an instant on/off button in the toolbar with icon notifications. What's more, all the widgets are fully customisable.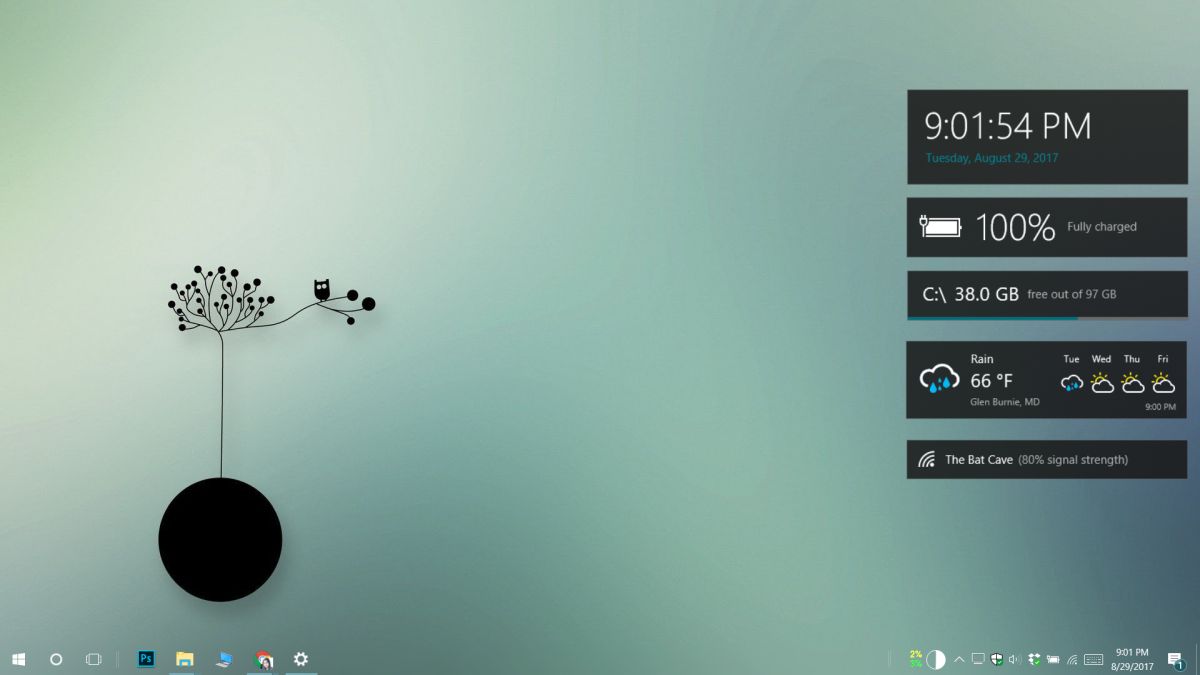 Do you like systematically arranged widgets on your desktop? Are you too much of a tidiness freak? If yes, then Obsidian is the perfect rainmeter skin for you. For starters, it creates a step like structure on your desktop screen by systematically arranging all the useful icons and widgets. In the process, your screen resembles an architecture model in which all the apps and shortcuts are arranged in a block-like structure, all of which, can be accessed instantly.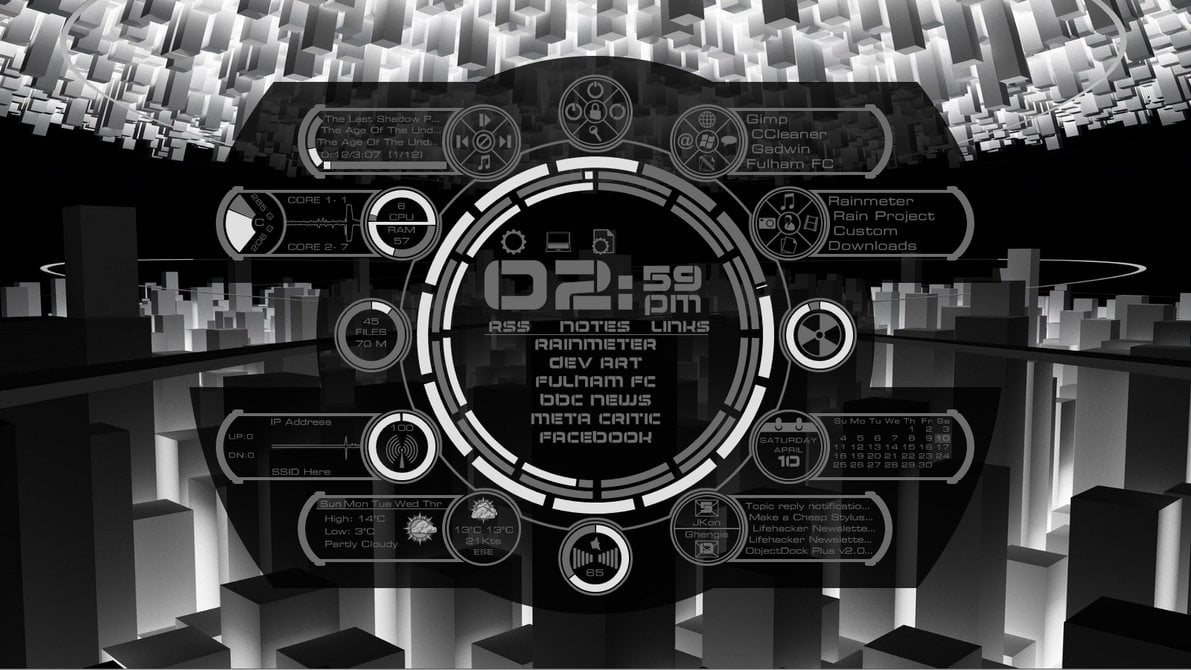 This skin is intrinsically renowned for providing an instrument cluster type design on the  desktop screen. Pog Pack mashes a digital cum analog view into a single screen to render a unique custom look to your screen. The fact that this skin pack is overlaid with visual effects makes it one of the best rainmeter skins you can get your hands on. Also, after a couple tweaks, Pog Pack may give off a look resembling the dashboard of a sports car.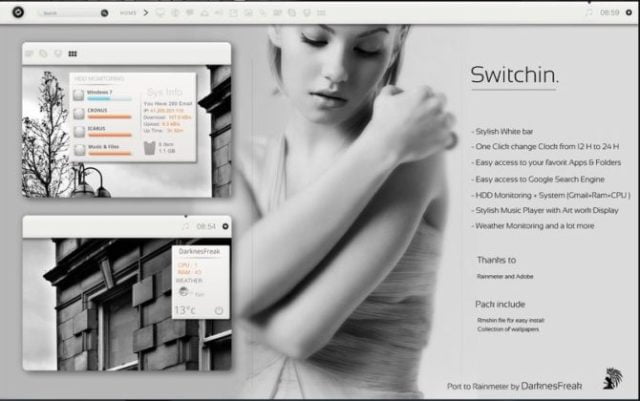 Switchin is a classic theme that can add varied looks to your desktop since it comprises loads of customizability options. It boasts a white customizable taskbar albeit on the top of the screen from where you can view the current notifications related to wifi connectivity, battery percentage, etc.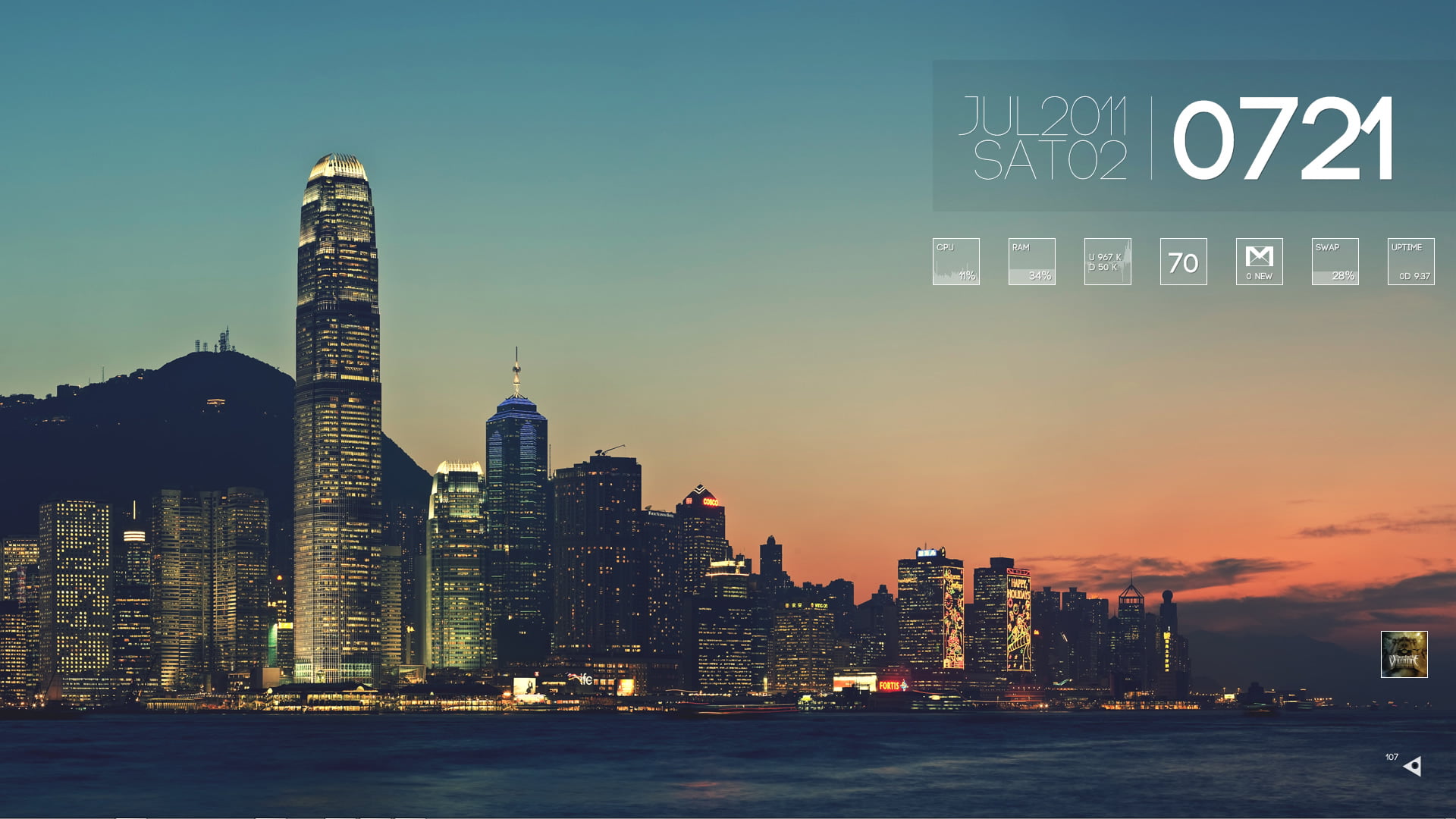 To start with, Encoded is a peculiar skin whose charm lies in its choice of colours that dot the interface. It comprises four colours: black, white, grey, and red that are enough to render perhaps the most eye-catching interface for Windows 7 to Windows 10 users. As is the case, users can avail the same widget but with the choice of four different colour schemes. Moreover, it also comes with a nifty music player sub-module from where you can play/pause or change the tracks instantaneously.
Best Rainmeter Skins for Automobile Enthusiasts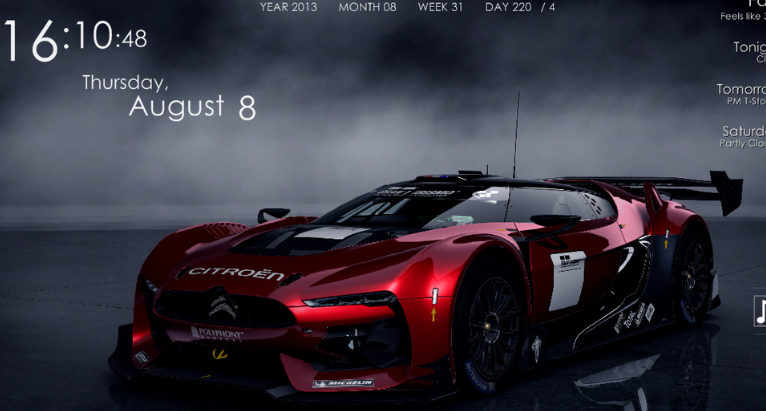 When it comes to some of the best Rainmeter skins, how can anyone forget the Citroen Concept car skin? This skin looks mega good looking and car aficionados are surely in for a treat. We reckon you would never get bored of this skin and would always be looking forward to carry on with your desktop functions firmly placed in the driver's seat and in a jovial state of mind. One downside though: the widgets are limited to time & date, weather, and music playback control only.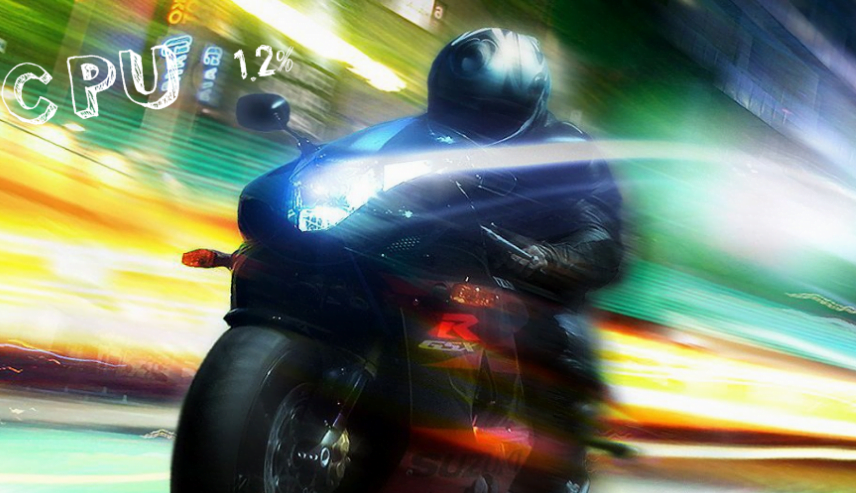 Who doesn't love the sight of ultra-dapper super bikes on their screen? Well, GSX R 1000 fans are in for some delightful treat as this rainmeter skin is designed on those lines. The Suzuki GSX R skin comes with a cool wallpaper along with various sub-modules that perfectly gel well with the wallpaper.
Best Rainmeter Skins for Anime Lovers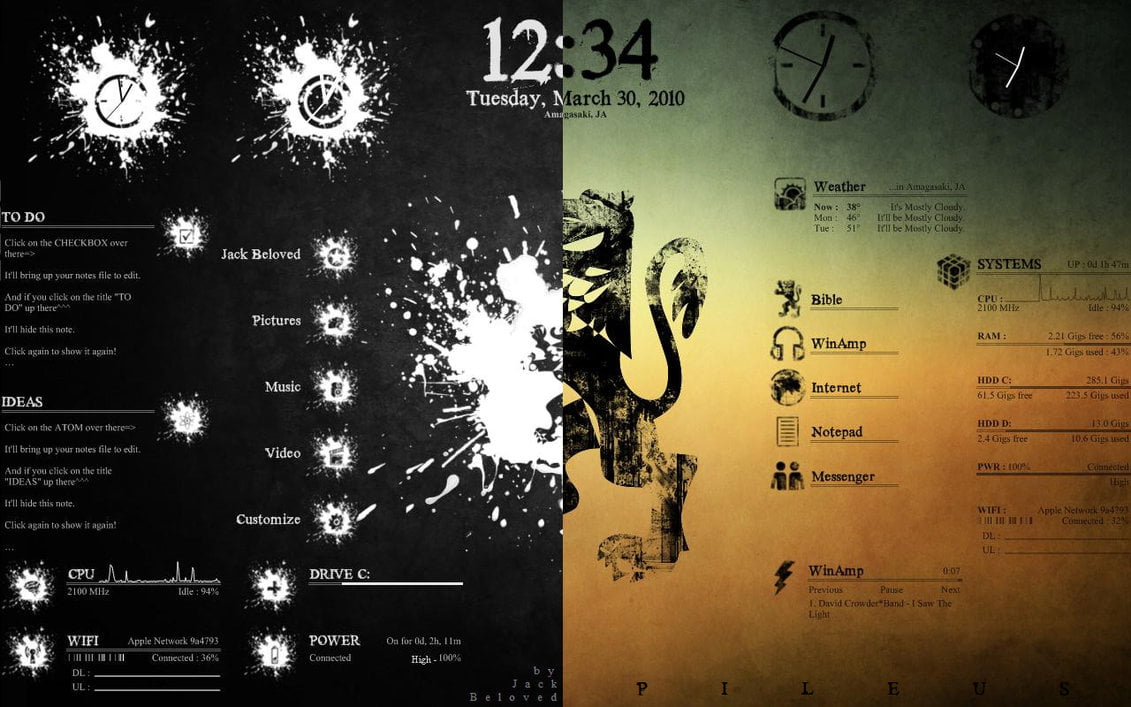 Are you a hardcore anime fan who loves things that are dark and mysterious? If yes, P I L E U S Suite is the apt rainmeter skin for you. Not only do you get to choose from an insane amount of customization options, but also get to access a barrage of information including System folders/Disk partition shortcuts, RAM usage, power status, Time/Date, RSS feed, and hard drive info.
Further, P I L E U S Suite's sub-elements have this strange drawn and scrubbed feel that hooks you in from the get go. In fact, there is a light variant of this theme as well that can make things a tad bright.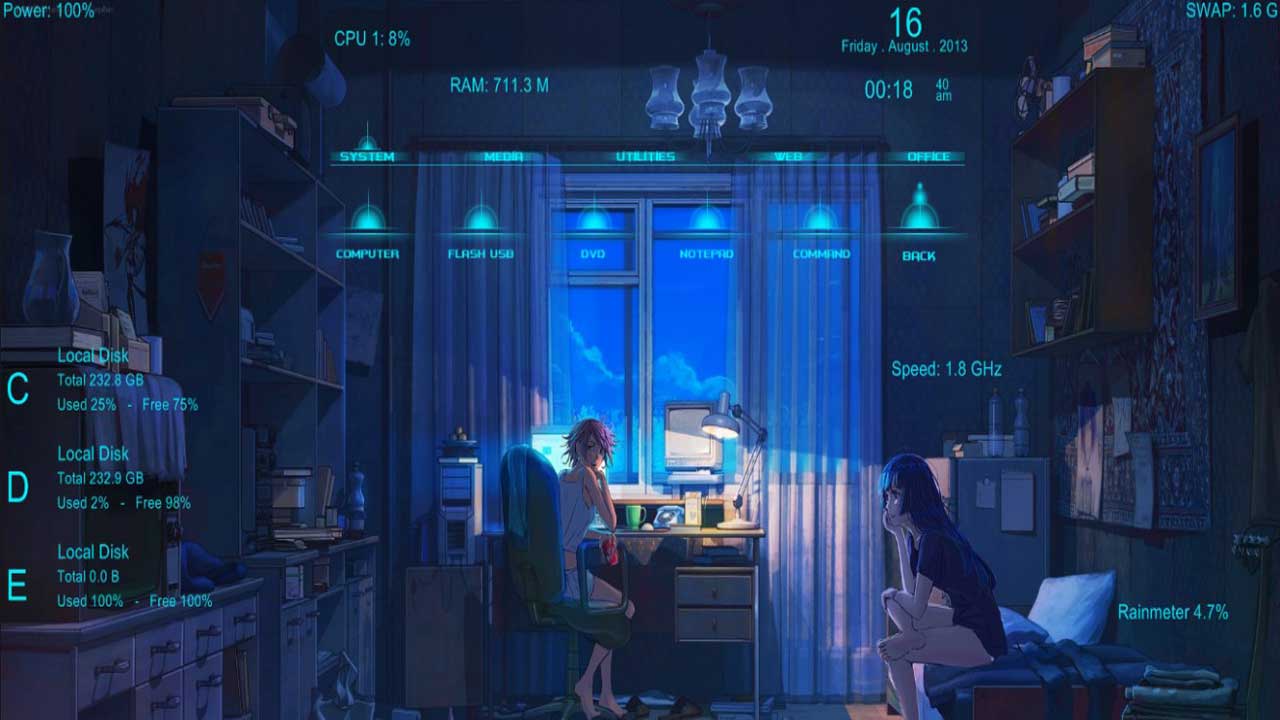 Needless to say, any anime rainmeter skin is deficient without a theme portraying anime girls screaming "Senpai". Well, the "Senpai" bit could be a bit of an exaggeration, but if you want a cute layout with some anime characters strewn about, Living Room Girls is one of the best rainmeter skins for you. Since it is primarily about female anime characters, all the widgets are beautifully designed with a dash of anime and animation effects thrown in for a good measure.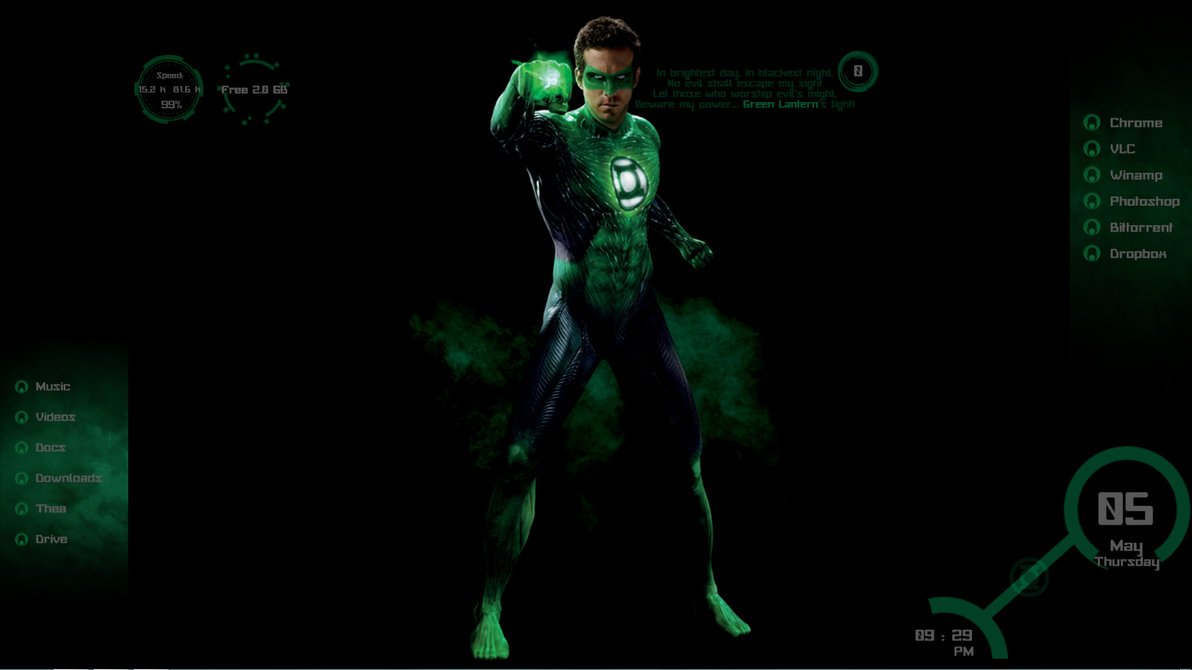 Any Green Lantern comic fans in the house? Yet another superhero rainmeter skin that will blow your mind, Green Lantern is a total replica in terms of the visual appeal and background of the popular DC comics character, and is definitely worth checking out.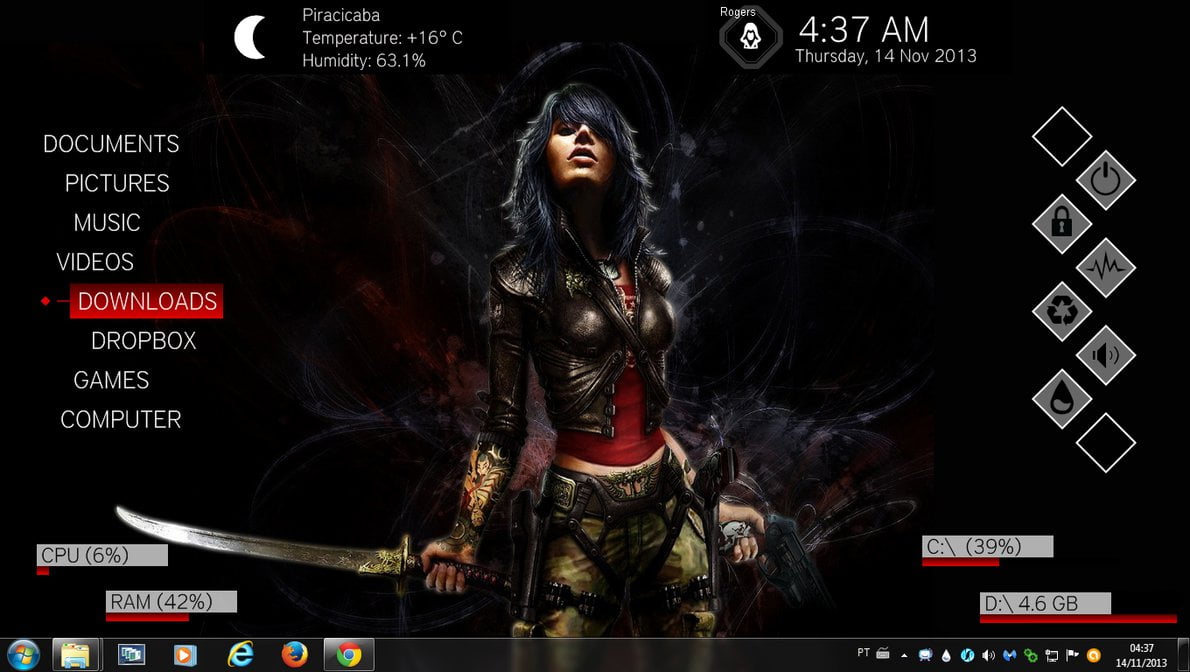 Symbolic of its name, the Bad Girls theme is utterly gorgeous and makes a bold style statement. Despite being a dark theme, this skin comes with plenty of customization options including the option to customize Windows app shortcuts and folders.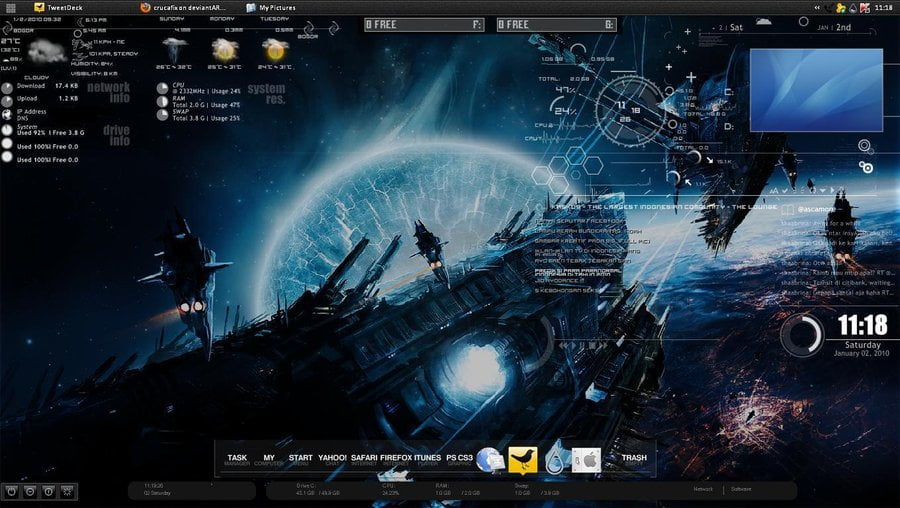 Another female-centric theme on our list of the best rainmeter skins, Girl Sounds 2 is a "relatively" minimalist skin for anime enthusiasts who also adore listening to music on the side. The overall layout of the skin is kept simple and plain with just two widgets in the form of a clock and music playback widget.
Best Rainmeter Skins for Space Fans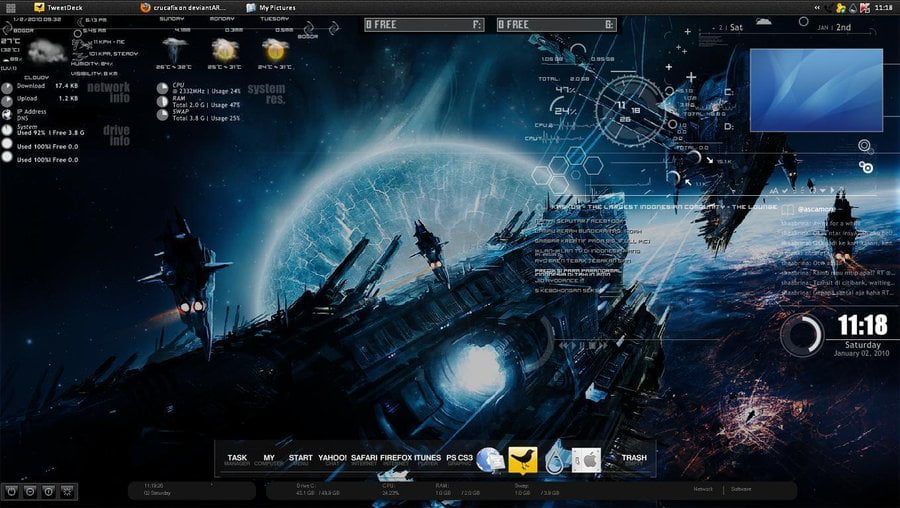 Are you an avid StarCraft player? Do you want to stay in the realm of StarCraft even after you are done playing the game? My RainMeter Desktop is a nifty theme based on space imagery and comes with cool space and spacecraft wallpapers and many "spacey" looking detailed sub-modules that are out of this world, literally.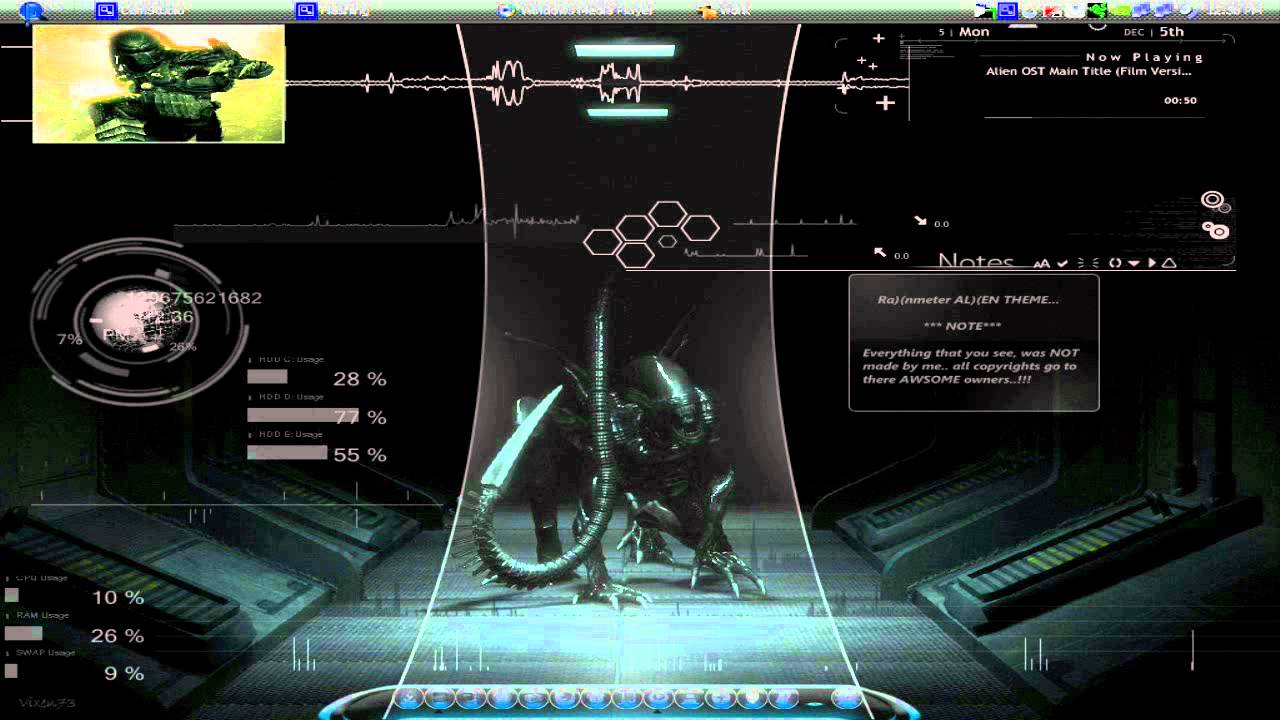 ALIENS is a brilliant rainmeter theme that ably illustrates how big a difference a background wallpaper can make to your customization endeavours. It's a flashy alien themeware skin that can only make sense when paired with the right wallpapers that tag along with it. The best bit is that its sub-modules are very easily configurable and include widgets ranging from Disk partition shortcuts, time and date to Network upload/download speeds and Power status.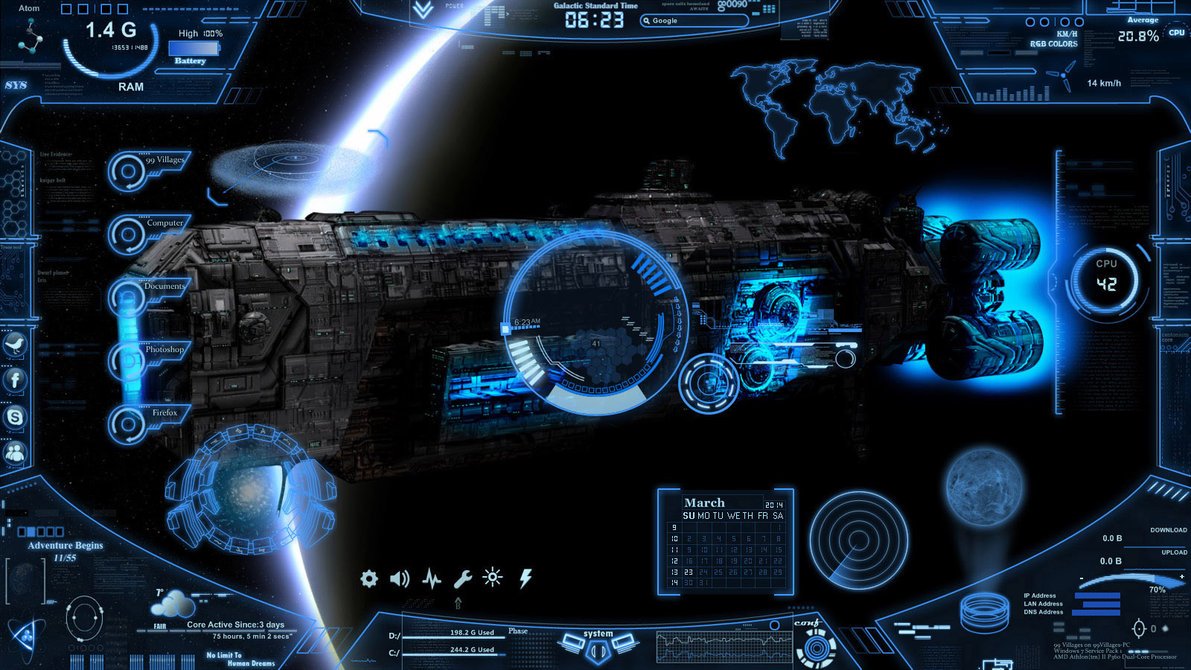 One of the most mesmerizing themes on our list of the best rainmeter skins, Neon Space is a pure beauty. Yes, it is really that damn beautiful. Flanked by a gamut of configurable sub-modules that simultaneously glow and animate in brilliant neon blue colours, Neon Space metamorphoses your desktop to resemble a futuristic alien spaceship HUD.
Of course, it can display all the usual fare such as: Calendar, CPU and RAM usage, Time and Date, Current weather with 3 day forecast, and hold your breath, a whole bunch of holographic widgets that are absolutely dope!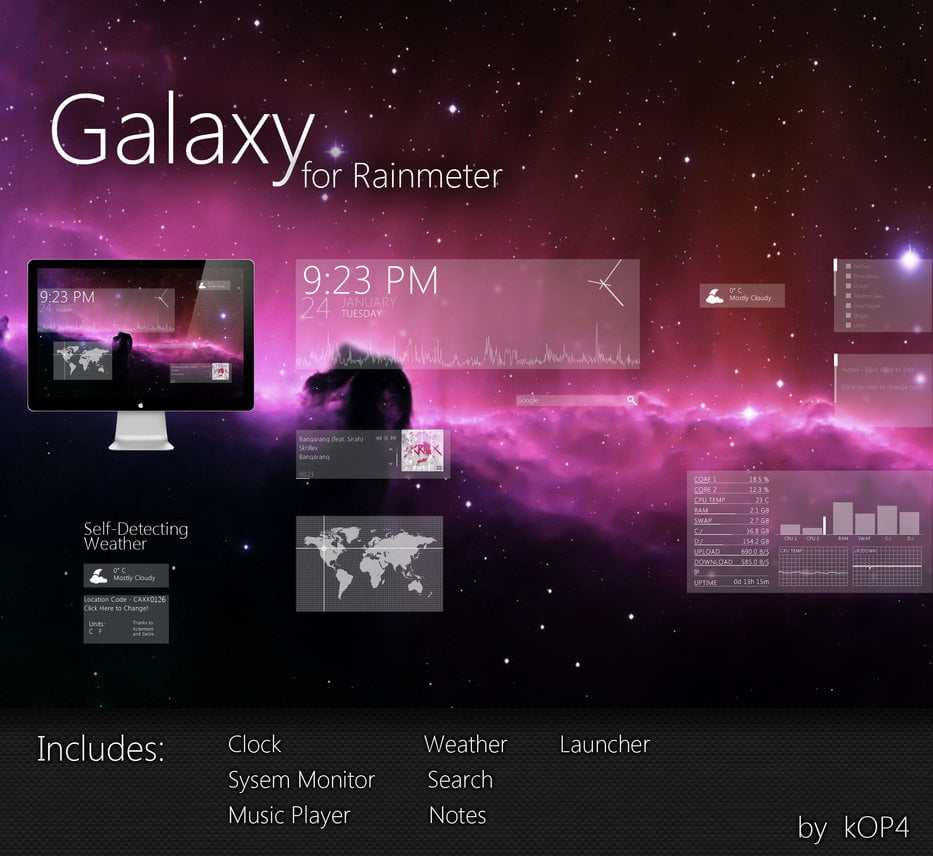 Who isn't intrigued by space and the endless galaxies that it houses? If you too want to delve into space right through your desktop screen 24X7, Galaxy Suite Rainmeter can provide some of the finest galaxy backgrounds with stunning visual effects on your Windows 7/10 system. Interestingly, it also boasts a peculiar universe related theme that can pique the interest of space fanatics.
All in all, the Galaxy Suite Rainmeter skin is an all encompassing theme that will change everything on your desktop, from the icons, to shortcuts and folder, etc. into intergalactic cosmos.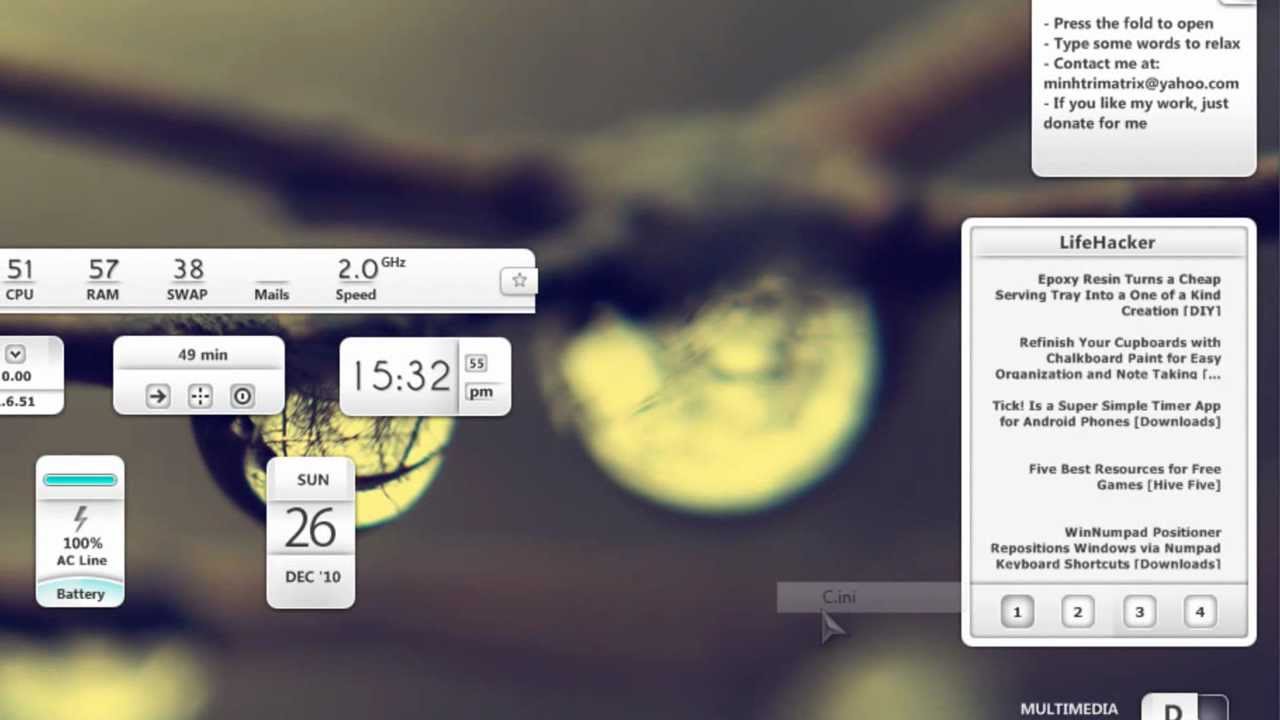 Moon Glow brings natural moon effects to life on your desktop screen in a very soothing and attractive manner. Further, you can save your favorite notes on the main screen itself and avail widgets related to current temperature, date, time, weather condition, et al. in a live notification tray.
Best Rainmeter Skins for Superhero Flicks Fans/Movie Buffs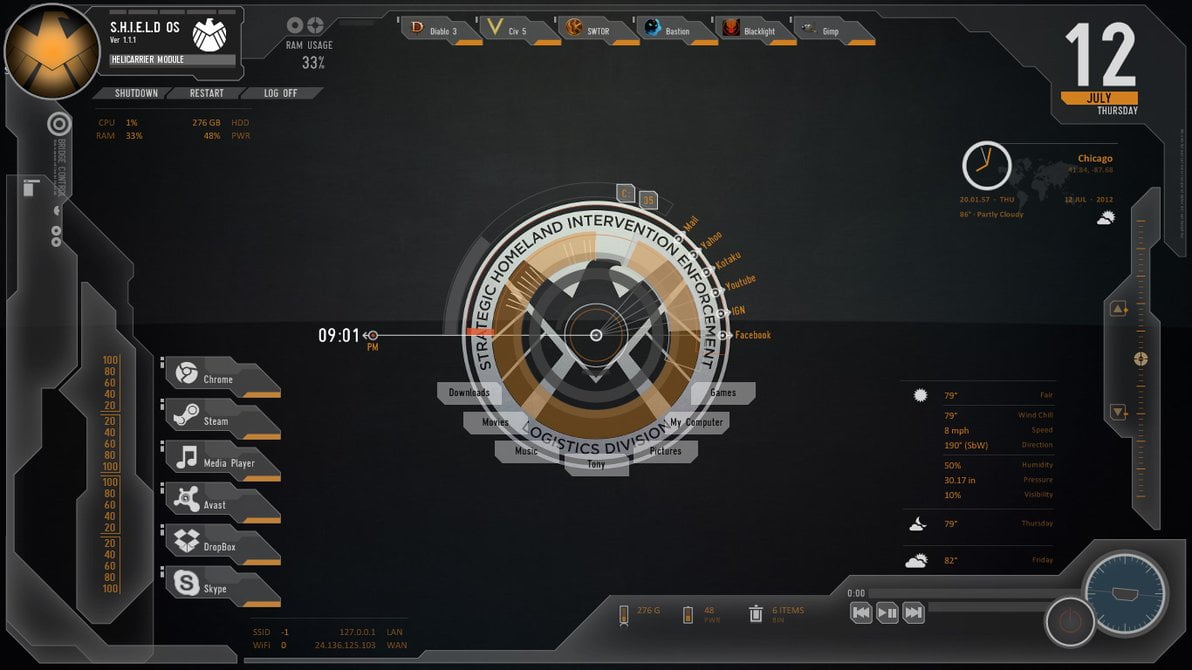 Granted, being in the company of superheroes in real-life is like dreaming of fiction, but you can at least bring that fiction to life on your desktop through the Avengers S.H.I.E.L.D OS theme. This Avengers-exclusive theme is available in a plethora of resolutions, and includes nifty shortcuts to your recently accessed applications such as Media player and Browser.
Other widgets include the likes of Media playback/control bar, the S.H.I.E.L.D Eagle tag and RAM and CPU usage stats.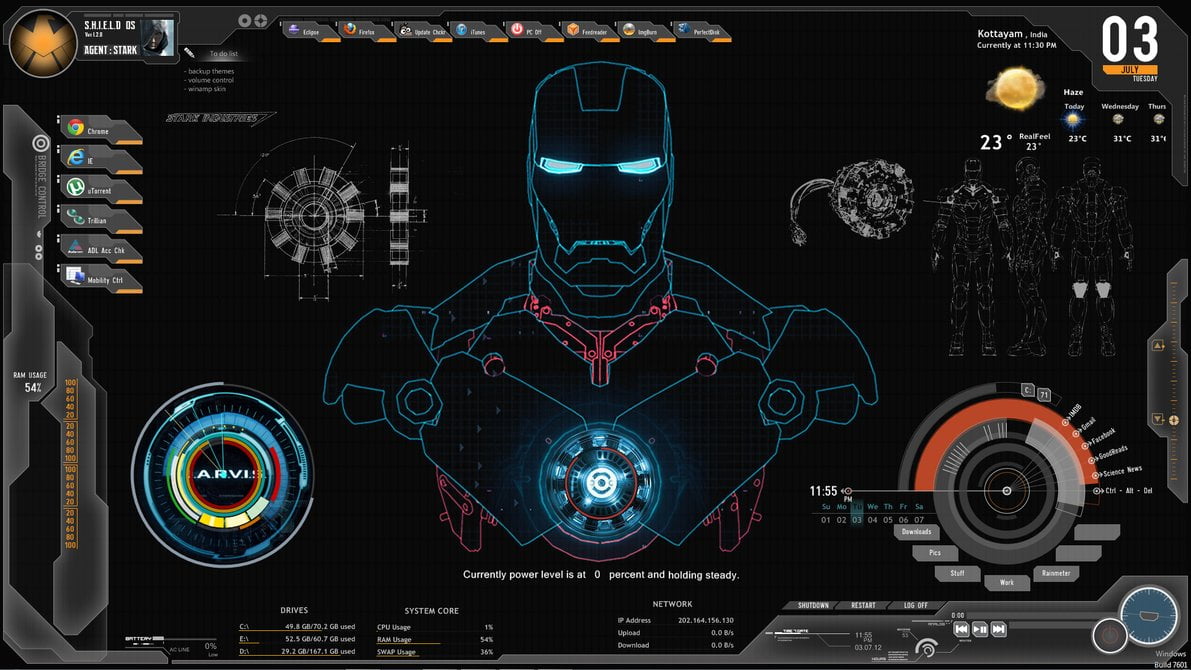 This rainmeter skin proves that you don't have to be Tony Stark to attain your own fully-customized J.A.R.V.I.S powered computer. For starters, IronMan Jarvis boasts multiple modules that can be swiftly re-positioned, and it is most importantly, super customizable. It can also display some useful information such as Hard disk capacity, shortcuts to the system folders, Clock/Date, Current Temperature, and RSS feeds that all transpire from Iron Man's arc reactor core hub.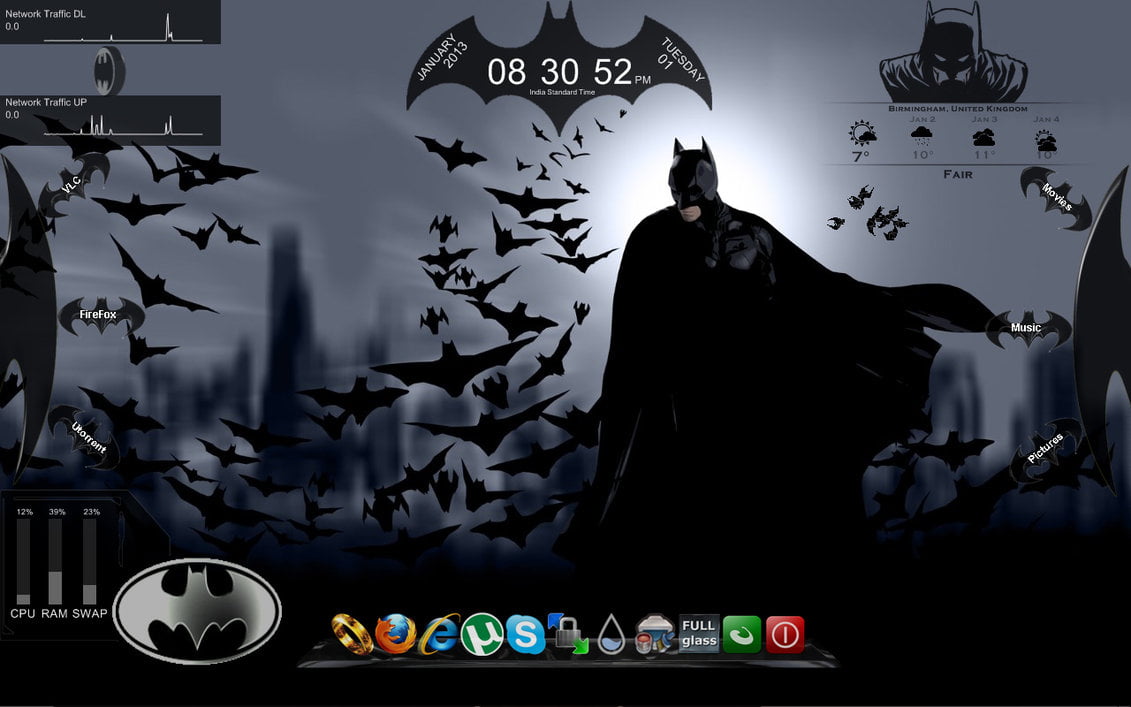 DC fans in the house rejoice for there is a skin based on the legendary Batman! Any Batman lover would be enchanted with the sheer amount of resemblance this skin has to the aura and realm of Batman. All the widgets are customized on the lines of Batman equipment such as the BatMobile. So, don't think twice if you are planning on getting this skin.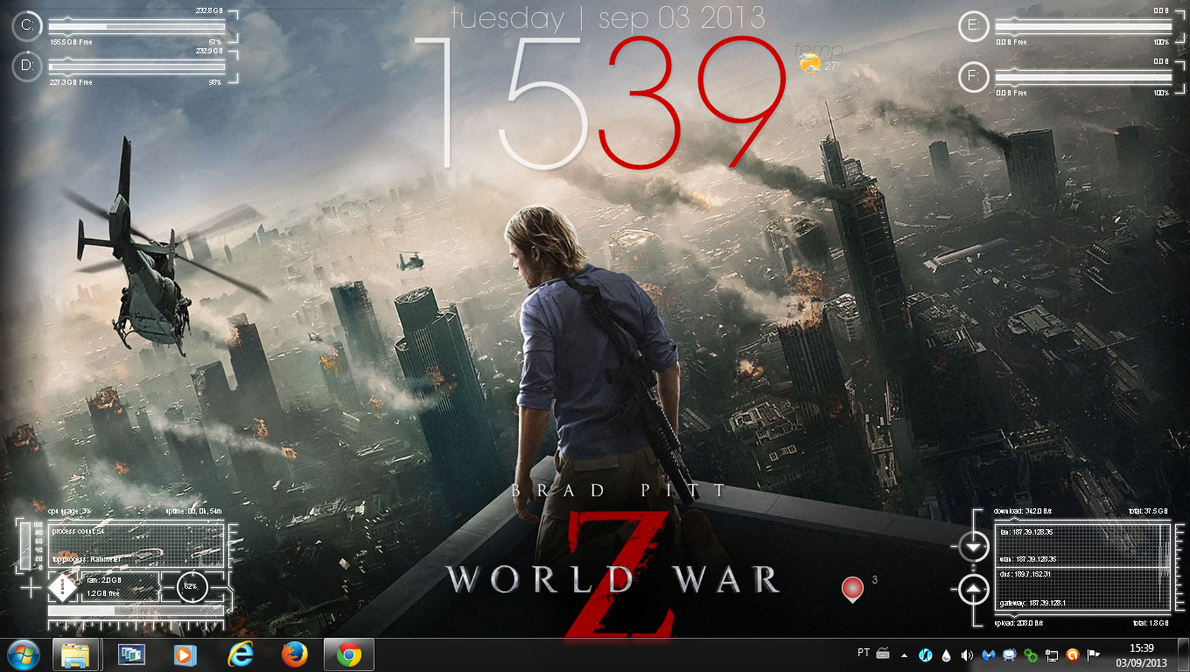 The cine flick World War Z surely was a goosebump inducing mega hit, and the rainmeter skin variant of the movie doesn't disappoint either. Despite sporting a minimal-esque layout, World War Z can lighten up your desktop with some serious animation effects and widgets hub.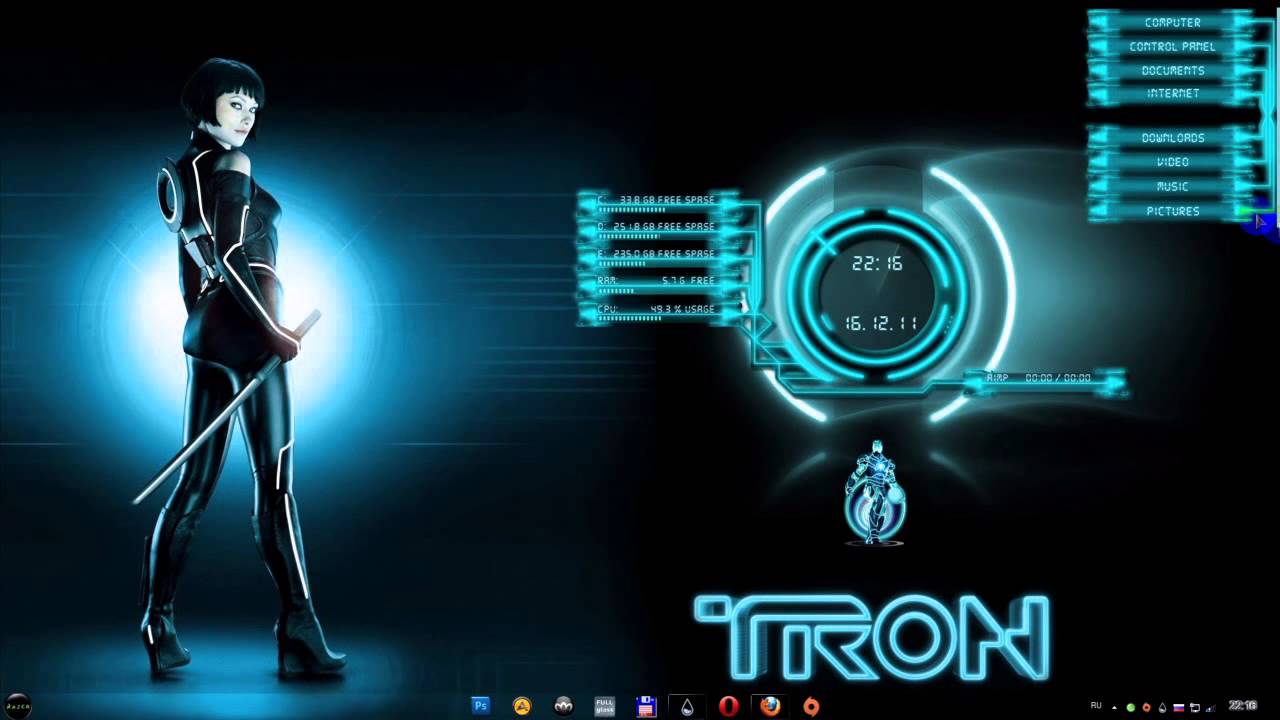 Sci-fi saga Tron Legacy comes to life on your desktop with this illustrious rainmeter skin that is both eye-catching and visually appealing. The Legacy skin of RainMeter boasts fully customizable wallpaper and a widgets hub that would make you not want to take your eyes off your desktop.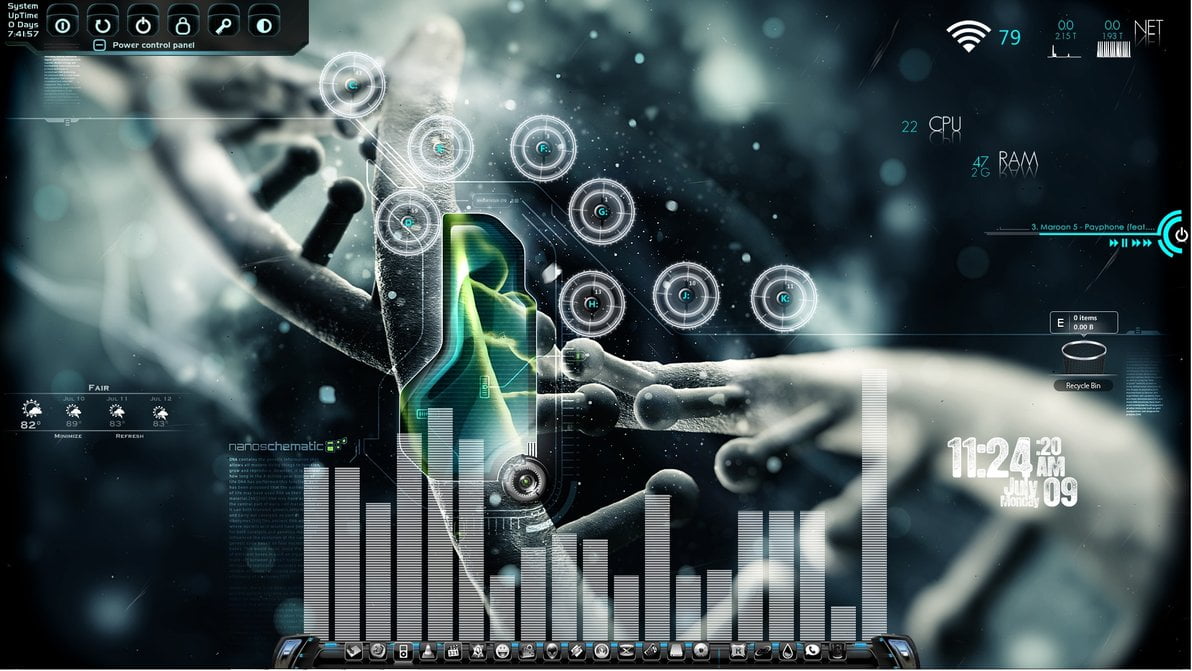 Nanoschematic desktop is a rather bizarre sci-fi skin, in the sense, that it gives your desktop a nerdy look. Of course, it does feature a lot of sub-modules with full-fledged customization options.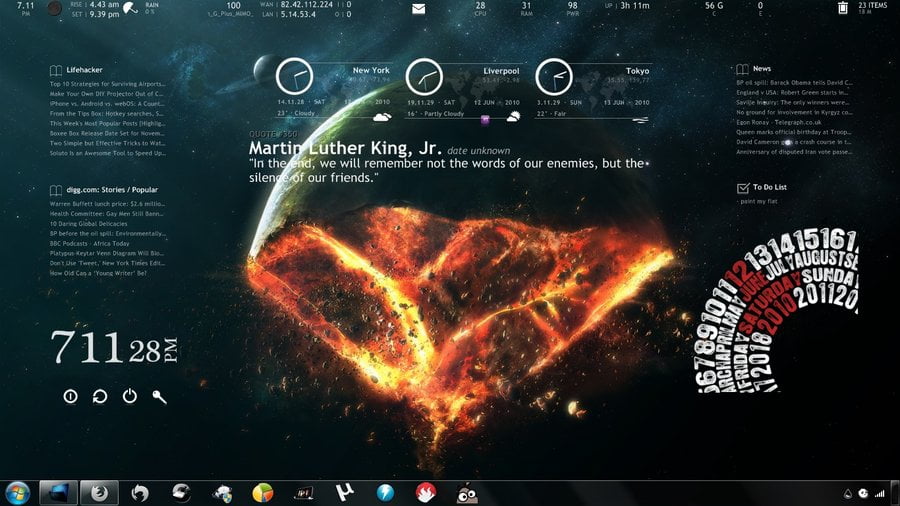 Rounding off our list of the best Rainmeter skins in style is the End of the World theme that reimagines the world of the future. True to its name, this theme is based off scenery depicting a ravaged World after an apocalypse or World war. Although, not based on any real scenario, End of the World is a must for conspiracy theorists.
You can come across the half-ended background of the earth on your screen that serves as a stark reminder of the destruction a bloody war can cause and use customized icons, clock, widgets, clock, et al. which will distract your attention from the mayhem on your screen.
Conclusion
All the aforementioned skins are unique in their own way and lend a definitive charm and personalized appeal to your desktop if you are tired of seeing the same old themes of your boring Windows OS. Interestingly, you can also choose to mix two or more rainmeter skins if you want to step up your game.
Further, by blending a couple of rainmeter themes, you can create distinctive widgets that depict RAM usage, date/time, system configuration, and thus in the process, create a whole new customized skin. Rest assured, with some of the best rainmeter skins at the helm, your desktop will get a much needed royal makeover that will not only attract eyeballs, but also showcase your tastes.
And…that's a wrap! Did you like our roundup of the best rainmeter skins for Windows 10/8.1/8 and Windows 7? We scoured the web to find these beauties from sites like DeviantArt, and even Reddit. If any of your favourite skins deserve a mention, do let us know in the comments.