Considering the sheer vulnerability of Windows OS and a rising number of malicious ransomware attacks worldwide, PC users need a robust antivirus software to ward off ghastly cyber incursions and keep their computers running in pristine health. An Antivirus solution also comes in handy for safeguarding user identities online as well as masking their financial information. However, while premium antivirus suites are replete with dozens of unwanted features, they are also quite expensive. But, why pay a hefty sum when you can avail all the essential protection features with some of the best free Antivirus for Windows and keep your PC steady?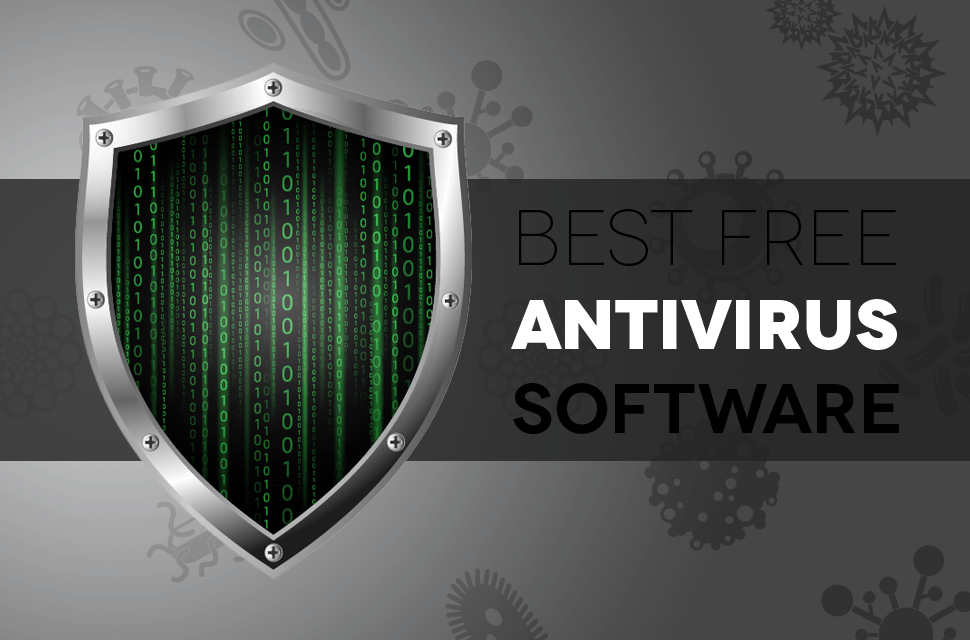 These free Antivirus solutions cannot only fix security loopholes/bugs, but monitor a computer's firewall, manage security on mobile devices, and fetch regular software updates. If you happen to be one of those people who cannot afford to pay a yearly subscription, or are not interested in splurging on an exorbitant antivirus, these best free Antivirus for Windows are just the right remedy for you! So, are you ready to find out what foolproof Antivirus solutions you can avail for zilch? Let's get started:
Best Free Antivirus for Windows 7, 8 and Windows 10 Users in 2018
1) Avast Free Antivirus [Best Antivirus with email scanner and fast scans]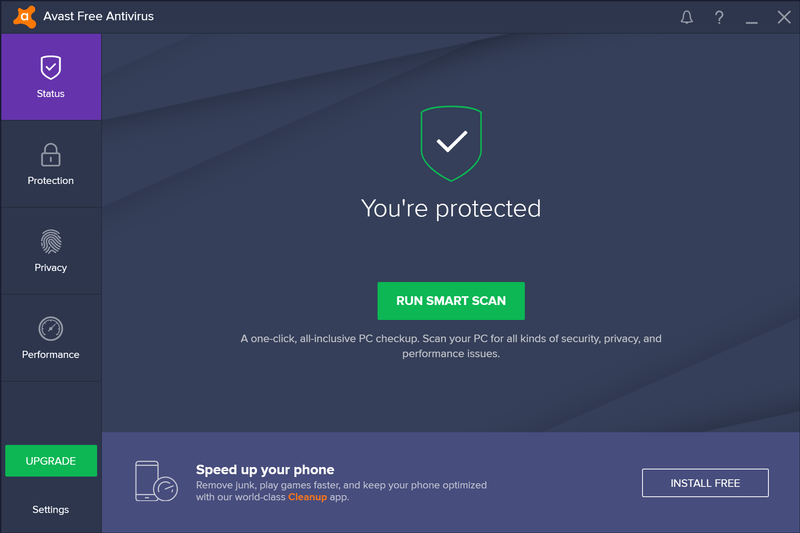 Ever since Avast bought its prime rival AVG last year, it has bolstered its security mechanism tenfold. The results are crystal clear as Avast now boasts a formidable malware-detection engine that whisks away threats in real-time. Suspicious files are automatically sent to the cloud for analysis whilst Avast pushes a cure to all users in case of a threat.
Not to mention, Avast's user-friendly, and intuitive interface makes it a cakewalk for users to launch full/smart PC scans, and check home network security by detecting potential malware, spyware and phishing activities.
Moreover, Avast also boasts a nifty network scanner, machine-learning protection, Behaviour Shield, Wi-Fi Inspector and password manager. However, what clinched the deal for us is that despite fast scan credentials, Avast never really slows down the computer and has an imperceptible system impact.
In fact, when you are indulging in some high-octane gaming action, Avast never pushes out Windows and Antivirus notifications and silently eliminates the threats in the background so that you have maximum processing power and speed at your disposal.
2) AVG Internet Security [Best Antivirus for VPN and webcam protection]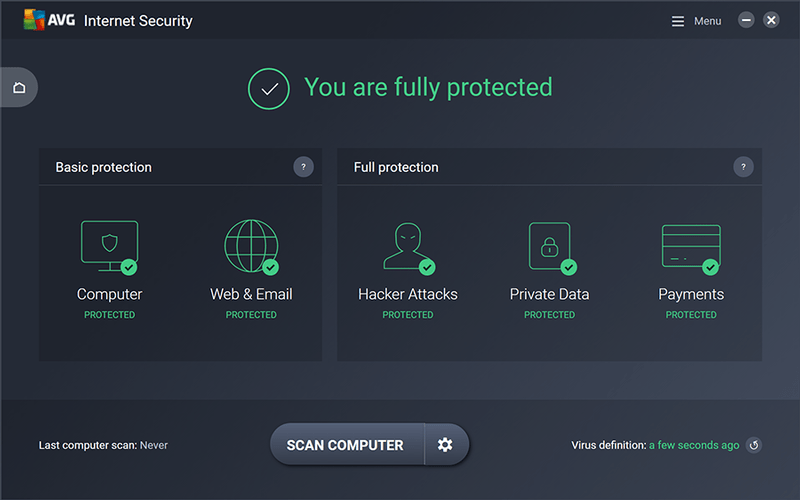 With the semblance of AVG and Avast, AVG too has gained its right to be one of the best free antivirus for Windows users. So much so, AVG is replete with features such as Ransomware and Webcam Protection and has a light system-performance impact. Albeit, the real USP of AVG lies in providing untrackable extra-protection to your VPN service.
Of course, it comes loaded with spyware, trojan and phishing protection as well. In terms of pushing out security patches and updates, AVG is always on its toes and makes software updates a breeze.
What's more, you can safeguard your Windows phone too with on-the-go protection against hazardous apps with anti-theft locker and tracker, and mobile performance boosters. There's another piece of good news in the offing: AVG's wide range of customization options are still available. However, the bad news is AVG will still constantly pester users to upgrade to its premium version.
3) Avira [Best Antivirus with customizable interface]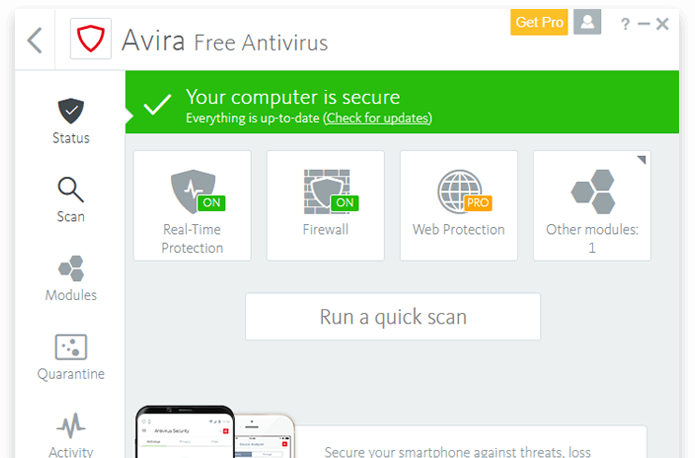 Avira has been a staple of the Windows Antivirus ecosystem for a while, and is a strong contender against the likes of Avast. On the UI front, what may seem like an austere and no-frills attached user interface is actually quite intuitive and attractive, to say the least. Avast makes it a point that users access all the features on its highly-customizable UI with the push of a button.
Some great features that push it to the forefront of the game are: endpoint antivirus scanner, real-time cloud scanning and complete privacy protection. Moreover, Avira boasts a wide range of free add-ons including a password manager and a nifty VPN client which is damn good at its job.
In fact, the numero uno reason that injects Avira into our list of the best free Antivirus for Windows is its Protection Cloud feature which can send a suspected file's digital footprint to the cloud and quarantine it in no time. So all the users won't ever be infested with similar trojans, spyware, etc. in the future. However, if you want unhindered access to some more features, you might as well would want to try out its premium edition.
4) Bitdefender Internet Security [Antivirus with best virus scanner]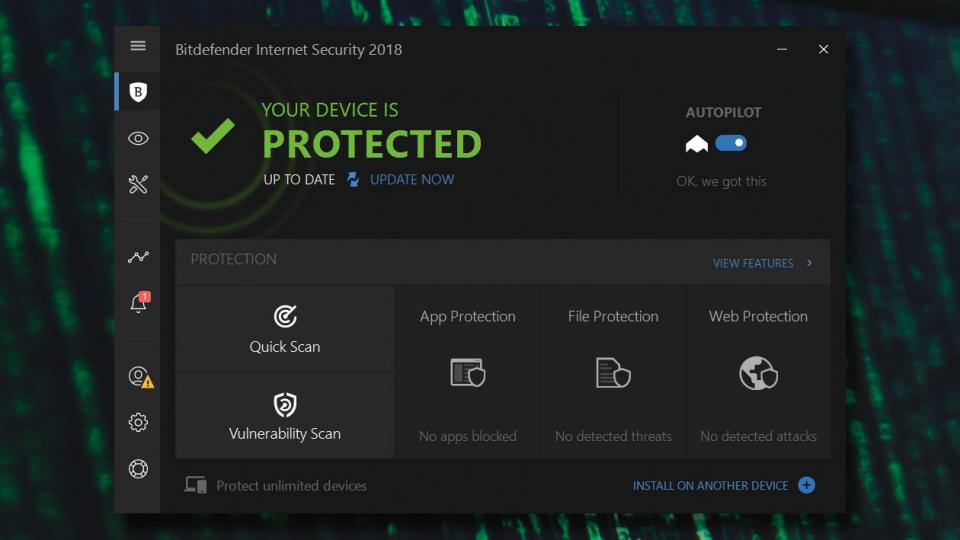 Bitdefender is endowed with a prolific malware-detection rate that is second to none. But, one great thing about Bitdefender that piqued our interest the most is that it's a silent performer. That is, you won't have to worry about scheduling your scans or checking for updates since Bitdefender takes care of it all at blazingly fast speeds. Also, it has a low impact on system-performance so that users can enjoy playing games or carry out their photo or video editing endeavours with ease and grace.
Moreover, it comes loaded with real-time behavioural detection ability to single out fishy apps. Plus, the virus scanner and malware remover are ably assisted by a powerful scan engine which weeds out viruses, trojans, rootkits, zero-day exploits and spyware.
However, Bitdefender Antivirus' Free Edition comes with bare-bones features that don't pass muster if you are seeking full-fledged protection against Ransomware on your Windows OS which is highly susceptible to such attacks.
5) Panda Security [Best Antivirus with cloud cleaning]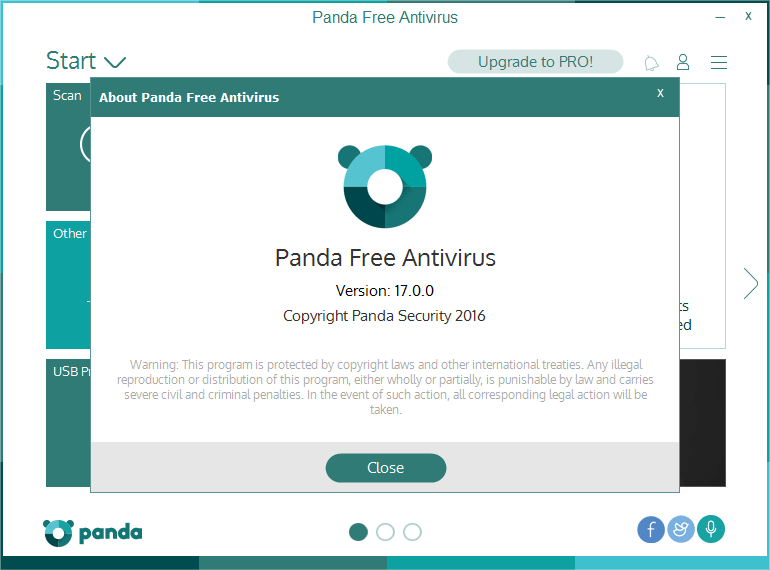 If you are a frequent online shopper, chances are you would need Panda Security's services. Panda's cloud cleaner analyzes and disinfects your PC in the cloud so as to make your browsing experience safe. Also, its malware-detection scores are actually better on Windows 8, 8.1 and 10 although they are quite dismal on Windows 7.
But, Panda doles out real-time updates and works as a silent guardian of your system. Basically, users won't have to worry about complex configuration settings, or installing updates.
Moreover, it also protects your WiFi connection from malicious attacks and piggybacking neighbours. You can also avail parental controls to protect your kid whilst they are browsing the net. However, Panda sometimes hijacks your web browser settings and can have an impact on your system-performance. Also, it can sometimes mistakenly flag benign files as malware.
6) MalwareBytes Anti-Malware [Best Malware remover]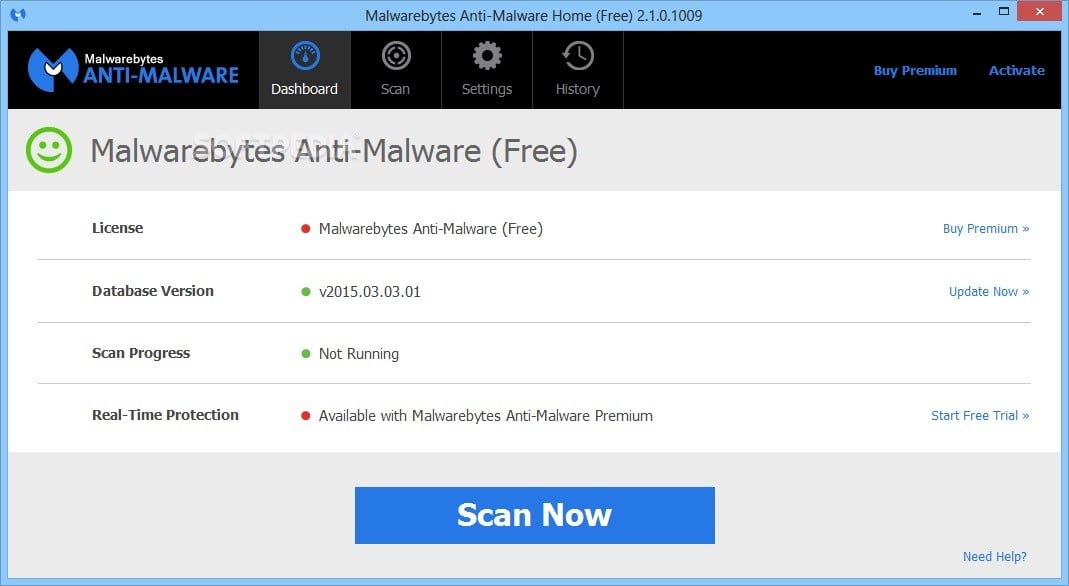 Although it can't really be categorized as an Antivirus in the true sense, but Malwarebytes Anti-Malware is actually a pretty decent malware buster. It does the brilliant job of cleaning out existing malware although it can't fully protect your PC from any other form of infection. Which is why, MalwareBytes is one for the best free Antivirus for Windows users exclusively for those who are troubled by malware intrusions.
Plus, it does help that this free malware solution doesn't interfere with any other antivirus software that you have already installed on your PC. So, there won't be any conflict and you won't be annoyed by constant pop-ups from your Antivirus. Overall, installing MalwareBytes besides an Antivirus program is highly recommended since it complements other PC security tools.
7) Windows Defender [Best Antivirus for a web browser]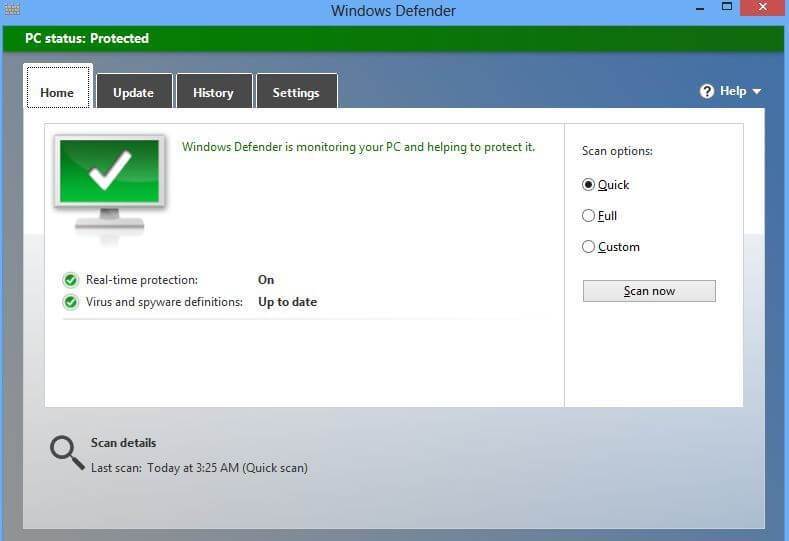 What would a list of the best free Antivirus for Windows 8.1 and 10 be devoid of mentioning Windows Defender? Although it suffered from a once shoddy malware-detection rate some years back, but now it has gotten miles better. Windows Defender comes bundled in Windows 8.1 and Windows 10 OS, and is renowned for always being alert for pushing out security updates, and patches with bug fixes.
On the protection front, it safeguards against threats such as viruses, malware and spyware across emails, apps, the cloud and the web in real-time. It also has an inbuilt SmartScreen tool on Microsoft Edge browser for safe browsing experience. Of course, it comes with Windows Firewall too. Not to mention, a smart "Find my Device" service for ringing, locking or mapping your Windows device if its lost.
However, Windows Defender has a high system impact during full scans with some false positives, and doesn't protect non-Microsoft browsers such as Google Chrome from online malware.
8) Kaspersky Lab Free Antivirus [Best Antivirus for banking and transactions]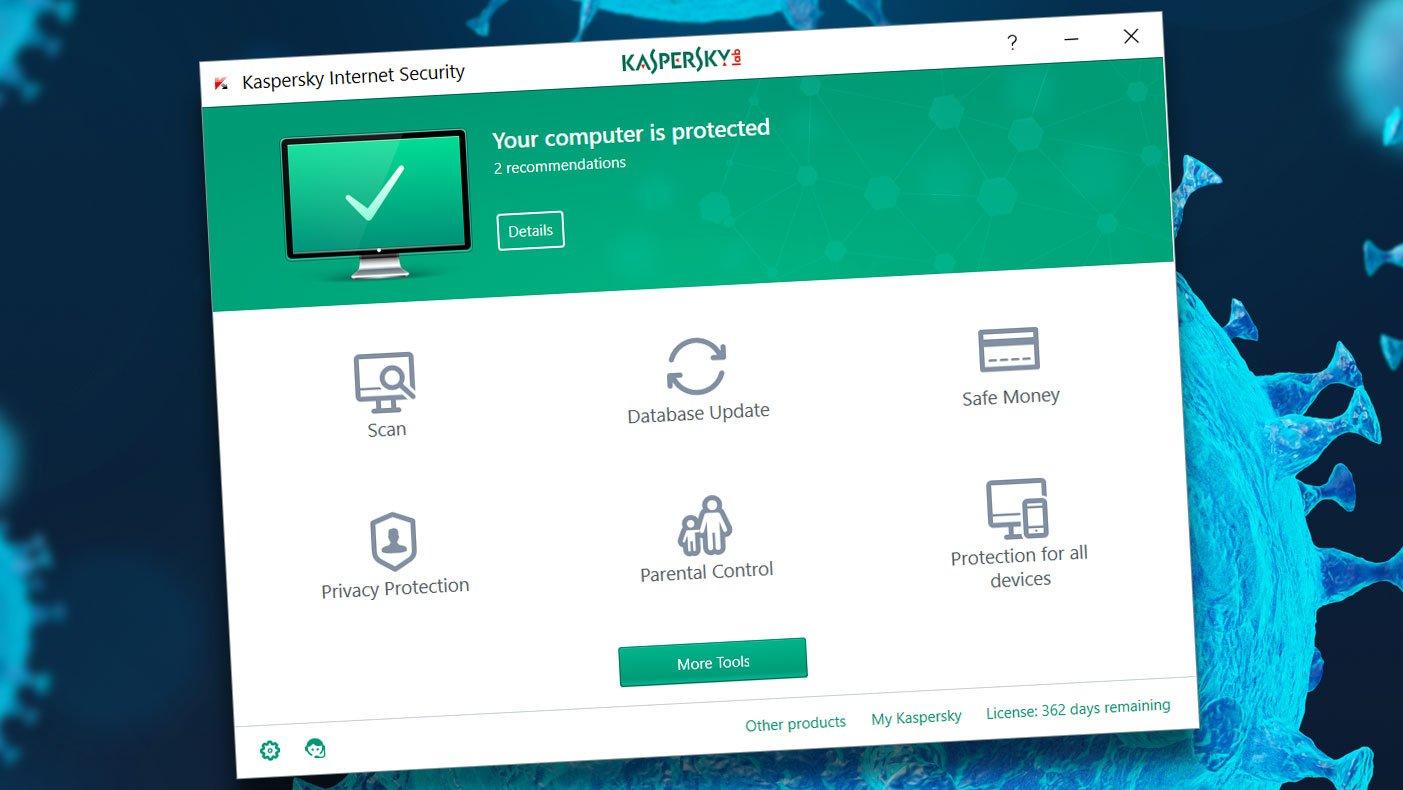 Kaspersky is a highly renowned antivirus software suite that has been at the forefront of Internet security for years now. Kaspersky Lab is well-stocked with brilliant features comprising an antivirus, spam filtering, phishing protection, firewall, and parental control, to name a few. Which is why, it is regarded amongst some of the best free Antivirus for Windows on the market.
One of the highlights of Kaspersky is its safe online transaction feature which adds an extra layer of security when you shop or bank online. The UI, too, is quite simple as it easily lets you choose all the main options such as Scan, Update, et al. Moreover, you can make use of advanced features such as vulnerability scanner, and webcam and audio protection.
In fact, unlike most antivirus software, its firewall is very chill as it intelligently allows/blocks programs on its own and doesn't bother you with unwanted pop-ups. The only downside is that the good ol' free version is only available for 30 days after which you need to upgrade it.
9) Sophos Home Free Antivirus [Best Antivirus for remote scans]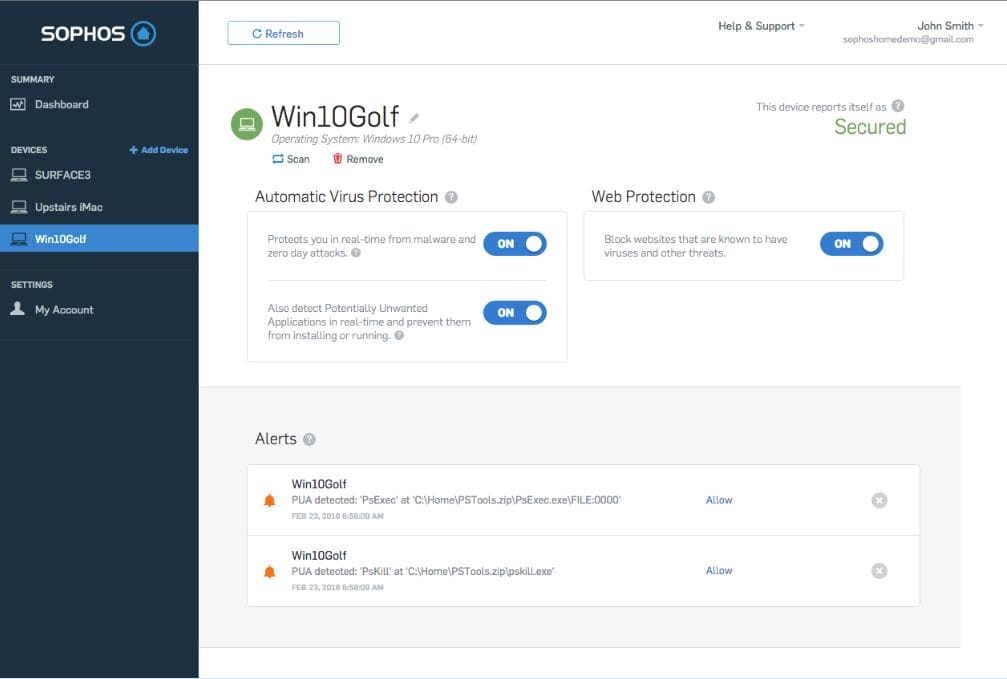 Initially launched as a business-only cybersecurity solution, Sophos is now available as a home security tool as well. In other words, it provides enterprise-grade security for your home PC. It is a decent Antivirus companion if you indulge in a lot of banking and financial activities online. Apart from scanning your system for deadly viruses, ransomware and eradicating malware, Sophos Home free antivirus also keeps a tab on your Internet activity. Furthermore, its inbuilt web protection blocks all the unsafe websites.
Sophos Home also provides webcam and microphone users access to an online dashboard wherein they can remotely schedule and run scans and keep a close eye on the security status. Meanwhile, parents can also set a web filter to restrict their children from accessing harmful or sexually explicit websites.
10) Comodo Antivirus [Best Antivirus for running untrusted software]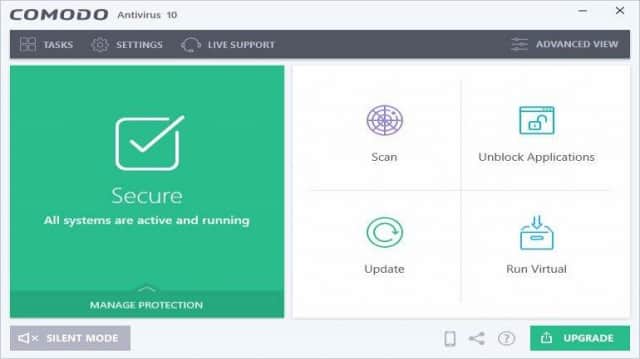 Rounding off our lineup of the best free Antivirus for Windows is Comodo Free Antivirus, which is a relatively feature-rich software suite. It comes with a cloud scanning option that constantly updates itself with the latest types of threats lingering around on the Internet thanks to uploading of data by more and more users.
Coming on to the interface, you will be pleased with its clean looks and feel since it is easy on the eyes and includes many themes. The major options are displayed in the form of big buttons on the home screen so new users won't get confused. You also get an option of reverting to the classic theme.
Apart from the Antivirus scanner, Comodo also comes with an anti-spyware, default deny option and sandboxing technology for safely running untrusted software. However, Comodo is one of the strictest antivirus solutions around since it ensures that all running Windows programs pass through its scanner. So, it might be a tad intrusive in this regard and flood your system with needless warnings.
And…that's a wrap! So, did you like our roundup of the best free Antivirus for Windows PC? Did we miss out on any good Antivirus solutions that you know of? Sound off in the comments.