Discord is a group-chat app where the users can chat, either in a group or private, with other users of the server and channel. The 'server' is a grouped messaging and chatting place for a community and each server has multiple 'channels' that are designated for a particular form of activity.
Prominently launched as a base for gamers to chat in groups and even allow live streaming, the app is now under use by various brains. Discord allows group and private messaging in both voice and video chats amongst the users.
Why Use Voice Changer Apps?
As many people can barge in a discord server by using a link, although the user has to follow the rules set by the particular community to retain being a member of the server, there are chances of security threats seeing to the rise of cybercrimes in the internet era.
Therefore, to protect their identity and remain anonymous, users resort to distorting their voice, especially while voice chats. And besides, it is quite funny to hear your own voice being reinvented into an alienated form. Here are some of the best voice changer apps you can use ethically on discord.
Best Voice Changer Apps
Voicemod
Clownfish
MorphVox
Voice Changer
All-In-One Voice Changer
MasqVox Voice Changer
Voice Changer Plus
1. Voicemod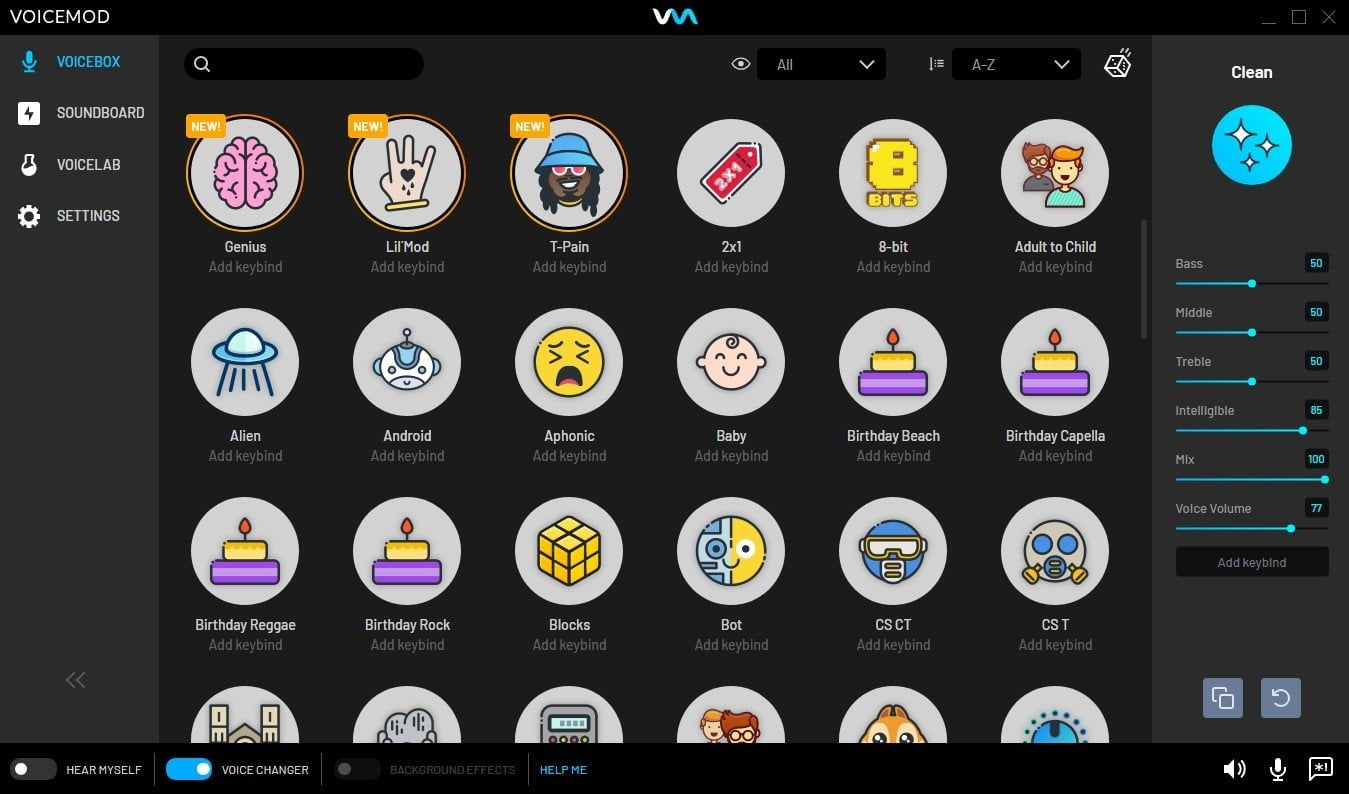 Considered as one of the best voice changer apps available for discord, Voicemod extends its effectiveness to various platforms like PC for both Windows and Mac, and mobile phones for both Android and iOS.
It offers features like improving your own natural voice using some tweaks in the system, 7 voice effects to alter the image, in the basic version while the paid version provides 80 voice filters, 15 effects to create more such filters and a wide range of customizing options at your hand's reach.
Key features:
This voice changer app for is compatible with many chat applications including Hangouts, Viber, Paltalk, and others.
It offers tons of effects including voice distortion for PC and laptops
Allows to upload sound in WAV or MP3 files.
Real-time voice change with simple SDK.
Supported Platform: Windows PC, Android, and iOS.
2. Clownfish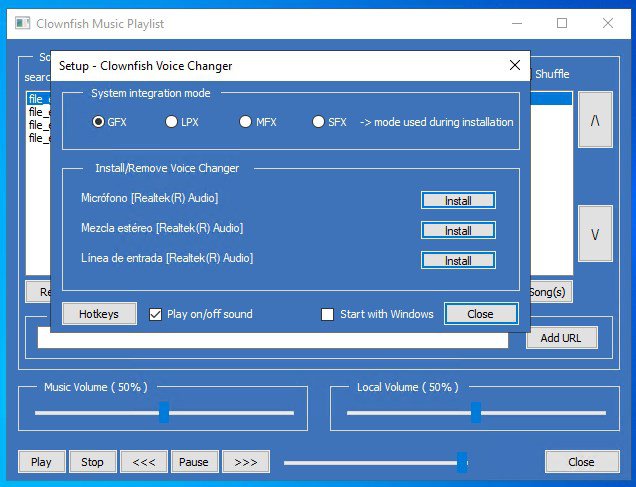 Clownfish is a free to avail app that might not be as furnished with the magnanimity of Voicemod but still seaths its fair collection of audio effects properly. Its plus side includes its compatibility with almost any kind of Windows setup and integration facility with other apps. Its working stance includes changing any voice that comes rolling down from the microphone in the background.
Clownfish can be easily availed on not only discord but various other chatting applications like Google Chat, Skype, Steam, etc. The voice pitches that can be applied, along with the male and female counterparts, are alien, robot, radio, and so on.
Key features:
It has a great collection of effects
The application works several known apps like TeamSpeak, Mumble, Steam, Skype, Google Chat
Easy to set up and use
Supported Platforms: Windows
3. MorphVox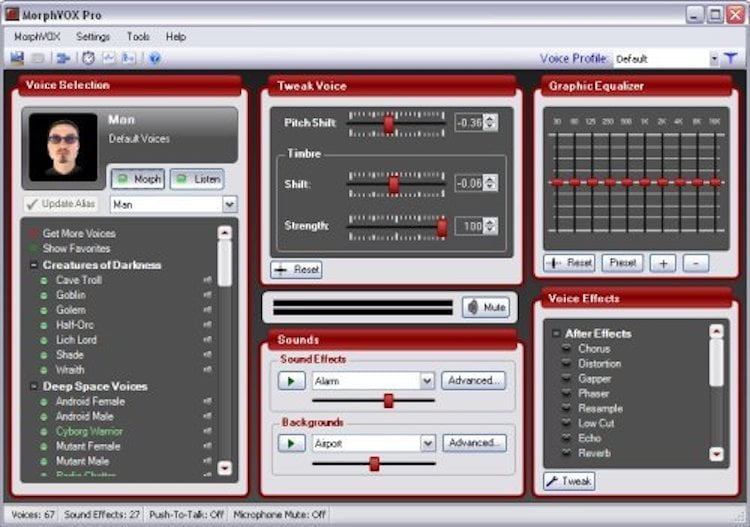 The voice changing ability of MorphVox is on point when it comes to tweaking the natural voice with tones, quality and pitch level of the sound. It is immensely equipped to make your voice either sound feminine or masculine by using the settings of tone and pitch. The high-quality outcomes produced by the voice is another magnetic aspect of it.
It has several in-built sound effects that you can exercise as per whim and also possess the integrity feature with not only discord but even gaming applications.
However, in its basic version, the user can be plagued with distractions and annoyance because of the myriad ads displayed.
Now switch your voice to any emotion, person, or expression you desire.
Key features:
Built-in voices and sound effects
Performs decent voice change effects
It offers customization to fine-tune your voice
Supported Platforms: Windows
4. Voice Changer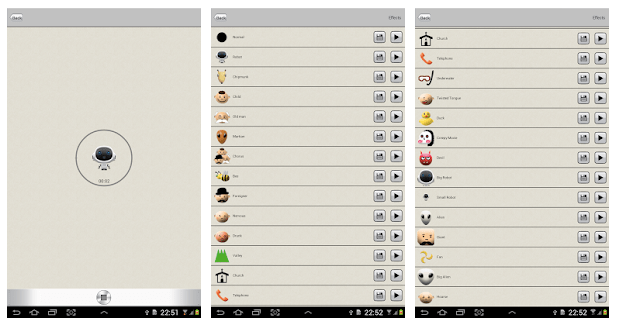 Kvelling for its ability to transform any sort of voice on magnificent grounds, Voice Changer is a user-friendly application that comprises a vast basin of editing options whether you are using a pre-stored voice or deploying effects on your recorded voice that you can record on the app itself.
It is a free-to-use app that sits and gists with Android largely. It can not only be competently integrated with Discord but choices like Viber and Skype are available as well. The user can also easily share the recordings and the altered voice formats with others. Also, their number of voices present in its archives counts up to 51.
Key features:
Easy to record and apply an effect on audio
You can share the saved audios with your friends via Bluetooth, or social networks
Apply the listed effects as many times to generate different effects for your voice
Supported Platform: Android
5. All-In-One Voice Changer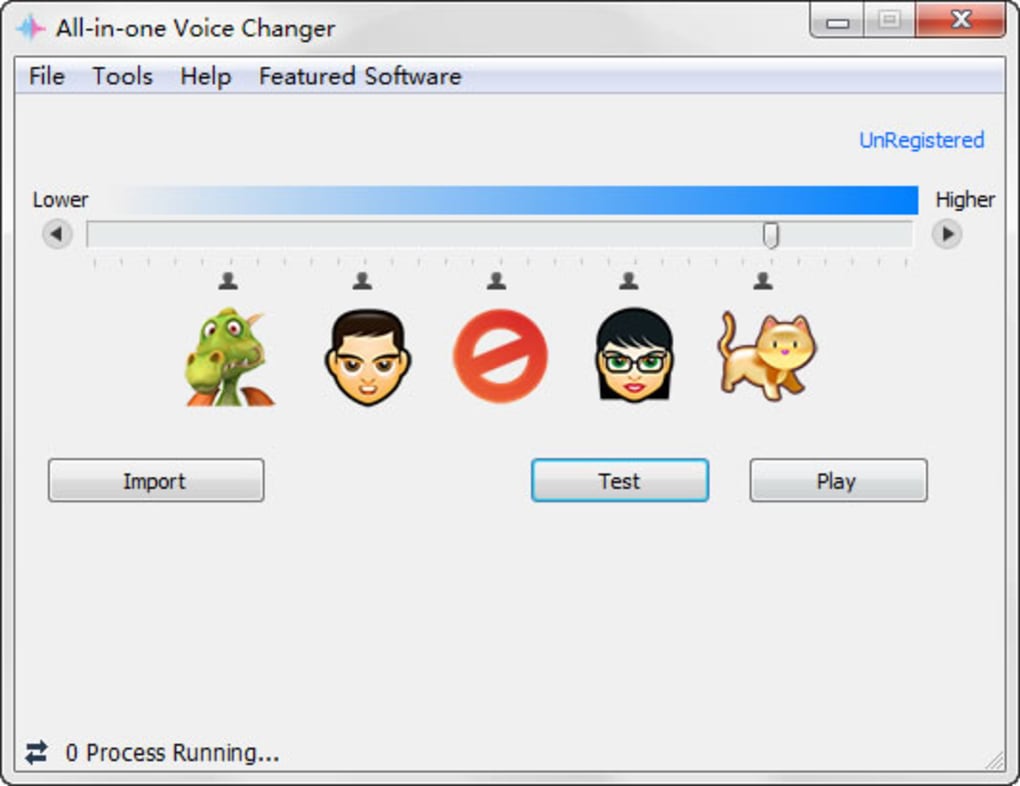 Mostly used by social media influencers and digital content creators, the All-In-One voice changer app is known for its ability to derail and reset the pitch of the voice effectively. You can also save the recordings of the audio applied voiced formats.
Capable of being compatible with various messaging apps, apart from Discord, like Skype, Yahoo Messenger, the software has been developed by Alth-tek. As voice alterations still face the threat of malevolent intentions and actions, All-In-One Voice changer restricts the exportation of audio files. They can only be played in the background when requested for.
Key Features:
Offers an easy way to test different voice changing effects
It has an indicator that helps you to decide the voice
You can listen recording without exporting them
Auto sync with your voice call platform
Supported Platform: Windows.
6. MasqVox Voice Changer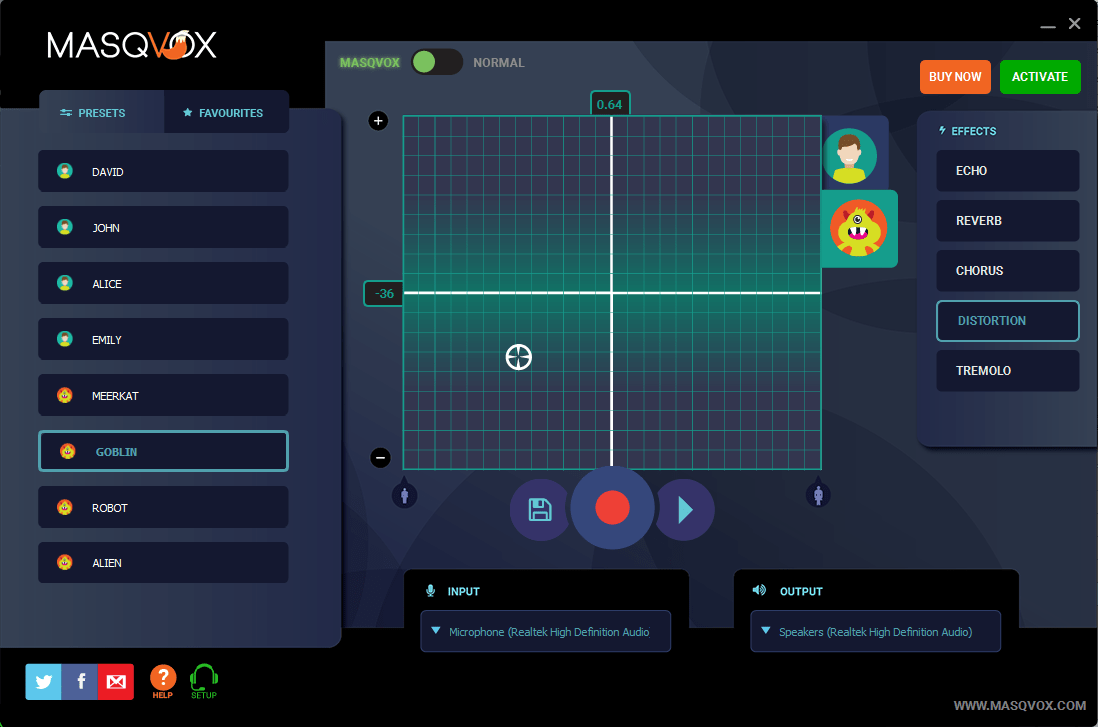 MasqVox Voice changer enables the user to toy around with his own voice in real-time. The microphone will record the voice of the user which will then pass into the system where it will be modified according to the mechanisms of the operation applied and the output will be out soon which the user can transverse to any integrating platform demanded.
The application is significantly easy to install by merely downloading it for free on the desired system and then using it as per requirement. Also, there is fairly no restriction over the horde of features offered and the absence of distracting ads.
Features:
It contains lots of human and cartoon based voice effects
Lightweight program which can change voice
Works well with the Windows OS
Supported Platform: Windows.
7. Voice Changer Plus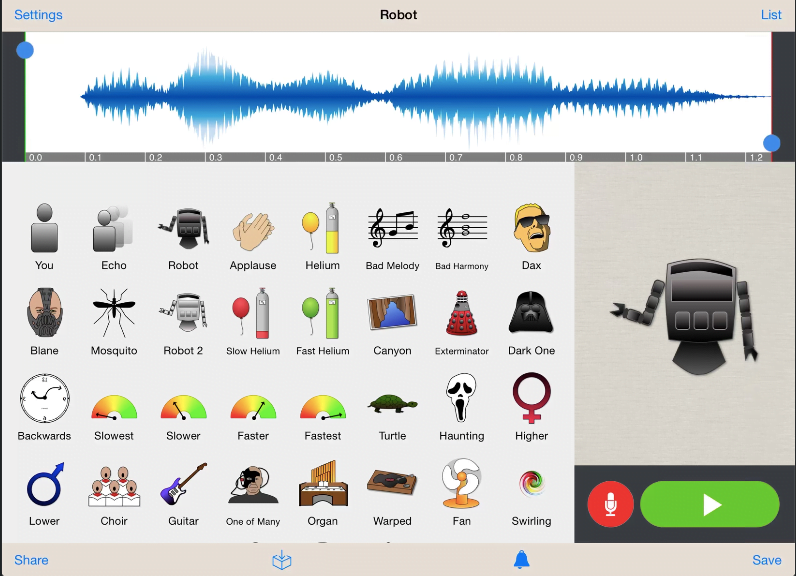 Voice Changer app has an impressive curation of audio effects and files that can be utilized for producing qualitatively altered voices. Giving you an entire range of customizing options, starting from the variety of voiceover effects, the user can also record his own voice and emendate accordingly. The app allows trimming of the audio files and recorded audio in the archives.
It is free to avail app which is exclusively accessible only on iOS platforms. Being most compatible with the servers of discord, the library of sounds it has collected is around 55.
How about pranking your pals during a voice chat?
Key Features:
You can record your voice in just single tap
It is free to save and share the record
Trim control facility for recorded audio
VoiceOver supports
Supported Platform: iOS.
Conclusion
Launched in 2015, Discord has gained immense popularity in its span. The current count of its users spell more than 140 million now. The ongoing pandemic has aided its growth further as a major part of the population had been shifted priorly to remote working environments with virtual contacts being the only touch with the world.
Let us know in the comments what you think about these apps!
See More: Deepfake Apps And Websites
See More: Open Source PDF Editors for Windows and Mac
See More: Best Free OCR Readers
See More: Document Scanner Apps for Android