In this digital age of the all-encompassing and profound Internet, finding the best DAW a.k.a Digital Audio Workstation is a very painstaking activity. After all, there are just so many of them lingering in the depths of le internet. In fact, choosing from good DAWs is like finding the most suitable companion for carrying out your audio production endeavours. The problem is that almost every software out there on the market lays claim to be the best DAW for Windows 2019, or the best digital audio workstation of the year for guitarists, and what not!
So, how does an audiophile or a budding musician, who has dreams in their eyes to put out their tunes for the world to marvel at, find the actual best DAW 2019 for producing music and enhance their sonic precision?
Fret not, we have compiled a list of the Best DAW for Windows and Mac users that will cover almost everything you seek in a suitable DAW. There's no need to skim through Reddit or internet discussion forums. These recording software will also come in handy after you have designed your dream home studio and are looking for a tool to polish your tunes or hone your soundscape that is not only professionally appealing, but also sounds like a work of art!
How to choose the Best DAW for Windows or Mac 2019, all by yourself?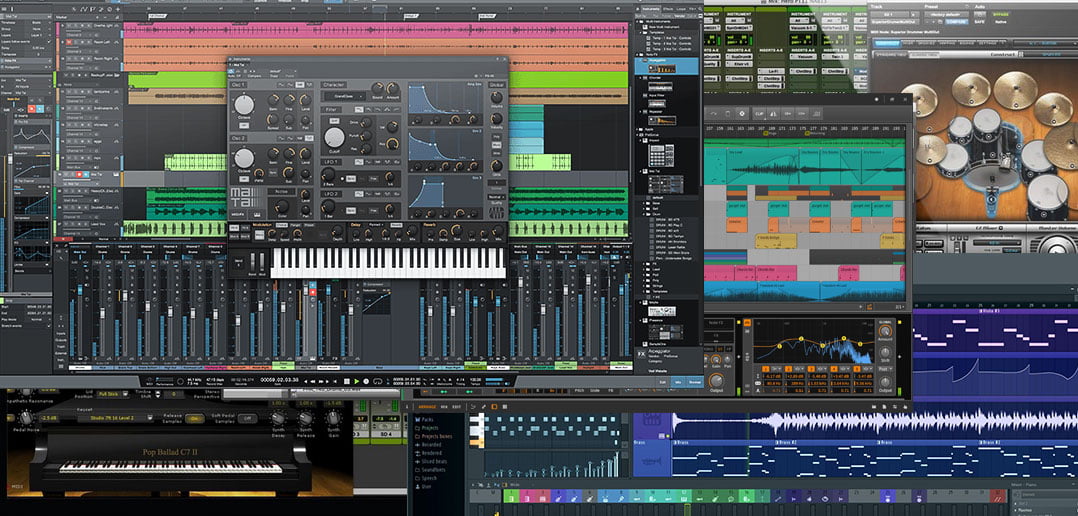 You may feel overwhelmed by the sheer number of options at your disposal. But, a careful assessment of your skills (beginner or pro), choice of plugins/VSTs, responsiveness of the user interface, MIDI support, comping features, and other factors will make it possible for you to make a decision in no time!
Once you have analyzed what you're looking for in a suitable DAW, you can easily choose the best DAW for Windows or Mac OS X. 
Note: If you don't have enough resources to spend on a premium DAW, you may want to have a quick peep at our list of the best free DAWs.
Best DAW for Windows and Mac: 10 Best DAWs in 2019
1) Avid Pro Tools 12 (Windows & Mac) [Best DAW 2019]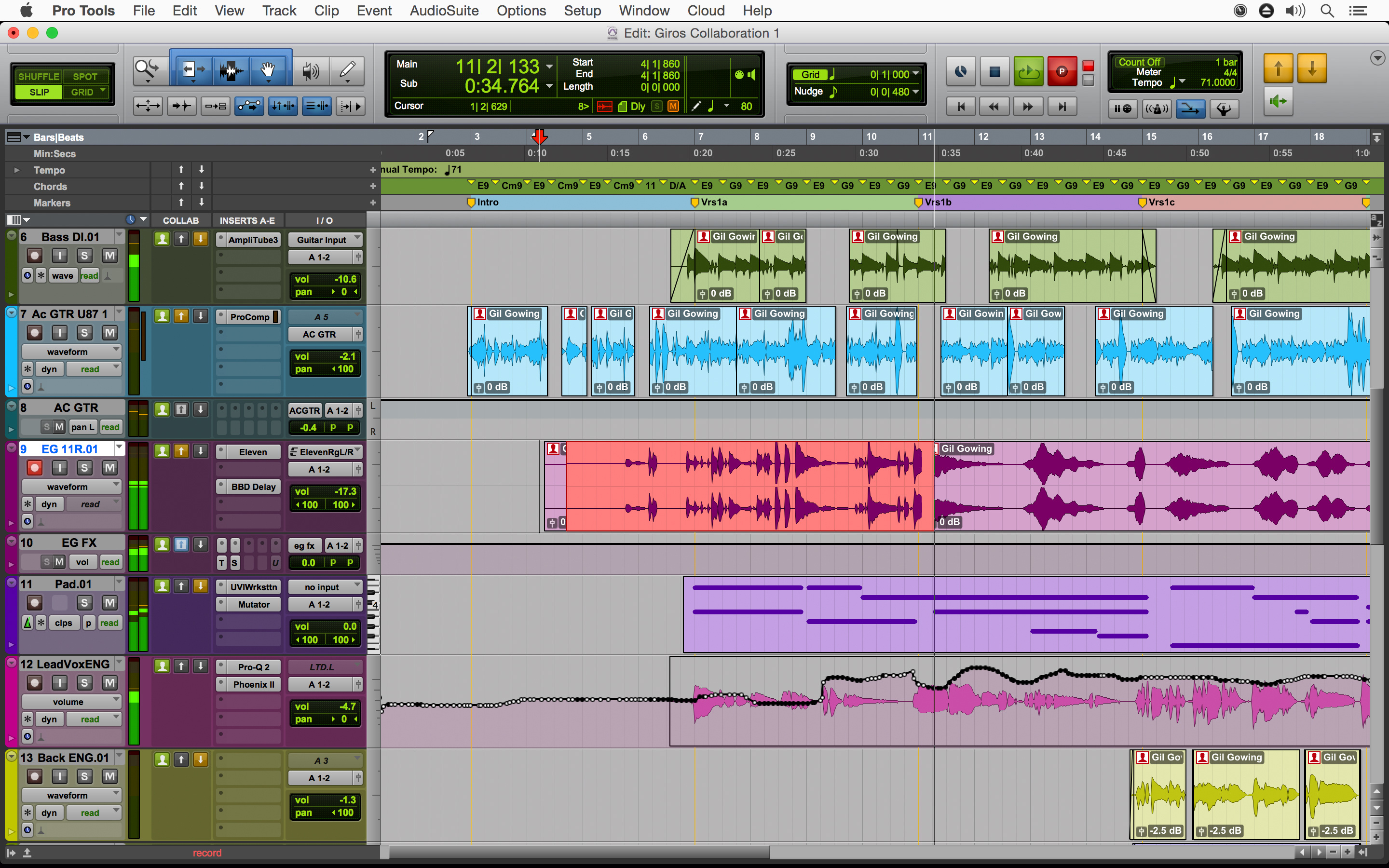 One of the most renowned DAWs of the professional music production ecosystem, Avid Pro Tools is a notch above the rest when it comes to churning out tunes whilst maintaining the professional mixing and mastering ethos as per the industry standard. For starters, you can't help but revel in the fluidity of the stock plugins (based on the Avid channel strip) that are more than enough to compensate for third-party VSTs and AU plugins.
We are talking about stuff such as a nifty drum machine, loads of synth samples and guitar/drum loops which can be used in backing rhythm tracks traversing all music genres. So, you can easily turn your guitar riffs and licks into a sonic masterpiece in no time. Not to mention, you can still incorporate third-party VSTs all you want, but you might not need them.
Also, the stock compressor is robust enough for parallel compression and sidechain compression. What's more, Pro Tools offers non-destructive or non-linear editing with low latency allowing users to go back and forth their edits while they add real-time EQ and dynamics to a clip.
Further, the drag-and-drop oriented swish interface of Pro Tools 12 makes it easy to edit audio layers and move clips around in the timeline of the edit window. Moreover, you can view chord names and notes as you play them in the MIDI editor and back up to 512 MIDI tracks. In fact, you can also back up to 512 instruments and 128 audio tracks. Fulsome much? Hell yeah!

2) Logic Pro X  (Mac) [Best DAW for MIDI]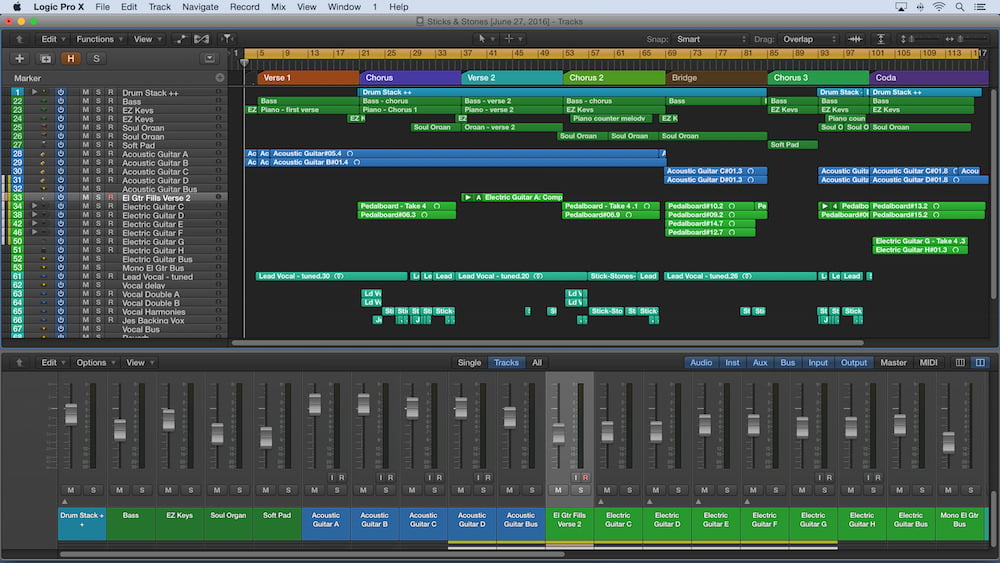 Considered by many Mac aficionados as the best DAW for music production, Logic Pro X boasts perhaps the finest stock plugins of any DAW. It is a comprehensive suite for MIDI production and recording and is replete with everything a pro musician would warrant to compose, record, edit, mix and master their tunes.
Logic Pro boasts some incredible features such as Smart tempo which can automatically match the timing of your tracks, brush drum kits and eclectic drum samples to add feel and jazz to your backing track. Not to mention, new AU plugins for loads of creative effects, vintage EQ and advanced reverb.
Another highlight that piqued our interest was Logic Pro's slick comping tool that can be used to choose the best sections of each take with auto transition-smoothing crossfades! Sweet.
But, the real novelty factor for Logic Pro is its mashup of over 7000 royalty free Apple loops and a Sound library with massive collection of patches, all of which can be easily tweaked. Also, you can revel in its Flex Time feature with which you can manipulate the tempo plus timing of your recording and swiftly move the beats in a single waveform to rectify drums, vocals, guitar, or bass.
Moreover, users can also transpose MIDI tracks into music notation (or tabs) in real-time and quickly make changes to plugin parameters thanks to Logic Pro's Automation feature.
However, Logic Pro could be slightly complex for beginners, but once they get the hang of it audio editing becomes a lucrative affair.
3) Ableton Live  (Windows & Mac) [Best DAW for EDM]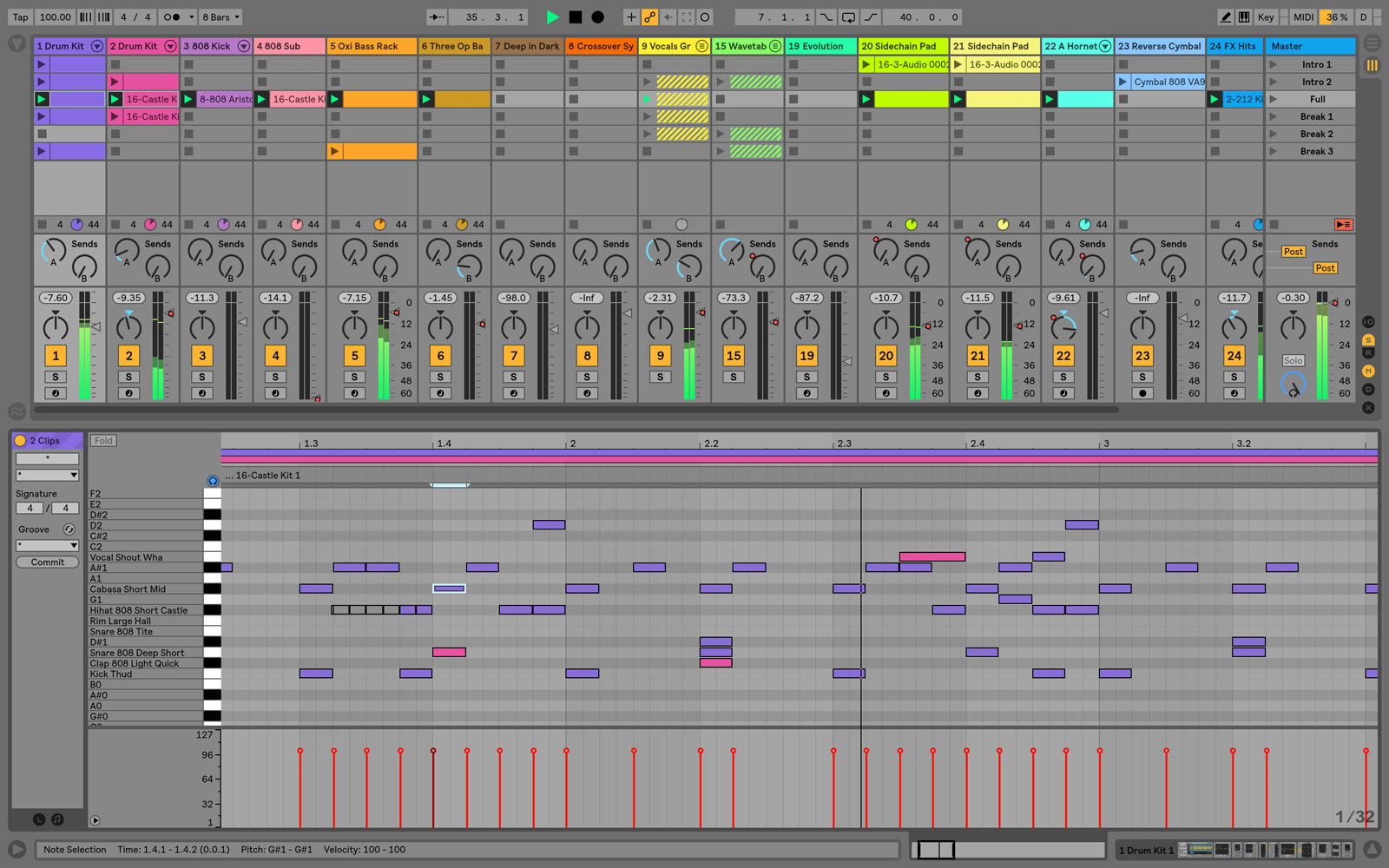 If you are into trap or hip hop, Ableton Live 10 is the best DAW for hip hop enthusiasts especially if you want to seamlessly integrate a DAW into your live sets. Let's talk about 4 of its brand new plugins first: the Wavetable synth plugin allows more flexible and deep modulation in your tracks.
Then there's the Drum Buss for EDM anthems, a drum sculpting tool that can forge beats in no time; a Pedal plugin for distortion and overdrive for that meatier guitar sound, and lastly, Echo for multipurpose delay.
Moreover, Ableton Live has got a nifty feature called Note Chasing which can trigger and play a MIDI note even when the playback began in the middle. We were particularly quite enamoured by Ableton Live 10's touched-up interface wherein the graphics are more sharper with thinner fonts for channel and clip titling.
However, the highlight has to be Live 10's new feature called Capture that can invariably run in the background for caching MIDI input. In fact, Capture can recall random MIDI notes from your last session which sound like a solid chord progression or tasty melody that went unnoticed as you were fiddling with something else during your last session. For instance, Capture can recall MIDI keyboard notes, auto-guess the tempo and place them directly onto your project! How cool is that?

4) Cubase Pro  (Windows & Mac) [Best DAW for vocals]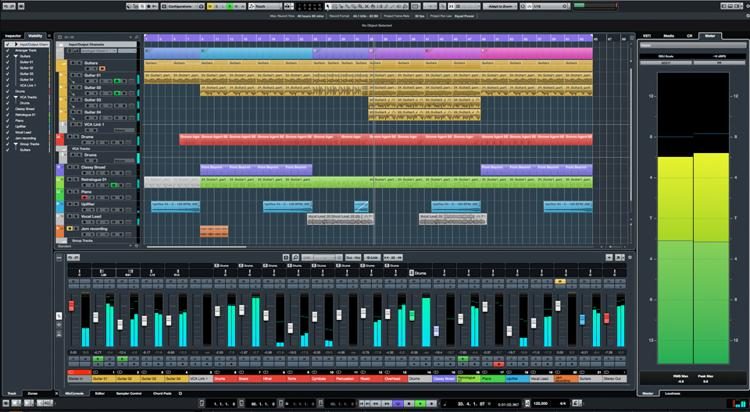 Even after being around for a long time, Cubase hasn't lost its sheen in terms of popularity. You can still find Cubase being recommended by big/independent producers, and mixing engineers as the best DAW for Windows and Mac thanks to its highly efficient workflow and amazing MixConsole that delivers a pro-mixing experience.  
In fact, you can easily carry out your composing, recording, editing, mixing and mastering endeavours through Cubase's top-of-the-line tools that can enhance your recording soundscape for vocals whilst maintaining outstanding audio quality.
What's more, you can edit multiple tracks all at once with Cubase's Smart Track Edit groups feature, and use its Vari 2.0 Audio editing tool to make your vocals sound perfect and in unison with the instrumental. Vari Audio can also be used for MIDI-style note editing for changing your mono vocal lines.
Furthermore, you can use features such as VCA faders to master complex multi-track mixes. So much so, users can seamlessly integrate monitoring setups into their mixing and recording workflow through Cubase's powerful Control Room.
Lastly, you can revel in over 90 audio effects and MIDI VST effects processors including the likes of the spacious REVerence convolution reverb, envelope shaper, Surround panner and Multi-band compressor, to name a few.

5) Presonus Studio One 3  (Mac & Windows)
Studio One 3 boasts everything that makes a compact modern DAW worth its weight in gold if music production is your forte. Over the past few years, Studio One has become increasingly popular for mastering your tracks and for a good reason. For instance, it sports a nifty Scratch Pads editor that can be harnessed to experiment with different versions of a section, say a guitar solo, without affecting your existing work. A scratch pad can also be saved inside your Studio One project file.
What's more, you can use an array of VSTs, AU plugins, ReWire instruments, FX channels, and get 64-bit audio processing precision, all of which make Studio One 3 one of the best DAW for Windows and Mac users in 2019. Of course, you can find features such as VCA faders, smart arrow tool and range editing. And, here's the best bit, you can even integrate Melodyne for perfect pitch correction and time manipulation to derive optimal recording results.
However, beginners might be put off by its seemingly complex UI on the Song Page which is akin to a home page and houses way too many buttons despite a drag and drop functionality.

6) FL Studio  (Mac & Windows)  [Best DAW for Hip Hop]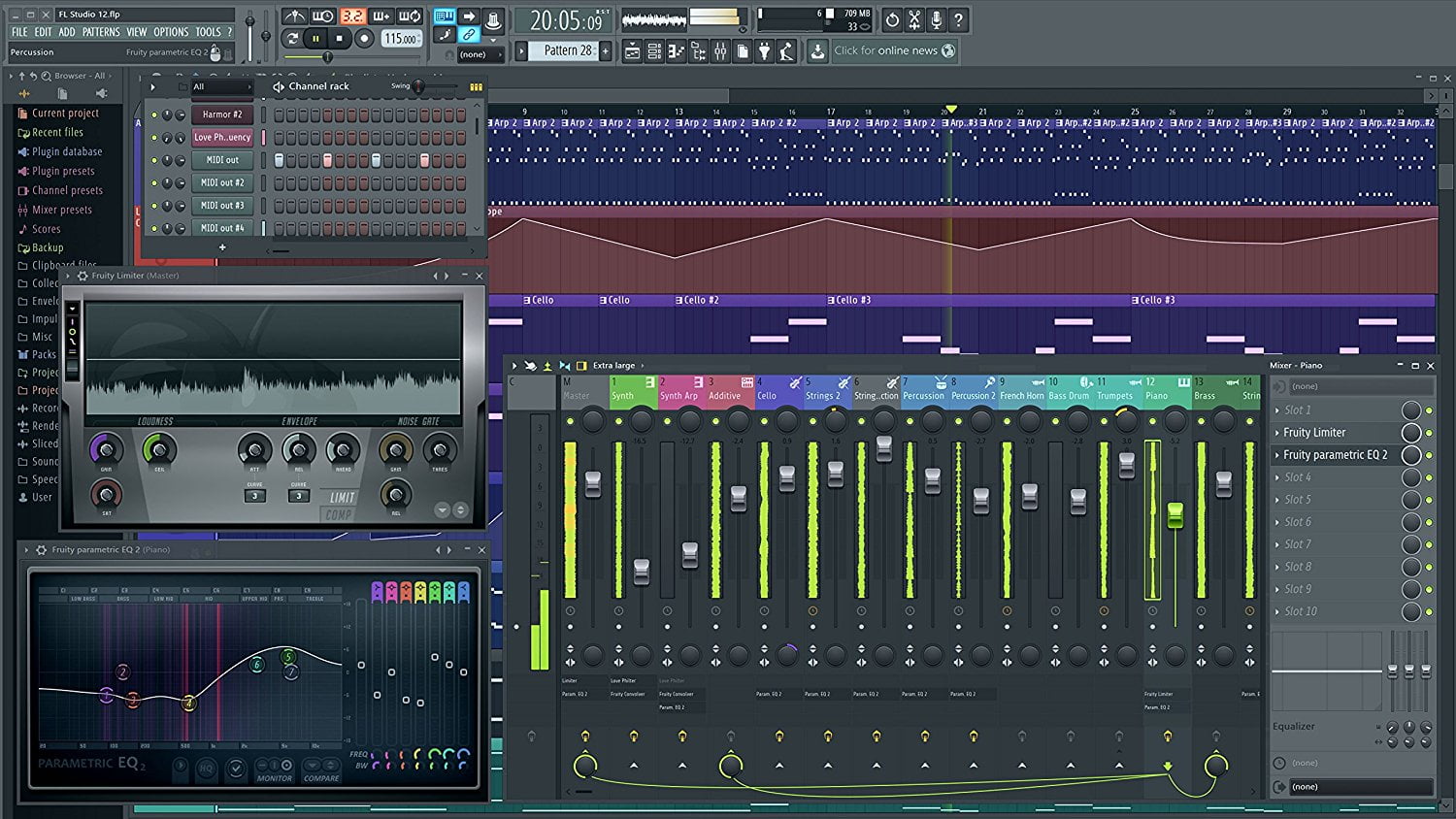 A unique entrant on our list of the best DAW for Windows and Mac, FL Studio is absolutely free to use (that is, with unlimited free trial) with lifetime updates. And, FL Studio is as much a staple suite amongst EDM producers, and Hip hop boppers as it is for rock and metal aficionados.
The thing that piqued our interest at first glance about this free DAW is its completely detachable and flexible interface wherein you can stack any window anywhere on the screen. For instance, the step sequencer can be detached while the menu bar can be hidden easily. Also, you can avail a gamut of brilliant plugins bundled with the latest iteration of FL Studio i.e. FL Studio 12. We are talking about stuff such as Formula Controller, Keyboard controller, peak controller, 3xOSC. Of course, you can improve your VST arsenal with third-party plugins.
Moreover, users can make use of features such as real-time pitch correction and time-stretching. All together, FL Studio boasts some great composition features for arranging, recording, editing, mixing and mastering professional music on its pleasant interface.

---
Now, have a peep at some free DAWs!

7) Cockos Reaper  (Mac & Windows) [Best DAW for Mastering]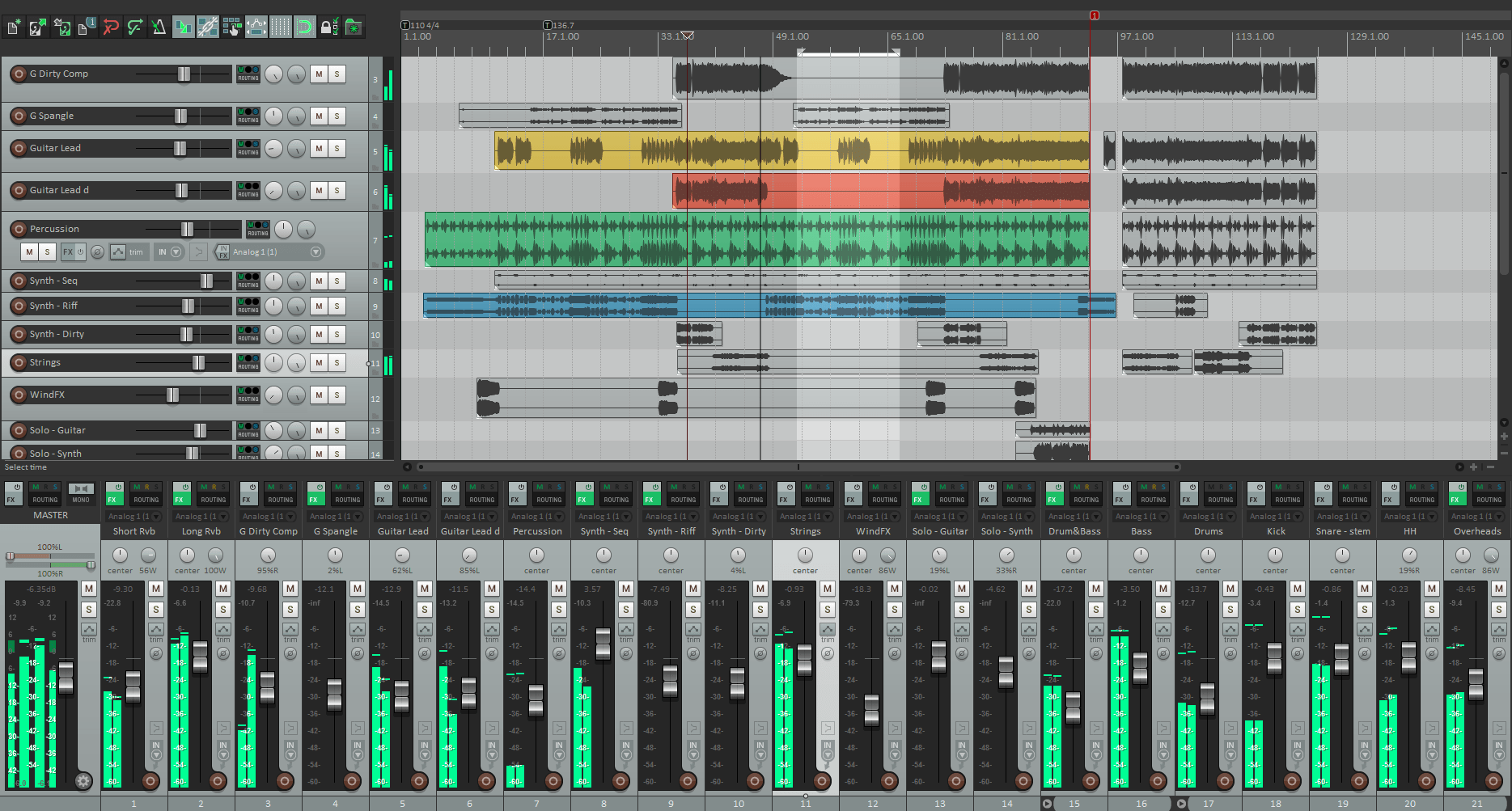 Another robust program similar to FL Studio viz-a-viz price tag, Reaper is a highly-customizable DAW whose layout can be adjusted to suit an individual's workflow. It certainly does help that this DAW is a steal at $60 and even provides unlimited trial if you don't want to splurge. Plus, Reaper allows its windows to be hidden, or docked on a separate monitor as well. We were especially intrigued by its powerful MIDI routing feature that can export tracks in multiple media formats at any sample/bit rate.
Some other nifty features include a Notation reader for reading/writing music, real-time pitch shifting and FX processing. Not to mention, seamless integration of third party VSTs, MIDI plugins, and AU plugins with auto plugin delay compensation. If you are seeking some spatial visualization, you can revel in Reaper's crafty ReSurround feature.
It is a decent steal for beginners looking to easily record multiple takes, overdub, and add layers. You can rely on its quick trim, resizing, and glue tools which proffer great accessibility. Overall, Reaper is a compact toolset for MIDI recording/editing/mixing/mastering and perhaps the best DAW for windows and mac users insofar as affordability is concerned.
8) Tracktion 7  (Windows & Mac)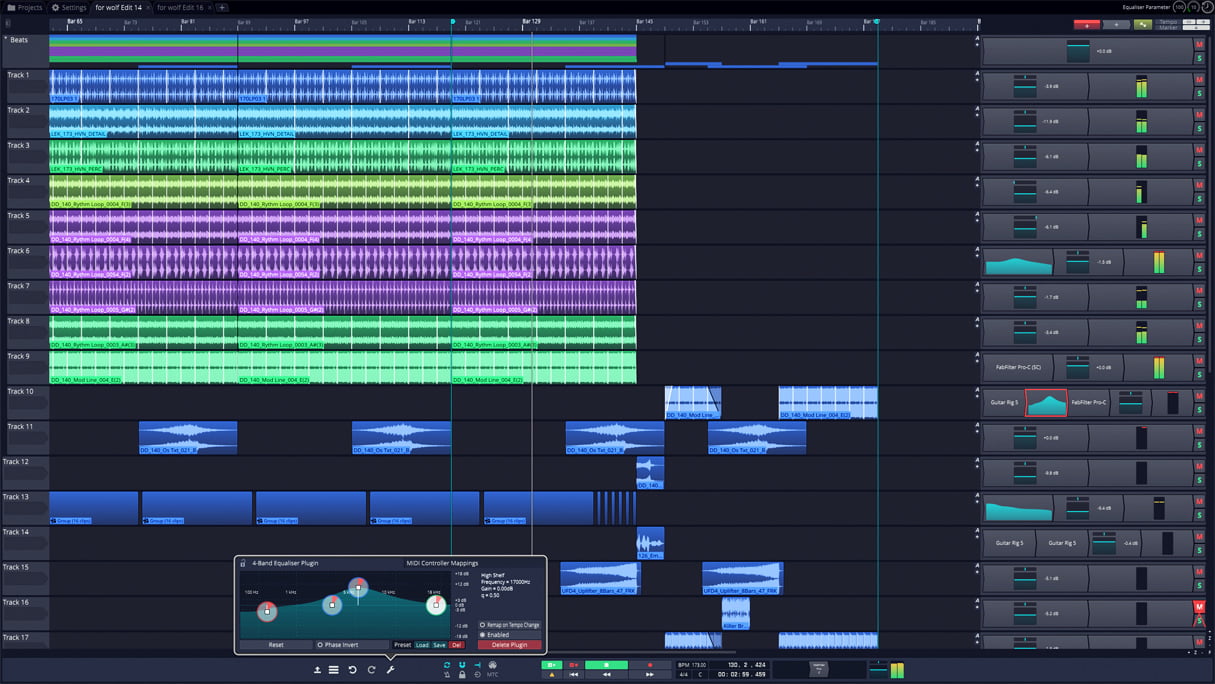 As soon as you open a project, the first thing you are gonna notice about Tracktion 7 is its tweaked colour scheme laid on a swish interface that is lush with some innovative comping tools and zPlane's elastique pro-audio tech. It still sports a single screen interface with numerous contextual panels and menus that will give access to everything a user needs in a unified platform.
Also, you can invoke Melodyne to make pitch correction edits on your guitar solos, vocal melodies and edit MIDI clips directly on their host tracks. Yeah I reckon it is good for guitarists. Besides, Tracktion 7 does come bundled with stock plugins such as LFO modifiers, EQ, reverb, compressor/limiter, and high/low pass filter, et al.
One of the highlights of Tracktion 7 is Clip layer effects which can apply layered FX, third-party plugins, volume fades, pitch and time shifting to individual waveforms non-destructively so that less-experienced users can revert changes. Interestingly, the all-new Pattern Generator in the MIDI department can conjure musical note sequences out of thin air, just like magic! All in all, Tracktion 7 easily goes toe-to-toe with some of the best DAW for Windows that cost several times more.
9) GarageBand (Mac) [Best DAW for Beginners]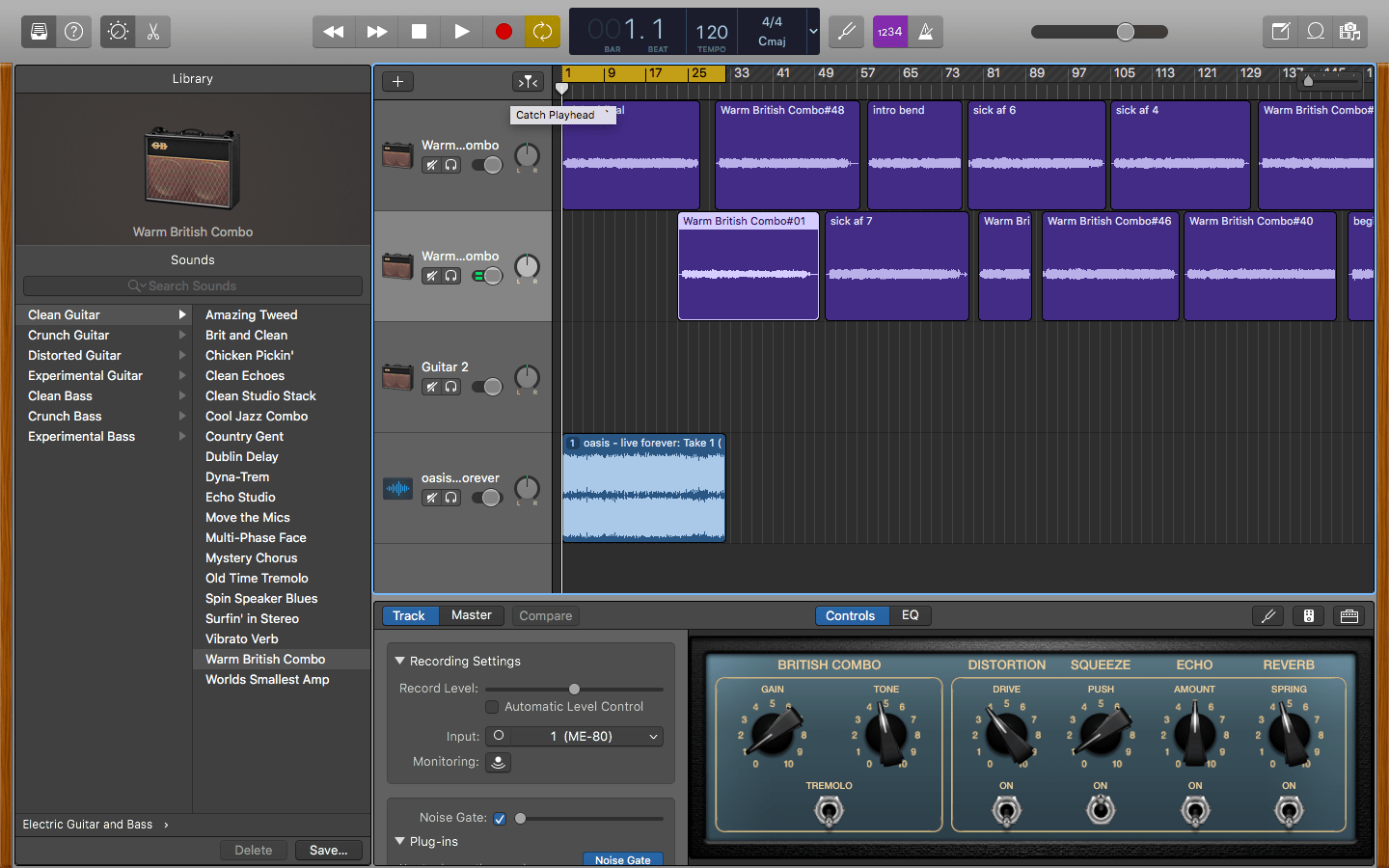 What would a roundup of the best DAW for Macbook Air be bereft of GarageBand? A vast swathe of audiophiles, beginners and production nerds can expend its abundant supply of guitars/drum/synth loops, and AU plugins. Not to mention, you can carry out multitrack recording with support for up to 255 tracks.
Also, if you are into guitar-based audio production and want to further hone/enrich your soundscape, you can rely on GarageBand's resplendent selection of virtual guitar amps, stompbox models designed on the lines of classic vintage amps and pedalboards. It also boasts a digital drummer for generating beats; keyboard collection; songwriter for multi-instrument recording, ringtone creator, and more for guitarists!
Yes, GarageBand feels like a 'mini version' of Logic Pro, and rightly so. Its smooth and sleek interface is appealing enough for beginners to fiddle around with and its Smart Controls give off a pleasant experience insofar as editing of sounds is concerned.
10) Ardour  (Windows & Mac)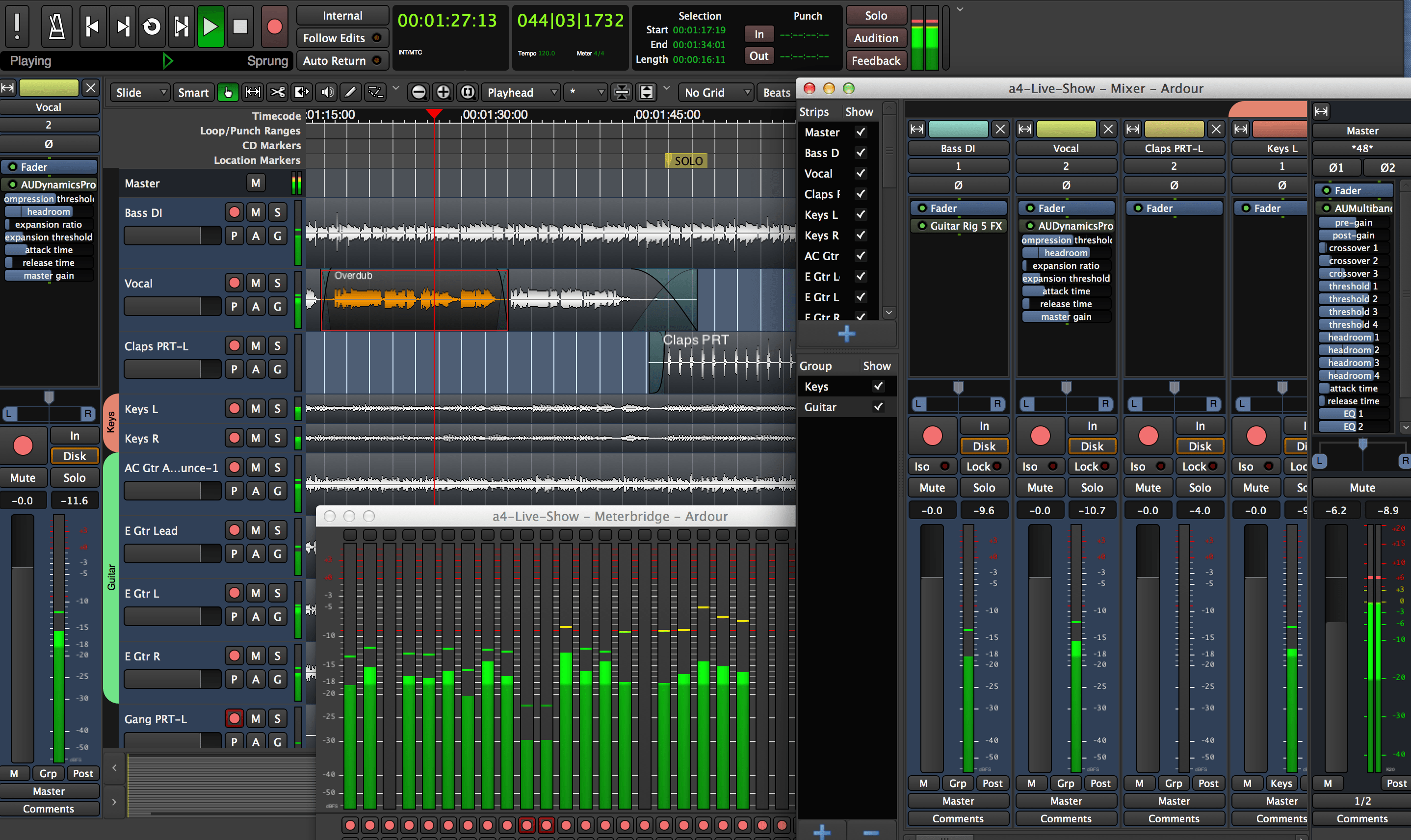 Rounding off our lineup of the best DAW for Windows and Mac is the open-source entity called Ardour that is present across platforms and is an excellent music making software for EDM producers.
Sporting a redesigned GUI with a tabbed interface, Ardour is well-stocked to take care of all your music production needs no matter whether you're making tempo changes, using VSTs or mixing your track. Of course, it does boast all the basic tools such as transpose, drag & drop, swing, crossfade, and all that shizzle. Ardour's non-linear style of editing and recording will be cherished by beginners as they get the leeway to go back and forth their edits in audio tracks which can be exported to dozens of formats.
In fact, if you want to carry out soundtrack editing of a video, you can extract the audio track and edit the audio in sync with the video that is displayed frame-by-frame (via thumbnails) by the side of the screen. Moreover, just like any big-league DAW, Ardour allows users to automate parameters within FX plugins, and VSTs, etc.  
And…that's a wrap! Did you like our roundup of the best DAW for Windows and Mac 2019? Did we miss out on any great software that you know of? Sound off in the comments.