Garena Free Fire, or Free Fire, is a battle royale game developed by Dots Studio and published by Garena house. This free to play game had seen a massive uproar in both popularity and sales right upon its release. It had already surpassed $1 billion in sales by November 2019 even though it merely was launched in August in the same year.
Also, in 2020, Garena Free Fire achieved the title of being the most downloaded game of the year as it had garnered around 266.2 million downloads. In 2019, it was awarded the 'Best Popular Vote Game' as well by Google Play Store.
The fast-paced game involves tactical moves and heroism of weapon skills by the players when they are dropped in a spawn island. The 50 players compete against each other by rummaging through the island in search of utilities, weapons, enemies to kill and keep themselves safe.
The area of the map continues to decrease and the players are forced to face each other. In the end, the last man standing ultimately wins the game.
What are Free Fire Sensitivity Settings?
Free Fire Sensitivity Settings are nothing but tweaking with the sensitivity settings. Sensitivity settings allow you to control the scope of cameras, sound-tunings, free look, a boost to precision in speed, accuracy of shots and even reduce the recoil of weapons.
Hence, the settings should be toggled and set according to your gameplay style.
As the game involves impeccable art of shooting right because even a single mistake while aiming can cause you to lose, there are certain settings that can tactically aid to improve your aim and therefore, aid the gaming performance.
Therefore, here is a list of Free Fire Sensitivity Settings that can uplift your aim as well as the game:-
| | |
| --- | --- |
| Free Fire Settings | Specifications |
| General | 100 |
| Red Dot | 90 to 95 |
| 2x Scope | 70 to 80 (some may prefer 95) |
| 4x Scope | 70 to 80 (some may prefer 90 to 95) |
| Sniper | 40 to 60 (some may prefer 25 to 35) |
| Free Look | 70 to 75 |
You can try these general settings and then change accordingly after you have found what suits you the best.
See More: Garena Free Fire Redeem Codes & Rewards For Players
How To Change the Free Fire Sensitivity Settings?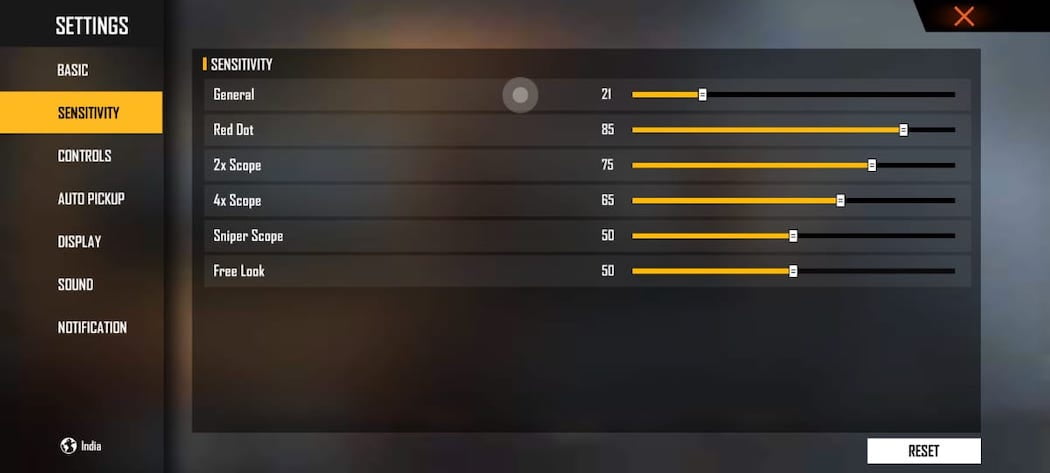 In order to configure the settings that sit well with the aforementioned sensitivity setting recommendations, here is a step-by-step guide on how to access and change them:-
Step 1: Click open and launch the Free Fire gaming app, be it on the android smartphone, iOS or PC
Step 2: Let the game load entirely before adding them to the lobby of the screen
Step 3: Then, you will be able to see a gear icon for the settings option. It will be present at the top right corner of the home screen. Click on it to open the settings tab.
Step 4: On the left column, you will find sensitivity options. Click on it.
Step 5: You will see that a list of sensitivity specifications and configurations will appear before you. They all will be set in their by default sets:-
General – 65
Red Dot – 85
2x Scope – 75
4x Scope – 65
Sniper Scope – 50
Free Look – 65
You can move the sliders according to the abovementioned preferred settings.
Step 7: Once you are done, click on the 'X' icon and come out of the window. Your settings will be duly applied.
How To Achieve Headshots? Best Tips!
The settings recommended would undoubtedly grant you the ease of gameplay that you were probably looking for. However, it cannot guarantee you victory because after receiving the simplified gaming means, it depends on your shooting abilities on how you can win the game.
Headshots are important in the Garena Free Fire as well as in almost all shooter games because even though landing a headshot can be quite difficult, it garners you immediate win over your enemies.
Some of the best tips to achieve formidable feats in headshots are:-
Bear the eye for sensing stable enemies, less mobile players or those who are unaware of your motions. Launching surprise attacks is the best way to get a successful headshot.
Positioning the Crosshair well while shooting can be time-taking but worth the effort
Use the training room effectively to practice the skills
Master the sniper rifle as it will guarantee you clear visibility and in maximum cases, the headshots had been merely based on one move only.
Avoid using the automated multiple firings and ditch the hip fire modes too.
Best Free Fire Sensitivity Settings for Headshots in Close Range
In order to achieve your aim in close range, you need to make the sensitivity settings changes. Here are some best Free Fire sensitivity settings for headsets in the close range: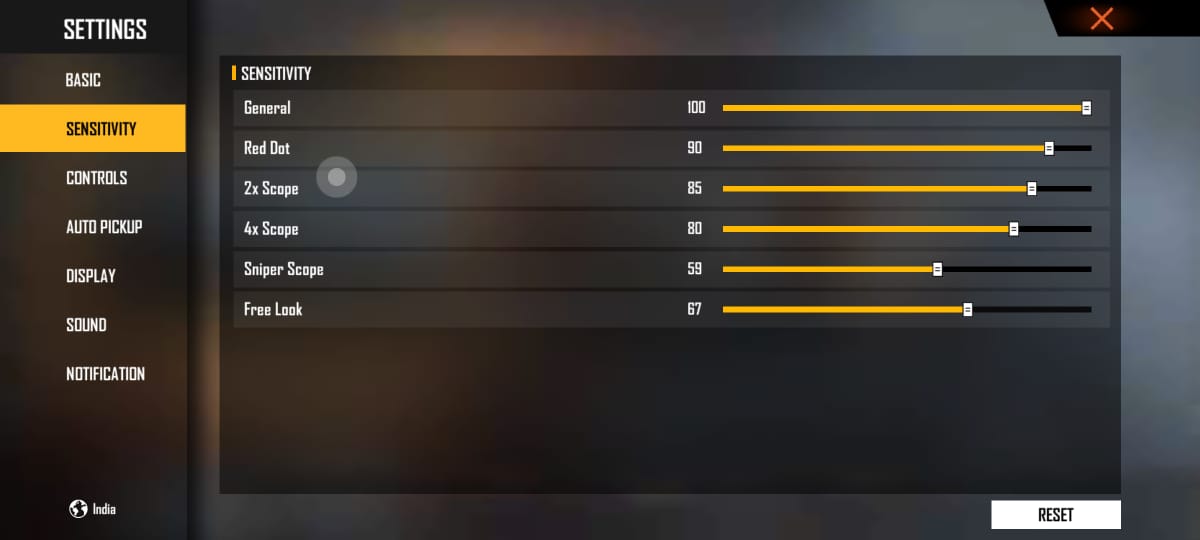 General- 90 to 100
Red Dot- 90
2X Scope- 85
4X Scope- 70 to 80
Sniper Scope- 58 to 60
Free Look- 67
Best Free Fire Sensitivity Settings for Headshots in Long Range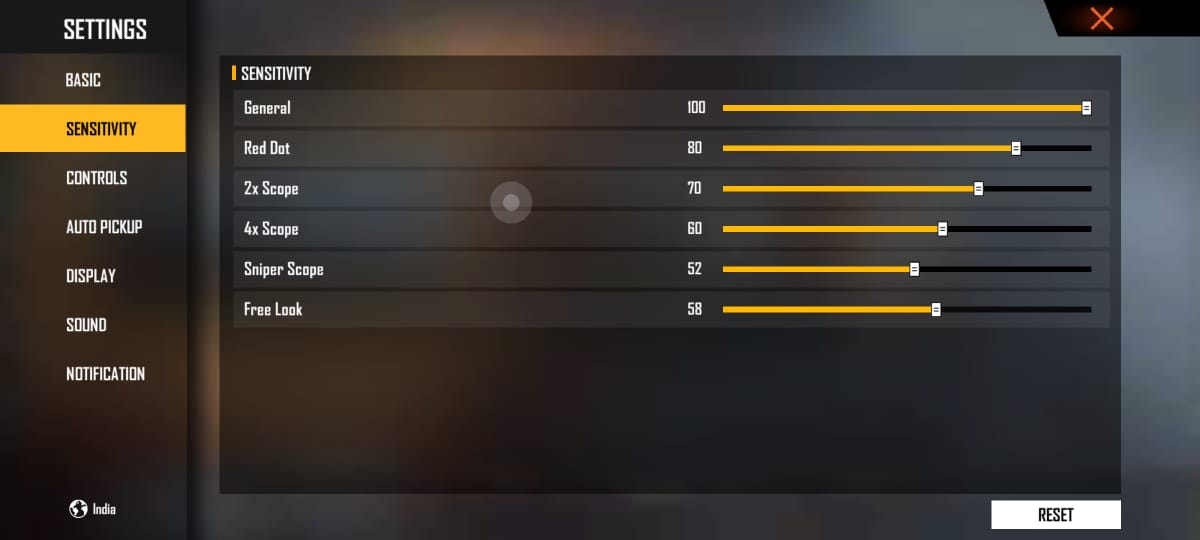 In order to achieve your aim in long range, you need to make the sensitivity settings changes. We recommend you to ry these long-range sensitivity settings:
General- 100
Red Dot- 80
2X Scope- 70
4X Scope- 60
Sniper Scope- 52
Free Look- 58
See More: 50 Best Free Fire Names for Girls and Boys
Conclusion
As of September 2021, the venerable game showcased another version. Released on 8th September, the Free Fire Max is said to be the graphically enhanced version of the original Free Fire.
Garena Free Fire did not have an update for a newer version since its first release and Free Fire Max is its very first next installment.
Played in 3rd person perspective, the Garena Free Fire competes against top-notch giants of the gaming world like Call of Duty, PUBG and Fortnite. Narrowly falling right behind them, the growing popularity of Free Fire and with the positive response to the newest launch, the tables might turn soon.
See More: How To Play Free Fire Without Downloading It?
Frequently Asked Questions:-
Where can I download the Free Fire Game?
The game is available to be downloaded on both iOS and Android. Visit the App Store or Google PlayStore (for respective operating systems) and search for free fire. The game will pop and click to install.
Are there hackers in the game?
Every game has a set of asinine hackers that use cheat codes to win the game and so does Free Fire. However, Garena's anti-cheat system has banned a horde of hackers.
Is free fire safe to play for children?
The minimum age to play Free Fire is 17+ so children equal or above that are legible and safe to play.
Even though I have launched multiple headshots, the enemy has not died. How?
There are high chances that you are facing internet fluctuations. It is due to the weak signals that result in an inability of reaching the information regarding the launched attacks to the Garena servers. Check your internet connection.
See More: Free Fire Advance Server