Launched in October 2019 under the codename Project A, Valorant is a free-to-play first-person hero shooter developed and published by Riot Games for Microsoft Windows. The games were officially launched in June 2020, two months after their beta launch. But soon Valorant gained massive traction from gamers across the globe. The game continues to gain traction, with as of June 2021, it has 14 million active users.
The gameplay of Valorant blends Counter-Strike: Global Offensive with Overwatch to deliver an immersive competitive shooter experience. Like Overwatch, the game features several characters called agents, who come with special abilities that aid you in battle. Valorant's gunplay and weapon purchase system is largely similar to CS:GO. Valorant has seven maps including Fracture, Breeze, Icebox, Bind, Heaven, Split and Ascent.
You can play this game on both basic and high-end PC. However, we will look at the system requirements in detail, then we will see a step-by-step guide on how to download Valorant on PC.
Valorant system requirements for PC
As mentioned above, Valorant is compatible to run on both basic and high-end Windows PCs. While developing Riot game has made sure that the game runs on the lowest of the lowest specification PCs. But, having a high-end device will offer a higher framerate, which is always recommended in a competitive shooter like Valorant.
Here's what you need to know about the minimum, recommended and high-end systems for Valorant:
Valorant minimum system requirements (30 FPS)
Operating System – Windows 7/8/10, 64-bit
CPU – Core 2 Duo E8400, AMD Athlon 200GE
GPU – AMD Radeon R5 200 or Intel HD 4000
Memory Size – 4 GB RAM
Storage: 20 GB
Valorant recommended system requirements (60 FPS)
Operating System – Windows 7/8/10 64-bit
CPU – Intel i3-4150, AMD Ryzen 3 1200
GPU – AMD Radeon R7 240, Nvidia GeForce GT 730
Memory – 4 GB RAM
Storage: 20 GB
Valorant high-end system requirements (144+ FPS)
Operating System – Windows 7/8/10 64-bit
CPU – Intel i5-9400F and AMD Ryzen 5 2600X
GPU – AMD Radeon R7 370, Nvidia GeForce GTX 1050 Ti
Memory – 4 GB RAM
Storage: 20 GB
Valorant download size for PC
We assume that you have a PC or laptop that meets the minimum requirements of the game Valorant. The game is free to download and play however the download size of Valorant on PC is 16 GB, so you will need at least 16 GB of free storage on your system.
How to download Valorant on PC/ laptop for free
You can download the Valorant game directly from the official website of Riot Games. Follow these steps to download Valorant on PC/Laptop for free.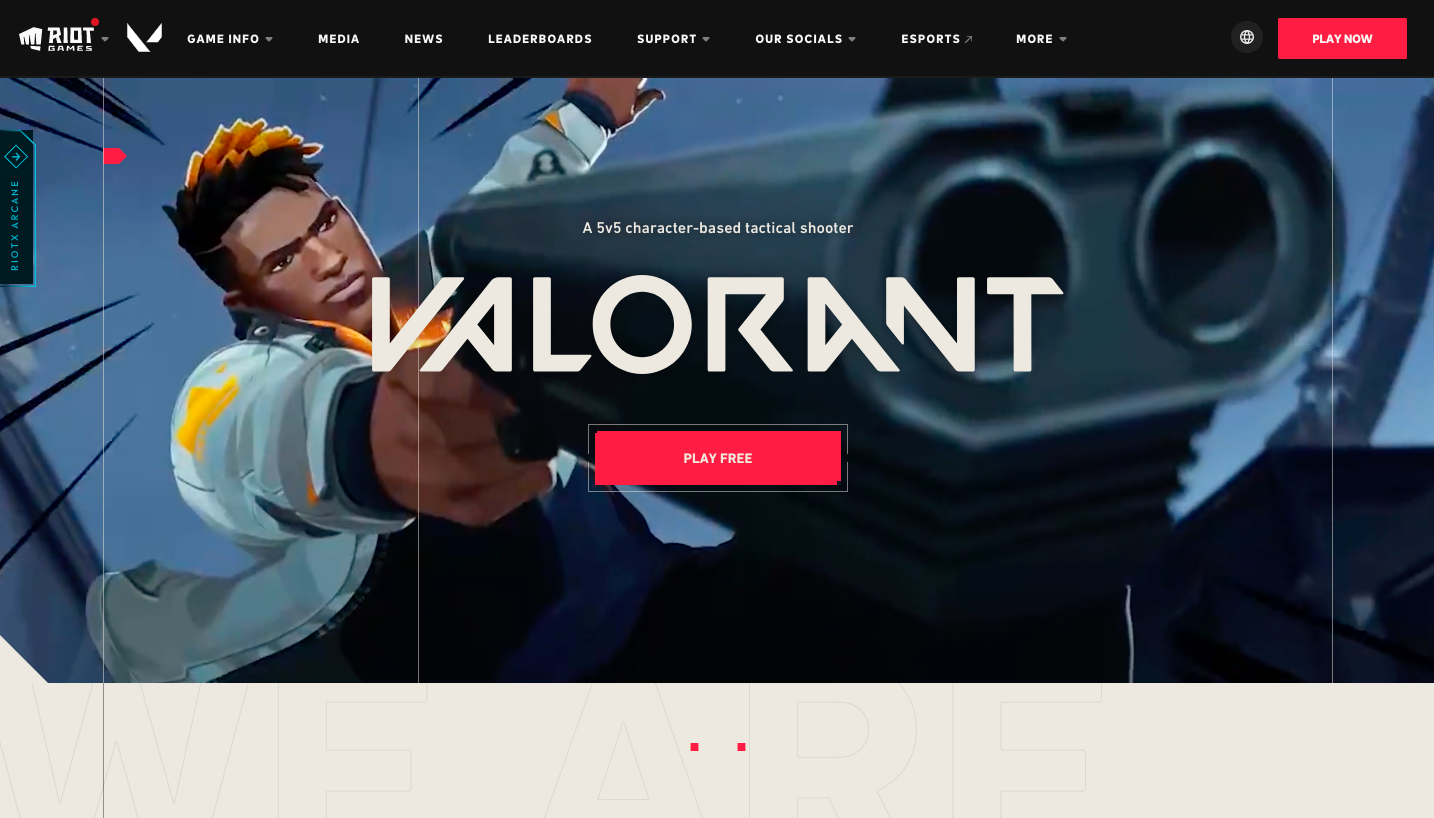 Visit the official Valorant game website.
Look for the 'Play Free' button and click on it.
Now, you need to login using your Riot Games account. In case you don't have an existing account the you can create a new one for free.
Once, signed in, it will redirect you to download the Valorant installer.
The Valorant installer will download the game as well as Riot's Vanguard anti-cheat.
After successful installation, you can play Valorant from the start menu or the desktop shortcut.
FAQs – Valorant PC Game
1. Can you buy character skins in-game using money?
Yes, you can buy new character skins, weapon skins and other cosmetics through in-game microtransactions.
2. Can PC users download Valorant for free?
Valorant download for PC is free for all and is available through its main website. However, you need to have a Riot Games account.
3. Can I play other games using Riot Games Account?
Yes, RiotGames has other games in its library including League of Legends, Legends of Runeterra, and Teamfight Tactics. You can play them all using your Riot account.
See More: PUBG New State System Requirements
See More: Fortnite System Requirements
See More: Apex Legends System Requirements