Don't we all love to play music on our beloved companion a.k.a. smartphone? Whether we are commuting, unwinding or working out, music is an essential part of our lifestyle. To get an enhanced musical experience, a music player is quite beneficial.
Despite the fact that Android smartphones come with their own default music players, not much can be said about their intrinsic abilities since they are not really feature-ridden. That is, they don't come with features such as equalizer balance, presets, etc.
The need of the hour is a decent free Android music player. But, the market is saturated with heaps of dodgy apps that are all marketing themselves as the best free music player app for Android, and what not! So, how would you find the "real" best music player for your Android smartphone? By going through our list of the best free music players for Android, of course!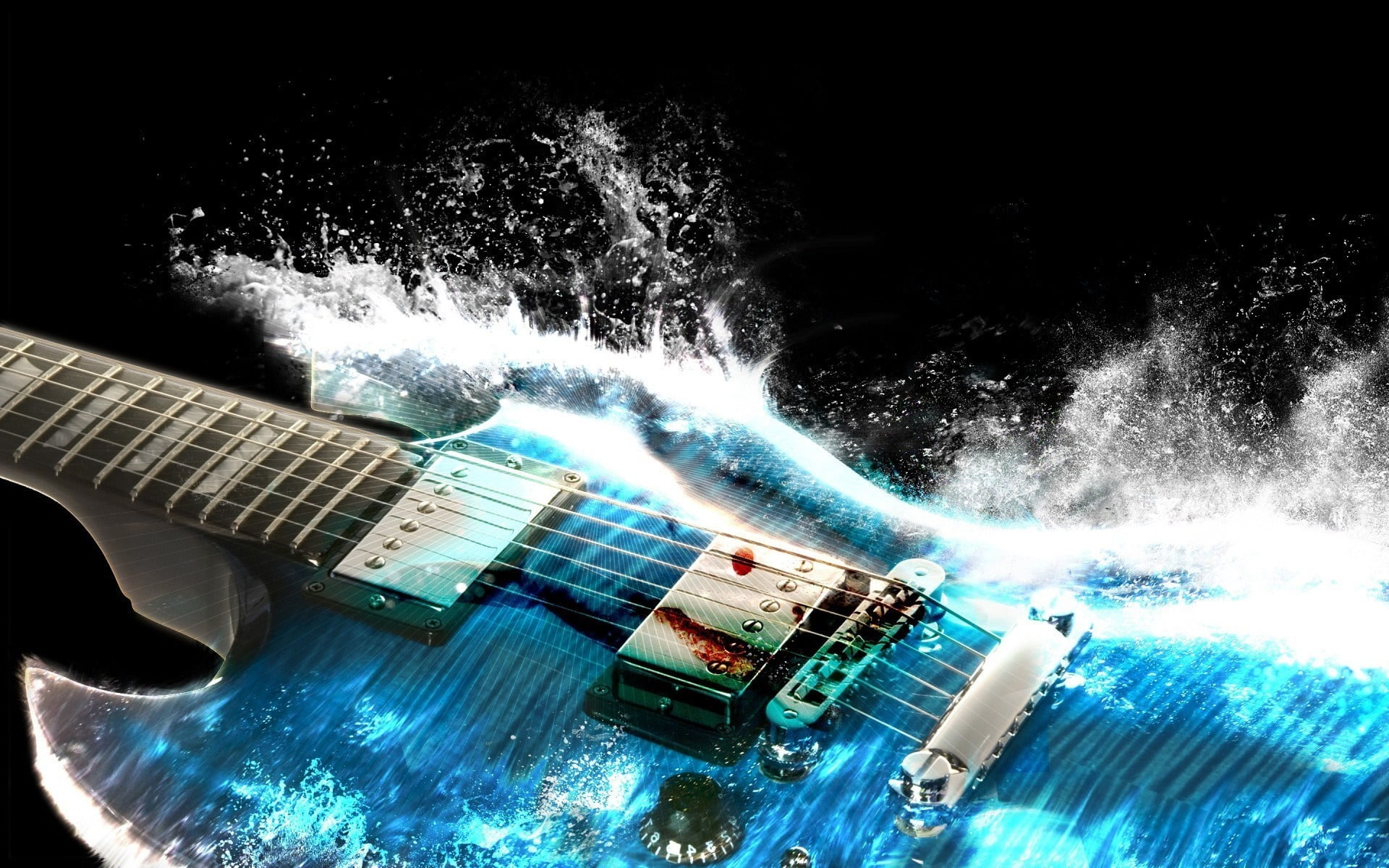 These third-party music player apps will help you home in on the most suitable music player catering to your ad-hoc needs. Moreover, by using these nifty music apps, you will have a unique and enriched music streaming experience on your Android phone. So, are you ready to find out the best free music players for Android? Let's get started-:
Note: The list is not following any order or preference. We want you to choose one as per your requirement.
Best Free Music Players for Android Users in 2019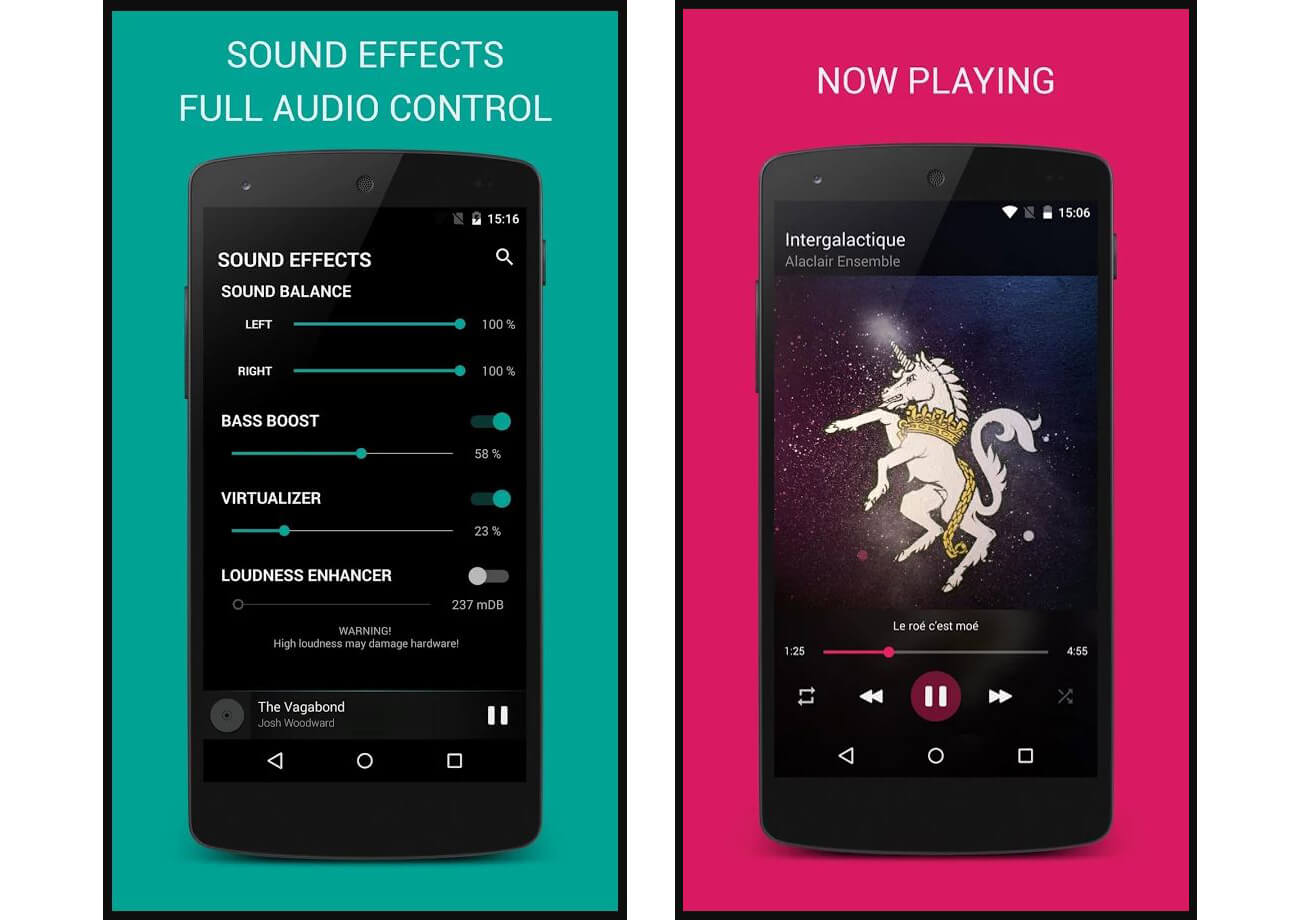 Backed by an intuitive and minimalistic interface with a stream of slick features, this Android audio player looks really sublime with its swift transitions. The USP of Black music player is that it is very customizable wherein you can change fonts, animations, and colors. Not to mention, it comes loaded with an equalizer to provide you with the perfect low level frequencies of bass in a song. So, if you are a bass aficionado, BlackPlayer is your go-to weapon.
Moreover, you can set sleep timers and scroll through embedded lyrics while your tracks are playing in the background. Of course, the free version entails additional options for controlling the playback as per your preferences.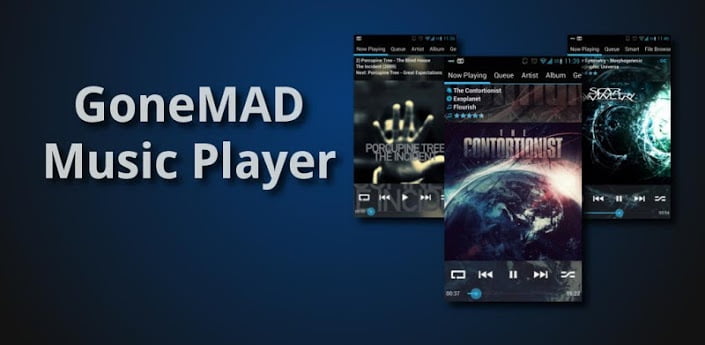 A somewhat underrated free Android music player, GoneMAD offers a swift and clean interface, where you can easily find a gamut of features. First off, the UI will not seem cluttered, and that's what really sets it apart from the rest on our list of the best free music players for Android.
In fact, GoneMAD can play various music formats such as AAC and FLAC with ease and grace and comes with a 16 band built-in equalizer. It is well versed to play a deluge of genres ranging from progressive metal, garage rock to hip-hop and EDM.
Further, you can also avail features such as pitch correction, DSP limiter, sleep timer, and tag editing. So much so, you can get unhindered access to lyrics apps and also enjoy over 250 customization options.
Adorned with eye-catching transitions across a stunning interface, Pi music player is a surefire no-brainer for every music enthusiast. It includes a five-band equalizer with a bass boost option for bass lovers. Pi music player also comes loaded with 3D reverb effects, sleep timer, virtualizer, and ten presets.
In fact, you can avail gesture support, change metadata and enjoy plenty of themes and enjoy a gamut of genres ranging from grunge, psychedelic rock to trap music.
What else injects it into our lineup of the best free music players for Android? Pi Music Player comes with a ringtone cutter and a unique sharing functionality called "Pi Power Share", which lets you share tracks with friends easily across platforms.
Although very simple and minimalistic, Phonograph is a powerhouse when it comes to belting out a barrage of colour customization options and themes. With Phonograph, users can even customize album covers. It comes with last.fm integration, tag editor, and a range of lock-screen controls for seamless music playing when you are multitasking.
If you're on the lookout for a simple and effective music player app with a no-frills attached interface, Phonograph is the one for you. All in all, it could be the perfect alternative to Google Play Music if you don't want to branch out to Android apps with overblown UI.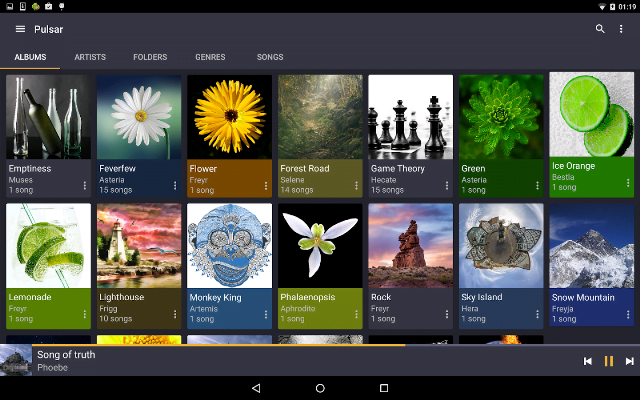 Another free Android music player with a clean and soothing interface, Pulsar makes you to want to drool over its UI for no reason whatsoever.
That being said, the transitions and customization options will indeed seem appealing to those who have made the switch from their default player for the first time. Of course, you can avail features such as: gapless playback, embedded lyrics, sleep timer, etc.
In fact, Pulsar music player can also automatically sync artist/album visuals if your tracks don't have original artwork. Overall, Pulsar is one of the best free music players for Android that is certainly worth its weight in gold for users looking for an effective app replete with some stunning features.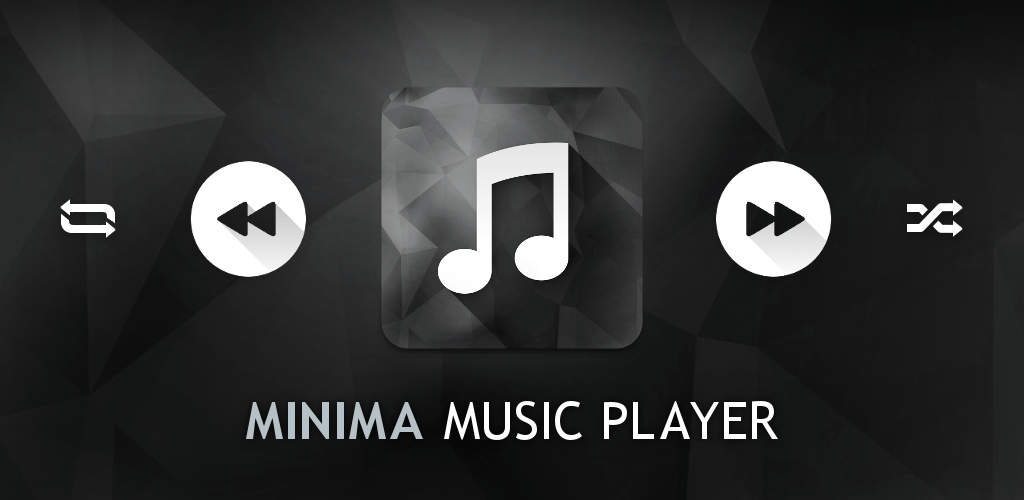 Developed by XDA, Minima was intrinsically designed to provide an enhanced music experience to users. It is a behemoth to fiddle with in terms of UI and coverflow.
You can seamlessly arrange your songs in various categories such as albums, playlists, songs with some fascinating features like swipe to close the player. Not to mention, Minima Music Player also boasts sleep timers and is quite easy to use. Don't be dissuaded by the fact that Minima is a relatively new music app, it is still worth a try!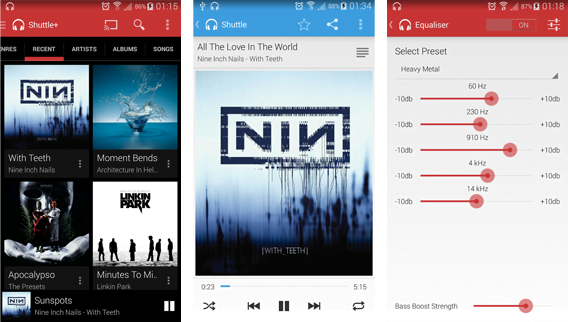 Designed on the lines of Google Play Music, Shuttle encapsulates everything that an ardent music lover would want in their audio player. Thanks to Shuttle's simple and clean UI, users can customize elements like themes and mess around with its brilliant 6-band equalizer and bass boost.
What else makes Shuttle one of the best free music players for Android? It is gifted with other traits such as scrobbling and a sleep timer which is a must-have in the music player app realm. Moreover, you can also avail gapless playback and view embedded lyrics.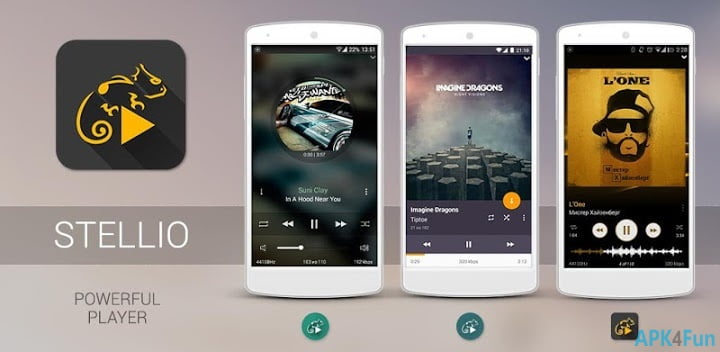 A rather unique entity on our list of the best free music players for Android, Stellio boasts a fascinating feature of changing your UI's theme based on the album art color. So basically, as soon as you shuffle your playlist(s), your theme's colour changes every time a new song comes on. Stellio is also packed with scrobbling, crossfade, and supports lossless audio formats with an impressive 12-band equalizer.
Moreover, Stellio also proffers playing controls for Android Wear watches, which is a plus for users who want to "wear" their music all the time. The only downside is that users will have to put up with ads on the free version.
A very renowned music player and a staple of the Android music player scene, Poweramp is a decent music player app that can fit your bill if insofar as simplicity is concerned. With support for formats such as WMA, FLAC, ALAC, and m3u, Poweramp is a must-try if you haven't already tested it.
This free Android music player also sports a 10-band equalizer and allows flexible mono mixing. Furthermore, you can adjust bass and treble as well. The downside? Poweramp is only free for 14 days, and henceforth you will need to buy the premium version.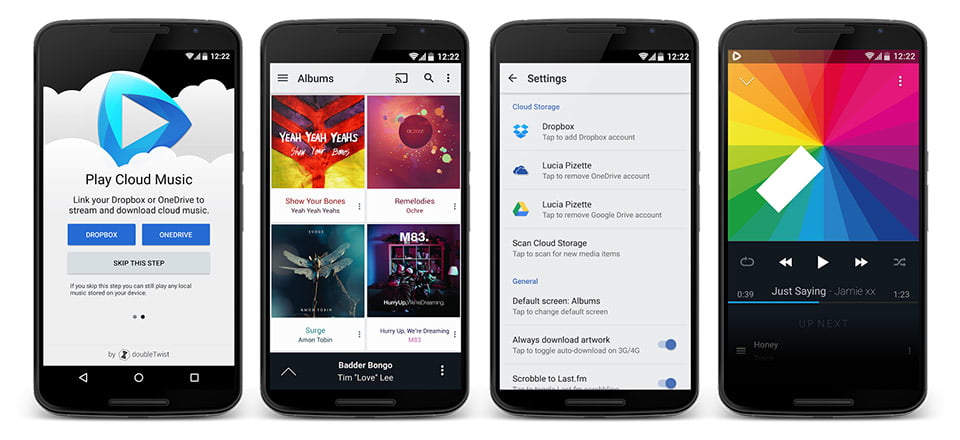 And rounding off our lineup of the best free music apps for Android is CloudPlayer that banks on storing your song libraries in cloud.
That is, it allows direct music streaming from popular cloud sites such as Dropbox, Google Drive and OneDrive. You don't have to fret over backing up and syncing music for CloudPlayer keeps you connected to your music all the time. Moreover, it also proffers Chromecast support and AirPlay.
Not to mention, a slick 10-band equalizer and a whopping 17 presets ably assisted by SuperCloud feature for enjoying headphone enhancements! So much so, you can even do a great deal of customizations within the app as per your preferences.
And…that's a wrap! Did you like our roundup of the best free music players for Android? Did we miss out on any of your favorites? Sound off in the comments.
SEE ALSO: Free Music Apps for Android
SEE ALSO: Best Free Beat Making Software