Sometimes, it is just not prudent on your part to go through the pains of downloading a resource-heavy photo editing software for giving a few touch-ups to one or two pictures (read: display pics). For these recurring "problems", it is wise to use a free online photo editor which is an easy way to enhance a few snaps in a jiffy. But, the problem is that the internet is flooded with loads of dubious "free" photo editors. Then, how will you figure out which is the most suitable photo editing option for you? By going through our list of the best free photo editors online, of course.
Don't mistake these browser-based free photo editors to be some dodgy Instagram spin-offs for these photo editors are some serious image-enhancing tools out there. In fact, some of them can give premium desktop software a run for their money when it comes to features such as batch editing, masking, support for layers, etc. Plus, you don't have to download these slick tools as well! So, let's get started with our roundup of the best free photo editors online.
Best Free Photo Editors Online
Pixlr
PicMonkey
Fotor
PhotoCat
BeFunky
SumoPaint
PhotoPea
iPiccy
Adobe Photoshop Express Editor
Picozu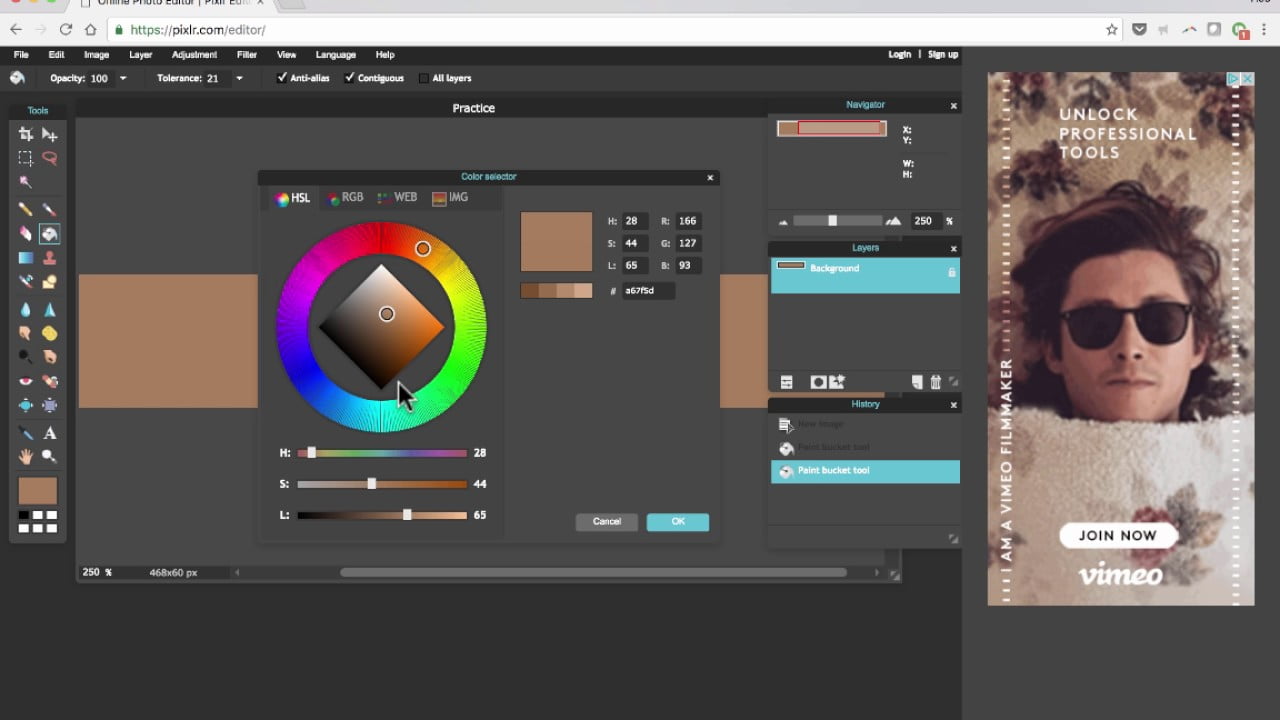 Pixlr boasts a gamut of effects that are usually found in a desktop photo editing software. For a free online photo editor, it provides an easy UI that is soothing to the eyes, and supports editing in fullscreen mode. All the tools, layers, and other settings are carefully positioned so as to give you flexibility in creating a customized workspace on this online photo editing software.
Also, Pixlr is adorned with features such as clone stamp, magic wand selection, colour fill, crop tool, and red eye remover among others. Moreover, you can upload images from your computer or paste a URL to Pixlr, and even create a new image from a blank canvas.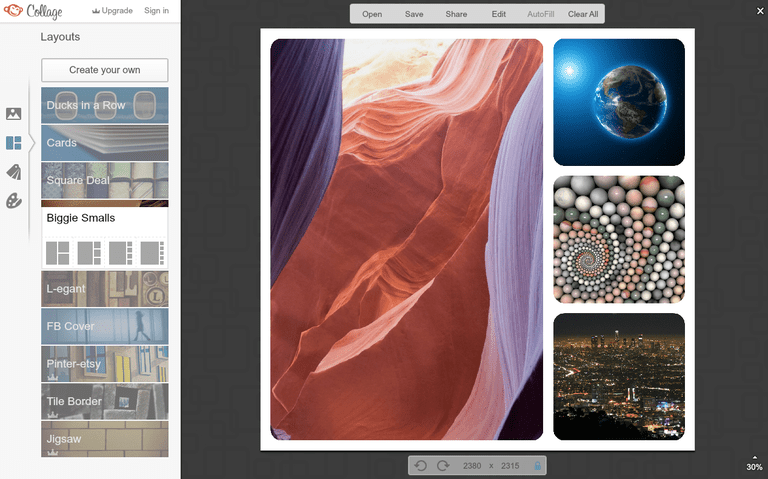 A very popular online photo editor, PicMonkey is renowned for its simple user interface which is classified into four sections with one each for – Touch Up, Editing, Collage and Design. They can all be accessed from the homepage of PicMonkey. In fact, you can also upload files from your computer, storage services, or even Facebook.
Coming onto the UI of PicMonkey, there are over a dozen features ranging from basic editing tools to themes, effects and overlays. No matter if you are a professional or an occasional photo snapper, the interface will strike as very simple and easy-to-use to you. Also, if you are more into the Touch-Up section, there are some really handy effects you may like, such as the Blemish Fix, or Spray Tan.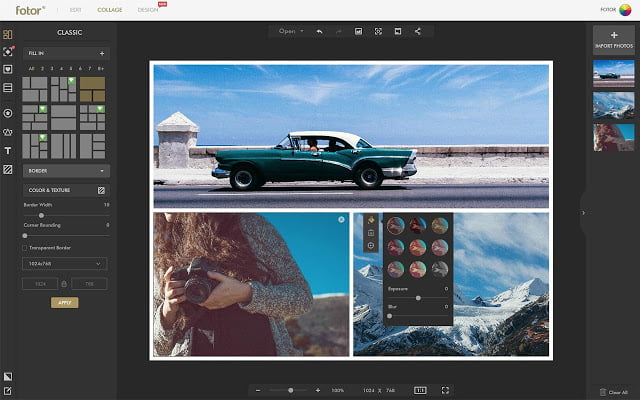 As soon as you enter Fotor's website, you will be greeted with a welcome screen that asks you these three things: edit a photo, get a collage ready or design a card. What struck to us as the most impressive aspect of this editor is the snazzy interface with a special 1-Tap feature that lets you edit photos in a single click!
Wait, there are more goodies that inject Fotor into our list of the best free photo editors online such as fine-tune, resize, crop, rotate, re-size, etc. You can also choose a lot of effects including the likes of Lens Flare, Vintage, Classic, etc. Moreover, the same edited image can be used to create a card or Facebook cover inside the editor through a secondary option. However, Fotor is not as quick as PicMonkey since its user interface takes some time to render the photo.
4. PhotoCat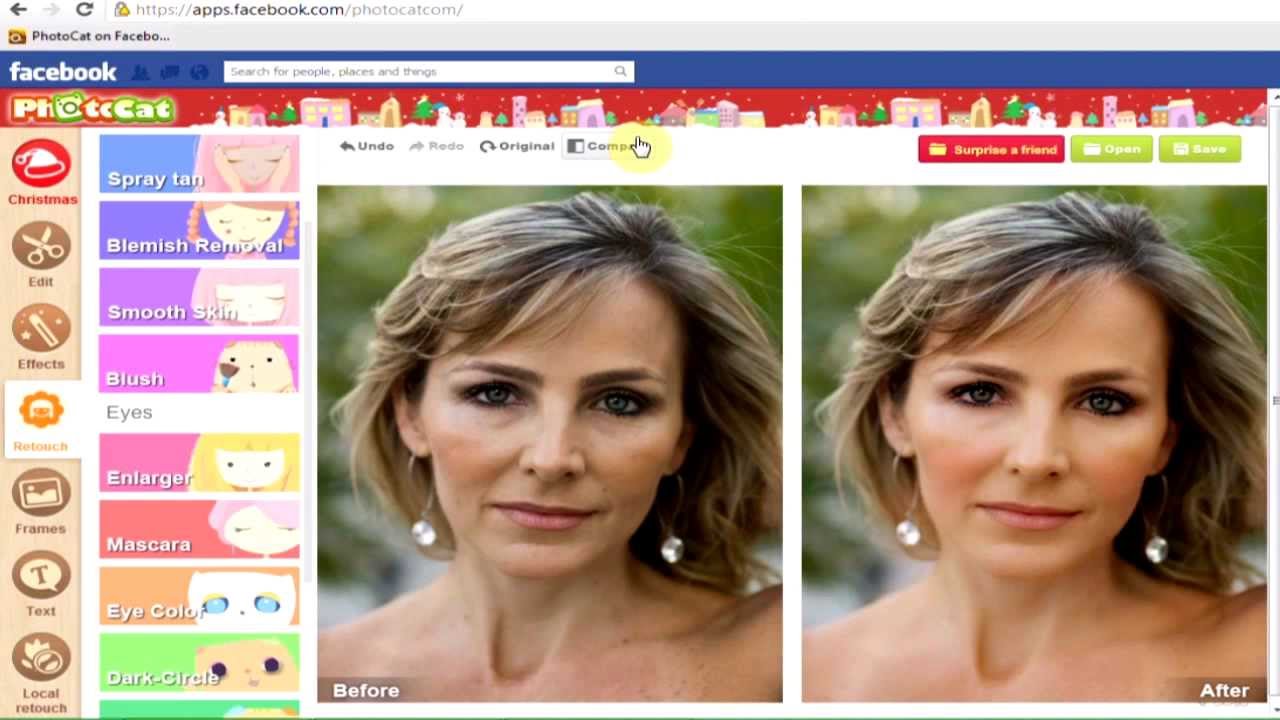 Quite similar to Fotor, this nifty photo editor also boasts a three-pronged functionality as soon as you upload an image. PhotoCat can also edit, retouch images using its preset filters or create a collage using various border templates, and options to insert lots of other elements.
We must admit, the interface looks pretty easy compared to other editors, though it might not appear really colourful. If you want a basic fix to your snaps without ornamental design but simply editing, PhotoCat is a viable option. However, it demands some time to render the image albeit uploading images is pretty easy.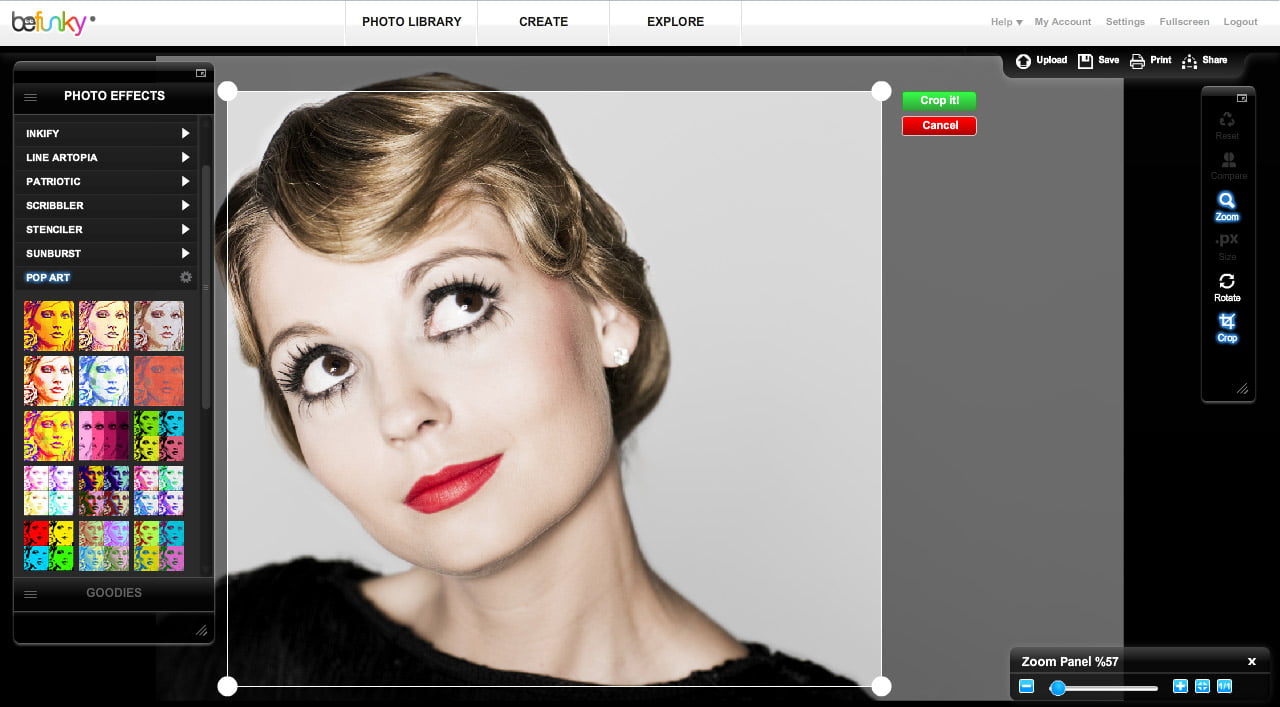 Another exciting fully-fledged online photo editor cum collage maker, Befunky shines bright with its mega-simple interface. Not only does it let you upload photos from your desktop, it can also capture snaps from webcam and other sources such as Dropbox and Facebook. What else propels Befunky into our list of the best free photo editors online? It has a lot of features beautifully arranged in a plethora of categories such as Touch Up, Basic Editing, Graphics and Effects. All you need to do is to select and apply a filter or effects and Befunky does the rest in a few seconds.
We really liked the Graphics section because it comprises several graphical elements that can be applied to your snaps in no time. Altogether, BeFunky is surefire charmer if you are looking at pro-like photo editing.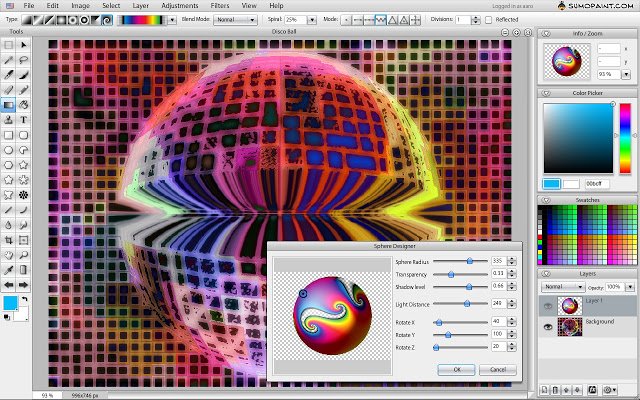 SumoPaint is not your run-of-the-mill online photo editor. Why? It brings to fore a Photoshop-like editing interface into your web browser with some snazzy features such as colour picker, multiple task windows et al. Don't worry, managing these windows is quite easy on this fully-fledged online photo editor. Another brilliant thing that appealed to us the most was SumoPaint's easy-to-load common interface. If you want to upgrade, you can opt for the pro version that costs about 4 USD a month.
Don't start wondering if Photopea is a toned-down replica of Photoshop. It is not some average photo editing software knock off. But, if you want to edit some pics on the go on your mobile – being a free online photo editor – Photopea is well worth a shot.
The bottom line is: Photopea is a great app for your phone with a gamut of filters, and output formats such as SVG, PNG, and JPG. It can let you carry out all the basic photo editing tasks such as fixing red-eye, cropping, changing background, resizing, sharing images on social media, and much more.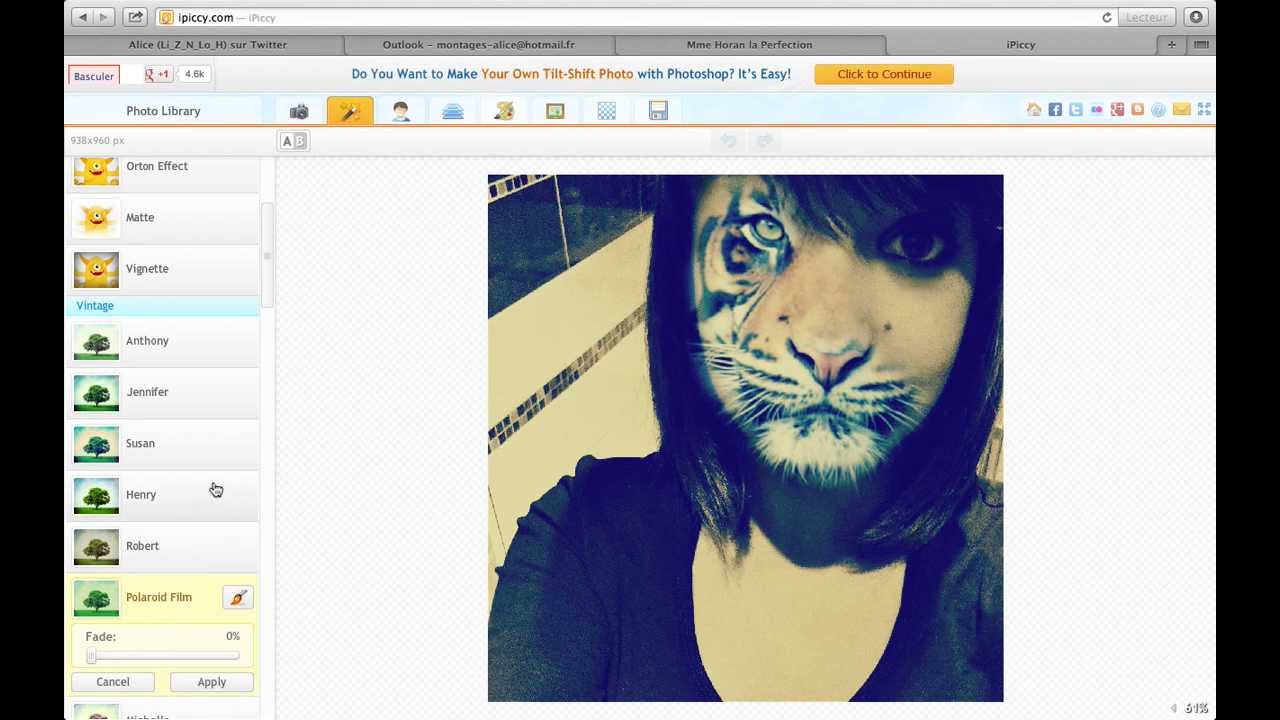 iPiccy has a well-defined UI with easily accessible menu items on the top of the screen for doing basic and advanced editing with tools such as clone, crop, sharpen tool, colour balance, change/manage layers, textures, holiday-centred frames, and overlay images among others.
In fact, iPiccy is one of the best free photo editors online that lets you create an image from scratch from a URL, Flickr or webcam. Of course, you can edit existing ones from your computer by using special tools such as blemish fixer which can make your eyes brighter, remove wrinkles, add mascara, and more. The edited images can be shared on Facebook, uploaded to Flickr or saved to your computer.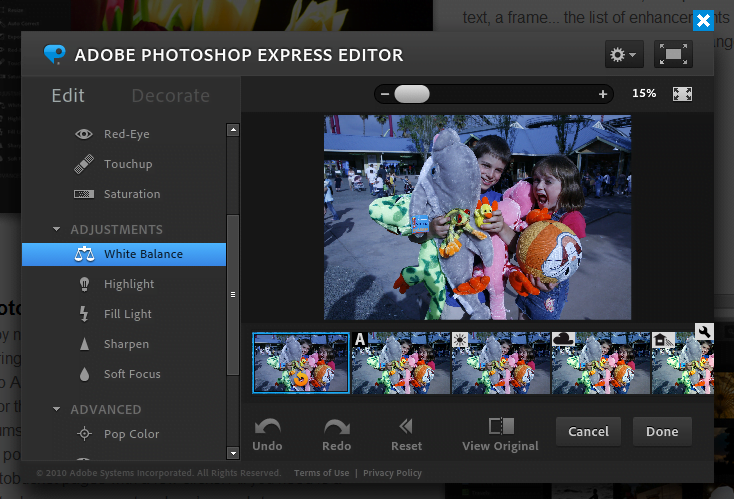 Adobe enters the freebies fold with its very own free online photo editor, Adobe Photoshop Express Editor. In spite of having only a handful of effects similar to the desktop versions of Photoshop, Photoshop Express editor still seems more profound than a basic online photo editing software.
The first thing you will notice is a nice and uncluttered interface that is also super easy to use. You can apply all the handy effects common in online photo editors such as hue, and tint changes, white balance, saturation, red-eye removal, etc. What's more, Adobe Photoshop Express Editor also lets you add stickies, text, bubbles, frames, costumes, change the background, et al. to your image in fullscreen mode so that you can increase the edit/view area. However, you are only allowed to import Images in JPEG, JPE and JPG file format. Also, Adobe Photoshop Express Editor outputs the edited image in only one save option i.e. JPG.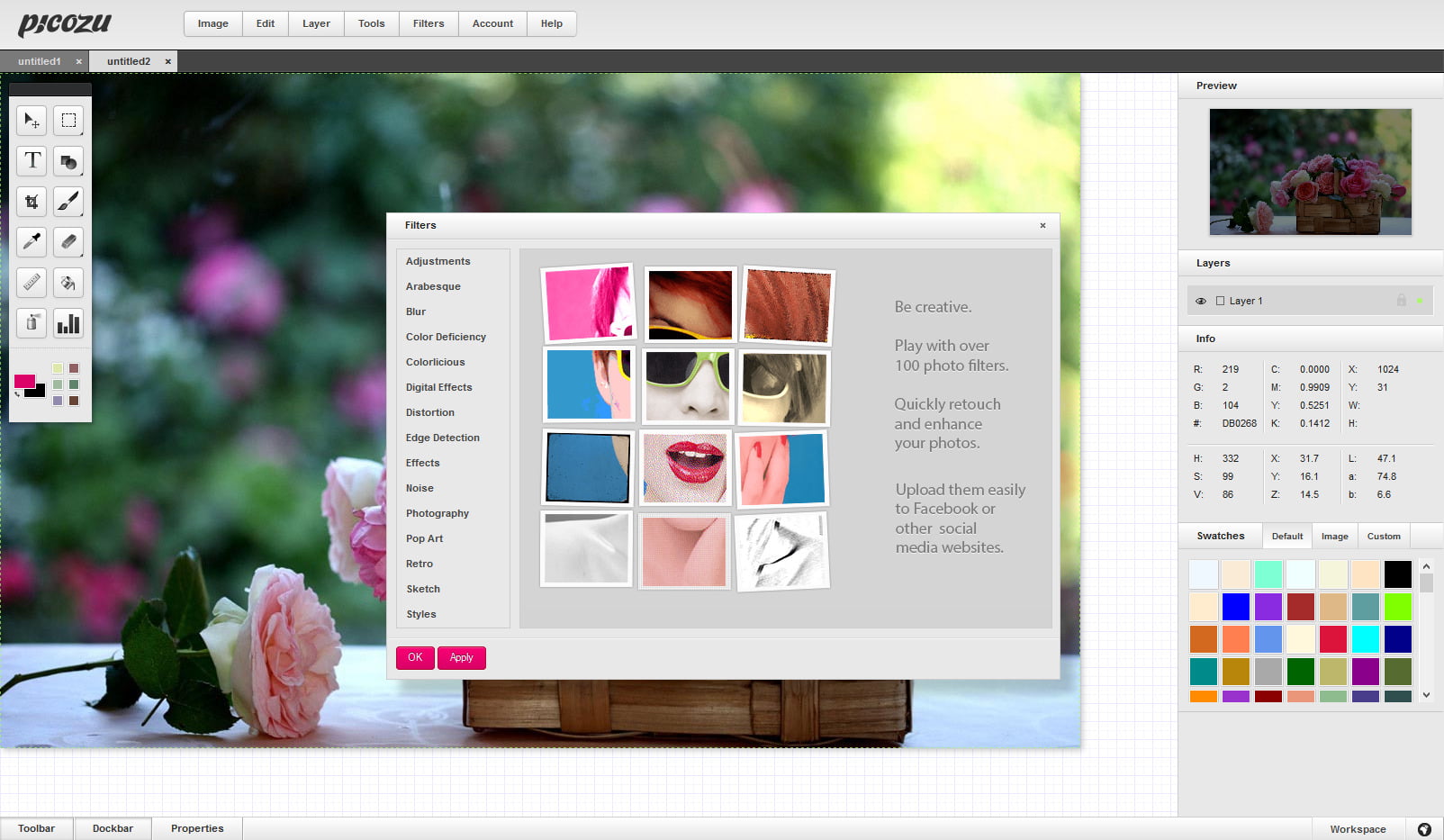 The last one on our list of the best free photo editors online, Picozu sports a super-clean interface that is quite easy to use. You can edit various images in multiple tabs, enable autosave and drag/drop, etc. Picozu also supports a wide range of image import formats such as SVG and PSD. Moreover, if you want to carry out common photo editing tasks such as cropping an image, changing the background, adding text and shapes, resizing the canvas, airbrush, or doing colour filling, Picozu is worth a try.

This photo editor is equally useful if you are seeking advanced features such as altering brush stroke settings (brush type, hardness, flow, etc), messing with layers, and dozens of filters.
And…that's a wrap. Did you like our roundup of the best free photo editors online? Did we miss out on any great free online photo editors that you know of? Let us know in the comments. Remember, you don't have to download these beauties, so try them all you want for free.
SEE ALSO: Best Free Photo Editing apps
SEE ALSO: Best Free Photo Editors for Mac
SEE ALSO: Best Free Photo Editing Apps for Android