Torrent sites are most sought after for downloading various files like software, games, movies, etc. However, most torrent sites do not allow downloading files directly to your device. In fact, your computer's operating system does not recognize torrent files by default. That's why you need a reliable torrent client that connects you to other p2p users and lets you download torrent files through the internet.
So, what is the best free torrent client today? Which torrent client gives you the fastest download speed while giving you tons of customization options? Don't worry, we have the answers to these questions – and we're about to give you tons of great torrent client recommendations.
Before we begin, we would like to tell you a few important things. First, you already know that P2P is blocked in some countries, and many ISPs shut down your web connection when they locate you using a torrent client. So, before you go ahead and download from The Pirate Bay, Extratorrents, or any other torrent sites, make sure to take all the precautionary measures. In other words, make sure you are using your new torrent client in the best way possible. We recommend you to use these Best Torrent Websites.
We know you can't wait to get started, so let's move on to what you really want to know.
Best Torrent Clients in 2022
Finally, we are ready to present the 10 best free torrent clients in 2022. Go ahead and check them out below.
uTorrent Classic / Web
BitTorrent
Transmission
BitLord
BitComet
Deluge
qBittorrent
Vuze
Halite BitTorrent Client
WebTorrent
1. uTorrent Classic/Web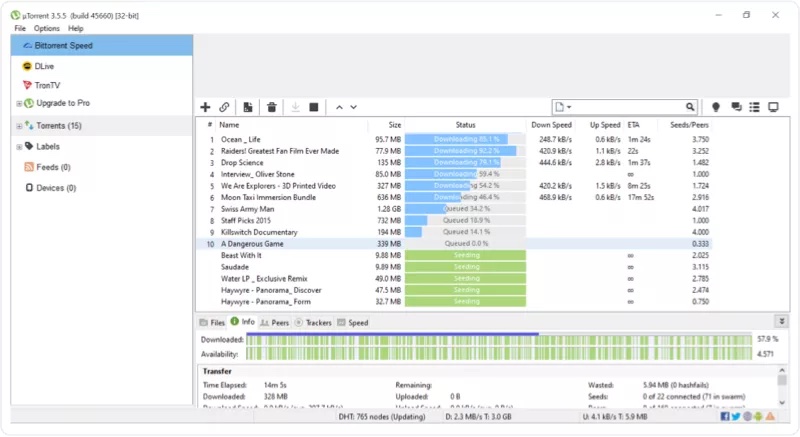 uTorrent is the most popular and incredibly small application of this kind. It comes with file prioritization, scheduled downloads, streaming, media player, third-party plugins and more.
It will be downloaded in a few seconds and then you can proceed to install the software. During installation, be sure to go through each step carefully and opt-out of the bundled software. Once you do, you will be greeted by a fairly simple interface that is suitable even for complete beginners.
Note: If you are a Windows user then you can uTorrent Classic. However, users with the latest macOS version need to download uTorrent Web, as the classic version doesn't support macOS Catalina.
Supported Platform: Windows, macOS, Linux, Android
Price: Free / $19.95 per year (PRO)
Visit: uTorrent
2. BitTorrent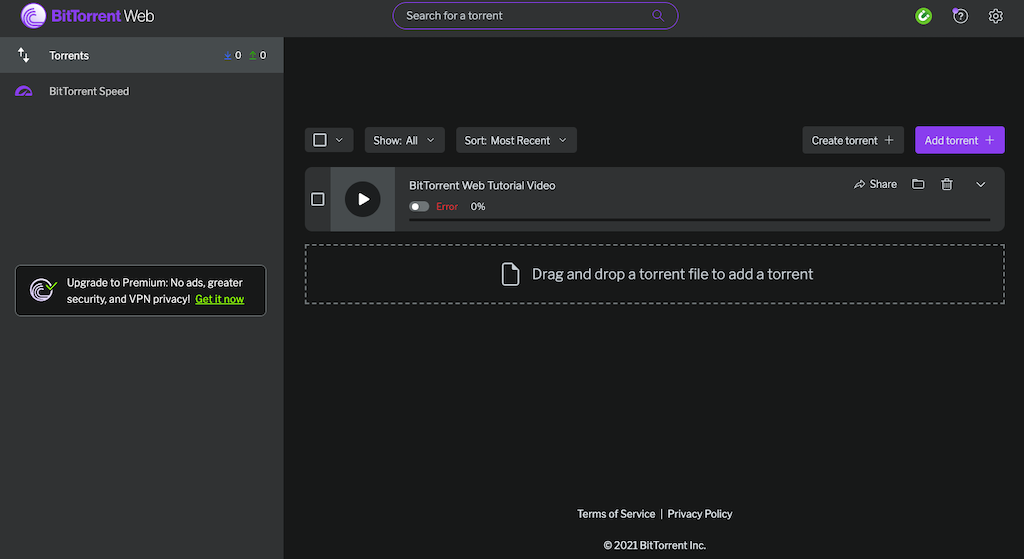 BitTorrent is being advertised as a 'native torrent client'. This is true because BitTorrent has been around for quite some time. In addition, you can use its website to find completely legal files including music and videos. You can prioritize torrent files, download specific files within torrents, play media, and stream torrents. There are some advanced features as well, such as IP filtering.
You can customize the UI as per your choice. In short, it is a drag-and-drop application that supports a standard set of features. Apart from some annoying ads and bundled software, there are no real drawbacks to this torrent client.
Note: Windows users can still download BitTorrent Classic. However, macOS Catalina users will need to download BitTorrent Web.
Supported Platform: Windows, Mac, Android
Price: Free / $19.95 per year (PRO)
Visit: BitTorrent
3. Transmission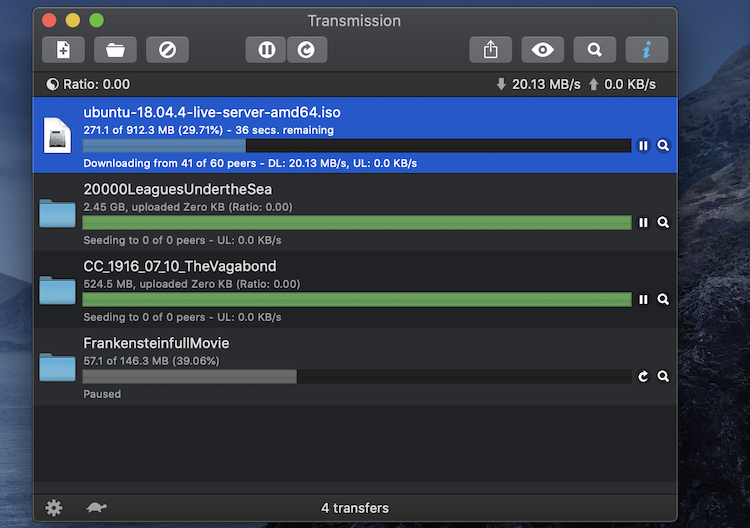 Despite it being hard to find reliable clients for Apple's desktop OS, the Transmission suite is far from perfect. The application is incredibly lightweight which takes full advantage of macOS.
You can quickly download and install it. Once you have that, you can simply drag and drop a torrent file, add it to Transmission, and the application will automatically do the rest. It will auto-optimize the settings based on your internet connection and download the required torrent files.
Supported Platform: Windows (early preview), macOS, Linux, Web
Price: Free of charge
Visit: Transmission
4. BitLord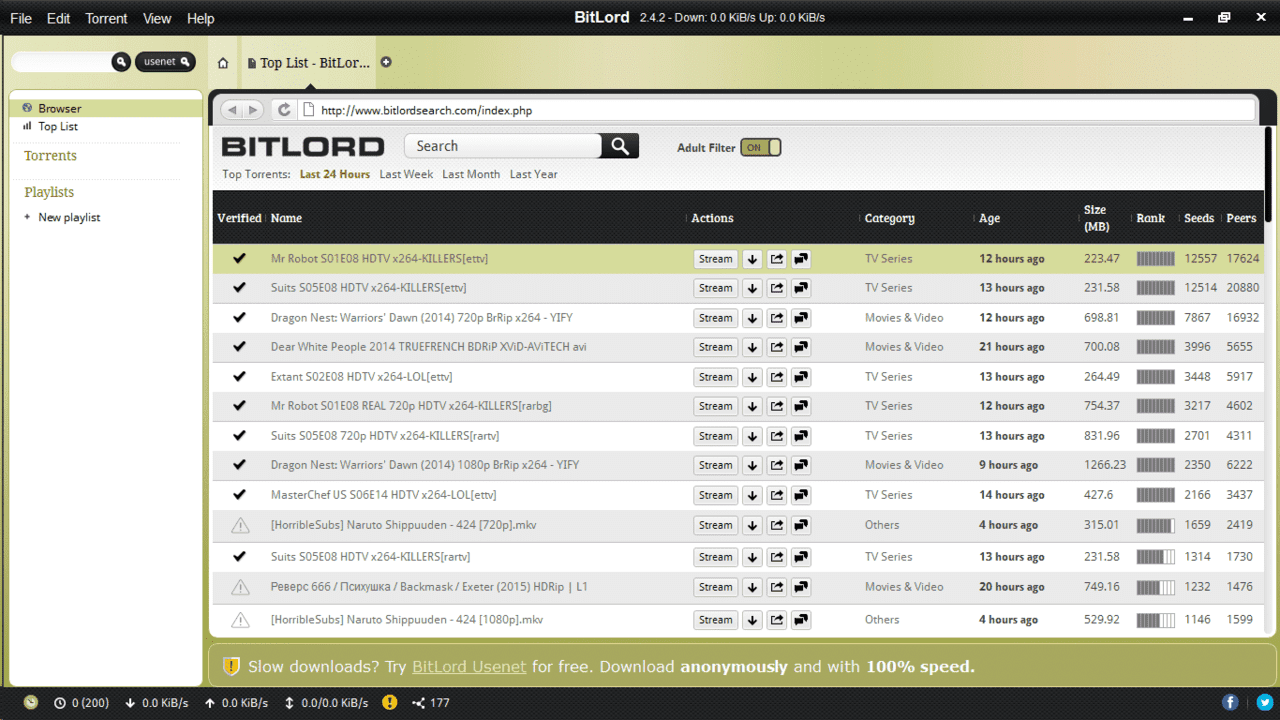 Bitlord is an older software that still manages to bring competing features. Both beginners and experienced torrent users can use it due to its highly adaptive options. However, you need to pay attention while installing this application. Depending on your needs, BitLord will first download the required files and then proceed with the installation. If you are not careful, you can end up with unwanted software.
Talking about its capabilities and features, there is a built-in search tool for audio, video and other types of torrents. You can also stream videos to your computer or play them through Chromecast. Lastly, you can also download subtitles and make sure everything is ready before watching a movie or TV show.
Supported Platform: Windows, macOS
Price: Free of charge
Visit: BitLord
5. BitComet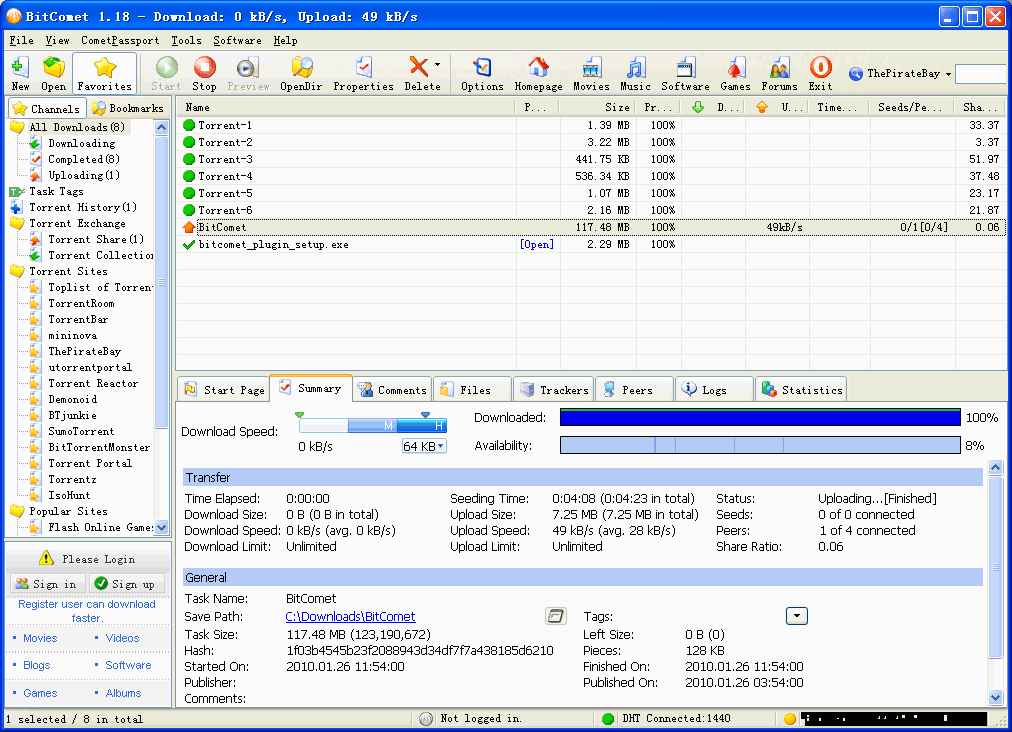 BitComet is an older client that still receives occasional updates and now it supports both Windows and macOS. The application is quite simple but it brings support for all modern standards of creating and downloading torrents.
Notably, BitComet has a unique feature called Intelligent Disk Caching. Bitcomet is a highly customized torrent client that one can rely on for all their torrenting needs.
Supported Platform: Windows, macOS
Price: Free of charge
Visit: BitComet
6. Deluge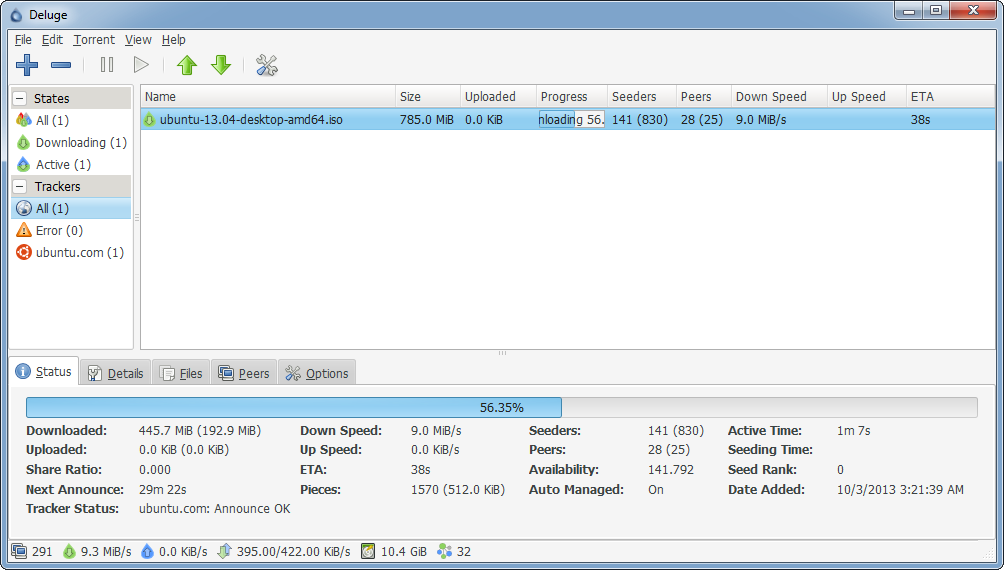 Most people consider Deluge to be the perfect tool for absolute beginners which is not entirely true. It takes some time to figure out what the deluge is all about.
Deluge is very light when it comes to its size and performance. It runs perfect even on a decade-old computer. Plus, you can simply drag-and-drop a torrent file, and it will begin to download. Furthermore, it integrates with Chrome and Firefox and comes with helpful third-party addons. Once a file is downloaded, these addons can power off your computer, unzip files, move them to a specific location, and more. Plus, there's no ads or bundled software, which is always a good thing to look at.
Supported Platform: Windows, macOS, Linux
Price: Free of charge
Visit: Deluge
7. qBittorrent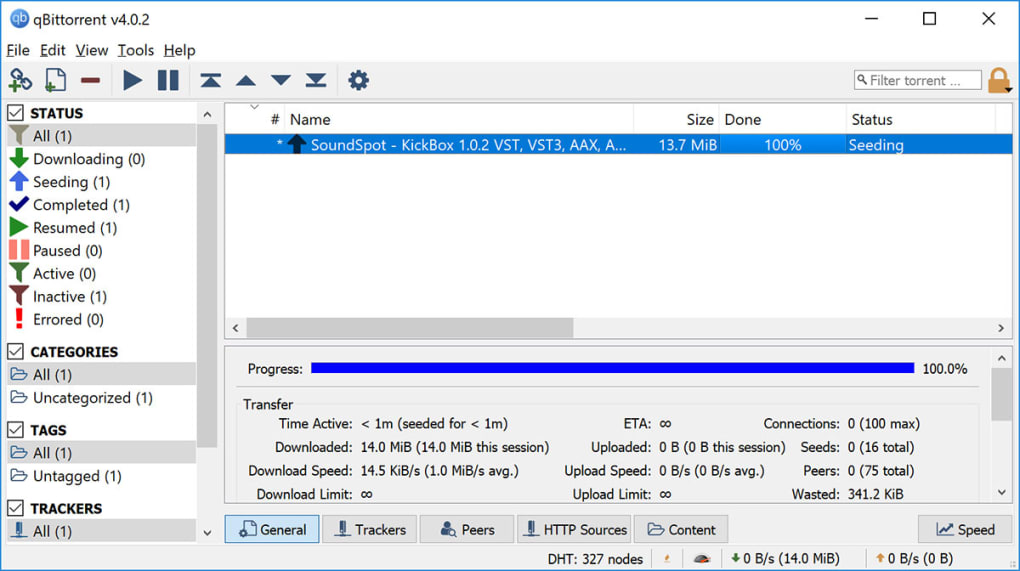 One of the oldest torrent clients that don't come with a modern interface but it still works without any issues. So, if you are a first-time torrent user and those who have computers with light specs, qBittorrent should be your first preference.
qBittorrent comes with surprisingly powerful built-in tools like a torrent search engine, media player and encryption for your P2P connection that make the whole process of downloading torrents a little easier. Additionally, you can choose specific files to download in torrent files. The only thing that is missing here is that you will not find any plugins as you do with other similar applications. But again, plugins are mostly for experienced users.
Supported Platforms: Windows, macOS, Linux, FreeBSD
Price: Free of charge
Visit: qBittorrent
8. Vuze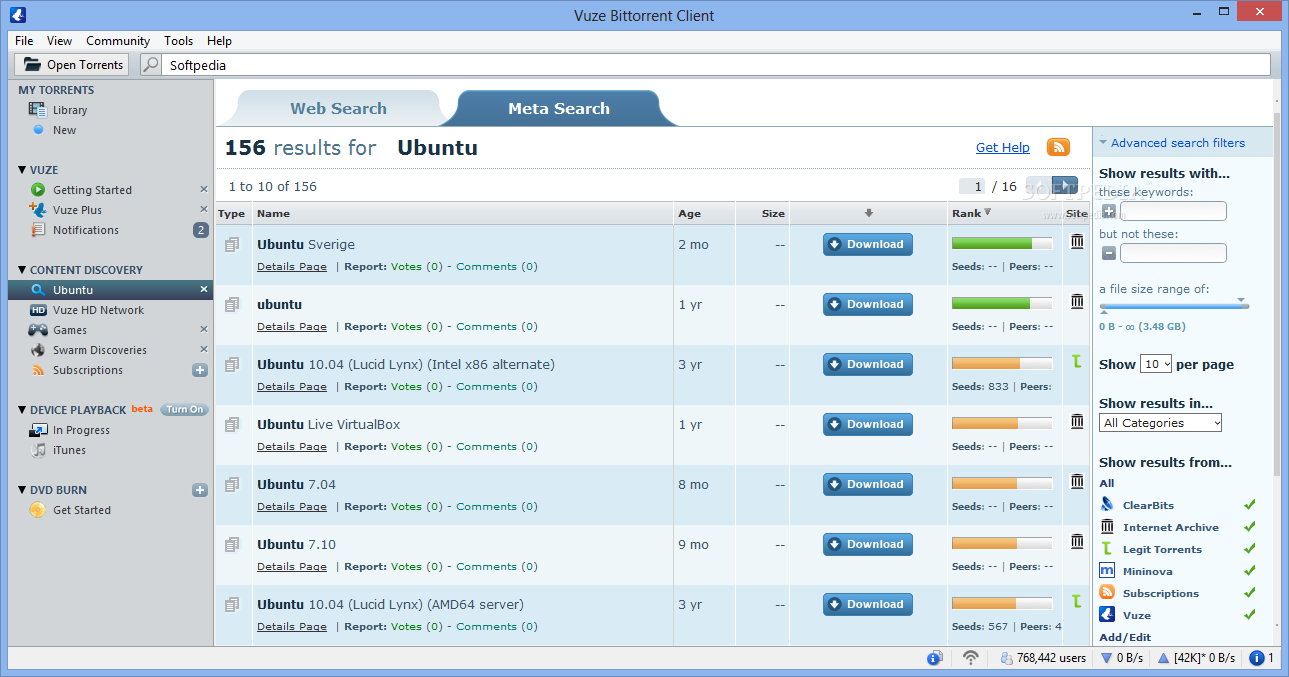 A feature-rich and well-designed torrent client, Azureus has been popular among torrenting fans for a long time. Vuze is the direct descendant of Azureus which comes with a lot of advanced and improved features.
Like uTorrent, we recommend not to rush with the installation as you will end up with bundled software. In addition, you will be asked to set up the software as per your needs. It may sound intimidating, but every feature is well explained.
Furthermore, it can be simple or complex as you want. Naturally, this means that it takes advantage of your system's resources in a big way. Hence, we do not recommend it to those who have entry-level laptops.
Supported Platform: Windows, Mac, Linux
Price: Free / $9.99 per month (Vuze Plus)
Visit: Vuze
9. Halite BitTorrent Client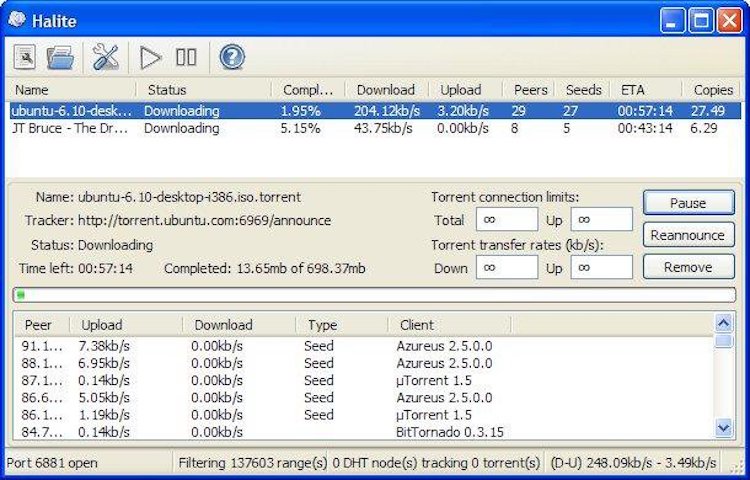 Don't get confused by the name, this is an incredibly lightweight application that supports Windows. If you want something really simple yet powerful then you are in for a treat.
The Halite BitTorrent client can be downloaded from GitHub, you can unzip the EXE file. This type of installation can be somewhat confusing because GitHub is involved. However, we are sure that you will not face any difficulty in running this application on your system.
Once open, you will observe an incredibly simple interface. Add a torrent file, and Halite will start downloading it. You can perform basic operations such as pausing and resuming the download process and reviewing important download information.
Supported Platforms: Windows
Price: Free of Charge
Visit: Halite BitTorrent Client
10. WebTorrent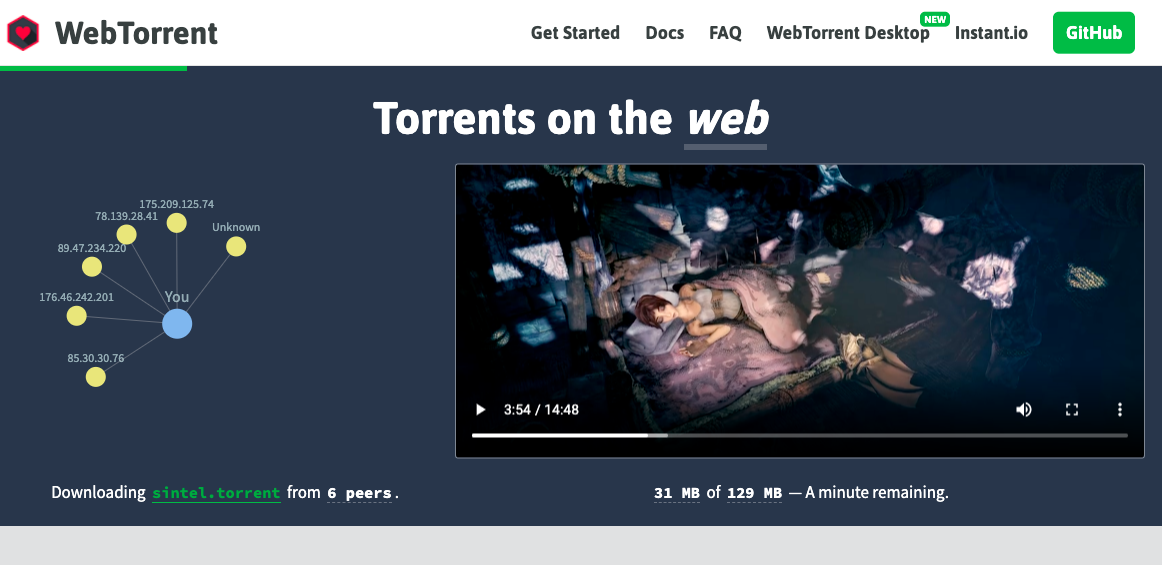 Last but not least. This P2P torrent client comes with an inbuilt media player, therefore you can play movies and videos files even before downloading the entire file. Once you add a magnet or torrent file to this application, it will start downloading automatically.
However, you will be able to stream the file instead of waiting for it to download completely. There's also a full set of playback controls, where you can increase or decrease playback speed, control volume, add subtitles, and more. Notably, WebTorrent brings a beautifully designed interface on Windows, macOS, and Linux. Sadly, there is no mobile version available right now.
Supported Platforms: Windows, macOS, Linux
Price: Free
Visit: WebTorrent
How to choose the right torrent client?
Since we have listed several torrent clients in this article, you must be wondering how to choose the best torrent client for your needs? What should you keep in mind while checking the list of P2P subscribers? Well, let's give you some pointers.
Platform Compatibility: Not every torrent client supports all three operating systems – Windows, macOS or Linux. Therefore, you need to look for suitable torrent client. Plus, torrent clients are inter-compatible, which means you can download torrent files regardless of the client that you use. There are also Android P2P clients – but sadly if you're an iOS user you'll have a hard time.
Size: The most popular torrent clients are incredibly lightweight. You can download and install them in no time.
Performance: Torrent clients are light on the resources of your system. This is especially important because a large torrent file can take hours to download.
Usability: You don't need to be an expert to download torrent files using a torrent client. However, some of them have complex UI. So, you can choose them wisely.
Price: Lastly, you need to select the torrent client according to your needs and the money required for it. In general, most P2P clients are free. However, you may have to tolerate ads as some of these ads to keep running.
What are torrent (p2p) clients? What is the role of this type of software?
Since you are reading this article, we assume that you already know about torrenting. As for the torrent clients, these are the software application that helps you facilitate the Torrent files download. Unless you have a torrent client, you can't download torrent files.
Torrent clients are not a novelty. They have been here for quite some time, and many of them have developed advanced facilities. Today, even if you're looking for a completely free torrent client, you can do much more than just download P2P files. You can search data across the web, stream movies and music, create and distribute personalized torrents, and more, without leaving the torrent client.
Is it safe to use a torrent client? Should you be aware of any dangers?
This is the most asked question by people on the internet. Torrenting is prone to malware attacks and is the fastest way to spread malware by distributing it through P2P networks. There were many examples in the past. In fact, antivirus vendors often flag torrent clients as dangerous. So, are torrent clients safe to use? Our answer is – yes, but there is one thing to keep in mind. Make sure to download torrent clients only from their official websites.
In case you fail to do so, you will end up with an infected installation file. Plus, you make sure to hide your online presence. You can use a VPN application to do this.
Are P2P clients already optimized? Do you need to change their settings?
Most torrent clients come pre-optimized and do not require any changes to their settings. However, if your ISP is placing severe restrictions on P2P traffic, you may need to change the setting.
As soon as you open a P2P file, it will start looking for related pieces of the file you are trying to download for other users. So, yes – you will be able to download files without having to go into your torrent client's settings. However, doing so would be of great benefit. If you know how to change the right settings, you'll get to start new downloads faster, connect with more peers, and enjoy a more streamlined experience overall.
FAQs – Torrent Clients
Some additional questions that you can get answered here. If your question is not listed here, then you can share via comment. We will answer them quickly!
1. What is the best torrent client overall?
You should consider uTorrent as your first option which is the most popular client right now. This is one best P2P clients for the majority of users that you can use without spending any money on it. This comes in many different editions, and it allows you to fine-tune your experience of downloading P2P files.
2. Which is the best free torrent client?
There are many Free Torrent Client that you can find over the internet. However, if you want torrent clients that are 100% free of charge, you shouldn't look any further and pay attention to qBitTorrent (for Windows, macOS, and Linux) and Transmission (for macOS). These two are fully unlocked, and they don't have any in-app purchases or hidden costs.
3. Are there torrent clients for Android? Which is the best?
Yes, there are a plethora of torrent clients available for Android devices. However, it is good to have BitTorrent and uTorrent installed for downloading torrent files. Similarly, you can also try FrostWire and LibreTorrent. All these torrent clients are P2P clients which allow you to offer blazing-fast download speed.
4. Are there torrent clients for iOS? Which one should you choose?
Since Apple doesn't allow torrent clients on its iOS App Store, you can't download and run a P2P client on iOS. However, you can opt for a Web-based solution like uTorrent for Web.
5. Which is the fastest torrent client in 2022?
The speed of torrent clients depends on many things. But, we recommend you to use uTorrent, as it works amazingly well even without tinkering with its settings. Likewise, you can choose BitTorrent and Transmission if you use macOS.