Looking for the best websites to download free music? You're in luck! We've put together a list of the best sites to stream and download to your favorite artists, whether you're looking for a specific song or want to stream a whole album.
We love music, and it's hard to beat the satisfaction of finding great new tunes (or old favorites!) for no cost at all. So if you're looking for your new go-to source for free music downloads, this is the article for you!
We've tested out each site listed on this page and provided links so that you can get straight to the good stuff. We hope you enjoy these best free music download sites as much as we do!
17 Best Free Music Download Sites in 2022
It's time to update your playlist with some awesome new songs. But don't worry, we will help you out. There are a lot of free music download sites on the internet that offer a huge amount of songs to choose from. These websites can give you access to a vast collection of music for free of cost. You just have to visit these sites and search for your favorite songs or artists and then you can easily download the songs in a few minutes.
Jamendo
SoundCloud
Beatsuite
ReverbNation
Audiomack
SoundClick
Free Music Archive
Audionautix
NoiseTrade
Beatstars
Free Amazon Music Store
DatPiff
Last.fm
CCTrax
YouTube
Musopen
Bensound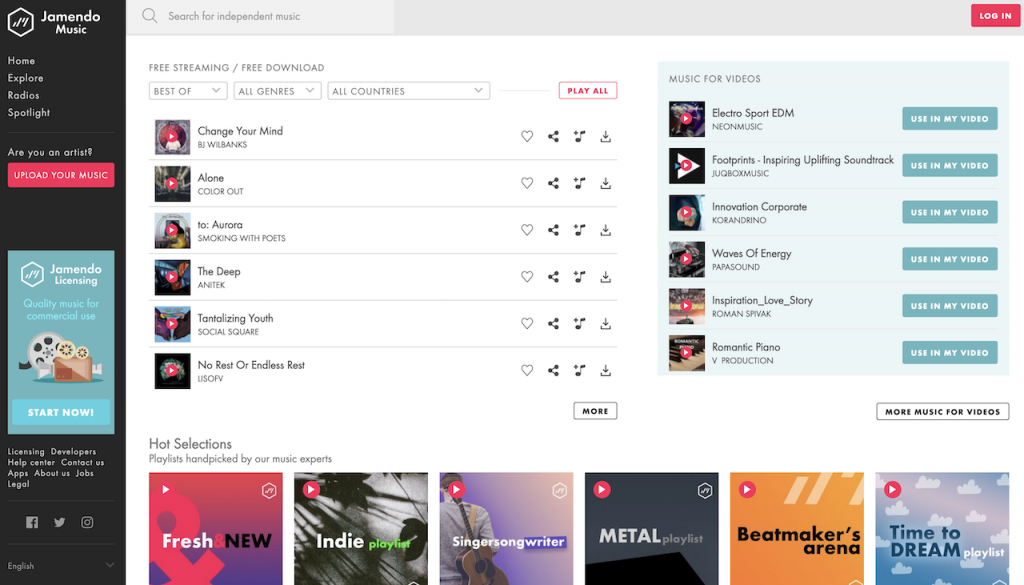 Jamendo is a website with a massive collection of music available for free download. The songs uploaded at Jamendo Music are protected by a Creative Commons license, which means you can safely download music offered on the website.
You can find just about every genre on the Jamendo website, and the site boasts a whole section of music from unsigned artists. The community aspect makes this one of the best free places to find new music available, as you can go through and see which unsigned artists are trending or popular at any given moment in time.
Once you find a song or artist you like, you can download songs, build playlists, share songs with your friends and even embed songs into your own personal blog site or web page. The site also has a mobile app so that you can access your account from anywhere with an Internet connection. While this is not strictly an online streaming site since you do have to download the music before listening to it, the option to build playlists means that this site does function in many ways like an online radio station.
See More: Best Free Sports Streaming Sites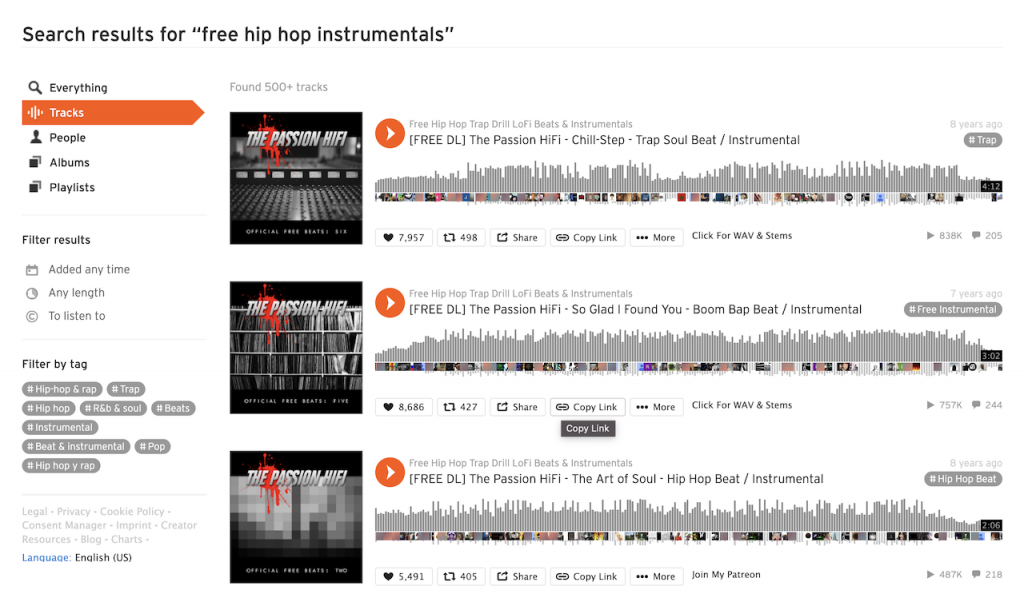 SoundCloud is one of the popular music sites that lets you stream unlimited music and download songs for free. With over 150 million tracks, it is the perfect platform for independent artists to upload their music and get discovered. Some of the biggest DJ's in the world, including Tiesto, Hardwell and Madeon, have used SoundCloud as a platform for sharing mixes and getting their name out there.
SoundCloud has quickly become a go-to spot for streaming podcasts, with many popular shows like The Joe Rogan Experience uploading exclusively to the service. The remixes and mashups that users are able to create from uploaded tracks are also pretty cool.
Although anyone can stream music on SoundCloud entirely free of charge (all you need to do is sign up), if you want to avoid ads interrupting your experience then you can purchase a subscription plan.
See More: How to Download Music from SoundCloud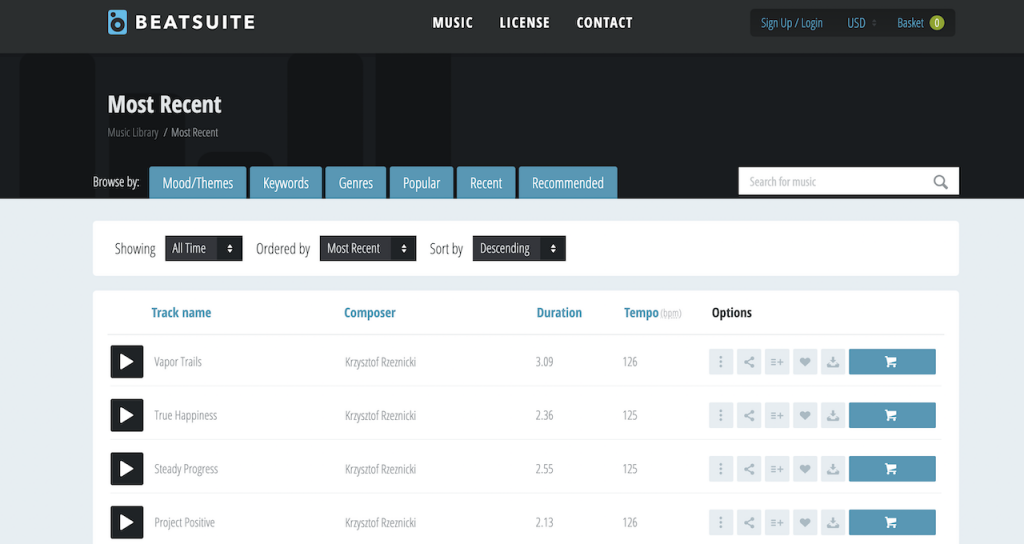 BeatSuite.com is a free music resource that specializes in providing high-quality, professionally produced royalty-free music for video content creators (i.e. filmmakers, YouTubers, advertisers, etc.). It's one of the few sites dedicated to this specific market and is packed with features to help you find the perfect song or music track for your video project.
The site has a massive library of royalty-free music that can be easily searched through filters like genre and mood to find exactly what you're looking for. There are dozens of musical genres to choose from including Rap and Hip Hop, Rock and Metal, World Music, and more. The website does a good job explaining what license types you need for different uses cases and there's also an FAQ about copyright issues if you have any questions about how copyright works on YouTube videos or other content creation platforms.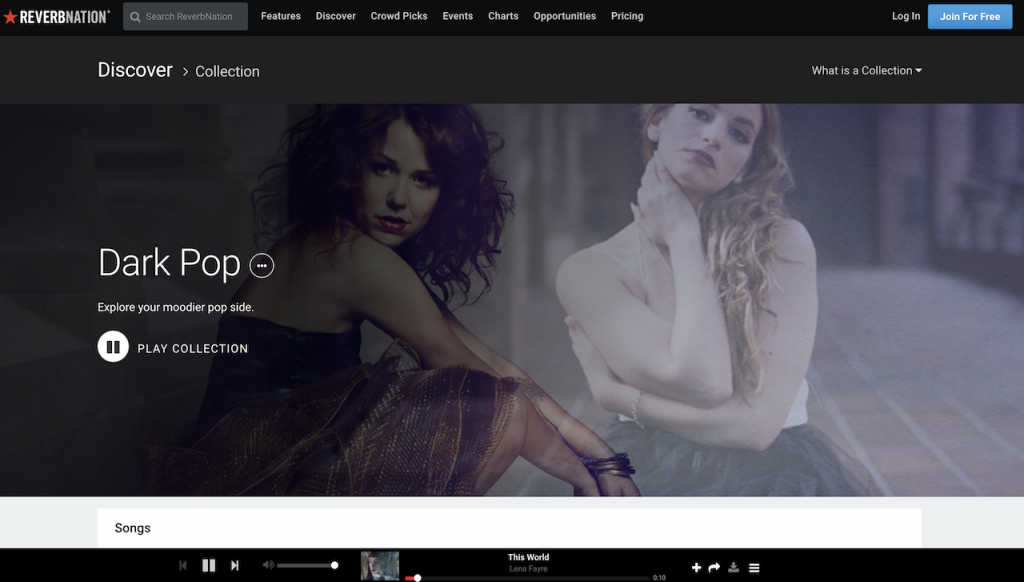 ReverbNation is another free music website that you will find extremely beneficial. It allows artists to upload their music in MP3 format and also has a large database of music that is accessible to all users. You can listen to music online without any registration and also download it for free which you need to signin.
For the artists, ReverbNation stands out from the rest because it provides them with an opportunity to promote their music by sending it to different record labels along with other tools that help in making profiles more appealing.
The site currently serves around 4 million artists, labels and users and provides a great user experience to music lovers through its impressive catalogue. Those looking to discover more can do so through the Discover section of the music website, which brings together a nice collection of audio songs to download.
Visit the search page for free songs downloads on ReverbNation. On the left, check the box next to "Free MP3 Required" and click "Refine Results." [Make sure the artist type is selected for the Require free mp3s to appear option].
Free music will be listed on the right. Click on any album name and a new page will open with a small download icon in front of the free downloadable songs. Click download and you are good to go!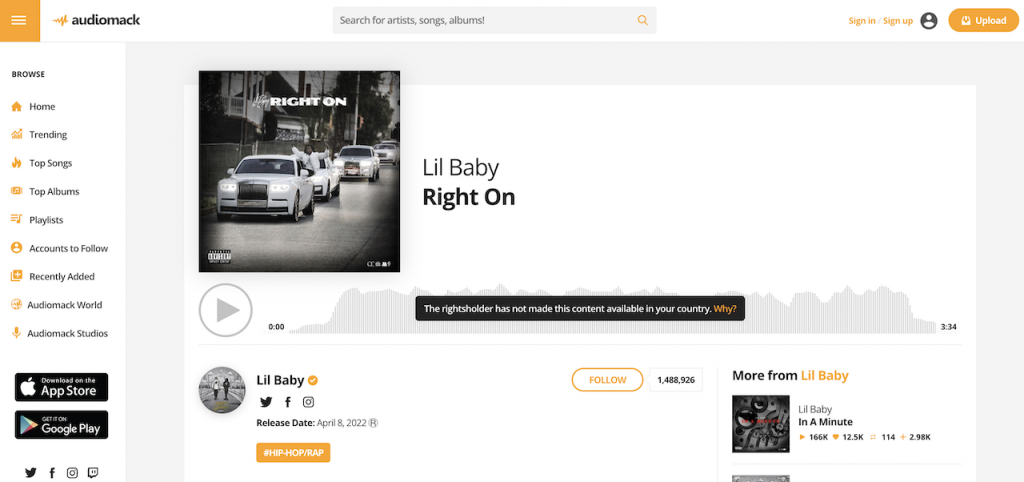 Audiomack is a very good platform for streaming and downloading music for free. The website has a very clean interface with an option to search for songs which makes it the best SoundCloud alternative. You can find songs from top charts, newest releases and explore by genres.
Audiomack also features trending, popular playlists and playlists created by users. This website offers direct download links for every song which you can save on your hard drive or phone memory in case you don't have an Internet connection as well as no registration is required.
Although not all songs on Audiomack are free, many artists offer their tracks and remix music for free download. In addition, you can stream an unlimited number of songs on a desktop PC via the website or on the phone via the free iOS and Android apps.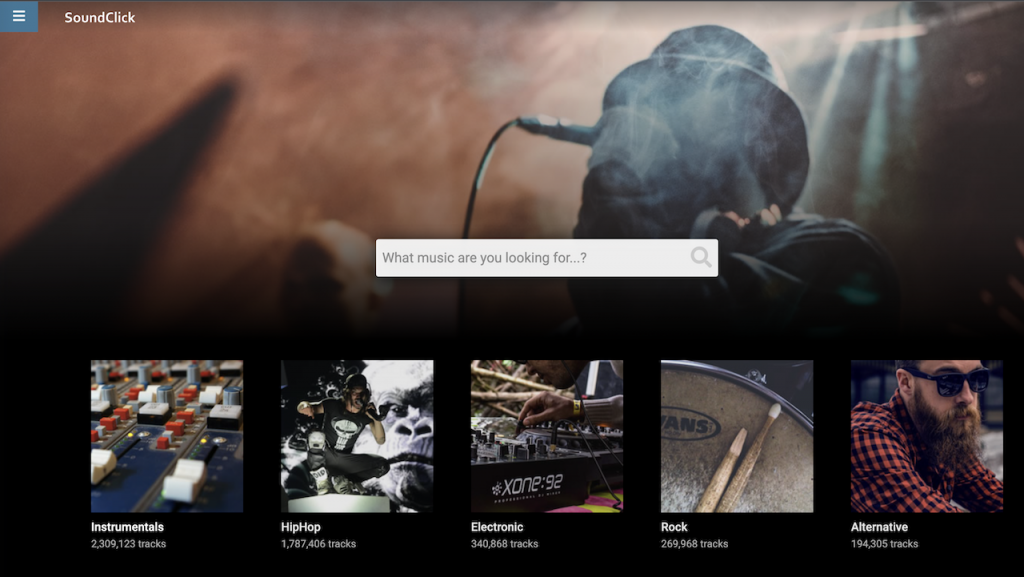 Whether you are looking for a new song to download and listen or simply want to find out who the best artists are, SoundClick is one of the best free music websites to download free songs that you will find.
It contains millions of tracks from both famous and up-and-coming artists, allowing you to discover new tracks from the site. You can also create your own playlist of your favorite songs and add them to it so that you come back whenever you want and listen to everyone again.
In addition, if you want information about your favorite artist on this website, then there is also a blog section where everything related to your favorite artist is listed by their manager or representative.
This free music download website has recently revamped its UI and it is not as cluttered as before. Unfortunately, they have removed some of the best features that existed before such as creating custom radio stations or interacting with other listeners on stage.
See More: Best Free Football Streaming Sites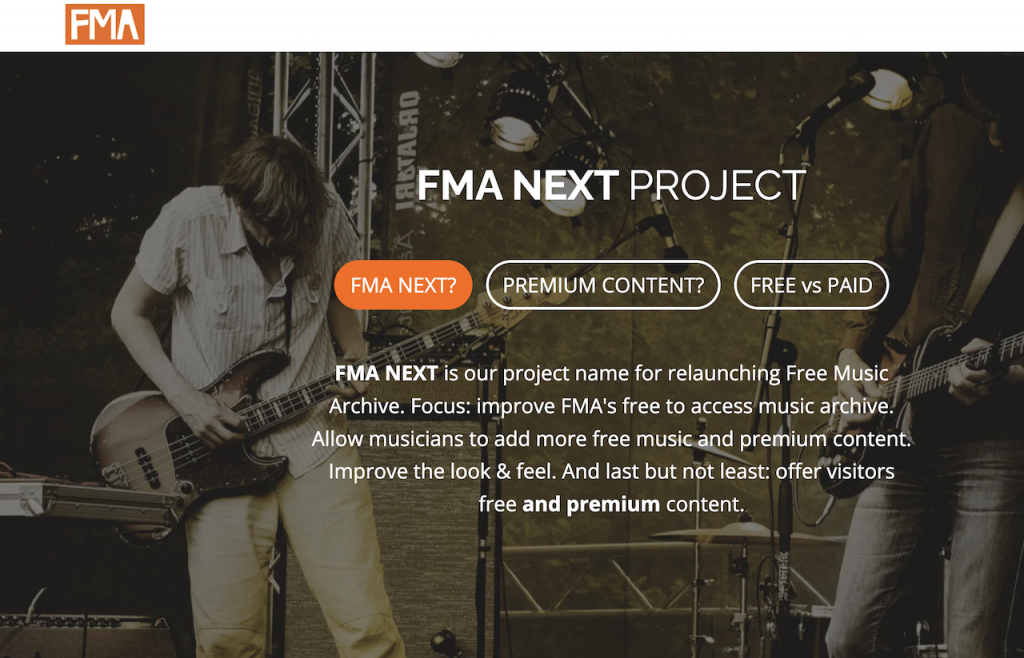 To get started with Free Music Archive, choose from the category menu on the left-hand side of your screen. There are over 600 genres and an additional 43,000 artists, which means you're likely to find something to your liking.
If you can't get enough music but want to try it before you buy, Free Music Archive actually sells a considerable number of tracks online. The site has a wide selection of selections available for streaming or download (with some limitations) that's reflective of the vast catalog of free music at FMA.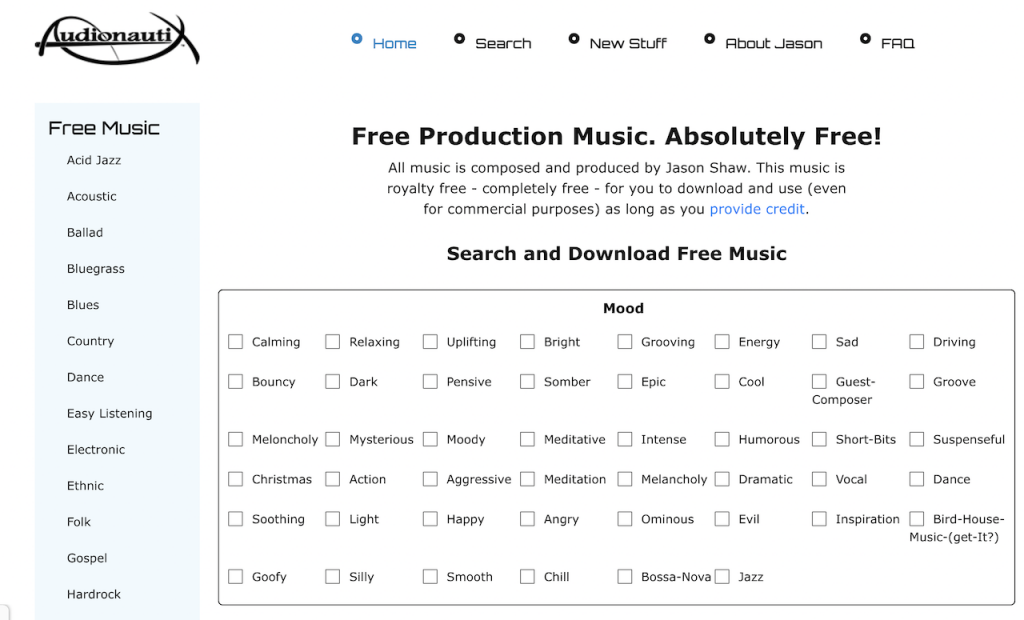 The free MP3 music downloads on Audionautix are released under a Creative Commons License. What that means is though you are free to download and stream the songs, they can't be used in commercial projects without permission. The music here is provided by Jason Shaw, who also runs a similar website called audiomicro.com.
This site has a wide selection of genres for you to browse through, with collections along the lines of Acoustic, Country, Electronic, Hip Hop/Rap, Pop, Rock and more. You can listen to the tracks from within your browser or use the mobile app for Android (an iOS app isn't available). You can also download all the songs in mp3 format from this platform.
Audionautix's player embed code makes it easy to embed audio files onto your own homepage or blogsite for streaming purposes as well as downloading purposes
When you have a favorite artist, you may want to listen to his or her new songs, but sometimes it costs too much to buy the entire album. NoiseTrade is the right place for you. As a music lover, sometimes you may want to discover new artists and their music without spending money. NoiseTrade is also your option. It's not a big name like Spotify or Pandora, but it's growing popularity among music lovers and musicians also love it because it can help them get in touch with their fans. It's free for all users and musicians can share their songs for free on this site too.
NoiseTrade is a great platform for upcoming artists who are looking to promote their work more widely. There are lots of fresh songs added every day and they come from different genres including indie rock, hip-hop, pop, metal rock and others so that each type of music fans can find something they really like on NoiseTrade. The site has a simple interface that makes things easy to navigate around the site so that you can find the latest albums released by your favorite artist easily or hunt around for some interesting new artists easily as well. You just need to enter the name of an artist in the search box at the top of the home page and then click "Enter" button on your keyboard, as soon as you do that you will see several results instantly displayed on your screen.
See More: Top 60 Free Movie Download Sites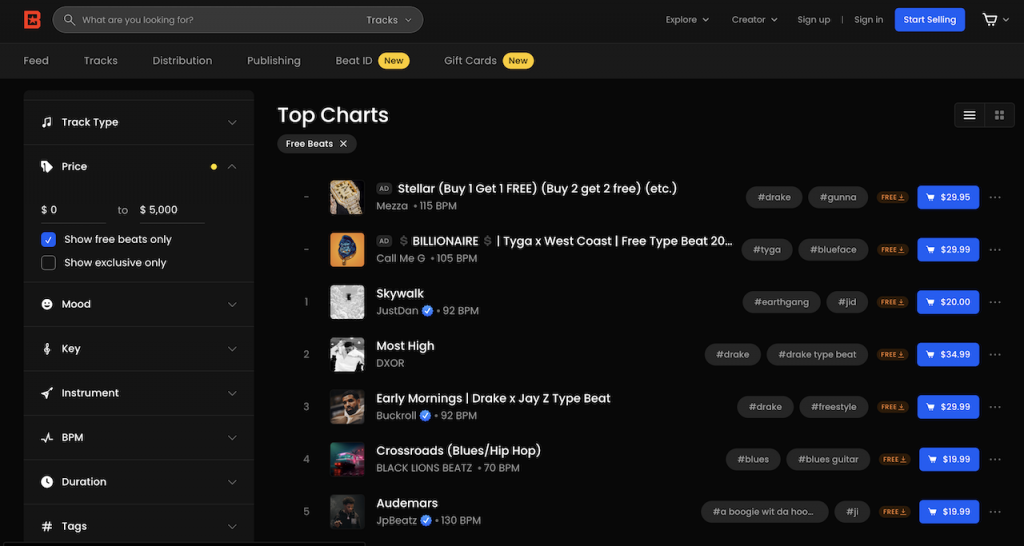 Beatstars (Beatstars.com) is the best platform for your music needs.
If you're looking to find the best music tracks and beats, Beatstars.com is where you should go. The free MP3 music download site has a huge collection of all kinds of music you can think of, including rap, hip hop and more. You can filter songs by genre, mood, top-selling, trending and latest. If you're into a specific type of song, you can also use filters for it, such as beats, beats with chorus, vocals, song references, etc.
There are two subscription options: free and paid. If you choose the free version, there are still plenty of songs available to listen to or download. However, if you don't want any limitations in what you can do with the music on this site, then it is recommended that you opt for the paid membership option instead.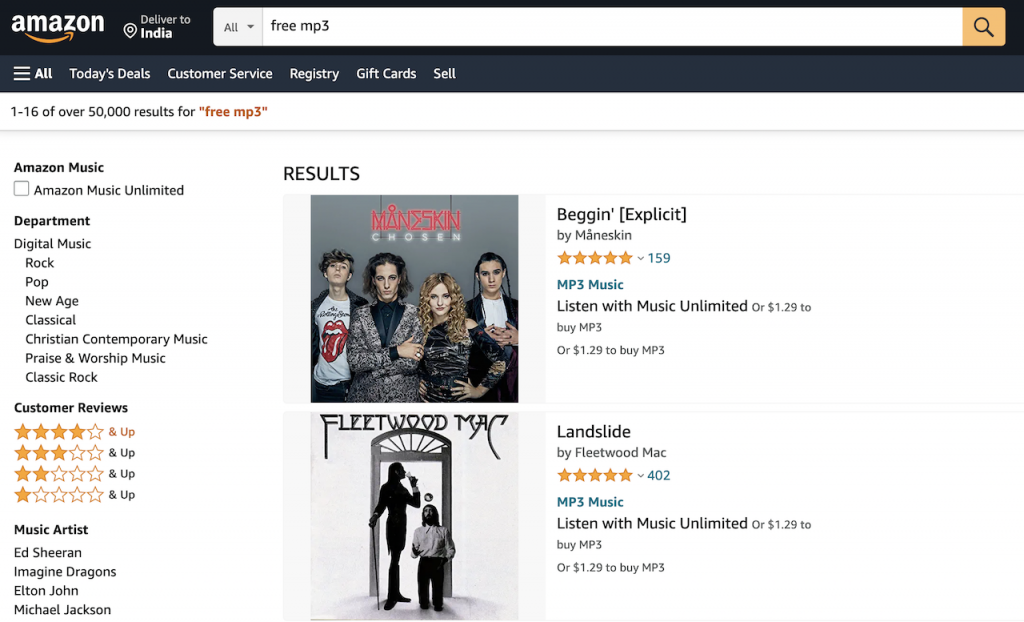 If you love music from all genres and eras, Amazon Music Store is the best place to find and download your ideal tracks. The app covers everything from the latest hits to classic oldies and gives you access to more than 1 million songs for free. The catch? You have to listen to a few ads here and there, but no subscription is required.
The app also lets you sort by artist or song, so finding what you want is easy. It's available on Android, iOS and Windows Phone as well as Macs and PCs. You can also use Amazon Music on an Amazon device such as a Kindle Fire or Echo smart speaker if you have one of those lying around; otherwise, it will cost $1 per month for Prime members or $3 per month for non-Prime users.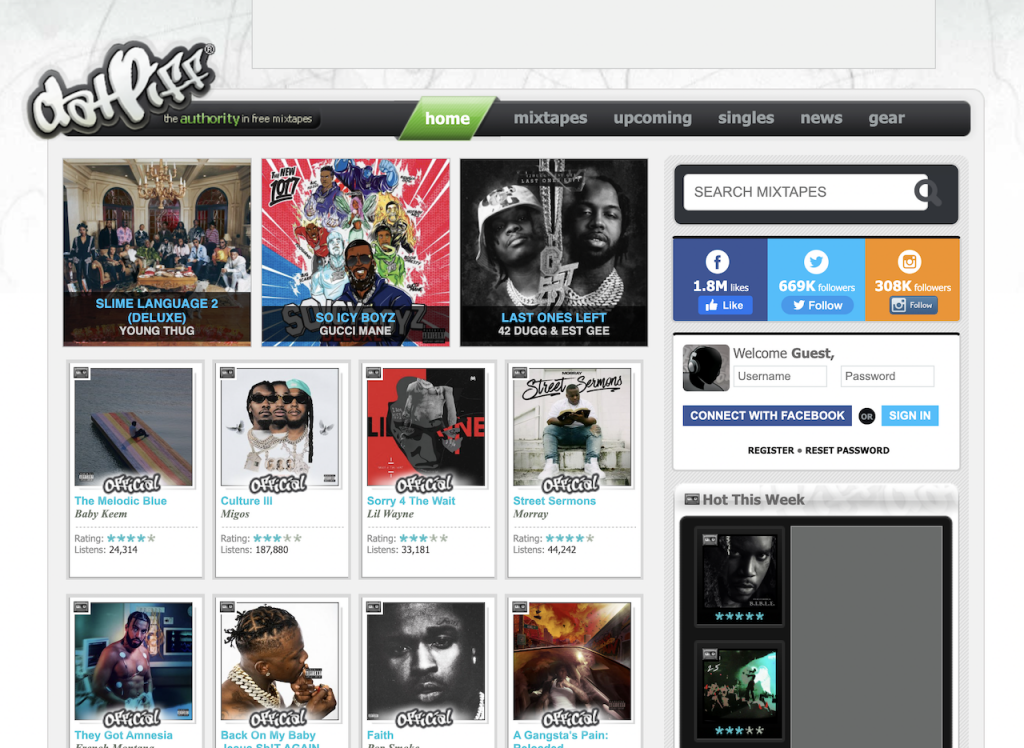 DatPiff is a mixtape website that offers free music downloads, streaming, and social media features to listeners. You can also download the DatPiff app and listen to music on your phone or tablet. No registration is required to enjoy any of the content offered by this site. The UI is clean and easy to use, but one drawback is that it's difficult to find new releases by date.
A great feature on DatPiff is that you can upload your own mixtapes for others to listen to, which makes it an ideal site for up-and-coming artists with something fresh and original to share. The community on DatPiff also allows you to comment about songs or albums directly from the site—just click on "comments" below each tracklisting for instant access! This service does not have ads but does contain links back from its partners' websites so if you need additional help please contact us here with any questions regarding those partnerships before using them in our products!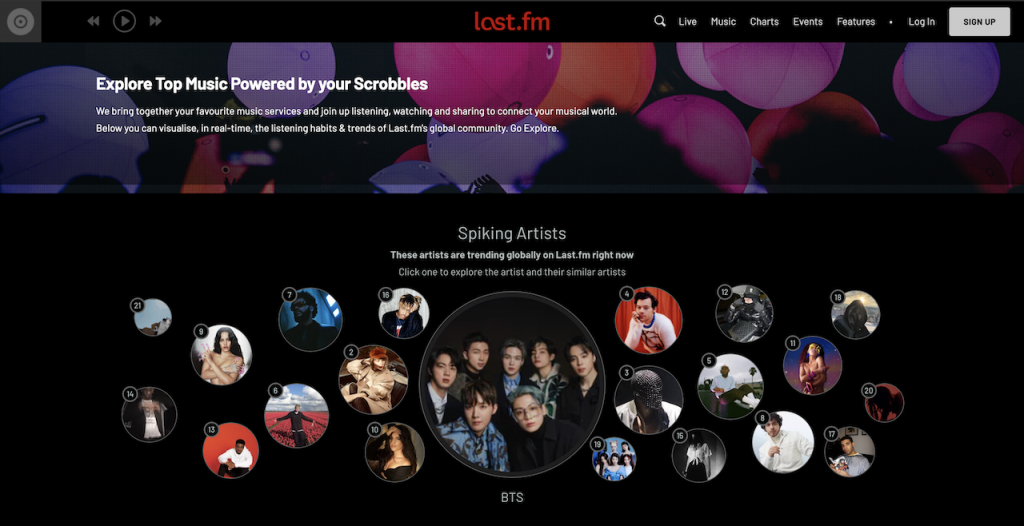 The UK-based Last.fm is a music website that, like Pandora, uses similar methods to generate recommendations and can be used to track your musical taste. In addition to discovering new music, the site offers numerous social networking features and can recommend and play artists similar to the user's favorite artists.
Like Pandora, Last.fm is powered by the Music Genome Project. Instead of creating stations for individual artists or songs, though, Last.fm creates radio stations based on genres: you choose a genre (or genres) you're interested in and then refine the results by choosing particular types of tracks—"upbeat pop-punk songs with male vocals" or "moody singer/songwriter tunes with pianos" or "experimental techno tracks with heavy beats" or whatever else suits your fancy at that moment—until you get just what you want.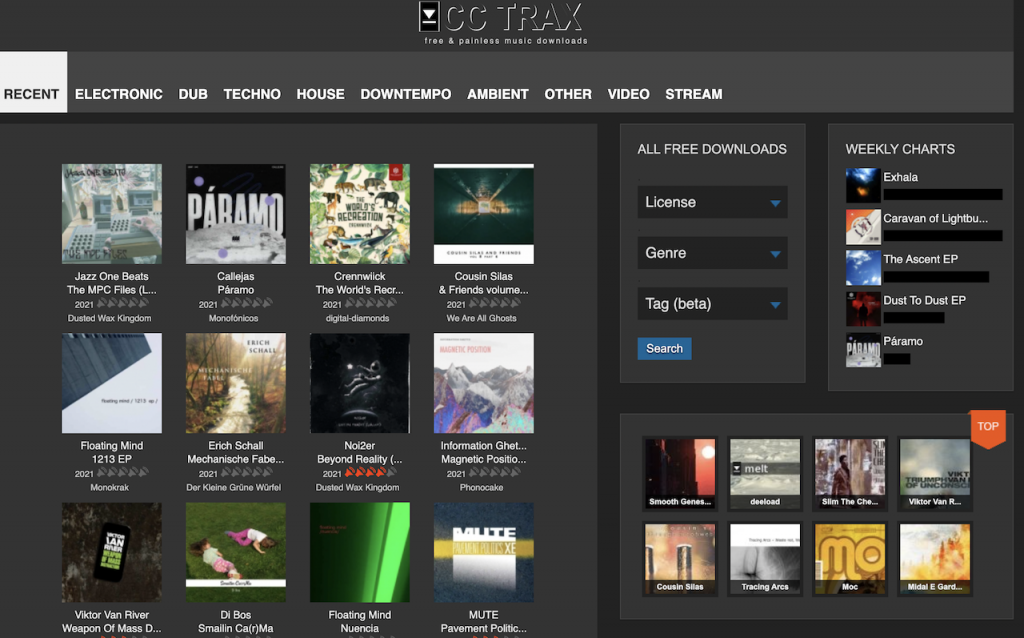 Another free and legal music download site, CCTrax has a huge range of genres to choose from, with everything from trance to ambient, and hip hop to reggae. It's one of the most diverse free music sites online.
CCTrax also has a large, diverse community of music lovers who share recommendations and give feedback on tracks, so it's not just about the music – it can also be an amazing resource for getting in touch with other like-minded fans. There's no limit to how much you can download or stream using CCTrax – although if you really want to support their work as artists, you can make donations wherever possible when downloading new tracks.
With a huge collection of music compiled by users around the world, this is one of the best free music download sites on the internet for discovering completely new artists and listening to some hidden gems that you might never have heard before.
YouTube is a great way to discover new music. You can find free music and listen directly on your site, or download it if you want to save it for offline listening. Many artists post their music on YouTube, either as official videos or singles and covers that fans have recorded and uploaded. If there isn't an official video for the song you like, chances are there's a fan-made cover of it.
If you're not sure which video to download, try using our filtering features to find the correct version. Look for a video with many views because these are usually high-quality songs posted by the artist themselves or popular covers. You can also listen to the audio track before downloading it so you know what you're getting into beforehand!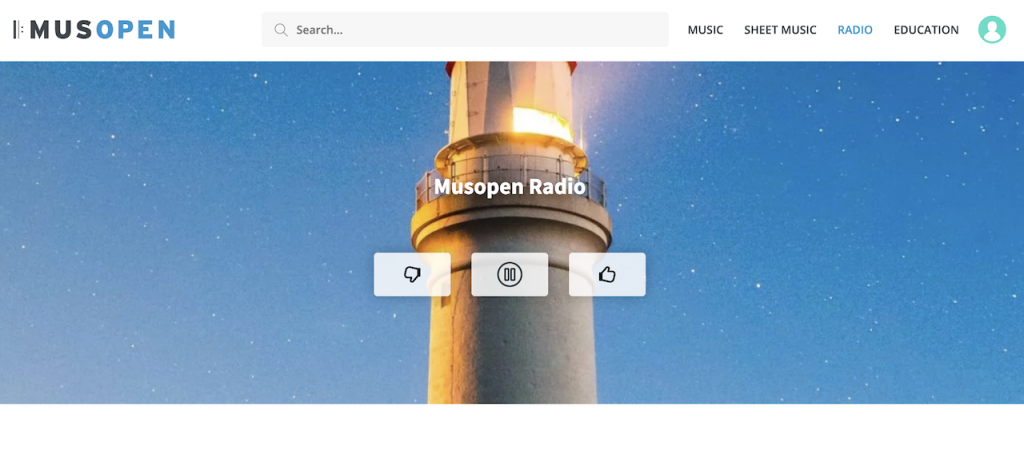 Looking over Musopen, it's obvious right away that the site has a lot to offer. It has recordings, sheet music, and textbooks available for free download. All of them are grouped by composer or artist. The site doesn't force you to log in with any social media account or sign up for an email newsletter. There aren't even any ads on the website.
Beyond this, Musopen also gives you access to a library of premium music tracks and albums. These are all licensed under Creative Commons, meaning they are free for personal use only if you give credit to the artist and website somewhere on your blog or project page that uses their music. As long as that condition is met, the entire library can be used however you like!
Musopen is one of the best free music download sites that even has an Android app if you don't want to use their website in your browser!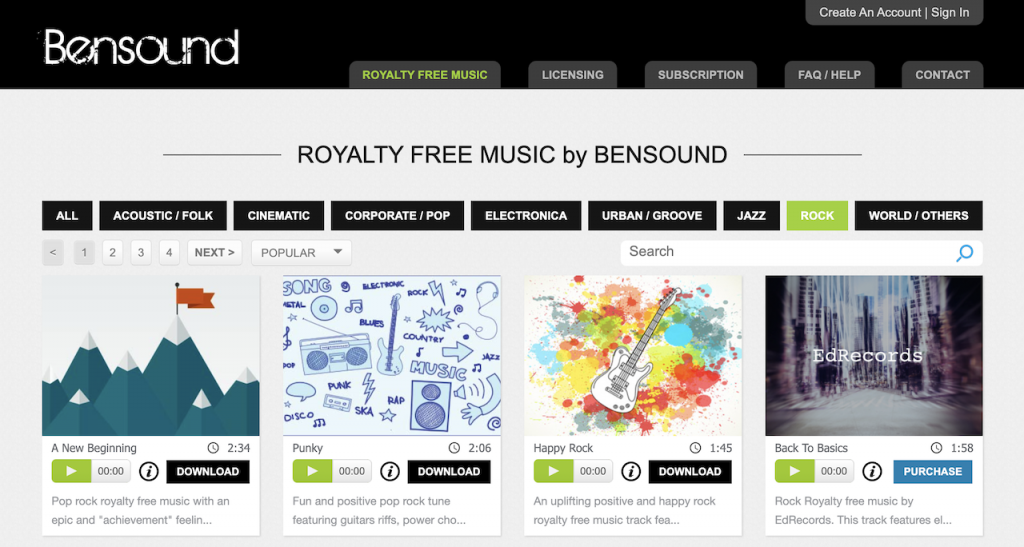 Bensound is a website for royalty-free music that is great for use in your projects, including video and film. In fact, they encourage you to use their songs in your videos, films, podcasts and more! Bensound releases new music every week on their site. The songs are categorized into different genres, such as acoustic/folk, corporate/pop and jazz.
The audio quality of the tracks on this site is actually pretty great considering they're free. The only downside is that the selection isn't huge like some other sites out there but where it lacks in quantity it makes up for in quality. If you're looking for free music loops then Bensound may not be right up your street however if you want full tracks that could work nicely with your project then this site has plenty to choose from!
Best Free Music Download Sites!
On a whole, these best free music download sites provide legal music downloads. Overall, I like each of the sites highlighted here. While they each have drawbacks and shortcomings and some are better than others in certain ways, they all have their strengths, too. It's all a matter of what features you need from your digital music download service and which ones work best for you and your needs. Choose the one that feels like the best fit based on your own personal preferences and methods for handling digital downloads.
Best sites to download Hindi songs for free and legally
You might be wondering, "What is the best website to download Hindi songs for free and legally?" Well, I can assure you that there are many sites out there that will allow you to do so. But before I get into them, it's important to point out why it's critical to download music legally.
There are a number of reasons why it's essential to do this. First, your safety should be a priority. Illegal downloading websites have the potential for malware and other viruses. You should also steer clear of them because doing so will help protect the rights of artists and those who've invested their time and money in creating music.
See More: How to Download Spotify Songs and Music Playlist
Download free music and start grooving!
All of the websites mentioned above are worth checking out. However, make sure you're not doing anything illegal. Downloading copyrighted materials is a big no-no. While using these sites, don't download songs or albums if they are copyrighted under any law. If you do that, you may be fined or imprisoned for committing piracy (the legal term for copyright violation).
If you want to know more about music apps and how to download free music on your phone, take a look at some of our other articles:
See More: Best Free Music Download Apps For iPhone
Common FAQs – Free Music Download
Q. What is the best site to download free music?
There are many sites to download free music in 2022, such as Jamendo, Beatstar, Soundcloud, etc. You can refer to the above-mentioned list to get the songs for free.
Q. How to download music for free?
To download music, you have to find the best free music download sites that you want to download from, go to the song you want to download, click on the download button and then save the file.
Once you've saved it, double-click on the file and open it.
After you've opened it, listen to your song.
If all went well and everything downloaded correctly, then enjoy your newfound love for downloading music!
Q. Should I use VPN to download songs?
You do not need to use a VPN to download songs from a legal website. However, you can use these services to keep yourself safe online anyway.
Q. Which is the safest site to download free music?
The above-mentioned websites are safe to download free music. But as for recommendations, you can rely on SoundCloud, YouTube, and the Internet Archive.