With the expected arrival of Android's latest OS Android P, and following in the footsteps of previous versions such as Android Oreo (or Android 8), Google seems to be turning the heat on its rivals, namely Apple. Traditionally, Android OS was always marred with shoddy bugs and features that were high on design, but low on deliverability.
It all changed after the arrival of Android Oreo. Google seemed to have worked on its flaws and weaved together a magnificent and fast OS replete with some drooling features. We are talking about certain secret features that made Android 8 such a smash hit. Here's an exclusive rundown on those sizzling and relatively unknown features stacked in Android Oreo.
Android Oreo – 7 Great Under The Hood Features
1) Picture-in-Picture Mode
A one-of-a-kind split-screen window feature, the Picture-in-Picture mode will be immensely beneficial whilst you are watching a video and multitasking. For instance, if you are watching a video on YouTube and want to quickly jot down something on Google Keep – you can simply press the Home button and the video will shrink into a movable window!
What's more? You can even increase the size of the window and work on any other app side by side.
2) Automatically turn on WiFi
Perhaps one of the finest features on the latest Android OS, the auto Wi-Fi functionality aims to save the trouble for users who always scroll through their phone to turn the Wi-Fi on even if they are accessing a trusted network. Not anymore!
Once in the confines of your home or workplace wherein you have used the Wi-Fi before, your phone will automatically connect saving you the hassle of going to the toggle menu.
To turn this feature on permanently, simply-:
Go to Settings > Network and Internet > Wi-Fi > Wi-Fi preferences > Turn on Wi-Fi automatically. Voila!
Also, your phone can automatically connect to open networks with free Wi-Fi access. Here's how-:
Settings > Network and Internet > Wi-Fi > Wi-Fi preferences > Connect to Open networks
3) Snooze Notifications anytime
Stuck in a brainstorming session or a really important meeting, but are being constantly nagged by never-ending, annoying notifications? Rejoice, because Android Oreo has just come up with the exact solution to your problem through its "individual notification snooze" feature.
For instance, when you receive a message, simply swipe to the right and tap on the "clock" widget to snooze the notification for some time. Alright, that notification won't bug you again and will only come up as soon as the duration is up.
Moreover, you can even alter the duration for as many minutes as you want!
(Also read: 10 Cool Telegram Messenger Tricks You Must Know)
4) Rescue Party- Bug Saver
Previous android versions have been notorious for succumbing to bugs. But, this time Google has worked on shielding its latest OS, Oreo, with some solid bug-resistant features. Take for instance, "Rescue Party" which aims to protect your system against crashing in case of a bug attack.
This feature will automatically fix errors in case your phone is constantly rebooting or in the event of an app crash. It can surely help you out of bootlooping woes. Pretty hands-on, isn't it?
Rescue Party can be enabled by default in Android 8.0, and the implementation lives in:
/services/core/java/com/android/server/RescueParty.java.
Rescue Party receives all the crucial information about crash and boot events and starts only if:
The system_server restarts more than 5 times within 5 minutes.

A constantly running system app crashes more than 5 times within 30 seconds.
5) Notification Badges
This feature will lure iPhone users into becoming proper Android freaks. How? Well, the notification badges introduced by Android Oreo are "inspired" by iOS. How do they work? Every time you see a notification tray on your home screen, all you have to do is to press and hold an app notification just to see the content(s) inside.
As a result, the notification alert expands into a mini window letting you dig in further through your home screen without wasting much time.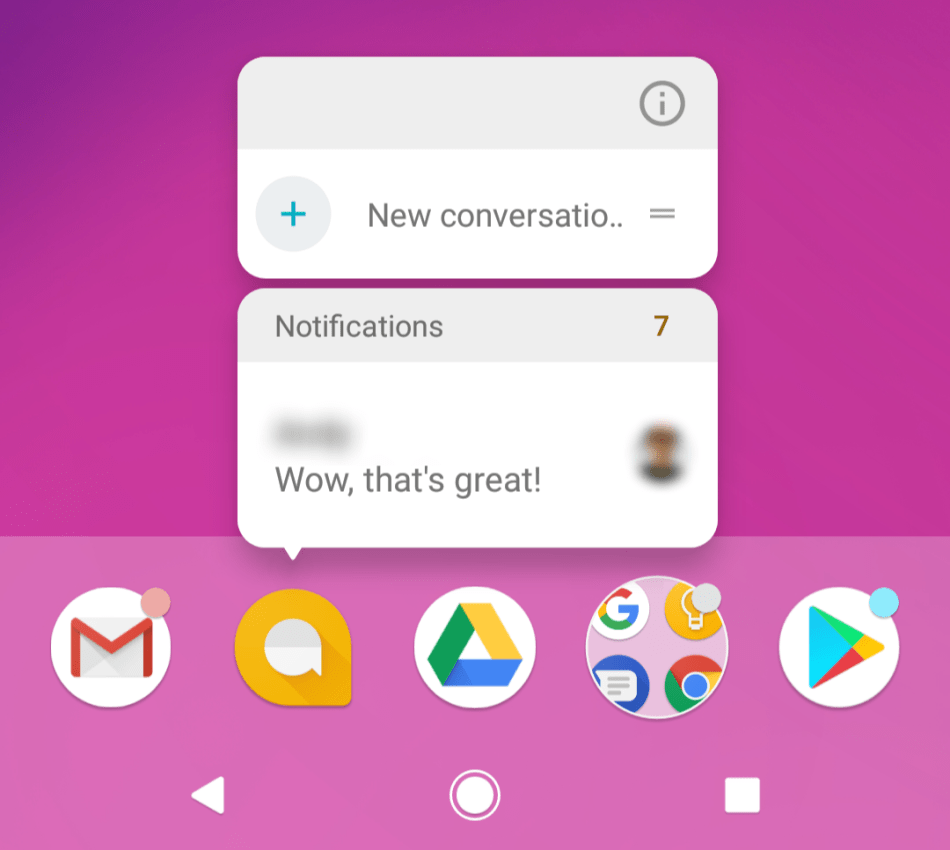 Furthermore, Android Oreo gives you the option of using this feature selectively for individual apps as well as for all apps.
Here's how you activate this feature for individual apps-
Go to Settings > Apps and Notifications > Notifications > All Apps > Select any individual app
And, for all apps-:
Go to Settings > Apps and Notifications > Notifications > Wi-Fi preferences.
SEE ALSO: Best Free Antivirus for Android
6) Smart Text Input
So far, we all have had to put up with the horrible text input options- mainly copy and paste on our android devices no matter what OS we were using. But, Android Oreo seems to be a game-changer. The dreadful experience of selecting a phrase, email address or phone number was always painful and Oreo does away with the problem with some intuitive features.
For instance, now you can simply double tap or long press on a phone number or phrase to select them and a number of options will be displayed. You can select a URL and the OS will pop up a message asking whether you would want to open it in Chrome. Or just select an address and Google Maps pops-in!
7) Google Play Protect
In lieu of various malicious malware attacks in the past, Google has reassured that cyber security is its top priority. With Android Oreo, it has gained even more significance since this OS features a brand new feature called Google Play Protect that acts as a real-time malware scanner that is constantly scanning every installed app in the background in addition to new ones and informs the users if something is amiss.
Android Oreo Secret Features: Bottom Line
Just as a heads up, there are plenty more great features packed in Android Oreo. Without a doubt, these features ensured a fascinating and rich experience for users of all hues. So, unless Apple comes with something groundbreaking with the iOS 12, Android Oreo is here to stay and still going pretty strong at the moment despite the tentative release of Apple P.
SEE ALSO: World's fastest Android smartphone, Samsung Galaxy S9 Leaked!