Are you a fan of taking beautiful snaps? Are you a videography aficionado? Are you seeking a great way to showcase your talent to the world by conveying a story through your photos? A Photo slideshow maker is a nifty tool that allows you to reminisce your photo/video memories for a lifetime and create captivating imagery for others to be wowed by. In fact, you would be delighted to know that a multitude of photo slideshow creators are free. With a formidable photo slideshow software by your side, you can easily decide on the effects, backgrounds, and transitions of your slideshows. No matter whether you are a beginner or a professional, there are many types of decent slideshow makers pandering to your skillset. Down below is a roundup of some of the best slideshow makers available on the market that are both offline as well as online and most importantly FREE!
Note: These slideshow makers are for Mac as well as Windows.
11 of the Best Slideshow Makers of 2020 that are FREE
1) Freemake Video Converter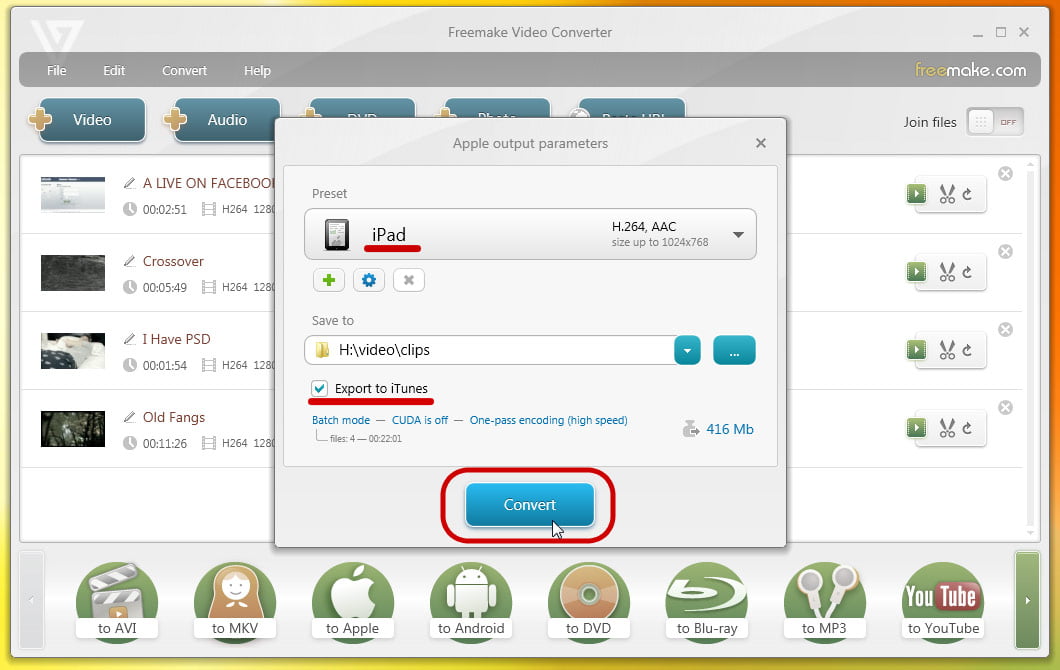 A very reputed name in the world of slideshow makers, Freemake has some excellent advantages such as hordes of output and input formats to save videos and slideshows as well as a good range of transition effects. You would be enamoured by its easy-to-use interface where there is an option for you to add music as well throw in some zing to your slideshows. These features make it one of the best slideshow makers out there for Mac and Windows users.
For creating a beautiful slideshow with this amazing slideshow maker, all you ought to do is to add your preferred photo with music as accompaniment, and choose the desired output format. Moreover, Freemake also allows you to directly upload your slideshows to YouTube!2)Renderforest : online slideshow creator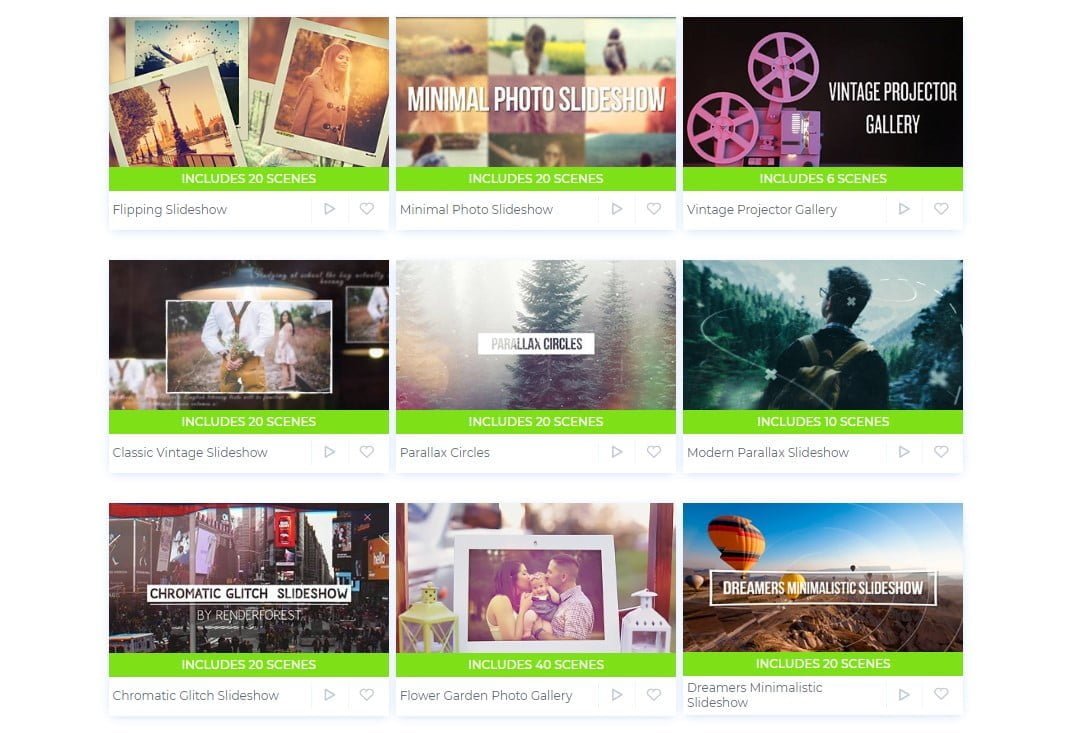 Your slideshow making process becomes easy, joyful and fast with Renderforest free online tool. Renderforest is an online slideshow creator which works directly in your browser. Here you have the chance to create your new-age slideshows with professionally crafted templates in broadcast quality. There are hundreds of templates at your disposal for any style and any taste. Simply choose your favorite slideshow template, drag and drop your photos and videos into our editor and choose your preferred music. Once you finish editing, go to the final step and preview your Slideshow video. All your projects will be saved in your dashboard so you can come back and re-edit them anytime you want. No matter what type of slideshow template you are looking for; be it a travel, wedding, corporate, personal, or even real estate slideshow, you will always find a perfect one for you.
3) Socusoft Photo to Video Converter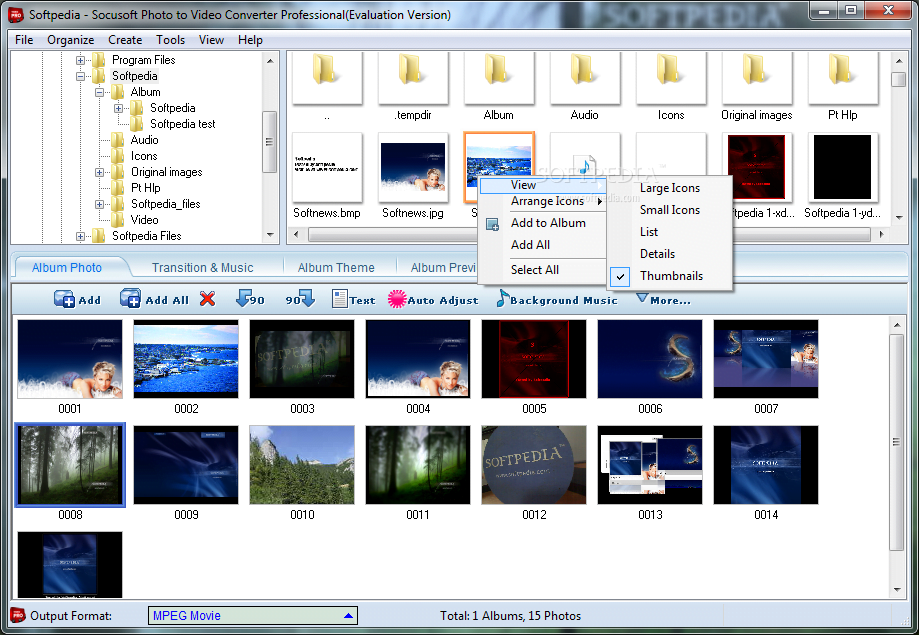 Another decent software for creating amazing video slideshows, Socusoft's Photo to Video Converter can build memorable slideshows by forging your photos in sync with music and cool transitions. You can achieve all this by a handy drag-and-drop feature, which is somewhat unique to Socusoft. Moreover, you get to choose from a huge collection of photo, video and audio formats for creating some scintillating slideshows.
What else injects Photo to Video Converter into our list of the best photo slideshow makers? You can also do some voiceovers i.e lay your voice over the photos for narration and add depth to the slideshows. Not to mention, the optional fade in/out feature plus audio looping which makes this tool a feature-ridden app.
4) MovieMaker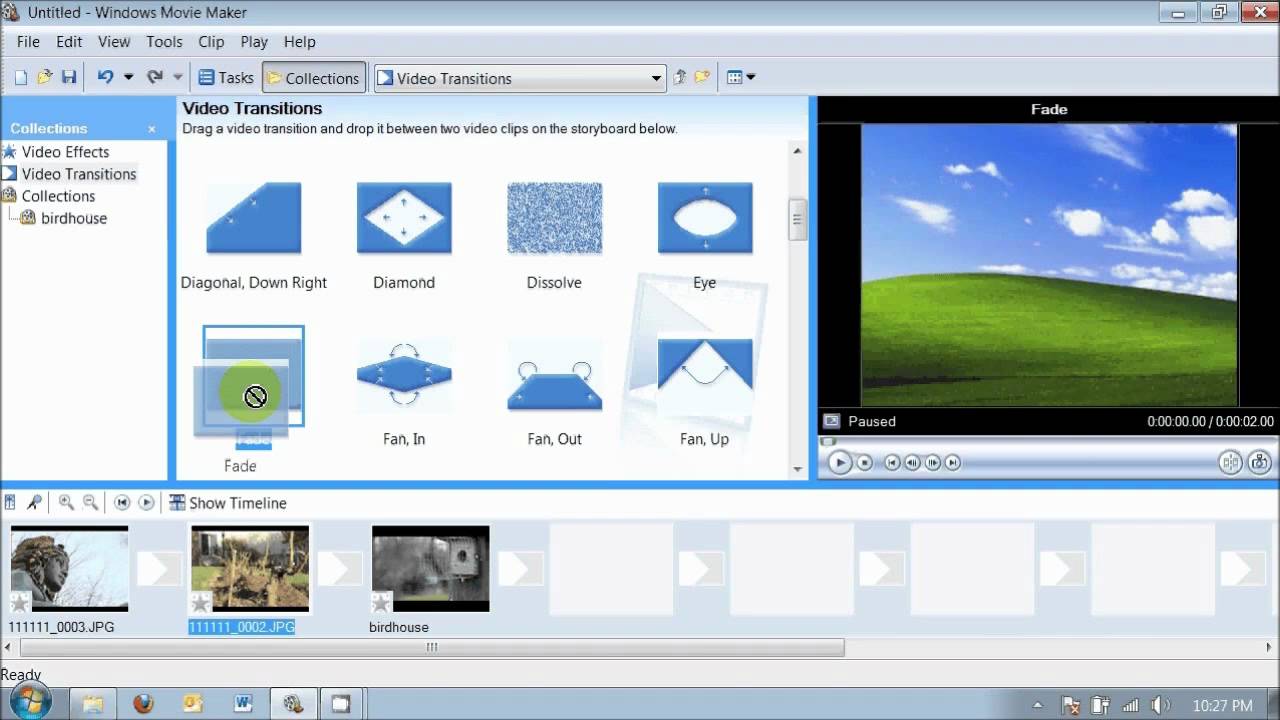 MovieMaker has been around for while now and is normally known as a basic Windows video editing software from Microsoft. In spite of being free, MovieMaker can be used to create brilliant slideshows as well. One added benefit of this free slideshow maker is that its interface is quite similar to various other Microsoft utilities. Not only is the interface easy to get along with and manipulative, you can add a plethora of nice transitions and effects to bring your slideshows to life.
What's more, you can even create professional slideshows by adding photos, videos, voiceovers and animation. The final slideshows can be saved in MP4 and WMV formats with additional options for pre-setting the output in different formats such as Apple Lossless(.m4a).
5) Free Slideshow Maker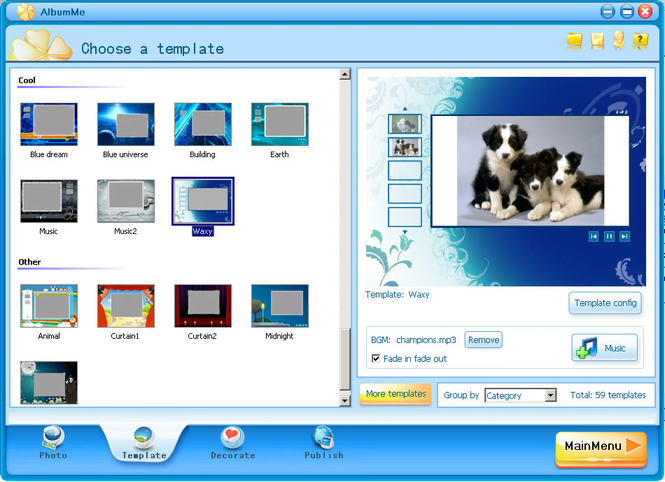 True to its name, Free Slideshow Maker is capable of turning your photo and videos into mesmerising slideshows in no time. Once you have added your footage, you can set the desired time for slide transitions or overlay effects. Free Slideshow maker supports over a dozen input/output video formats, so compatibility won't be an issue. Moreover, you can even share/upload your slideshows directly to YouTube.

Further, you can even burn a DVD with your created slideshows and use this software for as long as you want without having to sign-up. However, one downside is that you cannot add text to your slides plus you won't find any preset templates.
6) Icecream Slideshow Maker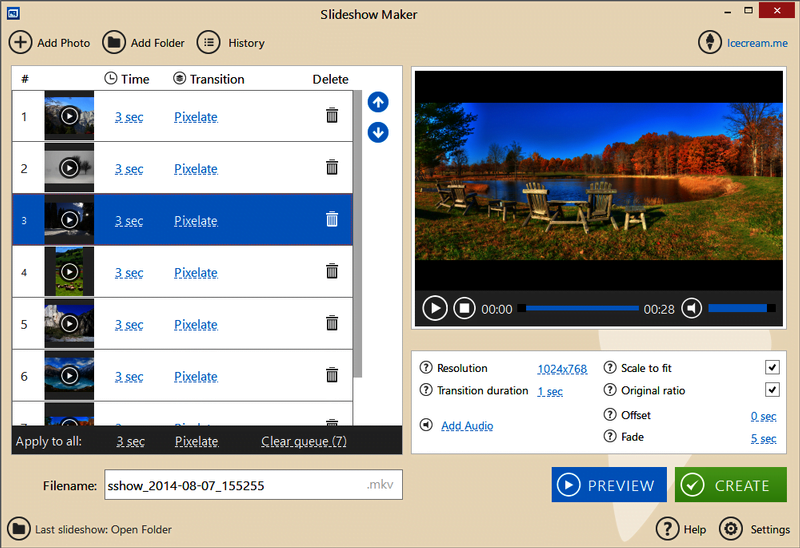 One of the best slideshow makers with music, Icecream slideshow maker works like a charm if you want to add some sublime music to go along with your slideshows. You can still do the usual slideshow fare such as adding your snaps as well as cool transition effects which are in hordes.
Coupled with a very easy user interface, creating slideshows won't be a problem with Icecream slideshow maker. The only downside, to my mind, is that this slideshow maker doesn't support GIF input formats.
7) PhotoStage Slideshow Software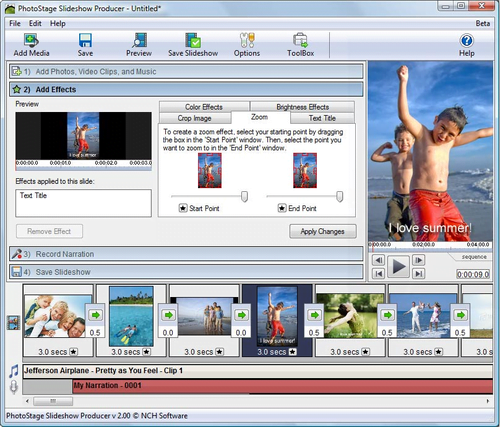 If you want to create vibrant slideshows from your favourite photos quickly, look no further than PhotoStage Slideshow Software. Thanks to a compelling and intuitive interface, this free slideshow maker provides a high-definition viewing experience. You can also add background music and burn slideshows to DVD.
Moreover, PhotoStage Slideshow features a gamut of amazing transition effects and supports many multimedia formats, thus, creating a professional slideshow becomes a reality. Did you know you can also share your slideshows with friends online? However, the only drawback of PhotoStage Slideshow, if any, is that its freeware version is exclusively for non-commercial use.
8) Photosnack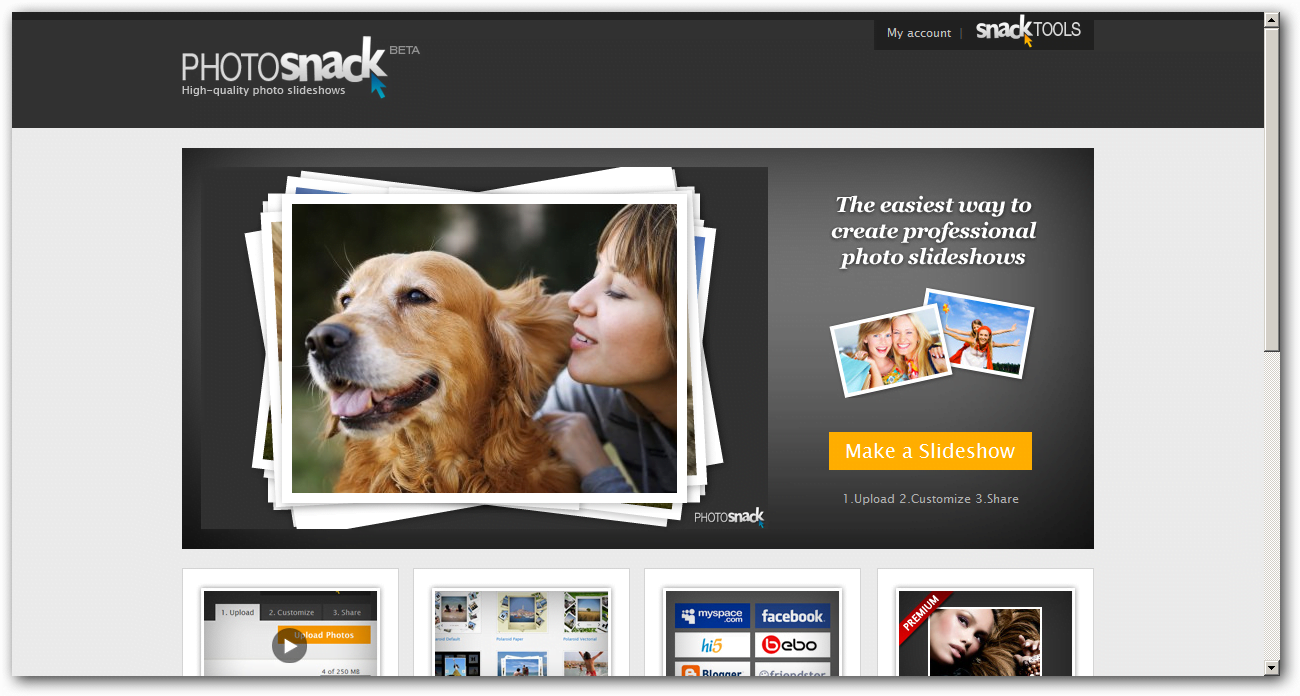 A rather unique entity on our list of the best slideshow makers, Photosnack is an online photo slideshow software that can create splendid slideshows without hogging the resources of your computer. Of course, you can do all the usual stuff such as adding photos and overlay music and videos, etc.
You can even share the slideshows you have created on social media with this software. Moreover, Photosnack's user interface is really very simple and easy-to-use. However, only a few templates support autoplay so that could be a limiting factor for some users.
9) Animoto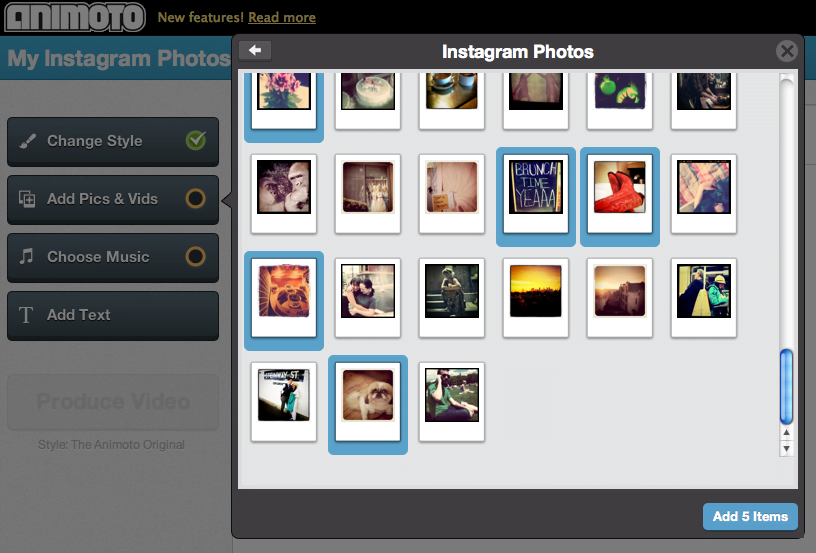 Want to create professional animated slideshows from your photos and video clips in minutes? Check out Animoto, a simple online photo slideshow maker which lets you edit, arrange, add a logo or a favourite song (from a huge library of licensed songs) to your footage. You can also add a call-to-action on your slideshows and choose from dozens of well-designed templates.
So much so, there is a sleek inbuilt photo editor as well that can do basic fixes to your photos before they become a part of your slides. Albeit, some big limitations that affect its usefulness are: you can only use the trial version for a period of 14 days and the slideshow output consists of watermarks.
10) Picovico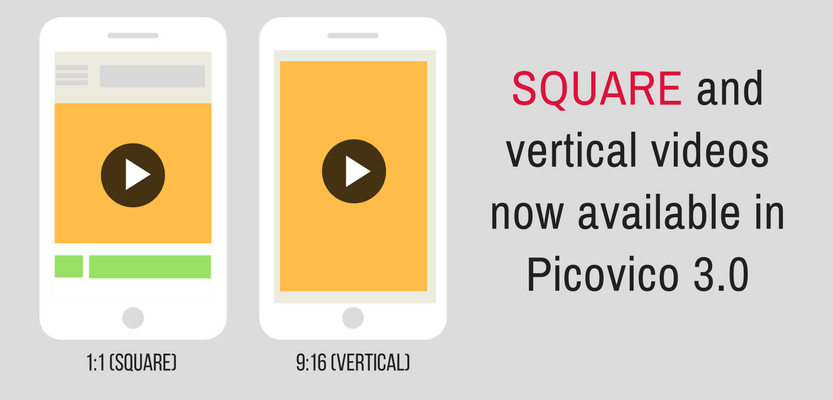 Comprising stunning templates and a great collection of background tracks, Picovico is counted among the best slideshow makers with music. You can choose audio tracks from its huge library in no time and sync them with your slides. One slight problem: to avail the free services of this online software, you will have to register or sign in through Facebook.
Also, the free account lets you create a total of 5 slideshows per day with a maximum of 25 slides per presentation in 360p quality. So, unless you want to create a slideshow with dozens of photos, Picovico can be a viable option.
Suggested read: 10 Best Free Photo Editors for Windows
11) Photo Slideshow Maker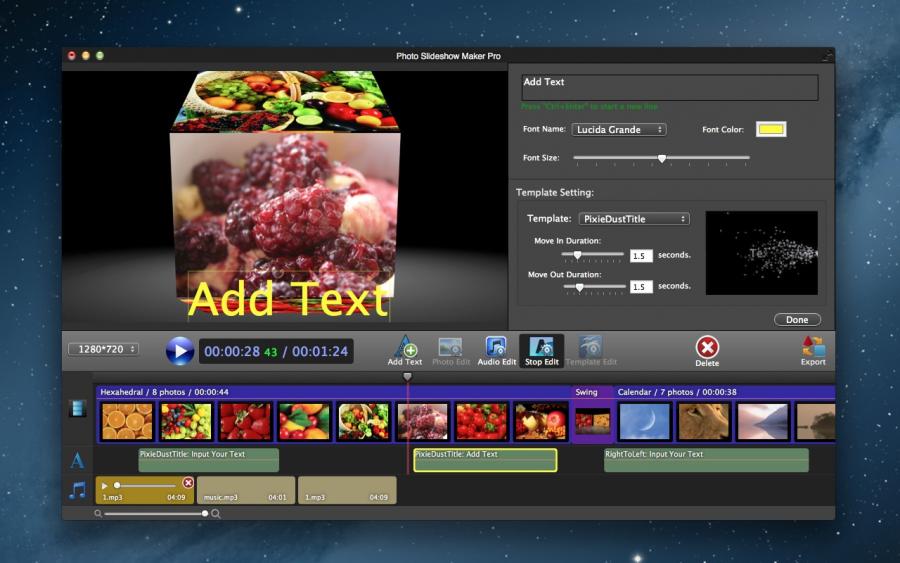 With just a single click, you can turn your favourite pictures into stunning animation within minutes thanks to Photo Slideshow Maker's easy interface. Yes, it does offer the addition of background audio tracks with serene themes, transition effects, captions, and more. Photo Slideshow maker can save all your slideshows in full HD format or as screensavers too! Interesting?
Wait there's more! It also has the ability to burn your slideshow to DVD in professional quality. The only downside is that the period for a trial version is limited and the premium version is hella expensive compared to others. Still, it is recommended for Mac and Windows users both.
And…that's a wrap! Did you like our roundup of the best slideshow makers? Did we forget to enlist some of your favorites here? Let us know in the comments.
SEE ALSO: Best Free Slideshow Software for Mac